Reimagined Strand Aldwych London, Pop-up skate park images, Westminster City Council Architecture Design Images
Reimagined Strand Aldwych Designs
9 September 2021
Location: The Strand / Aldwych, in the centre of the British capital city
Design: LDA Design
Reimagined Strand Aldwych underway
Ambitious proposals by Westminster City Council and LDA Design to convert busy roads into new public spaces at the Strand and across the Aldwych are now underway.
Strand Aldwych area in central London – aerial photo: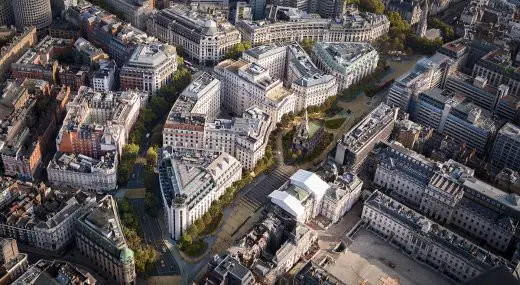 photos © Westminster City Council / LDA Design
Reimagined Strand Aldwych, London
'Skate the Strand', a free, temporary pop-up skate park located on the Strand outside Somerset House, marks the start of the transformation of the Strand Aldwych area. The skate park is part of the Westminster Reveals campaign and kicks off 'September on the Strand', inviting people to return to the city's streets and enjoy the capital's cultural scene, connecting celebrated talent and communities.
Plans for Strand Aldwych will see this ancient city route adapted to become a pedestrian-focused destination. The street in front of Somerset House and King's College London becomes traffic free, providing a major new public space centred around St Mary le Strand Church, which will stand pride of place in its newly created architectural and historic setting.
The Aldwych reverts to two-way traffic, with wider footways to create a calmer and more welcoming environment for pedestrians, and new crossings and a new green space.
Pop-up skate park – Vans Skate Park, Strand Aldwych: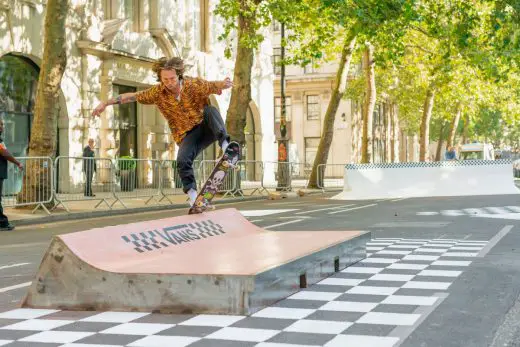 photo © Westminster City Council
The new Strand Aldwych project aims to bring the inside out and create much needed space to support the local economy, which includes the best of Westminster's arts, learning and business, and nationally significant cultural and creative organisations.
Cannon Ivers, a director at LDA Design and project lead for Strand Aldwych, says: "Reclaiming the Strand from traffic for people will create a greener, healthier and safer piece of city, freeing up the wonderful St Mary Le Strand Church and making the street visually rich and resilient.
"For the first time, visitors will be able to properly appreciate the Grade I listed architecture which frames the space and benefit from new collaborations as the public realm brings together some of London's leading cultural and educational institutions. I see a transformed Strand Aldwych as a place where the creative process is made visible – where art is made, not just displayed, where performances are rehearsed not just performed, and where knowledge is shared not stored away."
Strand Aldwych before photo – heavy traffic on the street: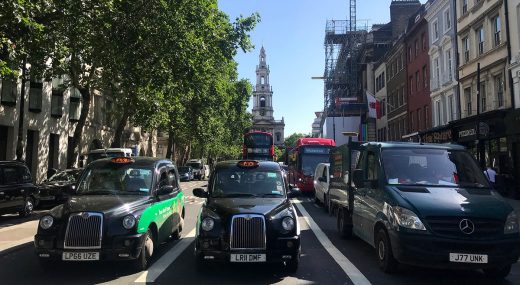 image courtesy of LDA Design
The project is being delivered by Westminster City Council along with key partners including Northbank Business Improvement District, King's College London, Somerset House Trust, St Mary Le Strand, The Courtauld and Society of London Theatre.
The works will deliver benefits to the area, including:
• A world class new public space to showcase the very best that local institutions can offer.
• Improved air quality, with traffic removed from one of London's most polluted streets with more greenery and trees on both the Aldwych and Strand.
• A people-centred approach providing a better experience for pedestrians and cyclists.
• Greatly improved connections to Covent Garden, the City, Holborn and the West End.
Public realm improvements in the Strand Aldwych area started earlier this year and are due to be completed in late 2022. At the end of August, the Strand was permanently closed to vehicular traffic between Waterloo Bridge and Surrey Street. This new pedestrian and cycle zone will be protected by static physical measures preventing vehicular access to create a car-free zone, with time-limited access for deliveries and local access.
The final scheme design is being tested before being made permanent. Once this 'Meanwhile Strand' is established, work will progress on the final stage of the project to implement the remaining public realm works along the Strand, dovetailing with plans at St Mary le Strand and King's to take forward the permanent scheme.
Pop-up Vans Skate Park, Strand Aldwych: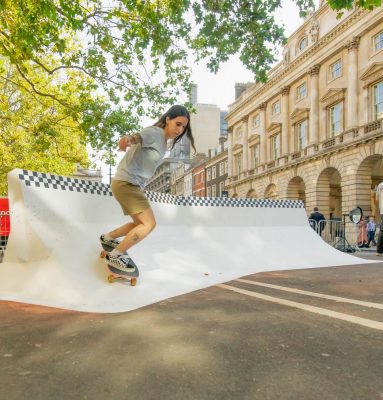 picture © Westminster City Council
Cllr Matthew Green, Cabinet Member for Business, Licensing and Planning at Westminster City Council said:
"Covid-19 has changed how people visit and work in London. More and more people are beginning to return to our city, so there is an urgent need to tackle issues with pedestrian congestion and safety, poor air quality and noise. Our new plans for Strand Aldwych give us an opportunity to build back better and create a new green oasis in central London for people to relax and come together to enjoy, while continuing to celebrate the strong theatre and culture offering the Strand is known for."
Ruth Duston OBE, OC, Chief Executive of The Northbank BID, said:
"It's fantastic to be welcoming visitors to this newly created 'meanwhile' space, which enables us to test new concepts and activities ahead of the opening of the final Strand Aldwych scheme next year. As ever, our partnership with Westminster Council and our local stakeholders continues as we create a new cultural destination for London. The BID is proud to have pioneered the early thinking for the project, which will act as a major catalyst for growth, with the area becoming a new focal point for the world class creative endeavours in the area. Businesses stand ready to welcome workers and visitors back, and this initial meanwhile use will help to encourage more visitors to the area."
Pop-up skate park – Vans Skate Park, Strand Aldwych: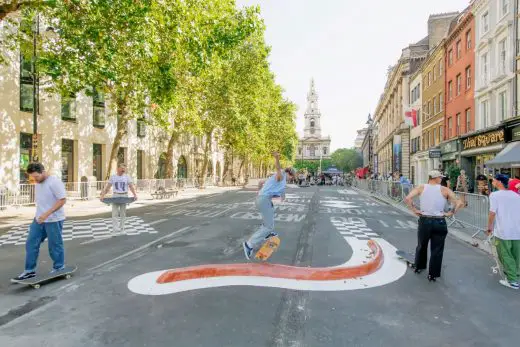 image © Westminster City Council
LDA Design
LDA Design's purpose is to make great places and shape the world around us for the better. We provide landscape-led masterplanning, landscape architecture, design and planning services to developers, landowners, communities, universities and government, and follow the principles of 'first life, then spaces, then buildings'. Whether the project is a park, port or a new urban district, we focus on the needs of people affected and on creating a balance with nature. We design sociable spaces which create opportunities for encounter and exchange. The consultancy has received over 100 awards for contemporary and historic parkland design, urban renewal and historic town centre improvements.
LDA Design led the masterplanning and detailed design of Queen Elizabeth Olympic Park, one of Europe's most successful new parklands. We have designed and are delivering some of the UK's most challenging city centre public realm projects, including London's Battersea Power Station, Stratford Waterfront and Strand-Aldwych, and George Street in Edinburgh. We specialise in urban and high street renewal and eight of our team have been selected to join a new High Street Task Force. An award-winning partnership with Camden is transforming its West End streets, carving out new green space and creating a healthier, safer and more pleasant experience for pedestrians and cyclists.
Strand Aldwych Renewal
Additional notes
To read the council's new framework for Strand Aldwych visit: https://strandaldwych.org/
Information on the new Strand Aldwych scheme:
• The 'Skate the Strand' project will run from 8-24 September.
• The full project is costing £30m to deliver. Capital funding of £32.139million was approved by Full Council on 4th March 2020 for the Strand Aldwych project. £18.090million was approved to spend from this capital allocation in December 2020 by the Cabinet Member for Business and Planning to implement Aldwych Two-Way works and Meanwhile Strand. The remaining costs will be spent over the next 3-5 years, subject to cabinet member approval. These costs will be sent for approval depending on outcomes from the community engagement for the next 3-5 years while the meanwhile is in place.
• This new scheme is supported by: Northbank BID, Somerset House, Kings College London, The Courtauld, St Mary Le Strand.
• The project objectives are as follows:
o Support the area's economy – enhancing its vibrancy, productivity and creativity by celebrating its unique character
o Improve air quality – addressing air quality across the whole project area, reducing traffic in some areas, mitigating the effects of traffic in other areas and working with partners to influence, lobby and explore opportunities for positive change
o Improve links for walking and cycling – providing better connections to the surrounding area and improving safety for the 14 million people who visit each year
o Improve the public realm – creating an attractive public space on the Strand and a better pedestrian experience on Aldwych
o Support culture, education and innovation – creating opportunities to showcase the area's wealth of cultural and educational talent and encouraging opportunities for collaboration
o Better movement of traffic – improving journey times and safety for many routes by removing the gyratory, introducing two-way traffic in Aldwych and removing it from part of the Strand
o The planned changes will not increase traffic volume in the area overall.
• Northbank BID launched a process in November 2018 for involving artists in the design development for Strand Aldwych going forward, and Nick Ryan Studio, Emma Smith, Matthew Rosier and Something and Son are the artists appointed. LDA Design are the Landscape consultants appointed for the scheme, who were appointed in February 2018.
• The Strand Aldwych consultation began on the 30 January 2019 and ran until 13 March 2019. Westminster City Council wanted to know what everyone thought of our draft design concepts for the Strand Aldwych area. We were also keen to hear from all residents, businesses, venues, organisations and community groups with a stake in its future. A statutory traffic order consultation was also launched
• The council met with Transport for All and the Royal National Institute for the Blind in December 2018 to discuss the concept designs. They were keen for accessibility issues to be fully taken into account in the following stages of design and, to that end, we commissioned an accessibility consultant to work alongside the design team in detailing the scheme to ensure an inclusive design is created to cater the demands of all users.
• The Council is supporting the change of engrained pedestrian behaviour, along with our contractors WSP through the distribution of leaflets to local residents and businesses along with visible marshals provided, who will be on location at 21 sites for the duration of the works and after the switchover to help people navigate around. WSP are also working with the Council's highways team to provide clear signage for the duration of the works and after so pedestrians and vehicles are made aware of the changes.
• The access point for the Strand by way of an automatic gate (comprising of sliding bollards), located at the eastern end of the zone, west of Surrey Street will allow vehicular access as follows:
o Between 10am and midnight, the gate will be secured. It will only open for registered vehicles and users.
o Between midnight and 10am, the gate will be unsecured. It will open for any vehicles wishing to access the pedestrian zone for deliveries. The pedestrian zone rules will still apply and parking enforcement will be in operation.
o Residents, businesses and institutions are encouraged to arrange servicing and deliveries between midnight and 10am when the gate is unsecured. Within the pedestrian and cycle zone, drivers are expected to proceed with care, keeping to the designated routes, and only park on-street within the designated loading bays at the allowed time.
• Taxis will still be able to operate in the area, but will need to pick up and drop off at the nearest point where there is vehicular access, for example on Aldwych, Surrey Street and Arundel Street.
• The proposals remove the traffic gyratory, introduce two-way traffic on Aldwych and create a pedestrian and cycle zone on Strand between Lancaster Place and Surrey Street. The area of the Strand between Surrey Street, Arundel Street and Melbourne Place remains open to buses, cyclists and for access, not least to provide a loop for the buses that currently terminate on Aldwych.
• The changes will affect 34 bus routes. All buses travelling eastbound towards Trafalgar Square or southbound towards Waterloo will be rerouted by the eastern and western arms of Aldwych. New bus stops will be in place with stopping arrangements for each bus route. For more information visit www.tfl.gov.uk/buschanges
Reimagined Strand Aldwych images / information from LDA Design
Location: The Strand / Aldwych, London, England, UK
Major Building on The Strand
Royal Courts of Justice
Date built: 1873-82
Design: George Edmund Street Architect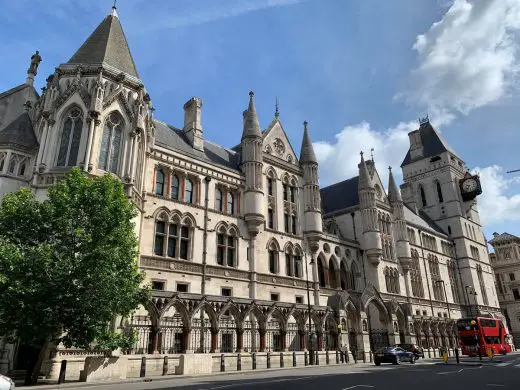 photo © Adrian Welch
Royal Courts of Justice
Buildings on The Strand
Yen London Restaurant – 190 Strand
Design: Sybarite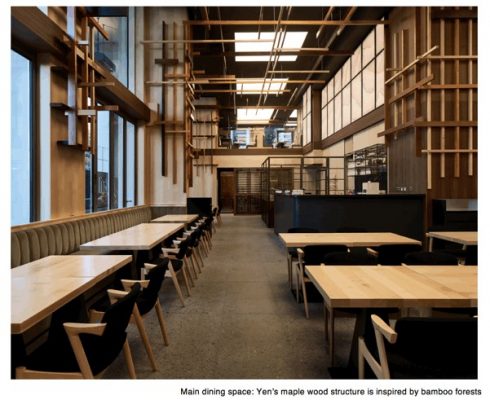 photo : GG Archard
Yen London Restaurant, 190 Strand
5 Strand
Design: Adjaye Associates


image courtesy of architects practice
Landmark 5 Strand in London Property
ME Hotel London – Aldwych, 336-337 The Strand
Design: Foster + Partners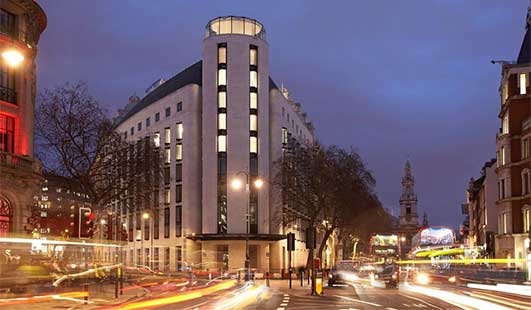 photo : Francisco Guerrero
The ME Hotel London Strand Building
Bush House, Aldwych
Bush House
Nomad Hotel, Covent Garden
Design: Roman and Williams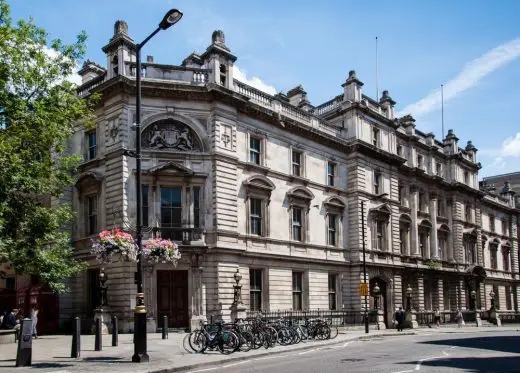 photo © Emsie Jonker
NoMad London Hotel in Covent Garden
London Buildings
Contemporary London Architecture
London Architecture Designs – chronological list
London Architecture Walking Tours by e-architect
Comments / photos for the Reimagined Strand Aldwych design page welcome