Paris building news 2023, New French Capital architecture, Architects photos, France design pictures
Paris Architecture News
New Architectural Developments in French Capital City: Built Environment Updates
post updated 10 September 2023
Paris Architecture Design – chronological list
Paris Architecture News in 2023
Paris Architectural News, chronological:
18 Aug 2023
The Sequoias, Ile-de-France, North of Paris
Architrcts: studio razavi architecture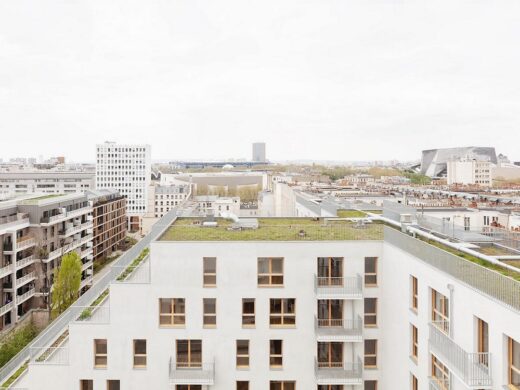 photo : Schnepp Renou
93 Petit Apartments
Regardless of their size, all buildings in urban contexts contribute to the greater morphology that ultimately defines a city. The larger the project however, the more the architect becomes under pressure to sensibly balance land use ratio and design.
7 August 2023
Félix Eboué, 4 place Félix Eboué, eastern Paris
Design: Baumschlager Eberle Architekten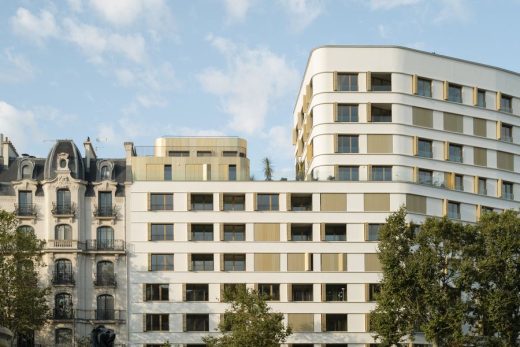 images by Luc Boegly, Cyrille Weiner
Félix Eboué Paris
An urban sculpture in one of the largest squares in eastern Paris. A new residential and commercial development with both privately owned and government-subsidised social housing – comfortable, sustainable and energy efficient – was to be built in the centre of the Place Félix Eboué.
3 August 2023
Project Europa, Levallois-Perret
Design: Baumschlager Eberle Architekten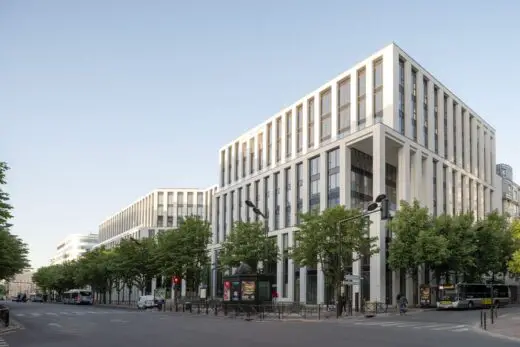 photo : Cyrille Weiner
Project Europa
A 1980s building set at the boundary of a historic town centre and the River Seine was to be brought up to date whilst retaining the particular cachet of its location. The renovation of this 175m-long building proved extremely demanding in terms of architecture, city planning and functionality.
18 July 2023
Francilian House, Hauts-De-Seine
Architects: Hemaa Architectes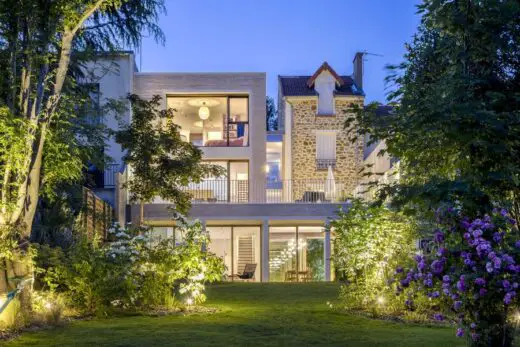 photograph : Sergio Grazia
Francilian House, Hauts-De-Seines
A technical and historical analysis of the existing structure showed that the house had undergone a number of transformations, in particular volumetric extensions which, over time, had seriously damaged the original structure.
27 Jan 2023
The Sequoias, Massy, district of Vilgénis, Northwest Paris
Architects: PietriArchitectes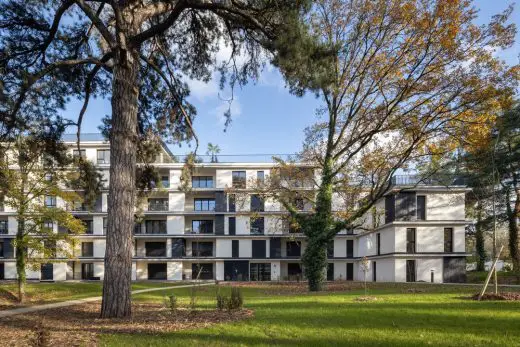 photo : Hugo Hébrard
The Sequoias Apartments, Massy
PietriArchitectes is delivering a project for the city of Massy located in the department of Essonne (91). As part of an urban complex designed by Leclercq Associés, this project, called The Sequoias, has the particularity of establishing itself in an environment rich in biodiversity.
More contemporary Paris Architecture News on e-architect soon
Paris Building News in 2022
1 Dec 2022
ODESA EXPO 2030
Design: Zaha Hadid Architects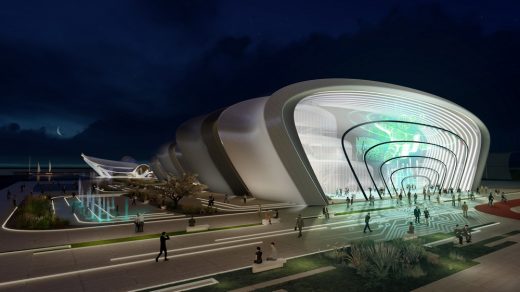 image © JK Lab Architects
ODESA EXPO 2030, Paris Exhibition
"In a city that has always been multinational and multicultural, a city of diversity with ancient connections throughout the world, when you visit Ukraine and our Odesa in 2030, you will feel the power and culture of not just one country and one city… you will feel the potential of all humanity."
Volodymyr Zelenskyy, President of Ukraine
Updated 8 Nov 2022
Gaîté Montparnasse
Architects: MVRDV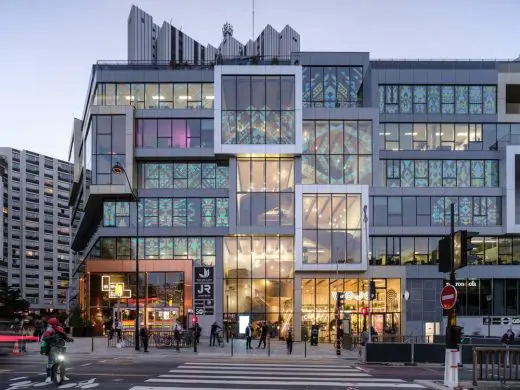 photo © Ossip van Duivenbode
Gaité Montparnasse Paris Buildings
Gaîté Montparnasse, the MVRDV-designed transformation of a city block just a short walk from Paris' Tour Montparnasse, is now open. The project has rationalised the existing uses of the mixed-use block – which included a hotel, shopping centre, office space and a library – and densified the area by adding social housing and a kindergarten.
36 Ferragus Housing, Aubervilliers
36 Ferragus Housing, Aubervilliers
4 Nov 2022
Bibliothèque Nationale de France Building Renewal, 58 rue de Richelieu, Paris 75001
Design: Atelier Bruno Gaudin Architectes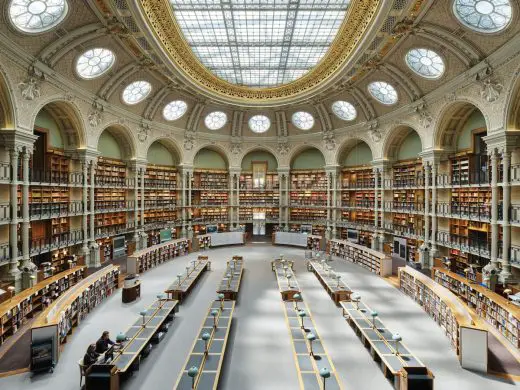 photo © Takuji Shimmura
Bibliothèque nationale de France Richelieu, Paris
After 15 years of work, the Atelier Buno Gaudin Architectes' mission for the restructuring and transformation of of the Bibliothèque nationale de France Richelieu (the National Library) comes to an end. The BnF takes possession of a new, large and bright stone vessel.
21 Oct 2022
Rive de Seine tower, between the Gare de Lyon and the Gare d'Austerlitz
Design: LAN – Local Architecture Network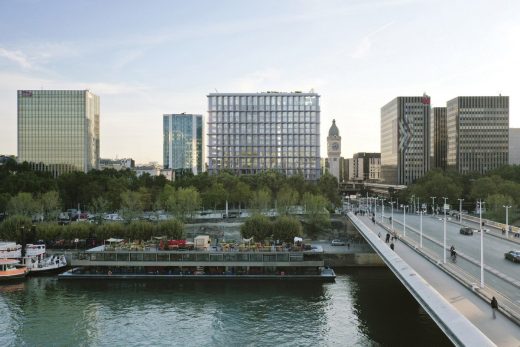 image © LAN
Rive de Seine tower
This project is part of a new generation of innovative projects whose starting point is the transformation of the city on itself. The rehabilitation and mutation of the existing, in addition to their obvious ecological and environmental interest, are fertile experiences for innovation, real creative adventures that allow to adopt a hyper-reactive adaptation strategy, totally open to discovery and to the opportunities of the already there.
31 Aug 2022
Lycée Franco-Allemand School, rue Collin Marnet, Buc
Architecture: Behnisch Architekten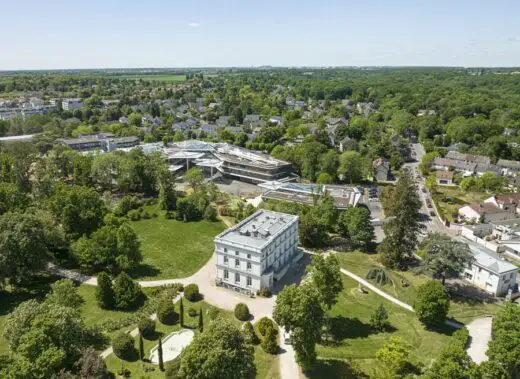 photo © David Matthiessen
Lycée Franco-Allemand School Buc
Built in collaboration with Atelier 2A+, the goal was to modernise the site of an existing school dating from the 1980s, including a Franco-German bilingual secondary school, a primary school, a lower secondary school and gymnasium, and to link them together with outdoor enhancements to strengthen the identity of the campus. This approach has resulted in the creation of an attractive place of learning for approximately 1,000 students, standing in a park amidst magnificent trees.
29 June 2022
Tiffany Temporary Pop-Up Store, Avenue Montaigne
Design: OMA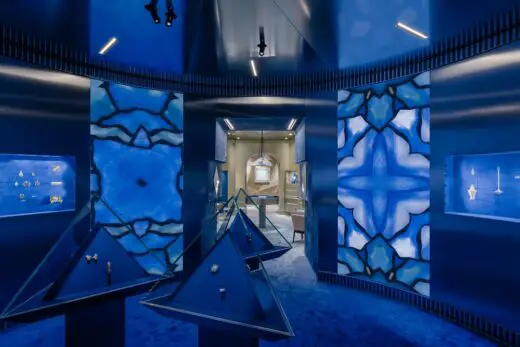 photo : Benoit Florençon, Courtesy OMA
Tiffany Temporary Store
An exhibition? A boutique? A lounge? Tiffany Temporary Pop-Up Store on Avenue Montaigne in Paris is all at once – a sequence of rooms hosting both retail and archival display, bringing together the brand's latest designs and items from its 185-year old collection.
28 June 2022
Crous University Refectory, 5 rue du Parc, 95000 Cergy-Pontoise
Architecture: Graal architecture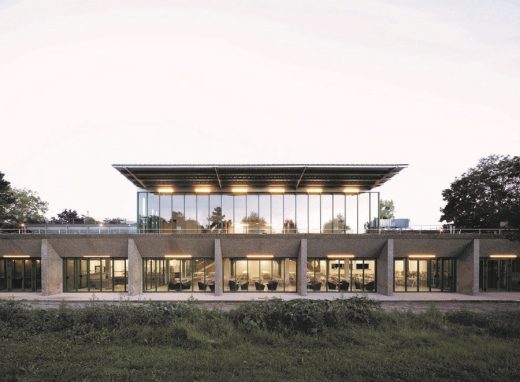 photo © Clément Guillaume
Crous University Refectory, Cergy-Pontoise
Located at the heart of the park of the Cergy prefecture, the restructuring and extension of the Crous University Refectory is an opportunity to re-establish a link with a large-scale landscaped public space while adapting it to current programming requirements.
21 Jun 2022
Marriott Paris Airport Hotels, 10, rue du Voyageur, Roissy-en-France
Design: Manuelle Gautrand Architecture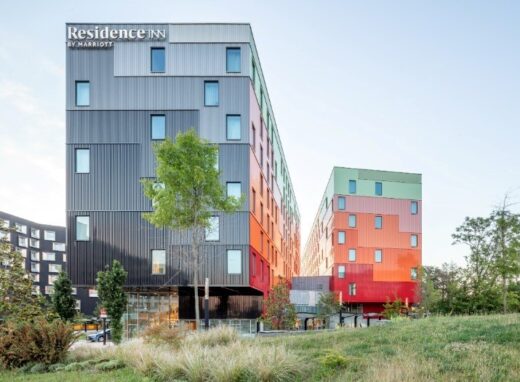 photo : Luc Boegly
Marriott Paris Airport Hotels, Roissy-en-France
The particularity of this hotel project is that it is located at Paris Charles-de-Gaulle airport in Roissy, one of the largest airports in the world. It is therefore intended primarily for a clientele about to travel, between flights, and business travellers requiring proximity to the airport.
17 May 2022
Syctom, Nanterre, Southwest of Paris
Architects: Le Dévéhat Vuarnesson Architectes (LVA)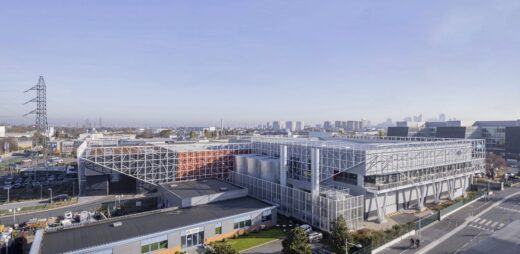 photo : Guillaume Guerin
Syctom Sorting Center Nanterre Building
The agency Le Dévéhat Vuarnesson Architectes transformed the sorting center for selective collection of Syctom, a public household waste treatment service, in Nanterre, France. The restructuring of the Nanterre sorting center is indicative of the LVA agency's approach.
17 May 2022
Morland Mixité Capitale
Design: David Chipperfield Architects Berlin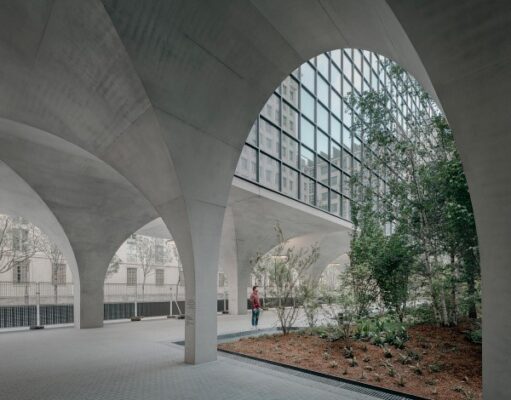 photo © Simon Menges
Morland Mixité Capitale Paris
Following six years of design and construction, the mixed-use complex Morland Mixité Capitale in the centre of Paris has been completed. The building on the banks of the River Seine was originally constructed in the 1960s and has been refurbished, remodelled and extended by David Chipperfield Architects Berlin.
4 May 2022
Villa M, 24-30 Boulevard Pasteur, Paris 15e
Architects: Triptyque Architecture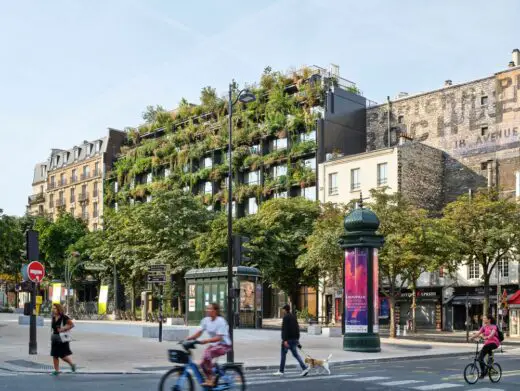 photo : Yann Monel
Villa M, Paris Tropical Building
Villa M designed by French-Brazilian Triptyque Architecture, with architectural design and art direction of the spaces signed by Philippe Starck, Villa M aims to create a new pact between cities, nature, and health.
2 Mar 2022
Cali Uptown, 4th arrondissement
Architecture: Studio UNLTD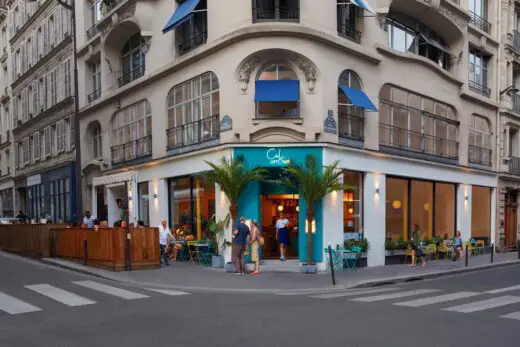 photo : Le Boulicaut Photographe
Cali Uptown Restaurant
The Cali Uptown restaurant design project, by Los Angeles-based Studio UNLTD, includes the replacement of the interiors and façade of a 2,066 sqm space in an early-20th century building with art nouveau influences located in the 10th arrondissement neighborhood of Paris. Studio UNLTD translated the client's vision of a vibrant restaurant design with a strong connection to the mood and lifestyle that inspired the Southern California modernist design movement.
22 Feb 2022
The Sways, Issy-les-Moulineaux
Lighting Design: Yann Kersalé and BOA light Studio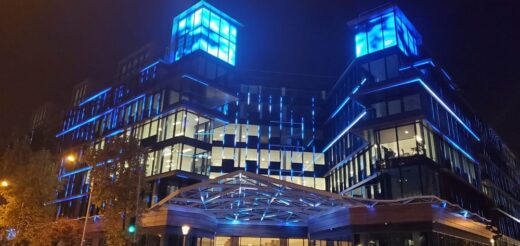 image Courtesy architecture office
The Sways, Issy-les-Moulineaux Building
Located in Issy-les-Moulineaux, a southwestern suburb of Paris, the Sways – a building which is now home to French TV group Canal+ – recently underwent an entire refurbishment. This building renovation project included a two-storey extension to transform the original building, which dates from the 1990s, into a state-of-the-art 41,000 sqm commercial office development fit for the modern day.
16 February 2022
Réhabiliatation of the Ghana Embassy, 8 Villa Saïd, 75116 Paris
Design: Serero Architectes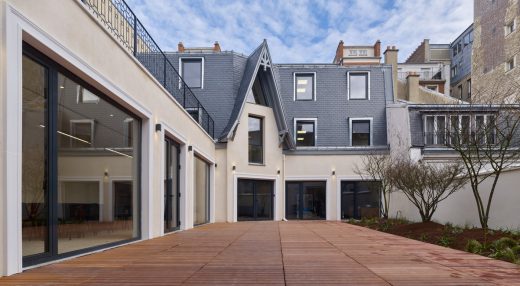 photo © Didier Boy de la Tour
Ghana Embassy Paris Building Renewal
The project for the Embassy of Ghana in Paris by Serero Architectes is based on a double paradox: creating transparency on an interior garden while preserving strict confidentiality of the workspaces, and digging the entire basement of this mansion in order to clear a large parking lot under the building. Transparency and confidentiality, heritage preservation and resumption of foundations are the themes that have strongly marked the project.
1 Mar 2022
Apartment XVIII
Architecture: studio razavi architecture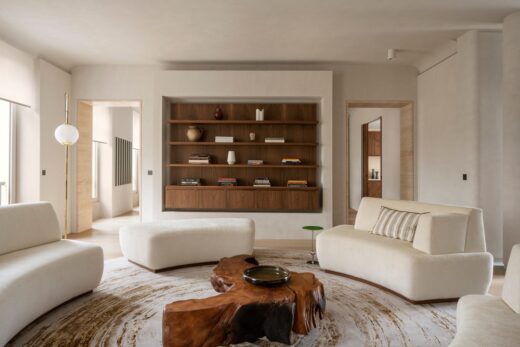 photo : Vincent Leroux
Apartment XVIII overlooking the Luxembourg Garden
Overlooking the Luxembourg Gardens, this apartment is located in a former XVIIIth century mansion, largely remodeled in the years following the French revolution. Because so little was left of the original features and important structural reinforcements were required, we opted to fully demolish the existing and create a project from the feelings the place inspired.
25 Jan 2022
Nicolai Paris, 4th arrondissement
Architecture: noa* network of architecture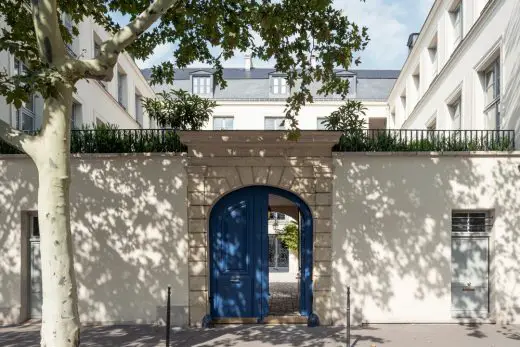 photo : Antoine Huot
Nicolai Paris, 4th Arrondissement Apartment
A young Italian family chooses as their pied-à-terre a flat in the heart of Paris, between the blue-grey galvanised roofs and the banks of the Seine. Studio noa* has been asked to design the interiors and help recreate the feeling of being at home.
14 Jan 2022
Porte de Clichy Station, under the Avenue de Clichy, 17th arrondissement
Design: Atelier Zündel Cristea architecture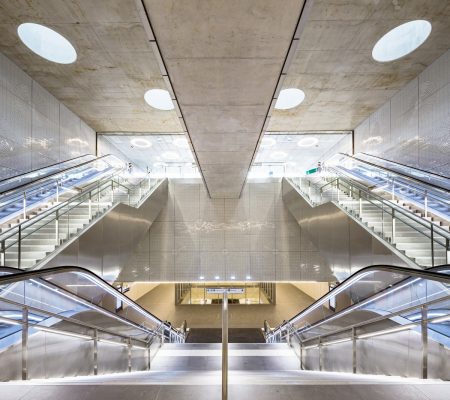 photo © Sergio Grazia
Porte de Clichy Station Paris Building
The northern extension of line 14 is mainly aimed at alleviating the passenger saturation of line 13. Four new stations have been built: Pont Cardinet, Porte de Clichy, Saint- Ouen, Mairie de Saint-Ouen, connected by 5.8 km of tunnel tracks.
13 Jan 2022
Œuvre des Jeunes Filles Aveugles de Saint-Paul, Denfert Rochereau, Paris, district 14
Design: Atelier Zündel Cristea architecture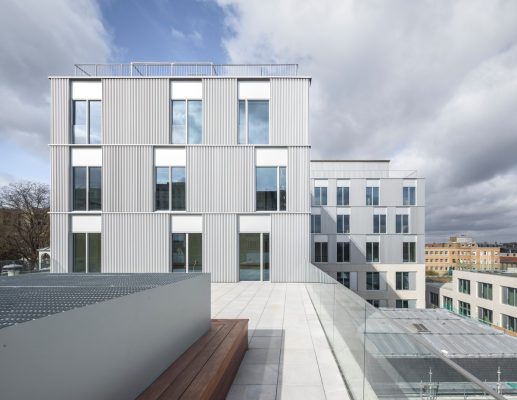 photo © Sergio Grazia
Œuvre des Jeunes Filles Aveugles de Saint-Paul
The Congrégation des Sœurs Aveugles (CSA) de Saint-Paul has stood on this site of the avenue Denfert-Rochereau since 1857, on which date it was bequeathed the former property of the writer Chateaubriand (1768 – 1848). Founded in the mid-19th century by Mademoiselle Anne Bergunion, the Œuvre des Jeunes Filles Aveugles (OJFA, dedicated to young blind women) runs the social and medical activities on the site.
13 Jan 2022
Moët Hennessy, 38 rue de Sèvres, 142 rue du Bac, Paris 7e
Architecture: Barbarito Bancel Architectes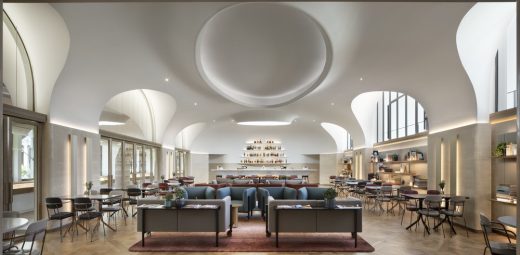 photo : Alessandra Chemollo
Moët Hennessy New Workspaces
Enthusiasm, curiosity, and pleasure: these three keywords guided the approach of the architects of the Barbarito Bancel practice in designing the Moët Hennessy group's new workspaces. The group, representing excellence in wines and spirits, has established its French headquarters above the Grande Épicerie de Paris, on the upper floors of Bon Marché, with a floor space of over 10,000 m² in the gastronomic heart of Paris.
3 Dec 2021
Espace Jean-Lucien Vazeille, Vélizy-Villacoublay
31 Oct 2021
Maison d'Italie Campus Extension
13 Oct 2021
Sun Dial Apartment
Architects: Manuelle Gautrand Interiors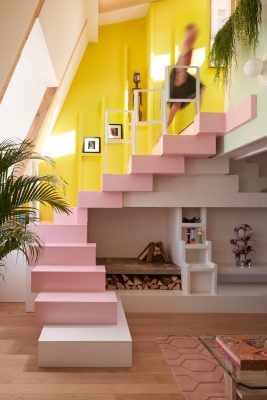 photo courtesy of architects office
Sun Dial Apartment Paris Interior
This colourful renovation of a Parisian apartment space successfully reunites the inhabitants with the rhythms of the day with and interior design scheme that is distinctly architectural. Parisian architect Manuelle Gautrand first private interior project weaves a distinctly feminine thread through the 115m2 duplex apartment in Paris's Marais district.
23 Sep 2021
Simone de Beauvoir School, Drancy
6 Sep 2021
HEKLA, La Défense
Architects: Ateliers Jean Nouvel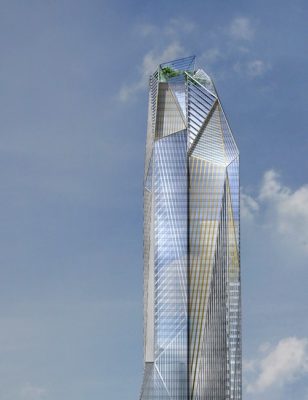 image © Ateliers Jean Nouvel
HEKLA Paris Building
1 Sep 2021
La Contemporaine, Nanterre, West of Paris
Architects: Bruno Gaudin Architectes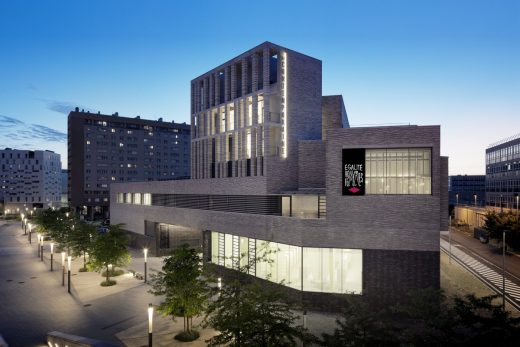 photo © Takuji Shimmura
La Contemporaine, Nanterre Building
The new Bibliothèque de Documentation Internationale Contemporaine (Contemporary International Resource Library), is located at the entrance to the university campus in Nanterre.
28 May 2021
Musée Carnavalet Renovation, 23, rue de Sévigné, 75003 Paris
Architects: Snøhetta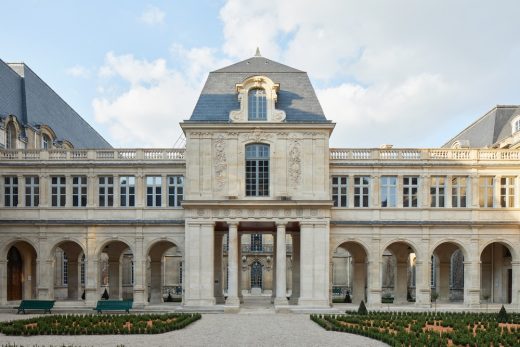 photo © Antoine Mercusot
Musée Carnavalet Renovation
After an extensive four-year renovation period, the Musée Carnavalet, reopens to the public on Saturday 29 May 2021. The renovated museum offers an enhanced visitor's experience that provides a unique travel through time to discover the rich history of the city of Paris – a story told through 625,000 artefacts, including paintings, sculptures, furniture, woodwork, art pieces and photography.
16 Apr 2021
Campus CEA Paris-Saclay, Neuroscience Institute, South of Paris
Design: Dietmar Feichtinger Architectes together with Celnikier & Grabli Architectes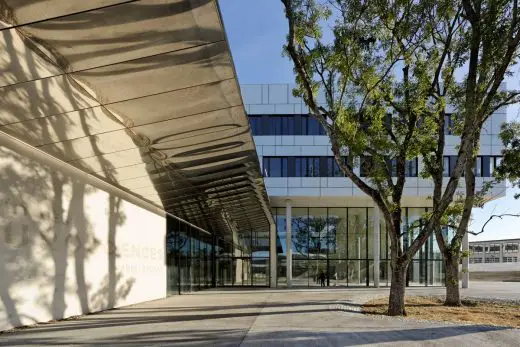 photo © David Boureau
Campus CEA Paris-Saclay Neuroscience Institute
The "Plateau de Paris-Saclay" is the upcoming major elite university campus in France. It is the French answer to American universities such as Columbia and Harvard. Situated twenty kilometers south of Paris an international center for technological research is being built on this campus. Over the long-term, nearly three thousand billion euros have been earmarked for this purpose.
10 Apr 2021
Trinity Tower – Tour Trinity La Défense, 1bis place de la Défense – 92800 Puteaux
Design: Cro&Co Architecture – Jean-Luc Crochon
Tour Trinity La Défense
2 Mar 2021
Kith Flagship Store, 49 Rue Pierre Charron
Design: Snarkitecture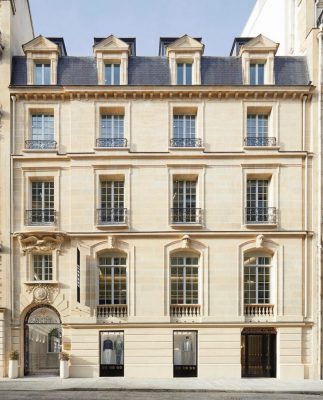 image Courtesy architecture office
Kith Flagship Store
Snarkitecture, founded by famed artist Daniel Arsham, have worked closely with Kith founder Ronnie Fieg to design Kith's largest project to date.
31 Jan 2021
Printemps Haussmann Verticalité
Design: UUfie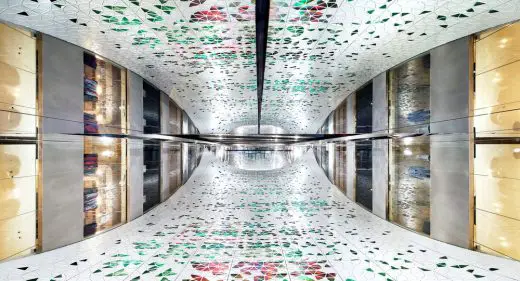 photo : Michel Denance
Printemps Haussmann Verticalité
The architectural studio, UUfie, designed the new vertical circulation space in the renowned department store Printemps Haussmann in Paris, France, founded in 1865. The original interior had featured an atrium with a massive spiral staircase, but this was removed during the modernization of the building.
10 Feb 2021
Michelet Apartment, Vanves
21 Jan 2021
ILOW Housing, Nanterre
4 Jan 2021
The Wood House
More Paris Architecture News online here soon
Paris Architecture News 2020
17 Dec 2020
Le Monde Group, 67-69 Avenue Pierre-Mendès-France
Design: Snøhetta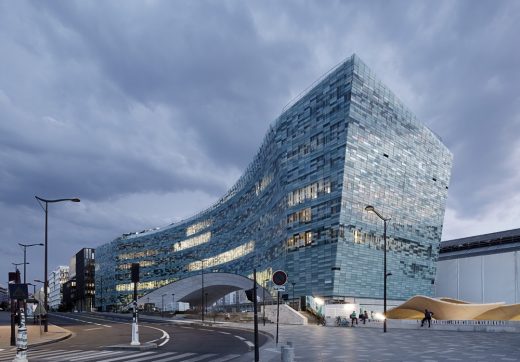 photo © Marwan Harmouche
Le Monde Group HQ
With the completion of its new headquarters, the 1,600 employees of the Le Monde Group have been brought together under the same roof in a generously arching building on 67-69 Avenue Pierre-Mendès-France in the 13th arrondissement. With its bold new plaza and semi-transparent outer skin, the building creates connections to the general public and surrounding transit while also offering citizens and passersby a generous respite in the city.
12 Dec 2020
Ducasse School, Meudon-la-Fôret, south-western suburbs of Paris, northern France
Design: Arte Charpentier Architectes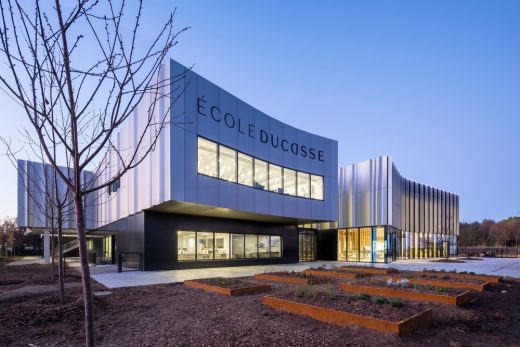 photograph © Boegly Grazia
Ducasse School
Ducasse School is a major new training center of 5 000 sqm, dedicated to the transmission and promotion of French gastronomic expertise, is located in the outlying district of Meudon-la-Fôret, 10km to the south-west of Paris, in an area of huge potential for the Greater Paris region.
19 Nov 2020
Groupe Scolaire Dunoyer de Segonzac, Antony, Antony, Hauts-de-Seine, southern suburbs of Paris, France
Design: Dietmar Feichtinger Architectes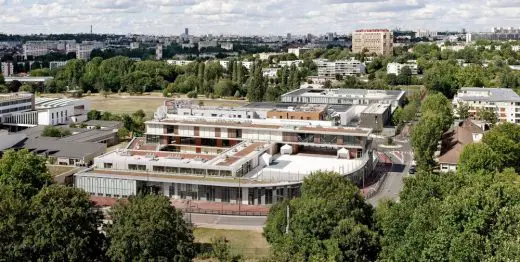 photo © David Boureau
Groupe Scolaire Dunoyer de Segonzac, Antony
School buildings shape the development of children and young people who spend most of the day there. They are also prestige projects for French municipalities. The new elementary school with kindergarten by Dietmar Feichtinger Architectes in Antony is the result of an architecture competition win.
17 Nov 2020
Edison Lite, 71 avenue Edison, 75013 Paris
Design: Manuelle Gautrand Architecture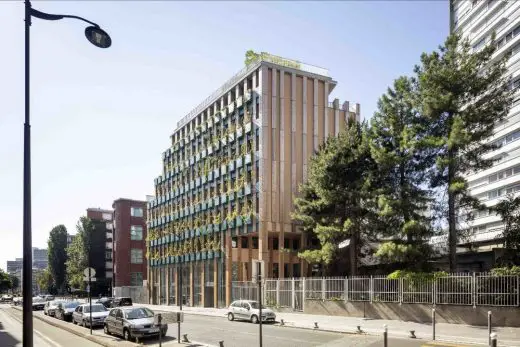 photo © Luc Boegly
Edison Lite Homes Paris
20 Oct 2020
SHIFT Issy-les-Moulineaux
20 Oct 2020
Mansartis Place Vendôme
29 Sep 2020
Presentedby Store, Le Bon Marché
Design: External Reference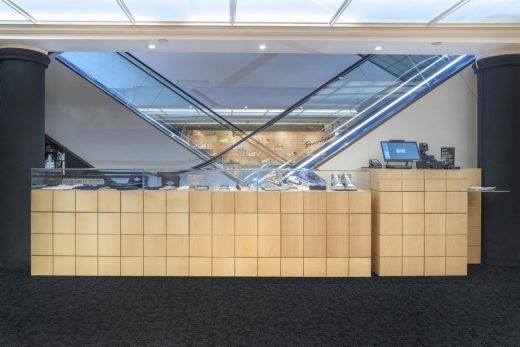 image courtesy of architects
Presentedby Store at Le Bon Marché Paris
11 Sep 2020
2024 Paris Olympics' Aquatics Center
Architects: VenhoevenCS and Ateliers 2/3/4/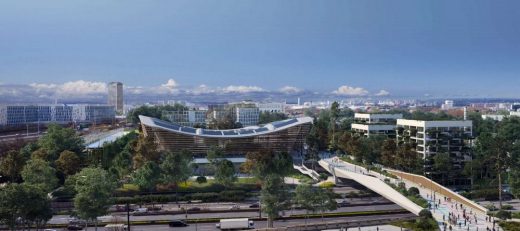 image courtesy of architects
2024 Paris Olympics Aquatics Center Building
19 Aug 2020
28 Social Housing Units, Courbevoie, Paris, France
Architects: Koz architectes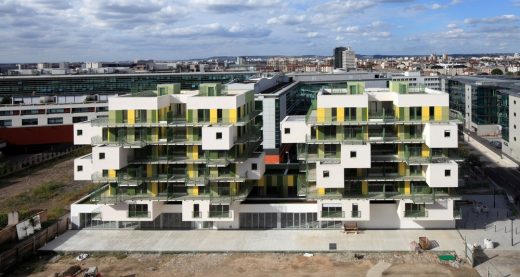 photography © Guillaume Grasset and Jean-Baptiste Pellerin
28 Social Housing Units in Courbevoie
3 Aug 2020
88 Boulevard Ney, Paris 18 Housing
20 July 2020
2024 Paris Olympics' Aquatic Center
Design: MAD Architects ; Jacques Rougerie Architecture ; Atelier Phileas Architecture ; Apma Architecture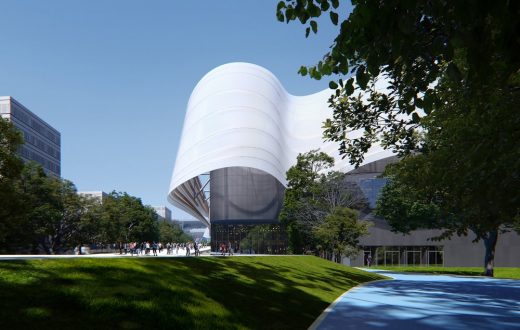 image courtesy of MIR
2024 Paris Olympics Aquatic Center
7 Jul 2020
Musée d'Art Moderne de Paris Building
16 Jun 2020
Novancia Business School Paris Building
23 Mar 2020
University of Law Lourcine Barracks
22 Mar 2020
Courbes Apartment Building in Colombes
5 Mar 2020
Public Condenser, Ile-de-France, new campus of Paris-Saclay, Gif-sur-Yvette, Ile-de-France, France
Design: Muoto Architects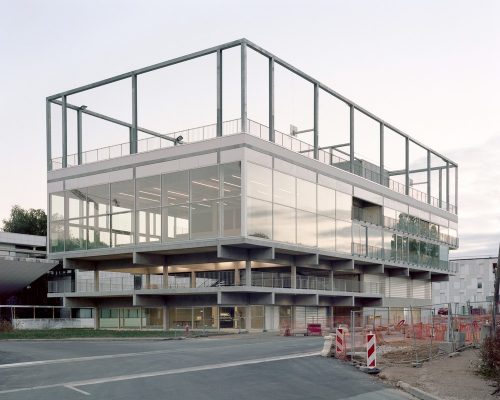 photograph : Maxime Delvaux
Public Condenser in Gif-sur-Yvette, Paris-Saclay
The project is a public facility, situated on the new campus of Paris-Saclay. The building hosts a mix of activities including indoor and outdoor sports facilities, a restaurant, cafeteria, and various public spaces: a pedestrian square, street terraces, park areas for deliveries, bikes and cars.
More Paris Architecture News Updates online soon
Parisian Architectural Updates 2019
13 Nov 2019
Grand Central Saint-Lazare
Architect: Ferrier Marchetti Studio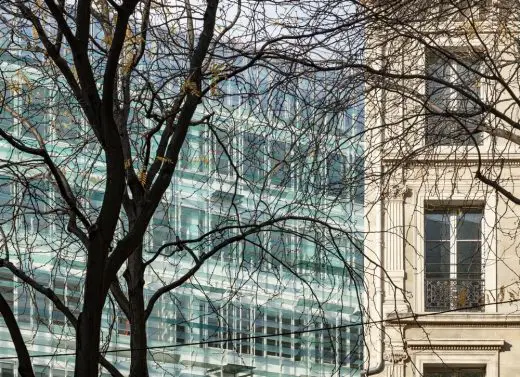 photograph © Luc Boegly
Grand Central Saint-Lazare Paris Building
Ferrier Marchetti Studio has completed Grand Central Saint-Lazare a mixed-use scheme adjacent to Saint-Lazare station, consisting of retail, restaurants, and workspace, alongside an auditorium, hanging gardens, rooftop terrace and public promenade.
5 Nov 2019
School Complex Pasteur, Limeil-Brevannes, Southeastern suburbs of Paris
Design: r2k architectes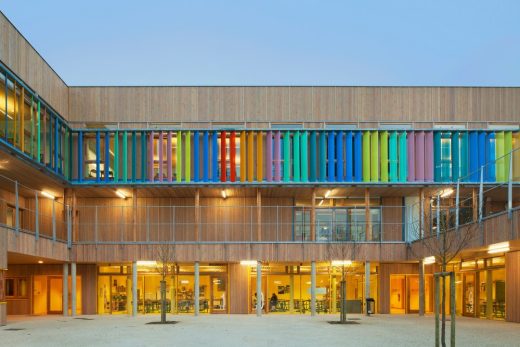 photograph : Jussi Tiainen
School Complex Pasteur in Limeil-Brevannes
The School Complex Pasteur building is located in Limeil-Brevannes, near Paris. It consists of three preschools and of two elementary schools.
4 Nov 2019
Renewal Concept for Notre Dame Cathedral, Ile de la Cité
Design: Architect Habibeh Madjdabadi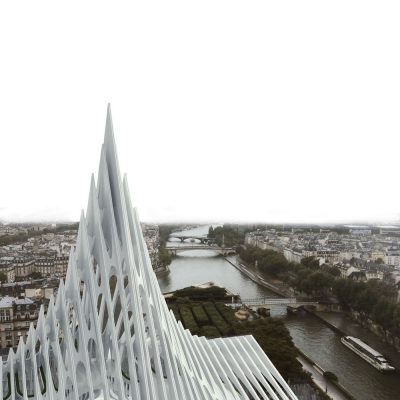 image courtesy of architect
Notre Dame Cathedral Renewal Concept
Le Corbusier described Notre dame as a 'pure creation of spirit". The new extension roof is white, recalling the title of a Le Corbusier book: "When the cathedrals were white".
1 Nov 2019
AME-LOT Housing
25 Oct 2019
28 Social Housing Units in Courbevoie
6 Oct 2019
The Cultural Block, Rue Mstislav Rostropovitch and Allée Colette Heilbronner, 75017 Paris, France
Architects: Tolila+Gilliland and TVK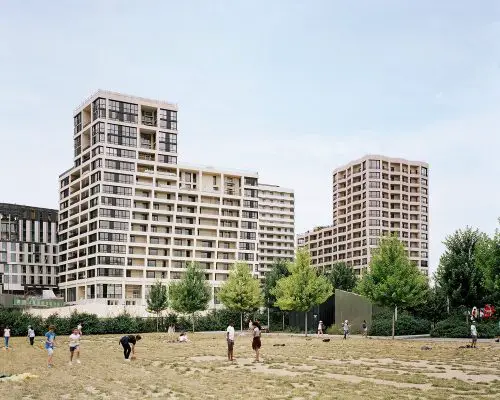 photographer © Julien Hourcade
The Cultural Block
Three residential buildings offering exceptional views of the great Parisian landscape anchor three corners of a mixed-use block. At the heart of the project is a cultural center for the new ZAC ClichyBatignolles district in Paris' 17th arrondissement: a seven-theatre cinema and a community center.
27 Sep 2019
Printemps Haussmann, 64 boulevard Haussmann, 75009 Paris, France
Architects: UUfie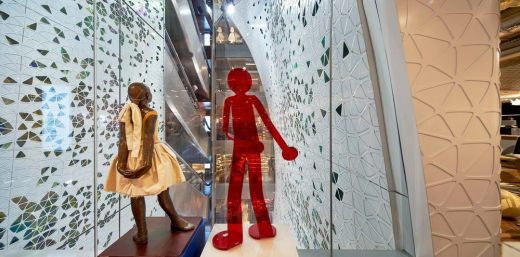 photo : Michel Denance
Printemps Haussmann
Printemps, named after the season of Spring, is a renowned department store located on Boulevard Haussmann in Paris, France. It was founded in 1865 by Jules Jaluzot and Jean-Alfred Duclos.
18 Sep 2019
Green Office ENJOY
29 Aug 2019
Odalys City Apartment Hotel
21 May 2019
Simonne-mathieu Tennis Court
Architect: Marc Mimram Architecture & Associés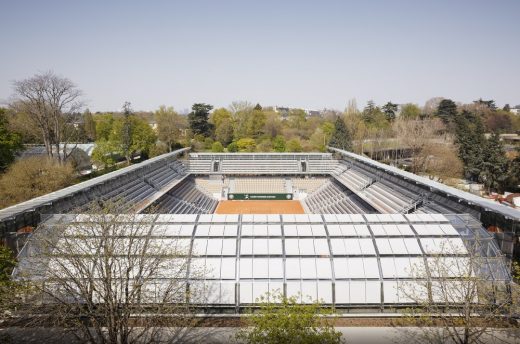 photograph © Camille Gharbi
Simonne-mathieu Tennis Court Building
The Jardin des serres d'Auteuil built in the nineteenth century is characterized by the botanical greenhouses built by Jean Camille Formigé, architect for the garden walks and plants department of Paris (Service des Promenades et Plantations), who created a historical landmark made of steel and glass emblematic of the architecture of the time.
We select the key examples of Parisian Architecture Developments. Our focus is on significant contemporary Parisian buildings.
Parisian architecture selections with links to hundreds of individual project pages:
Paris Architecture : news + key projects
Paris Buildings : A-B
Paris Architectural Designs : C-D
Paris Building Developments : E-F
Paris Architectural Developments : G-K
Paris Architecture Designs : L-O
Paris Architecture Developments : P-R
Parisian Architectural Updates in 2019
A selection of recent major buildings in the French capital city, in chronological order:
17 Apr 2019
Architects for Notre-Dame Spire
International call for architects to design new spire, reports the BBC today.
France is to invite architects from around the world to submit their designs for a new spire to sit atop a renovated Notre-Dame Cathedral.
Prime Minister Edouard Philippe told reporters they hoped for "a new spire that is adapted to the techniques and the challenges of our era".
The spire was completely destroyed in the blaze that tore through the 850-year-old Gothic building's roof.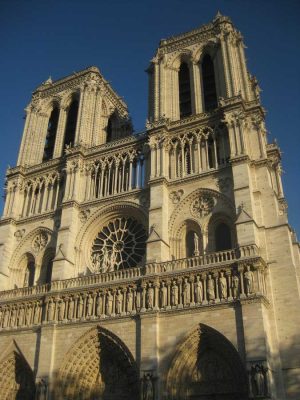 photo © Adrian Welch
Architects for Notre-Dame Spire
Cathédrale Notre-Dame de Paris is located at Ile de la Cité 6, IVe.
28 Mar 2019
Offices Vivienne in Bourse
26 Mar 2019
Panorama Bridge-Building
7 Mar 2019
Mid-Nite Building Redevelopment, Ivry-sur-Seine, Val-de-Marne department, southeastern suburbs of Paris
Design: Studio Malka Architecture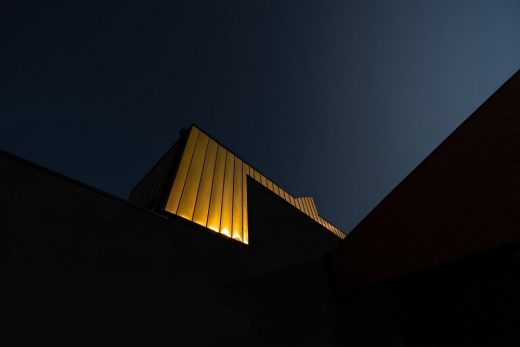 image courtesy of architects
Mid-Nite Building Redevelopment in Ivry
This building is located on the south side of Paris, it is a total refurbishment of a building with a new vertical extension on top.
5 Feb 2019
Homecore Shop in Les Champs-Elysées, Paris
Paris Architecture News for 2018
Paris Architecture News in 2018
More Paris Building News online soon
Location: Paris, France, western Europe
Paris Architecture
Parisian Architecture Designs – chronological list
Paris Architecture Walking Tours by e-architect
Paris Architect – design office listings on e-architect
Comments / photos for the Paris Architecture News page welcome