Paris Architecture Designs, Parisian Building, French Architectural Developments, Property
Paris Architecture Designs
Current Parisian Architectural Developments – Buildings in the French Capital
post updated 11 October 2021
Architecture Designs in Paris
Diriger aux Bâtiments de Paris
e-architect select the key examples of Parisian Architecture Designs. Our focus is on contemporary Parisian buildings.
We have 8 pages of Parisian Architecture selections with links to hundreds of individual project pages.
Paris Architecture : news + key projects
Paris Buildings : A-B
Paris Architectural Designs : C-D
Paris Building Developments : E-F
Paris Architectural Developments : G-K
Paris Architecture Designs : L-O (this page)
Paris Architecture Developments : P-R
Paris Building Designs : S-Z
Parisian Architecture Designs
New Parisian Architectural Designs – latest additions to this page, arranged chronologically:
Louvre Museum Visconti Courtyard
Design: Architects Rudy Ricciotti and Mario Bellini



photograph © R. Ricciotti – M. Bellini / Musée du Louvre © Lisa Ricciotti
Louvre Museum Visconti Courtyard – 21 Sep 2012
A new cutting-edge architectural structure is to open to the public after five years of construction work; designed to showcase the museum's treasures of Islamic art, the new project is located in the Visconti courtyard, at the very centre of the Louvre. This new Parisian building is hailed as the most significant museum expansion project since the Louvre's great Pyramid.
Massena Social Housing
Design: Beckmann-N'Thépé Agency



photo © Stefan Lucas
Massena Social Housing – 7 Nov 2012
This project is not an isolated architectural mission, it contributes to the urban ambitions of the Masséna district in the 13th arrondissement of Paris. Each new construction is an additional milestone in the extension of this "3rd age" town.
Marne-la-Vallée University Library
Design: Beckmann-N'Thépé Agency



photo © Olivier Amsellem
Marne-la-Vallée University Library – 7 Nov 2012
The architects chose an audacious strategy for the design of this new building, which resembles a mound of earth 'torn from its natural environment,' in harmony with its surroundings. 'Between naturalism and terror, 'the Marne-la-Vallée Library puts us in touch with our dreams – active, joyous, sometimes disturbing, comforting, but always salutary'.
Ministry of Defense Building Paris
Design: ANMA architecte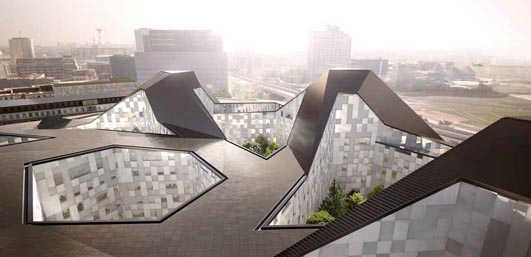 picture from architects
Ministry of Defense Paris – 25 Aug 2012
The new headquarters of the Ministry of Defense in south western Paris has been designed as a natural machine. The building's façade alternates between both transparency and opacity via horizontal slat work, providing both intimacy and transparency.
Maison Escalier, rue Jacob, Paris VI
Design: Jacques Moussafir



picture : Hervé Abbadie
Maison Escalier – 10 Jul 2012
Built on the site of an old house set between two buildings in the heart of a very well-preserved block in the 6th arrondissement, this house is designed as a tree-like structure delimited on three sides by the original walls. Only the entirely glazed south façade belies the almost total reconstruction of the building and provides a glimpse of the volumetric complexity of its interior spaces.
Montmartre Housing, 18th arrondissement
Design: Atelier Kempe Thill



image © Atelier Kempe Thill
Montmartre Housing – 11 May 2012
Atelier Kempe Thill has recently won an invited competition for 55 apartments, a dentist's surgery, a mother child centre and a parking garage at the 18th arrondissement in Paris.
Paris Building Designs, alphabetical:
La Basilique du Sacré Coeur / Sacre Coeur Basilica – see Sacre Coeur, Montmartre, Paris XVIIIe
1912
Design: Paul Abadie Architect
La Grande Arche de La Défense / Grand Arch at La Defense, 1 place du parvis de La Défense, Puteaux, Paris XVe
1989
Design: Johan Otto von Spreckelsen, Architect
Echoing the existing Arche de Triomphe the Grande Arche is typically bombastic for one of Mitterand´s Grand Projets. Unlike the earlier Arche de Triomphe this 35-storey building contains offices located over the formal axis of the Champs-Elysees. Despite the name the architect is apparently Danish.
Le Meurice Hotel Paris
Design: Philippe Starck



photograph : J.B. Mondino / F. Maréchal / DR
Le Meurice Hotel + Le Meurice Design
Le Monde Headquarters
Design: Du Besset-Lyon Architectes



image from architect
Le Monde Building
Le Pantheon de Paris / The Pantheon, Paris, Paris Ve
Design: Jacques Germain Soufflot, Architect
The Pantheon Paris
Le Safran Festival Hall, Brie Comte Robert, southeast of Paris
2006
Design: S.C.P.A. Semon-Rapaport Mandataire de L'Equipe Architects
Les Bons Enfants – French Ministry of Culture & Communications HQ
2005
Design: Francis Soler
Highly unusual building covered in stainless steel tracery
Les Halles



photo © Rebecca Breun
Les Halles
Les Trois Quartiers, 21 boulevard de la Madeleine, Paris 1er
Les Trois Quartiers
Leviathan, Grand Palais



photo : Karavan
Anish Kapoor Grand Palais
Library, Paris
1992
Toyo Ito & Associates
Lintas Bridge Paris
Ian Ritchie Architects



photo © Jocelyne Van den Bossche from Ian Ritchie Architects
Lintas Bridge
Louis Vuitton Foundation for Creation Building
Architects: Frank Gehry
Louis Vuitton Paris
Louvre Museum Building
Design: various architects



picture © Isabelle Lomholt
Louvre Museum Building
Magasin La Samaritaine, 77 rue de Rivoli
SANAA



photograph © Colin Eaton
Magasin La Samaritaine
Maison de Radio France
Design: Architecture-Studio


image from architects
Maison de Radio France
Mantes-la-Jolie Aquacenter
Agence SEARCH



photo © Emile Dubuisson
Mantes-la-Jolie Aquacenter
Maison de le Roche / Le Roche House
Le Corbusier Architect
Home of the Fondation Le Corbusier
Maison de L'UNESCO / UNESCO Building, Paris VIIe
1958
Marcel Breuer & Pier Luigi Nervi, Architects
The UNESCO Building Paris is by two of the most famous architects in the history of Modern Architecture. Another Marcel Breuer building is the Whitney Museum in New York
Maison de Verre / The Glass House, 31 Rue St-Guillaume
Pierre Chareau, Architect
Aka Maison Dalsace / House of Glass: Paris house
Maison et atelier Ozenfant / Ozenfant House & Studio, 53, avenue Reille, Paris XIV
1922
Le Corbusier Architect
Masséna development
Atelier Christian de Portzamparc



image from architect
Urban competition
Metal 57, Renault site
–
Claude Vasconi
Metal 57 redevelopment, Renault site
–
Dominique Jakob & Brendan Macfarlane
Ministry of Finance Building
1982
Chemetov & Huidobro
International Architecture Competition win
Musée du Louvre / The Louvre Museum, Paris Ie
1876;
Design: various architects
Musée du quai Branly / Quai Branly Museum, 15, rue Jean-Baptiste Berlier
Ateliers Jean Nouvel



image © Rebecca Breun
Musée du quai Branly
Musée Orangerie / Orangerie Museum, Tuileries Gardens, central-west Paris
Renovation 1998-2006
New Longchamp Racecourse
Dominique Perrault



picture © Dominique Perrault
New Longchamp Racecourse
Notre-Dame Cathedral / Cathédrale Notre Dame de Paris, Ile de la Cité 6, Place du Parvis, Paris IVe
Architects n/a
Notre-Dame Cathedral
Novancia business school
Architecture-Studio



photograph : Georges Fessy
Novancia business school
Offices beside the Périphérique
2009
Sauerbruch Hutton
Opéra de la Bastille / Paris Opera building, 120 Rue de Lyon, Place de la Bastille, Paris XIIe
1983-89
Carlos Ott, Architect
The Opéra National de Paris is one of the weakest buildings of President Mitterrand´s "Les Grands Projects" and much vilified. The story goes that the judges thought it was by Richard Meier but in the `blind` architecture competition a fairly unknown architect, Carlos Ott, won.
Opéra Garnier / The Garnier Opera House, Paris IXe
1875
Charles Garnier, Architect
The auditorium of this famous Paris building was painted by Surrealist artist Marc Chagall in 1964
Origami Building – Barclays Capital Bank offices, Avenue de Friedland, Paris
Architect: Manuelle Gautrand



photo © Manuelle Gautrand Architecture, photo Vincent Fillon
Origami Building
More Paris Architecture Designs online soon
Location: Paris, France, western Europe
Architecture in French Capital City
Villa Savoie – Villa Savoie Parisian house designed by Swiss-French architect Le Corbusier
Website: Architecture Walking Tours by e-architect
Buildings / photos for the Paris Architecture Design page welcome