São Paulo Architecture News 2021, Brazilian Building Projects, SP Construction Design, Property Photos
São Paulo Architecture News
Architectural Developments in Brazil, South American Built Environment Updates
post updated 19 August 2021
São Paulo Building News
São Paulo Architectural News – Brazil Built Environment Updates, chronological:
São Paulo Architecture Designs – chronological list
For the latest cool residential properties see São Paulo Houses
19 Aug 2021
Residential Bosque Do Horto, Jundiaí
Architect: Reinach Mendonça Arquitetos Associados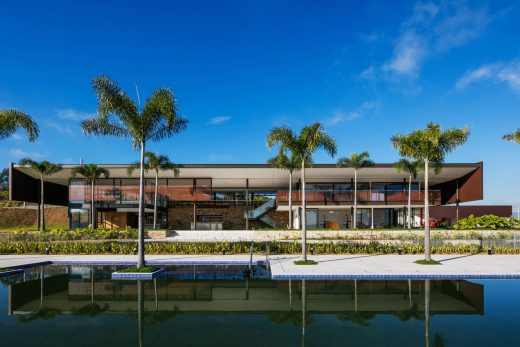 photo : Nelson Kon
Bosque do Horto Condominium in Jundiaí
The location delimited for the project, inside a high-end residential condominium in Jundiaí, is situated on a site with a natural slope, an admirable view facing north and a beautiful lake. The main idea was to minimally change the original site, but at the same time provide some sights of the extremally beautiful landscape of the forest.
14 Aug 2021
TRD House
12 Aug 2021
Project Yoga, Vila Madalena, SP
Architect: Superlimão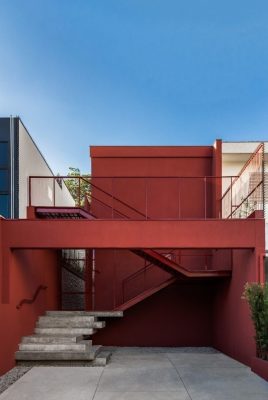 photo : Israel Gollino
Project Yoga SP
The 1990s residence was purchased by a couple of clients who wanted to transform it into a meditative place for yoga classes, in addition to coworking and rental rooms. With that in mind, Superlimão's project had to accommodate a large room for classes, a reception area on the ground floor, a studio and coworking area on the top floor, and a room for rental in the old smaller house in the back.
21 Jul 2021
Melo Alves 645, near Paulista Avenue in the middle of the city,
Architect: MOS Incorporadora, Brazilian firm of real estate development with internal architecture team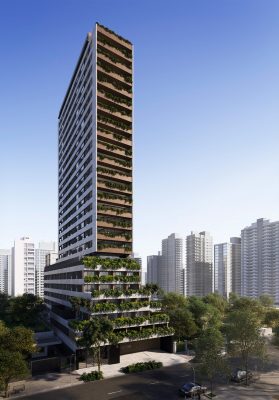 3d rendering © Blackhaus
Melo Alves 645 Building
The Melo Alves 645 Tower highlights the urban context, the sights surrounding the building, and people's well-being. Such characteristics are found in the residential building located in the heart of Jardins neighborhood, close to infrastructure and facilities available in the neighborhood.
7 July 2021
Kotori Restaurant, R. Cônego Eugênio Leite, 639 – Pinheiros
Design: Coletivo de Arquitetos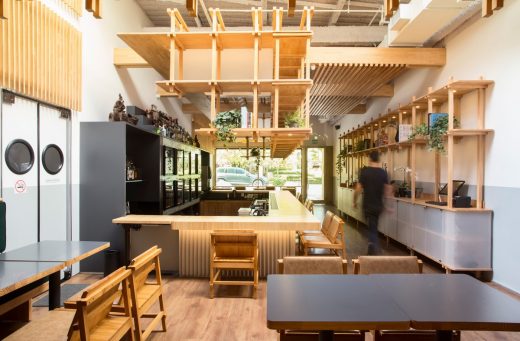 photography : Levi Mendes Junior (daytime photos) + Rubens Kato
Kotori Restaurante Pinheiros
This architectural design proposes an immersion into the japanese cultural imagination. Through the study of Japanese moorings and fittings that make use of wooden elements, the architecture project created by Coletivo de Arquitetos relies on this traditional oriental constructive reasoning to design the restaurant.
1 June 2021
You, Perdizes, Bartira Street
Design: Perkins&Will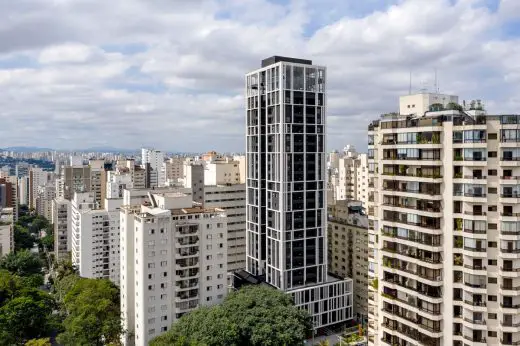 photo : Fran Parente
You, Perdizes São Paulo
The setting meets various housing needs, such as proximity to public transportation points, ease maintenance, service offering and shared environments, among others. The city lives an intense process of recovering people's connection with the urban space, and the post-pandemic should intensify that need.
11 Mar 2021
Bruno Rossi Arquitetos Seoul exhibition
24 Dec 2020
Clínica Lalutie
17 Nov 2020
Populos Headquarters
4 Nov 2020
SM Apartment, SP Urban Refuge
26 Oct 2020
Coffee House Divinópolis, Brazil
19 Oct 2020
New Leisure Area of the Grande Hotel Senac São Pedro, near São Paulo City
Architect: Levisky Arquitetos I Estratégia Urbana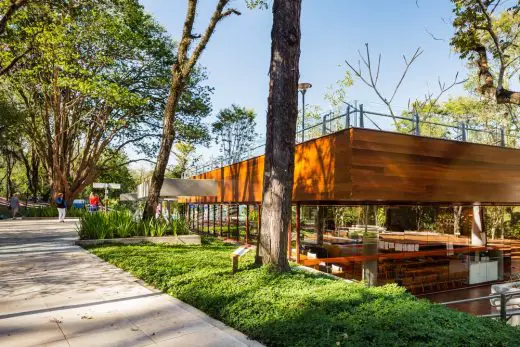 photo : Ana Mello
Grande Hotel Senac São Pedro Leisure Area
With integration and qualification of spaces, this project extends options for recreational activities, sociability, ludic and thematic paths. Located in a valley area, the project takes advantage of the topography of the land to implement two building volumes connected by squares that in turn create areas for contemplation and leisure in the open.
17 Oct 2020
Chicko Restaurant, Campinas, Brazil
30 Sep 2020
Neutral Palette Apartment, SP
29 Sep 2020
Aimberê Perdizes Residential Tower, SP
11 Sep 2020
Canary Investment HQ
9 Sep 2020
JG House
5 Sep 2020
Toblerone House
17 Aug 2020
Dois Trópicos, R. Mateus Grou, 589 – Pinheiros
Architects: MNMA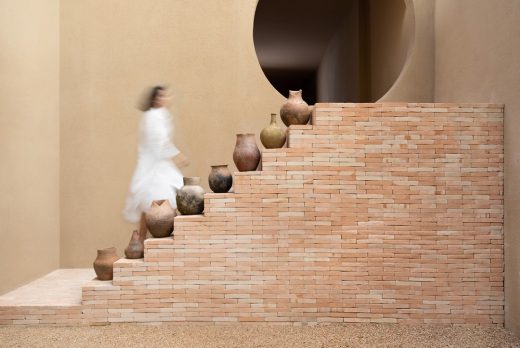 photo : Andre Klotz
Dois Trópicos São Paulo
"… the front door continues to appeal to our sense arrival. Call it the ceremony of coming home."
Akiko Busch
12 Aug 2020
Valente building, Pinheiros
Architects: FGMF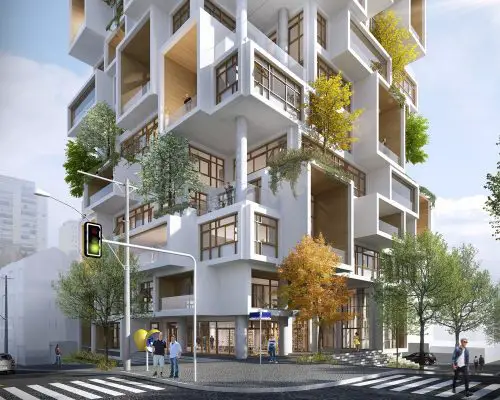 image courtesy of architects
Valente Building São Paulo
The Valente building, designed by award-winning Brazilian architecture firm FGMF Arquitetos, will bring to Pinheiros (neighborhood in São Paulo, Brazil) its original architecture, causing great impact in the urban landscape, entirely conceived for user experience.
11 Aug 2020
NASP – Head office of Natura São Paulo, Av. Alexandre Colares, 1188 – Parque Anhanguera
Architects: Dal Pian Arquitetos Associados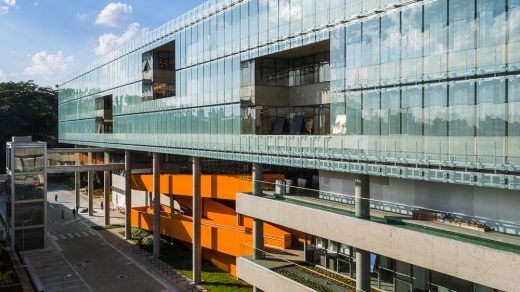 photos : Nelson Kon & Pedro Mascaro (drone photos)
NASP – Head office of Natura São Paulo
In 2011, Natura, a Brazilian multinational company of cosmetics and beauty products, promoted an architectural competition on invitation to its new administrative headquarters in São Paulo.
10 Aug 2020
SouSmile São Paulo, Pinheiros
Architects: SuperLimão Studio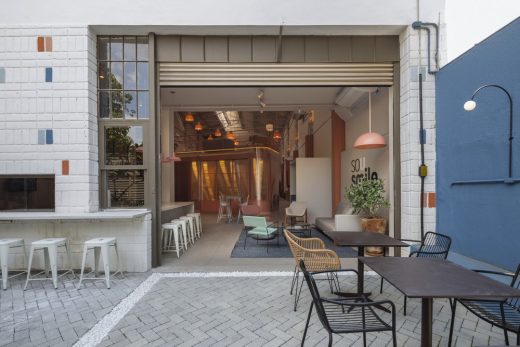 photo : Maira Acayaba
SouSmile São Paulo
São Paulo Architecture News from 2019:
20 Dec 2019
MER Apartment
26 Nov 2019
Refectory and Dressing Room, Santo Antonio de Posse, SP
Architects: Bruno Rossi Arquitetos and André Scarpa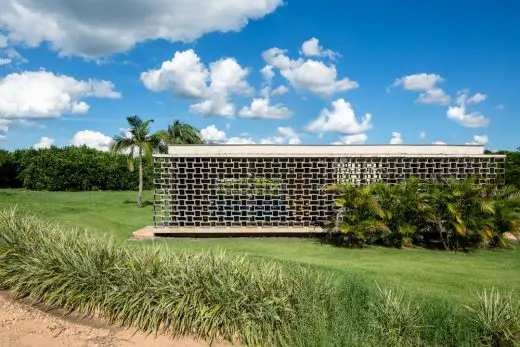 photo : André Scarpa
Refectory and Dressing Room Santo Antonio de Posse, SP
This new building is a services pavilion, located in the rural area of the São Paulo state interior, seeks to be a shelter for the orange harvest workers.
15 Nov 2019
Nubank Headquarter, corner of Rebouças Avenue / Capote Valente Street, Pinheiros neighborhood
Architecture: Dal Pian Arquitetos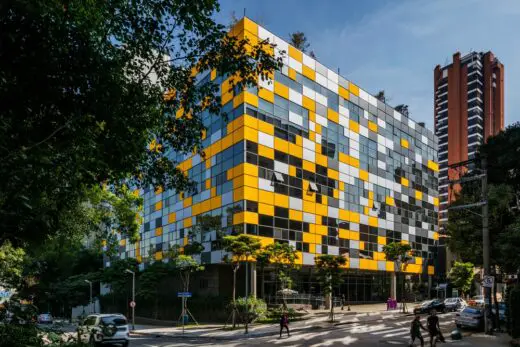 photo : Nelson Kon
Nubank Headquarter Office Building
In a square-shaped plot the Rebouças Module consists of 46 office units, a ground floor theater and garage basements.
7 Nov 2019
The Coffee, Paulista Avenue, SP
Architecture: Studio Boscardin.Corsi Arquitetura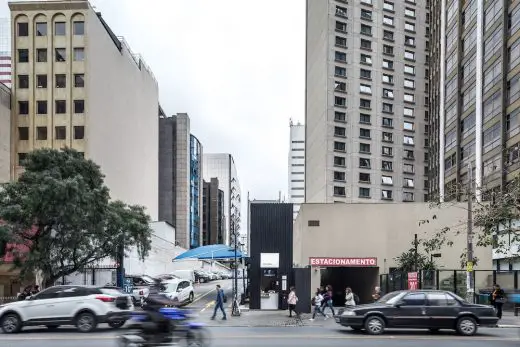 photo : Eduardo Macarios
The Coffee Augusta, Paulista Avenue
The concept of The Coffee is to be inserted in consolidated urban centers, but not always transformable buildings are found. Thus, a model was designed that allows the installation of coffee in vacant areas: a container.
18 Oct 2019
New Luxury Hotel Buildings
Architects: aflalo/gasperini arquitetos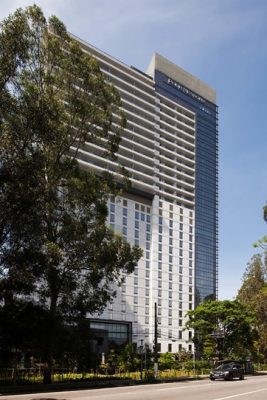 photo : Daniel Ducci
New Luxury Hotels in São Paulo by Aflalo/Gasperini Arquitetos
Four Seasons São Paulo, Hotel e Residências Fasano Itaim and W São Paulo, all designed by Brazilian firm Aflalo/Gasperini Arquitetos and following the trend of hotel + residences.
1 Oct 2019
Hoegaarden Greenhouse Bar in SP
30 Sep 2019
Pamplona Square Digital Theater
Architect: Kruchin Arquitetura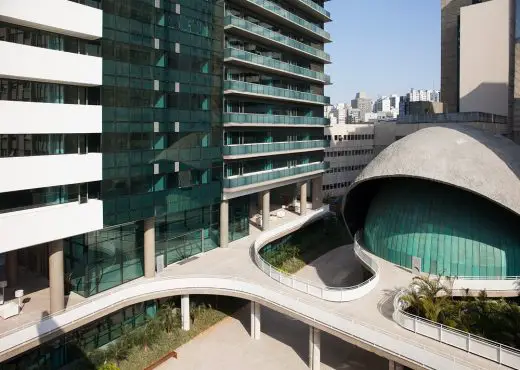 photo : Daniel Ducci
Pamplona Square Digital Theater in SP
This architectural design is part of a mixed-use complex that brings together a commercial building, a research center and a restored big house. The Digital and Planetary Theater intended for scientific and educational presentations and operates by 360 degree immersion of the viewer in the projected images.
13 Sep 2019
SESC Guarulhos, Guarulhos, Sao Paolo, Brasil
Design: Dal Pian Arquitetos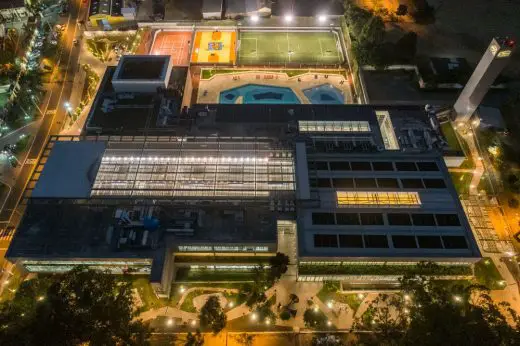 photo by Nelson Kon / SESC-SP and Pedro Mascaro
SESC Guarulhos, SP
Winning project of the first public architectural competition promoted by SESC – Social Service of Commerce, in 2009. As a public use building gathering activities of culture, sports, teaching, health, recreation and leisure, SESC Guarulhos was conceived as a great democratic and inviting space that seeks to encourage and stimulate encounters, coexistence and interaction among people.
28 Aug 2019
Beacon School
Architects: Andrade Morettin Arquitetos And Gooa – Gusmão Otero Arquitetos Associados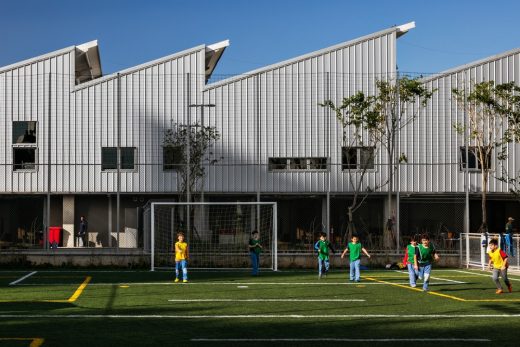 photograph : Nelson Kon
Beacon School São Paulo
16 Aug 2019
Floating pavilion, Santo Antonio de Posse, São Paulo, Brazil
Architects: BRRO Arquitetos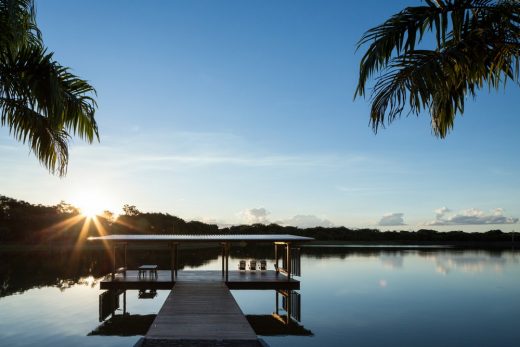 photograph : André Scarpa
Floating pavilion in Santo Antonio de Posse
A shading plane over the water. The Floating pavilion represents a building with no clear boundaries, without beginning or end, mimetized in the landscape, over the diffusive and reflexive territory of a water containment basin in a farm on the interior of São Paulo state – Brazil.
15 Aug 2019
Bath and Storage Pavilion, Santo Antonio de Posse, São Paulo, Brazil
Architects: BRRO Arquitetos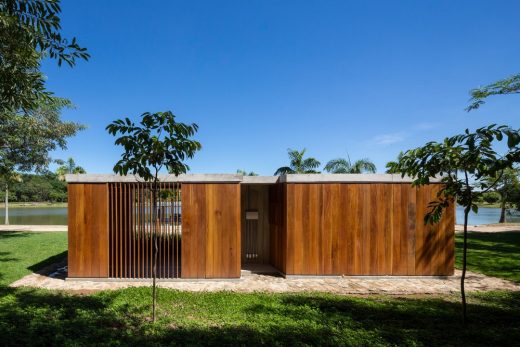 photograph : André Scarpa
Bath and Storage Pavilion in Santo Antonio de Posse
The pavilion building is placed on the edge of the dam, a reservoir for the extensive surrounding farmland, in a city in the interior of São Paulo State. The need for this program arises from the demand of basic infrastructure for those who enjoy the small beach formed by the lake.
12 Aug 2019
Santa Elisa Farm Office in Santo Antonio de Posse
1 July 2019
Avenues São Paulo: The World School, Cidade Jardim
Architects: aflalo/gasperini arquitetos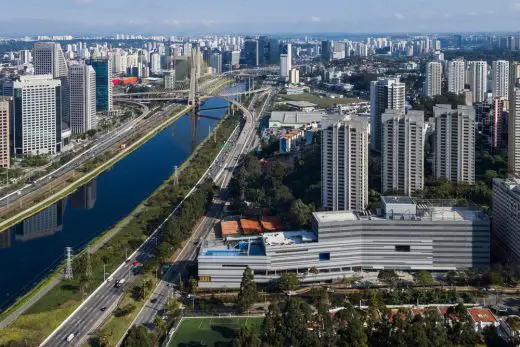 photo : Pedro Mascaro
Avenues São Paulo: The World School
New design of international school 'Avenues: The World School', at a quiet and tree-lined area in the Cidade Jardim neighborhood.
15 Jun 2019
Groenlandia House
9 Apr 2019
Google Campus in São Paulo
27 Mar 2019
Edificio POD, Rebouças, district of Pinheiros, SP
Design: FGMF Arquitetos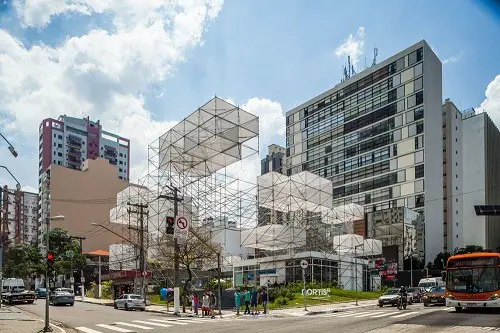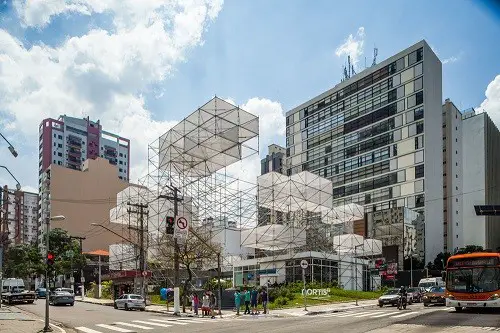 photography : Rafaela Netto
Edificio POD
A mixed-use building for the Nortis construction company and incorporator in Brazil, the renowned Brazilian office proposed an innovative format.
22 Mar 2019
SESC Avenida Paulista, Av. Paulista, 119 – Bela Vista
Design: Königsberger Vannucchi Architects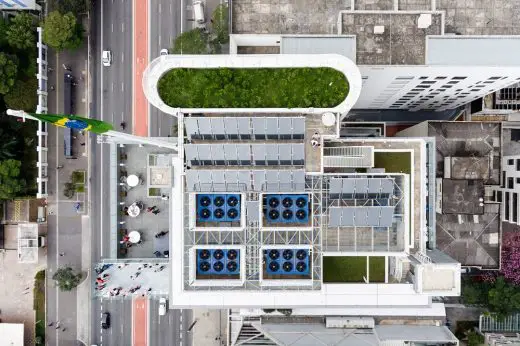 photography : Pedro Vannucchi
SESC Avenida Paulista Building
The SESC Avenida Paulista project wins the Best Project of this edition and was laureate with the 1st place in the category "Institutional Building".
15 Mar 2019
Portinari´s famous work – 'War and Peace', a gift to United Nations – will have a permanent release in the major University of Brazil, Universidade de São Paulo (USP).
Brazil will receive a reinterpretation of "War and Peace", a gift from Brazil to United Nations in NY; Candido Portinari is one of the main Brazilian artists.
Led by the Portuguese Isabel Ruas and Gonçalo Ruas, architects Oficina de Mosaicos – a Brazilian reference for the creation, development and execution of mosaics and based in Brazil since 36 years ago – will create a re-reading of the panels 'War and Peace' in mosaic, to be exposed permanently at University of São Paulo (USP).
'War and Peace' by Candido Portinari for Universidade de São Paulo (USP), Brazil: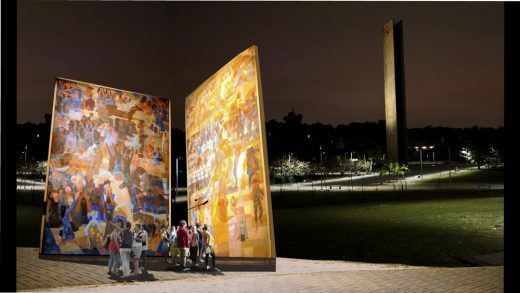 image from architects
The initiative seeks to value Brazilian culture by bringing art to public spaces. The project is supported by Portinari's son, João Portinari, and is in the fundraising stage.
The architect, Isabel Ruas, at the head of this project, reinforces that the re-reading is something very important for the culture of the country, mainly for its educational character. "We want to take schools, children and everyone to know this Portinari work," she says.
With two panels of 45 meters high and 33 meters long each, the original version is at the headquarters of the General Assembly of the United Nations in New York (USA). The painting was created at the request of the Brazilian government in 1952 and was given as a gift to the UN in 1956. The two panels meet separately – the 'Guerra' panel is at the entrance, while the panel depicting 'Peace' lies at the exit.
guerra e paz by Candido Portinari for Universidade de São Paulo (USP), Brazil: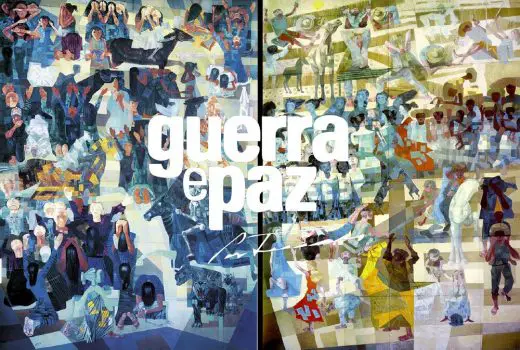 image from architects
There-reading will be the same size as the original version. "It's not a copy, because Portinari's brushstroke will not be there. It will be the representation of the mosaic brushwork and will have its own shape", explains Isabel.
To do this work, a foreseen expense of 3 million reais will be expected. The project will be executed via Rouanet Law and is in the fundraising stage. So far, some institutions have committed to investing, although they have not yet revealed the values. The process should last until September 2019. Among the works already done by Mosaic Workshop is the restoration of a mosaic by the artist Di Cavalcanti installed at the Teatro Cultura Artística, in the center of São Paulo.
For fund-raising, Oficina de Mosaico is receiving an e-mail via oficinademosaicos@oficinademosaicos.com.br.
12 Mar 2019
Espaço Poétika
Architecture: Studio MEMM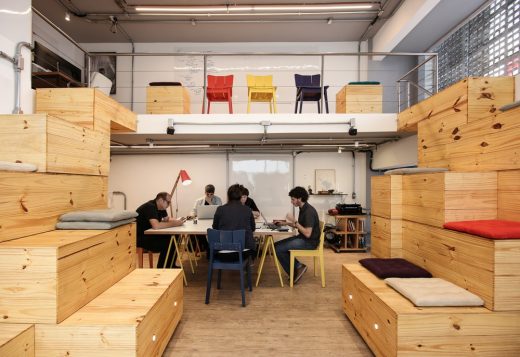 image from architects
Espaço Poétika in São Paulo
Studio MEMM has recently completed the project for an artistic production company specialized on theater plays, events, short and feature films in the city.
26 Feb 2019
Ribeirão Preto Residence
19 Feb 2019
Retrofit Apartment by Praça da República
18 Feb 2019
Casa Neblina
More contemporary São Paulo Architecture News on e-architect soon
São Paulo Architecture News 2018
30 Nov 2018
CasaViva BKO São Paulo, SP
Architects: Perkins+Will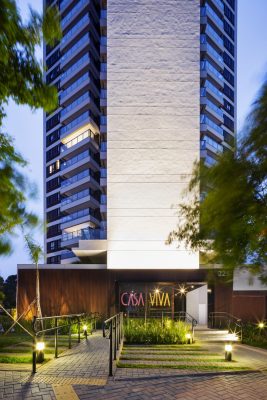 photo courtesy of architects
CasaViva BKO São Paulo
4 Sep 2018
Benzina Bar
Architects: Superlimão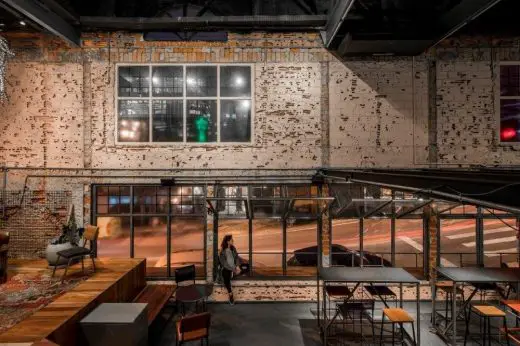 photograph : Maíra Acayaba
Benzina Bar
The Group of Benzina Bar, a SuperLimão client also in other projects, was one of the pioneers in implementing the Fast Casual system in Brazil. The idea for the Benzina Bar project, that is located in São Paulo, was to create a young, interesting and at the same time an empowering environment for the customer to have the free will to come and go at the bar.
24 Aug 2018
SubAstor Cocktail Bar
SubAstor Cocktail Bar
10 May 2018
A Mata Atlântica Forest, São Paulo
Design: Balmori Associates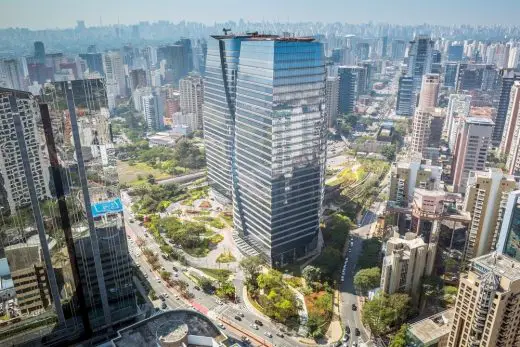 image courtesy of Eduardo Lazzarini
A Mata Atlântica Forest in São Paulo
Located in the affluent neighborhood of Vila Olímpia, the park and mixed-use towers designed by Balmori Associates, Pelli Clarke Pelli Architects and Atelier 10 on a 3.84 hectare site (9.48 acre) opened summer of 2017. Back in 2009, the team had won an invited international competition.
14 May 2018
Jardim Paulistano Residence, SP
Architects: Perkins+Will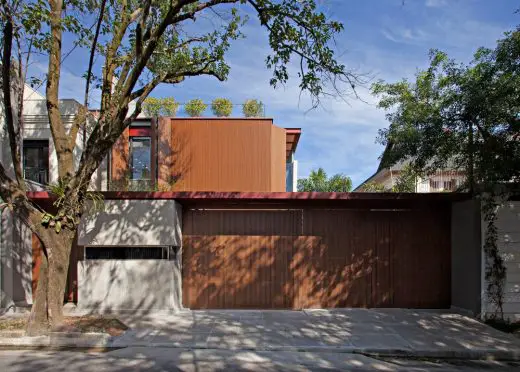 photo : Daniel Ducci
Jardim Paulistano Residence in São Paulo
The ground floor holds common and reception areas such as living room, dining room and kitchen, all integrated with a green external area.
26 Apr 2018
Goose Island Brewhouse, Largo da Batata
Design: SuperLimão (Brazil) + Mckinley Bukkart Architects (Canada)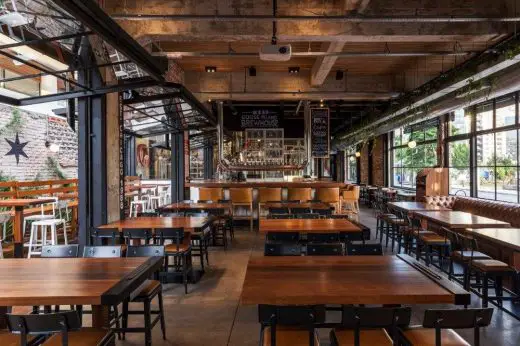 photograph : Maíra Acayaba
Goose Island Brewhouse
The American brewery, originally from Chicago city (USA), Goose Island Brewhouse brought to Brazil its concept of brewpub, a bar where beer is produced and consumed. SuperLimão Studio and the Canadian office McKinley Bukkart Architects were responsible for the development of the project.
23 Apr 2018
Casa Bélgica
Design: AMZ Arquitetos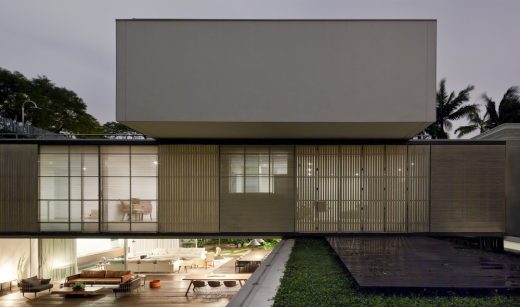 photograph : Maíra Acayaba
Casa Bélgica – Luxury Home in São Paulo
Signed by AMZ Arquitetos, led by the architects Adriana Zampieri and Pablo Alvarenga; Belgica House is located in a green residential area in São Paulo, Brazil. The house program was organized in three blocks based on functions (service, sleeping and leisure spaces) piled up and arranged in a way that creates a constant indoor-outdoor integration.
19 Mar 2018
Cidade Jardim Residence, São Paulo, Brazil
Architects: Perkins+Will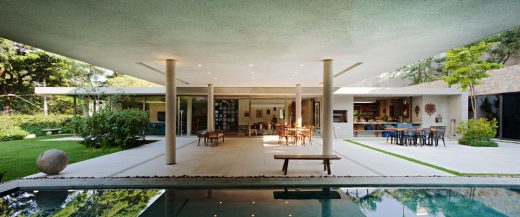 photography: Daniel Ducci
Cidade Jardim Residence in São Paulo
The biophila concept praises constant contact with natural elements as a crucial tool to improve well-being and life quality. Located in São Paulo, the Cidade Jardim Residence was designed by Perkins+Will to offer a perfect balance between nature and construction.
Vila Olimpia Apartment in São Paulo
30 Jan 2018
BFC Corporate Building, Paulista Avenue
Architects: Perkins + Will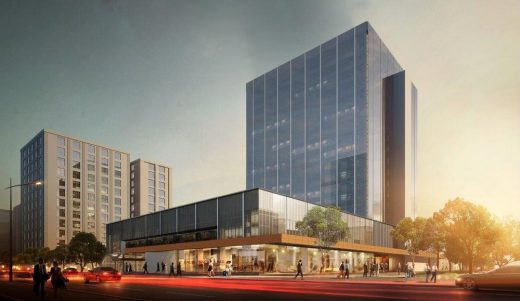 image courtesy of architects
BFC Corporate Building Retrofit in São Paulo
Reference with its arches, the old building had to leave a private bank headquarters occupancy, with everything it represents: very closed, dark, facing inwards. And turn it into a place with greater thermal, acoustic and lighting comfort, without putting everything on the floor. In addition to creating an integration with the environment and enable dialogue with the pedestrian, without barriers such as grids or obstacles.
11 Jan 2018
Fire Department at Guarulhos
Design: MM18 Arquitetura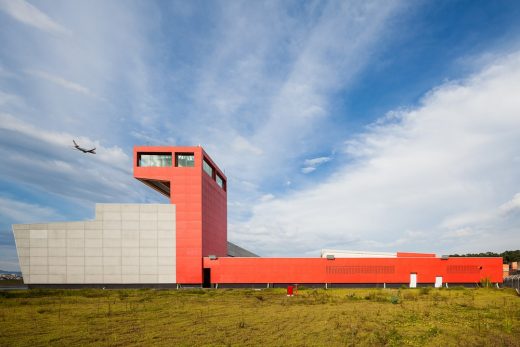 photo : Pedro Vannucchi
Fire Department at Guarulhos International Airport
Updating of the Fire Fighting Section has left it capable of receiving the latest generation equipment and to attend events with large airplanes; program includes study room, library, cafeteria and rest area. The office MM18 Arquitetura, led by the architects Mila Strauss and Marcos Paulo Caldeira, was responsible for the Fire Fighting Section (SCI)project of the Fire Department at Guarulhos International Airport.
More new São Paulo Architecture News welcome for consideration
São Paulo Architecture News 2017
18 Dec 2017
AQH Apartment
Architects: CR2 Architecture
Renovated Penthouse in São Paulo
24 Nov 2017
Urbanity São Paulo Tower Buildings
Architects: aflalo/gasperini arquitetos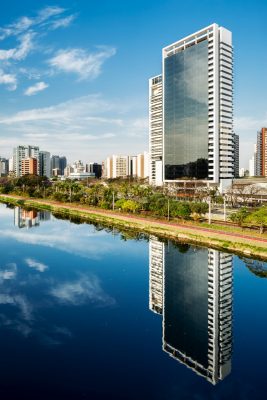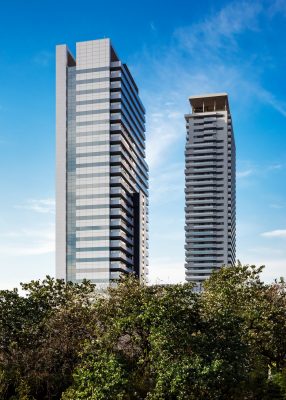 photograph : Ana Mello
Urbanity São Paulo Tower Buildings
This is a mixed use complex located in a 'noble' area in São Paulo. With a corporate and a residential tower plus a commercial space, Urbanity follows one of the biggest contemporary urbanistic trends in São Paulo.
30 Oct 2017
Contemporary House in Campinas
Architects: Mauro Lacio Arquitetura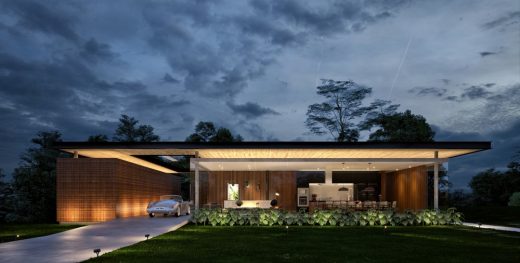 image : Trama 3D Studio
CP House in Campinas
A couple looking for refuge and tranquility in a proposal that combines green areas and the comfort of a country house. These were the basis for this residential project. The idea was to create two blocks, in which one would have the social function of the house while the other the recreation area.
Bráz Elettrica São Paulo Pizzaria: Pizza Restaurant
Museu de Arte de São Paulo Assis Chateaubriand
Clube Dom Pedro II + III, Campinas
Dekmantel Festival São Paulo 2017
Jardins Apartment in Sao Paolo
More São Paulo Architecture News online soon
Location: São Paulo, SP, Brasil
Buildings in SP
São Paulo Architectural Projects
São Paulo Architecture Walking Tours by e-architect
Architectural Designs in Brasil
Comments / photos for the São Paulo Building News page welcome