Renovation of Vaincre la Mucoviscidose Association Offices Paris, Parisian office building, French commercial property development
Renovation of Vaincre la Mucoviscidose Association Offices, France
4 October 2023
Design: William Gonord Architecte (WGA) and Julien Plessis (Métrotope architecture)
Location: 181 rue de Tolbiac, Paris 13th Arrondissement, France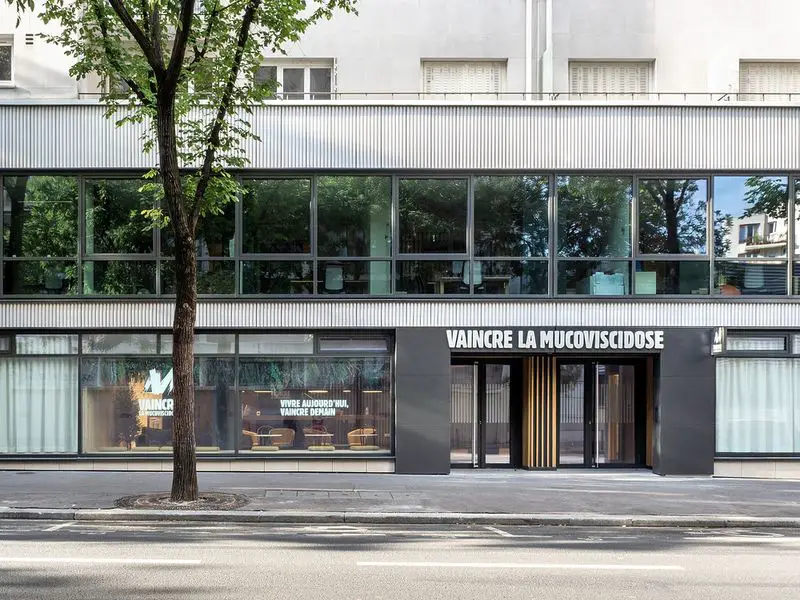 Images by Marie Ward
Renovation of Vaincre la Mucoviscidose Association Offices in Paris
The William Gonord Architecte Agency (WGA), Métrotope, and Studio Trame are proud to unveil the new offices of the Vaincre la Mucoviscidose association, located in the 13th arrondissement of Paris. Through its new associative and strategic ViVa 2026 project, "Vaincre la Mucoviscidose", a French association fighting against cystic fibrosis, has set the goal of strengthening bonds to build a stronger community. This objective translates into a need to renovate outdated and unwelcoming premises. By improving the quality of its offices and creating new reception spaces, the association's headquarters will be a true rallying point for its partners and members.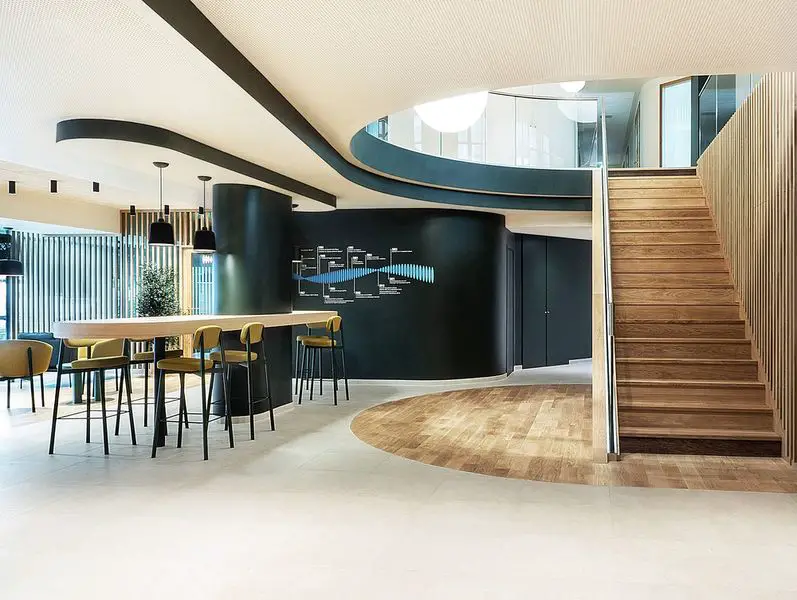 A new image for the Association, and a showcase for its mission
The association's premises are located at 181 rue de Tolbiac in the basement levels of a 9-floor residential building dating back to the 1960s. Originally closed off with opaque sills and translucent windows, the facade has undergone a complete transformation.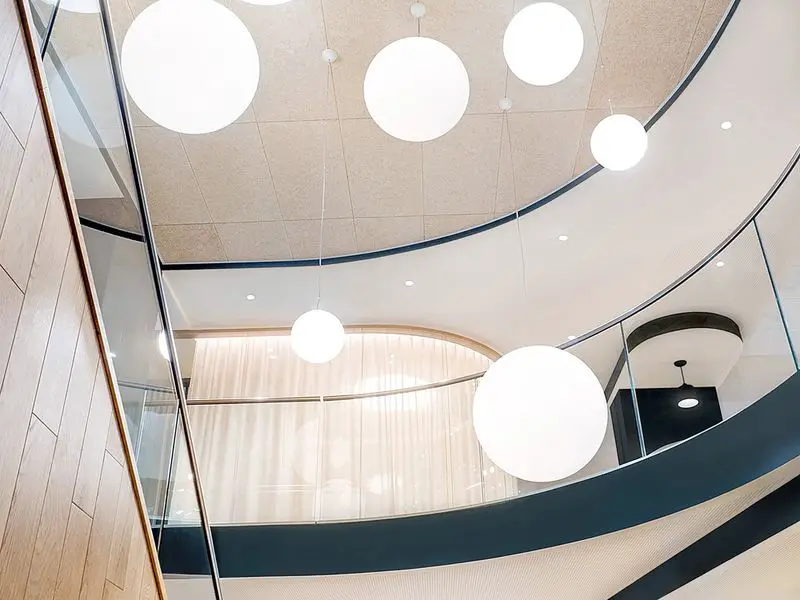 The facade renovation achieves two primary goals: engaging with the city by opening up to its immediate surroundings, and harmonizing with the existing limestone facade on the upper floors. The new reception areas feature extensive glass, contributing to the vibrancy of the neighbourhood and making the Association more visible. Solid sections are treated with limestone cladding, showcasing the building's heritage. Fluted stones on the first floor throw the smooth surface of those on the ground floor into relief, playing with light and shadow.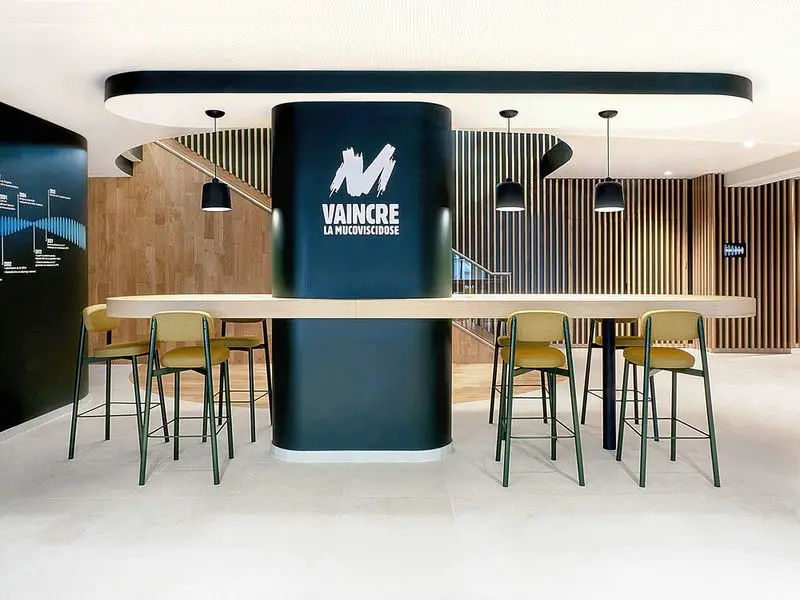 Enhanced spatial and social relations
The existing premises had three major flaws: offices without natural light, a lack of welcoming spaces, and a lack of connections between the floors. Removing floorspace around the existing staircases provides a breath of fresh air to the lobby, creating more visual connections between levels. This new interior layout infuses fluidity between reception spaces and work areas.
Through the creation of shared offices, the functional reorganization has placed all offices with access to natural light with more workstations than before. In addition to traditional workspaces, a range of intermediate spaces (coworking areas, gathering spaces, dining areas, etc.) have been designed to encourage greater interaction, strengthen the association's bonds, and foster innovative ways of working.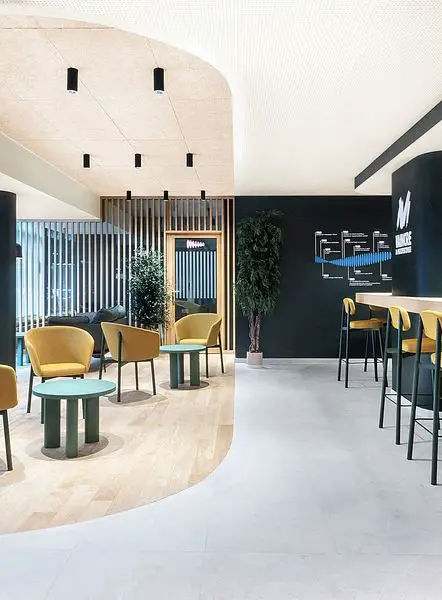 Diverse spaces, from public to confidential
The functional organization of the new headquarters is divided by floor: on the ground floor, there are public spaces (reception, meeting rooms, social areas, coworking spaces, and dining), while the first floor houses workspaces for the association's staff (individual offices, shared offices, and open workspaces available to all).
The offices have extensive glass walls facing the central deck but, in order to maintain a high level of confidentiality, special attention has been paid to visual and acoustic insulation in certain areas. The double-skin glass partitions serve as both acoustic and visual filters, along with claustra, bookshelves, screen printing, curtains, and blinds.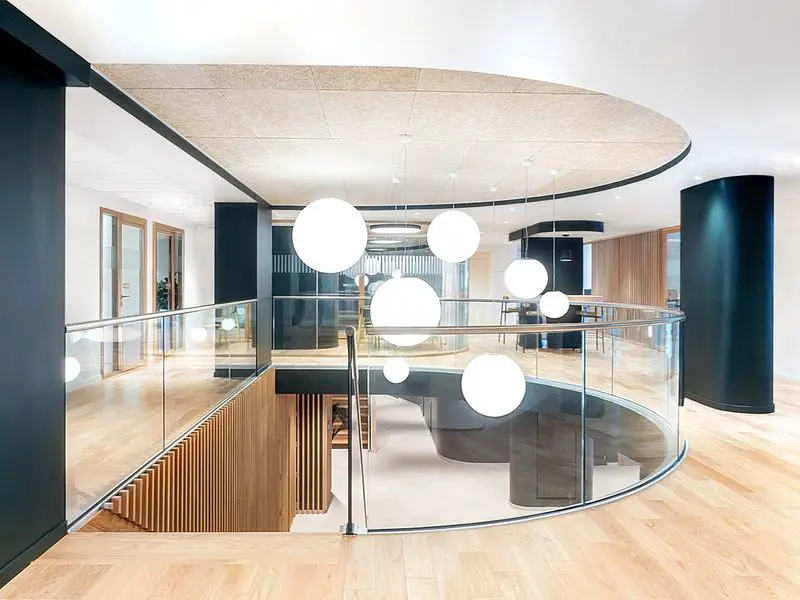 A furniture layout in harmony with the Association's values
As the physical heart of the association, Vaincre la Mucoviscidose's premises embody what it means to its patients: a humble, warm, caring spirit, with a backdrop of active advocacy. The spaces are designed to make everyone feel at home, and free to share their struggles and concerns related to the disease. Entering these spaces should feel like taking a breath of hope and resilience.
The colour scheme is reduced to two colours: Pantone's Kombu Green, which is an intense, intimate, complemented by Farrow and Ball's Dimity, a fresher, yet equally hospitable shade. Signage incorporates the association's fresh and dynamic colours. Furniture shapes are flowing and curved, and the materials are unpretentious but warm, with a focus on solid oak for many pieces.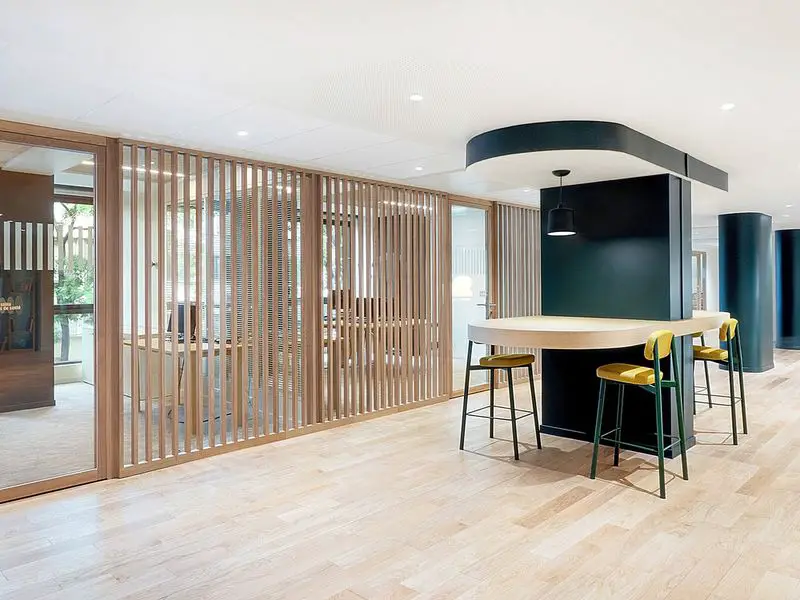 Sheer curtains create a sense of lightness and breath, while creating a subtle play of transparency on the ground floor. On the first floor, the offices adopt the same warm and humble character as the ground floor, but with more of an official touch.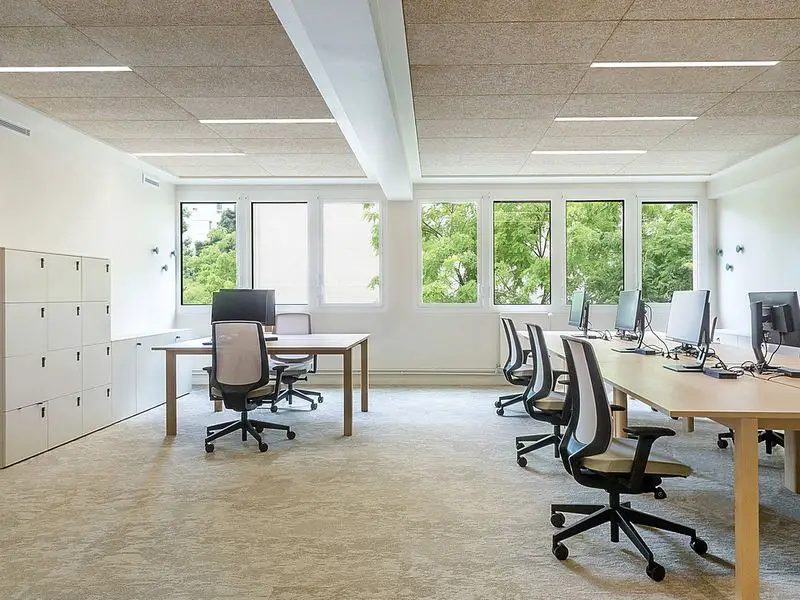 Renovation of Vaincre la Mucoviscidose Association Offices, Paris – Building Information
Technical Specifications
Official Project Name: Rehabilitation of Vaincre la Mucoviscidose's Offices
Location: 181 rue de Tolbiac, Paris 13th Arrondissement, France
Floor Area: 1,144m² renovated / 617m² existing preserved
Construction Period: July 2022 – June 2023
Client: Vaincre la Mucoviscidose (association)
Architects: William Gonord Architecte (WGA) and Julien Plessis (Métrotope architecture)
Interior Designer (Aesthetic Concept, Furniture, Signage): Michel Ward (Studio Trame)
Technical Consultants:
Structural Engineering: Scyna 4
Fluid Engineering: Betec
Cost Estimation / Project Management: Eira ingénierie
Construction Oversight: Socotec
Acoustics: Meta acoustique
Fire Safety: Casso & associés
PEMD Diagnosis: Cycle-up
Asbestos Removal: Qualicontrôle
Asbestos Execution Project Management: Idea
Contractors:
Site Clearance: SEP
Asbestos Removal: Mado Bati
Main Construction: Capron
Façades: Face IDF
HVAC/Electrical/Plumbing/Fire Safety: Hervé technique
Interior Fitting and Furniture: Kann design
Painting: Prévotat
Flooring: Capron (parquet), Prévotat (carpet)
Facade Stone: Marpex
Glass Partitions: Alsea
Interior Partitioning and Carpentry: Faster services
Metalwork: MES
Elevator: Mistral
Furniture: Nidi (wardrobes & lockers), Selency (vintage furniture), Seve (eco-designed trash cans), Silvera (general furniture distributor)
Signage: Atelier Gambetta
Greenery: Pousse
About William Gonord Architect
William Gonord graduated from the Nantes School of Architecture in 2000. He completed his first architecture project in his third year (1998), winning a competition with Gwenn Flachot to create thirty wooden kiosks for the City of Nantes and the Vitrines de Nantes. These kiosks were used for the Christmas market and the 1998 FIFA World Cup.
From 2001 to 2019, he worked as an architect-project manager, and later as an associate at Hubert & Roy architects and associates. During these years, he participated in numerous public and private competitions at various scales (residential, high schools, schools, offices, high-rise buildings, etc.), including the rehabilitation of the EQHO Tower in La Défense, and the Franklin Tower in Montreuil (Simi Rehabilitation Prize 2009, Equerre d'Argent 2009 nominee, French Pavilion exhibition "GénéroCité" at the Venice Architecture Biennale 2008). Those nineteen years shaped his recognized expertise in architectural and graphic design, study management, and construction site supervision.
In 2020, he founded WGA – the William Gonord Architecte agency.
About Julien Plessis (Métrotope architecture)
After initial training in woodworking, Julien Plessis continued his studies at the Grenoble School of Architecture, earning a master's degree in design (2004) and a DPLG architect's diploma (2005). In 2018, he furthered his education with a university diploma in environmental quality project management.
Following his architect's diploma, he gained fifteen years of experience in architectural firms as a project manager. He took on significant responsibilities for large projects, such as the EQHO Tower in La Défense and complex projects like the digital hub in Saint Denis.
In 2020, he founded the Métrotope architecture agency. With his unconventional background, he retains a practical mindset and a passion for hands-on thinking, where theory and practice seamlessly blend.
About Michel Ward (Studio Trame)
Michel Ward's Franco-Lebanese heritage and upbringing in the Mediterranean basin deeply influence his perception of spaces and light. The places he designs carry a lasting imprint of generosity and warmth. He draws aesthetic, humble, and earth-conscious materials from his past and present, and telling a place's story through materials is his passion. Each room reflects an intention that he communicates to the occupants.
Studio Trame has notably designed the headquarters for Lydia, La Vie, Wecandoo, and several Imagin'Office coworking sites.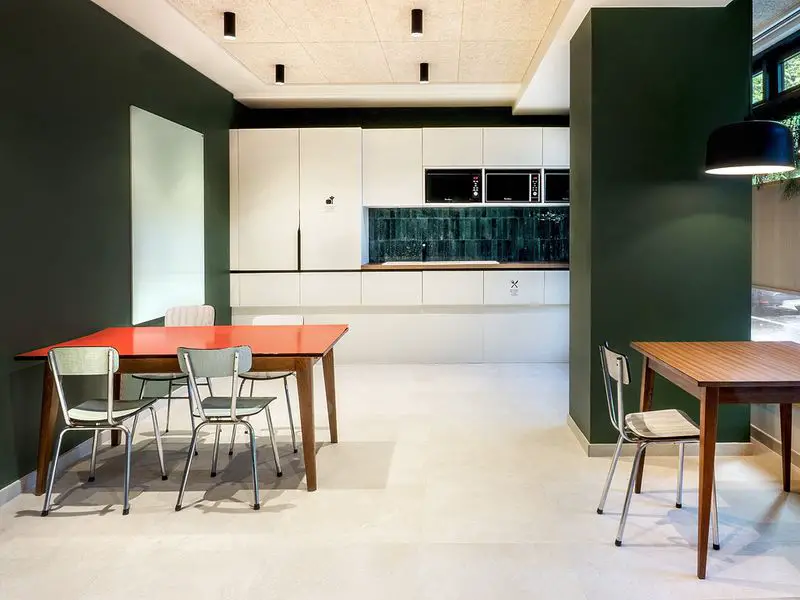 Photography by Marie Ward
Renovation of Vaincre la Mucoviscidose Association Offices, images / information received 041023 from William Gonord Architecte (WGA) and Julien Plessis (Métrotope architecture)
Location: Paris, France
New Paris Architecture
Contemporary Paris Architecture
Paris Architecture Design – chronological list
Architecture Tours in Paris by e-architect
Paris Residential Buildings
Residential Architecture in Paris
AME-LOT Student Housing
Architect: Stephane Malka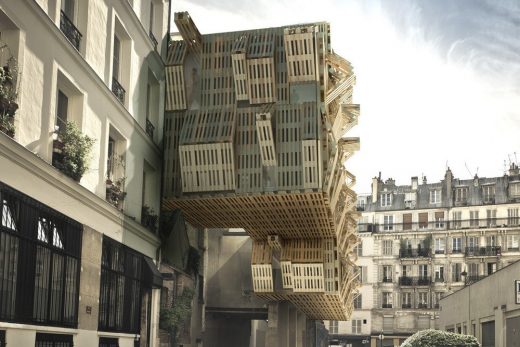 photo : Laurent Clément / Tristan Spella / MALKA ARCHITECTURE 2011
AME-LOT Housing
UNIC Residential Paris, Clichy-Batignolles, 17th arrondissement
Design: MAD Architects with Biecher Architectes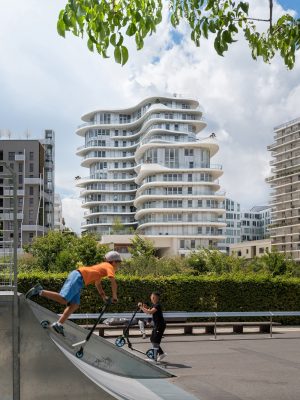 photo : Jared Chulski
UNIC Residential Paris
Famous Paris Architecture
Musée du Louvre, Ie
Design: various architects
Louvre Museum Building
La Basilique du Sacré Coeur, Montmartre, XVIIIe – Sacred Heart Church building
Paul Abadie Architect
Sacré Coeur Paris
Le Bon Marché, Saint-Germain-des-Près, 7th arrondissement
Design: Louis-Charles Boilleau and Gustave Eiffel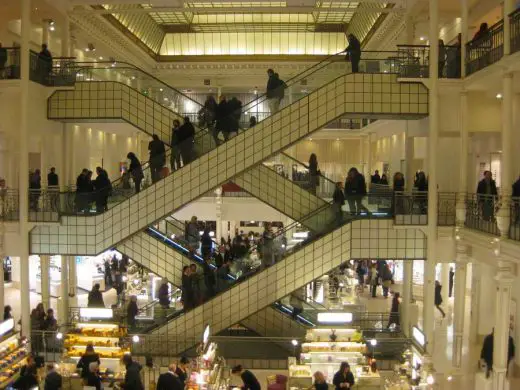 photograph © Adrian Welch
Parisian Department Store
Paris Buildings : buildings listed alphabetically
Comments / photos for the Renovation of Vaincre la Mucoviscidose Association Offices, France, buildings design by William Gonord Architecte (WGA) and Julien Plessis (Métrotope architecture) – page welcome.