Paris Building News 2018, New French Capital Architecture Photos, Architects, France Design Pictures
Paris Architecture News 2018
New Architectural Developments in French Capital City: Built Environment Updates
current posts:
Paris Architecture Design – chronological list
post updated 8 Jan 2021
Paris Architecture News for 2018
Paris Architecture News in 2018, chronological:
13 Dec 2018
Mixed Operation Binet in Porte de Montmartre
3 Dec 2018
Tour Montparnasse Paris by Studio Gang
24 Oct 2018
Belleville Social Housing and Shop
1 Oct 2018
Cachan Theater near Paris
30 Sep 2018
Moschino's Showroom Building
10 Sep 2018
Croisset Social Housing, Rue Francis de Croisset, Paris (18)
Architects: Agence Henry Conseil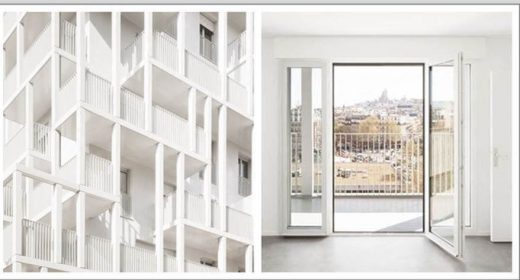 picture © Schnepp Renou
Croisset Social Housing
A short distance from the Clignancourt university campus, this building of 63 housing units is part of a development composed of two apartment buildings and a university cafeteria.
22 Aug 2018
Hôtel Lutetia, 45 Boulevard Raspail, Saint-Germain-des-Prés, 6th arrondissement
Renewal Design: Jean-Michel Wilmotte Architects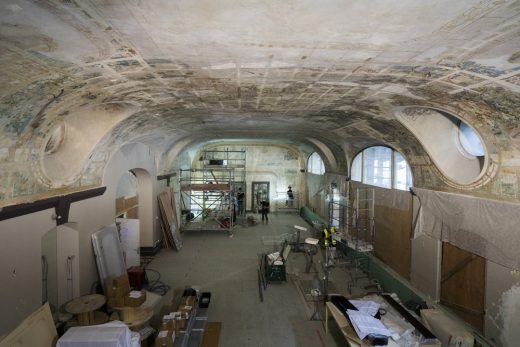 photograph courtesy of architects office
Hôtel Lutetia
After being acquired by The Set and closed for four years of restoration, Lutetia is finally re-opening its fabled doors on 15th May, beginning a new chapter in the wonderous life of this iconic hotel.
23 Jul 2018
Hôtel d'entreprises Binet, Porte de Montmartre district, north-west Paris
Design: AZC Atelier Zündel Cristea, Architects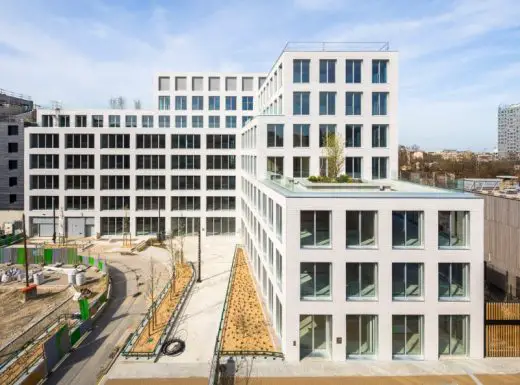 photo courtesy of architects office
Hôtel d'entreprises Binet
To the north-west of Paris, the Porte de Montmartre district is a sector of economic and social reconquest, through a Great Urban Renovation Project (GPRU).
12 Jul 2018
Conservatoire à rayonnement départemental d'Orsay
28 Jun 2018
River Seine Park Pavilions, Lagravère Park, Colombes, northwestern suburbs of Paris, France
Design: h2o architectes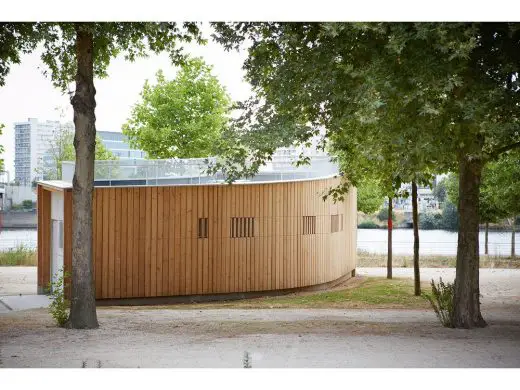 photo : Julien Attard
River Seine Park Pavilions
The pavilion buildings are located near the western entrance of the Lagravère Park in Colombes.
3 Jun 2018
Yoshinori Restaurant
Architects: Alia Bengana + Atelier BEPG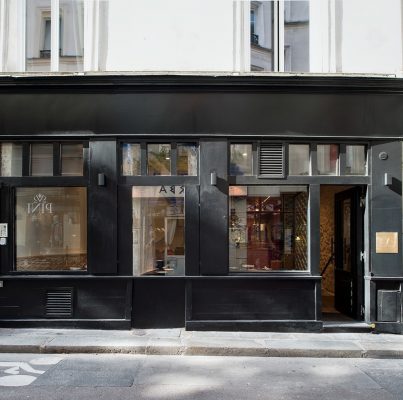 photo © David Cousin-Marsy
Yoshinori Restaurant
Yoshinori is a gourmet restaurant located in the heart of Saint-Germain-des-Prés over two floors, a ground floor and a basement.
30 May 2018
Massive Stone Social Housing Units, rue Oberkampf
Design: Barrault Pressacco architectes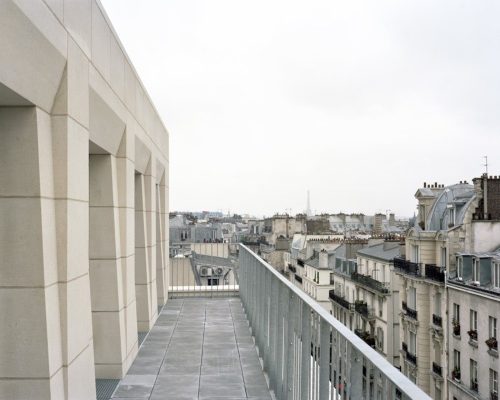 photo © Clément-Guillaume
Social Housing on rue Oberkampf
The construction of the building is hybrid, composed of different materials each assuming a particular mechanical or thermal role. All facades are in massive stone supported by reinforced concrete porticos on the ground floor. This juxtaposition recalls the typical Parisian building tradition, wherein the materiality of the lower and higher levels was differentiated.
14 May 2018
Forêt Urbaine in Paris
10 May 2018
Auneau Cultural Center, Place du Marché, Auneau, France
Architecture: Agence Patrick Mauger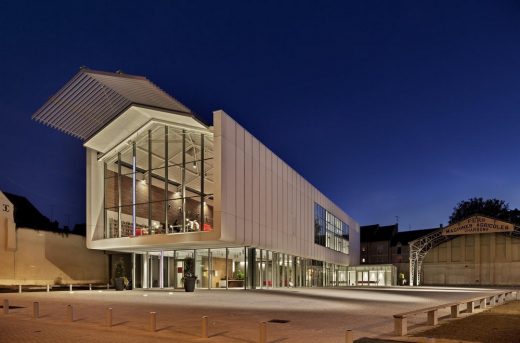 photo : Michel Denancé
Auneau Cultural Center
The building is set back from the street, creating an esplanade that extends the main market square. Like a figurehead, a multimedia library stretches out on the 1st floor. The glazed façade opens the building onto the square, with the reading room offering views over the town.
6 May 2018
Marne-la-Vallée University Library Building
13 Mar 2018
Charenton-Bercy District Masterplan and Tower
Architects: SOM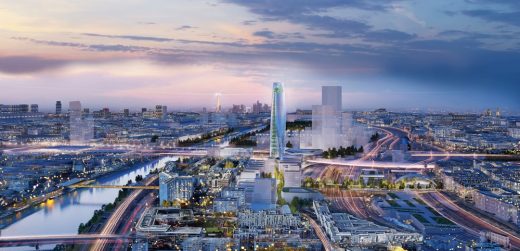 image © SOM-Ateliers2-3-4-AREP
Charenton-Bercy District Masterplan and Tower
A team led by Bouygues Immoblier UrbanEra – the communities development arm of Bouygues Group – including international Architect Skidmore Owings and Merrill (SOM), Architects-Urbanists-Landscape Designers Ateliers 2/3/4/, AREP, and community 'think tank' Le Grand Reservoir; has been selected by the Ville de Charenton and Grand Paris Amenagement as the preferred development team for the Charenton-Bercy project on the eastern edge of Paris.
27 Feb 2018
Gaité Montparnasse, Les Ateliers Gaité, 14th arrondissement
Architects: MVRDV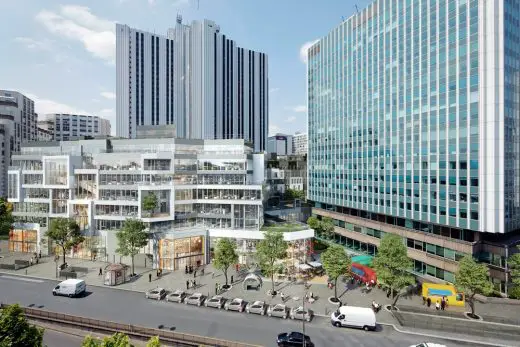 image © L'Autre Image
Gaité Montparnasse
Construction start for this 108,000 sqm mixed-use development on the large roof of the shopping centre Les Ateliers Gaité. The project includes a hotel, offices, social housing units and a kindergarten.
23 Feb 2018
ZAC du Port Housing, Pantin, northeastern suburbs of Paris
Architects: AZC and SPLAAR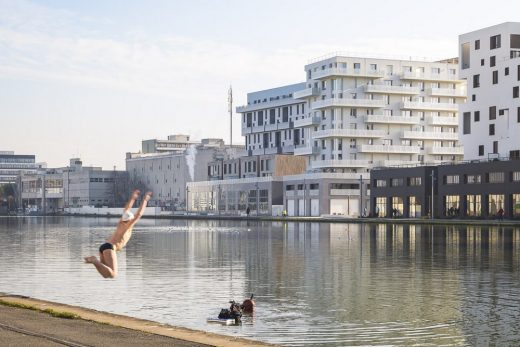 photo: Sergio GRAZIA
New Housing in Pantin
The manufacture of the block 04, made of 60 + 60 housing units, is the result of a joint workshop of two architectural firms: AZC and Cantin Planchez. This collaboration has allowed us to approach the issue of housing in a free and insightful way.
23 Feb 2018
EuropaCity's Centre Culturel in Ile-de-France
1 Feb 2018
104 Social Housing and Home Ownership, Ivry-sur-Seine
Design: Engasser & associates agency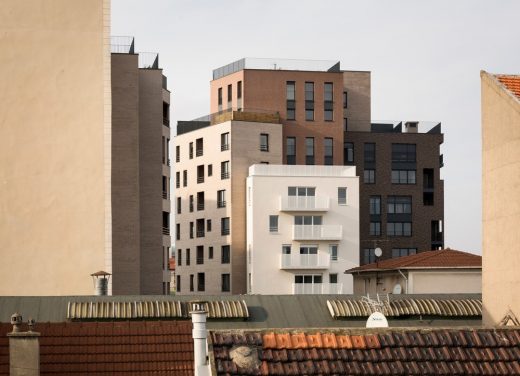 photographe : Mathieu Ducros/Michel Denancé
New Housing in Ivry-sur-Seine
Located on a plot of land close to the river, this 104-unit residential project adapted to the physical constraints of its environment while enhancing the brief with added value. The project is composed of three apartment buildings, two for private ownership and the other for social housing.
22 Jan 2018
Odalys City Apartment Hotel
Architects: Hardel Le Bihan Architectes with MOX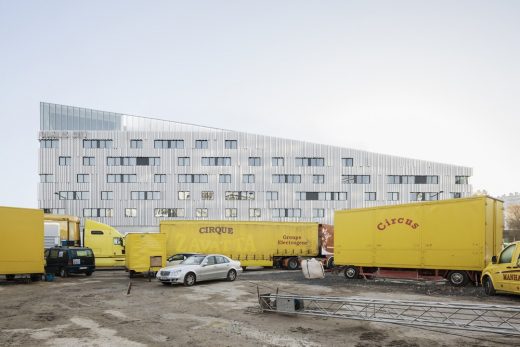 photo © Schnepp Renou
Odalys City Apartment Hotel Paris
In an area of urban redevelopment alongside the northern stretch of Paris' boulevard périphérique ring-road at Porte Pouchet, the long facade of the Odalys City*** 148-room apartment hotel faces onto what is soon to be Place Pouchet. The project is part of a larger scheme for a zone of urban development directed by urban planners TVK and Michel Guthmann.
15 Jan 2018
The House of Sports in Bezons
Paris Architecture News for 2017
Paris Architecture News in 2017
30 Nov 2017
IDF Habitat Headquarters Building
24 Nov 2017
Social Housing in Ivry-sur-Seine
Design: Atelier du Pont, Architects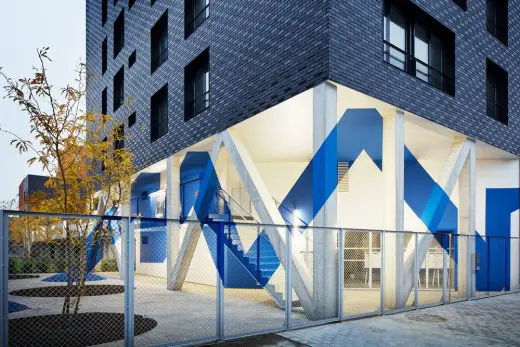 photo : Takuji Shimmura
Social Housing in Ivry-sur-Seine
In Paris suburb, located in a flood risk area, this project of 61 social housing units contributes to the objective of the Ivry Confluences Urban Development Zone (ZAC) to revitalize the southern part of this former industrial district.
6 Nov 2017
Hôtel Parister, 19 rue Saulnier
Design: Agence Beckmann-N'Thépé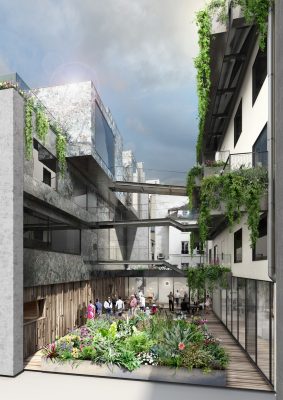 image © Beckmann-N'Thepe
Hôtel Parister Building
Located in a narrow street, the main building retains its historical character, with a new façade that conserves the existing architecture, while adopting a recognisable hotel vernacular, with elegant black awnings, luxuriantly planted pots, and the redistribution of the ground floor windows – in an overall design of dark wood.
3 Oct 2017
La Forêt Urbaine Apartments, near Jardin du Ranelagh
Design: Matteo Cainer Architects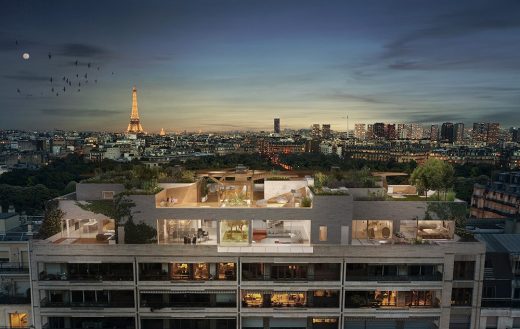 image courtesy of architects
La Forêt Urbaine Apartment in Paris
This renovation and transformation of a Parisian top-floor apartment is surrounded by the magnificent Bois de Boulogne and the Jardin du Ranelagh, with 360-degree views of the city's historic monuments, from the Tour Eiffel to La Défense, Les Invalides, and Longchamp.
28 Sep 2017
Tour Montparnasse Competition – La Parisienne Proposal
Design: PLP Architecture



image courtesy of architects
Tour Montparnasse Competition
Following the launch of the international competition in June 2016, seven architecture practices were invited to participate in the second stage of the €300 million project to completely revamp the Montparnasse tower, which is being funded entirely by the building's co-owners.
27 Sep 2017
Grand Paris Express maintenance complex News
Sweco has been commissioned by Société du Grand Paris for the detailed design work and project management of the maintenance complex for Line 15 East of the Grand Paris Express metro network in Paris, France.
With 200 kilometres of new underground metro lines and 68 new stations, the Grand Paris Express in the French capital is the largest metro project in Europe. The objective is to support urban expansion and make travelling more efficient, reduce traffic, and improve the city´s air quality.
The governmental organization Société du Grand Paris has commissioned Sweco for the detailed design work and project management of the maintenance complex that will support the new Line 15 East metro line, a part of the Grand Paris Express. The line connects suburbs from Saint-Denis Pleyel to Champigny through a new ring line around Paris.
"The maintenance complex for Line 15 East is a significant component of the Grand Paris Express project. We are glad that Société du Grand Paris yet again chooses our expertise and commitment to improve commuting for Paris' travellers," said Erwin Malcorps, Managing Director of Sweco Belgium.
The complex will connect with the national railway network and it consists of facilities for depot and infrastructure maintenance. It will also serve as support for the neighbouring lines.
Line 15 East will be opened in stages from 2025 to 2030. Sweco's work will begin immediately with a partial commission in 2025. The order value for Sweco is approximately SEK 100 million.
In 2016, Sweco was commissioned for overall project management and detailed civil design of Line 17, a new 20-kilometre metro line with five new stations, within the Grand Paris Express project.
Sweco is Europe's leading engineering and architecture consultancy with 14,500 employees in Europe and works on projects in 70 countries annually throughout the world.
21 Sep 2017
Mirage – Montparnasse Tower Renovation in Paris
Design: MAD Architects / Executive Architect: DGLa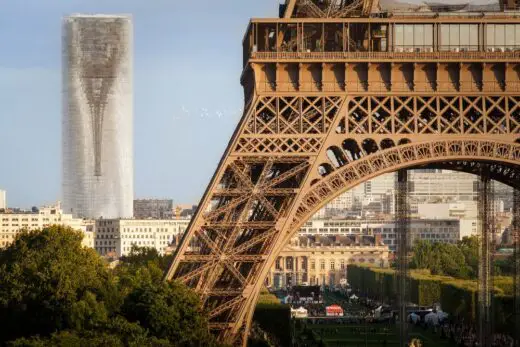 image form architects office
Mirage – Montparnasse Tower Renovation
A renovation proposal for Montparnasse Tower transforming the high-rise building into an artistic lighting installation that reflects the city upside down.
19 Jul 2017
Place Mazas – Réinventer la Seine
Design: SO – IL Architects with laisné roussel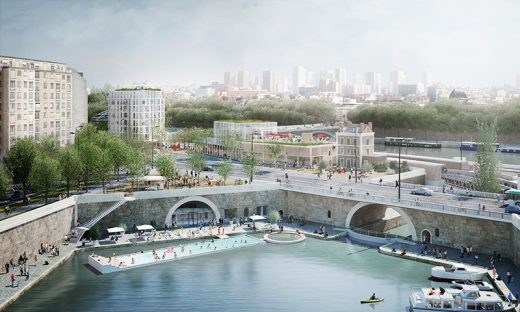 3D Images : Weiss Images
Place Mazas – Réinventer la Seine by SO – IL
SO – IL and Laisné Roussel architects have won the international competition for the Place Mazas site in Paris with the project titled L'Atelier de l'Arsenal. The architecture competition – organized by the city of Paris as part of Reinventer La Seine – called for innovative proposals at the intersection of architecture, creative urbanism, and development on sites along the river.
27 Jun 2017
HEC School of Management Paris, Jouy-en-Josas, Ile-de-France
Design: Martin Duplantier Architectes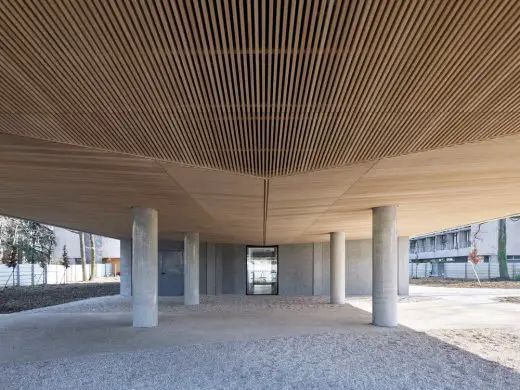 photograph : Clément GUILLAUME
HEC Student Housing in Jouy-en-Josas
Located on the edge of the Saclay Plateau and the Bièvre Valley, the HEC campus has a privileged location. The 138-hectare park features prestigious sports facilities, a vast forest area and a plateau inhabited by buildings from 1962 and designed by the architect René Coulon.
14 Jun 2017
Public Condenser, Gif-sur-Yvette, Ile-de-France, France
Design: Muoto Architects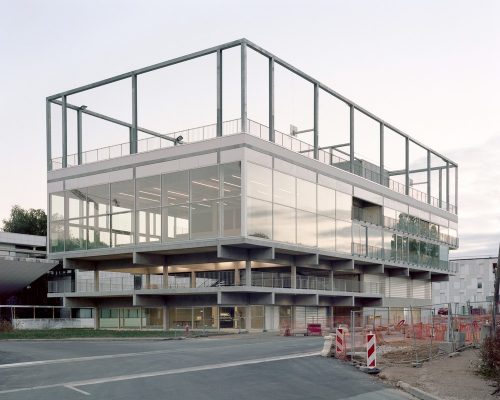 photograph : Maxime Delvaux
Public Condenser in Gif-sur-Yvette
The project is a public facility, situated on the new campus of Paris-Saclay. The building hosts a mix of activities including indoor and outdoor sports facilities, a restaurant, cafeteria, and various public spaces.
13 Jun 2017
Be Open Commercial Building
Design: Brenac & Gonzalez et Associés architecture office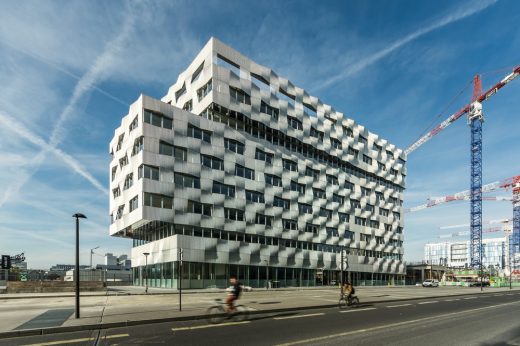 photography © Sergio Grazia / Stefan Tuchila
Be Open Commercial Building in Paris
A metaphorical evocation of archived, dematerialized data, i.e. "cloud computing," is the final stage, through the A11 building's skin, which erases its limits.
More Paris Building News 2018 online soon
Location: Paris, France
Paris Architecture
Parisian Architecture Designs – chronological list
Paris Architecture Walking Tours
Paris Architect – design office listings on e-architect
Comments / photos for the Paris Architecture News 2018 Architecture page welcome