ILOW Housing Nanterre, Parisian Apartment Development, Building Design Photos, French Architecture
ILOW Housing in Nanterre, Paris
21 Jan 2021
Architects: CRA for Bouygues Immobilier
Location: Nanterre, Paris, France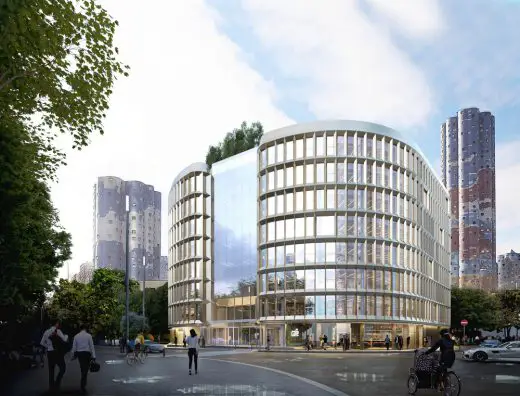 ILOW Housing
CRA and Bouygues Immobilier file permits for a new building in Paris, located in-between La Défense financial district and the 1970s iconic Tours Nuages social housing complex. The project serves as an experiment to mediate between different social worlds.
International design and innovation office CRA-Carlo Ratti Associati and Bouygues Immobilier have unveiled the design of ILOW Housing, a new building in Paris that aims to act as a bridge between La Défense, the French capital's financial powerhouse, and the nearby Tours Nuages (Cloud Towers), one of the most iconic social housing projects of the postwar era. The building, designed in collaboration with Agence d'Architecture Willerval et Associés, is shaped like two open arms connecting two different socio-economic neighborhoods. Moreover, it leverages parametric design to generate a facade that reinterprets the Tours Nuages. CRA has filed building permits to the local municipal authority.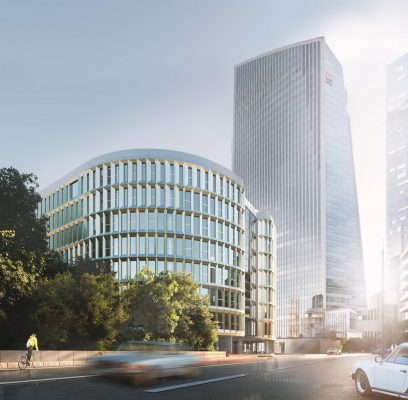 ILOW (pronounced EE-LOW) is located on the margin of La Défense, Europe's largest business district, in the western part of the Parisian metropolitan area. The building edges towards a neighborhood in the municipality of Nanterre, which is home to the mimetic, soft-shaped "Cloud Towers" designed by architect Émile Aillaud between 1973 and 1981. The Tours Nuages are a bold, pioneering social housing experiment. Pulitzer Prize critic Ada Louise Huxtable defined the towers with their multi-color cloud patterns as "surprisingly beautiful buildings," while leading art curator Robert Hughes included them in his famous "Shock of the New" 1980 BBC documentary.
CRA's design aims to bring together two adjacent neighborhoods that have long been socially separated from each other. The building is structured around two wings – like two open arms – with a central green courtyard unfolding between them, connecting ILOW with the neighboring public park. The design provides 12,500 square meters (134,550 square feet) of mixed-function spaces, including offices, a restaurant, and a café. The ground floor is transparent and open to the public, promoting the mixing of different communities, while the top of the building features a roof garden. In short, ILOW strives to create a physical "common ground" that extends on different levels while creating visual connections with the surrounding areas.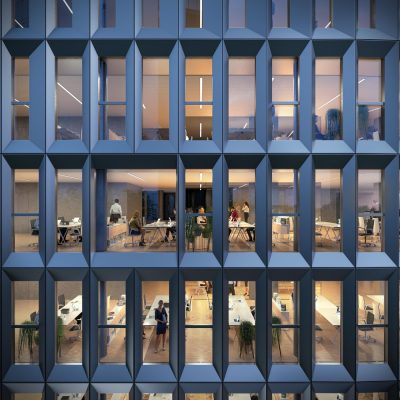 "We are trying to use design promote social encounters – between different people, cultures and social groups," says Carlo Ratti, founding partner of CRA and director of the Senseable City Lab at the Massachusetts Institute of Technology: "This is what is unique about physical — as opposed to digital — space, something which the pandemic made us all too aware of. We can use architecture to bridge across different social worlds."
With ILOW, CRA pays tribute to Aillaud's radical visions, reinterpreting them to develop a contemporary "atmospheric architecture." The building's curvaceous façade uses a parametric approach – by which a form unfolds following a mathematical model conceived to satisfy a set of specific, ever-evolving targets or "parameters." Prefabricated modules of various sizes are arranged to create a curved surface that is designed to follow the sun's trajectory, guaranteeing the optimum lighting conditions indoors while reducing energy consumption. The focus on environmental sustainability also inspires the project's name. ILOW is a pun on the French word for "small island" – often used in the turn of phrase un îlot de verdure (an island of greenery) – that hints at the building's low energy consumption.
ILOW is the latest project by CRA to experiment with office design. The 280-meter-high CapitaSpring under construction in Singapore's Central Business District, designed jointly by CRA and BIG, features both residences and a tropical forest at its core. When completed later this year, it will be the second-tallest skyscraper in the country. CRA also recently developed the interior design for the headquarters of biotech company Zambon, and just unveiled the design for Sella Group's Open Innovation Center in Turin. The project leverages digital technologies to encourage social interactions and serendipity in the work environment while opening the buildings towards the surrounding city.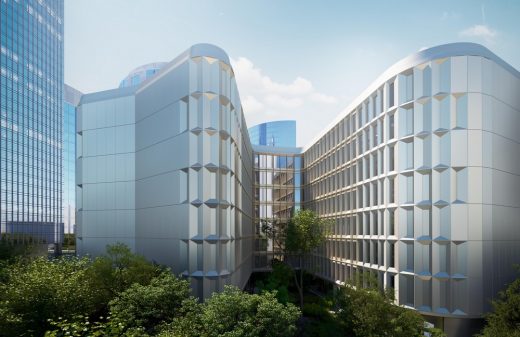 ILOW Housing, Nanterre Apartments, France – Building Information
Design: Carlo Ratti Associati for Bouygues Immobilier
Location: Nanterre, France
Creative Consultancy: Italo Rota
CRA Team: Carlo Ratti, Andrea Cassi (Project manager), Anna Morani,Mario Daudo, Matteo Zerbi, Alberto Benetti, Andrea Fasolo, Valentina Grasso,Federico Riches, Oliver Kazimir, Galla Vallée
CRA Graphic Team: Gary di Silvio, Pasquale Milieri, Gianluca Zimbard
Collaborators:
Agence d'Architecture Willerval et Associés (Associate Project Management)
Auris (Research Coordinator)
VP & Green Engineering (Structural and Façade Engineering)
Alto Ingenierie (MEP Engineering)
Acoustique & Conseil (Acoustic Engineering)
Green Soluce (Haute Qualité Environmentale Consultant)
BTP Consultants – Agence Tertiaire (Building Technical Control)
Iliade Ingenierie (Economist)
Systal (Food and Services Consultant)
About CRA:
CRA-Carlo Ratti Associati is an international design and innovation practice based in Turin, Italy, and New York City. Drawing on Carlo Ratti's research at the Massachusetts Institute of Technology (MIT), the office is currently involved in many projects across the globe, embracing every scale of intervention from furniture to urban planning. Among recent designs are the Italian Pavilion at Expo Dubai 2020, CapitaSpring tower in Singapore, MEET Digital Arts Center in Milan, the Eyes of the City exhibition at the 2019 Bi-City Biennale of Architecture and Urbanism of Shenzhen, and the redesign of the Agnelli Foundation HQ in Turin.
In March 2020, CRA initiated CURA (Connected Units of Respiratory Ailments), a global open-source initiative to convert shipping containers into plug-in Intensive-Care Units for COVID-19 patients. It is also the only design firm whose works have been featured three times in TIME Magazine's "Best Inventions of the Year" list – respectively with the Digital Water Pavilion in 2007, the Copenhagen Wheel in 2014, and Scribit in 2019. In the last years, the office has been involved in the launch of Makr Shakr, a startup producing the world's first robotic bar system, and Scribit, the write&erase robot.
About Bouygues Immobilier:
Bouygues Immobilier is a developer – urban designer, and benchmark player on the French market, which employs 1,900 people, with a turnover of 2.7 billion euros in 2019. For over sixty years, Bouygues Immobilier has been present across the entire real estate value chain with its core business, from development to operation and promotion.
Bouygues Immobilier provides innovative and sustainable solutions to the needs of the territories and its customers thanks to its multi-product offer (social, intermediate, and free housing, office real estate, shops, managed residences, and hotels) and thanks to a powerful network of agencies in France and three international locations. Demanding when it comes to quality and committed when it comes to improving its employees' well-being, Bouygues Immobilier is the first developer to be ISO 9001 certified in France and Top Employer France 2020 for seven years in a row.
About Agence D'architecture Willerval Et Associes:
Registered architect (DPLG) since 1983, Bruno Willerval has been working for several years in association with his father, Jean Willerval (1st national architectural prize, died in 1996). He founded his own practice AGENCE D'ARCHITECTURE BRUNO WILLERVAL in 1994 and joined forces for several years with JP Bridot, who left the agency in 2018. In 2020, architects Pierre-Alexandre LAVAUT and Natalie SCHOETTLER formed the Agence D'architecture Willerval Et Associes as new partners after many years within the agency.
Today, team skills and human potential make it possible to respond to public or private projects, like offices, housing, equipment, shops, and hotels. Important projects, particularly tertiary ones, complete the agency's portfolio. Among the main projects, there are three towers at La Défense and numerous international headquarters: the Prisma tower in 1998, the Exaltis Tower for Mazars headquarters in 2006, and the Athena Tower for Alliance One head office in 2015. Further projects are EOS Générali for Microsoft Europe head office in Issy Les Moulineaux in 2009, Galiléo for CGG Véritas headquarters in Massy in 2010, Eco campus of Orange in Chatillon in 2016, the Arenas, the head office of Crédit du Maroc, a subsidiary of Crédit Agricole SA in Casablanca in 2021. Furthermore, the agency is also working on housing projects mainly based in Ile de France.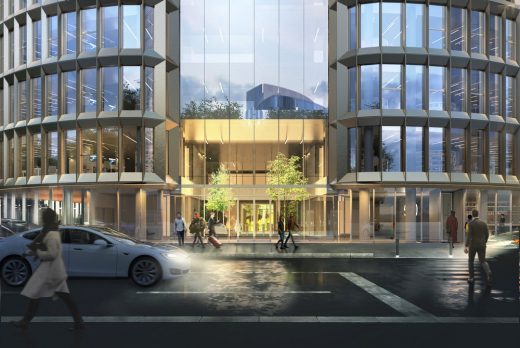 ILOW Housing, Nanterre Apartments, France images / information received 210121 from CRA-Carlo Ratti Associati
Location: Nanterre, Paris, France
New Paris Architecture
Contemporary Paris Architecture
Paris Architecture Design – chronological list
Paris Architecture Tours by e-architect
2024 Paris Olympics' Aquatic Center
Design: MAD Architects ; Jacques Rougerie Architecture ; Atelier Phileas Architecture ; Apma Architecture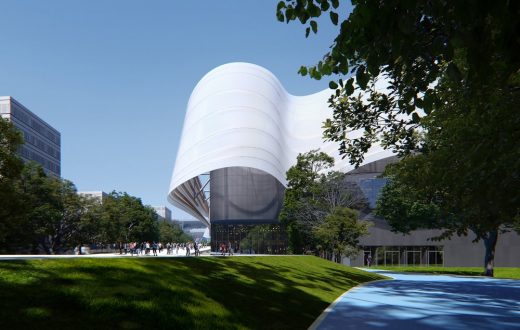 image courtesy of MIR
2024 Paris Olympics Aquatic Center
Public Condenser, Ile-de-France, new campus of Paris-Saclay, Gif-sur-Yvette, Ile-de-France
Design: Muoto Architects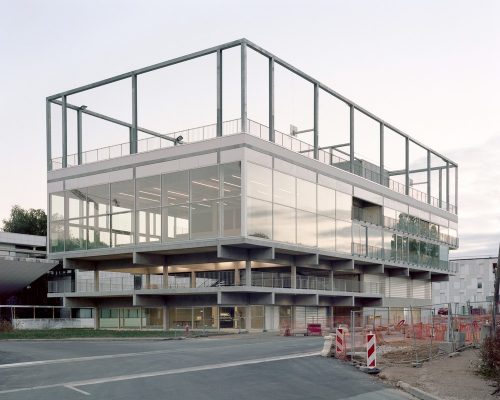 photograph : Maxime Delvaux
Public Condenser in Gif-sur-Yvette, Paris-Saclay
Comments / photos for the ILOW Housing, Nanterre Apartments, France architecture page welcome