HEKLA La Défense Tower, French Jean Nouvel Building Design Photos, Architecture
HEKLA Building, La Défense Tower
6 September 2021
Architects: Jean Nouvel Architecte
Location: Paris, France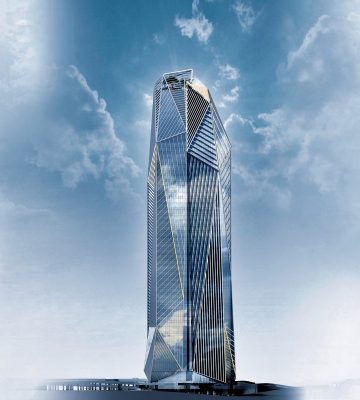 picture © AJN
HEKLA, La Défense – Paris Tower
HEKLA is the culmination of close collaboration between Ateliers Jean Nouvel for their talent and creativity, Hines and AG Real Estate for their experience in major commercial real estate projects, and Amundi Immobilier and Primonial REIM for their confidence and investment in the development of this emblematic project, alongside Bateg, a subsidiary of VINCI Construction France, the world's leading construction firm.
An Ambitious Operation
Designed by Jean Nouvel to be a powerful statement, HEKLA is a masterpiece of design which will, by 2022, have enriched the architectural heritage of Grand Paris and redefined the southern skyline of Paris La Défense.
HEKLA Construction site picture from July 2021: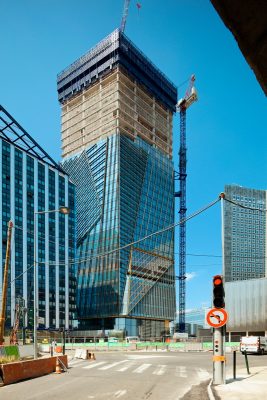 site photo © Thierry Lewenberg-Sturm
In France and internationally HEKLA will represent a particularly inspired and creative array in the corporate real estate sector as much through its size and distinctive shape as through its endeavour to offer a whole new experience. The leaders of the project truly believe that the tower represents a coherent and truly unique prospect for a company with a major business project.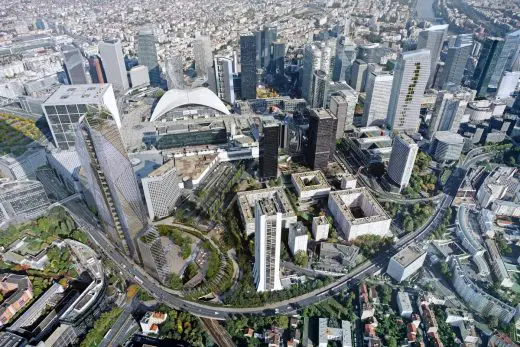 picture © AJN
Particularly eye-catching in the landscape of the largest business district in Europe, it, in turn, will provide occupants with exceptional views, stunning panoramas of Paris La Défense, the city of Paris, Mont Valérien and Western Paris.
At 220 meters high, one of the business district's highest buildings, HEKLA develops 76,000 square meters floor area of offices and services over 49 stories and can accommodate up to 5,800 employees in work spaces which are among the most innovative and environmentally-friendly in Paris La Défense.
Loggias and terraces on all levels will enhance the warm golden nuances of HEKLA's facades and on its summit, the tower will be adorned with a rooftop terrace planted with trees.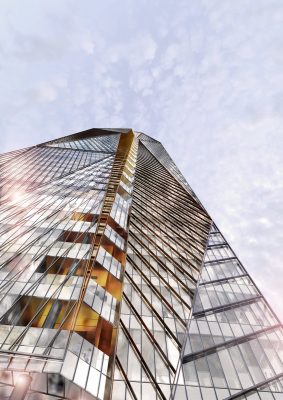 picture © AJN
A Project Set on an Ever-Moving Area of Land
Paris La Défense, A Dynamic Business District
Around 3,500 national and international corporations have offices in Paris La Défense, a symbol of audacity and modernity, a truly strategic decision-making hub. These sectors of excellence endow Paris La Défense with a magnetic appeal which not only attracts international employees but makes them want to stay.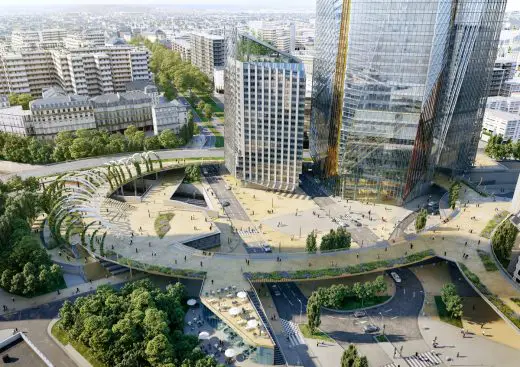 image © L'Autre Image
A veritable living environment, Paris La Défense is constantly reinventing itself via ambitious urban development programs and projects like the new leisure and concert hall Paris La Défense Arena, innovative restaurant spaces and Table Square, a variety of retail spaces with the Westfield Les 4 Temps and the CNIT, as well as myriad cultural events all year round.
La Rose de Cherbourg, an Area Undergoing Major Redevelopment
Strategically located in the La Rose de Cherbourg district of which it will be the new emblem, HEKLA is set in an urban environment which is the focus of a major regeneration program, 300 meters from the Coeur Transport public transport hub.
The urban developer of the site, Paris La Défense, has an ambitious high-quality redevelopment program planned, involving revamping a former ring road of the Boulevard Circulaire which gives access to the tower, and transforming it into an overhead pedestrian walkway 450 meters long. Planted with trees and shrubs, like the New York High Line, it will be a perfect place for sporting and leisure activities of all descriptions. Thanks to an impressive urban redevelopment program, HEKLA will blend into some 1.3 hectares of green spaces.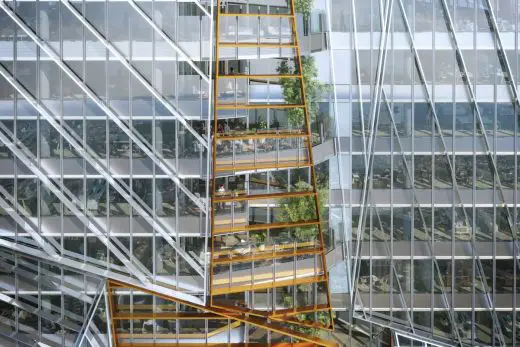 image © L'Autre Image
The new urban square which will be created, bordered by Avenue Du Général de Gaulle, will provide vehicles with easy access to the building (car parks, taxi and VIP dropoffs) and will give access to the tower's main entrance via the lower lobby. As for HEKLA's upper lobby, it will be directly connected to the pedestrian walkway.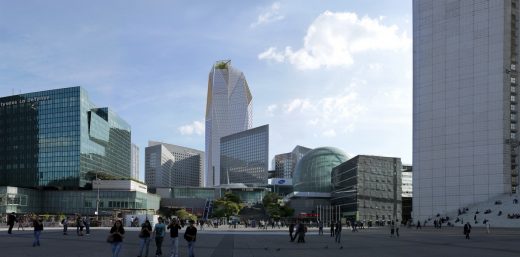 image © AJN
HEKLA, a Unique Location on the Edge of Grand Paris
The construction of HEKLA is perfectly in keeping with the development strategy for Paris La Défense, the aim of which is to boost the appeal of Europe's largest business district and its international influence. The tower is therefore in an ideal location, in close proximity to the Coeur Transport multimodal hub, on a site which is highly-coveted by corporations.
HEKLA could thus become the headquarters of one or several French or international corporations, who would benefit from the excellent infrastructure of Paris La Défense in terms of transport. The arrival of RER EOLE (east-west express link) in 2023, and then Line 15 of the Grand Paris Express will further enhance transport links to the business district.
Construction site photo from July 2021: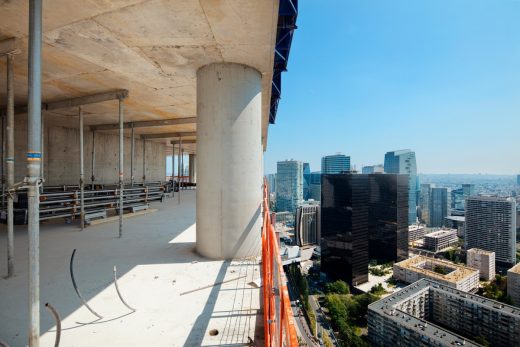 site photo © Thierry Lewenberg-Sturm
A Strong Architectural Statement
HEKLA, a Functional, Flexible and Innovative Tower Over and above the architectural audacity of the edifice which started out in Jean Nouvel's imagination, the design and organization of HEKLA ensure that the tower is destined to be resolutely turned towards the future.
A Resplendent Rose
"HEKLA Tower, rising to a height of 220 meters, will become a feature of the skyline of La Défense and the panorama it offers. Its architecture, highly visible by design, will bring a new sense of balance to the composition as it stands, characterized by multiple high-rise towers to the north of the historical axis, and a lower profile south of the axis. The intent of HEKLA's architecture was strongly informed by its location on the La Rose de Cherbourg site.
I envisioned a prismatic composition that would create and re-create an array of polychrome brise-soleils where metal and glass, light and latitudes, the transparent and the opaque co-exist. The uppermost floors, laid out in triplex, create a landscaped highpoint in total contrast to the horizontal transition to sky presented by the orthogonal or parallelipedic form of most of the surrounding buildings.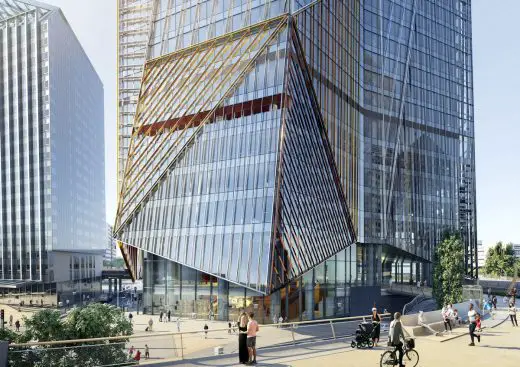 image © L'Autre Image
Along with its breathtaking views, HEKLA will foster the possibility of a whole new high-rise experience. Inside HEKLA, solutions to technical constraints have been optimized to free up huge workspaces/areas conducive to social interaction. Lobbies, an amphitheater, projection rooms/performance venues, restaurants, bars, fitness facilities and loggias all conspire to promote the new art of working, pleasure-seeking and connected. HEKLA embodies an ambition to create innovative workspaces and redefine the La Défense skyline through a timely synergy: with facets of its character."
Architect Jean Nouvel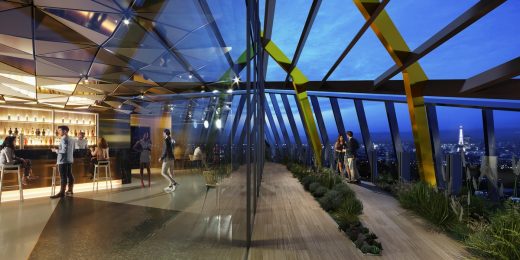 image © L'Autre Image
A Generous Program in Terms of Comfort and Services
A Working Tool for the Good of Companies
HEKLA offers the highest standards of divisible, flexible office spaces which can be partitioned according to the needs of future users.
With the capacity to accommodate 5,800 employees, HEKLA develops 76,000 square meters of offices and services over 49 levels, common areas adapted to the uses and working methods of tomorrow: a lower lobby leading onto the esplanade and an upper lobby connected to the future eco-walkway, a large 250-seat auditorium, various catering options, two business centers, a wellbeing space and a club space.
HEKLA is deployed like an origami composed of some twenty glass sides. With 48 accessible terraces and loggias, HEKLA boasts 2,518 square meters of outdoor spaces in addition to the planted rooftop on the 49th story. On the floorplates, the future occupants will enjoy different ambiences depending on the time of day thanks to 22 kilometers of brise-soleils.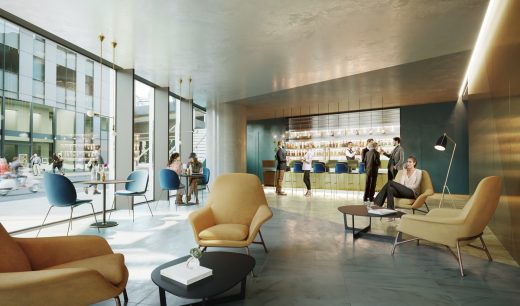 image © L'Autre Image
Common Spaces and Services Par Excellence
HEKLA stands out for its common spaces and its numerous exceptional services: Upper and lower lobbies: accessed from the urban square on the level of Avenue Du Général de Gaulle, the lower lobby with a height of 14 meters and a lounge bar area, will enjoy generous levels of natural light which will highlight its architectural volumes and contemporary design. The upper lobby, which can be accessed from the green overhead walkway and the Boulevard Circulaire will, at 9 meters, be double height and house a private contemporary cafe.
Auditorium/Business Center: bathed in light and strategically situated next to the Business Center comprising around ten meeting rooms all of which enjoy perfect connectivity, the 250-seat multipurpose auditorium will host corporate events, concerts, cultural events, and will have a foyer where drinks can be served.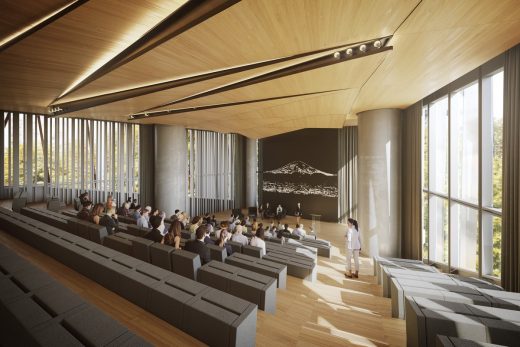 image © L'Autre Image
Alternative restaurant solutions: located opposite the upper lobby on the "ring", a contemporary cafe will cater for users of the tower at any time of the day, whenever it suits them. Occupants will also benefit from a wide choice of different catering options, offering anything from a quick bite to eat to a sit-down meal with colleagues or a business lunch, in the tower's five restaurant facilities which have a capacity of 3,200 covers per day.
Wellness/Fitness Center: there will be a space in the tower devoted to wellbeing. Located on the upper levels of the building and enjoying panoramic views over Paris and La Défense, the Wellness Center will propose a range of collective and individual classes and various treatments.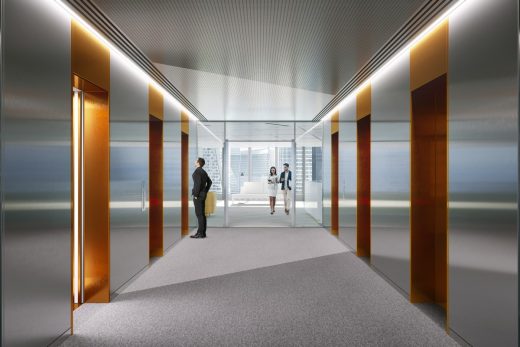 image © L'Autre Image
Business Center: on the 27th story, work, meeting and function spaces will provide bright and friendly surroundings where co-workers can get together.
Offices/loggias: A floor to ceiling height of 290 cm will make it easy to fit out the office plates to suit operational requirements. On each story, warm and inviting spaces adjacent to the outside loggias, an exceptional feature in Paris La Défense, will create opportunities for interaction time. The chance for users to recharge their batteries and make the most of the outstanding panoramic views.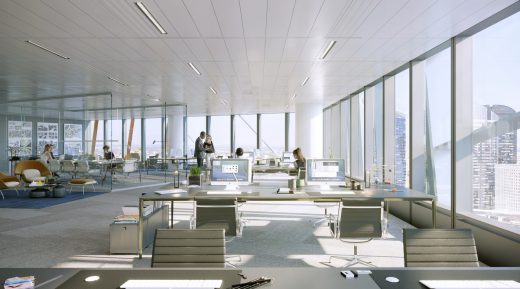 image © L'Autre Image
Club space: this exceptional triplex for the benefit of all users will be located at the top of the tower and will host events and highlights of corporate life. Rooftop: level 49 will open onto a huge hanging garden, nestled beneath an architectural "shield" 20 meters wide. This rare sea of greenery will be the setting for relaxing breaks and/or meet-ups in the open air.
In terms of comfort, HEKLA targets WELL certification (Silver level), which guarantees the respect of the health and wellbeing of the tower's 5,800 future occupants, and WiredScore certification (Platinum level), which acknowledges efficiency with respect to connectivity.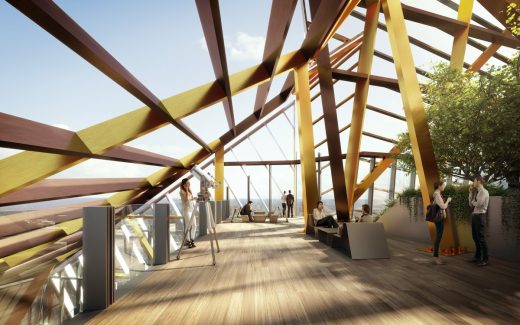 image © L'Autre Image
A unique air treatment, floor by floor
Another key point: the HEKLA tower will offer optimal air renewal thanks to an innovative system of independent mini air handling units (AHUs). HEKLA is the only tower in Paris La Défense to offer this new generation of air treatment. It will provide to its users a healthy working environment. In practical terms, this is based on decentralized ventilation, with no air mixing between levels. The air is in fact taken in and rejected on the facade, floor by floor.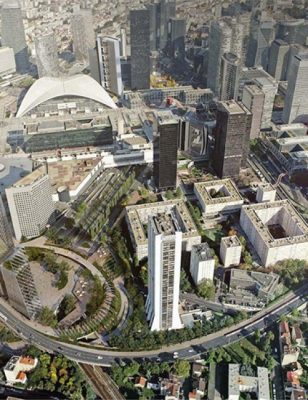 HEKLA will offer panoramic views which are unprecedented in Paris La Défense, over the business district itself, the French capital and Mont Valérien. Thanks to the extensive glazed spaces in the tower, each worker will be able to appreciate the outstanding, everchanging horizon from their workstation, a view guaranteed to boost inspiration.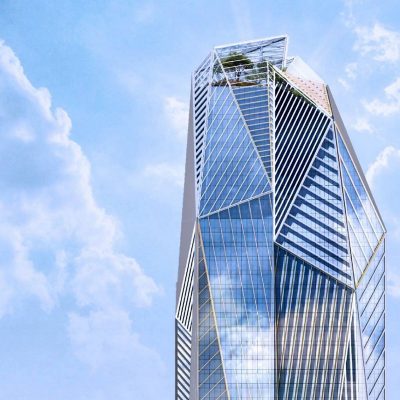 HEKLA Embodies "Future in France"
Another way in which HEKLA aims to be pioneering is its approach to the working environment of its future workers. Together, Hines and AG Real Estate launched a never-seen-before initiative by bringing together a group of six young talents, the Creatives, to work alongside Jean Nouvel. Their objective was together to look into ways of rethinking the working environment and come up with HEKLA's future uses and services.
The Creatives personify French excellence in fields like sport, philosophy, universal accessibility, gastronomy, design and artificial intelligence. The joint analysis they conducted in collaboration with Ateliers Jean Nouvel enabled them to come up with and suggest unique services in relation to the future of the working environment offered within HEKLA.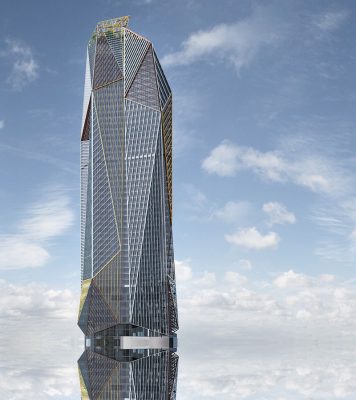 Creative Energies:
§ Marion Flipo, chef and entrepreneur,
§ Julia de Funès, philosopher,
§ Édouard Detrez, entrepreneur, founder of Le Fauteuil Roulant Français,
§ Grégory Dupont, sports trainer of the French national football team, 2018 world champions, now at Real Madrid,
§ Ramy Fischler, designer,
§ Rand Hindi, data scientist and entrepreneur, founder of the start-up Snips.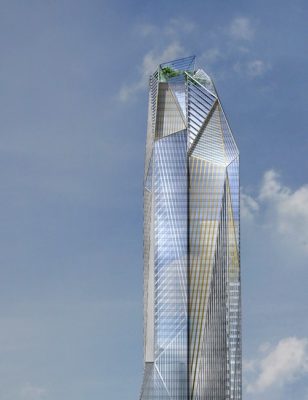 HEKLA La Défense Tower, Paris, France – Building Information
Location: La Défense, Paris, France
Jean Nouvel
Terraces and loggias: 2,518 square meters
Typical office floor plates: 1,700 square meters
Floor to ceiling height: 290 cm
Stories: 49 stories including a planted rooftop and 2 lobby levels, 6 basement levels
Restaurant facilities: 5 spaces
HEKLA Building, Paris La Défense Tower, France images / information received 060921
Location: Paris, France
New Paris Architecture
Contemporary Paris Architecture
Paris Architecture Design – chronological list
Paris Architecture Tours – French capital city walks by e-architect
2024 Paris Olympics' Aquatic Center
Design: MAD Architects ; Jacques Rougerie Architecture ; Atelier Phileas Architecture ; Apma Architecture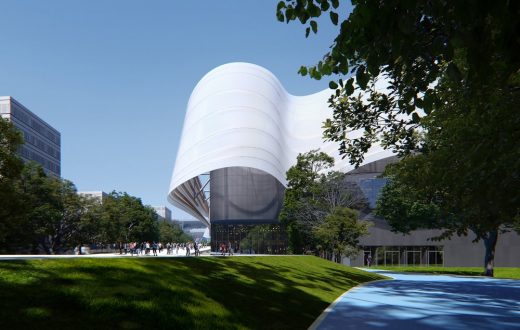 image courtesy of MIR
2024 Paris Olympics Aquatic Center
La Contemporaine, Nanterre, west of Paris
Architects: Bruno Gaudin Architectes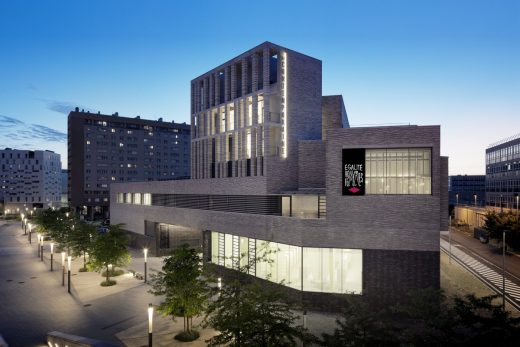 photo © Takuji Shimmura
La Contemporaine, Nanterre Building
Musée Carnavalet Renovation, 23, rue de Sévigné, 75003 Paris
Architects: Snøhetta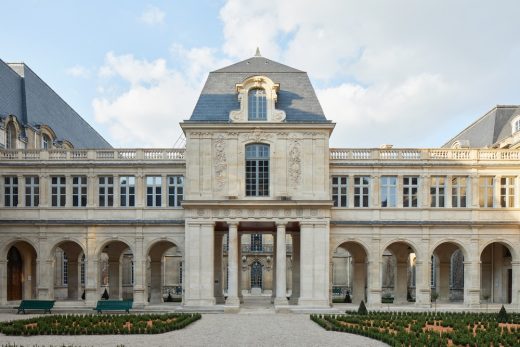 photo © Antoine Mercusot
Musée Carnavalet Renovation
Public Condenser, Ile-de-France, new campus of Paris-Saclay, Gif-sur-Yvette, Ile-de-France
Design: Muoto Architects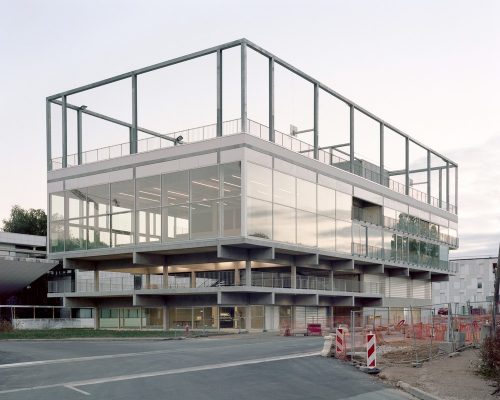 photograph : Maxime Delvaux
Public Condenser in Gif-sur-Yvette, Paris-Saclay
Paris Architect – architectural office listing on e-architect
Comments / photos for the HEKLA Paris La Défense Tower architecture deign by Jean Nouvel Architects page welcome