US building news 2023, American architecture developments, USA real estate images, New property design
US Building News
Contemporary American Architectural Developments: Modern Built Environment United States of America
post updated September 5, 2023
America Architecture News – latest building updates
Current US Building News on e-architect:
USA Building News
US Building News in 2021
Dec 27, 2021
OASys, San Diego, California
Design: Stephens Waring Design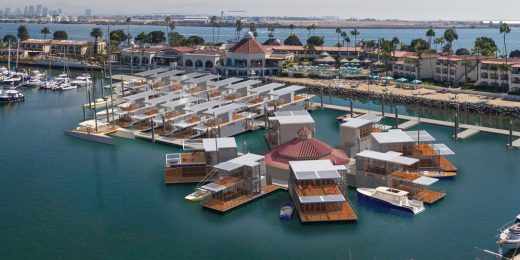 image : Courtesy of Stephens Waring Design
OASys Concept at Kona Kai Resort, San Diego
Stephens Waring Design announces a new design concept called OASys (Ocean Architectural System) created specifically to reimagine shoreline hotels, resorts, and housing. The model falls under the brand of the award-winning boat designer called IMMERST, which will address some of the most pressing coastline development challenges including limited land, habitat preservation,
and climate change.
Dec 15, 2021
North Carolina Museum of Art to Host Exhibition on Architect Phil Freelon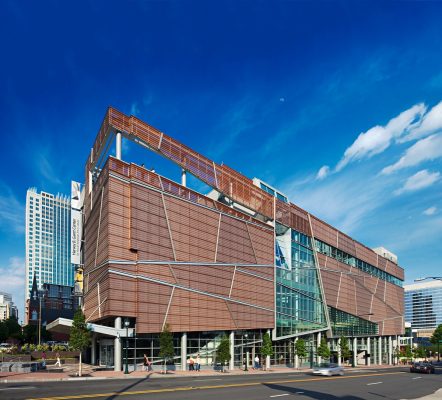 photo © Mark Herboth Photography. Courtesy of Perkins & Will
North Carolina Museum of Art Phil Freelon Exhibition
Dec 14, 2021
Civic Park, Eugene Stadium Building
Dec 10, 2021
Futura, Post Pandemic Austin Middle School
Dec 9, 2021
Town Enclosure, Bozeman, Montana art installation
Dec 5, 2021
c-Home Hudson, Claverack, New York
Dec 1, 2021
Tiscornia Residence, Carbondale, Colorado
Nov 25, 2021
Calvin & Tina Tyler Hall, Morgan State University, Baltimore, Maryland
Design: Teeple Architects with GWWO Architects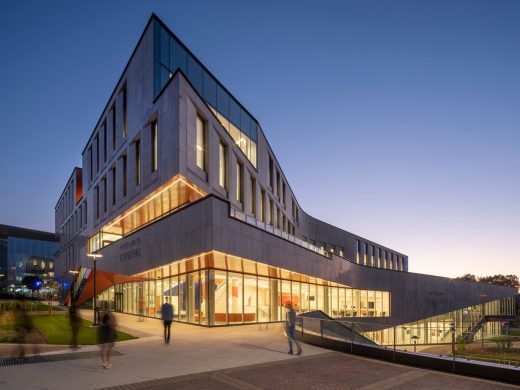 photo : Nic Lehoux
Calvin & Tina Tyler Hall, Morgan State University
Morgan State University in Baltimore is one of the nation's premier historically black institutions of higher education—and the largest within the State of Maryland— offering a comprehensive range of undergraduate, graduate, and doctoral programs. Founded in 1867, the university was designated a 'National Treasure' in 2016 by The National Trust for Historic Preservation.
Nov 9, 2021
Backwards Sky Ranch House, Hill Country, Central Texas
Design: Clayton Korte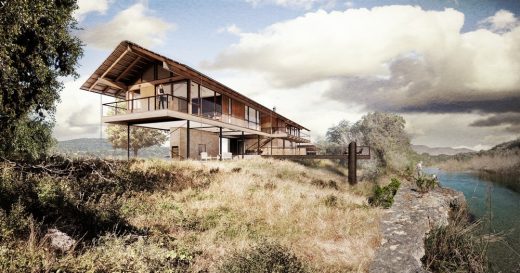 image courtesy of architecture office
Backwards Sky Ranch, Central Texas
In the Hill Country of central Texas, the Backwards Sky Ranch House straddles the boundary between an open meadow to the south and the sharply carved bank of the Dry Frio River to the north. The living spaces are perched above and run parallel to the river, offering the owners uninterrupted access and views to the river valley.
Nov 8, 2021
Elementi Luxury Mansion, Beverly Hills
Nov 8, 2021
MapleHaus, Park City, Utah
Nov 8, 2021
Hospital of the University of Pennsylvania Pavilion
Nov 4, 2021
Confluence House in Whitefish, Montana
Nov 2, 2021
Lakeview Office Building, 5501 Lakeview Drive, Kirkland
Design: LMN Architects
Lakeview Office Building in Kirkland Building
Nov 1, 2021
Isleworth, Lake Butler Estate near Orlando
October 21, 2021
Humbird at Schweitzer Mountain Resort, Sandpoint, Idaho
Architects: Skylab Architecture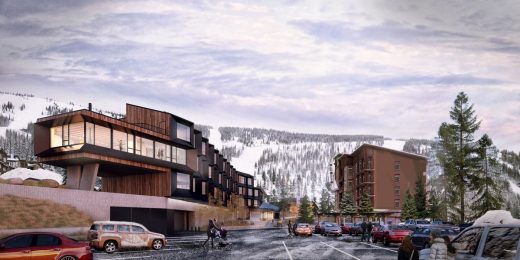 image courtesy of architecture office
Humbird Hotel Schweitzer Mountain Resort
Oct 18, 2021
Fariborz Maseeh Hall, Portland, Oregon
Design: Hacker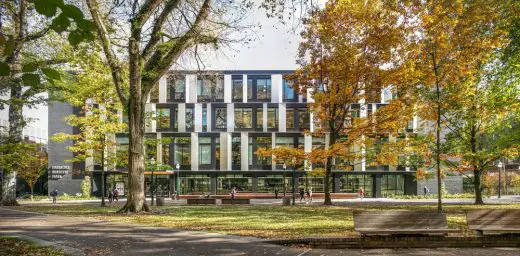 photo : Pete Eckert
Fariborz Maseeh Hall at Portland State University
October 21, 2021
The Wall of Resistance – Cold War Veterans Memorial, Wisconsin
Architects: Collaborative Architecture, India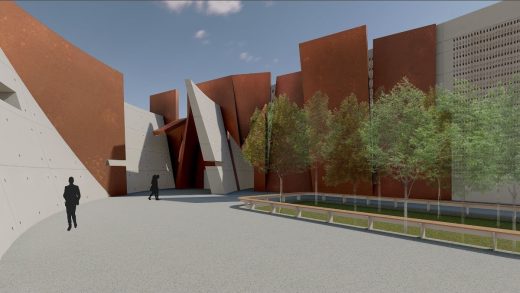 image courtesy of architecture office
Cold War Veterans Memorial Wisconsin
Oct 17, 2021
Carolina Panthers Training Facility, Rock Hill, South Carolina
Architects: Populous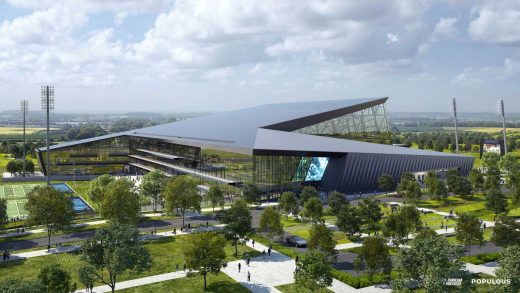 image courtesy of architecture office
Carolina Panthers Training Facility
Oct 15, 2021
Fruit & Produce Co Headquarters in Washington
Oct 14, 2021
Reser Stadium Expansion, Oregon State University, Corvallis, Oregon
Design: SRG Partnership + Populous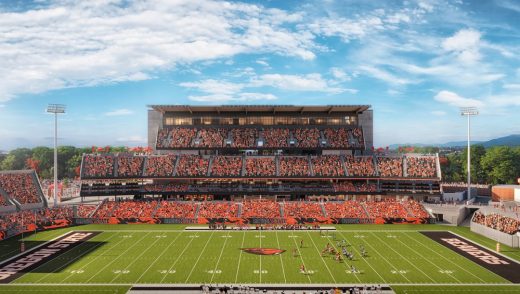 renderings : Elephant Skin and SRG Partnership
Reser Stadium Expansion, Oregon State University
Oct 15, 2021
EskewDumezRipple Architects News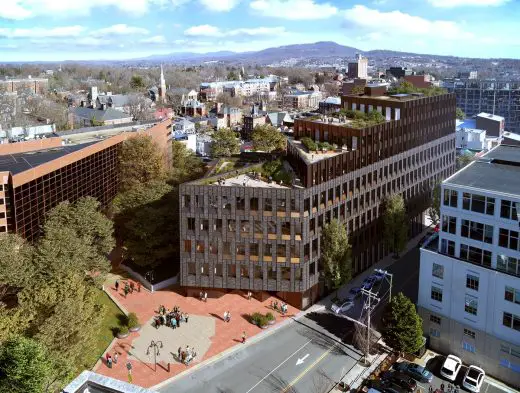 image courtesy of architecture office
EskewDumezRipple Architects News
National Award-winning Architecture Firm Eskewdumezripple Announces Opening Of Washington, D.C. Office And Naming Of New Principal.
Oct 6, 2021
Sound Transit U District Station, Seattle, Washington
Design: LMN Architects
Sound Transit U District Station Seattle
Oct 5, 2021
Emmitt Smith's Mansion, Preston Hollow, north Dallas, Texas
Emmitt Smith's House and Dinner Date, Dallas
Sep 30, 2021
Horseshoe Bay Retreat, Llano County, Texas
Design: Dick Clark + Associates
Horseshoe Bay Retreat, Llano County, Texas
Oct 2, 2021
Sotheby's Beverly Hills Flagship Gallery Space, Beverly Hills, Southern California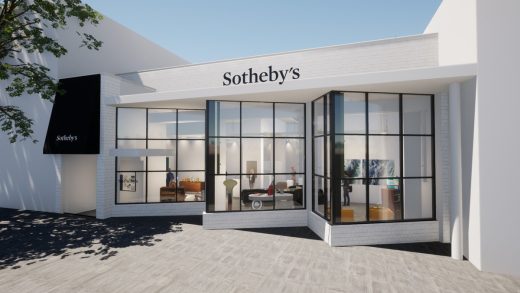 photo courtesy of architects office
Sotheby's Beverly Hills
Building on Sotheby's longtime presence in Los Angeles over the last four decades, Sotheby's is pleased to announce the opening of the company's first public exhibition space on the West Coast with a new, expanded footprint in the heart of Beverly Hills.
Sep 22, 2021
Rhode Island School of Design Quad Block Enhancement, Providence, Rhode Island
Architect: Nader Tehrani of NADAAA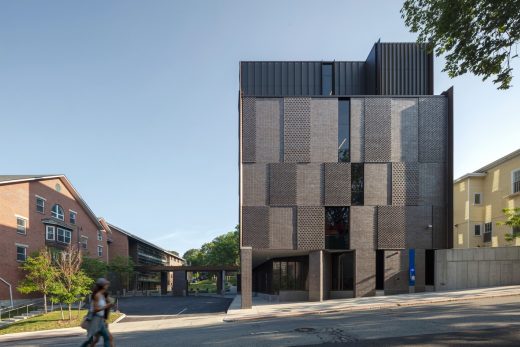 photo : John Horner
Rhode Island School of Design residences
Rhode Island School of Design completes renovations to its Homer and South Hall residences, marking the end of phase three of the multiyear Quad block enhancement project, which includes multiple housing structures and a dining facility. Homer Hall was built in 1957 and South Hall in 1985.
Sep 14, 2021
Quirk Hotel, Charlottesville, Virginia
Architects: ARCHITECTUREFIRM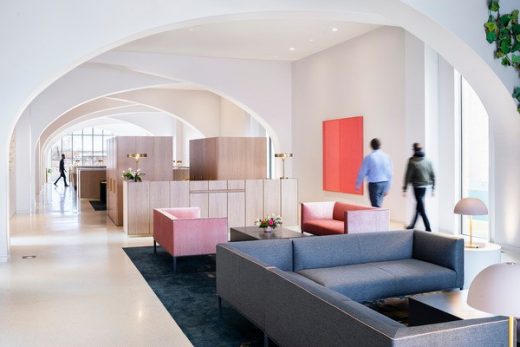 photo : James Ewing / JBSA
Quirk Hotel, Charlottesville, Virginia
Quirk is a gallery hotel, designed to create an inclusive environment for the appreciation of art within a unique hospitality setting. Quirk strives to create connections to local artists displayed throughout the hotel and in the on-site gallery, using art to extend this inclusivity to locals as well as travelers and to act as the canvas for art and experience rather than the art itself.
Sep 15, 2021
I Hotel Conference Center, Urbana, Illinois
Design: Cordogan Clark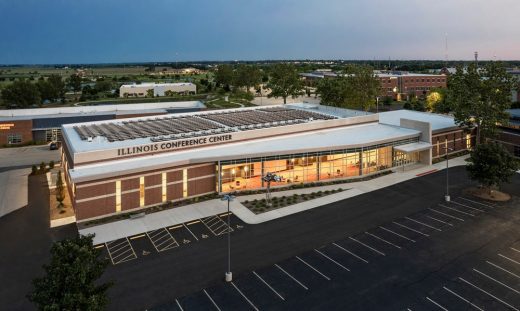 photo : James Steinkamp
I Hotel Conference Center, Urbana
The first exposure many people have with UIUC's Research Park is the I Hotel and Conference Center. In addition to hosting companies and organizations for collaboration, conferences, and events, it bridges the university and community.
September 6, 2021
Raleigh Downtown South Masterplan, North Carolina
Architects: 10 Design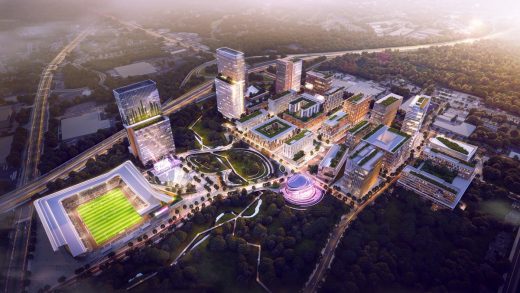 visualisations : Frontoo
Raleigh Downtown South Masterplan, North Carolina
10 Design reveals scheme for a large-scale masterplan located in Downtown South Raleigh, North Carolina for Kane Realty Corporation. The mixed-use development comprises offices and residential areas in addition to hospitality, retail and leisure space.
September 3, 2021
Mingei International Museum, Balboa Park, San Diego, California
Design: LUCE et studio / Inside Outside | Petra Blaisse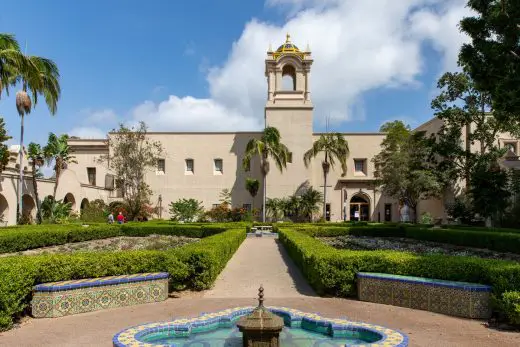 photo Courtesy of Mingei International Museum
Mingei International Museum San Diego
Mingei International Museum has embarked on a major transformation of its facility on the Plaza de Panama in Balboa Park, one that redefines its relationship to the Park, the San Diego region and the world. The plan expresses a dynamically renewed commitment to the Museum's vision and the community it serves.
Aug 27, 2021
Please Don't Eat the Daisies House, New York
Aug 24, 2021
University of Notre Dame Main Building Renovation
Aug 24, 2021
Festival Beach Restroom, Lady Bird Lake, Austin
Aug 23, 2021
United States Land Port of Entry, Columbus
Aug 15, 2021
Pell Bridge pedestrian and cycling lanes
Aug 13, 2021
Mirren-Hackford Mansion, Hollywood Hills
Aug 13, 2021
Stormfield Estate, Redding, Connecticut
Aug 11, 2021
The Rady Shell at Jacobs Park, San Diego
Aug 9, 2021
New Davison Art Gallery, Connecticut
Jul 31, 2021
Cultivate Cannabis Dispensary, Massachusetts
Jul 30, 2021
Atlanta Centennial Yards, downtown masterplan
Jul 26, 2021
Global Flora Conservatory, Wellesley College
Jul 6, 2021
Montana Heritage Center, Helena
Jul 5, 2021
Gallatin High School, Montana Building
Jul 3, 2021 ; Jun 24, 2020
Columbia College New Hall, Columbia, Illinois
Design: Ittner Architects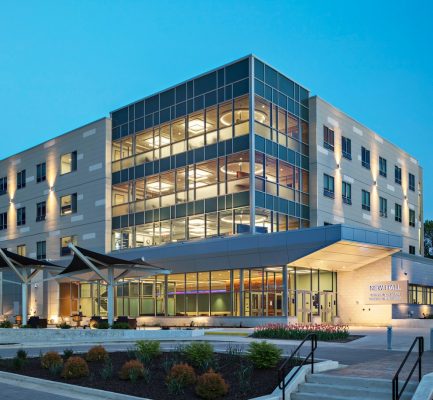 photo : Aaron Gipperich Photography
Columbia College New Hall Illinois
Columbia College New Hall provides modern living and learning spaces to support the growing needs of the college. With a goal of creating engaging, technology-rich spaces that support students' progress on their career paths, New Hall houses both the Robert W. Plaster School of Business and residential living areas for 150 students.
Jun 15, 2021
Approval for Sandy Hook Permanent Memorial Design, Connecticut, USA
Sandy Hook Memorial Design
May 21, 2021
Westpointe Workforce Training Education Center
Apr 25, 2021
Seaweed Flagship Store, Portland, Oregon
Apr 25, 2021
New Central Ford Campus Building, Dearborn, Michigan
Apr 23, 2021
Beverly Hills Luxury Mansion
Apr 22, 2021
Capitol Hill Fusion House, Seattle
Apr 22, 2021
Hans Rosling Center University of Washington, Seattle
Apr 21, 2021
Daylight Homeless Center, Austin
Apr 20, 2021
Kate Tiedemann College of Business USF
Apr 4, 2021
Optimist Hall, Charlotte, North Carolina
Apr 3, 2021
Taft, Portland, Oregon
Design: Skylab Architecture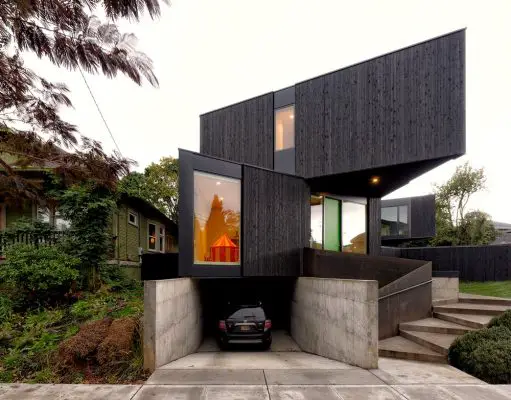 photography: Michael Cogliantry and Jeff Van Bergen
Taft House in Portland
The Taft is a 3,930-square-foot, two-story, open plan house designed and built using HOMB, a prefabricated modular system developed by Skylab in collaboration with MethodHomes. The system provides an alternative to the typical time-consuming process of conventional site construction while also minimizing waste through precision prefabrication.
Feb 12, 2021
LA Garage at Nike World HQ, Oregon
Feb 5, 2021
Edward J Ray Hall, Oregon State University
More contemporary US Building News online soon
US Architecture News 2020
Nov 26, 2020
False Bay Writer's Cabin, San Juan Islands, Washington, USA
Architects: Olson Kundig
False Bay Writer's Cabin, San Juan Island
Dec 8, 2020
Oak Pass Residence Addition, Beverly Hills
Nov 27, 2020
DRIFT, 2020, Dallas, Texas, USA
Design: sculpture by Gerry Judah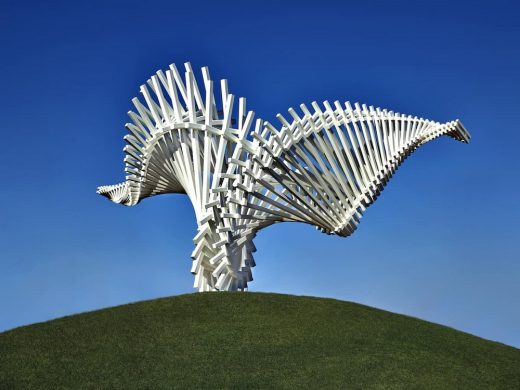 photo : Dan Sellers
DRIFT, Dallas, Texas sculpture by Gerry Judah
In Texas, the Belt Line Road stretches thirty miles in a straight line through the hills and valleys between Dallas and Fort Worth. If you pause at the Olympus crossroad to North Lake, you will find DRIFT, the latest sculpture by Gerry Judah, dazzling in the sun like the bleached bones of an ancient leviathan.
Dec 5, 2020
Flowers Vineyard & Winery, California
Dec 5, 2020
O-asis House, Phoenix
Nov 17, 2020
Nancy and Rich Kinder Building, Museum of Fine Arts Houston, Texas, USA
Design: Steven Holl Architects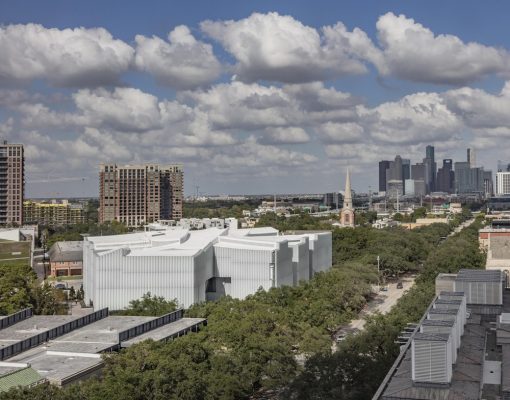 photograph © Richard Barnes, courtesy of the Museum of Fine Arts, Houston
Nancy and Rich Kinder Building Houston
The third gallery building of the MFAH, dedicated for the display of the Museum's outstanding and fast-growing international collections of modern and contemporary art, the 237,000-sqft Kinder Building has been designed by Steven Holl, who also designed the master plan for the Sarofim Campus. The landscape architects for the 14-acre Sarofim Campus are Deborah Nevins and Mario Benito of Deborah Nevins & Associates/ Nevins & Benito Landscape Architecture, D.P.C.
Nov 1, 2020
Dry Creek Poolhouse in Geyserville, Sonoma
Oct 28, 2020
Mountain Wood House, Woodside
Oct 27, 2020
Pierce Brosnan's House, Malibu Beach
Oct 26, 2020
Commonwealth Pier, Seaport World Trade Center, Boston, Massachusetts
Design Architect: Schmidt Hammer Lassen Architects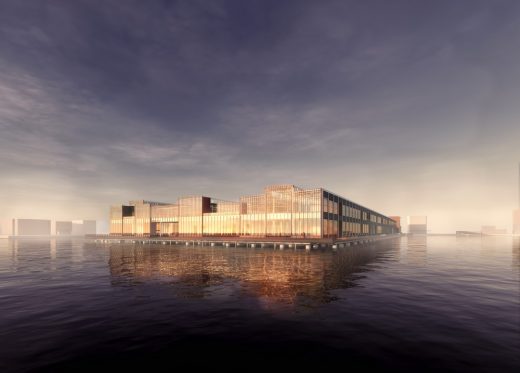 image © Schmidt Hammer Lassen Architects
Commonwealth Pier Boston
Construction has begun on the redesign of Boston's Seaport World Trade Center, an expansive mixed-use development on historic Commonwealth Pier in the city's Seaport District. Designed by Dansh architecture office Schmidt Hammer Lassen, the adaptive reuse project will introduce new ways to explore and engage with the waterfront.
Sep 24, 2020
Horizon Neighbourhood, Powder Mountain
Sep 21, 2020
Sky House, Flatiron Miami Property
Sep 21, 2020
Theodore Roosevelt Presidential Library, Dakota
Sep 6, 2020
Chandler Ullmann Hall, Lehigh University
Sep 3, 2020
Student Union at Embry Riddle Aeronautical University
Sep 2, 2020
Puglisi Hall at University of Delaware, Newark
Sep 1, 2020
Southerleigh Fine Food and Brewery
Sep 1, 2020
Loft Apartment in Charlottesville, Virginia
Sep 1, 2020
The Ranch in Orlando, Florida
Aug 27, 2020
Hillside House near South Congress Ave, Austin
June 18, 2020
Westport Library Building in Connecticut
June 16, 2020
Stockman Bank Missoula Downtown, Montana
June 12, 2020
Box Factory in Jackson, California
May 31, 2020
Hancher Auditorium Iowa City Building
May 23, 2020
WHOOP Headquarters in Boston, Massachusetts
May 22, 2020
Waubonsee Community College Fieldhouse
May 19, 2020
Bryant Elementary School in Helena, Montana
May 18, 2020
Hotel and Private Club in Hollywood, California
April 28, 2020
Topfer Theatre at ZACH in Austin, Texas
April 27, 2020
Daydreams School House at Tippet Rise Art Center, Fishtail, Montanta, USA
Architects: Cushing Terrell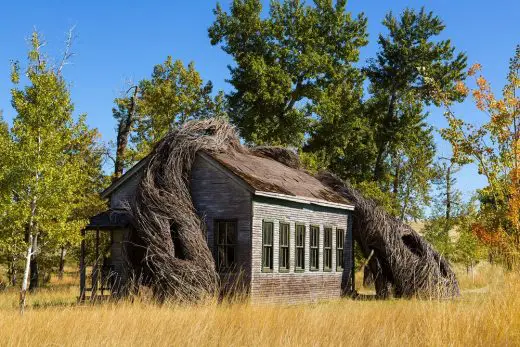 photo © Karl Neumann
Tippet Rise Art Center in Fishtail, Montana
Cushing Terrell was contacted about designing a building to be used as a backdrop for a sculptor's on-site commission at the 12,000-acre-spanning Tippet Rise Art Center, located just outside Fishtail, Montana. The program requirements for the project were very simple: replicate a late-1800s one-room Montana schoolhouse to provide a relatively protected interior space for housing a sculpture made of saplings.
April 23, 2020
St. Augustine Lighthouse & Maritime Museum
April 22, 2020
Bennington College Commons Building, Vermont
April 22, 2020
Bigfork High School Renovation & Expansion
Feb 12, 2020
The Rothko Chapel, Houston, Texas
Design: Architecture Research Office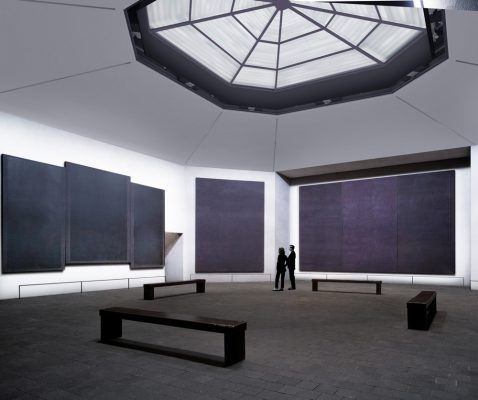 photo © Architecture Research Office
The Rothko Chapel in Houston, Texas
One of the world's most celebrated sacred spaces is due to reopen in June 2020, after undergoing a comprehensive restoration as part of the first phase of Opening Spaces, a $30-million master plan for its campus.
Feb 12, 2020
Modern Lodge on Weatherby Lake, North Kansas City
Feb 6, 2020
Telegraph Tower in Oakland, Northern California
More contemporary US Building News on e-architect soon
US Building News 2019
Oct 25, 2019
The Heights School Building in Arlington
Oct 25, 2019
Comcast Technology Center in Philadelphia
Oct 24, 2019
Hay Barn, Santa Cruz, California, USA
Design: Fernau + Hartman Architects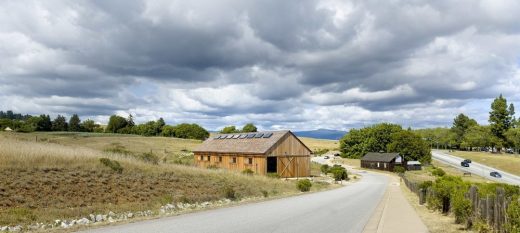 photography © Cesar Rubio
Hay Barn in Santa Cruz, California University
Perched on a shelf at the entrance to UC Santa Cruz, this American house greets visitors on their way to central campus, as they pass through the former ranch headquarters of the Cowell Lime Works.
Oct 23, 2019
Big Pine House in Mazama, Washington
Oct 16, 2019
Nims Bezaitis Residence in Portland, Oregon
Oct 15, 2019
Everett Grand Avenue Pedestrian Bridge in Washington
More current US Building News online here soon
US Architecture News 2018
Sep 28, 2018
Lee's Summit School District R-7 – Missouri Innovation Campus, Missouri
Design: Gould Evans ; Associate Architects: DLR Group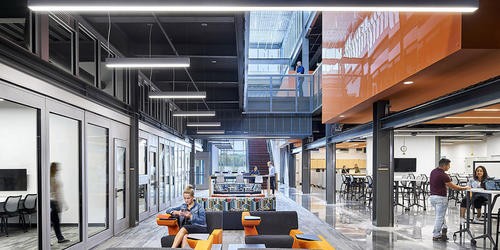 image courtesy of Chicago Athenaeum
New Missouri Building
May 15, 2018
Kanye West Starts Architecture Studio
Controversial US Rapper Kanye West has announced he is starting an architecture firm, Yeezy Home, reports The Guardian.
The rapper posted on Twitter: "We're starting a Yeezy architecture arm called Yeezy home. We're looking for architects and industrial designers who want to make the world better".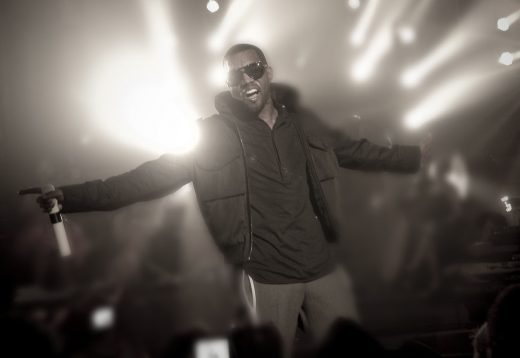 photo by Daniel Cruz Valle – Kanye West Central Hall, CC BY 2.0, https://commons.wikimedia.org/w/index.php?curid=18718937
Yeezy is West's company, which currently gives its name to West's clothing designs and a range of trainers made in collaboration with Adidas. In April he tweeted: "Yeezy is no longer a fashion company we should be referred to as apparel or clothing or simply Yeezy."
"I hang around architects mostly, people that wanna make things as dope as possible … This is the reason why I'm working with five architects at a time."
Kanye West Architecture Studio – Yeezy Home article in The Guardian
Feb 4, 2018
Housing Northwest Arkansas Initiative at Fay Jones School
The Fay Jones School of Architecture and Design at the University of Arkansas announced In December that it would launch Housing Northwest Arkansas—an initiative supported by a $250,000 grant from the Walton Family Foundation that aims to address the region's lack of affordable, attainable housing, at all income levels. "The steady growth of Northwest Arkansas, as with many cities and regions across the nation, compels focused attention on new visions of housing design for the region," said Peter MacKeith, dean of the Fay Jones School.
More modern US Building News online soon
US Architecture News 2017
Aug 1, 2017
Solar-powered US Border Wall with Mexico
President Trump has come up with a new idea for covering the costs of a proposed border wall between the United States and Mexico: build it with solar panels.
At a White House meeting Tuesday, Donald Trump floated the concept of "beautiful structures," 40 to 50 feet high, that generate clean electricity from the sun — and would help cover the cost of the project, according to comments reported by Axios.
solar-powered Border Wall between USA and Mexico: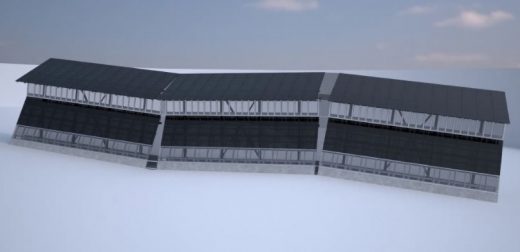 image courtesy of Gleason Partners
The U.S. border with Mexico is almost 2,000 miles long. Donald Trump has said his wall will cover 1,000 miles, with natural obstacles doing the rest of the work.
Gleason Partners submitted a proposal to build a solar border wall, generating two megawatts of electricity per mile, at a cost of about $7.5 million per mile.
Fixing the panels vertically could lead to an efficiency loss of around 50%, the analysis says, with the angle at which the sun would hit the wall losing an additional 10% in efficiency.
However less than 2% of the U.S. population live within 40 miles of the US – Mexico border.
source: US Border Wall with Mexico
Jul 24, 2017
American Architecture Prize Firm of The Year Deadline
Extended Early Bird deadline: enter before July 31, 2017 across the categories of architecture, interior design, landscaping and urban design to save on entry fees. The AAP is open to submissions on a global level, accepting entries from architects and designers all around the world.
Apr 23, 2017
The American Architecture Prize Deadline
Regular Deadline: April 30, 2017
Recognizing the excellence of architecture firms around the globe.
There are two weeks left until the Regular Deadline to enter the AAP Firm of the Year 2017!
The AAP™ Firm of the Year Award recognizes the excellence of inspiring and innovative architecture, interior, and landscape design firms around the globe. The Firm of the Year Award honors the total body of work of small, medium, and large companies in their own unique categories based on firm size and area of expertise.
American Architecture Prize Firm of The Year
Apr 7, 2017
American Architecture Awards Winners in 2017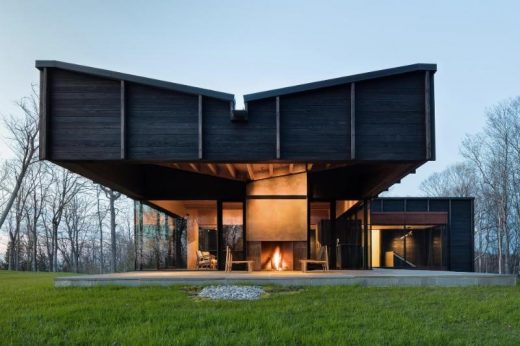 photograph © Paul Warchol
American Architecture Awards News
Seventy-nine shortlisted buildings have won the prestigious 2017 American Architecture Awards ® for the best new buildings designed and constructed by American architects in the U.S. and abroad and by international architects for buildings designed and built in the United States.
The American Architecture Awards are the nation's highest public awards given by a non-commercial, non-trade affiliated, public arts, culture and educational institution.
Mar 29, 2017
The American Architecture Prize
The American Architecture Prize Extended Early Bird deadline is approaching on March 31st.
If you don't have enough time to create your entry in the next few days, here is a tip: You could pay for your entry now and upload the PDF later. This way, you can take advantage of the discounted price now, and do the work a little later. Just leave the "Upload PDF" page blank, and proceed to make your payment.
The AAP offers a graphic designer service for Firm of the Year entrants for a limited period of time. A designer will help you create your submission document, at no charge to you.
Please email [email protected] or visit the AAP website for more information.
AAP – The American Architecture Prize™
550 N Larchmont Blvd, Suite 100
Los Angeles, CA 90004 USA
Website: The American Architecture Prize
Mar 12, 2017
USA Border Wall News
US Architects React to Border Wall RFP
With President Donald Trump taking further executive action to build the controversial wall across the Mexican-American border, protesters are beginning to rally and speak out.
At Yale University, specifically, students are displaying an anti-Trump message on campus.
The phrase "We won't build your wall" is written on large windows at the school of architecture.
In the aftermath of the 2016 election, the American Institute of Architects issued an incendiary statement of congratulations and support for the yet-unknown infrastructure agenda of the Trump administration, state Yale School of Architecture professor Peggy Deamer and students David Langdon and Melinda Agron in an op-ed piece in the Architectural Record.
The architecture community loudly and publicly denounced what they saw as a "greedy and spineless compromise" of professional responsibilities, and #NotMyAIA began trending on Twitter. Within days, AIA CEO Robert Ivy rescinded the organization's statement and apologized.
(Also, see our post from Feb 6 + 5, 2017 further down this page – 'Major Architects Object to President Trump's Travel Ban')
Two weeks ago President Trump issued a preliminary RFP—request for proposals—for design prototypes of the long-promised border wall. In the days that followed, dozens of prominent architecture and engineering firms threw their hats in for a chance at the multi-billion-dollar project.
The concerns that architects voiced in November 2016 of professional collusion with the administration's partisan agenda proved dishearteningly prescient and well-founded.
The Architecture Lobby—a forward-thinking alternative to the AIA organized in 2013 by a collective of students, practitioners, and academics—has proposed that March 10, the day the first round of border wall proposals are due, cannot witness business as usual.
Article in full: US Architects React to Border Wall RFP
Feb 20, 2017
Svigals+Partners Merges with Lynn Brotman Interior Design
Sandy Hook School building, Connecticut: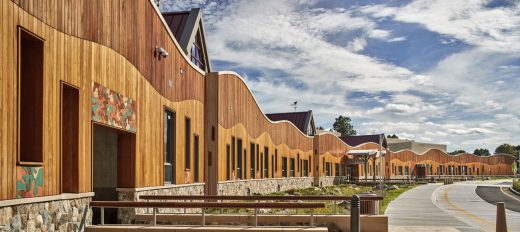 photo Courtesy Svigals+Partners
New Haven, Conn.–based architecture firm Svigals+Partners has announced a merger with Lynn Brotman Interior Design in an effort to make "interior design a seamlessly integrated aspect of current and future projects". Previously, the two architectural firms collaborated on the recently completed Sandy Hook School in Newtown, Conn.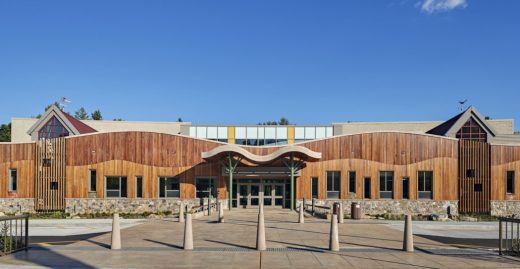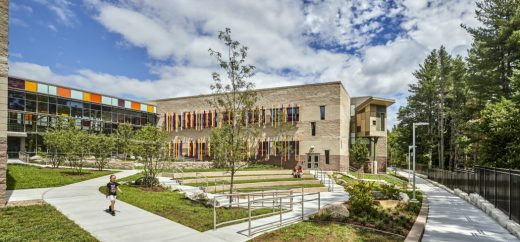 images Courtesy Svigals+Partners
"Our collaborations with Svigals+Partners have always been the most rewarding," Brotman said in the release. "We look forward to working even more closely with these amazing architects and designers, to create spaces that help people to be the best they can be."
Lynn Brotman will join as an associate principal.
Feb 14, 2017
Four Midcentury Landmarks Revitalised
The Hall of Science, Queens
Richards Medical Research Laboratories, Pennsylvania
Greeley Memorial Laboratory, Yale University
Manton Research Center, Massachusetts
The Hall of Science, in Queens, New York, is one example of the sculptural exuberance of many midcentury buildings. Designed by Harrison and Abramovitz Architects for the 1964 World's Fair, it was conceived as a permanent museum devoted to science and technology. An eggcrate-like reinforced-concrete wall undulates and bends to define a nearly 90-foot-tall volume, reports the Architectural Record.
Todd Schliemann, a partner at New York–based Ennead, who completed the hall's restoration in 2015, describes its interior as abstract and almost scaleless, like outer space.
The Hall of Science, in Queens, New York: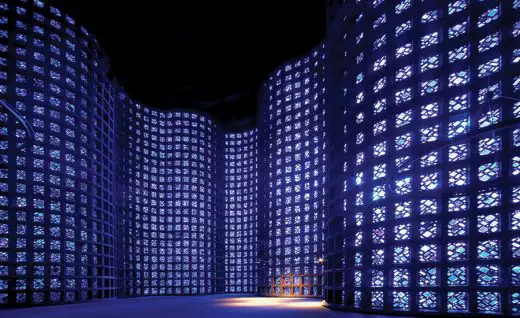 photo © Jeff Goldberg / ESTO
Not all midcentury buildings exhibit the same kind of adventurous and organic forms found at the Hall of Science. Instead, another significant work from this period—Louis Kahn's Richards Medical Research Laboratories (1961) at the University of Pennsylvania—demonstrates a commitment to order and rigor articulated in brick, concrete, and glass. The building was recently designated a National Historic Landmark.
Many scholars have noted that Kahn's model for this open working environment may well have been the architecture studio, says David Fixler, a principal in the Boston office of EYP Architecture & Engineering. His firm created the preservation standards for Richards and performed the first phase of the still-ongoing project. (The Philadelphia office of Atkin Olshin Schade Architects won a competitive bid for the subsequent phases.)
Christopher Williams, a New Haven, Connecticut–based architect, faced many of the same problems as the Richards team in his recent renovation of Greeley Memorial Laboratory, a 24,000-square-foot research facility designed by Paul Rudolph for Yale University's School of Forestry & Environmental Studies. Since its completion in 1959, Greeley had suffered a number of unsympathetic alterations.
Pietro Belluschi's Manton Research Center (1973) is located on the campus of the Clark Art Institute, in Williamstown, Massachusetts. This granite-clad library and study facility has a somewhat blocky exterior, Manton was "well-conceived," says the architect for the just-completed renovation, Annabelle Selldorf, principal of Selldorf Architects in New York (acting with Gensler).
Article in full: US Midcentury Buildings News
Feb 6 + 5, 2017
Major Architects Object to President Trump's Travel Ban
Three architecture firms have released responses to President Donald Trump's executive order "Protecting the Nation from Foreign Terrorist Entry into the United States" issued on Friday, reports www.architectmagazine.com.
Studio Libeskind, founded by Daniel Libeskind, AIA, and based in New York and Zürich, and Steven Holl, FAIA, both issued statements earlier this week criticizing the ban.
American-Norwegian firm Snøhetta also criticized Donald Trump's executive order.
"Our office of 44 people based in NYC & Beijing has a staff representing over 18 different languages. We are dedicated to an architecture of openness encouraging human potential.
This action, by the loser of our citizens' popular vote, actively works against the diversity and dialogue essential to this mission and violates the United States Constitution. This president who repeatedly tells lies, fights human potential for good and defies the constitution must be impeached.
We have now worked on five continents pursuing our mission (currently working on our first African project, a library for a new campus in Malawi, which is deeply rooted in our core principles). Today, more than ever, we need to pursue our values; green architecture for the environment of future generations, formation of social space, and realization of new spatial energies.
– Steven Holl
"The Trump travel ban is an affront to our freedom and core values," he said. "It affects our employees, colleagues and collaborators."
– Daniel Libeskind
Also US School of Architecture have reacted:
Harvard Graduate School of Design:
"Let me be clear that the intolerance and prejudice signaled by this action cut against the core values that the GSD stands for. Its spirit runs counter to our collective commitment to inclusion and to cultivating a diversity of people, ideas, and perspectives, the necessary ingredients of healthy and productive discourse and responsible citizenship."
– Dean Mohsen Mostafavi, an Iranian-American
UCLA School of Art & Architecture:
"The Dean's office condemns in the strongest possible terms the executive order around visas and immigration released by the President this past weekend."
– David Roussève, Interim Dean
The Southern California Institute of Architecture and Taubman College, University of Michigan also release statements:
http://archinect.com/features/article/149990064/trump-s-travel-ban-architects-and-educators-respond
Jan 28, 2017
Assemblywoman seeks to bar border wall companies from doing business in New York
With Donald Trump taking executive actions to make good on his campaign promise to build a wall between the U.S. and Mexico, one New York legislator has proposed a pushback, reports Metro.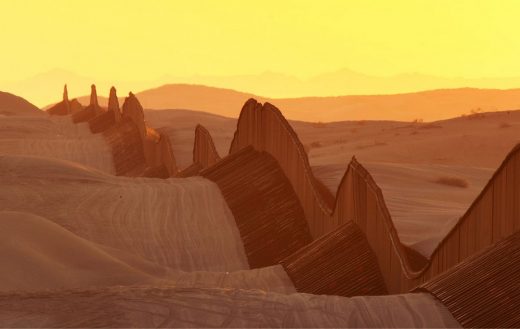 Assemblywoman Nily Rozic, who represents eastern Queens, introduced a bill on Thursday that would ban the state from doing business with companies involved in building the border wall.
Under the bill, the state would track businesses involved with the wall and prevent them from obtaining in-state contracts or assets. New York currently has similar restrictions on companies that boycott Israel or do business in Iran.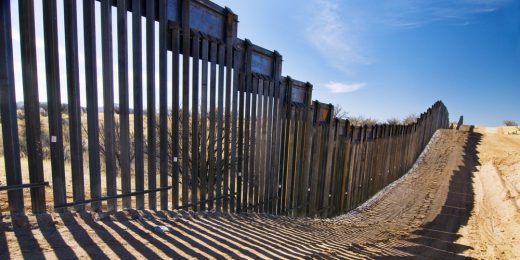 Article in full: New York Border Wall Reaction
Related article on e-architect:
Nov 30, 2016
US / Mexico Border Solutions
Design: Twelve students at UT Austin in parallel with two classes at Universidad Autonoma Nuevo Leon in Monterrey, Mexico
Since the start of the current presidential campaign, immigration has been a central issue. President-elect Donald Trump's proposal of building a wall between Mexico and the United States, and his call to deport undocumented immigrants, has turned the country's attention to the complex issues surrounding our southern border.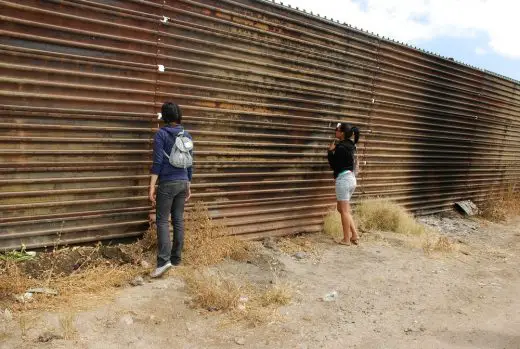 image courtesy of UT Austin
Jan 27, 2017
Harry Macklowe on New York Real Estate
Harry Macklowe, the real estate titan is "riding the wave of successful sales" at 432 Park Avenue — said to be the tallest residential building in the Western Hemisphere — and forging ahead with new projects, reports the New York Times.
Sales began this month for a residential condominium in Midtown and he plans to convert One Wall Street, an Art Deco office building, to residential.
At 80, Mr. Macklowe has had a career spanning almost six decades, marked by extreme highs and lows.
Yet each time, he has pulled off a resurrection. At his latest comeback, the 432 Park Avenue Building, which Macklowe Properties developed with CIM Group, a penthouse sold in September for $87.66 million. The tower proved that Mr. Macklowe continues to be a formidable player in the real estate arena.
Article in full: New York Real Estate Update
Related recent US Architecture News on e-architect:
Jan 19, 2017
President-elect Donald Trump taps two rich developers to oversee infrastructure plan
Donald Trump has chosen Richard LeFrak and Steve Roth, "two of the wealthiest men in real estate" according to Forbes, to head a "council of builders and engineers". This new council will be tasked with overseeing Trump's plan to invest $1 trillion in infrastructure, reports archinect. The Republican infrastructure plan relies heavily on private-public partnerships, so it's not really a surprise that developers will be involved.
Roth founded Vornado, one of the most prominent real estate trusts in New York and Washington. Tornado is merging with JBG Smith, which is one of the shortlisted bidders for the development of a new FBI headquarters, a $2 billion contract. The LeFrak family has played a major role in developing New York, New Jersey, Los Angeles and Miami.
AIA American Institute of Architects News
Jan 24, 2017
514 Eleventh Avenue Buildings
In place of the original 1,000-foot spire, Silverstein Properties is looking to build two towers at 514 Eleventh Avenue, reports www.crainsnewyork.com:
514 Eleventh Avenue New York Towers
Jan 18, 2017
685 First Avenue, Murray Hill Building
42-Story, 556-Unit Mixed-Use Tower at 685 First Avenue, Murray Hill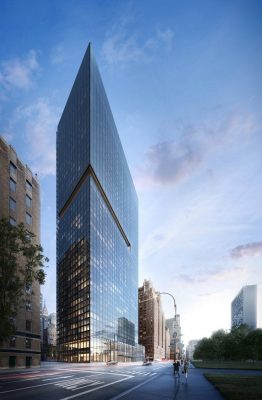 image : bloomimages
Construction is now five stories above street level on the 42-story, 556-unit mixed-use tower designed by Richard Meier & Partners Architects.
The building is under development at 685 First Avenue, located between East 39th and 40th streets in Murray Hill, reports newyorkyimby.com.
Building permits indicate the project will encompass 813,813 sqft and rise 460 feet in height.
There will be 10,088 sqft of ground-floor retail space, split between two units. There will be 448 rental apartments across the 3rd through 27th floors, followed by 148 condominiums on the 28th through 42nd floors.
Solow Realty & Development Group is the developer. Completion is expected in 2018.
Jan 17, 2017
The Ellipse
The Ellipse, Mixed-Use Tower, Tops Out at 1-25 14th Street, Jersey City
LeFrak's 43-story building in Newport, Jersey City, designed by Arquitectonica, Miami: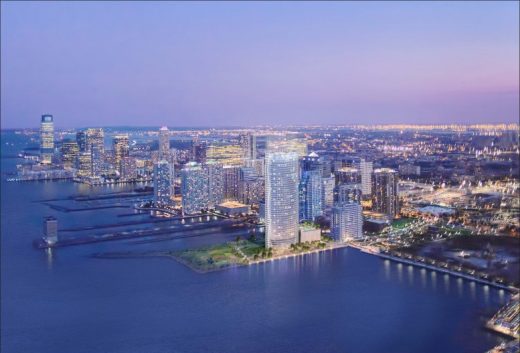 image : Arquitectonica
Construction has topped out on the 43-story, 376-unit mixed-use tower, dubbed Ellipse, at 1-25 14th Street, located in the Newport section of Jersey City, N.J., reports newyorkyimby.com.
The structure, which is now receiving glass installation on its 27th floor, can be seen thanks to photos posted to the YIMBY Forums. The 592,800-sqft tower's apartments will be rentals, ranging from studios to three-bedrooms. There will be 24,000 square feet of amenities, as well as a retail component near street level. The LeFrak Organization is the developer. Arquitectonica is the design architect and Haines, Lundberg & Waehler (HLW) is the executive architect. Completion is expected later this year.
source: http://newyorkyimby.com/2017/01/the-ellipse-43-story-376-unit-mixed-use-tower-tops-out-at-1-25-14th-street-jersey-city.html
Jan 10, 2017
Liberty Museum New York Competition Winners
Winners:
First prize: Jungwoo Ji, Bosuk Hur, Suk Lee (Korea and USA)
Second prize: Maherul Kader Prince, Nabila Ferdousi (Bangladesh)
Third prize: Yuxin Zhang, Shujuan Tang, Yiran Wang (China)
Jury Panel:
• Jeffry Burchard, Principal, Machado-Silvetti, Boston, USA
• Christian Remes, Plus+Bauplanung, Stuttgart, Germany
• Adrian Welch, Chief Editor, e-architect, London
First prize: Jungwoo Ji, Bosuk Hur, Suk Lee (Korea and USA)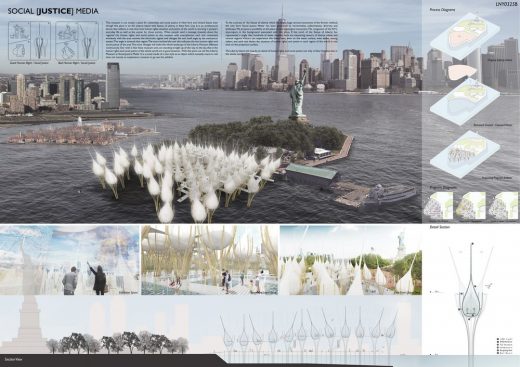 Liberty Museum New York Competition Winners
Jan 5, 2017
Second Avenue Subway Stations in New York
Design: AECOM-Arup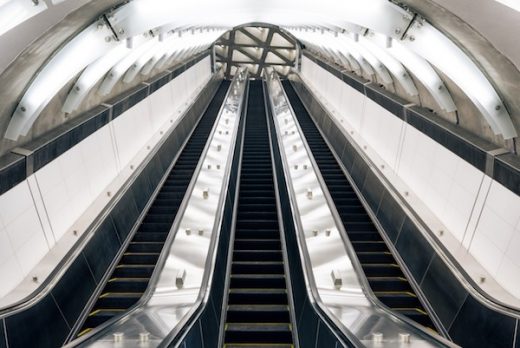 photo © Charles Aydlett courtesy AECOM-Arup JV
Second Avenue Subway Stations in New York City
The first major expansion of New York City subway system in nearly a century, the 1.8 mile stretch of track runs between 63rd and 96th streets and consists of three new stations, plus one upgraded station.
More US Architecture News welcome on e-architect
US Architecture News 2016
Nov 28, 2016
120 Nassau Street, Downtown Brooklyn Tower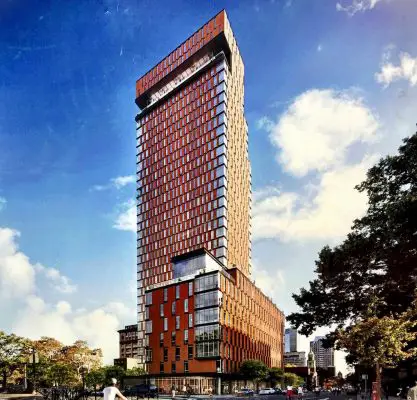 image from architects
Construction is now 24 stories above street level on the 33-story tower designed by architects Woods Bagot. The 270-unit mixed-use building at 120 Nassau Street, located on the corner of Jay Street in Downtown Brooklyn, report yimby.com.
The latest building permits indicate the 425-foot-tall tower will measure 312,093 sqft. The base will include 57,904 square feet of commercial space, in the form of retail on the ground floor and office space on floors two through eight.
Nov 28, 2016
281 Fifth Avenue Building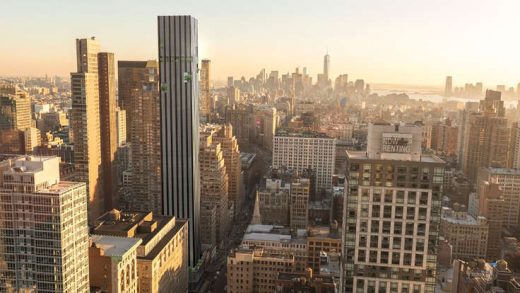 rendering : Rafael Viñoly Architects
Foundation work is now underway on the 52-story, 141-unit mixed-use tower under development at 281 Fifth Avenue, located on the corner of West 30th Street in NoMad, report yimby.com. The latest building permits indicate the project will stand 728 feet in height and encompass 266,963 sqft.
Nov 23, 2016
MoMA / P.S.1 YAP 2017 Program Finalists
MoMA / P.S.1 YAP Program Finalists
– Bureau Spectacular, led by Jimenez Lai
– architect Ania Jaworska
– design collective Office of III, comprised of Sean Canty, Ryan Golenberg and Stephanie Lin
– Jenny E. Sabin, director of Sabin Design Lab
– SCHAUM/SCHIEH, led by Rosalyne Shieh and Troy Schaum.
Nov 8, 2016
Sales Launch for 287 East Houston Street, NY
Design: AA Studio, Architects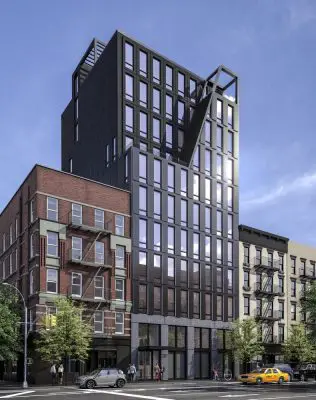 image from developers
287 East Houston Street Manhattan Building
Development partners Hogg Holdings and Vinci Partners USA announce 28-unit residential condominium building has come to market on the Lower East Side of Manhattan.
Oct 27, 2016
HFZ Capital Group tops out The Bryant, 16 West 40th Street, NY, USA
Design: David Chipperfield Architects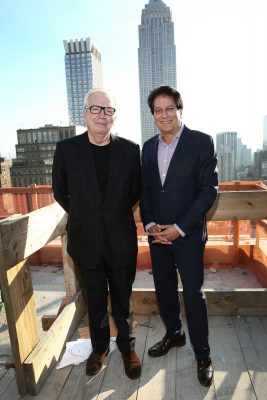 image : Miller Hare
Columbia University Manhattanville Campus Expansion
US Building News by City
Location: United States of America
Contemporary US Architecture
New York City Building News Archive – US Architecture News for NYC
New York Architecture News 2012
Key New York Buildings
Photos for the US Building News – American Architecture Developments page welcome