New York Architecture, NYC Building News, Real Estate Photos, USA City Images, Designs
New York Building News : NYC Architecture
Contemporary Manhattan Architectural Developments, United States of America
post updated September 27, 2021
NYC Architecture Designs – chronological list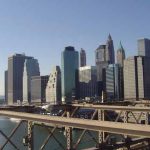 New York Architecture – photo © Tim Collins
New York Architecture Walking Tours by e-architect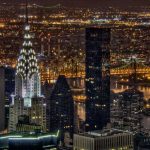 photo © Joe Lekas
New York Building News
October 11, 2021
Hudson Square Investment Office, 395 Hudson Street, West Manhattan
Design: Fogarty Finger, Architects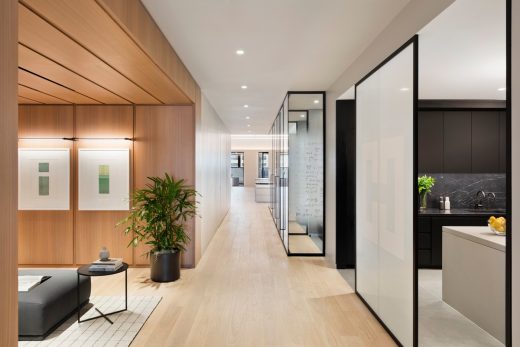 photos : AConnie Zhou
Hudson Square Investment Office Interior
When an investment group in the Carpenters Union Building (395 Hudson Street) on Manhattan's West Side acquired a 10th-floor penthouse at the same address to accommodate its growing staff, it turned to a previous collaborator—the New York studio of Fogarty Finger—to imagine a sophisticated and highly functional new office.
Sep 27, 2021
CreditSights, 2 Park Avenue
Design: Kostow Greenwood Architects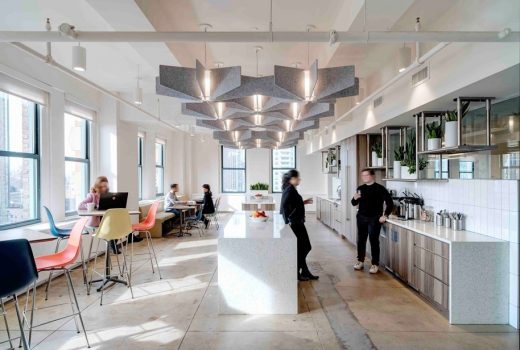 photos : Adrian Wilson
CreditSights NYC office interior design
CreditSights is a leading independent financial research firm with a mission to provide value added input that helps their clients make prudent and profitable investment and risk management decisions consistent with their risk profiles. Founded by a group of analysts, the firm has grown from 8 original employees to over 130 employees around the world.
Sep 22, 2021
Two Manhattan Buildings win Emporis Skyscraper Awards
One Vanderbilt
Design: Kohn Pedersen Fox Associates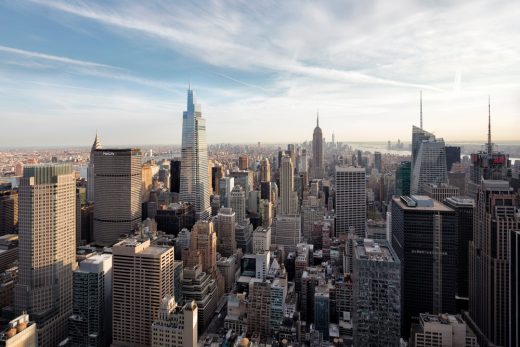 photos © Raimund Koch
Central Park Tower
Design: Adrian Smith + Gordon Gill Architecture; Adamson Associates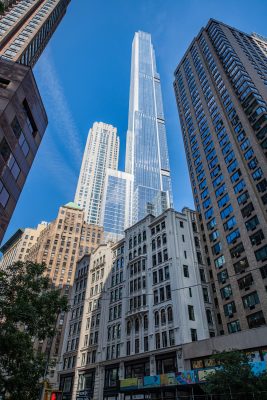 photo © Royce Douglas
Emporis Skyscraper Award 2020
Marking 20 years anniversary since the 11 September attacks:
9/11 Architectural Designs
September 11th Memorial Building, New York City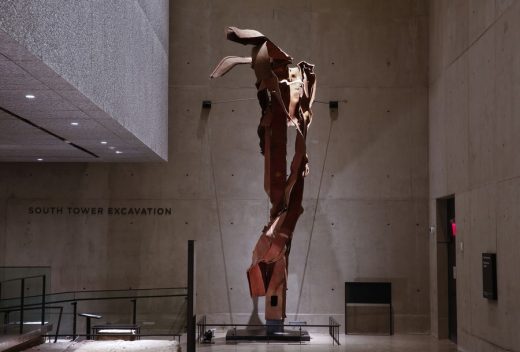 photo : Jin Lee
9/11 Memorial Museum NYC
Sep 9, 2021
City Townhouse & Country Manor, Soho, Manhattan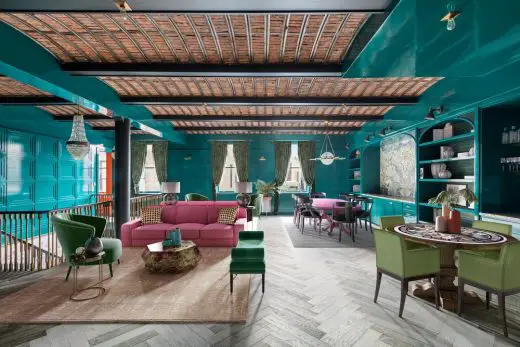 photo : Douglas Elliman
City Townhouse & Country Manor, Soho NY
San Francisco artist Ken Fulk designs experiences. A member of the Architectural Digest 100, Fulk is internationally renowned for both interiors and over-the-top parties. His design concepts include top restaurants, clubs and wineries as well as celebrity homes, such as his overhaul of tech power couple Michael and Xochi Birch's mansion.
Sep 9, 2021
John Steinbeck's Eden, Sag Harbor NY
Sep 7, 2021
Gloria Crest, New Jersey Mansion
Aug 4, 2021
Hastings Hall at Union Theological Seminary
Design: Beyer Blinder Belle Architects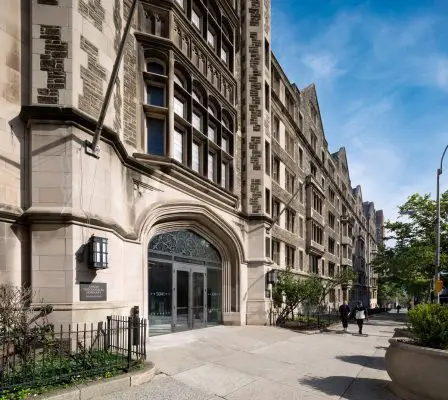 photo by John Bartelstone; courtesy Beyer Blinder Belle
Hastings Hall at Union Theological Seminary
The Campus Renewal Plan and opening of Hastings Hall will evolve the historic campus to better reflect the needs of 21st century students, and UTS's robust and rigorous educational experience.
July 31, 2021
Dock 72 Brooklyn Navy Yard Building
Architecture: S9 Architecture ; Interior Design: Fogarty Finger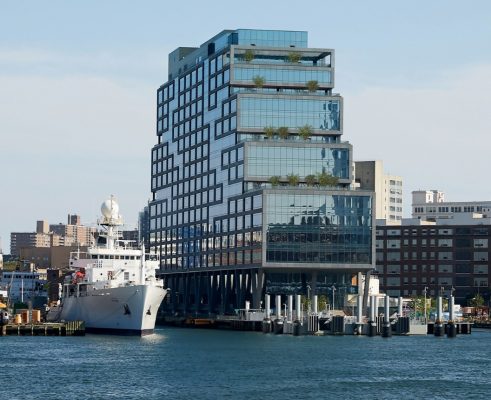 image courtesy of architects practice
Dock 72 Brooklyn Navy Yard
July 30, 2021
MicroPolis Housing
Design: Studio ST Architects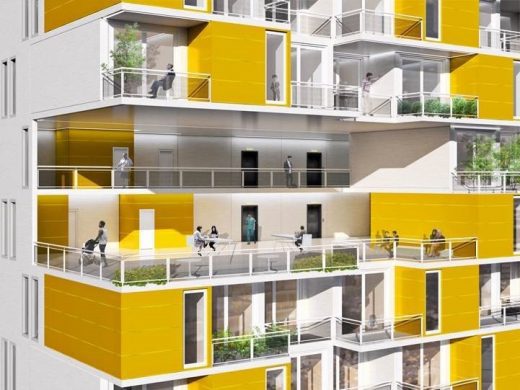 image courtesy of architects practice
MicroPolis Housing
New York City is home to diverse communities that create a vibrant, urban landscape. But the pandemic revealed that the city is more divided than we would like to acknowledge.
July 27, 2021
Sterling Forest House, New York
Jul 7, 2021
Brooklyn Heights Historic Colonnade Passive Townhouse
Design: Baxt Ingui Architects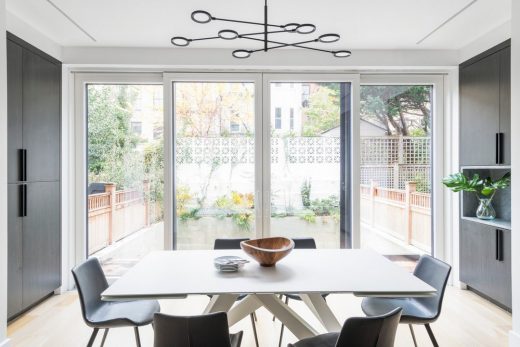 photo : Adam Kane Macchia Photography
Historic Colonnade Passive Townhouse, Brooklyn
Baxt Ingui Architects were extremely excited when the owners of this historic Colonnade Rowhome, one of the last such homes in Brooklyn, approached the architects. The home was in dire need of restoration, and its owners were among the first clients to come to Baxt Ingui Architects in search of a Passive House.
July 10, 2021
King of Diamonds Apartment, Fifth Avenue
July 9, 2021
WeThePlanet Campus, Manhattan
Jun 18, 2021
TWA Flight Center – architectural award news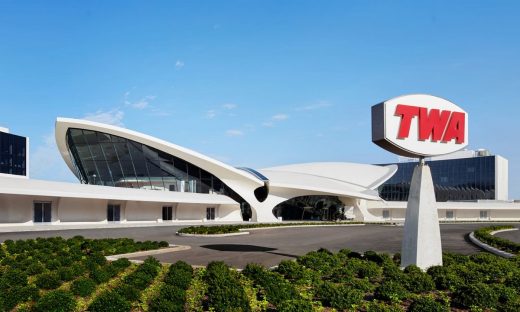 photo courtesy TWA Hotel and by David Mitchell
TWA Hotel, John F Kennedy Airport
Beyer Blinder Belle-designed TWA Hotel recognized By American Institute Of Architects
Jun 18, 2021
Emilio Ambasz architect / engineer
Jun 10, 2021
Company Gallery, corner of Elizabeth and Broome
Architects: BoND (Bureau of Noam & Daniel)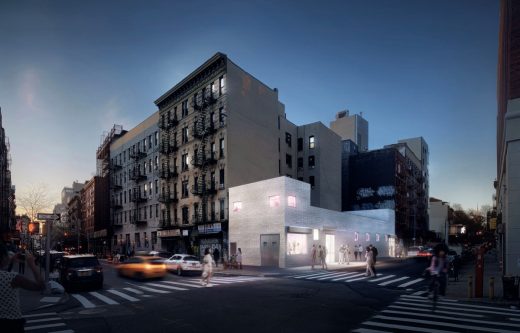 image courtesy of Company Gallery and BoND
Company Gallery
Company Gallery is pleased to announce their upcoming expansion and move to their new home at 145 Elizabeth Street in September 2021. Company will celebrate the opening of the space with an exhibition of works by the late seminal artist Barbara Hammer, curated by Tiona Nekkia McClodden.
May 7, 2021
Article for e-architect by Joel Solkoff:
Moynihan Train Hall New York City Access – In the age of the coronavirus, remembering the New York City architecture of my youth
May 7, 2021
Amant art campus, East Williamsburg, Brooklyn, NY, USA
Design: SO–IL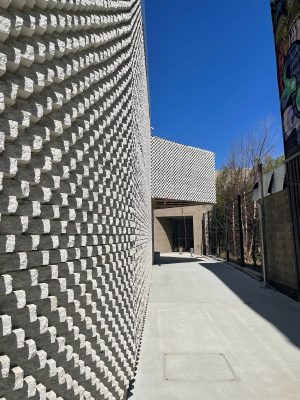 photograph Courtesy the Amant Foundation
Amant art campus, East Williamsburg, Brooklyn
The Amant Foundation is pleased to announce that on June 5th it will open the doors on Amant, a 21,000 sqft multi-building "art campus" in East Williamsburg. Conceived as a research and process-oriented platform, Amant provides a public forum that presents and supports the practices of both established and under-recognized artists working across diverse creative fields.
May 5, 2021
The Midtown Viaduct, Manhattan
Architecture: DXA Studio


image Courtesy architects
Midtown Viaduct Manhattan Design
DXA studio, a New York-based architecture and design firm known for a diverse range of projects primarily in Manhattan and Brooklyn, today announced it will exhibit its conceptual design for The Midtown Viaduct during the Venice Architecture Biennale 2021 from May 22nd to November 21st.
Apr 30, 2021
The Dime, South Williamsburg, Brooklyn
Design: Fogarty Finger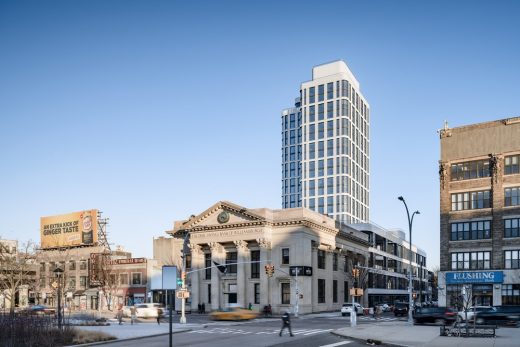 photo : Alexander Severin
The Dime South Williamsburg
Apr 8, 2021
11-19 Jane Street
Design: David Chipperfield Architects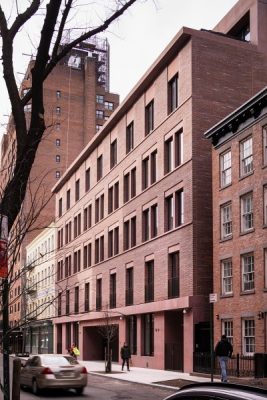 photo : James Ewing/JBSA
Jane Street House, Greenwich Village
The British architecture practice's most recently completed residential project in New York at 11-19 Jane Street draws inspiration from the rich domestic architecture of Greenwich Village. The six-storey, red brick building replaces a low-rise car park that once interrupted the residential street front.
Apr 16, 2021
LX Pavilion, Bedford NY
Apr 15, 2021
Crown Heights Townhouse, Brooklyn Home
Apr 11, 2021
The Bee Gees Robin Gibb Long Island Mansion
Mar 27, 2021
Silvio J. Mollo Federal Building
Design: Krueck Sexton Partners (KSP)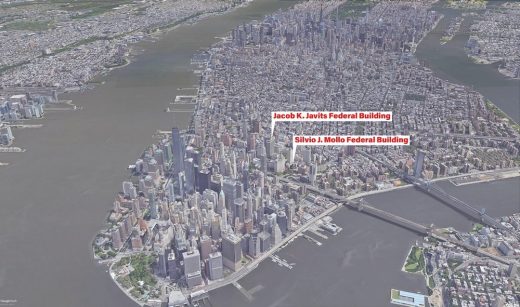 photo courtesy of architects office
Silvio J. Mollo Federal Building
KSP has been selected by the General Services Administration (GSA) to provide Architect-Engineer (AE) services as part of a comprehensive $240 million modernization of the Silvio J. Mollo Federal Building at 1 St. Andrew's Plaza in New York City.
Feb 4, 2021
Williamsburg Apple Store Brooklyn
Jan 27, 2021
75 Kenmare, NoLita Apartments
Jan 25, 2021
Dame Joan Collins Manhattan Pied-A-Terre
Dec 15, 2020
The Smile Harlem Housing
Architects: BIG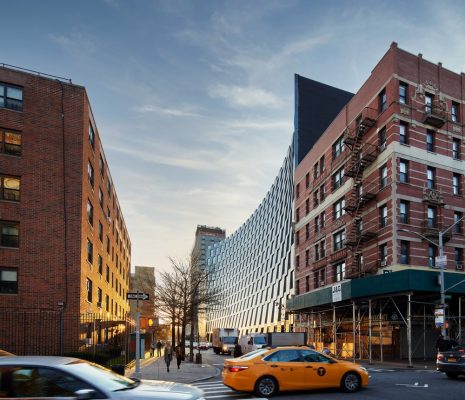 photo : Thomas Loof and Pernille Loof
The Smile Harlem Housing by BIG
BIG Reinterprets A 100+ Year Zoning Law In The Heart Of Harlem. In 1912, the Equitable Building in Lower Manhattan was designed to be the largest building that could fit its site and rose skywards from the street lot-line without any setbacks.
Dec 6, 2020
WeThePlanet Campus, Manhattan
Nov 26, 2020
MoMA Emilio Ambasz Research Institute
Nov 24, 2020
Radio Tower and Hotel, NYC
Nov 16, 2020
Hunter's Point South Waterfront Park, Long Island City, Queens
Design: SWA/BALSLEY and WEISS/MANFREDI, with ARUP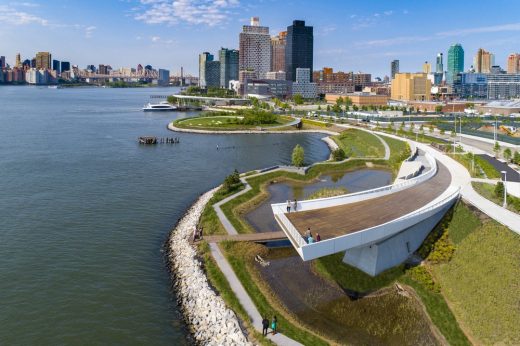 photo : Bill Tatham © Tatham/SWA, courtesy SWA/BALSLEY and WEISS/MANFREDI
Hunter's Point South Long Island City, NY
Designed by SWA/BALSLEY and WEISS/MANFREDI, the ambitious development was awarded a ULI New York Award in the "Excellence in Civic Development" category and a "Special Recognition" Award for Excellence in Design.
Nov 12, 2020
Box House, Shelter Island, Long Island
Nov 12, 2020
Leonard Bernstein's Radical-Chic
Nov 10, 2020
Cross House, Long Island, NY
Architecture and Interior Design: Messana O'Rorke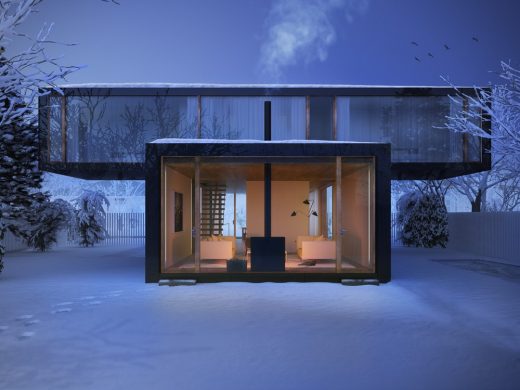 photo : Brian Messana
Cross House Long Island
The site for the Cross House project is located on a block in a 1950's suburb of Long Island, New York. The context was very exciting to Messana O'Rorke, it was the first opportunity for their office to confront the suburban environment, the density, and the constraints of the small site.
Nov 6, 2020
Bushwick Generator Brooklyn
Nov 1, 2020
St. John's Park
Oct 23, 2020
Rheingold Bushwick, Brooklyn
Oct 21, 2020
Arch House, Brooklyn
Oct 19, 2020
John Lennon's Lost Weekend
Oct 3, 2020
Snøhetta wins Cooper Hewitt National Design Award
Sep 29, 2020
John Lennon's Lost Weekend
Sep 17, 2020
One Vanderbilt New York City
Aug 29, 2020
74Wythe Williamsburg
Aug 26, 2020
CB Insights Headquarters New York Midtown
Aug 21, 2020
House for a Contractor in Queens
Aug 18, 2020
Audemars Piguet Boutique East Hampton
Aug 12, 2020
SPYSCAPE Museum
Aug 13, 2020
Brooklyn Bridge Competition Design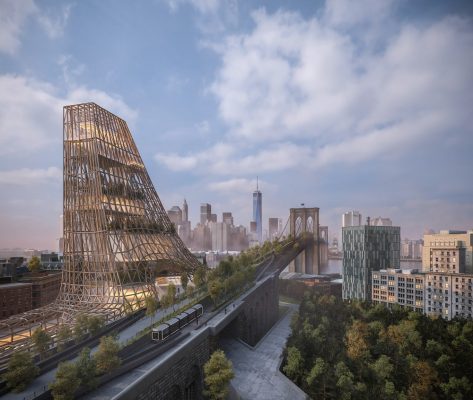 image courtesy of architects
Brooklyn Bridge Design by DXA studio
DXA's version of the Great Bridge envisions a future that elevates people over automobiles, reclaims land entangled by roads and ramps for civic use in the form of parks, museums, local commerce, recreation and housing, and makes the bridge more accessible to adjacent communities.
Aug 10, 2020
SAR Academy, Modern Orthodox Jewish Day School, Jesselson Campus, 655 West 254th Street Riverdale, NY 10471, USA
Design: architects Esther Sperber and Hila Stern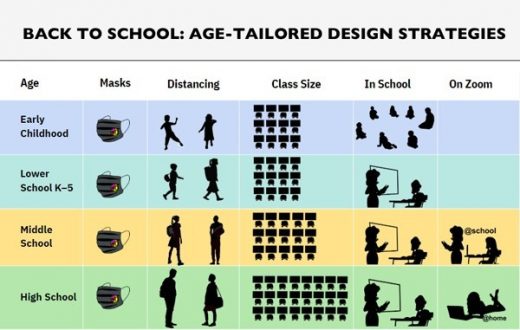 image courtesy of architecture studio
SAR Academy, Orthodox Jewish Day School
SAR Academy and High School, a private Modern Orthodox Jewish facility in the Bronx, was the first NYC school to close its doors due to coronavirus. Now, after three months of working with architects Esther Sperber and Hila Stern, the academy has been redesigned as an environment that allows for a safe return to the classroom while maximizing the learning experience and student engagement.
Aug 4, 2020
Newlab Office Space in Brooklyn
July 31, 2020
Glam Seamless Hair Salon in Soho, NY
July 27, 2020
Brooklyn Bridge Competition Entry
Design: Daniel Gillen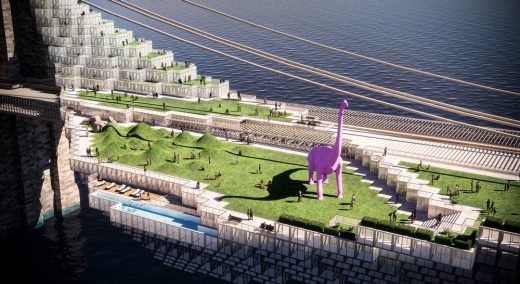 image courtesy of architect
Brooklyn Bridge Competition Entry
July 27, 2020
Germ City: Microbes and the Metropolis, NYC
July 20, 2020
Designing Peace at Copper Hewitt Smithsonian
—
May 20, 2020
The Long Beach House in Nassau County, NY
May 12, 2020
David H. Koch Center in New York City
Apr 7, 2020
Charlie West Condos in Hell's Kitchen
Apr 3, 2020
53 West 53 Tower in New York City
Mar 24, 2020
Dome Over Manhattan – Covid-19 Hermetic Verticalism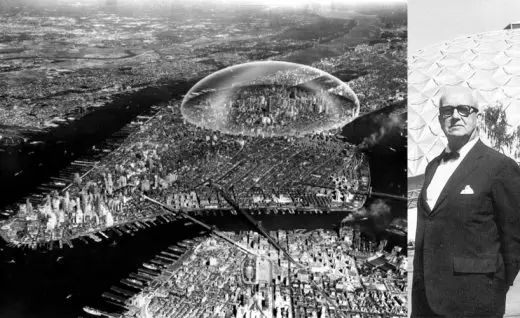 picture courtesy of architects studio
Architecture and Pandemics
One of Buckminster Fuller's most daring ideas, the Dome Over Manhattan, taken in the context of today's global pandemic would make perfect sense. Perhaps Fuller's idea was crazy for his time, now our times are crazier than his ideas and an encapsulated city would be a safe one.
Mar 12, 2020
63 Madison Avenue
Architects: WilkinsonEyre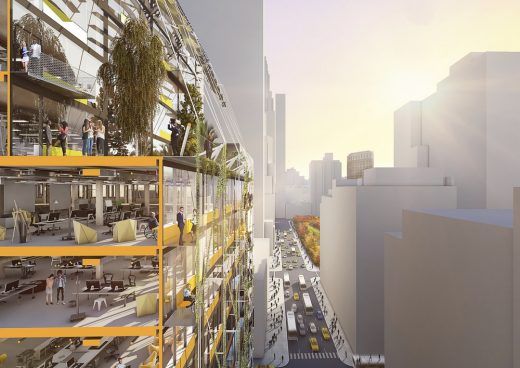 photo courtesy of architects
63 Madison Avenue Manhattan
WilkinsonEyre are delighted to receive first prize of in the international The Metals in Construction magazine 2020 Design Challenge, in a team including façade consultants Eckersley O'Callaghan and facade contractor Josef Gartner GmbH.
Mar 2, 2020
Rural Mobility, 1071 5th Ave, New York, NY 10128
Curators: AMO in partnership with Volkswagen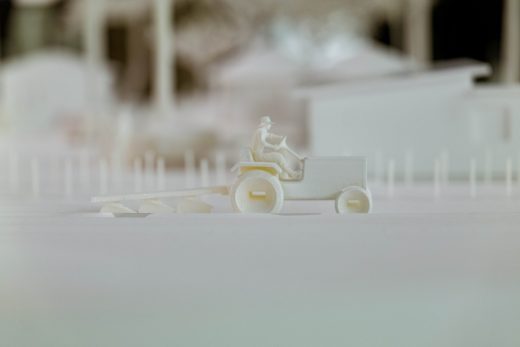 photo © Philipp Gladsome
Rural Mobility Exhibition at the Guggenheim, New York City
AMO, the think tank co-founded by Rem Koolhaas and led by Samir Bantal, is delighted to announce a research partnership with Volkswagen that aligns their shared interest in the countryside, with a focus on Rural Mobility.
Feb 3, 2020
Leather SPA at Saks 5th Ave
Jan 23, 2020
277 Fifth Avenue, NoMad, NYC, USA
Architects: Rafael Viñoly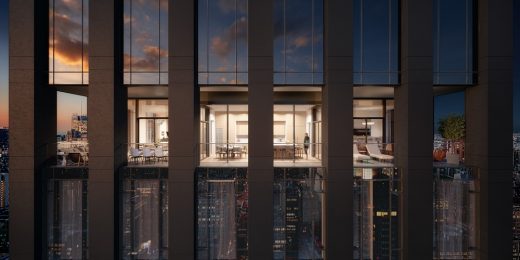 rendering : THREE MARKS
277 Fifth Avenue Building
This 55-storey tower is located in the heart of NoMad, where Manhattan's East and West Sides, Uptown and Downtown, meet.
Jan 24, 2020
Poster House, 119 W 23rd Street
Design: LTL Architects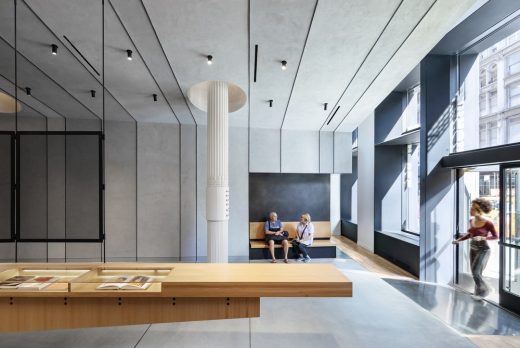 photo : Michael Moran / OTTO
Poster House in the Flatiron District, New York City
The design for the first museum devoted to poster art in New York City responds to both the unique qualities of the institution within the cultural landscape of New York City. The proposal also relates to the exceptional urban conditions of its site in the Flatiron district near Madison Square Park.
Jan 8, 2020
550 Madison
Architects: Snøhetta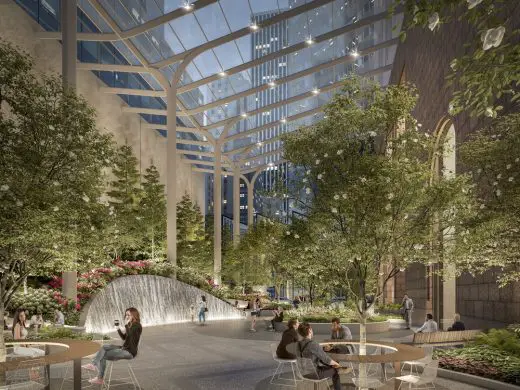 photo © Snøhetta and MOARE
550 Madison in New York City
Snøhetta's design for the public garden and revitalization of The Olayan Group's 550 Madison receive unanimous approval from the City Planning Commission.
Oct 31, 2019
The Modern at Fort Lee
The Modern at Fort Lee, New Jersey – ok, not in NYC, but included for interest!
Oct 11, 2019
20 Times Square Skyscraper Building, corner of Seventh Avenue & West 47th Street, Manhattan, NYC
Design: PBDW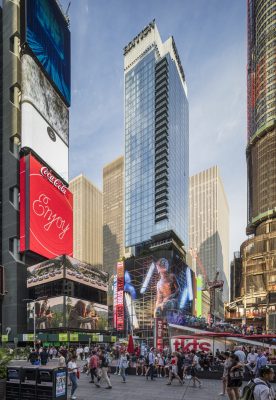 image courtesy of architects office
20 Times Square Skyscraper Building
The architects at PBDW designed 20 Times Square – the first major skyscraper development in 30 years at the apex of New York's most famous commercial and tourist destination – to be more than a strobing commercial castle.
Oct 8, 2019
Rolex HQ Building, corner of 5th Avenue and 53rd Street, Manhattan
Architects: David Chipperfield Architects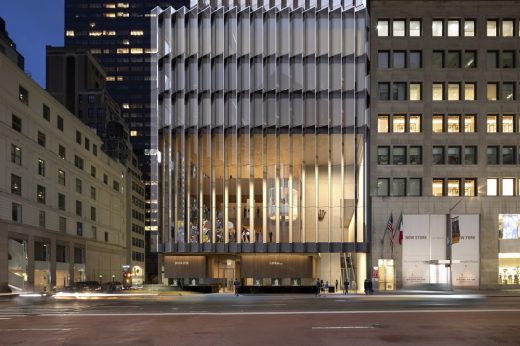 image courtesy of architects office
Rolex USA Headquarters
Following an international design competition, David Chipperfield Architects has been selected to build the Rolex USA Headquarters in New York.
Oct 4, 2019
Ismael Leyva
Architect Ismael Leyva is the key architect in many of New York's iconic projects. From Time Warner Center to Greenpoint to Hudson Yards, his designs and projects span over 25 years.
Three completed buildings, all in the process of being occupied:
The Alyn at E 87th Street: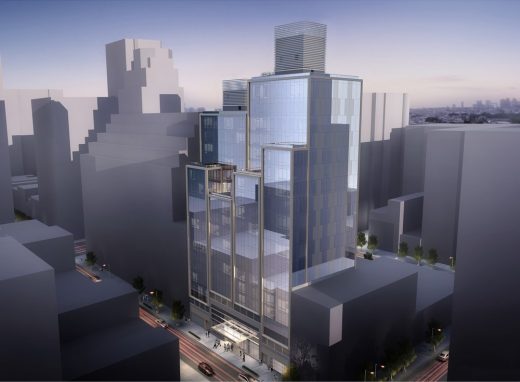 image courtesy of architects office
The Greenpoint at 21 India Street, Brooklyn, NY: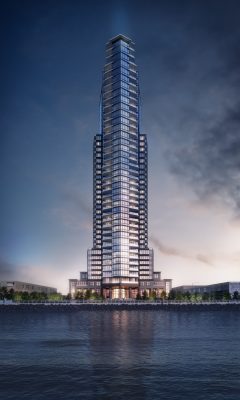 image : Neoscape
515 West 36th Street, Hudson Yards: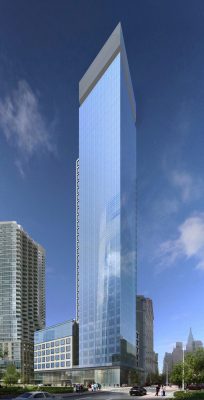 image courtesy of architects office
Arriving from Mexico decades ago as a young architect with no track record in the US, he has become a true New York City success story in the most competitive architectural landscape in the world. His work over the years with noted developers such as Related, Magnum, Richard Mack and others has been widely acclaimed.
Sep 26, 2019
1215 Fulton Street, Bedford-Stuyvesant, Brooklyn
A 10-story, 240,000-sqft residential building by Japanese architect Sou Fujimoto, has been unveiled. It is the architect's first work in New York.
The design is for The Collective, a London-based developer of co-living projects.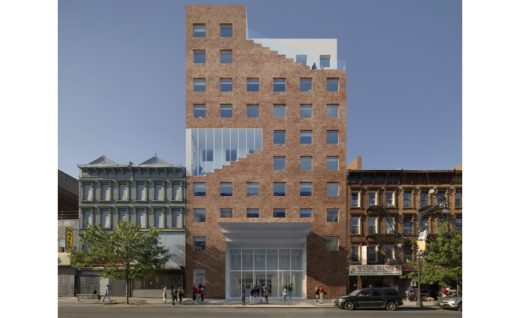 image courtesy of The Collective / Artefactorylab
The 1215 Fulton Street building in the Bedford-Stuyvesant neighborhood will accommodate 440 units across a variety of types, ranging from studio apartments to 2-3 bedroom clusters, for year-long, month-to-month, and nightly stays.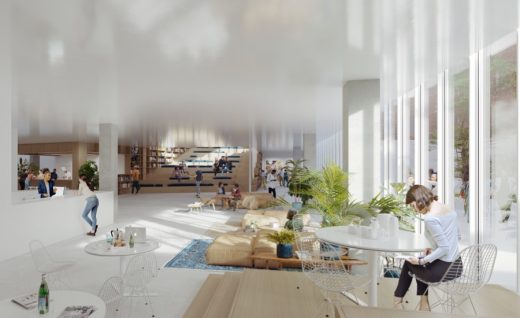 image courtesy of The Collective / Artefactorylab
Fujimoto works with red brick for the first time, incorporating the material into the building's exterior as an homage to the historic neighborhood.
The property development is the company's third acquisition in New York. It is due to open in 2022.The developers will also build in Miami's Wynwood Arts District and in Chicago's Loop.
The Collective will open the largest co-living building in the world in Canary Wharf, London, with 705 housing units, in October.
Sep 26, 2019
Hunters Point Library
Hunters Point Library by Steven Holl Architects opens on a waterfront site in Queens, NY.
The $40-million building provides 22,000-square-foot in a 82-foot-high form.
SHA was selected in 2010 by the City's capital-project agency, the Department of Design and Construction (DDC).
June 21, 2019
International Space Design Award Idea-Tops launches at Times Square New York
Apr 30, 2019
View over Central Park Apartment in Manhattan
Apr 10, 2019
East 34th in New York City
Apr 5, 2019
Trans World Flight Center at JFK International Airport Redevelopment
Renewal Design: Beyer Blinder Belle Architects
Building refurbishment in Queens, NY, to reopen in mid May:
TWA Flight Center Redevelopment News
Mar 28, 2019
126 Madison Avenue Building, 15 East 30th Street, NoMad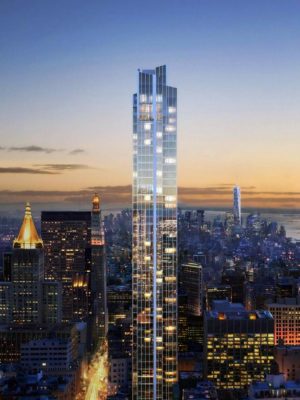 render courtesy of Handel Architects
Construction update for new tower at 15 East 30th Street containing 180 condominiums: '126 Madison Avenue' has now grown past the roof of Sky House, a residential skyscraper. The 756-ft-high, 51-story high-rise is designed by Handel Architects.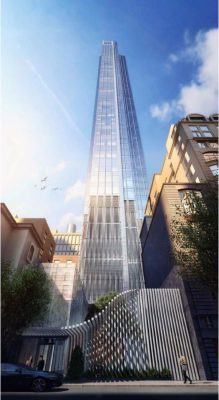 render courtesy of Handel Architects
The condos average over 1,600 square feet, totalling 300,000 sqft, plus 7,500 sqft of retail onto East 30th Street and Madison Avenue. Developers are Fosun Group and JD Carlisle.
Mar 19, 2019
Casa Celina, The Justice Sonia Sotomayor Houses, Soundview, The Bronx, NYC
Architect: Magnusson Architecture + Planning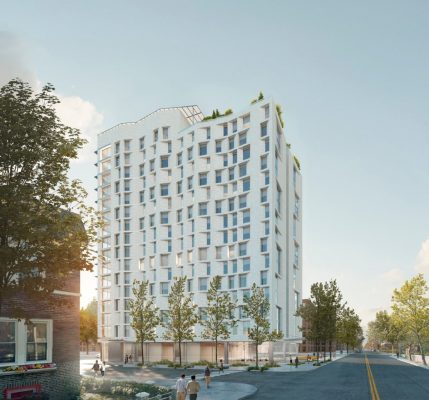 render courtesy of Magnusson Architecture + Planning
Affordable Senior Housing in the Bronx
New 16-story building adds 200 senior units and more than 3,000 sqft of community space at Justice Sonia Sotomayor Housing Development.
Mar 18, 2019
Crown Heights Brownstone House in Brooklyn
Mar 9, 2019
MLK Plaza Apartments in the Bronx
Feb 10, 2019
Fifteen Hudson Yards Manhattan
Lead Architect: Diller Scofidio + Renfro ; Lead Interior Architect: Rockwell Group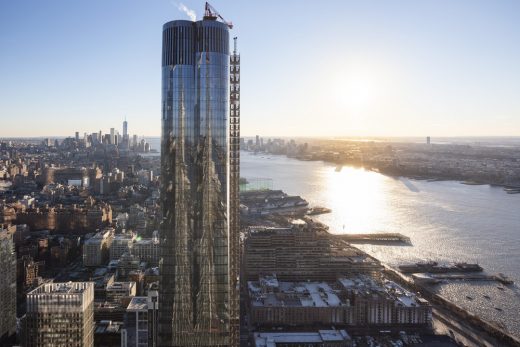 photo courtesy Timothy Schenck for Related-Oxford
Fifteen Hudson Yards Manhattan Building News
Hudson Yards revealed a first look inside Fifteen Hudson Yards, designed inside and out by Diller Scofidio + Renfro (DS+R), Lead Architect, and Rockwell Group, Lead Interior Architect.
Feb 9, 2019
441 Ninth Avenue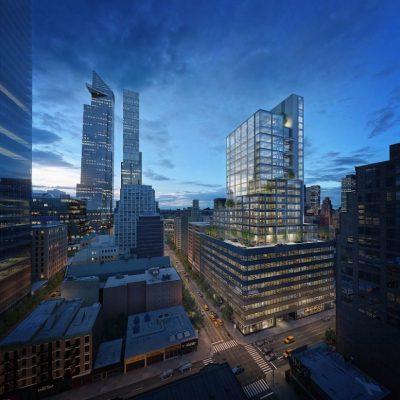 rendering Courtesy Cove Property Group
An interesting project with dynamic stepped additions above a plain rectilinear base dating from 1962.
441 Ninth Avenue is located in Midtown, between 34th Street and 35th Street. US architects Kohn Pedersen Fox (KPF) is leading the design for the new extension. The design is dominated by landscaped terraces that step around the building, creating an interesting architectural profile.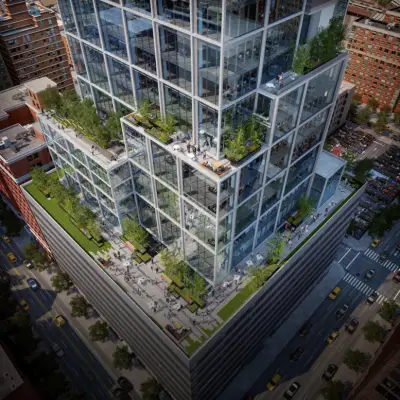 rendering Courtesy Kohn Pedersen Fox (KPF)
The mixed-use project includes a new 17-story addition above an existing eight-story building that is fifty-seven years old. Cove Property Group (NYC) and Baupost Group (Boston, MA) are the developers of the 700,000 sqft development, titled 'Hudson Commons'. Retail will occupy the ground floor, with offices / commercial space above.
Jan 10, 2019
The Essex, 125 Delancey Street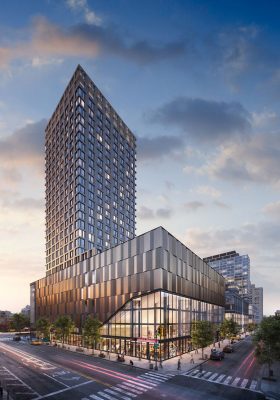 rendering of The Essex : Handel Architects
Leasing officially launches for The Essex, a new residential rental tower on the Lower East Side, designed by Handel Architects. The 26-story building will have 98 residences and be the tallest component of the 1.9 million sqft Essex Crossing development. The overall project comprises of residential buildings, commercial components, a 14-screen Regal Cinemas, historic Essex Market redevelopment, and a bazaar-style marketplace.
Sales will be handled by leading Manhattan real estate brokers Douglas Elliman New Development Marketing. Available units will range from studios to two bedrooms, beginning at $3,750 a month.
The development consortium is a collaboration between L+M Development Partners, BFC Partners, Taconic Investment Partners, the Prusik Group, and the Goldman Sachs Urban Investment Group.
Jan 10, 2019
Chrysler Building goes on Sale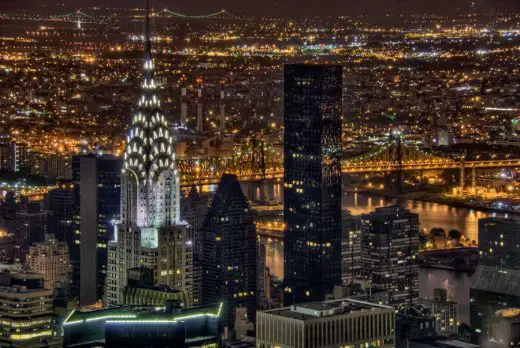 photo © Joe Lekas
Chrysler Building
The Art Deco office tower's current owners, Abu Dhabi Investment Council, which owns 90% of the property, and city developer Tishman Speyer, put this tower up for sale for the first time in over 20 years.
Jan 8, 2019
555 West 22nd Street
Design: Robert A.M. Stern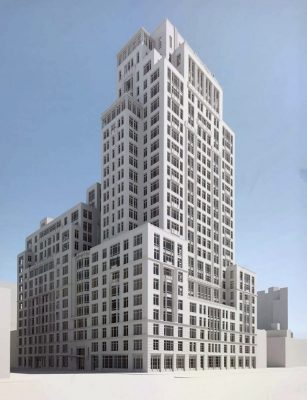 image Courtesy Related Companies
Excavation is proceeding for 555 West 22nd Street, a new 26-story residential tower in Chelsea designed by Robert A. M. Stern Architects (RAMSA). SLCE Architects is the Architect of Record, and the developer is Related Companies.
**************
News Archive
New York Architecture News 2018
New York Architecture News 2017
New York Architecture News 2016 incl 2012-2015
Location: New York City, NY, USA
Key New York Buildings
Center for Architecture in New York Events, NYC
Storefront for Art and Architecture : NY Architectural Exhibition
NYC Information Center : WXY architecture + urban design
Photos for the New York Architecture News – NYC Building Developments page welcome