Hans Rosling Center University of Washington, Seattle Campus, North American Property, Architecture Images, Architect
Hans Rosling Center in Seattle
Apr 21, 2021
Hans Rosling Center
Design: Miller Hull
Location: Seattle, Washington, USA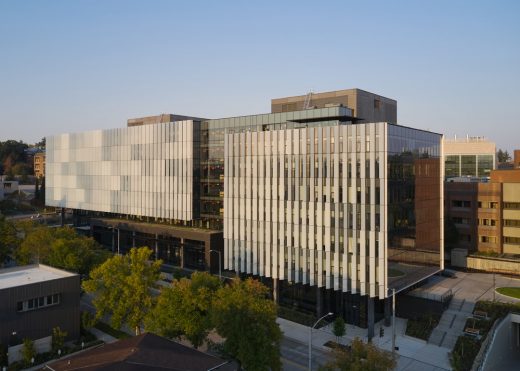 Named after a pioneer in the data-driven approach to improving health and well-being, the University of Washington's Hans Rosling Center for Population Health was designed by The Miller Hull Partnership, LLP in collaboration with contractor Lease Crutcher Lewis.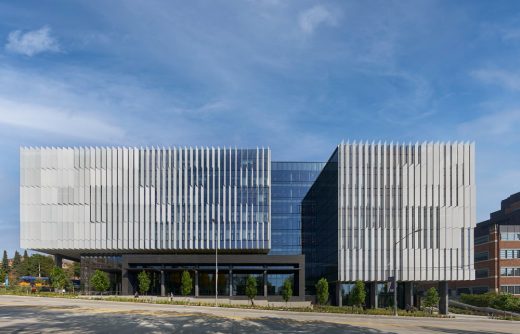 It will serve as a central hub for faculty, researchers, and students to work together with local and global partners to address some of the world's most significant challenges across three key areas: human health, environmental resilience, and social and economic equity. The Rosling Center was completed ahead of schedule at the peak of a global pandemic and will house organizations dedicated to developing data-based response strategies for critical issues like poverty, equity, health-care access, climate change, and COVID-19.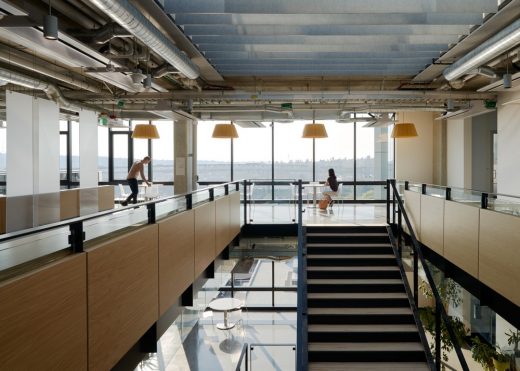 Made possible by a $210 million gift from the Bill & Melinda Gates Foundation and $15 million in earmarked funding from the Washington State Legislature, the Rosling Center houses the Institute for Health Metrics & Evaluation (IHME), UW Department of Global Health, parts of the UW School of Public Health and the offices of the UW Population Health Initiative.
All of these units have been key to the worldwide response to the COVID-19 pandemic. IHME's projections have informed policymakers during the COVID-19 pandemic, and a number of researchers have shared their insights with CNN, the Wall Street Journal, and The New York Times.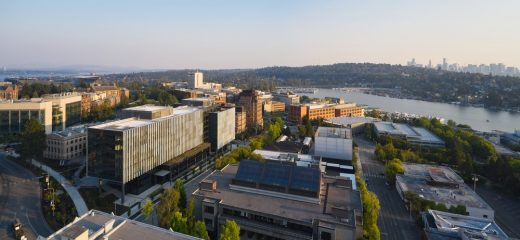 Office Neighborhoods and an Open Facade
The building's layout makes it a successful model for system shocks like a pandemic, or other transformational events, which may affect how workers occupy the facility. A set of four office types cater to various working styles and are organized as a collection of neighborhoods, which breaks down the scale of each floor and democratizes access to daylight, views, and fresh air.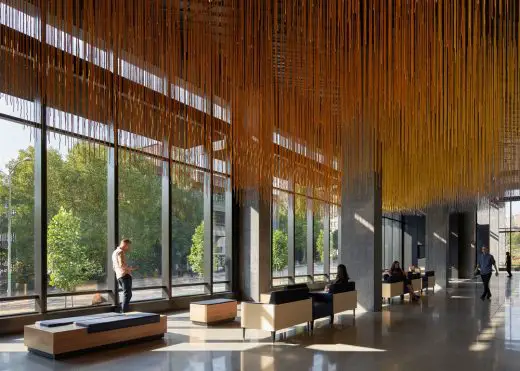 They vary from 1–2 person shared offices, to 4–6 person shared offices, to open workstations and drop-in workstations. Each neighborhood contains flexible spaces, including shared offices and meeting rooms, which are easily transformable over time. The building encourages intermingling between groups, as casual interactions can often spark innovative ideas and opportunities.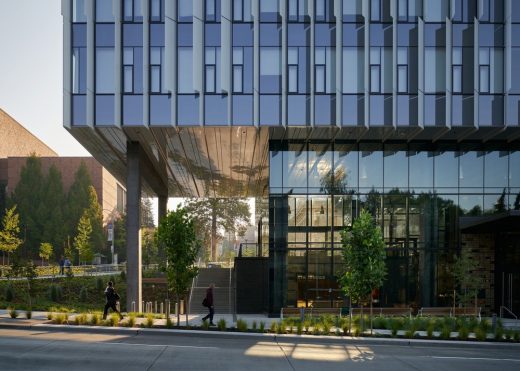 Art and storytelling elements are integrated throughout the facility and speak to both the building's mission and the occupants' mission, creating opportunities for education and inspiration. The woodblock installation located at the main interconnected stair was made in collaboration with Portland-based storytellers, Mayer/Reed, and consists of crowdsourced items from the university community to represent their various connections to the building's primary focus: improving health.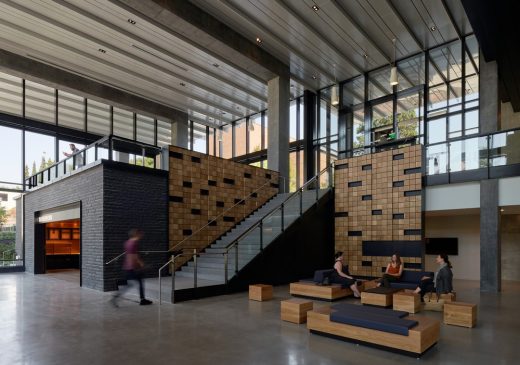 The architects created a new accessible entry that safely invites people into the greater campus, the site, and the building. Upper workplace floors extend out to create a monumental covered porch and urban stair — a refuge from Seattle's damp climate. Three interconnected ground floors ensure that anyone who enters the building has a welcoming "front door" and immediate visual connection to public program spaces. On the facade, three-foot-deep glass fins provide a dynamic shade and shadow composition that protects occupants from west sun and glare.
Though physically static, the fins act as a canvas for changing light conditions throughout the day. A more subtle facade faces east toward the UW's historical core to bridge the gap between the original campus dating back to the 19th century and the new West Campus innovation district. Custom precast panels incorporate aggregate to integrate with neighboring buildings and provide a backdrop for lush landscape lining the area's new Garden Walk.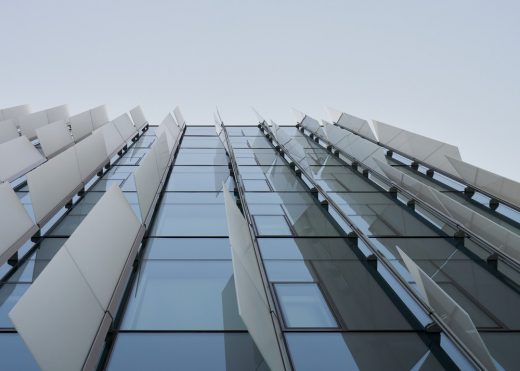 "The building both defines and responds to its context," said Ruth Baleiko, Design Lead for the project and Partner at Miller Hull. "We looked for ways to build upon the physical and social structures of the site and leverage those elements in conjunction with environmental conditions to create a building that is, as much as possible, 'of its place.'"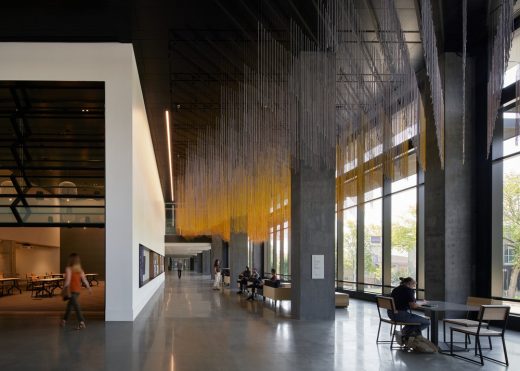 Progressive Design-Build Approach
The Rosling Center is the first and largest integrated design-build project completed on campus for the University of Washington, setting a national example for universities nationwide for its efficiency and timely delivery. The UW was looking to integrate design and construction services, with a single source of budget and schedule responsibility shared between them. The UW selected Miller Hull and Lease Crutcher Lewis to bring the Rosling Center to life based on shared team qualifications, project approach, and a risk-reward fee structure.
Once selected, the team partners were to create a design and move through construction to completion, also known as progressive design-build, working with the owner throughout the entire process. In this model, the UW set a maximum total project cost – including the portion for design and construction – then reimbursed the actual design and construction cost only up to that amount. Completed as of October 2020, the project finished on time, added about $8 million of enhancements during construction, and completed $6.5 million under budget.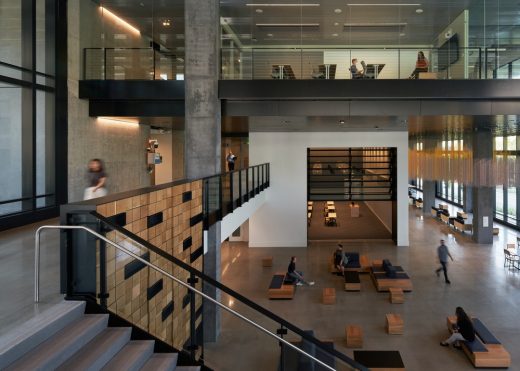 "Miller Hull and Lewis rethought every aspect of design-build to speed up the process and improve outcomes for the UW. This allowed an unprecedented delivery speed of three years from site selection to substantial completion," said Lease Crutcher Lewis Senior Project Manager Joe Nielsen. "We were determined to throw standard design and construction practices out the window to allow the design team access to critical trade partners early in the design process."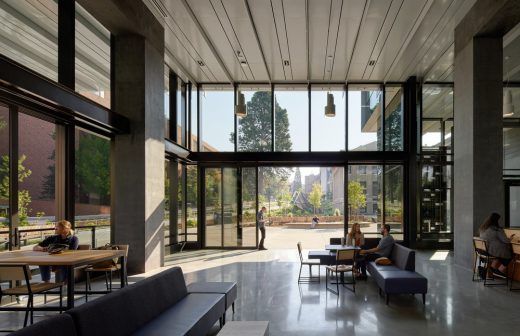 Sustainability Principles Informing Human Health
Miller Hull previously designed Seattle's Bullitt Center, the greenest commercial building in the world, and environmental resilience continues to be a primary emphasis for the firm. At the soon-to-be LEED Gold certified Rosling Center, extensive Bioretention treats all rainwater that lands on impervious surfaces, while rain that falls on the building is stored in on-site cisterns and used for fire protection and toilet flushing. The high-performing façade reduces the building's carbon footprint and provides the foundation for a low-impact mechanical system.
While working inside the building, occupants maintain a stronger connection to the exterior environment through direct views, light play on the fins, and operable windows on the east and west façades. Throughout the building, design elements inspire healthy habits. Offices provide access to fresh air through operable windows, communal kitchens encourage healthy eating and vertical circulation prompts physical activity. Miller Hull implemented extensive measures to reduce chemicals of concern from materials, creating an interior that promotes human and environmental sensitivity.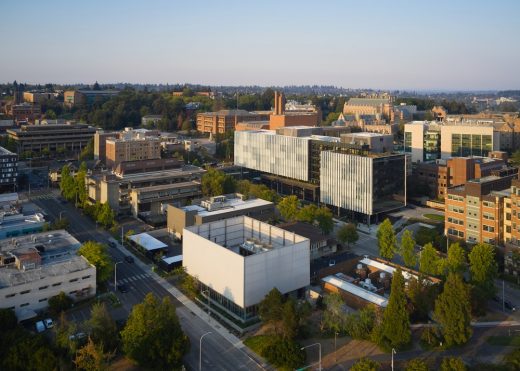 Hans Rosling Center in Seattle, Washington State – Building Information
Architects: Miller Hull
Contractor: Lease Crutcher Lewis
Landscaping: Site Workshop
Interior Design: The Miller Hull Partnership, LLP
Artists: Rachel Mica Weiss; RYAN! Elizabeth Feddersen; Wangechi Mutu; and Ben Zamora
Art Curators: Lisa Frieman, Ph.D.; Dave Hunt; Mike Sweney; and Lara Behnert
Square footage: 300,000 total square feet, building + site.
Project Cost: $230M ($210 donated by the Bill & Melinda Gates Foundation; $15M funded by the State of Washington and University of Washington)
About The Miller Hull Partnership, LLP
The Miller Hull Partnership, LLP is an internationally recognized architecture, planning, urban and interior design firm that works to create a regenerative and inclusive future through the built environment. Since its founding in 1977, Miller Hull has been designing dynamic and environmentally responsible buildings that provide enduring value for their communities. The firm has a studio in Seattle and San Diego with work extending across multiple typologies for a range of public and private clients where people Live, Work, Learn, Gather and Serve. Widely recognized for innovative, timeless designs and a partnership-driven practice, Miller Hull has received over 350 local, regional, national, and international awards for design excellence, including the American Institute of Architects Firm Award and Architect 50's Top Firm for Sustainability.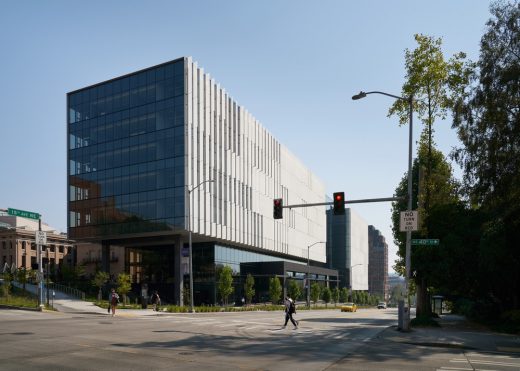 Photography: Kevin Scott
Hans Rosling Center University of Washington, Seattle images / information received 210421
Location: Seattle, Washington, USA
Seattle Architecture
New Washington Architecture
New Seattle Houses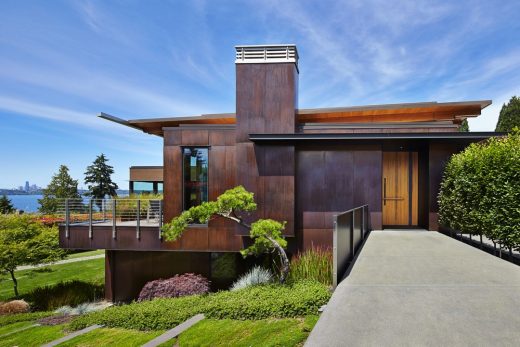 photo : Benjamin Benschneider
West Mercer Residence, Mercer Island
Design: Sundberg Kennedy Ly-Au Young Architects (SKL Architects)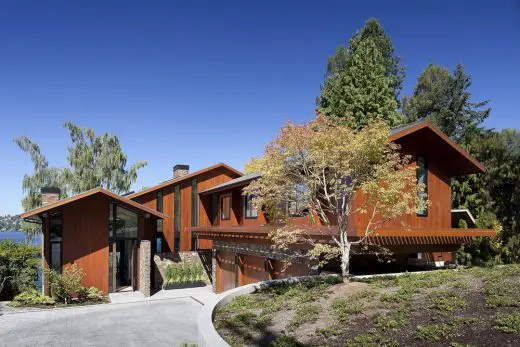 photograph : Tim Bies
Mercer Island Residence
Built for a busy family, this residence nestles into its hillside location along the shores of Lake Washington.
COR Cellars Winery Complex in Washington
Design: goCstudio Architects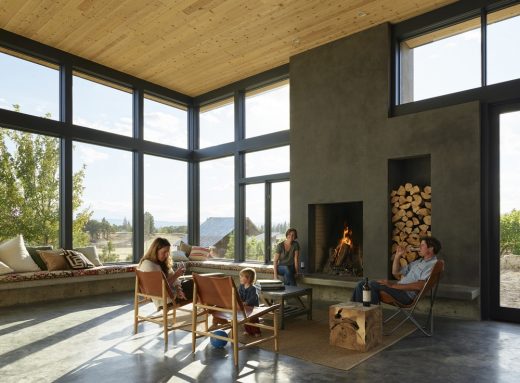 photo : Kevin Scott Photography
COR Cellars Winery Complex in Lyle
400 Fairview Building, Seattle
Design: SkB Architects with Kendall/Heaton Associates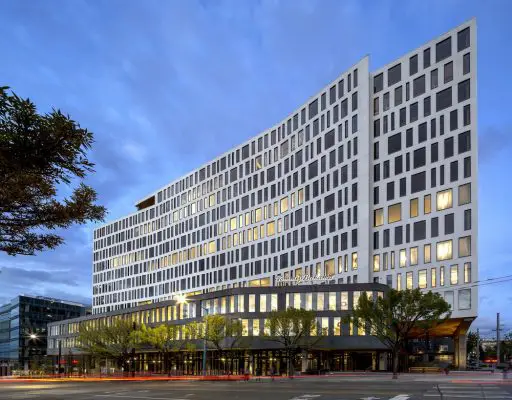 photo : Magda Biernat
400 Fairview Building in Seattle
Washington Fruit and Produce Co. Headquarters in Yakima
Design: Graham Baba Architects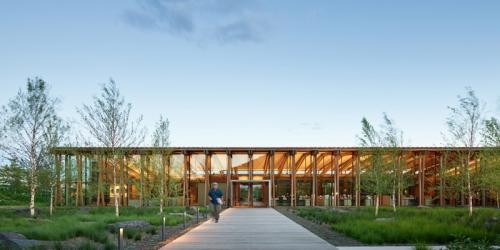 photograph : Kevin Scott
Washington Fruit and Produce Co. Headquarters Building
Charles Smith Wines Jet City, 1136 S Albro Pl, Seattle, WA
Design: Olson Kundig, Architects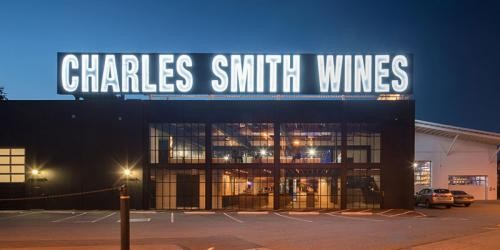 photo : Kevin Scott and Nic Lehoux
Charles Smith Wines Jet City Seattle Building
Website : Seattle, Washington
Comments / photos for the Hans Rosling Center University of Washington, Seattle page welcome