Shenzhen Architecture News 2023, Guangdong Building Designs, Architects, Chinese Property Photos
Shenzhen Building News: Architecture
Contemporary Chinese Architectural Developments: Guangdong Province Built Environment Updates
post updated 25 May 2023
Shenzhen Architectural Designs
Shenzhen Building News in 2023
25 May 2023
China Resources Qianhai Center, Qianhai district
Architects: Goettsch Partners (GP)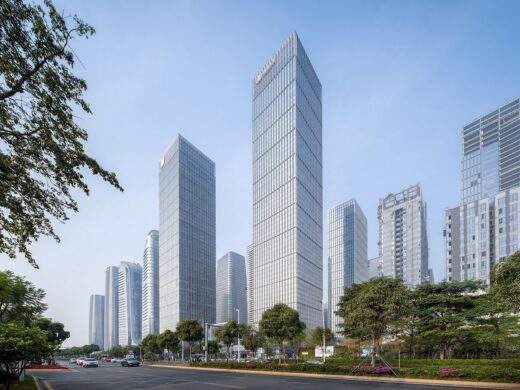 photography © CreatAR
China Resources Qianhai Center Development
9 May 2023
Zhongtai Residential Development, Nanshan
Architects: Aedas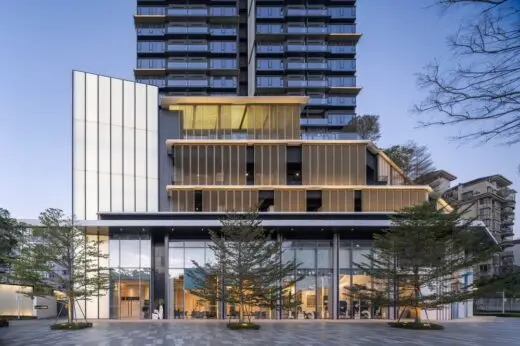 picture : CreaAR Images
Zhongtai Residential Development, Nanshan
Situated in the Nanyou district in central Nanshan area, the Zhongtai Residential Development consists of a five-storey podium and above it a 33-storey residential building providing 238 units. On account of the site's lack of pleasant greenery, the design's primary objective is to inject vitality and improve the urban interface.
15 Mar 2023
Inverted Architecture
Design: Studio Link-Arc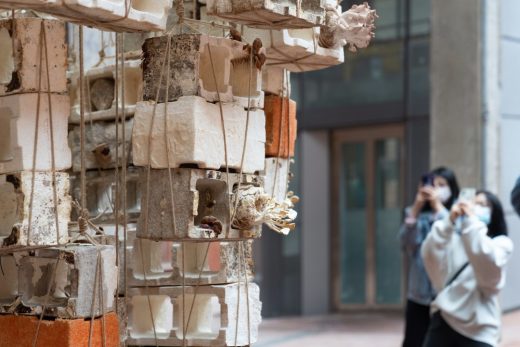 photos : Bai, Chao Zhang
Inverted Architecture Exhibition, Shenzhen
'More than Human Adventure' is the theme of the Exhibition for the 2022 Shenzhen Biennale, titled Urban Cosmologies. In response to the theme, Studio Link-Arc proposes to explore the intersection between living organisms and architecture.
14 Mar 2023
CTG Investment Building
Design: Aedas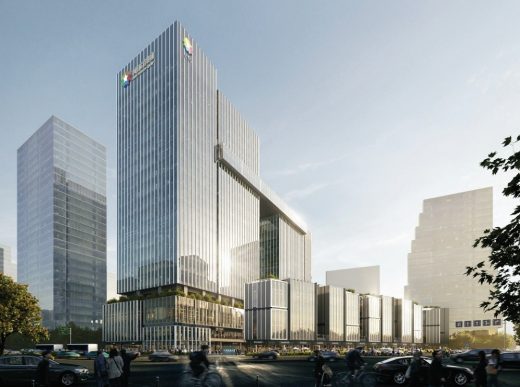 render : Aedas architects
CTG Investment Building Shenzhen
Shenzhen Bao'an Dakonggang zone is located in a core position in the Greater Bay Area. The district fosters the economic development and acts like a pioneer hub establishing the new model of urbanisation.
9 Mar 2023
Baoneng Centre
Design: Aedas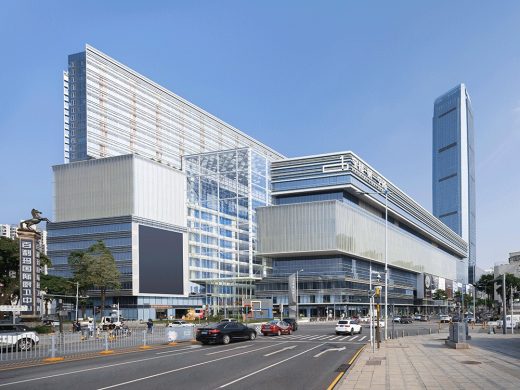 imagery : Aedas, CreatAR Images and TAL
Baoneng Centre
Sungang district is situated within Shenzhen, China's economic and technological citadel; and as the former hub for logistics distribution and warehouses, it is in the process of transitioning between tradition and innovation. Aedas reflects and accelerates this transition by adopting innovative and sustainable dimensions for Baoneng Centre, injecting vibrancy to create one of the largest mixed-use live-work-recreate communities to serve the district.
10 Feb 2023
Qianhai Prisma Towers
Architects: BIG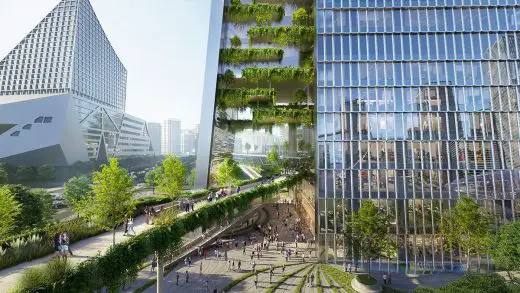 images : Atchain
Qianhai Prisma Towers Shenzhen Buildings Design
BIG's 'leaning' Qianhai Prisma Towers, featuring a 300m tall residential tower and a 250m tall office tower, will complete the new Qianhai Bay development, solidifying Qianhai's position as the burgeoning financial and cultural center of Shenzhen.
Avenues Shenzhen Primary School, China Master Plan
Shenzhen Architecture News
Shenzhen Building News in 2022
1 Nov 2022
GENZON Shenzhen Technology Park,, Dongguan, Guangdong
Architecture: PH Alpha Design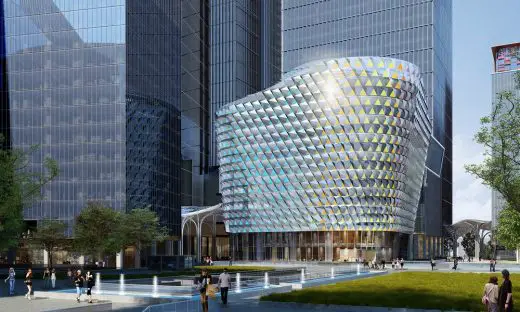 image : PH Alpha Design
GENZON Shenzhen Technology Park, Guangdong
Located in the heart of Science and Technology Park of Shenzhen surrounded by offices and residential, this scheme will be the new rising star in the neighbourhood.
19 Oct 2022
Dongguan City University Campus, Dongguan, Guangdong
Design: HENN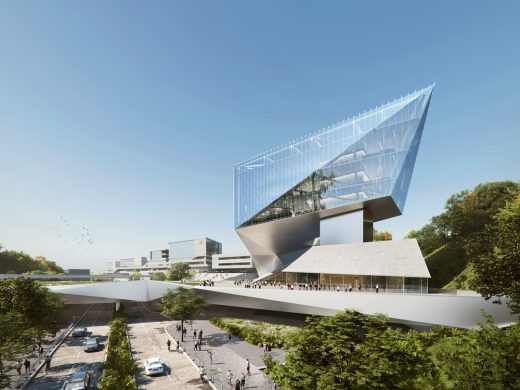 image courtesy of architects practice
Dongguan City University Campus, Guangdong
As City University of Hong Kong's third mainland site, CityU Dongguan will connect top researchers and industry collaborators across the Greater Bay Area Technology Innovation Corridor and create a multifaceted and vibrant university district in the Pearl River Delta region.
3 Oct 2022
Dream Glow Pavilion
Design: Daxing Jizi Design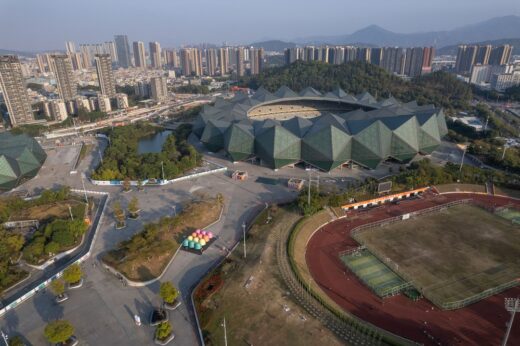 photos : ZHANG Chao, ZHANG Dalian, Daxing Jizi
Dream Glow Pavilion Building
With the curatorial theme of "Searching the Glow of Future", Glow Shenzhen 2021 seeks to integrate light art into urban life and release the vitality of urban public space. Daxing Jizi is invited to exhibit their architectural installation, Dream Glow Pavilion, at the Shenzhen Universiade Center, Glow Shenzhen's Longgang section.
27 Sep 2022
DJI Sky City Building
Design: Foster + Partners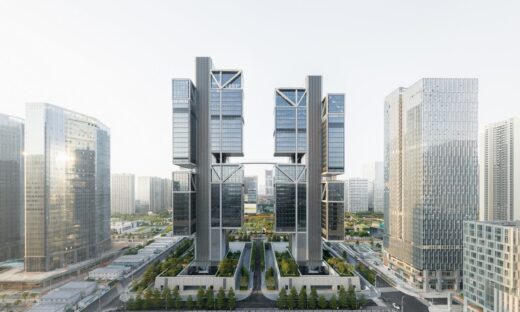 image courtesy of architects practice
DJI Sky City Shenzhen Building
DJI, the world's leader in civilian drones and creative camera technology, has opened its new company headquarters, DJI Sky City, a cutting-edge innovation hub, matching the company's philosophy of being a creative community for the skies with groundbreaking architectural structures never before seen in high-rise buildings of this scale. Designed by the world-renowned and award-winning architectural team of Foster + Partners, the two towers – 44 and 40 stories respectively – are set to become a prominent, sustainable new landmark in Shenzhen, China, one of the top ten UNESCO Cities of Design.
More current Shenzhen Building News on e-architect soon
1 Aug 2022
MeeHotel, Foshan
Interior Architecture: PANORAMA Design Group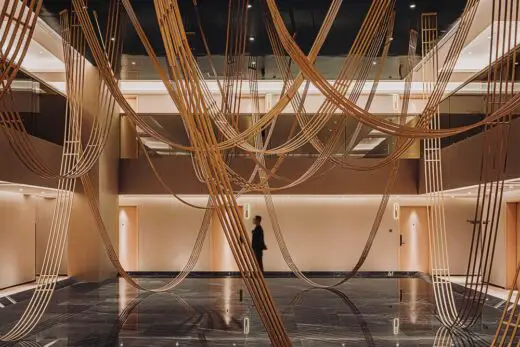 photo : POPO VISION, GD Media
MeeHotel Interior
MeeHotel, a new urban resort hotel in the city of Shenzhen, China, aims to provide business travelers with a peaceful state. The project location is called "Bamboo Forest", so the design team naturally generated the story from this name.
14 July 2022
Haidilao
Architects: Vermilion Zhou Design Group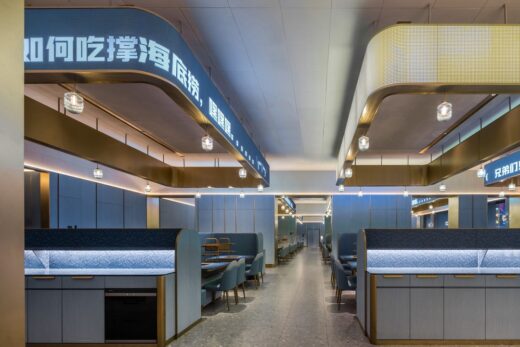 photo : Vincent Wu
Haidilao Restaurant
As a famous Chinese hot pot brand, with its own legendary story, Haidilao has evolved with consumer demands of the times. The fresh space vision conveys the brand's concern for ingredients, and the bigger reform in space design is the understanding and consideration for operation and modular update.
8 July 2022
10 Design accelerates growth with expanded Shenzhen design studio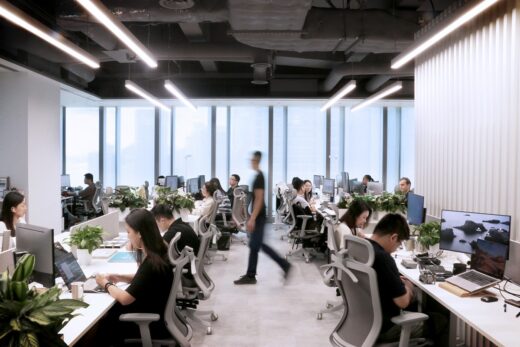 image courtesy of architects practice
10 Design Shenzhen architects office
Relocated to the vibrant CBD of Shenzhen Bay, 10 Design Shenzhen is rising as a new design studio that provides full design services for the practice's ongoing and new projects across China. The expanded studio will further strengthen the practice's design expertise throughout Asia.
15 June 2022
Nanshan Foreign Language School
Architects: Studio Link-Arc, LLC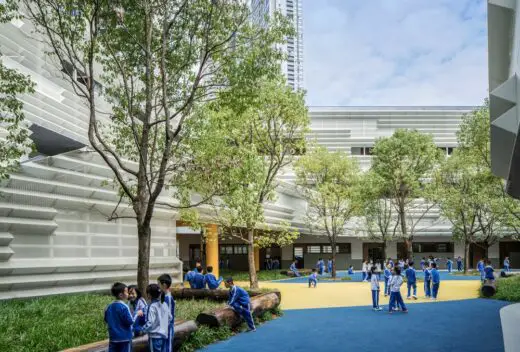 photo : Shengliang Su
Shenzhen Nanshan Foreign Language School
The Nanshan Foreign Language School (NFLS) is a 54,000 sqm elementary and middle school campus that includes regular and special classrooms, a library, a gymnasium, an indoor swimming pool, an auditorium, and a faculty dormitory, as well as dining halls and dedicated playgrounds. Located in the Nanshan district of Shenzhen, the NFLS campus represents the final piece of a decade-long redevelopment process that saw a condensed urban village transformed into a contemporary vertical city.
14 June 2022
Urban Renewal of Shenzhen Bagualing Industrial Park, Shenzhen, China
Architects: Aedas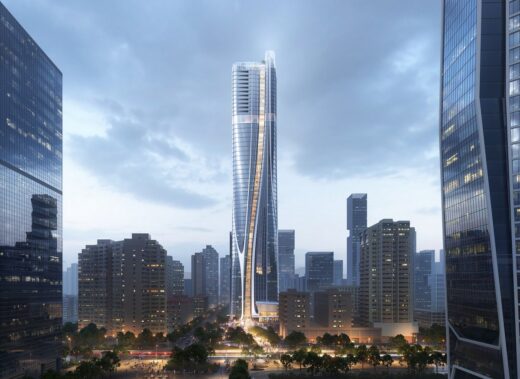 images courtesy of architects practice
Bagualing Industrial Park Urban Renewal Design
Led by Aedas Executive Director Kelvin Hu, and Chairman and Global Design Principal Keith Griffiths, Aedas' design scheme came first in the competition for the urban renewal of Bagualing Industrial Park, a core project for the transformation of Bagualing area in Shenzhen. Once a decrepit industrial zone, Bagualing is marked to become a new hub for financial technology headquarters and R&D companies in the Special Economic Zone's latest development plans.
5 May 2022
Shenzhen Logan Xili Liuxiandong HQ Base Mixed-Use
Architects: Aedas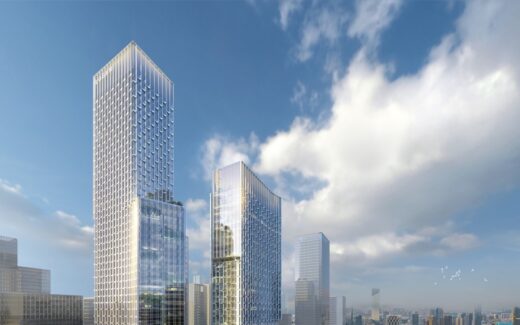 image courtesy of architects practice
Shenzhen Logan Xili Liuxiandong Headquarter Base Mixed-Use
Alongside the Urban Design of Xili Integrated Transportation Hub in Shenzhen, China, Aedas continues in pursuing multiple developments within the future tech hub, including the newly-won Logan Mixed-use Project as its north gateway. The project incorporating office, residential, hotel, commercial and civic facilities sits on top of the Liuxiandong MTR Station.
14 Apr 2022
Harbourfront High-rise
Architects: 10 Design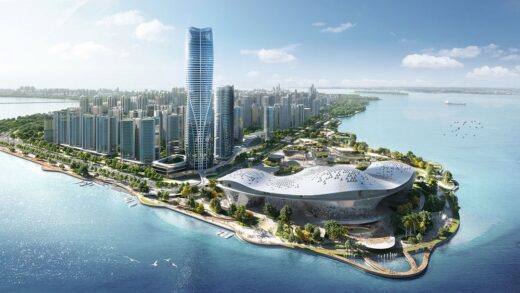 render : 10 Design
Harbourfront High-rise, Greater Bay Area
This Harbourfront High-rise competition scheme of a 268m super high rise tower is to create a visual beacon in the heart of a coastal tourism city within the Greater Bay Area of China. The submission includes design of a super high-rise tower of office, hotel and serviced apartment sitting on top of a 4-storey podium.
24 February 2022
Shenzhen Bao'an International Airport Satellite Concourse
Design Architect: Guangdong Province Architectural Design and Research Institute (GDAD), Aedas, Landrum & Brown (USA)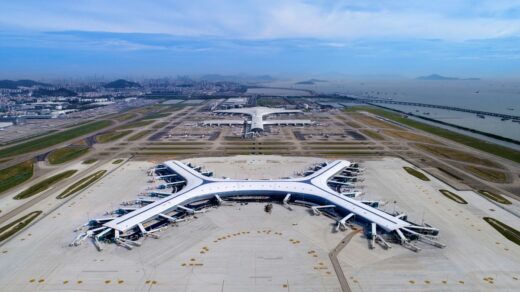 photograph : Chen Yiran
Shenzhen Bao'an International Airport Satellite Concourse
The Shenzhen Bao'an International Airport Satellite Concourse jointly designed by GDAD, Aedas, and Landrum & Brown, is officially in operation from December 2021. Set directly to the north of the existing Terminal 3 building, it is a key step in the expansion project of one of the most important aviation hubs in South China.
26 Jan 2022
Xiaomi Shenzhen International Headquarters, Shenzhen Bay
Design: Ennead Architects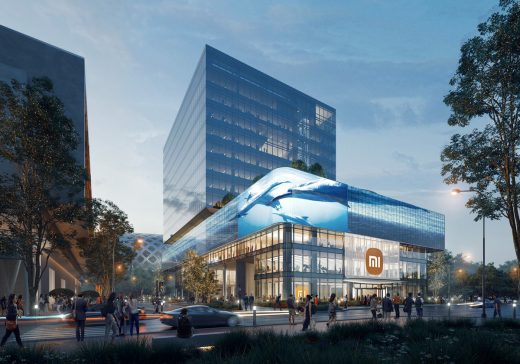 image Courtesy of Ennead Architects
Xiaomi Shenzhen International Headquarters
Vibrant wraparound LED-covered "Rubik's Cube" architecture competition win for the Chinese consumer electronics giant. Ennead's design organically integrates technology into the fabric of the building, which will form a beacon on Shenzhen Bay together with the flagship store of Xiaomi Home and the "Mi Rubik's Cube," a 360-degree, wraparound LED screen surrounding the building's podium.
10 Jan 2022
The Nest Art Center
Architects: M Moser Design and Architecture (Shanghai) Co., Ltd.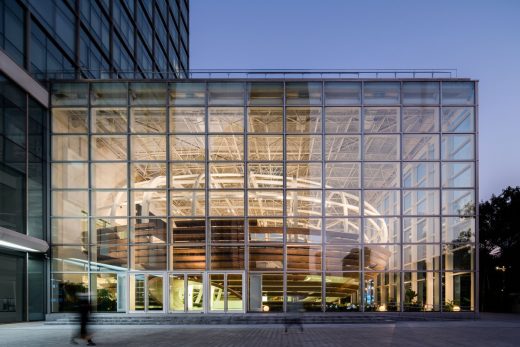 photo : Zheng Yan
Nest Art Center Shenzhen Building
For art centers, their design aspirations – rooted as it is within its locale – is of equal importance to its attention to practical considerations. It is not only a reflection of contemporary movements in culture and art, but also a benchmark in the city's progress on an international stage.
6 Jan 2022
U-Dental, Shenzhen Bay, south east China
Architects: DA INTEGRATING LIMITED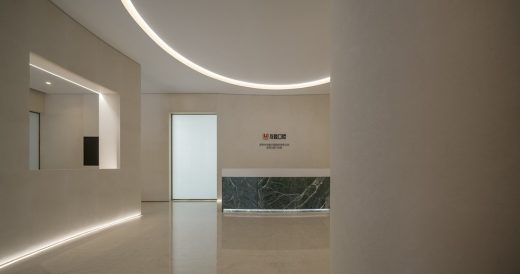 image Courtesy architecture office
U-Dental Clinic, One Shenzhen Bay
U-Dental is a chain dental clinic with a history of 15 years, targeting at middle and high-end consumer groups in Shenzhen. The brand set a new premise in One Shenzhen Bay, a vibrant mixed-use community, hoping it to balance contemporary art and a sense of technology to meet the demands for upgrading healthcare consumption.
5 Jan 2022
Global Center DAME Palace, Changsha, Hunan Province – north of Shenzhen in south central China
Interior Design: Shenzhen 31 Design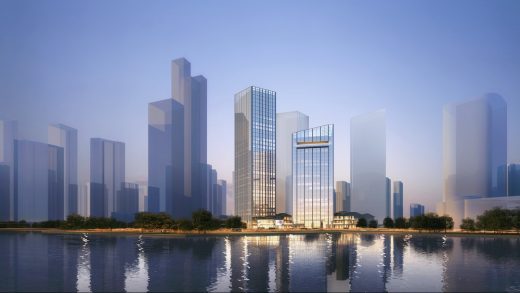 photo : Lvfeng Photography / Chen Weizhong
Global Center DAME Palace
This landmark Chinese building is a epitome of Changsha's super large floor flats in recent years. Located in the core area of Meixihu new international CBD, the project boasts breathtaking lake scenery and is adjacent to Meixihu International Culture and Arts Center designed by Zaha. The project is also equipped with the first international luxury brand hotel in Central China, Hotel Indigo.
More Shenzhen Building News on e-architect soon
Shenzhen Building News 2021
16 Dec 2021
Prince Bay Taiziwan residences, Shenzhen Bay, south east China
Architects: 10 Design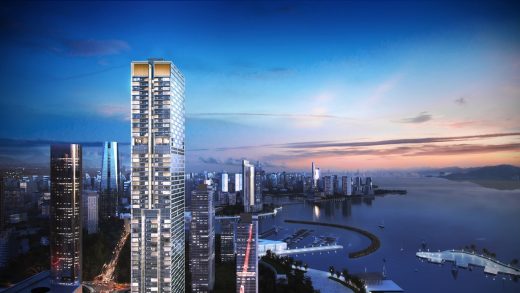 image courtesy of architects practice
Prince Bay Taiziwan residences Shenzhen
This residential development created by China Merchants and 10 Design offers luxurious coastal living in a new entertainment and cultural destination in Shenzhen, China. Prince Bay Taiziwan at 250m high is set to become Prince Bay's tallest residential landmark when completed in Jun 2023.
14 Dec 2021
Houhai Building Decoration Industry Headquarters, Houhai Central District, Greater Bay Area
Architects: Aedas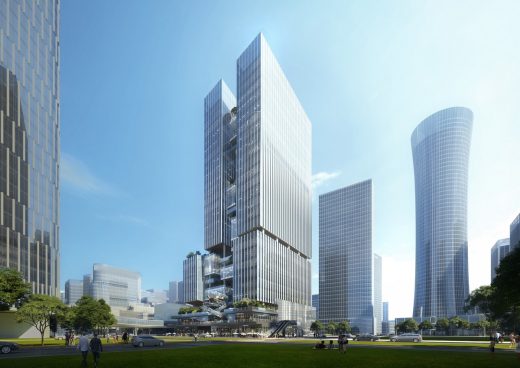 images courtesy of architects office
Houhai Building Decoration Industry Headquarters Project, Shenzhen
Aedas' winning design scheme for the Houhai Building Decoration Industry Headquarters Project creates a landmark office development that embodies corporate philosophy, eco-friendliness and community engagement in Shenzhen's emerging Houhai Headquarters Base. Houhai Central District is located in the geometric center of the Greater Bay Area, adjacent to Shenzhen Bay, and is home to multinational technology companies.
10 Dec 2021
Yanlord Luohu Mixed-Use Development, Luohu
Architects: Aedas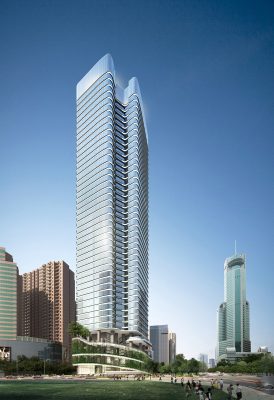 images courtesy of architects office
Yanlord Luohu Mixed-Use Development
Based on the site condition, big units with more commercial value were located on upper floors and areas with unobstructed views. Medium units were located below 120m with unobstructed views through corner windows.
25 Nov 2021
Idea Factory Nantou, Shenzhen, China
Design: MVRDV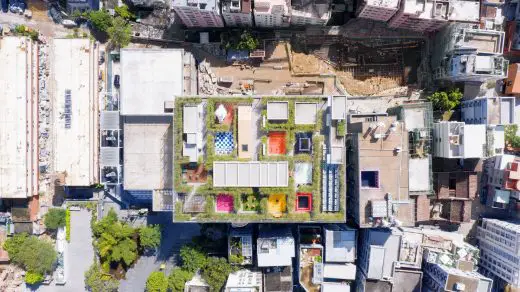 photo © Xia Zhi 夏至
Idea Factory Nantou by MVRDV
MVRDV has completed construction of the Idea Factory, a transformation of a former factory building in the Shenzhen urban village of Nantou that sustainably reusing and improving the building instead of demolishing and rebuilding it. The project contains a mixture of offices for the Urban Research Institute of China Vanke and offices for rent – yet despite this programme, its distinguishing features are public in nature.
1 Nov 2021
Pailao River landscape design, Bao'an district
Design: VenhoevenCS architecture+urbanism with Shenzhen Hope Design Co.,Ltd. and HDEC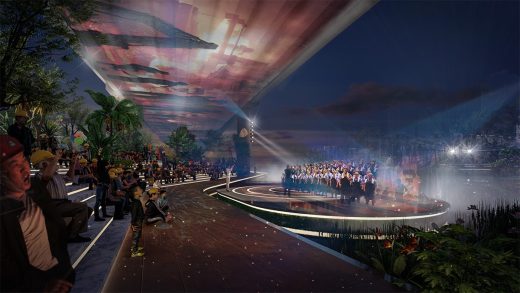 image : HOPE Landscape Design
Pailao River landscape design, Bao'an
Team VenhoevenCS-HOPE-HUADONG has designed the winning masterplan for a new living landscape along the central Pailao River in the Bao'an district in Shenzhen, China. As a rapidly urbanising region located below sea level, the Pailao River Blueway Project will prevent flooding due to heavy rainfall.
21 Oct 2021
Qianhai FUTURE TIMES landscape design competition, Guiwan financial business district
Design: LWK + PARTNERS Architects with DDON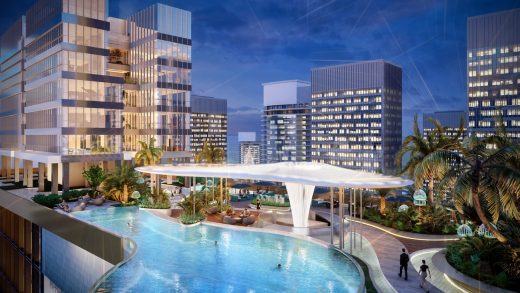 image courtesy of architects practice
Qianhai FUTURE TIMES landscape design in Shenzhen
LWK + PARTNERS Landscape Team in collaboration with DDON has won the international competition to design landscape areas of multiple sites of FUTURE TIMES in China's Qianhai, Shenzhen's headline-making industry co-operation zone, after fighting off other strong global design firms. LWK + PARTNERS will be the Landscape Architect of Sites 4, 5 and 7-2 of FUTURE TIMES, one of Qianhai's largest transport-oriented developments (TODs) with an ecological low-carbon vision.
19 Oct 2021
Ennead Architects Selected To Design The International Performance Center In Shenzhen, Futian District, downtown
Architects: Ennead Architects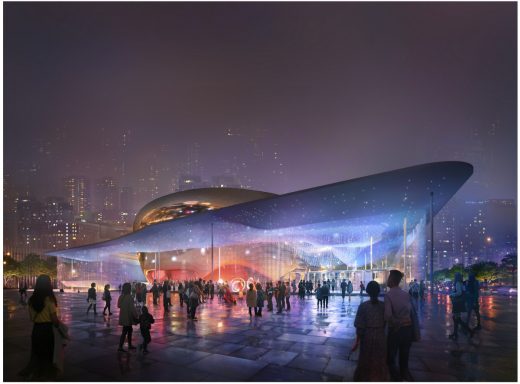 rendering by Plomps
International Performance Center Shenzhen Building
Chosen as the winner of a three-part open competition worldwide, Ennead Architects will design the new International Performance Center in Shenzhen, part of a major cultural development to further cement the city as a world-class metropolitan destination. Referred to as 'The People's Performing Arts Center,' the project will serve the global arts community and the citizens of Shenzhen alike, reimagining the possibilities of immersive performing arts experiences.
18 May 2021
Shenzhen Wobbling Skyscraper
The SEG Plaza in Shenzhen inexplicably began to shake at around 1pm, prompting an evacuation of people inside. No earthquake was recorded in the area, and the authorities are investigating both the cause and the impact.
The building in the Futian district was closed by 2.40pm. The tower was built in 2000 and is reportedly 356 metres tall.
It is home to manufacturer Shenzhen Electronics Group (SEG) and various offices. The structure is the 18th tallest tower in this booming Chinese city.
More video footage is welcome at info(at)e-architect.com
Shenzhen wobbling skyscraper – report in The Guardian with more film footage
One observer on YouTube states the following, which sounds plausible, but would need verification:
"It will be due to vortex shedding. If the wind is at a speed that causes vortexes to shed with a timing that is a harmonic of the buildings natural frequency, each shed will give the building a slightly bigger push, like building momentum on a swing. With other tall buildings around, it will likely only be an issue with wind at a specific speed from a specific direction."
4 May 2021
China Resources Snow Beer Headquarters Base
Shenzhen Architectural News, chronological:
Shenzhen Architecture Designs – chronological list
More Shenzhen Building News online here soon
Shenzhen Building News 2020
27 Oct 2020
Meland Club flagship store, Shenzhen Uniwalk shopping mall
Architects: X+LIVING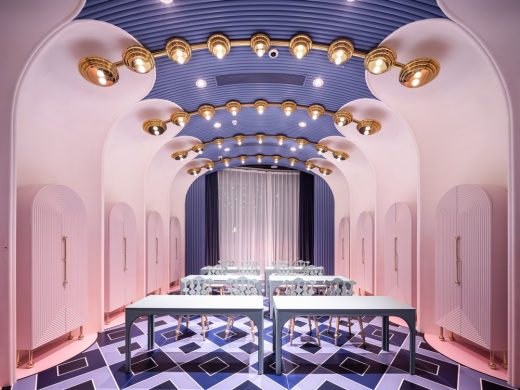 photograph : Shao Feng
Meland Club
Imagination is a gift from God. However, the same and stereotyped buildings and increasingly similar cities make it impossible for us to see the dream in the square frame of the glass window. I have completed so many works in the field of parent-child business and I am pursuing to create fairy tale kingdom for children and open a door to the unimaginable world.
16 Oct 2020
One Excellence Property Development
One Excellence
20 Nov 2020
Guangming Hub
Design: Foster + Partners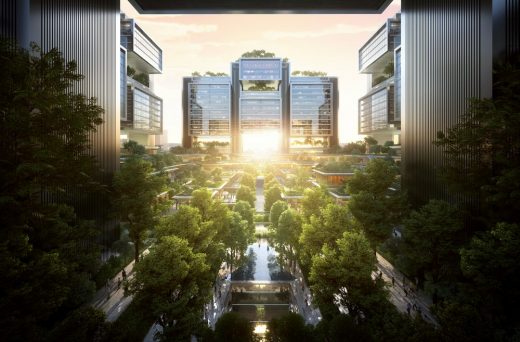 rendering © Foster + Partners
Guangming Hub
Foster + Partners has won the design competition for Guangming Hub, a new Transport Oriented Development situated on the high-speed rail link that connects Hong Kong, Shenzhen and Guangzhou. The proposal also integrates three new metro lines in the city and is the central focus of a new masterplan for the region that aims to create a new urban destination.
28 Aug 2020
Prince Plaza, Shekou District
Design: OMA / David Gianotten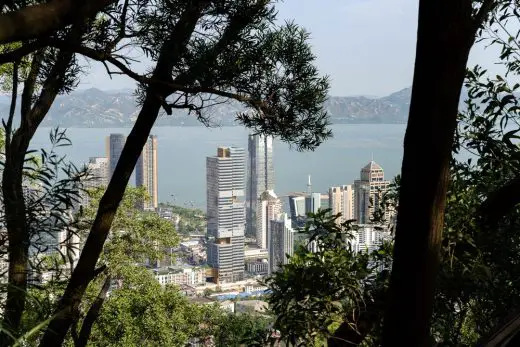 photograph © Seth Powers, courtesy of OMA
Prince Plaza in Shekou District
Prince Plaza was commissioned by CMSK (China Merchants Shekou Holdings). The mixed-use podium tower is located at Shekou's most prominent view corridor linking the Nanshan mountains and the Shenzhen Bay.
26 Aug 2020
SUSTech School of Medicine & Hospital
SUSTech School of Medicine & Hospital – Tender
25 Aug 2020
Shenzhen Fuwai Hospital Building
Shenzhen Fuwai Hospital Phase III
7 August 2020
SHUIBEI International Centre Building, Luohu
Architects: Aedas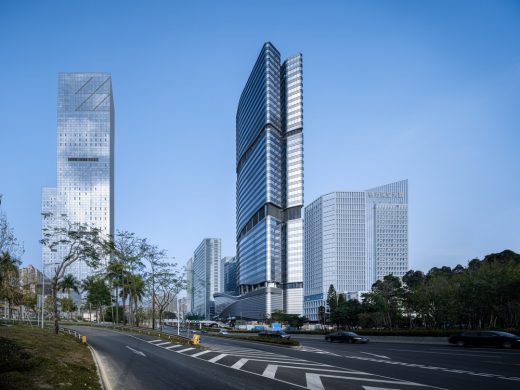 photo : CreatAR Images
SHUIBEI International Centre Building Design
Shaping the city's skyline with contemporary urban renewal developments, he states that, "Urban regeneration is not simply replacing old and weathered buildings with new ones, but rather building a new relationship and a deeper connection between the city and its people through these new developments. This connection requires more than just space as it also integrates everyday organic synergy from the community."
13 May 2020
China Resources' MixC Market Hall
Architects: 10 DESIGN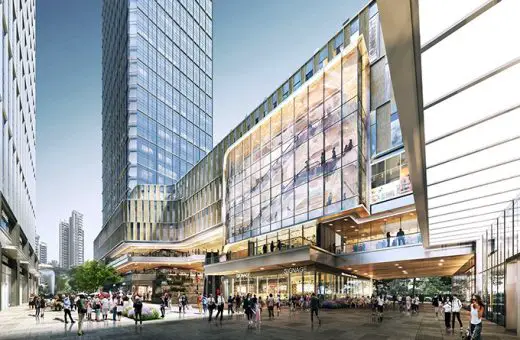 image courtesy of architects office
China Resources' MixC Market Hall
Sungang MixC Market Hall, China Resources' new mixed-use development is under construction in Shenzhen, China with anticipated completion by Q3 2022. Located on a former industrial zone, this retail-gastronomy destination will provide an immersive gastronomic experience under one roof.
18 Feb 2020
C Future City Experience Center, Shangsha
Architects: CCD/ Cheng Chung Design (HK)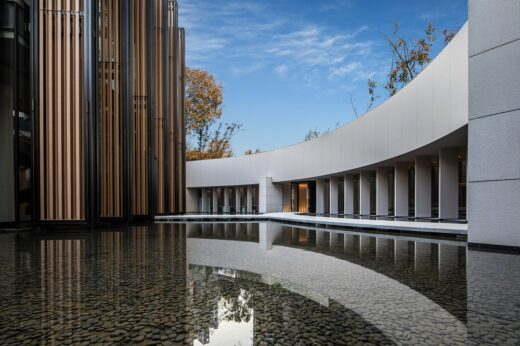 image courtesy of architects office
C Future City Experience Center
Shangsha used to be a coastal fishing village, which has developed along with the renewal of the city, while now it is witnessing the rising of C Future City. Through reflecting on the values that rooted in the village, CCD finally decided to take "marks of the fishing village" as the starting point for the design.
10 Feb 2020
Qianhai Talents' Apartments
Design: Foster + Partners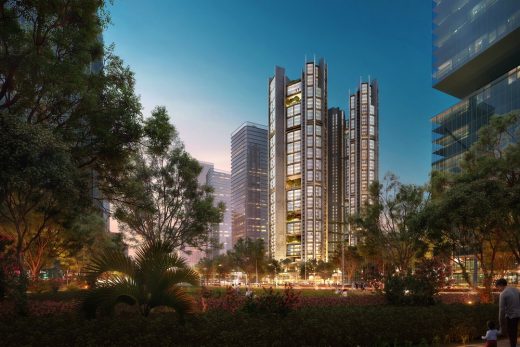 image © Foster + Partners
Qianhai Talents' Apartments Shenzhen
An innovative residential project in Shenzhen aimed specifically at the rental market. The project is envisaged as a building exclusively for 'talents' – professionals who would have an intensive work-centred lifestyle.
More Shenzhen Building News online soon
Southern Guangdong Province Architecture Updates 2019
16 Dec 2019
Ensue Luxury Restaurant, Futian District
Design: Chris Shao Studio LLC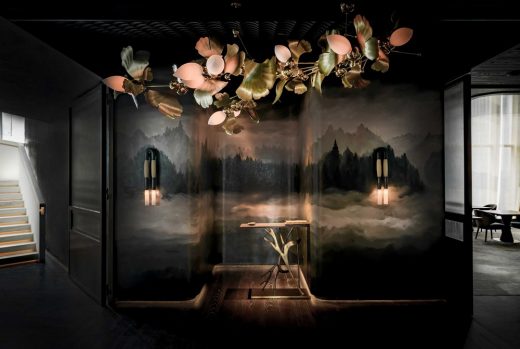 photographer : Common Studio: Lit Ma & Kelly Puleio Studio
Ensue Luxury Restaurant in Shenzhen
Simple and natural elements engage the guest with a new experience of fine dining, by way of redefining a luxurious and opulent experience with a more naturalistic aesthetic that still embodies refined detail.
14 Dec 2019
Huitong Hybrid Tower
Design: Jaeger Kahlen Partners Architects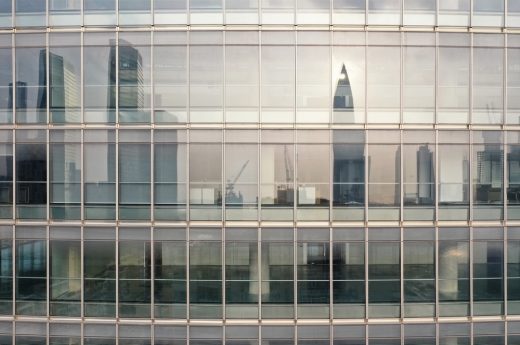 photographer : 叶文锐 Wenrui Ye
Huitong Hybrid Tower in Shenzhen
A novel idea in skyscraper design: part world-class office space and part high-tech car park. By efficiently and seamlessly integrating parking spaces into the design, JKP increased buildable area under zoning regulations and maximized the value of the project to both the users and the city.
8 Nov 2019
Konka Tower
Architects: Mecanoo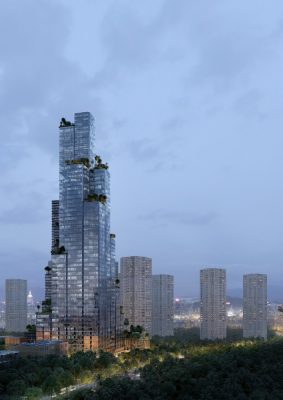 image courtesy of architects
Konka Tower
The city is searching for new models for urban and architectural innovation to replace the traditional model of large-scale indoor shopping malls and focus on flexible development.
21 Sep 2019
MORPH, Nanshan District
Architects: Various Associates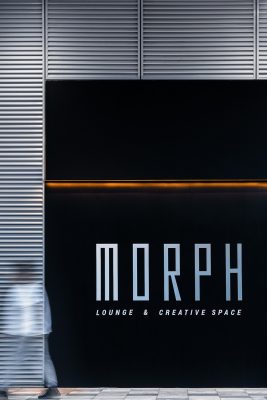 photograph : Shao Feng
MORPH, Nanshan District
Occupying a corner of a building, MORPH is a mixed-use space with a total construction area of 1,000 sqm. With an urban park and Houhai business circle nearby, it's a rare tranquil place amidst the hustle and bustle of the downtown area.
11 Sep 2019
Typhoon-proof Shenzhen East Coast
16 July 2019
Futian Civic Cultural Centre Building
5 July 2019
Folding Residence, Longgang District
3 July 2019
Sheraton Shenzhen Nanshan, Xili Hotel
18 June 2019
The King's School Shenzhen International, Nanshan
Architects: Walters & Cohen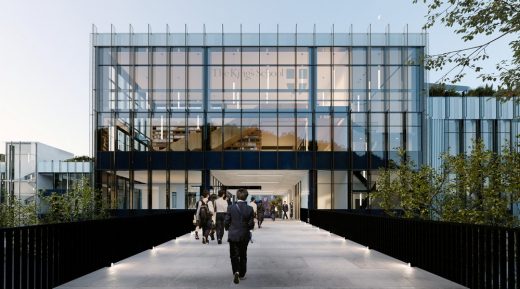 image from architects
The King's School Shenzhen International Building
Located in Nanshan, China, the school offers pupils aged 2 to 18 a combined Chinese and British curriculum, with a greater emphasis on the latter as pupils progress through the school.
8 Jan 2019
Qianhai Data Centre
Architects: Mecanoo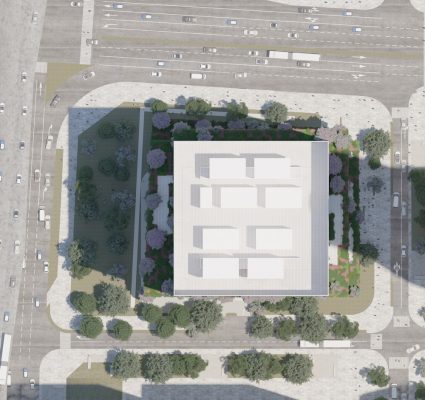 image from architects
Qianhai Data Centre Shenzhen Building
Infrastructural facilities are the functional heart of modern cities. Although usually concealed, these buildings are essential for urban daily life. When visible, they have the capacity of being a symbol of the technological achievements of our time.
More contemporary Shenzhen Building News on e-architect soon
Southern Guangdong Province Architecture Updates 2018
7 Aug 2018
Shenzhen Energy Company Office Skyscraper
Architects: BIG-Bjarke Ingels Group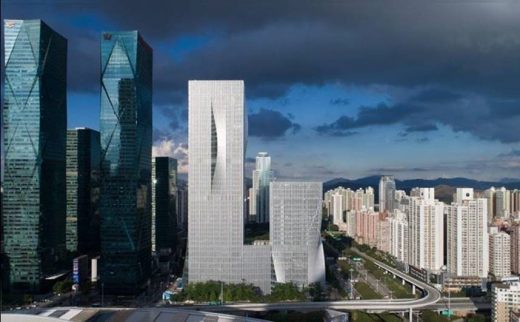 image : Chao Zhang
Shenzhen Energy Company Office Skyscraper Building
The new home for Shenzhen Energy Company looks different because it performs differently: the building skin is developed to maximize the sustainable performance and workplace comfort in the local subtropical climate of China's tech and innovation hub.
8 Aug 2018
Sunac – Smart Valley Shenzhen
Architects: BLVD International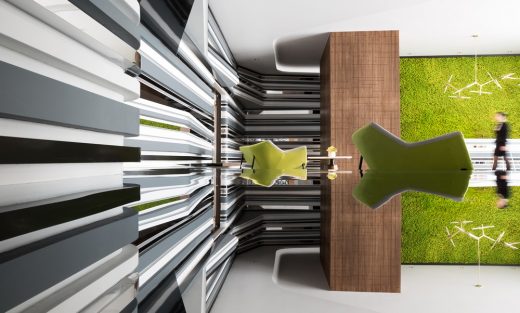 image courtesy of architects
Sunac – Smart Valley Shenzhen Building
The overall design intentionally breaks people's stereotyped perception of the tediousness of science and technology, integrates the ecological concept into the geometry and modernity of technology, and transforms the lines of science and technology into the surface treatment in the real space.
11 Aug 2018
Shenzhen Bay Square Waterfront
Design: MAD Architects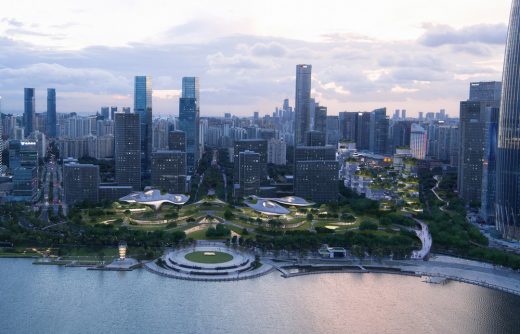 image courtesy of architects
Shenzhen Bay Square Waterfront by MAD Architects
MAD Architects, led by Ma Yansong, win two international competitions – the winning masterplan (36 hectares), and architectural design (15 hectares), will see an ambitious urban development project bring a vibrant cultural complex to the area that connects Shenzhen city to the waterfront, surrounding ecological corridor, and nearby mountain ranges – creating a harmony between humans and nature.
26 Jul 2018
Forest and Sports Park in Guang Ming
Architects: LOLA, TALLER and L+CC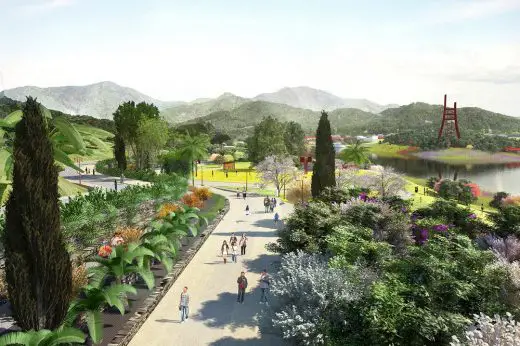 picture courtesy of architects office
Forest and Sports Park in Guang Ming
LOLA, TALLER and L+CC won the international competition for a 600 hectare forest and sports park in Guang Ming, Shenzhen, China. The other competitors were JCFO, SWA and TCL.
10 Jul 2018
Qianhai SZ-HK Fund Town
Architects: Leigh & Orange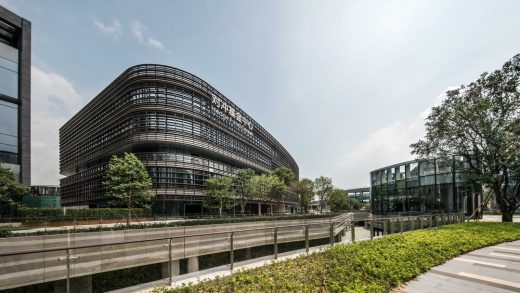 photo : Leigh & Orange
Qianhai SZ-HK Fund Town Building
The project is located at the Qianhai district in Shenzhen China. Known as "Qianhai SZ-HK Fund Town", it consisted of a variety of low-rise building typologies designed to suit different office and commercial uses. These include midrise row-offices, corporate villas, stand-alone retail pavilions and a basement retail street.
7 Jul 2018
Longgang Chuangtou Tower
Architects: URBANUS Architecture & Design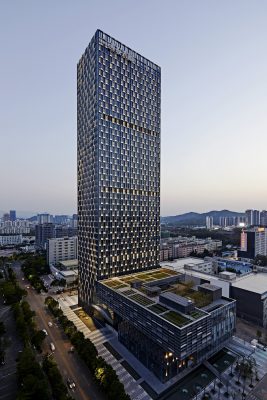 photograph : SHU He
Longgang Chuangtou Tower in Shenzhen Building
The architecture is a container that captures light, just like how a musical instrument captures music. Light needs a structure that can show it. VC&PE has an open spatial structure, is interspersed with deconstructed blocks, and has a rhythmical unit form, which gives light the best expression carrier.
4 Jul 2018
Pingshan Performing Arts Center
Design: OPEN Architecture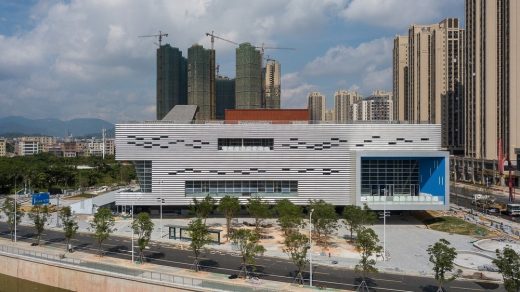 photograph : Zhang Chao
Pingshan Performing Arts Center Building
OPEN's Pingshan Performing Arts Center in Shenzhen has moved another step closer to its expected completion this year. With the building envelope now fully installed, the focus has shifted to the interior fit out and landscape construction phase.
5 Jun 2018
Space in Mutation, Berlin, Germany
Curated by Doreen Heng Liu, NODE Architecture & Urbanism, Shenzhen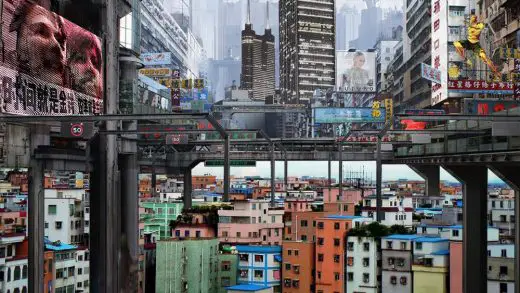 Collage Shenzhen © NODE Architecture & Urbanism
Space in Mutation
Opening: Friday, 29 June 2018, 6.30pm
Exhibition: 30 June – 15 August 2018
Location: Aedes Architecture Forum, Christinenstr. 18-19, 10119 Berlin
Opening Hours: Tuesday-Friday 11am-6.30pm, Sunday-Monday 1-5pm
Special Opening Hours: Saturday, 30 June 2018, 1-5pm
Symposium: Friday, 29 June 2018, 4pm
Location: ANCB The Aedes Metropolitan Laboratory, Christinenstr. 18-19, 10119 Berlin
9 May 2018
DJI's new HQ, Shenzhen, China
Architects: Foster + Partners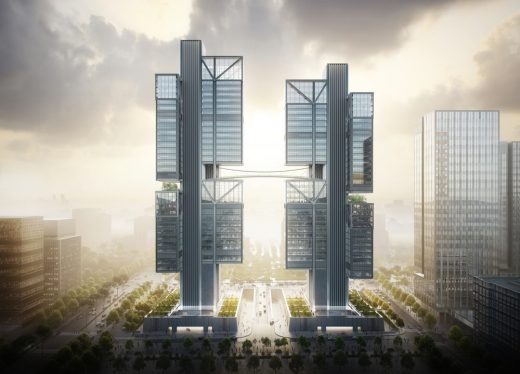 image : Foster + Partners
DJI HQ Building News
Foster + Partners today unveiled their vision for the new headquarters for DJI, the world leading robotics company, currently under construction in Shenzhen.
2 May 2018
Shekou Sea World Culture and Arts Center
Architects: Maki and Associates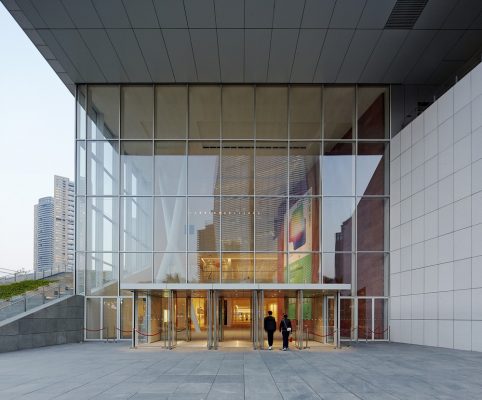 photo © Shu He
Shekou Sea World Culture and Arts Center
The building highlights openness and connectivity, so that people, space and nature can have quiet dialogues. The lighting coincides with them to hide among buildings and landscapes to give off soundless beauty.
Prince Bay Development
Design:John Portman & Associates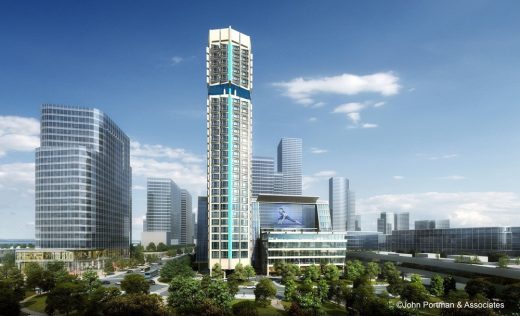 image © John Portman & Associates
Prince Bay Shenzhen Development News
John Portman & Associates is happy to announce a first-place finish in the international design competition held by Shenzhen Prince Bay Shang Long Real Estate Co., LTD for the architectural and engineering design of Prince Bay lot DY02-06A in Shenzhen, China.
23 Apr 2018
ROARINGWILD · UNIWALK Interior
Interior Design: Kingson Liang | DOMANI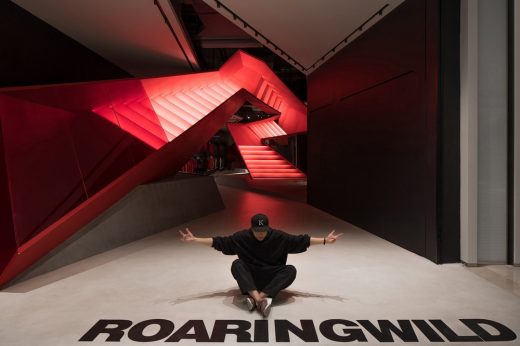 photograph © Shaon Liu
Store Interior Shenzhen City
China's native original Tide brand ROARINGWILD roaring in the 7th year, the brand rooted in Shenzhen which opened the first entity stores. Space designed by DOMANI, consistent of the fierce strokes presented shake the soul of the visual impact and sensory illusion.
20 Apr 2018
Sky Club House
Architects: DOMANI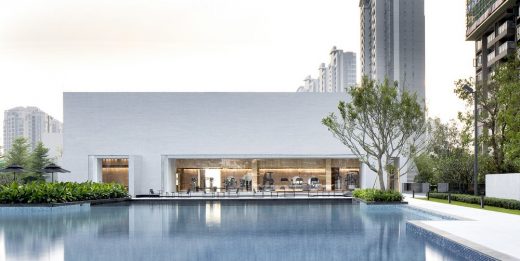 photograph : Shaon
Sky Club House Shenzhen City
More Shenzhen Architecture Design News online soon
Location: Shenzhen, China
Chinese Buildings
Shenzhen Museum of Contemporary Art & Planning
Comments / photos for the Shenzhen Building News page welcome