Longgang Chuangtou Tower Shenzhen Building, Guangdong Architecture Photos
Longgang Chuangtou Tower Shenzhen
VC&PE: Contemporary Guangdong Province Building – design by URBANUS Architecture & Design
16 Jul 2018
Longgang Chuangtou Tower in Shenzhen
Architects: URBANUS Architecture & Design ; Lighting Design: GD-Lighting Design
Location: Shenzhen, China
English text (scroll down for Chinese):
Longgang Chuangtou Tower in Shenzhen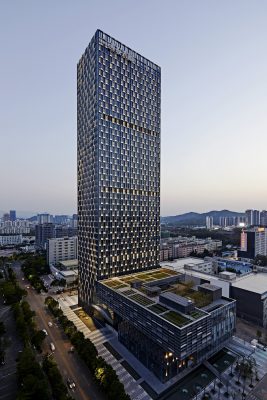 The architecture is a container that captures light, just like how a musical instrument captures music. Light needs a structure that can show it. VC&PE has an open spatial structure, is interspersed with deconstructed blocks, and has a rhythmical unit form, which gives light the best expression carrier.
Like the black and white keys of a piano, the building shows virtuality and reality comparison of facades while the keys are pressed, which provides the building as a whole with the balance and integration. The lighting highlights the building structure and restores the changing light and shadow experience during the day.
The essence of a building is space, and the essence of space is light.
The light design makes the skin change of the declinate irregular stereoscopic window frame of building tower clearance present the invisible gray scale variation under the light and shadow, and the large area of warm color internal penetrance lighting of the buildings and the moderate white illuminated area of the tower complement and contrast each other, going well together and showing their own characteristics.
The soul of architecture derives from the perception and creation of the building architect, the combination and contrast of the light design and the building space has highlighted the architectural language and characteristics, and its layered and rhythmical design without any deliberate dynamic changes makes the soul and temperament of the building complete and vivid, peculiar and unique.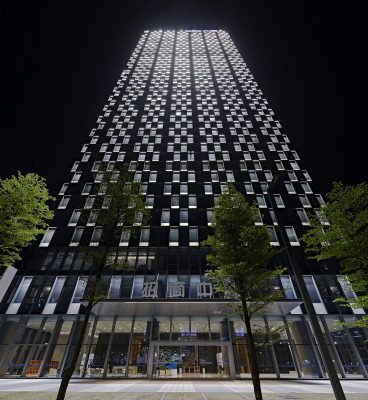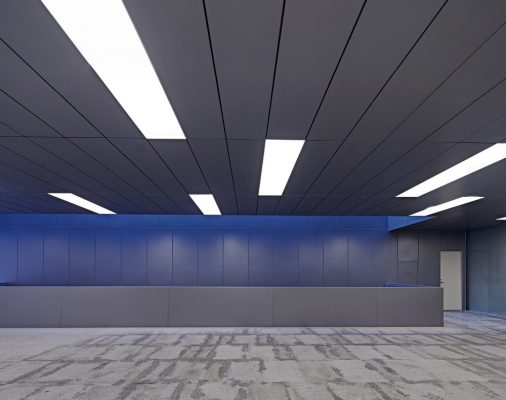 Longgang Chuangtou Tower Shenzhen – Building Information
Investor: Longgang City Construction Investment Group
Architectural Design: URBANUS ARCHITECTURE & DESIGN
Lighting Design: GD-Lighting Design
Location: Shenzhen, China
Complete Time: 2017.09
Text & images provided by: GD-Lighting Design (www.gd-lightingdesign.com)
Photographer: SHU He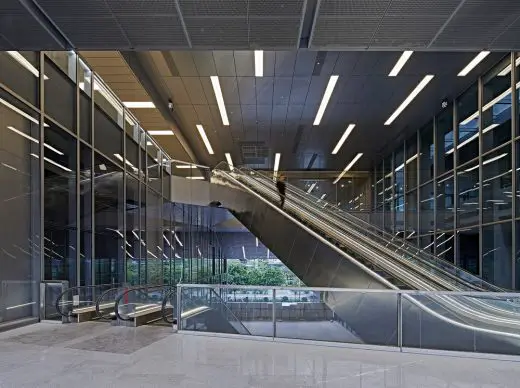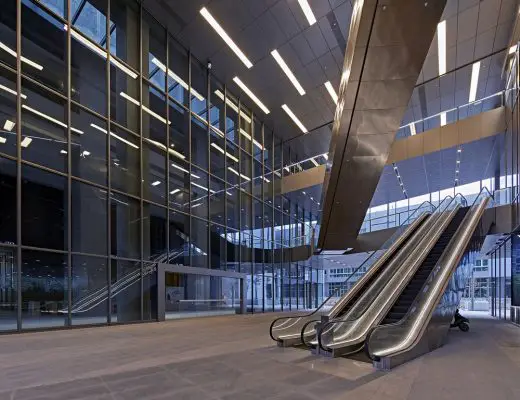 Chinese text:
Longgang Chuangtou Tower
龙岗创投大厦 · 深圳
|项目信息|
业主:龙岗区城市建设投资集团有限公司
建筑设计:URBANUS都市实践建筑事务所
灯光设计:大观国际设计咨询有限公司(www.gd-lightingdesign.com)
项目位置:深圳
完工日期:2017.09
摄影师:舒赫
供稿单位:大观国际设计咨询有限公司(www.gd-lightingdesign.com)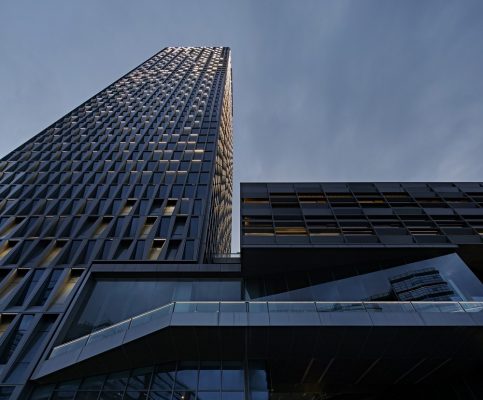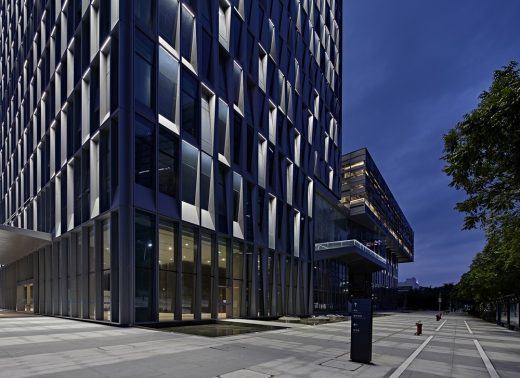 光之律
建筑是捕捉光的容器,如同乐器如何捕捉音乐一样,光需要可以使其表现的建筑.
而龙岗创投大厦建筑开放的空间结构,解构形式的体块穿插,富有节奏的单元窗体,给予光以最佳的表现载体.
如同一架钢琴的黑白键,按键起落间呈现出立面的虚实对比,使建筑整体得到了平衡与融合,灯光强化了建筑结构,也复原了日间多变的光影体验.
建筑的精髓是空间,而空间的精髓是光。
灯光设计将建筑塔楼间隙下倾的不规则立体窗框的表皮变化,在光影的映射下呈现出隐于无形的灰度变化,裙楼大面积暖色内透照明与塔楼适度的白色照明区域形成了互补与对比,相互衬托且各有特色。
建筑的灵魂源于建筑设计师的感悟与创造,而灯光设计与建筑空间的相互结合与映衬,强化了建筑语言与特征, 无需刻意动态变化而充满层次与律动,使建筑要赋予的灵魂与气质因其完整鲜活而别具一格,从而独一无二.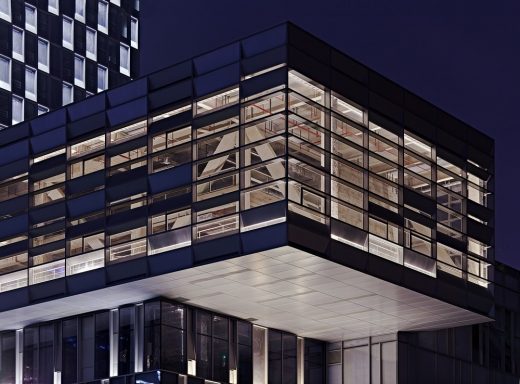 Location: Shenzhen, China
New Buildings in Shenzhen
Contemporary Shenzhen Architecture
Shenzhen Architecture Designs – chronological list
Pingshan Performing Arts Center
Design: OPEN Architecture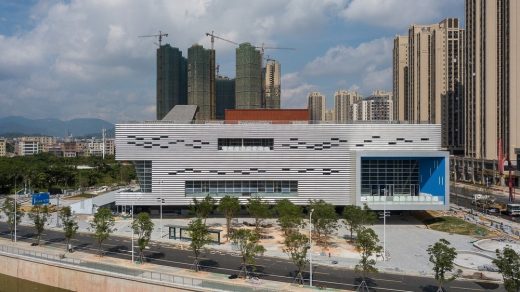 photograph : Zhang Chao
Pingshan Performing Arts Center Building
DJI's new HQ, Shenzhen, China
Architects: Foster + Partners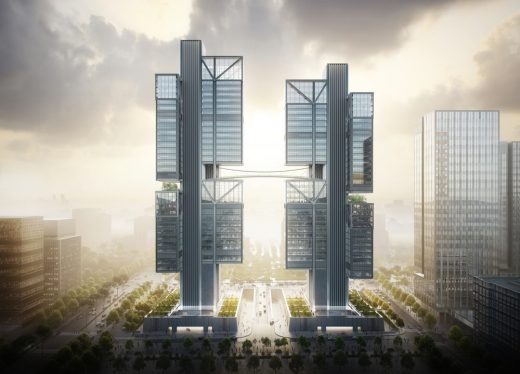 image : Foster + Partners
DJI HQ Building
Shekou Sea World Culture and Arts Center
Architects: Maki and Associates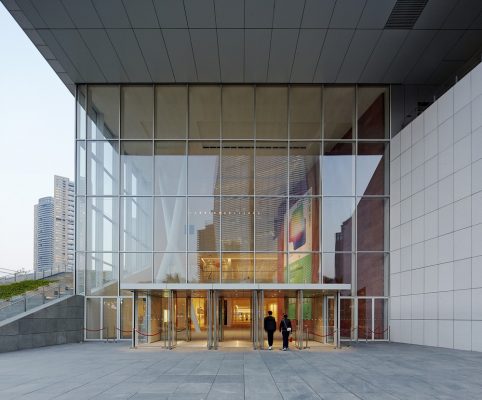 photo © Shu He
Shekou Sea World Culture and Arts Center
Sky Club House
Architects: DOMANI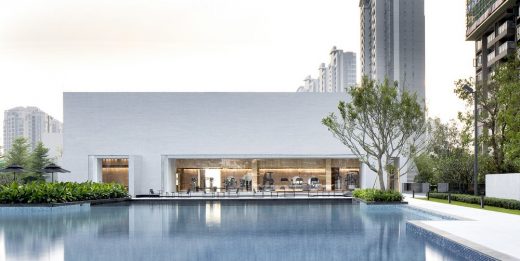 photograph : Shaon
Sky Club House Shenzhen City
Comments / photos for the Longgang Chuangtou Tower Shenzhen page welcome
Website: URBANUS Architecture & Design