Belgian architecture news 2023, Belgium building projects architects, New construction design, Property images
Belgian Architecture News
Contemporary Belgium Building Designs – Built Environment Updates
post updated 12 November 2023
Belgian Architectural Designs – chronological list
Brussels Architectural Tours by e-architect guides
Belgian Building News
Belgian Architecture News in 2023 – latest additions to this page, arranged chronologically:
14 June 2023
Poort van de Prijkels, Deinze, Flanders
Design: DELVA Landscape Architecture / Urbanism + KAAN Architecten (The Netherlands) + Studio Denk (The Netherlands)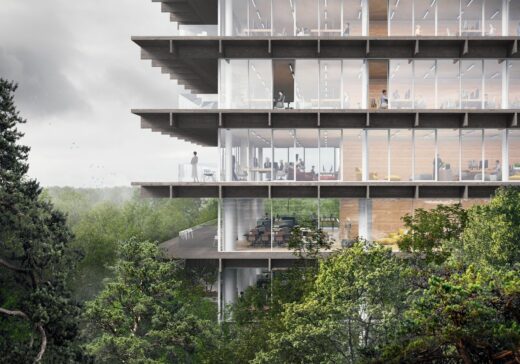 image : Vivid Vision
Poort van de Prijkels Deinze
Team DELVA – KAAN – DENKC-STUDIO, wins the tender Poort van de Prijkels. This led by Alheembouw-Steenoven, commissioned by the intermunicipal association and Veneco.
30 May 2023
SPA Solo, Brussels
Design: Ohra Studio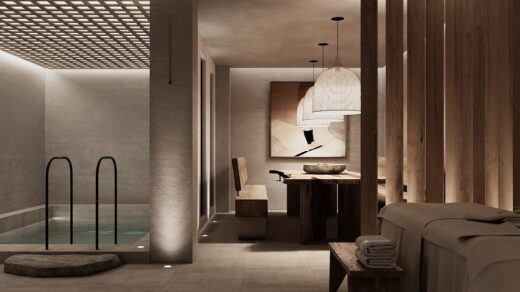 photos : Ohra Studio
SPA Solo, Brussels, Belgium building
The interior design of a Spa complex in Brussels, Belgium. Located on the site of a private house and run by the family the Spa offers spaces for relaxation and massage.
24 May 2023
Design Museum Gent, Gent
Design: Carmody Groarke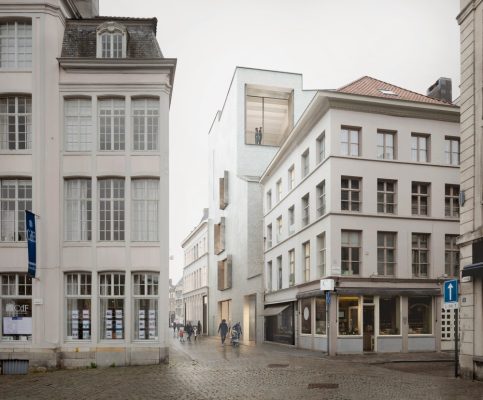 construction image : Michiel De Cleene
Gent Design Museum
Sports Centre Sportoase Groot Schijn, Antwerp
Flanders Architecture Institute Events
16 Feb 2023
Montagne du Parc, Brussels
Design: Baumschlager Eberle Architekten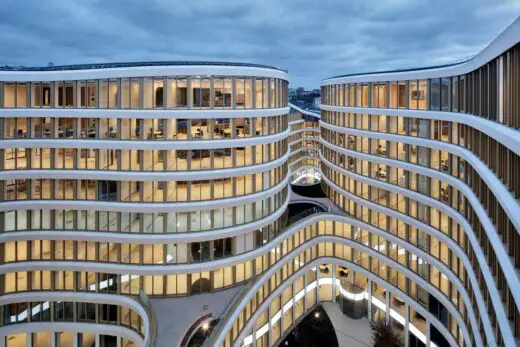 photos : Cyrille Weiner, CW
Montagne du Parc, Brussels
BNP Paribas Fortis' new HQ building was to reposition the bank in planning, design and infrastructure terms as well as finding its place in a disparate neighbourhood and opening up to the city. Other requirements included the careful handling of the ground and resources, energy-efficient operation and high amenity values.
1 Jan 2023
Old Cottage Villa, Knokke, West Flanders
Design: Architects Claerhout – Van Biervliet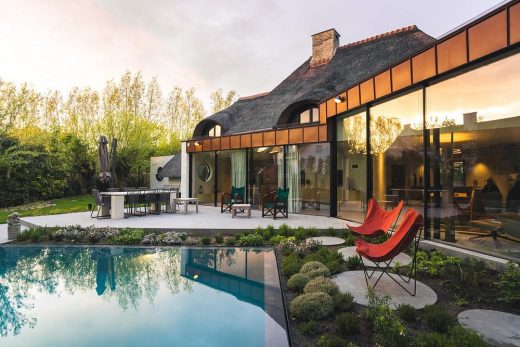 photos : Jan Verlinde and Andreas Vanwalleghem
Old Cottage Villa, Knokke, West Flanders
Belgian Architecture News in 2022
Renewed European Parliament Building, Brussels
14 Dec 2022
Design: ZJA
Flanders Longest Bicycle and Pedestrian Bridge
3 Dec 2022
Wood Art Pavilion, Brussels
Design: Labscape studio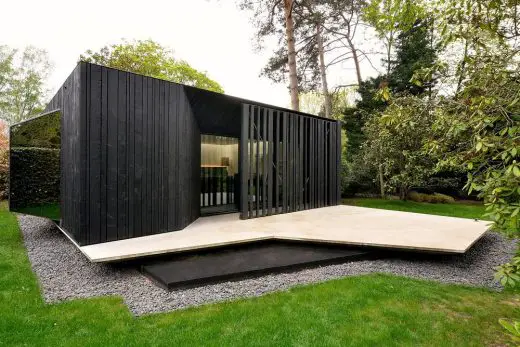 photo : Nicolas Schimp
Wood Art Pavilion, Brussels
The Wood Art Pavilion is located in the back of a lush garden and conceived as intimate, introvert and hidden architecture.
25 Nov 2022
Boerentoren Tower, Antwerp
Architects: Architect Daniel Libeskind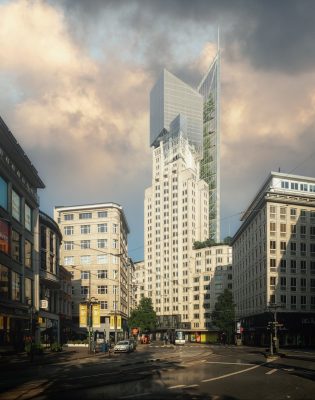 image courtesy of architects practice
Boerentoren Tower, Antwerp
Architect Daniel Libeskind will transform the iconic Boerentoren Tower, located in the centre of Antwerp, Belgium, into a major new public cultural centre, it was announced today. Due to open in 2028, the building will feature exhibition spaces, a panoramic viewing platform, a rooftop sculpture garden and new restaurants and bars. The centre will also house The Phoebus Foundation's historic collection of port heritage.
17 Nov 2022
Paul-Henri SPAAK Building, Brussels
Design: JDSA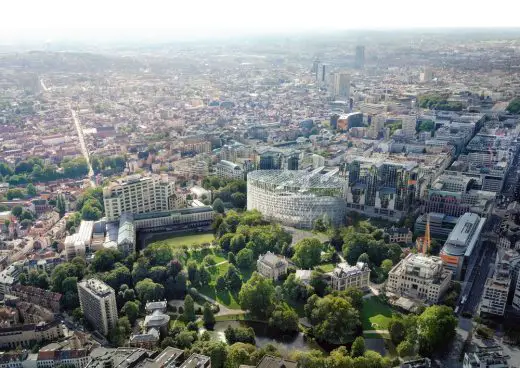 image : Corrected Verticals
Renewed European Parliament Building Brussels
A pan-European design collective has won the international competition organized by the European Parliament to renew the Paul-Henri SPAAK Building in Brussels, Belgium. The proposal underscores the identity of the European Union and the value of democracy, while promoting the principles of circular construction.
18 October 2022
Theunis Bridge Merksem, Antwerp
Architects: architecture studio ZJA with Arcadis, Sweco and OKRA Landscape Architects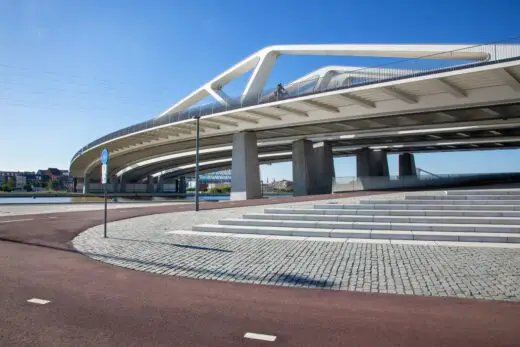 photograph © ZJA
Theunis Bridge, Merksem, Antwerp
The Theunis Bridge that links Merksem with Deurne has been awarded the prestigious Architecture MasterPrize for 2022. Commissioned by De Vlaamse Waterweg, architectural studio ZJA designed the new Theunis Bridge over the Albert Canal in collaboration with Arcadis, Sweco and OKRA Landscape Architects.
2 Oct 2022
Saint Alliance Luxury Apartment Building, Ukkel, Brussels
Design: Ohra Studio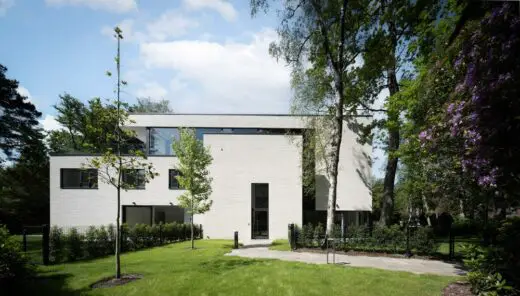 photo : Alexandre Van Battel
Saint Alliance Luxury Apartment Building, Brussels
This architectural Concept was carefully designed for a client in Brussels by Zlata Rybchenko. The Saint Alliance Luxury Apartment Building is a residential villa development located in the most prestigious area of Brussels surrounded by trees and forest on a site that demanded a carefully considered response.
22 Aug 2022
Duincasino Venue Building, Middelkerke
Design: ZJA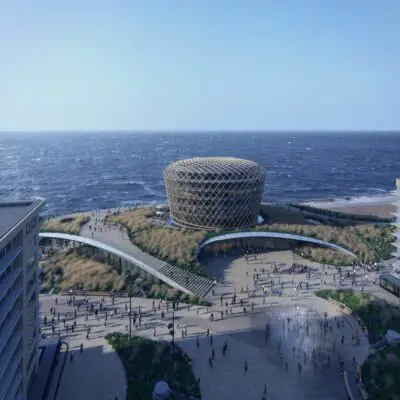 render © Proloog
Duincasino Venue Building, Middelkerke
The Venue Building Middelkerke in Belgium has been awarded with the prestigious International Architecture Award 2022. The design under the direction and supervision of Debuild is created by DELVA Landscape Architecture | Urbanism and ZJA, in collaboration with OZ and Bureau Bouwtechniek and various experts as members of the Nautilus Consortium.
6 Aug 2022
Technical Secondary School, Zoutleeuw
Design: MR. STIR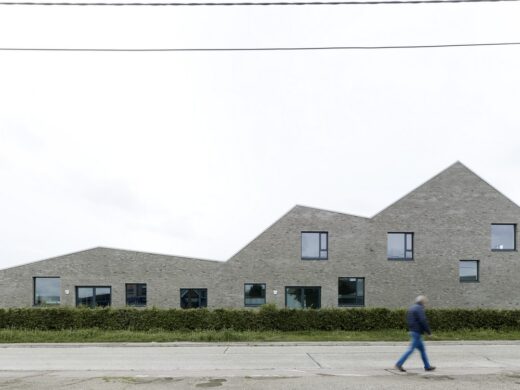 photo : Serge Technau Photography
Technical Secondary School Zoutleeuw
The size and scale of the surrounding buildings formed the inspiration for the special roof shape. As a result, on the one hand, the building blends in seamlessly with its surroundings and, thanks to the contemporary architectural translation, it constructs a symbolic and iconic appearance, appropriate to a main school building.
15 Jun 2022
La Cubanita, Kortrijk
Design: De Baes Architects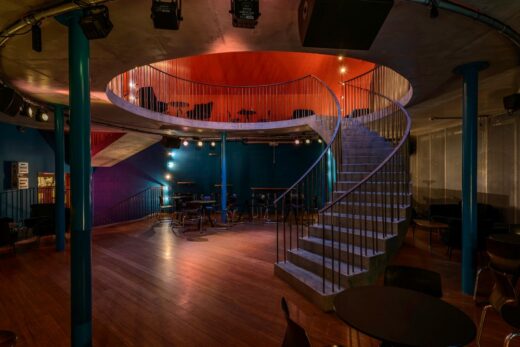 photo © Frans Parthesius
La Cubanita Nightclub, Kortrijk
La Cubanita is an extension of La Bodeguita Del Medio, a mainstay of Kortrijk's nightlife scene. De Baes Architects worked with the owners to craft a space that embodied their multicultural heritage, creating an immersive guest experience that blends Cuban and Eastern motifs.
31 May 2022
Waregem, Waregem, West Flanders
Design: Enter Projects Asia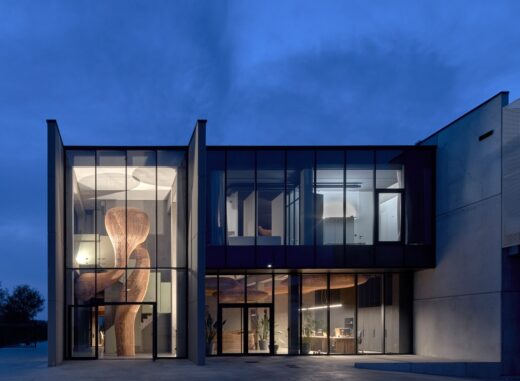 photo : Edward Sumner
Factory Face Lift in Waregem, West Flanders
Only weeks into the global pandemic, Enter Projects Asia based in Thailand, received an unexpected phone enquiry from Waregem, outside Brussels. The prospective client had a 300sqm mix-use project that needed 'balance and calm'.
17 May 2022
't Centrum, Westerlo, Flanders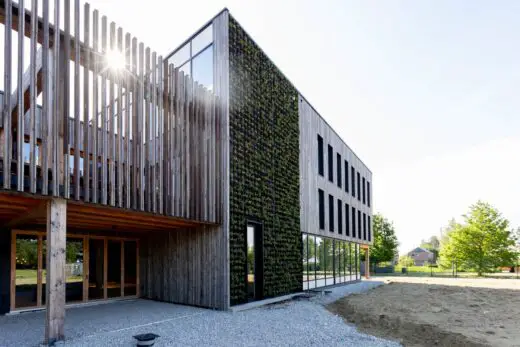 photo : persfoto
't Centrum in Westerlo Kamp C
Kamp C, the living lab of the Province of Antwerp for sustainability and innovation in the construction industry, and a previously selected consortium of seven companies have recently completed 't Centrum in Westerlo (Belgium). This is the first completely circular office building in Flanders.
14 Mar 2022
Architecture Faculty in Tournai, Wallonia, province of Hainaut
Design: Aires Mateus
New photos of this bold contemporary Belgian building was designed by Portuguese architects Manuel and Francisco Aires Mateus: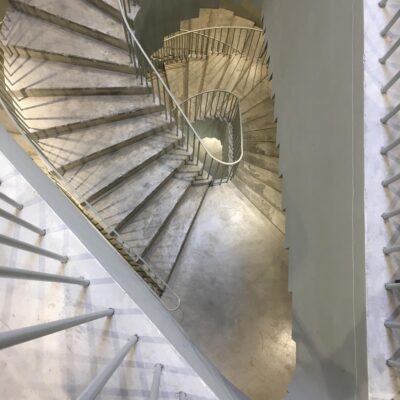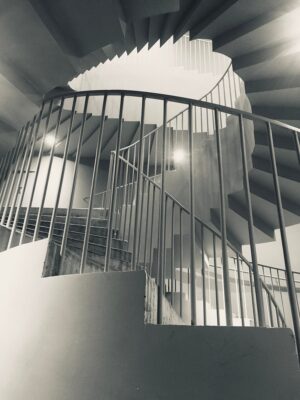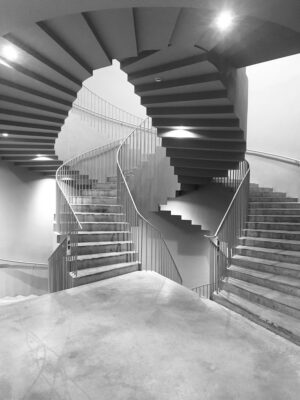 photos © Daniel Lomholt-Welch
9 March 2022
The Belfry of Bruges, West Flanders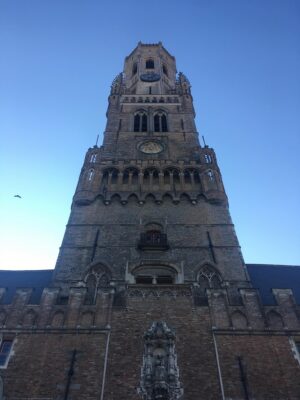 photo © Daniel Lomholt-Welch
The Belfry of Bruges (Dutch: Belfort van Brugge) is a medieval bell tower in the centre of Bruges. One of the city's most prominent symbols, the belfry formerly housed a treasury and the municipal archives, and served as an observation post for spotting fires and other dangers.
27 Jan 2022
Agrotopia, Roeselare, West Flanders
Design: van Bergen Kolpa Architects and META architectuurbureau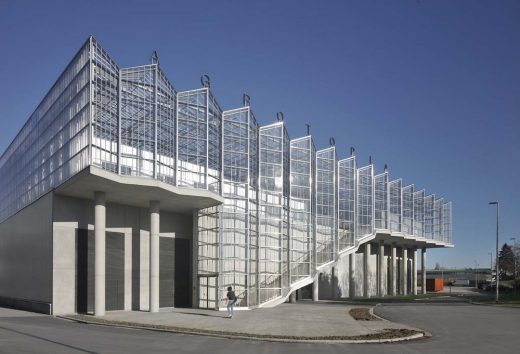 photo © Filip Dujardin
Rooftop Greenhouse Agrotopia, West Flanders
With the rooftop greenhouse Agrotopia, van Bergen Kolpa Architects (NL) and META architectuurbureau (BE) have delivered Europe's largest public building dedicated to urban food production, a commission from the Flemish research institute for agriculture and horticulture, Inagro, and REO Veiling.
More Belgian Architecture News on e-architect shortly
Belgian Architecture News 2021
14 Dec 2021
Belle-île, province of Liège, Wallonia
Architects: JDS Architects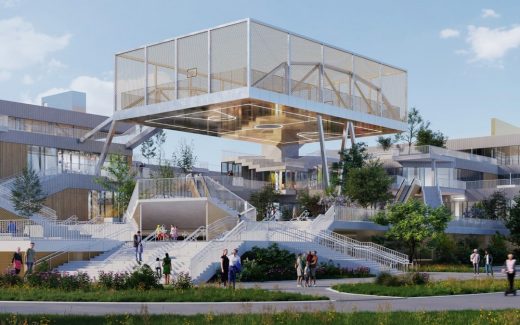 image courtesy of architects practice
Belle-île Shopping Center Building
The project in Belle-île, Liège, is an extension of an existing shopping center. This shopping center is located between 2 waterways, the river Ourthe and the 'Canal de l'Ourthe', which flow into the Meuse a little further.
27 October 2021
Community Center, Edegem, province of Antwerp
Architects: MKA Marc Koehler Architects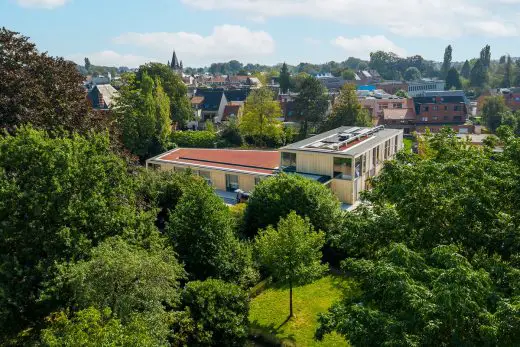 photo : Maikel Samuels
Community Center Edegem Building
Bourgeois 19th century house, a rectory and an environment of historic garden walls with enclosed gardens – providing a certain tranquility despite being right in the historic centre. The open, transparent architecture and the positioning of the building provide new vibrancy to the streetscape and create a unity with Huis Hellemans, the garden and the presbytery with historic garden walls.
More contemporary Belgian Architecture News online here soon
Belgian Architecture News 2020
15 Dec 2020
New Sports Hall Extension, HOGENT campus Schoonmeersen, Flanders
Design: SADAR + VUGA d.o.o. with LENS°ASS Architecten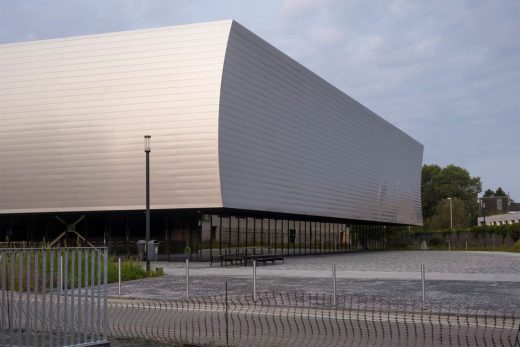 photo : Julien Lanoo
Sports Hall Extension Campus Schoonmeersen
11 Dec 2020
University HOGENT Ghent Campus Schoonmeersen Buildings
Design: SADAR + VUGA d.o.o. with LENS°ASS Architecten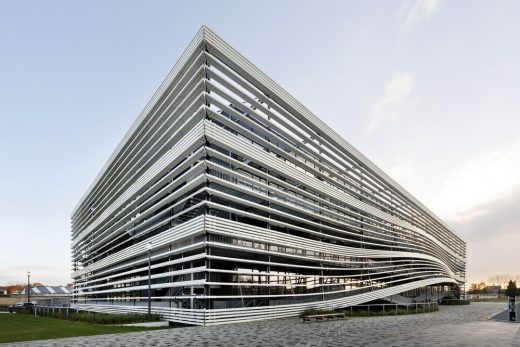 photo : German Luis Bourgeat
University HOGENT Ghent Campus Schoonmeersen Buildings
The new building for the Faculty of Social Work (Building T) and the new Sports Hall Extension at Kampus Schoonmeersen of University HOGENT in Ghent, Belgium, were completed in September 2020. The buildings are now opened to the public with limited access due to the coronavirus.
12 Oct 2020
Gare Maritime, Brussels
Design: Neutelings Riedijk Architects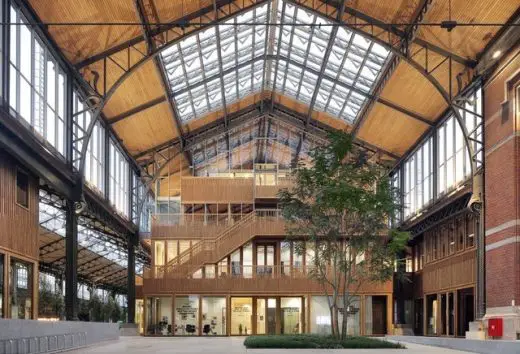 photograph : Filip Dujardin / © Neutelings Riedijk Architects
Gare Martitime Brussels
Gare Maritime, once Europe's largest railway station for goods on the Tour & Taxis site in Brussels, has been transformed into a covered city with a mixed program of working and shopping and plenty of public space to relax. Under impressive steel roofs Neutelings Riedijk Architects designed the new Gare Maritime as a city district; 'a city where it never rains'.
21 Sep 2020
Rain Amplifier, Sint-Arnolduspark, Tiegem, municipality of Anzegem, near Oudenaarde, West Flanders
Architects: Matthijs la Roi Architects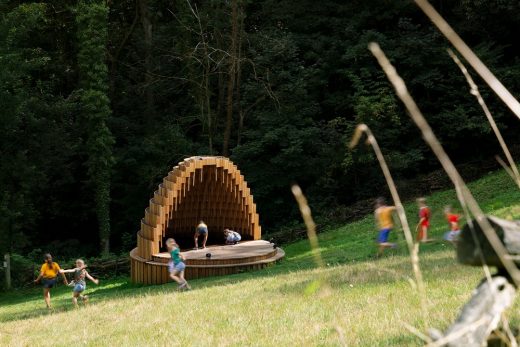 photo : naaro
Rain Amplifier Folly
This cedar-clad rain sculpture and stage is in the Catholic forest environment of Sint-Arnolduspark. Located on a hill that acts as a natural amphitheatre, the stage is designed to host open-air performances where the dome acts as a sculptural backdrop.
1 Sep 2020
Heldentoren in Knokke-Heist, West Flanders
7 July 2020
World first: Kamp C is first to print a complete house in one piece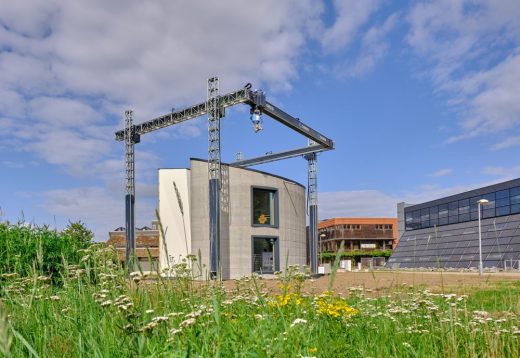 image © Kamp C
3D-printed model home, Kamp C Westerlo
Kamp C, the Westerlo-based provincial Centre for Sustainability and Innovation in construction, printed a house using the largest 3D concrete printer in Europe. The 90-square metre dwelling was printed in one piece with a fixed printer. This is a world first.
29 May 2020
European Parliament International design competition news
The European Parliament have launched a restricted international single stage design competition for the renewal of the Paul-Henri SPAAK Building, its Chamber building in Brussels:
European Parliament Design Competition
24 Feb 2020
School De Brug Building, Bocholt
School De Brug Building in Bocholt
More contemporary Belgian Architecture News on e-architect soon
Belgian Architecture News 2019
4 Dec 2019
The Station by the Sea, Oostende
Architects: Dietmar Feichtinger Architectes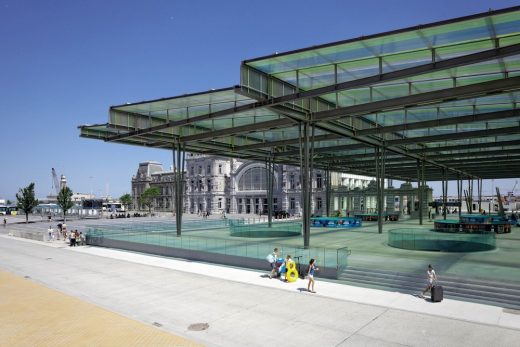 photograph : David Boureau
New Building in Oostende
It is more than a hundred years since King Leopold II had the current Ostend station built. A bourgeois building with a magnificent architecture, worthy of the "queen of seaside towns".
20 Nov 2019
P.Nt2 Brussels, Brussels
Design: BOB361 architects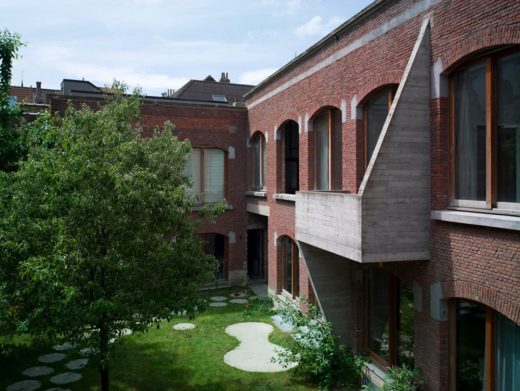 photograph : A. Nullens
P.Nt2 Mixed-Use Transformation Brussels by BOB361
Transformation of P.Nt2 a former industrial building in Brussels towards an enclosure for habitation and work. One day the site was silted up.
7 Sep 2019
New European Commission HQ, Brussels
Design: Christian de Portzamparc | Artelia | Florence Mercier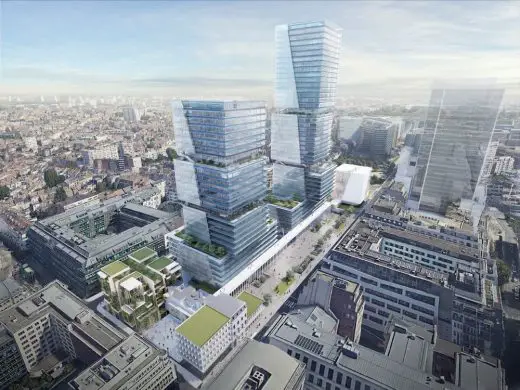 image © 2019. Project by 2Portzamparc, Florence Mercier Paysagiste and ARTELIA Bâtiment & Industrie
European Commission New Headquarters Brussels
European Commission architectural competition to build its new headquarters in Brussels. The design competition was open to teams of architects, landscape architects and engineers from all over the world.
29 Jul 2019
EU Commission Premises in Brussels
13 Feb 2019
PC CARITAS Building in Melle
4 Feb 2019
FOS in Kuurne
8 Jan 2019
The New City, Oostende
Architects: C.F. Møller Architects and BRUT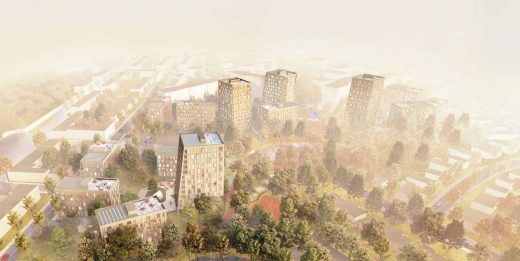 image Courtesy architecture office
The New City, Oostende
Revitalisation of old social housing neighbourhood in Belgium by innovative and sustainable architecture.
More Belgian Architecture News online soon
Belgiaum Buildng Updates 2018
12 Sep 2018
NEO 2, Brussels
Design: KCAP Architects&Planners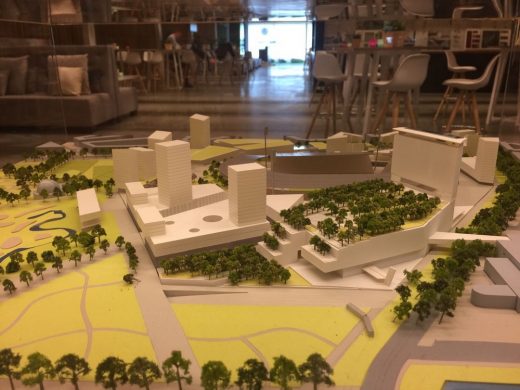 picture Courtesy architecture office
NEO 2 Brussels Building
13 Jun 2018
Solvay Office Building, Brussels
Design: Schmidt Hammer Lassen Architects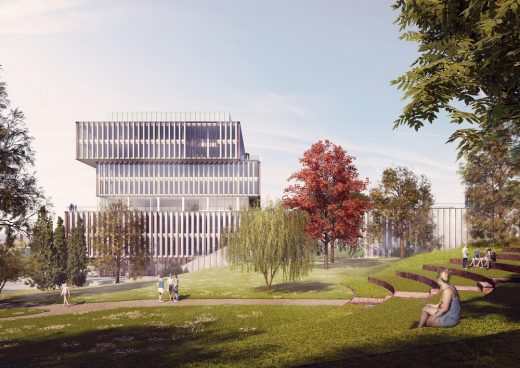 image Courtesy architecture office
Solvay Headquarters in Brussels
Schmidt Hammer Lassen Architects wins international competition to design the new sustainable headquarters for global chemical company, Solvay.
1 Jun 2018
Koksijde Watchtower Building, Koksijde, province of West Flanders
Design: NEXT architects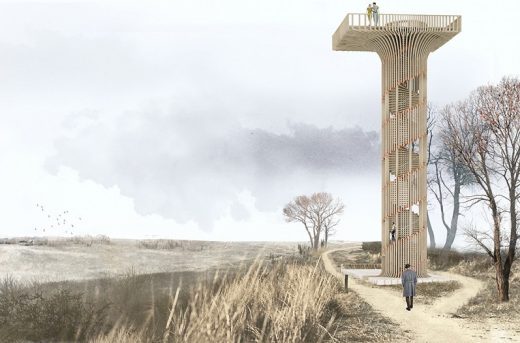 image Courtesy architecture office
Hoge Blekker Watchtower, Koksijde
How do you create a touristic landmark that catches people's attention whilst fluidly merging with the surroundings? Connecting landscape and landmark formed a basis for the winning design by NEXT architects for the Hoge Blekker, a watchtower on the Belgian coast.
30 Mar 2018
Wetenschapspark Arenberg Masterplan, Leuven
Design: KCAP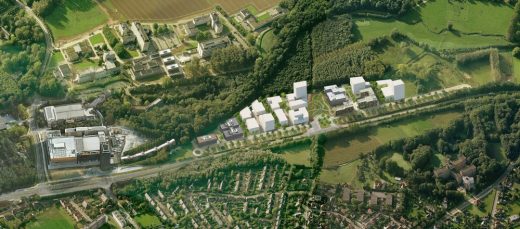 image © KCAP
Wetenschapspark Arenberg Masterplan
Rotterdam, 29th of March 2018 – The masterplan for 'Wetenschapspark Arenberg' in Heverlee has been updated. The science park is an important link in the further development of the Leuven knowledge region.
18 Mar 2018
Port House, Antwerp
Design: Zaha Hadid Architects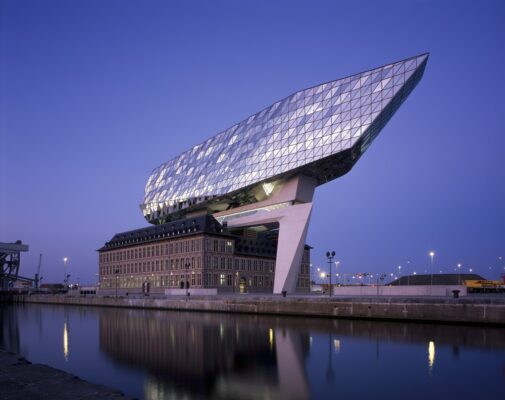 photo © Helene Binet
Port House Antwerp Building
Following its commendation by the Architectural Review's 'New into Old' awards in December 2017, Port House in Antwerp has been named 'Best Refurbished Building' at the MIPIM Awards 2018.
23 Feb 2018
Flanders Architecture Institute Events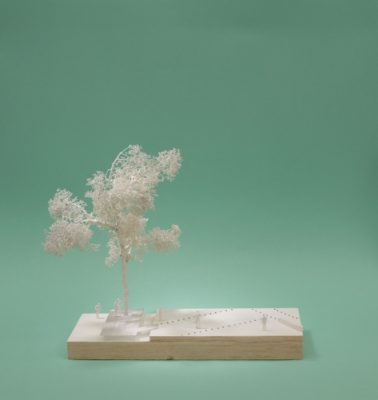 image courtesy of Flanders Architecture Institute
Flanders Architecture Institute Events
The ACROSS lecture series provides a forum for young Belgian architects on both sides of the language border. On 27 February, Brussels-based GRUE kicks off the new season, while landscape architect Bas Smets provides an introduction.
More Belgian Architectural News online soon
Belgiaum Buildng Updates 2017
8 Dec 2017
Place Schuman Building, Schuman Roundabout, Rue de la Loi, European Quarter, Brussels
Design: COBE (DK) & BRUT (BE)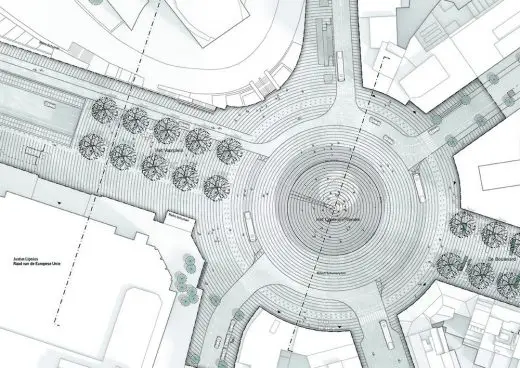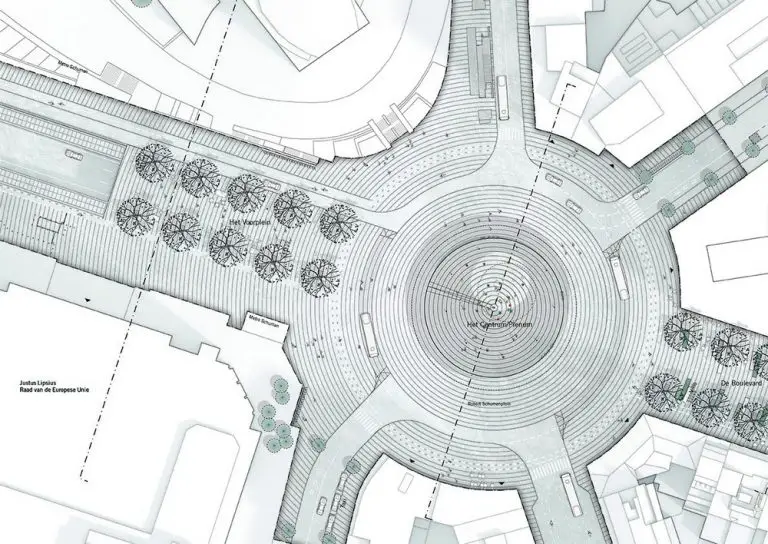 image Courtesy architecture office
Place Schuman Building
New urban square and pedestrian zone for Bruxelles Mobilité: from roundabout to urban agora – COBE and BRUT to design the entrance to the European Union
7 Nov 2017
Lorette Convent Apartments, Drabstraat, Mechelen
Architects: dmvA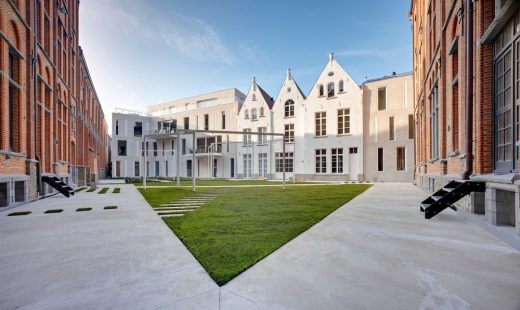 photograph : Bart Gosselin
Lorette Convent Apartments in Mechelen
By provoking action and reaction between past and present through the application of contemporary architecture, the remodeling of this entire block of buildings—including landmark buildings such as Hooghuys and the former Lorette convent—adheres to this evolutionary principle.
25 Sep 2017
The Herman Teirlinck Building, Havenlaan, Brussels
Design: Neutelings Riedijk Architect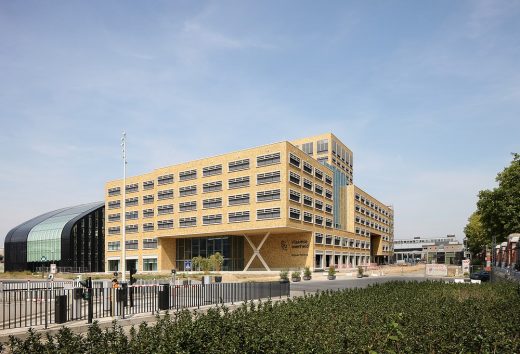 photograph : Filip Dujardin, Ghent
The Herman Teirlinck Building in Brussels
14 Sep 2017
Antwerp Tower, Antwerp
Design: WAA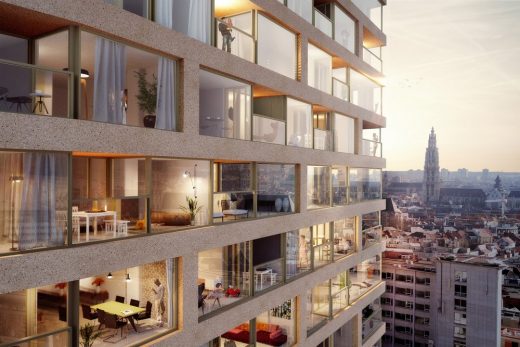 image Courtesy architecture office
Antwerp Tower in Belgium
Situated on a corner site, adjacent to the Flemish Opera, the Antwerp Tower is an existing building that will be repurposed to hybrid-programmed residential tower, reusing the existing building's structure, and shape. It is the third tallest building in Antwerp at 87m high, but due to be 100m on completion.
29 Jun 2017
Radisson RED Brussels Hotel Building News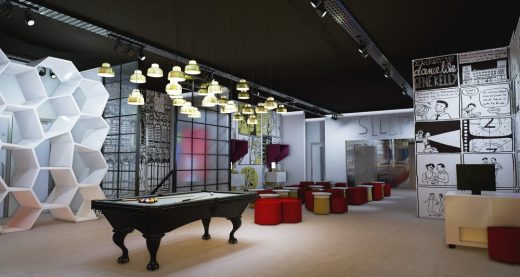 photo © Carlson Rezidor Hotel Groupe
Radisson RED Brussels Hotel Building
Soluis Group and Graven Images have teamed up to design a new hotel for Radisson RED, Carlson Rezidor's new upscale lifestyle select brand inspired by the millennial lifestyle and fuelled by art, design, music and fashion. Designers at Graven Images developed sketches and initial design ideas, which Soluis Group then turned into 3D visualisations.
12 May 2017
Mies van der Rohe 2017 Emerging Architect Prize Winner – NAVEZ Brussels Building, Schaarbeek, Brussels
Design: MSA/V+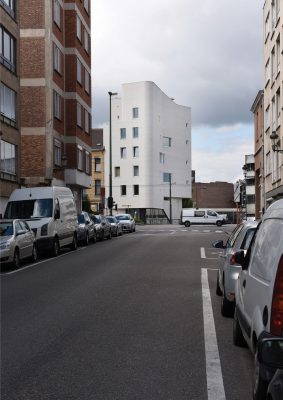 photo © Serge Brison
NAVEZ Brussels Building
This housing project that fulfills the double ambition of the local authorities: to represent the urban revalidation scheme with a landmark at the entrance of the city and to provide exemplary apartments for large families. The client is the City of Schaerbeek.
Mies van der Rohe 2017 Emerging Architect Award Winner
7 May 2017
Barco One Kortrijk, Belgium Headquarters Building, Kennedypark and Beneluxpark, Kortrijk, West Flanders
Design: Jaspers-Eyers Architects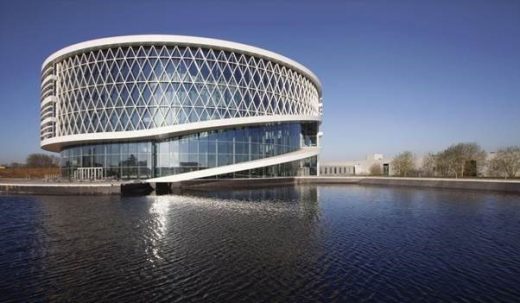 image from architects
Barco One Kortrijk, Belgium Headquarters Building
Alternatively known as 'The Circle,' the project uses transparency as a key theme. The glass facade was designed by Jaspers-Eyers Architects to form a skin around the circular building's open plan central atrium space, where daily activities are illuminated with a full 360 degrees of natural light.
Shopping Towns Europe, deSingel International Arts Campus, Antwerp
Flanders Architecture Institute Exhibition
Shopping Towns Europe is the second edition of the Architecture Cabinet, a fast switching exhibition format that allows the Flanders Architecture Institute to address topical research and design. The exhibition Shopping Towns Europe explores the introduction and dissemination of the regional shopping centre in Europe between 1945 and 1975.
23 Feb 2017
Quai de Rome – New Sustainable Wooden Supermarket in Liège, Province of Liège, Wallonia
Design: MDW ARCHITECTURE with H+G Architects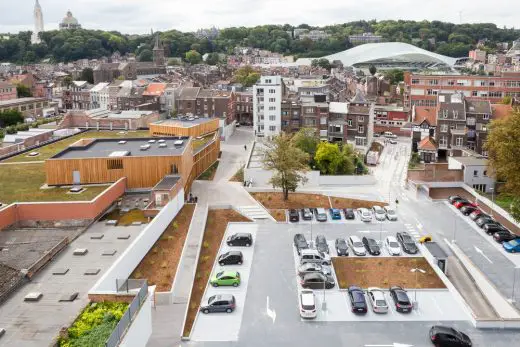 photograph © Séverin Malaud
Wooden Supermarket in Liège
The singular ambition of this project is to show that a development programme as basic as a supermarket can, if handled with ambition and craftiness, become a subtle operation of urban acupuncture that heals the place where it is built.
3 Jan 2017
DC L-Berg, Ghent – Nominated for Mies van der Rohe 2017 Awards
Design: architecten de vylder vinck taillieu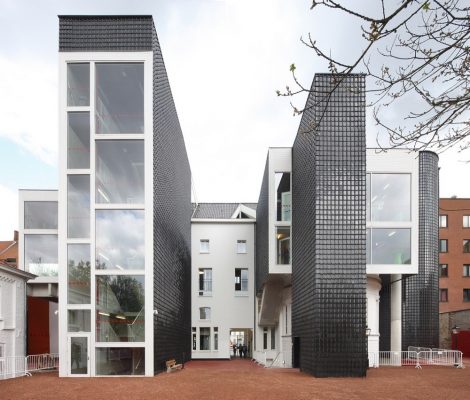 photo © Filip Dujardin
DC L-Berg Ghent Building, Ledeberg
A grand, nineteenth century façade, a structure of 'stacked tables' and a leitmotif of shining, black volumes form together the new social services centre in Ledeberg.
Belgium Building Updates
23 Dec 2016
The Labyrinth, Genk, Limburg
Design: Gijs Van Vaerenbergh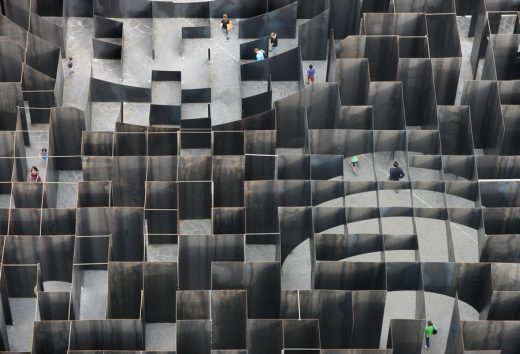 photo © Filip Dujardin
The Labyrinth: Limburg Public Structural Sculpture
A collaboration of young Belgian architects and artists Pieterjan Gijs (1983) en Arnout Van Vaerenbergh (1983) – realized an experimental labyrinth to mark the tenth birthday of arts centre C-mine (Genk, Belgium).
23 Dec 2016
Mons International Congress Xperience (MICX), Mons
Design: Studio Libeskind, architects, with H2a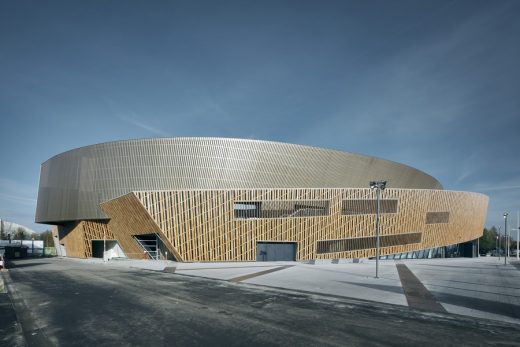 photograph : Georges De Kinder
Mons International Congress Xperience
Conceived as a new architectural landmark for Mons, the new convention center is a key element in a plan for economic revitalization, and serves as a connector between the old and the new. From the viewing platform at the top, a visitor can spy the 17th-century Belfry tower, a UNESCO Heritage Site, in the historic center of town, a new train station designed by Santiago Calatrava and the La Haine river.
13 Dec 2016
Call for Design Teams for Antwerp Ring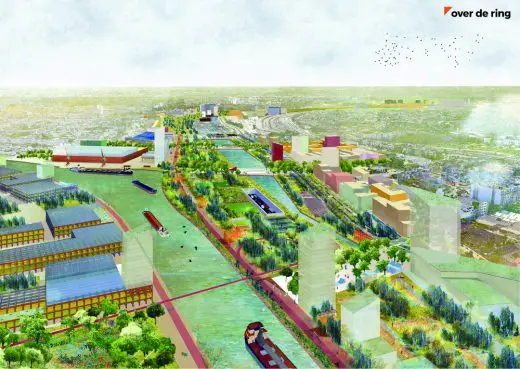 image courtesy of architects
Antwerp Ring Cover Design
In early 2016, the Flemish government appointed intendant Alexander D'Hooghe, with the assignment to prepare a road cover and liveability project by the beginning of 2018 for the R1 (the Ring through Antwerp).
6 Dec 2016
Cultural Plaza and Digital Port, Namur, Wallonia
Architects: 3XN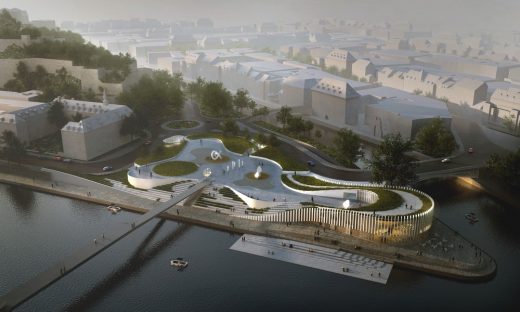 image from architects
Belgian Cultural Plaza and Digital Port
At the confluence of the Meuse and Sambre rivers, adjacent to the historic Roman citadel and across from the Wallonian Parliament in Namur, Belgium; 3XN's 'beautiful game of terraces' invites the rediscovery of this historic setting.
21 Oct 2016
Botanic Center Bloom, Brussels
Design: Vincent Callebaut Architectures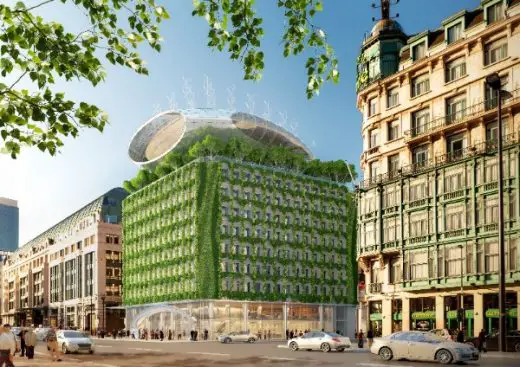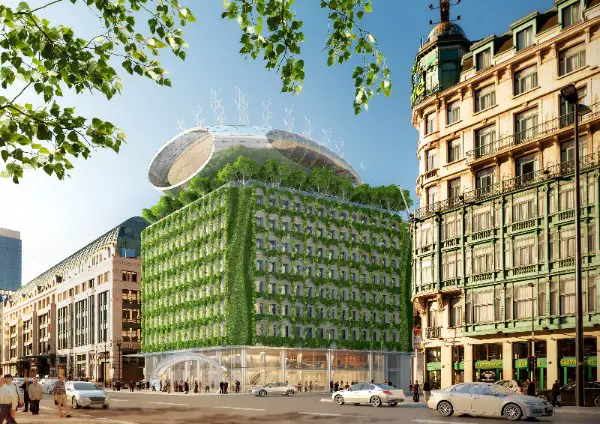 image from architect
Botanic Center Brussels Building
15 May 2016
Rot-Ellen-Berg Oudenaarde, Flemish province of East Flanders
Design: Architecten De Vylder Vinck Taillieu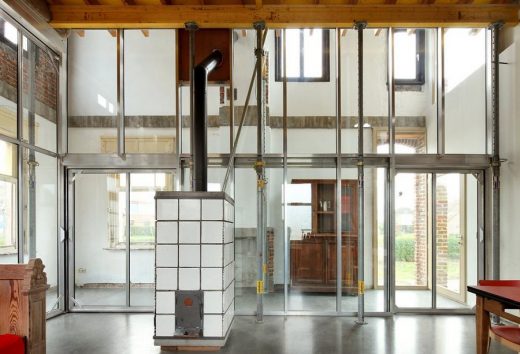 photograph : Arno Roncadan
Oudenaarde building in East Flanders
24 Mar 2016
The Vegetable Palace, Flanders
Design: van Bergen Kolpa Architects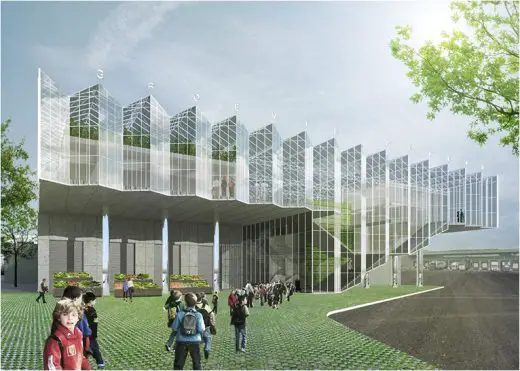 image courtesy of architects
The Vegetable Palace Flanders
27 Jan 2016
Le Toison d'Or, Brussels
Design: UNStudio, Architects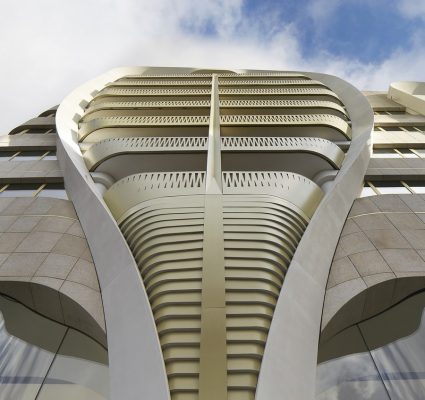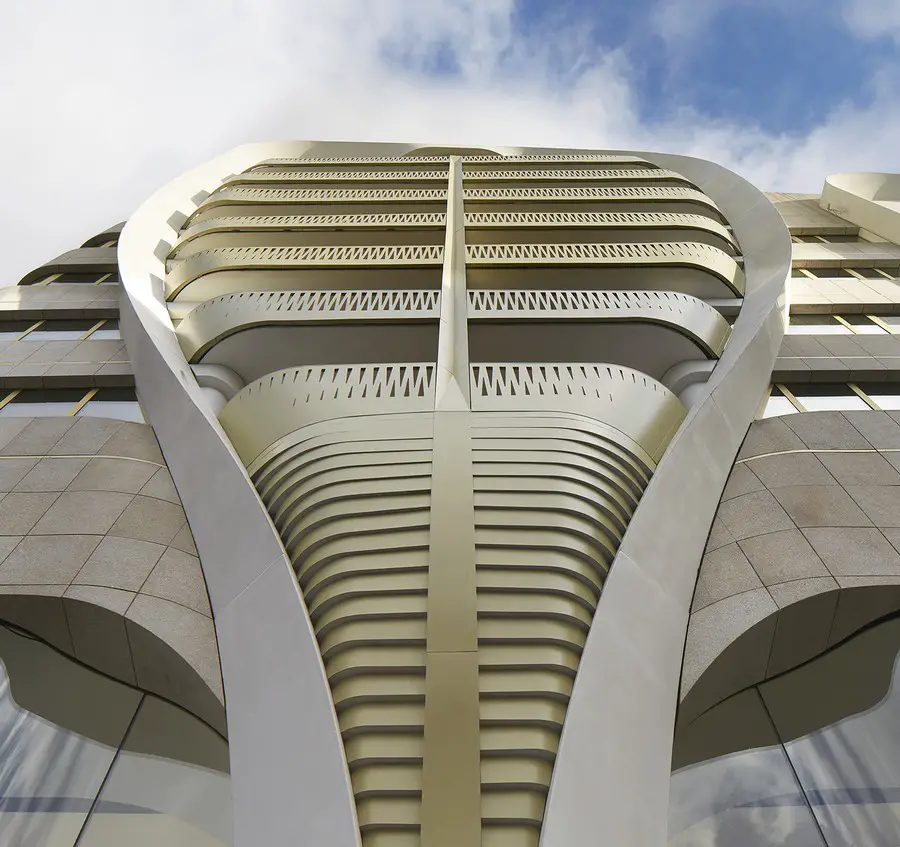 photography © Hufton+Crow © Eva Bloem
Le Toison d'Or Brussels Building
Designed for ProWinko and in collaboration with Belgian architects Jaspers-Eyers, Le Toison d'Or is a hybridisation of a traditional building-block typology and a mixed-use development with a retail podium.
26 Oct 2015
Multisensory Railway Museum
Design: Lightemotion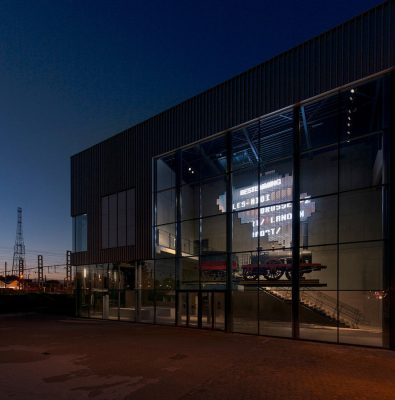 photograph : Marie-Francoise Plissart
Multisensory Railway Museum in Brussels
Train World, the new Belgian railway museum, opened on September 25 after ten years of work and an investment of 25 million euros. Lightemotion, creative office in Montreal, is pleased to have participated in the lighting of this new past, present and future railway showcase, which exhibits the most beautiful original pieces of the country's history collection.
More Belgian Architecture News online soon
Location: Belgium, western Europe
Architecture in Belgium
Belgian Architectural Designs – chronological list
Comments / photos for the Belgian Architectural News page welcome