Belgian Architecture, Architect, Belgium Architectural Designs, Projects, Property, News, Photos
Belgian Architecture : Buildings
Key Belgium Property + Architectural Developments, Europe
post updated 13 Feb 2020
Belgium Architecture Links
Belgian Architecture
e-architect choose Belgian Architecture of strong design intent and of architectural signficance.
We cover completed buildings and new building designs across Belgium.
Belgian Architecture : news (this page)
Belgian Architecture Designs : A-B
Belgian Building Designs : C-K
Belgian Building Developments : L-P
Belgian Buildings : Q-Z
Belgian Building – Latest Designs + Additions
Belgian Architecture News, chronological:
28 Apr 2018
Kanaal Vervoordt
Renowned art dealer Axel Vervoordt enlisted the Belgian architectural practices Stéphane Beel architects, Bogdan & Van Broeck, Coussée & Goris architects to create an urban haven on the Albert canal near Schoten, Antwerp.
25 Apr 2018
Podil Masterplan Proposal, Kiev, Ukraine – by Belgian architects OMGEVING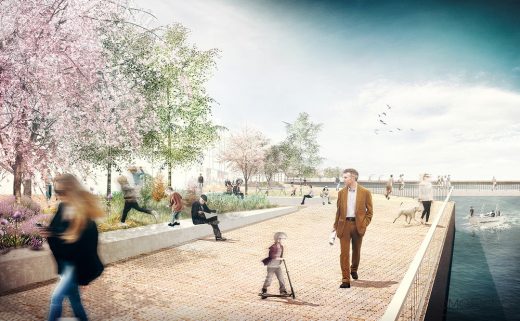 image courtesy of architects
Antwerp-based design office Omgeving wns the international design competition for the public areas of the new Podil site in Kiev, Ukraine:
Podil Masterplan
2 Apr 2018
Camp's
Dhooge & Meganck Architecture complete project Camp's, a factory for the production of mustard, pickles, pickled vegetables and vinegar in Oudenaarde in Belgium.
Port House, Antwerp– 22 sep 2016
Design: Zaha Hadid Architects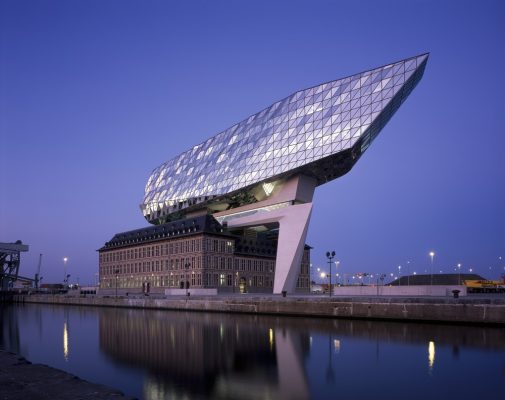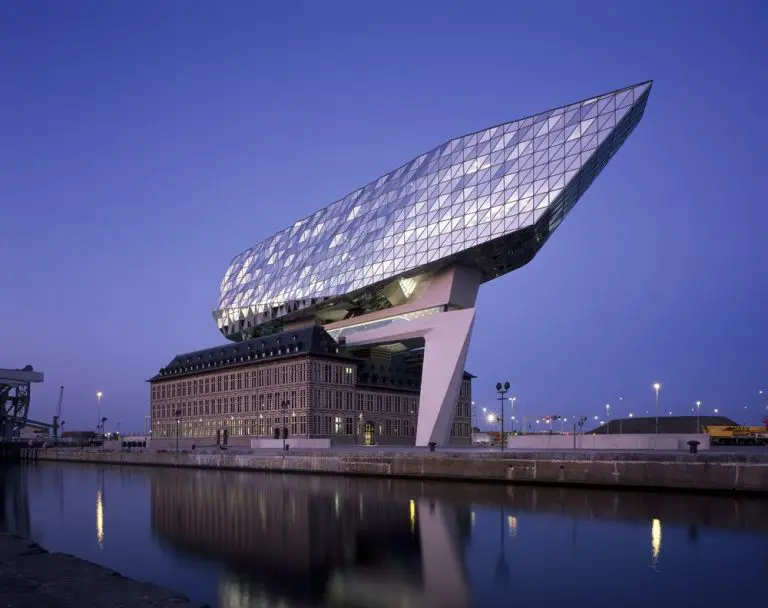 photo © Helene Binet
This new building repurposes, renovates and extends a derelict fire station into a new hq for the port. Following the construction of a new fire station with facilities needed to service the expanding port, the old fire station on the Mexico Island site became redundant and relied on a change of use to ensure its preservation.
Rabbit Hole, Gaasbeek, Belgium – 17 Sep 2013
Design: Lens°Ass architecten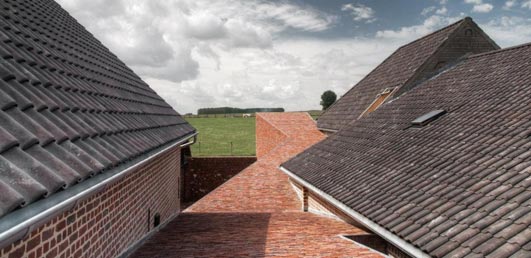 photograph : Andri Haflidason
An intriguing Belgian building conversion: farm, including five buildings, becomes a private family home and veterinary practice. The ground floor of the residential building with the adjoining cow stables was converted into a veterinary practice and a garage. The upper floor accommodates a guestroom at the front and the children's bedrooms at the back. The windows were recessed in the roof's depth to conserve the rural character.
Court Justice in Hasselt – 11 Sep 2013
Design: J. MAYER H. Architects / a2o-architecten / Lensºass architecten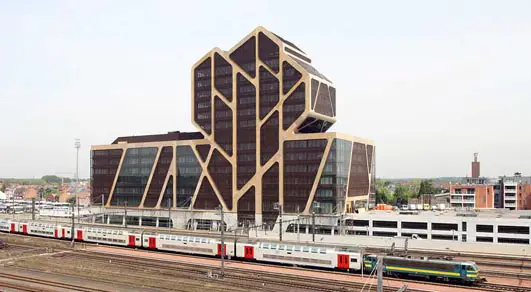 photo : Filip Dujardin
September 13th, 2013 marks the opening of "Court of Justice" in Hasselt. The new court of justice is an open, transparent building with direct public access, combining the Court of Justice with a university library and auditoriums for the faculty of law. In keeping with the building's logistical requirements and safety provisions, the structure is divided into three separate units: courtrooms, the library for students and an office tower with a 64m-high panorama restaurant on top from which offers a panoramic view of the city of Hasselt and its surroundings.
Exploration Trail in Former Coal Mine Tunnels, Genk, south east Belgium – added 3 Sep 2013
Design: Architectenbureau L-Groep CVBA, NU architectuuratelier



photo : Stijn Bollaert
The Exploration Trail, is the winning project for the design of an underground expedition within the reconversion of the old mine- complex. It is a low tech experience tour under and above the ground, made by linking some existing subterranean mine-industry constructions with new structures and tunnels.
House GEPO, Wijgmaal – 27 Aug 2013
Design: OYO – Open Y Office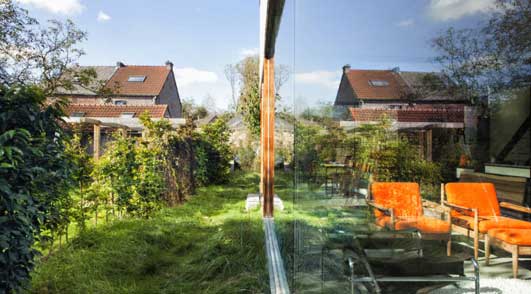 photo : Tom Janssens
The garden is the living room, the small lake the bathroom. The kitchen you'll find next door. OYO chose for a minimalistic approach, omitting fancy details. There is no need of ornament. This and others choices result in a low budget home that sticks perfectly to the basic idea of living, functioning very open minded.
Ice Rink Liège, Wallonia – 11 Aug 2013
Design: L'Escaut – Weinand (Momentary Association)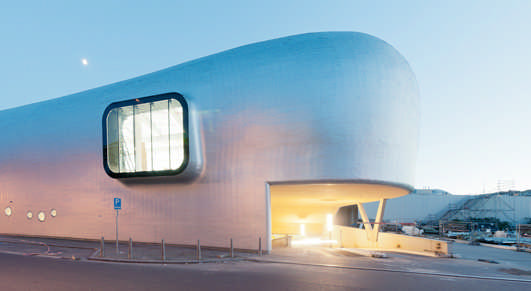 photo © Marc Detiffe
This building appears to be' all about the exterior': shaped like a whale, very eye-catching but why? The pursuit of the icon has led much large-scale architecture of the last decade and has been criticised for producing stunning but 'empty' architecture lacking the consistency and depth of say the International Style. Non-architectes lap it up, flocking to the latest exciting building such as Bilbao's Guggenheim and can't understand why architects don't relax a bit and enjoy more colour and exuberance in their architecture. But like any discipline, once you have been educated professionally you learn to appreciate the nuances and rigour of certain approaches to your chosen profession whether you are playing the violin or a fashion designer.
Swimming pool K, Grimbergen, Flemish Brabant, Flanders, northern Belgium
Design: dmvA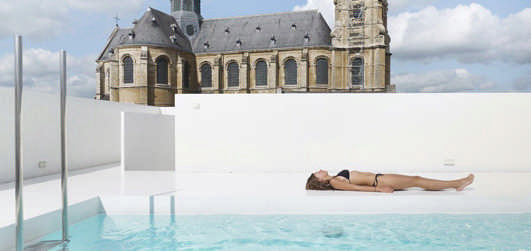 photo : Frederik Vercruysse
Swimming Pool in Belgium – 19 May 2013
The architects describe this design thus: "although the principal dreamt for years of a swimming pool in his small garden, he chose to renovate his 17th century gentleman's house first. While the contractors were about to start the works, the uninhabited school building, adjoining his garden, was offered for sale. The principal did not hesitate, works were stopped and the school building was bought. After many analyses and intense discussions it was decided to realise the swimming pool project first".
Schaarbeek Sports Hall, Schaarbeek, Brussels, Belgium
Design: O2 Architectes



photo : Filip Dujardin
Schaarbeek Sports Hall – 16 Apr 2013
The sports hall plays an important role as urban and social invigorator. It is a local landmark for neighbouring young people, particularly for those who don't have access to any other recreational facility than neighbouring squares and streets.
Cemetery of Hoog-Kortrijk, western Belgium
Design: SumProject + Souto Moura Arquitectos



photo : Luis Ferreira
Crematorium Uitzicht – 9 Apr 2013
It is a matter of searching for calm and make peace with the impressive landscape of Hoog-Kortrijk. The cemetery of Hoog-Kortrijk is a serene place that folds with the landscape, with plateaus that slip rhythmically over the slope.
Zero Energy House, Lokeren, northern Belgium
Design: BLAF Architecten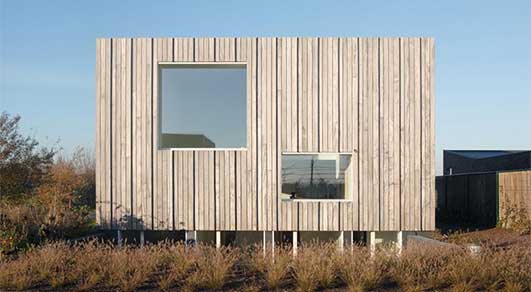 photo : Stijn Bollaert
Zero Energy House Belgium – 26 Feb 2013
The allotment creates a condition that is both generic and specific, context and non-text. The house deals with this condition in an apparently indifferent way, whilst in fact it is questioning the allotment: it is reformulating the concept of the front, side and back facade by addressing the surroundings in equivalent ways, and it is consciously leaving any kind of fencing behind.
Buda Art Centre – Budafabriek, Kortrijk, western Belgium
Design: 51N4E



photo : Filip Dujardin
Buda Art Centre – 12 Feb 2013
The last remaining textile factory on Buda Island – an area destined to become the cultural heart of the city – has been transformed into a number of multifunctional spaces. This large volume of 4.240m² on a site of 3.900m², situated in the middle of a city block, has been adapted through two main interventions.
More Belgian Building Designs online soon
Location: Belgium, northern Europe
Rapp + Rapp : Belgian Architecture Office
Property Developments in countries adjacent to Belgium
French Architecture



photo : Philippe Ruault
Hergé museum, Louvain-la-Neuve
Atelier Christian de Portzamparc



picture © Nicolas Borel
Herge Museum building
Belgian Architecture Studio : Robbrecht en Daem
Buildings / photos for the Belgian Architecture page welcome