Mons International Congress Xperience, Belgium Building Images, Architecture, Architect
Mons International Congress Xperience Building
MICX: Belgian Venue Building: Architecture – design by Studio Libeskind architects / H2a
page updated with new photos 23 Dec 2016 ; 5 May 2015
MICX in Belgium
Design: Studio Libeskind architects, with H2a
Location: Mons, Belgium
Designed by Studio Libeskind in collaboration with local partner H2a and general contractor CIT Blaton/Galère.
Mons International Congress Xperience (MICX)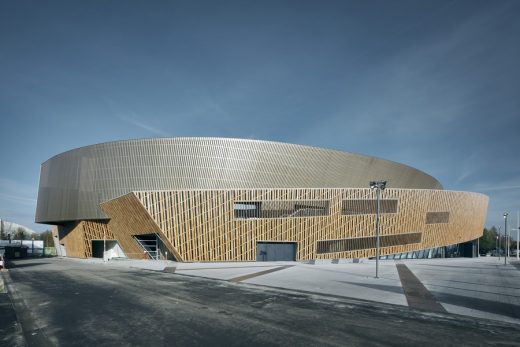 Conceived as a new architectural landmark for Mons, the new convention center is a key element in a plan for economic revitalization, and serves as a connector between the old and the new. From the viewing platform at the top, a visitor can spy the 17th-century Belfry tower, a UNESCO Heritage Site, in the historic center of town, a new train station designed by Santiago Calatrava and the La Haine river.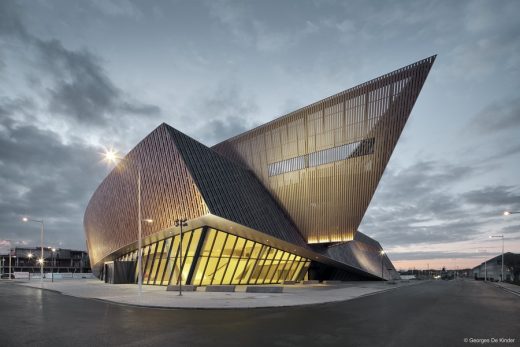 The 12, 500 sq. meter (41,010 sq feet) Centre is an expression of contrasting geometric forms. The Center houses a grand entrance hall, three auditoriums, a multi-purpose event hall, conference rooms, offices, a restaurant, an underground parking and a public roof terrace.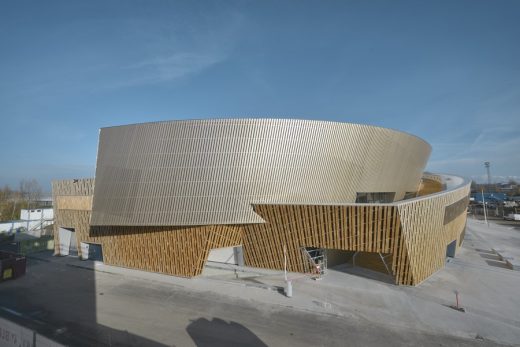 "We used simple, yet dramatic, design gestures, local materials and a flexible program for this modest gem of a building," said Daniel Libeskind." We hope the new center brings a fresh dynamic to this area of revitalization in Mons," adds Libeskind.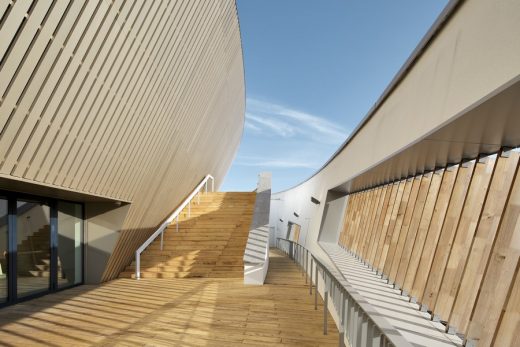 Clad in a manner that gives texture and light to the structure, canted ribbon walls of curved champagne, anodized, aluminum wrap the form upwards to a prow that cantilevers over the street to the north. The lower walls are clad with vertical slats of unfinished Robinia wood that echo the trees in a neighboring park. In plan, the Center is a spiral that ascents on its self and articulates a planted green-roof and public terrace. To the north, at street level the façade appears to lift up to reveal a glazed entrance, finished with deep blue aluminum mullions.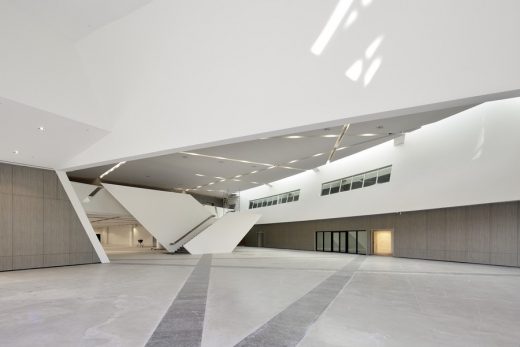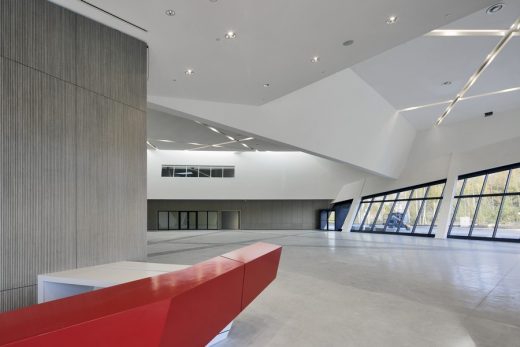 To maintain the visual integrity of the form, the architect inserted few windows along the ribbon wall—and those are fronted by slats that are rotated to allow for daylight and views. Surrounding the complex is a forecourt of polished, light grey concrete, flecked with bands of Belgium blue stone. These blue bands continue onto the ribbon walls and into the interior forming an irregular pattern that unifies the design.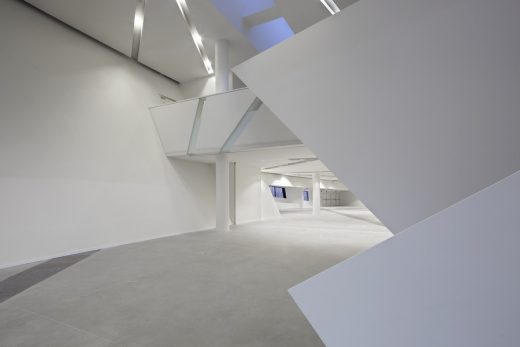 Visitors enter the space to encounter a bright, open double-height lobby or "Forum". Here skylights cut through the length of the crescent-shaped space at irregular intervals to usher in daylight, and create shifting patterns of natural illumination. Soft grey concrete floors are cross-hatched with inlaid Belgium blue stone, and a sculptural grand staircase constructed of cast-in-place concrete and finished with a white gloss surface and blue stone steps that lead visitors to the upper auditorium floors.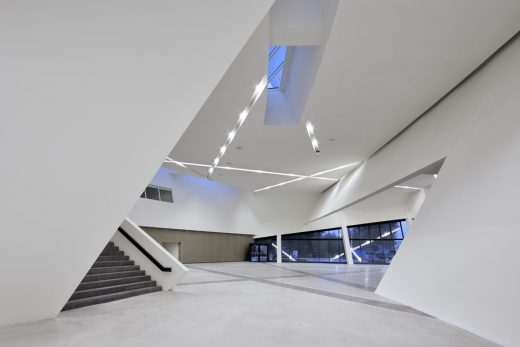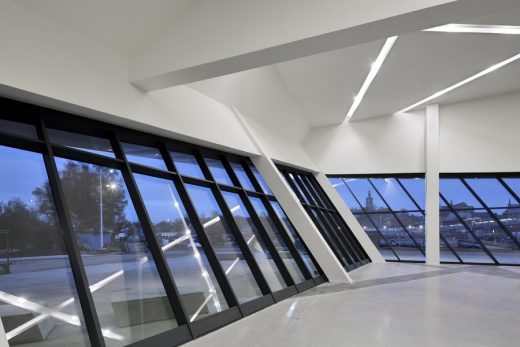 The Center features three auditoriums of varying sizes: 500; 200; and 100 seats, each fitted with vibrant orange Tangram seats that Daniel Libeskind designed for Poltrona Frau/Cassina. In addition to the Forum, which can host special events, parties and temporary exhibits, the Center features a 380 sq. meter (4,090 sq. ft.) dedicated multi-event space as well as 16 meeting rooms of varying sizes and with flexible layouts.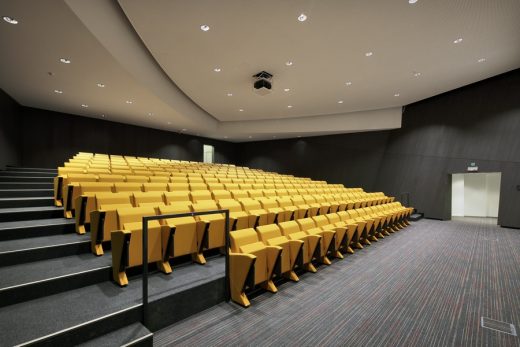 Sustainability
Highly energy efficient, with a green roof, passive shading, night cooling and fitted with photovoltaic cells, the MICX is on track to achieve Valideo status B, Belgium's equivalent to LEED GOLD.
"For me sustainable building is not a new design trend or an added feature, it is about common sense and quality. If you build in the right way using high-quality materials, innovation and technology, you will create something long lasting and sustainable," said Daniel Libeskind.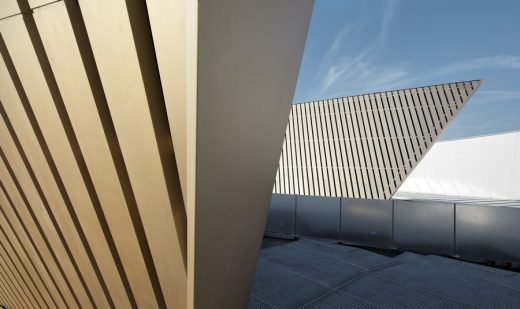 About Studio Libeskind
Daniel Libeskind established his architectural studio in Berlin, Germany, in 1989 after winning the competition to build the Jewish Museum in Berlin. In February 2003, Studio Daniel Libeskind moved its headquarters from Berlin to New York City when Daniel Libeskind was selected as the master planner for the World Trade Center redevelopment. Daniel Libeskind's practice is involved in designing and realizing a diverse array of urban, cultural and commercial projects internationally. The Studio has completed buildings that range from museums and concert halls to convention centers, university buildings, hotels, shopping centers and residential towers. In addition to the New York headquarters, Studio Libeskind has European partner offices based in Zürich and Milan, Italy.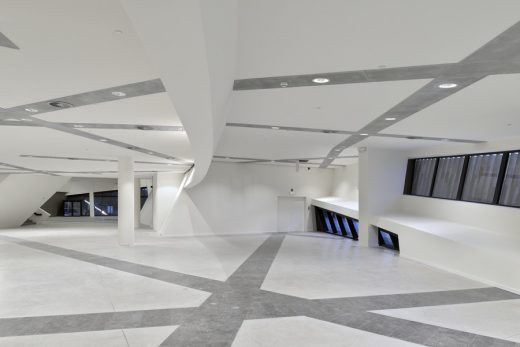 MICX – Building Information
Project Overview
Situated between the historic center and the Grand Prés quarter, the MICX will serve as an architectural landmark and a key element in a plan for economic revitalization. The center will be a place for meetings, conferences and events, for the public and private sector. The building includes auditoriums, meeting rooms and special event spaces, all equipped with state-of-the-art technology.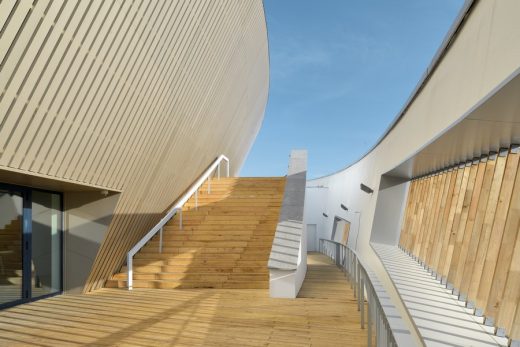 Design Highlights
– Sculptural façade of contrasting anodized aluminum and Robinia wood Iconic 11-meter-high prow that cantilevers over the extended Avenue Thomas Edison Open-air roof-top terrace that provides dramatic views of the Belfry (UNESCO World Heritage site)
– Double-height lobby featuring two curvilinear crescent-shaped skylights (22m and 34m lengths) that articulate the curved ribbon walls
– A grand staircase formed by two interlocking monolithic canted asymmetrical structures
– Orange Poltrona Frau/Cassina Tangram auditorium seats design by Daniel Libeskind
The Mons International Congress Xperience (MICX) opened to the public and kicked off the Cultural Capital of Europe 2015, on January 9, 2015.
Scale
Total floor area: 12,500 sq. m. / 134,548 sq. ft.
Program area: 6800 sq. m. / 73,194 sq. ft.
Total of floors: 3 (+1 parking)
Lobby /Forum: 800 sq. m. / 8,611 sq. ft.
Reception area: 800 sq. m. / 8,611 sq. ft.
Restaurant: 730 sq. m. / 7,858 sq. ft.
Auditoriums: 3: 500 seats; 200 seats; 100 seats
Total auditorium seating: 800 seats total
Meeting rooms: 16 rooms (large and small for individual use)
Underground parking: 5000 sq. m. / 53,819 sq. ft.
Number of parking spots: 157 spots
Multi-purpose event space: 380 sq. m. / 4,090 sq. ft.
Terrace with viewing platform: 470 sq. m. / 5,060 sq. ft.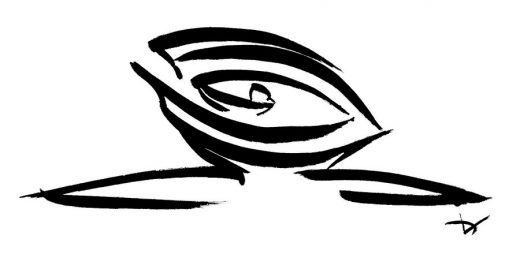 Sustainability
Set to achieve B Valideo status, Belgium's equivalent to LEED GOLD.
The MICX's sustainable highlights include:
– green roof above forum for water retention and to absorb heat
and reduce demand on heating and cooling systems
– 160 sq. m. of photovoltaic solar cells
– geothermal heating system
– passive shading
– high level of insulation
– natural, durable materials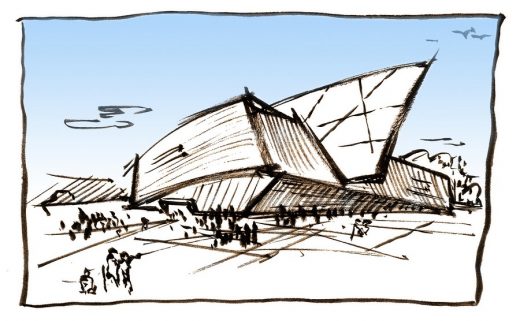 Materials
Primary structure: cast-in-place concrete
Curved ribbon walls: Concrete 3DR system, utilizing mesh in-situ form work
Façade: Anodized aluminum / Robinia wood / plaster
Prow: Galvanized steel, cladded with anodized aluminum
Floors: Light grey concrete with inlaid Belgium blue stone
Interior ribbon walls: White plaster
Walls: Warm grey wood panels in the lobby, restaurant, and multi-purpose event space and dark brown wood panels in auditoriums
Grand staircase: Cast in place concrete with white plaster finish and blue stone steps
Auditorium seats: Orange Poltrona Frau/Cassina
Windows: Aluminum curtain wall, blue paint finish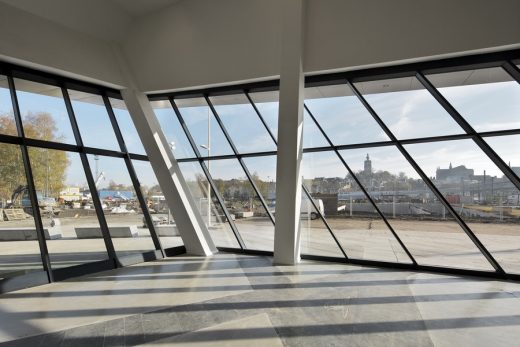 Landscaping
Surrounding the complex is a forecourt of polished, light grey concrete, flecked with bands of Belgium blue stone pavers
Dates
Competition: 2010
Construction start: June 2012
Grand opening: January 9th, 2015
Total Building
costs €27 million (incl. taxes)
Owner City of Mons
The Construction Team
Architect: Studio Libeskind (USA) in association with H2a Architecte & Associés (Belgium)
General Contractor: CIT Blaton/Galère (Belgium)
Plan Coordination: Semaco PM
Sustainability: Neo & Ides
Structural Engineer: Ney & Partners
Acoustical Engineer: Venac
Electrical Engineer & Installations: Putman (Belgium)
Mechanical Engineer & Installations: Energys (Belgium)
Façade Engineer & Installations: Somec Group (Italy)
Seco Technical review
Idea Technical advisor to the City, delegate project manager
Auditorium Seats: Poltrona Frau/Cassina ('Tangram' Libeskind Design)
Doors: Svedex (featuring Libeskind Design Door)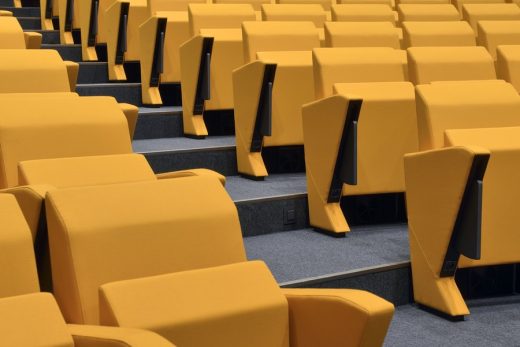 Photographs: Georges De Kinder
MICX Mons International Congress Xperience images / information from Studio Libeskind
Location: Mons, Belgium, western Europe
Architecture in Belgium
Belgian Architectural Designs – chronological list
Belgian Architecture – selection below:
Hergé museum
Design: Atelier Christian de Portzamparc



image © Nicolas Borel
Antwerp Port House
Design: Zaha Hadid Architects



picture from ZHA
Covent Garden Brussels Building
Website : Studio Libeskind
Comments / photos for the Mons International Congress Xperience page welcome
Website : Belgium