Union Station Building, Los Angeles Transport Masterplan, Photos, Californian Design
Union Station Master Plan, Los Angeles : L.A. Transit Hub
LA Transit Hub Building, California design contest, USA
Jan 28 + 27, 2014
LA Union Station Master Plan
LA Union Station Master Plan enters final stage
Design: Gruen Associates with Grimshaw
27 January 2014 – The Metro Board of Directors Planning and Programming Committee has unanimously approved the team of Grimshaw and Gruen Associates to begin the third and final phase of the new LA Union Station Master Plan.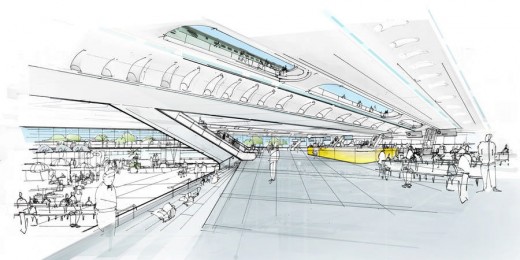 images : Grimshaw
The Master Plan, which was awarded to Grimshaw alongside Los Angeles architectural practice Gruen Associates in 2012, will include a new multi-modal concourse, a relocated bus plaza and the potential integration of a high speed rail station at the site. This phase will also include studies on implementation strategies, governance, financing and phasing for the 42 acres surrounding the national historic landmark.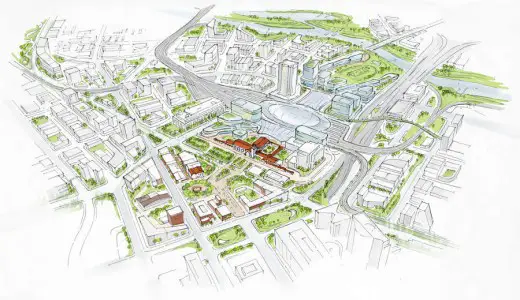 The vision for this innovative master plan incorporates an optimised transport solution between local and regional modes of transit, serving as a catalyst for progressive development. Through a rigorous process of preparing and evaluating draft alternatives of high speed rail, regional and local rail, light rail, subway, bus, bike and pedestrian flow, the team has aimed to facilitate transit operations, improve access and circulation through the station, and enhance passenger and visitor experience.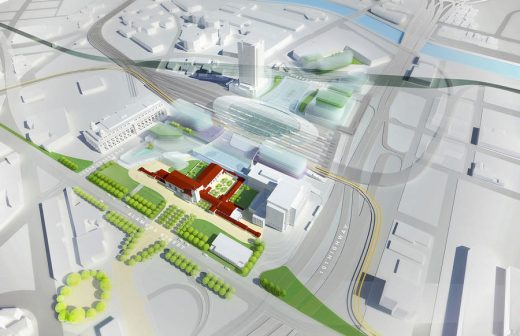 The expanded station's base transport functions and its amenities have been designed to re-establish Union Station as an integral and connecting centrepiece for its surrounding neighbourhoods.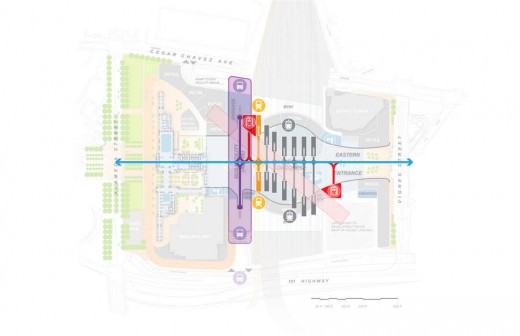 A broad range of programme uses will create an identifiable, vibrant downtown destination that is permanently active. The consortium is devising a phased and flexible proposal for development that will promote long-term progress and increased efficiency of transport uses.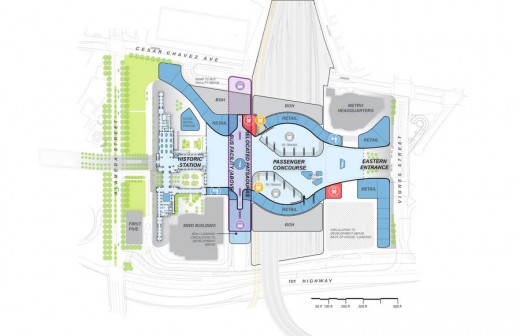 29 Jun 2012
Union Station Master Plan, Los Angeles
Los Angeles Metro Approves Gruen / Grimshaw for Union Station Master Plan
Design: Gruen Associates with Grimshaw
The Los Angeles County Metropolitan Transportation Authority (Metro) Board of Directors today approved LA-based Gruen Associates, in association with London's Grimshaw Architects, as the consultant team for the creation of a masterplan for the historic Union Station and its surrounding 40 acres. Metro CEO Art Leahy was authorized by the board to execute a firm fixed price contract not to exceed $4,150,000.
1 May + 27 Apr 2012
Union Station Los Angeles
Union Station Master Plan, Los Angeles, CA, USA
BEN VAN BERKEL / UNSTUDIO AND EE&K SUBMIT PROPOSAL FOR A SCOPE OF WORK TO DEVELOP A MASTER PLAN OF L.A.'S UNION STATION
UNStudio and EE&K a Perkins Eastman company, and Jacobs Engineering have submitted a proposal for a scope of work to develop a Master Plan of Los Angeles' Union Station.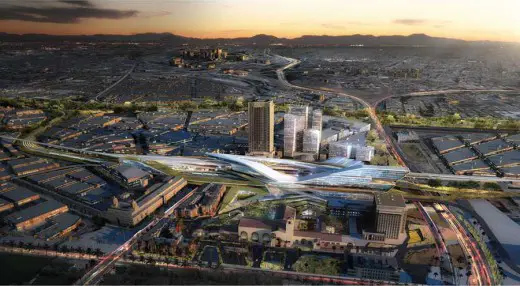 image : UNStudio
Ben van Berkel of UNStudio, along with Jonathan Cohn of EE&K, presented their 'Vision Board' – a conceptual rendering in the year 2050, showing Los Angeles Union Station as a multi-modal transit hub with a mix of uses, new development and outdoor spaces. The intent of the Vision Board was to explore visionary possibilities for Union Station and surrounding areas. The vision submitted does not portray the final design issues that will be examined in the Master Plan, however it does show a hint of the possibilities for the city and the regional transit hub of the future.
The Master Plan will be developed by an integrated team with UNStudio leading on architecture, EE&K leading on large scale design, and Jacobs leading on rail and infrastructure engineering.
One of the six teams to finalize for this submission will be selected at the end of June to undertake a 24-month Master Plan.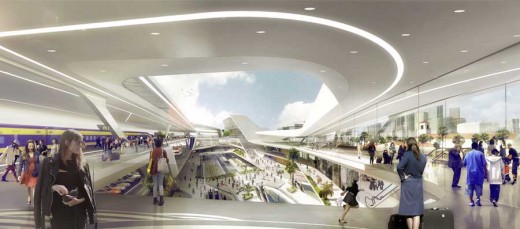 image : UNStudio
The conceptual launch pad for the design of the 'vision' for the L.A. Union Station Master Plan was focused on integrating the transit experience with new outdoor park spaces, providing a much sought after amenity in downtown L.A..
At a large scale, the vision creates a 'green loop that includes plans for the revitalization of the L.A. river and possible park extensions connecting Union Station across the 101.
Key to the future architectural development of the site is the maximum preservation of the historic Union Station building and gardens. City and regional transit will be given the stage, with a focus on increased ridership and transit connections, as well as considerations for the introduction of high-speed rail.
A uniquely programmed urban park with large-scale open spaces, extending the ideas of the existing historic courtyards, is envisioned as being integrated into the transit experience. The introduction of a vertical, layered strategy for the transit program show the possibility of an open-air station that takes advantage of city's light and climate, creating a distinctly L.A. response to the future of this important transit hub.
Ben van Berkel: "With our vision for the LA Union Station area we envision not simply a train station, but a new, flexible and lively transit location, catering for bikes, bus, train, cars and taxis for a wide variety of users. The mixed use programme would ensure a 24 hours cycle of activity and liveliness for residents, tourists, students and business people alike. Along with the preservation of the existing station, the extension of its open air courtyards into a large public landscape would guide and orientate all the various user groups by means of one large gesture."
Los Angeles Union Station Master Plan – Building Information
Title: Los Angeles Union Station Master Plan, Los Angeles, USA, 2012
Client: Metro
Location: 800 North Alameda Street, Los Angeles, CA
Building surface: n/a
Building volume: n/a
Building site: 40 hectares
Programme: train station, bus station, mixed use, parking, park
Status: RFP submission
Credits
UNStudio: Ben van Berkel, Caroline Bos, Wouter de Jonge, and Imola Berczi, Aurélie Hsiao with Martin Zangerl, Stefano Rocchetti, Elisabeth Brauner, Qiyao Li
Primary Team Composition
EE&K a Perkins Eastman company: Large Scale Design
UNStudio: Architecture, Iconic Places
Jacobs: Rail and Infrastructure Engineering, Constructability
Buro Happold: Facility Engineering, Energy, Sustainability, Performance Modeling
Extended Team Composition
EE&K a Perkins Eastman company: Large Scale Design
UNStudio: Architecture, Iconic Places
RAW International: Local and Existing Architecture and Planning
Jacobs: Rail and Infrastructure Engineering, Constructability
Buro Happold: Facility Engineering, Energy, Sustainability, Performance Modeling
Fuscoe: Civil Engineering
WORKSHOP: Ken Smith Landscape Architect: Landscape Design
Patricia Smith: Landscape Architecture
The Robert Group: Public Outreach
HR&A Advisors, Inc.: Financial Planning
Kosmont Companies: Land Use & Entitlements
Pentagram: Wayfinding and Identity Branding
Historic Resources Group: Historic Preservation
KOA: Transportation Engineering
Ducibella Venter & Santore: Security
Lenax: Cost Estimating
Zuma Pacifica: Surveyor
Location: Union Station, Los Angeles, Southern California, United States of America
Architecture in Los Angeles
L.A. Architectural Projects
Los Angeles Architecture Walking Tours
Los Angeles Architecture Links – chronological list
Los Angeles Architecture Designs
New Los Angeles Architecture – Selection
Beverly Center Renewal – The Mall of the Stars, 8500 Beverly Boulevard, edge of Beverly Hills and West Hollywood, L.A.
Design: Massimiliano and Doriana Fuksas, Architects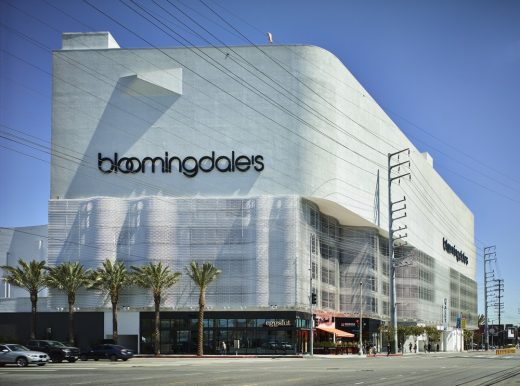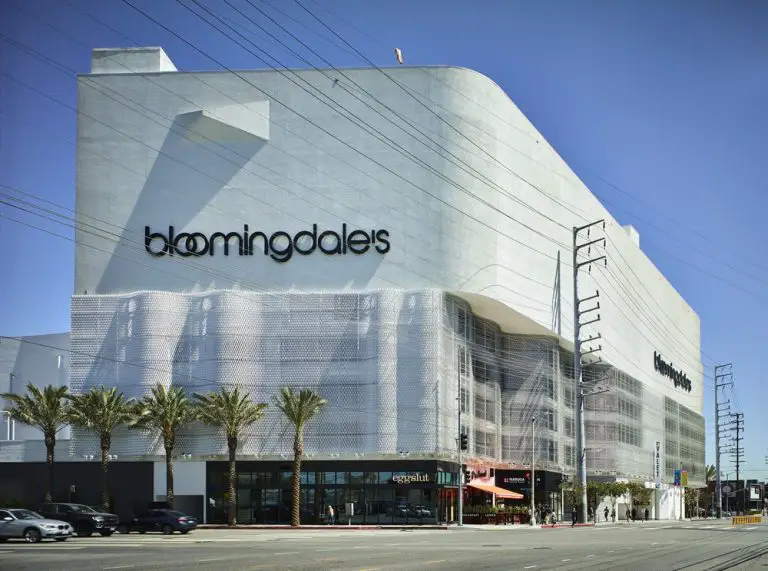 photo © John Linden
Beverly Center Building Renovation
Central Los Angeles Area High School #9 for the Visual and Performing Arts
Design: COOP HIMMELB(L)AU
Central Los Angeles Area High School #9 for the Visual and Performing Arts
Red Building at the Pacific Design Center
Pelli Clarke Pelli Architects
Red Building Pacific Design Center
The Broad Art Foundation
Diller Scofidio + Renfro
The Broad Art Foundation
LACMA Lynda and Stewart Resnick Exhibition Pavilion
Design: Renzo Piano Building Workshop (RPBW)
LACMA Lynda and Stewart Resnick Exhibition Pavilion
Website: Amtrak Los Angeles Union Station
Comments / photos for the Los Angeles Union Station page welcome