Los Angeles Building News 2022, L.A. Architecture Photos, Architects USA, California Real Estate, American Projects
Los Angeles Architecture Designs
Key Southern Californian Property Developments News, United States of America Built Environment + Architects Info
post updated July 20, 2022
Los Angeles Building News
Los Angeles Architecture Tours – architectural walks by e-architect
L.A. Architecture Designs – chronological list
Los Angeles Architecture – latest additions to this page, chronological:
July 20, 2022
Ocean Avenue Project – Development Wins Approval
Design: Gehry Partners, LLP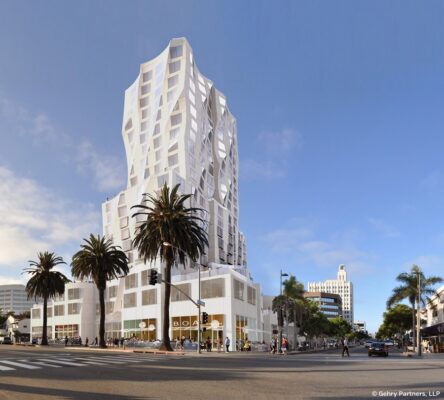 image © Gehry Partners, LLP
Ocean Avenue Project Santa Monica
Frank Gehry's Ocean Avenue project finally receives approval by the Santa Monica City Council. Initially proposed in 2013, the mixed-use development was originally conceived as as 22-story hotel and residential tower.
Jun 10, 2022
Depp-Heard LA Love Nest
Depp and Heard LA Love Nest
May 20, 2022
Toluca Lake Mansion and Golf Course
Toluca Lake Mansion and Golf Course, LA
May 16, 2022
3000 Benedict Canyon, LA
3000 Benedict Canyon Mansion, L.A.
San Diego Architecture News
San Diego Buildings
post updated May 24, 2022
Lucas Museum of Narrative Art
Design: MAD Architects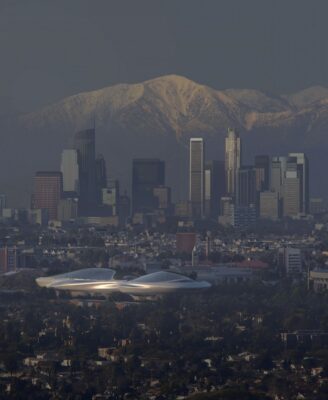 image Courtesy architecture office
Lucas Museum of Narrative Art Los Angeles
In 2016, Los Angeles was selected as the future home to the Lucas Museum of Narrative Art. Located in Los Angeles's Exposition Park, a major cultural hub of the city, the museum's building was designed to have a dialogue with both its cultural and residential surroundings and will exist as canopy of a tree that hovers along the horizon.
May 12, 2022
Centered Home
Design: Annie Barrett and Hye-Young Chung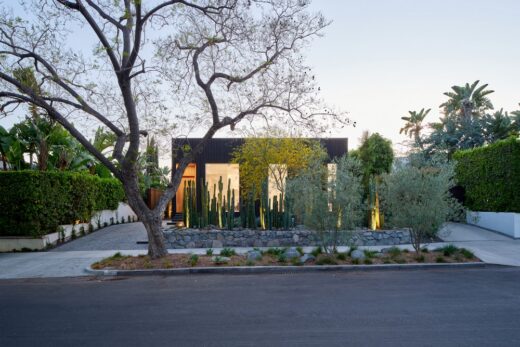 photo : Brandon Shigeta
Centered Home
May 12, 2022
Montecito House, UCSB
Design: LOC Architects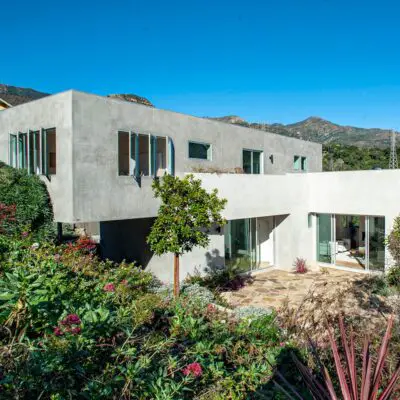 photo : LOC Architects
Montecito Home, Santa Barbara House
May 5, 2022
Prosser Residence, west Los Angeles
Design: NWGC Inc. Construction
Prosser Residence
May 3, 2022
Johnny Depp LA Penthouse Collection
Johnny Depp's LA Penthouse Collection
Apr 26, 2022
The Faring Estate, Los Angeles, Holmby Hills
The Faring Estate, Holmby Hills
Apr 12, 2022
Taylor Yard Bridge, Elysian Valley / Taylor Yard, L.A.
Design: SPF:architects (SPF:a)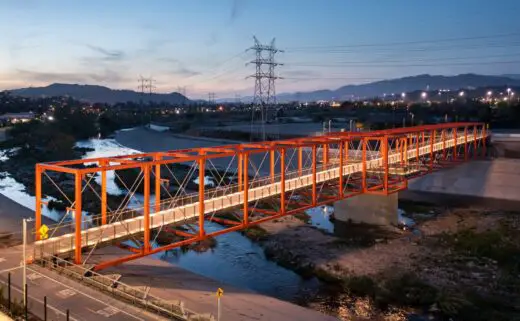 photograph courtesy of architecture practice
Taylor Yard Bridge over Los Angeles River
Completion of the Taylor Yard Bicycle and Pedestrian Bridge, a 400-foot bikeway and pedestrian bridge that spans across the Los Angeles River and connects Elysian Valley to Cypress Park via the Taylor Yard G-2 site, a 42-acre industrial parcel and former railyard at the center of the city's river revitalization plans.
Apr 5, 2022
Colburn School
Architects: Frank Gehry Design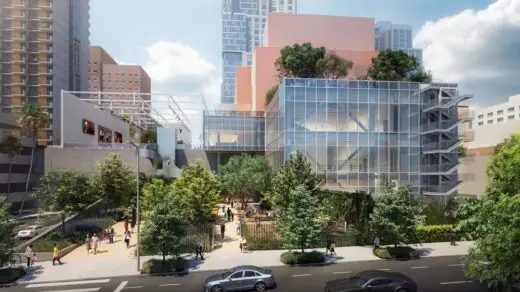 image © Gehry Partners
Colburn School Los Angeles
The Colburn School, LA's World-Renowned School for Music and Dance, unveils Frank Gehry Design for a transformational expansion of its campus. The Gift from Terri and Jerry Kohl adds a new performance venue, "A Hall for All," to the celebrated cultural corridor of downtown LA.
Mar 18, 2022
Milan's Zona Tortona
Milan's Zona Tortona Mansion, L.A.
Mar 8, 2022
Richard Neutra Hilltop Home
Richard Neutra Hilltop Home, Tujunga L.A.
Mar 14, 2022
Pacific Palisades Home
Brooke Shields' Pacific Palisades Home, L.A.
Jan 8, 2022
Watt Plaza Lobby Renovation
Los Angeles Architecture Designs in 2021
Nov 24, 2021
Apple at The Grove, Mid-City
Architects: Foster + Partners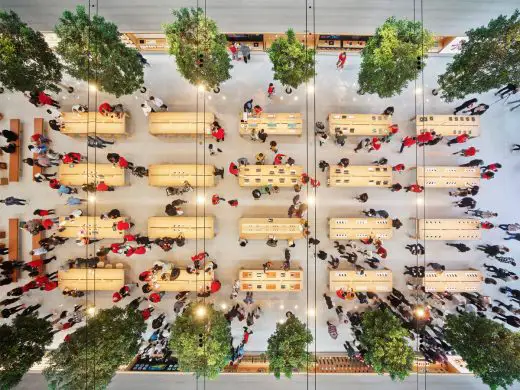 photo : Apple
Apple at The Grove
Apple at The Grove is an embodiment of Los Angeles' energy and creative spirit. Located Mid-City, adjacent to Beverly Hills and West Hollywood, the new store is at the heart of the global entertainment industry. It forms an integral part of The Grove, the famous open-air shopping and entertainment complex that is one of the city's most popular visitor destinations, ranking as one of the top shopping and entertainment centers in the country.
Oct 11, 2021
Orum House, Bel Air
Oct 8, 2021
Encino Mansion Sold, Royal Oaks
Oct 3, 2021
Byrdview, L.A. Mansion For Sale
Oct 2, 2021
Historic Los Feliz House
Sep 28 2021
Electric Avenue Auto Shop, Los Angeles, 2300 Hyperion Avenue, Silver Lake, east-central Los Angeles
Architect: Social Studies Projects (SSP)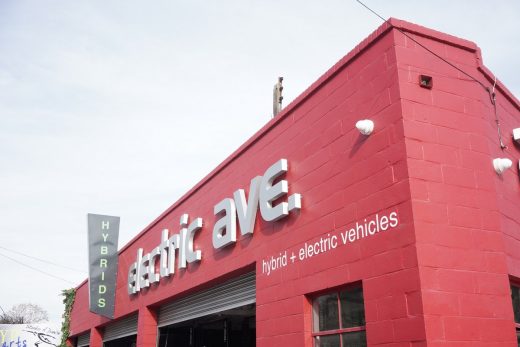 photo : Leela Cyd
Electric Avenue Auto Shop, Silver Lake
The owners of Electric Car Garage invited Social Studies Projects to design a freestanding pavilion to be used as a waiting room for clients and a lunch room for mechanics. Inspired by greenhouse structures, SSP designed a simple red steel framework clad in twinwall polycarbonate panels keeping the interior bright, while gently obscuring the surrounding parking lot from view.
Sep 22, 2021
Academy Museum of Motion Pictures – Opening September 30, 2021
Architect: Renzo Piano Building Workshop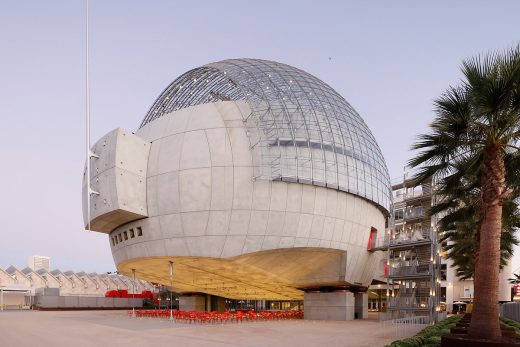 photo : Iwan Baan ©️ Iwan Baan Studios
Academy Museum of Motion Pictures Building
The Academy Museum will be the world's premier institution dedicated to the art and science of movies. Opening on 30 September 2021, the Museum will be simultaneously immersive, experimental, educational, and entertaining.
More than a museum, this dynamic film centre will offer unparalleled experiences and insights into movies and moviemaking. Designed by Pritzker Prize–winning architect Renzo Piano, the Museum is restoring and revitalizing the historic Saban Building—formerly known as the May Company building (1939)—at the corner of Wilshire Boulevard and Fairfax Avenue in Los Angeles.
The Saban Building will feature six floors, including exhibition spaces, the 288-seat Ted Mann Theater, the Shirley Temple Education Studio, special event spaces, conservation areas, a café, and store. The new spherical addition will connect to the Saban Building via glass bridges and will feature the state-of-the-art 1,000-seat David Geffen Theater and the rooftop Dolby Family Terrace with its sweeping views of the Hollywood Hills. The museum's first temporary exhibition will be 'Hayao Miyazaki', the first North American museum retrospective dedicated to the acclaimed Japanese artist and his work.
https://www.academymuseum.org/
Orange County Museum of Art, Costa Mesa, California, USA
Opening 8 October 2022
Architect: Morphosis Architects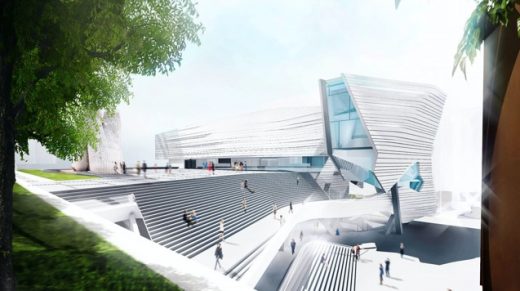 image courtesy of architects practice
A permanent home for Orange County Museum of Art at Segerstrom Center for the Arts is slated to open to the public on 8 October 2022. Designed by Morphosis Architects, under the direction of Pritzker Prize-winner Thom Mayne and Brandon Welling, the state-of-the-art 53,000 square foot building is double the size of the museum's former location.
Complementing the gallery spaces are mezzanine and street-front galleries that will house temporary and permanent collection exhibitions. A spacious roof terrace, equivalent in size to 70 percent of the building's footprint, can be configured for installations, programs and events.
Hovering over the soaring lobby atrium is a dynamic architectural space for performance and education. The grand public stairs on the outside of the building curve toward the entrance, linking the museum to Segerstrom Center for the Arts. A façade of light-coloured, undulating bands of glazed terracotta paneling creates a distinctive character for the new building.
https://ocma.art/
Aug 23, 2021
Buildings at Ojai Valley School Upper Campus, Ojai, Ventura County
Design: Frederick Fisher and Partners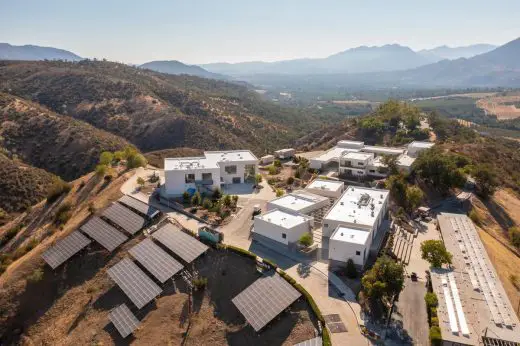 photo : Logan Hall, for Ojai Valley School
Ojai Valley School Upper Campus buildings
The completion of three signature buildings at Ojai Valley School (OVS) Upper Campus, California. Designed and built to replace structures lost in the Thomas Fire four years prior in December 2017, the buildings are situated on a 195-acre site overlooking the Ojai Valley in Ventura County.
Jun 30, 2021
STUDIOpractice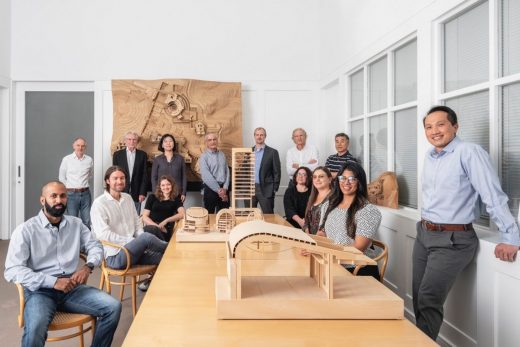 photo : Here and Now Agency
STUDIOpractice
Building on 25 years of design practice in the United States and abroad, partners Michael Palladino, Jim Crawford, and Alex Wuo are pleased to announce the founding of the Los Angeles-based architectural firm STUDIOpractice.
Apr 12, 2021
New Classroom Building At The University Of California Santa Barbara, UCSB
Design: LMN Architects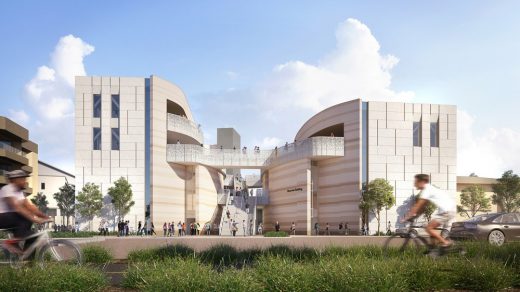 image courtesy of architects practice
Classroom Building University of California Santa Barbara
The project will increase campus classroom capacity by 35 percent, providing 2,000 seats in contemporary instructional spaces over four floors in the center of the University's iconic shoreline campus. It will be the first new classroom building on campus since 1967 and will provide additional active learning space with 2,000 seats in 5 lecture halls, 3 active learning flat-floor rooms, and 20 flexible classrooms.
More contemporary Los Angeles Architecture Designs online soon
Los Angeles Architecture Designs 2020
Nov 9, 2020
The Culver Steps
Nov 2, 2020
Otis College of Art and Design COVID-19 Report
Architecture input: Frederick Fisher and Partners and Ehrlich Yanai Rhee Cheney
How can design solve a complex problem like a safe return to a college campus during the Covid-19 pandemic?
Otis College of Art and Design was forced to shut down for in-person learning in Spring 2020 due to the COVID-19 pandemic:
Otis College of Art and Design COVID-19 Study
Oct 20, 2020
Vertical Courtyard, Santa Monica
Design: Montalba Architects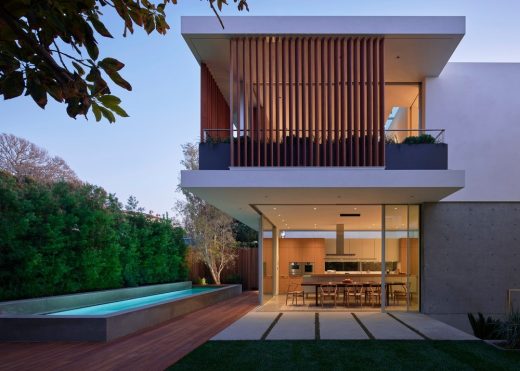 photograph : Kevin Scott
Vertical Courtyard Residence in Santa Monica
The home centers around the vertical courtyard that connects all three levels of the home, along with adjacent terraced gardens, to create moments of simplicity and poetry within the residence.
Oct 8, 2020
LA River
Architects: Ballman Khapalova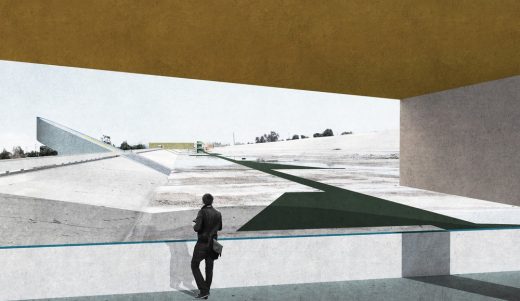 image courtesy of architects studio
LA River
The LA River is a peculiar and unique space with tremendous urban and architectural potential for Los Angeles. While nothing more than a trickle in its original and natural form, the river currently provides an industrial and infrastructural conduit that cuts through the city from downtown LA to Long Beach.
Sep 24, 2020
David Kordansky Gallery Expansion
Aug 26, 2020
Gardenhouse Building, 8600 Wilshire Boulevard, Wilshire Boulevard, Beverly Hills
Design: MAD Architects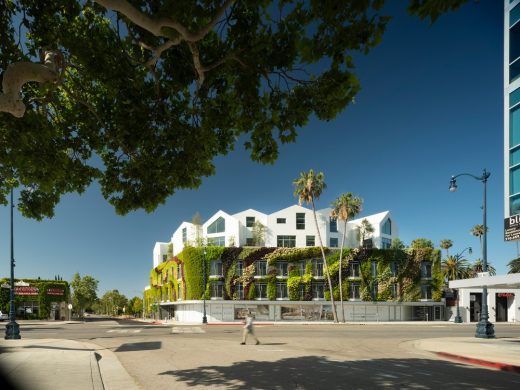 photo : Nic Lehoux
Gardenhouse in Beverly Hills
MAD Architects, led by Ma Yansong, has completed "Gardenhouse," the first project completed by MAD in the USA.
Aug 26, 2020
Case Study 2020
Aug 25, 2020
Los Angeles Building Photos, L.A. Construction
July 27, 2020
245 N Saltair Avenue, Brentwood Home
July 4, 2020
Black Desert House: Yucca Valley Home
June 24, 2020
LAC+USC Restorative Care Village in L.A.
May 11, 2020
Tommy Lee Home in Calabasas, California
May 1, 2020
Bruce Jenner's former Malibu beach house
Feb 29, 2020
Oak Pass House, Beverly Hills, Los Angeles County, California
Architects: Walker Workshop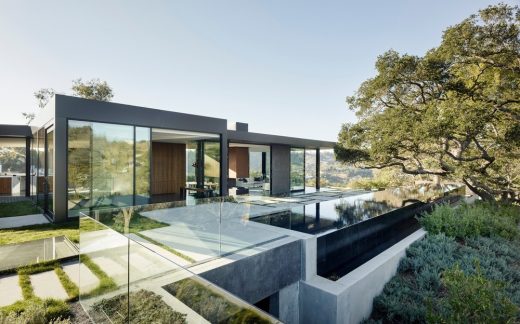 photograph : Joe Fletcher
Oak Pass House in Beverly Hills
The Oak Pass Main House sits atop a 3.5-acre ridge site with panoramic canyon views. The property's topography and landscape, which most notably include over 130 protected Coast Live Oak Trees, were the primary drivers for the house's design.
Jan 30, 2020
The Butterfly and the Dodecagon Residence
Design: Scrafano Architects
The Butterfly and the Dodecagon Residence in L.A.
Jan 13, 2020
Los Tilos Residence, Outpost Estates area, Hollywood Hills
Design: Whipple Russell Architects
Los Tilos Residence
More new Los Angeles Architecture Designs online soon
Los Angeles Architecture Designs 2019
Oct 23, 2019
Cal Poly Pomona Events
Oct 11, 2019
Plús Hús flat-packed prefab home by Minarc
Oct 7, 2019
Stoneridge Residence on Mulholland Drive, Bel Air
Sep 28, 2019
The George Anaheim, Parking Structure
Sep 4, 2019
Art, Design & Architecture Museum, UC Santa Barbara Appointments
Apr 15, 2019
Point Line Plane Volume, Cal Poly Pomona
Apr 7, 2019
BCG Office Interior, North tower of City National Plaza, Downtown Los Angeles
Architects: ShubinDonaldson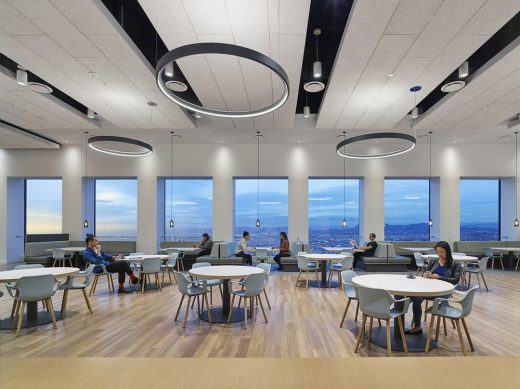 photograph : Benny Chan
BCG Office Interior
What if BCG's new space, on the 51st and 52nd floors (top two floors) of one of Los Angeles' tallest office towers, could evoke the 360° perspective and sense of "unlimited possibility" that are the hallmark of the firm's work, and its culture?
Mar 24, 2019
SCI-Arc Events
SCI-Arc Events 2019
Mar 13, 2019
Orum Residence in Bel-Air
Orum Residence in Bel-Air
Jan 7, 2019
Architecture News from M-Rad Inc.
The Green St. project by M-Rad Inc. is nearing completion. Some of the heaviest hitters in the cannabis industry will soon be moving into their new home in downtown Los Angeles. MOTA will occupy an entire floor of the Green St. building – a seven-story, 67,000-square-foot cannabis hub in downtown LA designed by M-Rad Inc. Once Green St. is complete, it will be the largest private members space dedicated to cannabis in the country.
MOTA (Spanish slang term for marijuana and also known as "Medicine Of The Angels") will occupy the entire fourth floor and will be used as a members lounge and spa. This floor will also include luxurious relaxation rooms, an entertainment area, privacy pods, a cafe supported by a world-class restaurant group with coffee by Mary Joe, a library, and secret meeting space all designed by M-Rad. The space will also feature custom M-Rad furniture currently in fabrication in downtown Los Angeles and Bali. M-Rad designed the space to encourage an inviting, playful, and relaxing experience with modern elements and a heavy influence of hospitality. This space will act as a model for future cannabis hospitality spaces.
Each floor of the Green St. building is specifically designed for the cannabis connoisseur in mind. The building itself will host several cannabis-related programs such as cultural activities and gastronomic experiences ensuring the space is tapping all senses. Some of the partners affiliated with the project are prolific investor Gary Vaynerchuk, who is a 50% stakeholder in Green Street Agency, and Vicente Sederberg LLC dubbed The Marijuana Law Firm. The project is slated to be completed in Q1 of 2019.
More new Los Angeles Architecture Designs online here soon
Los Angeles Architecture Designs from 2018
page updated Dec 2, 2018 – building photos added
Walt Disney Concert Hall Building
Nov 16, 2018
Beverly Center Renewal – The Mall of the Stars, 8500 Beverly Boulevard, edge of Beverly Hills and West Hollywood, L.A.
Design: Massimiliano and Doriana Fuksas, Architects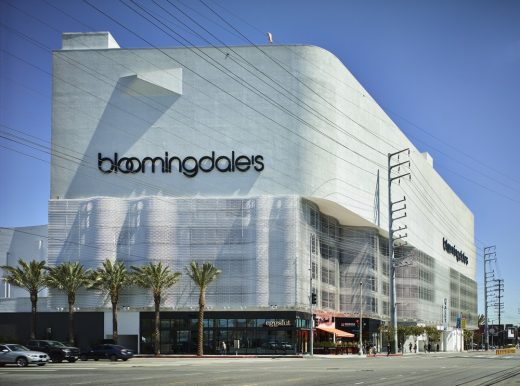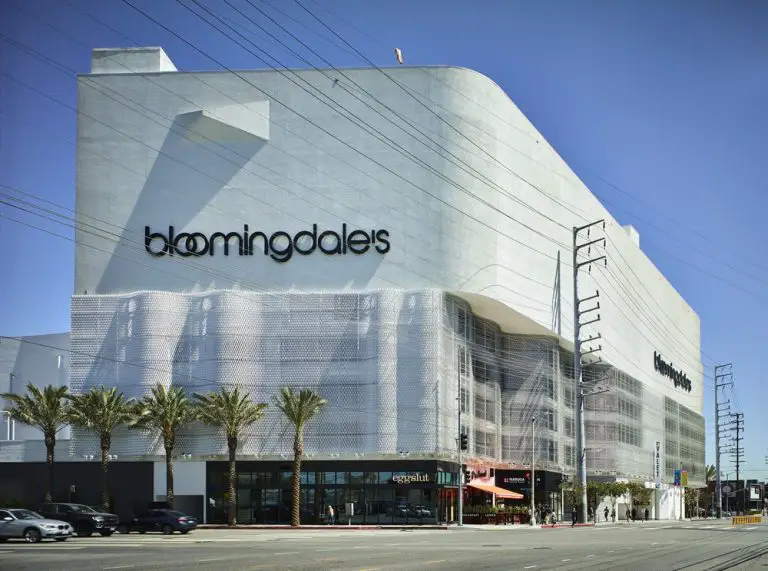 photo © John Linden
Beverly Center Building Renovation
Nov 12, 2018
Audrey Irmas Pavilion, Wilshire Boulevard, Koreatown
Design: OMA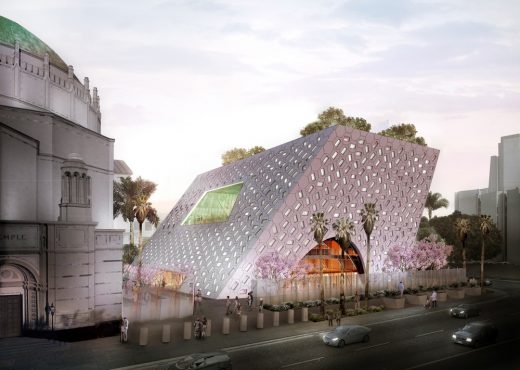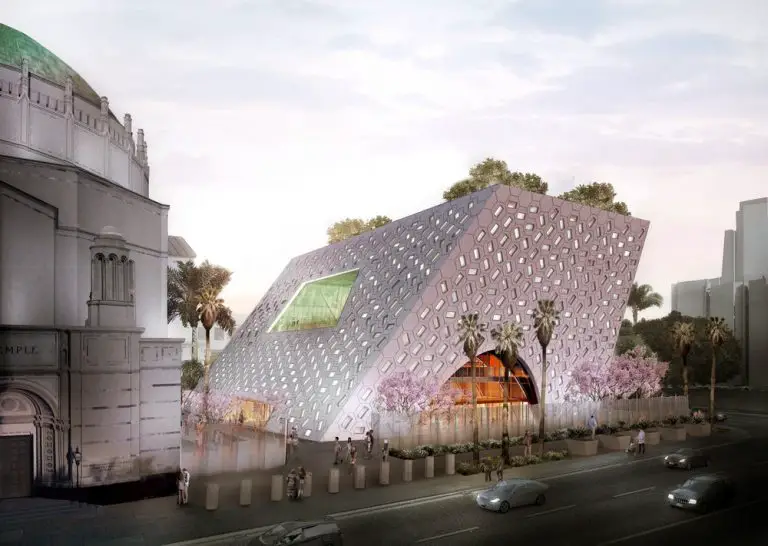 image Courtesy OMA New York
Audrey Irmas Pavilion
Construction of a new pavilion for Wilshire Boulevard Temple, Los Angeles' oldest Jewish congregation, to be a multi-use cultural, religious and event space directly adjacent to the Temple's historic sanctuary.
Oct 23, 2018
Stack House
Design: FreelandBuck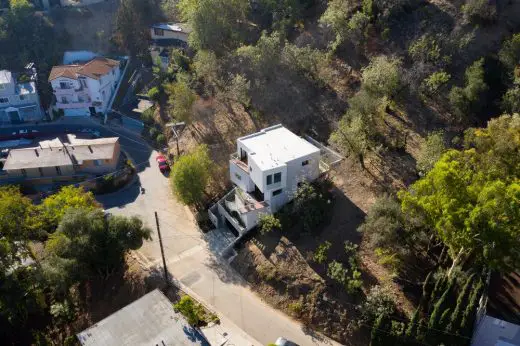 photo : Eric Staudenmaier Photography
Stack House, L.A.
Nov 13, 2018
Yojisan Japanese Restaurant, Beverly Hills
Architects: Dan Brunn Architecture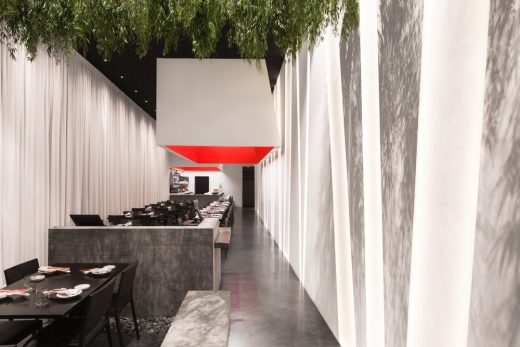 photo : Taiyo Watanabe
New Japanese Restaurant in California
Within a very limited space, Yojisan brings a surreal revolution to a city of tradition while staying refreshingly whimsical and modern.
Oct 19, 2018
Thaxton and associates office and retail building, 11338 Moorpark Street, North Hollywood
Design: Griffin Enright Architects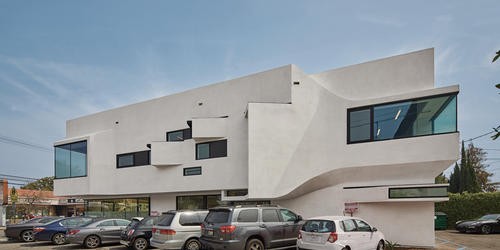 image from architecture firm
Thaxton and associates office and retail building
Oct 17, 2018
Long Beach Rainbow Bridge in California
Oct 16, 2018
Sake Dojo in Little Tokyo, L.A.
Oct 8, 2018
Hide Out in Little Osaka, L.A.
Oct 8, 2018
Flip Flop House, Venice, California
Design: Dan Brunn Architecture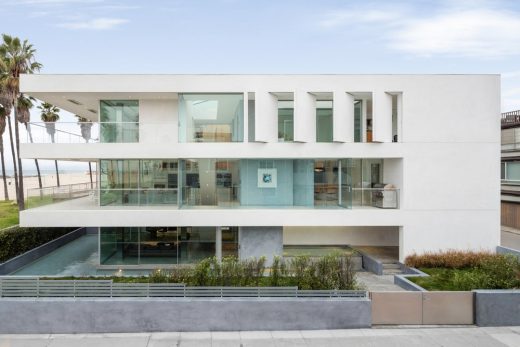 photo : Brandon Shigeta
New House in Venice, L.A.
As its name suggests, the Flip Flop House plays with a sense of duality on multiple design levels. Acting as an architectural chameleon, the dynamic house is malleable to the clients' desire to both display their art collection and embrace the sweeping vistas of Venice beach.
Oct 3, 2018
L.A. Mayor's "A Bridge Home" Program
Fifteen pop-up shelters are due to open, one in each city council district, funded through Mayor Eric Garcetti's "A Bridge Home" program.
The El Pueblo emergency homeless shelter opened last month in downtown Los Angeles, on a city-owned parking lot near Union Station. The shelter building design by Gensler is composed of three trailers arranged around a central outdoor deck.
L.A. Mayor's "A Bridge Home" Program shelter design by SWA with Studio One Eleven: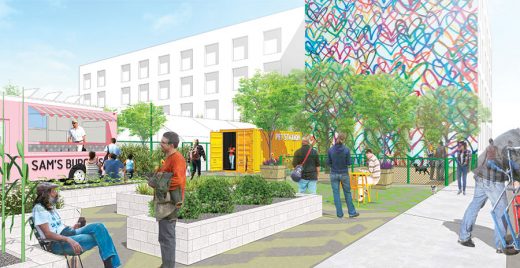 image Courtesy SWA with Studio One Eleven
The initiative was launched in April 2018: it will implement recommendations outlined in a December 2017 report by the nonprofit Urban Land Institute (ULI) to fast-track the construction of "bridge" housing. The new homes will provide immediate help for homeless individuals until more permanent options become available. Over 25,000 people are now living on the streets of Los Angeles.
The ULI selected three pairings of architecture and landscape architecture firms in July, to develop design prototypes with the mayor's office:
– DLR Group with EPT Design
– SWA with Studio One Eleven
– Realm with JFAK Architects
The teams participated in an intensive half-day charrette to create models for 50-, 100-, and 150-bed facilities that could be easily adapted to a number of sites.
Oct 2, 2018
Reggie Rodriguez Community Center, Montebello, Los Angeles County
Design: Sparano + Mooney Architecture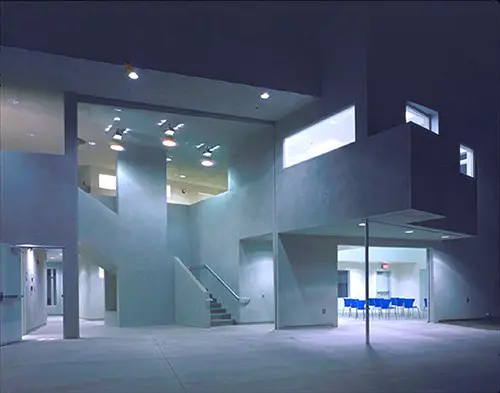 image : Sparano + Mooney Architecture
New Building in Los Angeles County
The community center building contrasts porous public spaces extending into the park with more introverted and cloistered areas for concentrated study.
Sep 16, 2018
Interdisciplinary Science and Engineering Building at the University of California, Irvine, Southern California
Architects: LMN Architects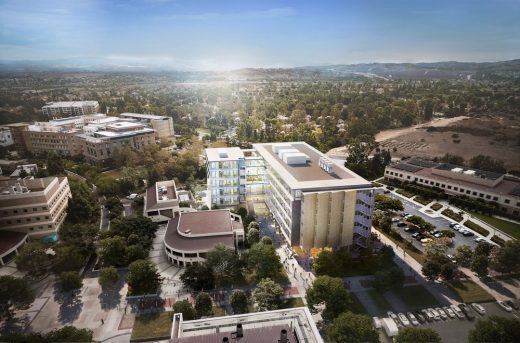 image Courtesy architecture office
Interdisciplinary Science and Engineering Building at the University of California
The L-shaped building will be organized as three distinct volumes: a "Jewel Box" glass-and-concrete tower; a glass and precast concrete "Lab Bar" to house a variety of highly adaptable laboratories; and a transparent, glass-wrapped connector dubbed the "Community Hub".
Sep 10, 2018
Three Step House
Architects: CHA:COL
Three Step House
Aug 26, 2018
Vespertine, Culver City
Design: Eric Owen Moss Architects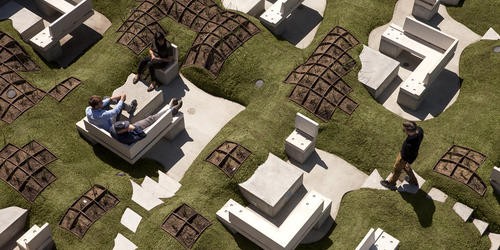 photo courtesy of Chicago Athenaeum
Culver City Building
A preliminary study model made from a square pile of note paper, describes a concept for a tower which is not quite a regular box, nor a clear, spatial departure from the regular box.
Aug 22, 2018
Spoonfed Restaurant, Seward Street, Hollywood Media Arts District
Architects: Bureau of Architecture and Design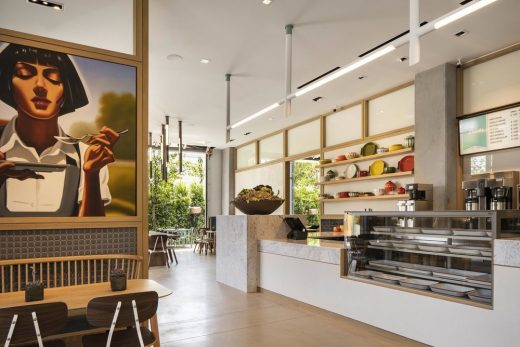 photograph : Paul Vu
Spoonfed Restaurant L.A.
This new restaurant is located in a new modern building so first and foremost that informed the design as we strove to create a clean, almost minimal feel with playful bursts of vibrant color.
Aug 17, 2018
SCI-Arc Events Fall 2018
Jul 30, 2018
Rancho Cienega Sports Complex, 5001 Rodeo Road
Design: SPF:architects (SPF:a)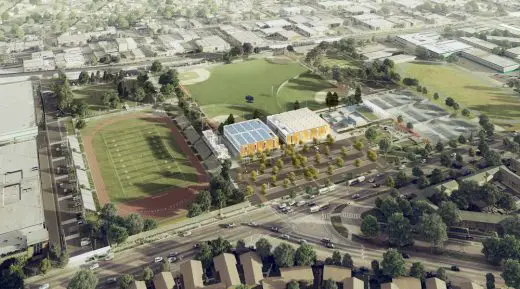 image courtesy of architects
Rancho Cienega Sports Complex Building L.A.
The new masterplan will update and expand the legendary sports center's existing facilities and green space.
Jul 21, 2018
Redevelopment Project for The Center for Early Education, La Cienega Boulevard / Clinton Avenue, West Hollywood
Architects: Johnson Favaro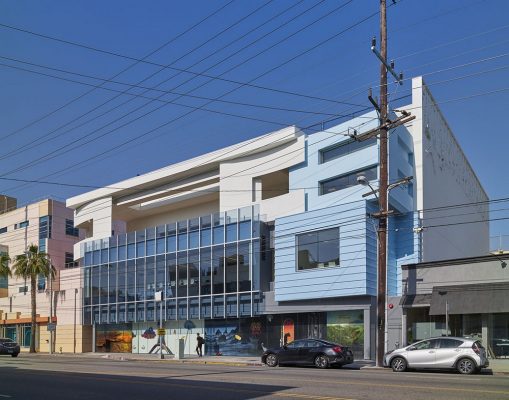 photo : Benny Chan
CEE – Center for Early Education West Hollywood
At completion campus to feature 70,000 SF in two new buildings replacing two existing buildings, plus campus expansion, new subterranean garage, rooftop playgrounds and ground level play field.
Residence Overlooking Mulholland Drive
Jul 4, 2018
Gardenhouse, Wilshire Boulevard, Beverley Hills, CA
Design: MAD Architects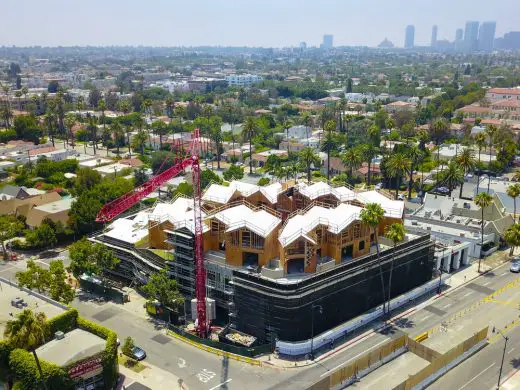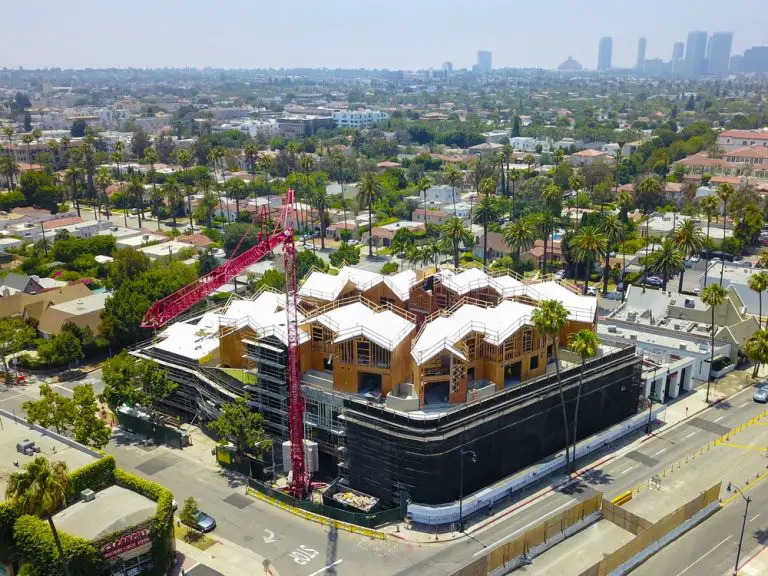 image Courtesy architecture office
Gardenhouse Wilshire Boulevard
Current housing in our congested urban centers has come to prioritize function over consideration for a human's emotional relationship with the living and natural environment. This innovative residential project demonstrates the core design philosophy of this up-and-coming Chinese architecture studio.
Jun 29, 2018
Harper17 Condominium, 1264 N. Harper Ave, West Hollywood
Design: SPF:architects (SPF:a)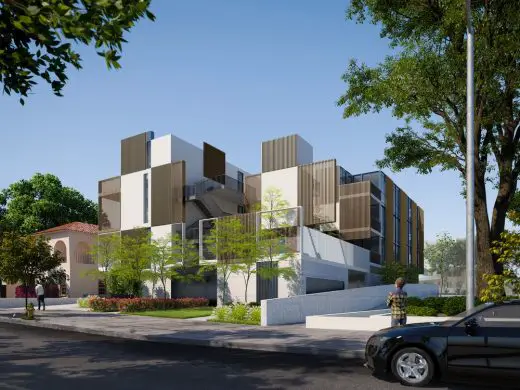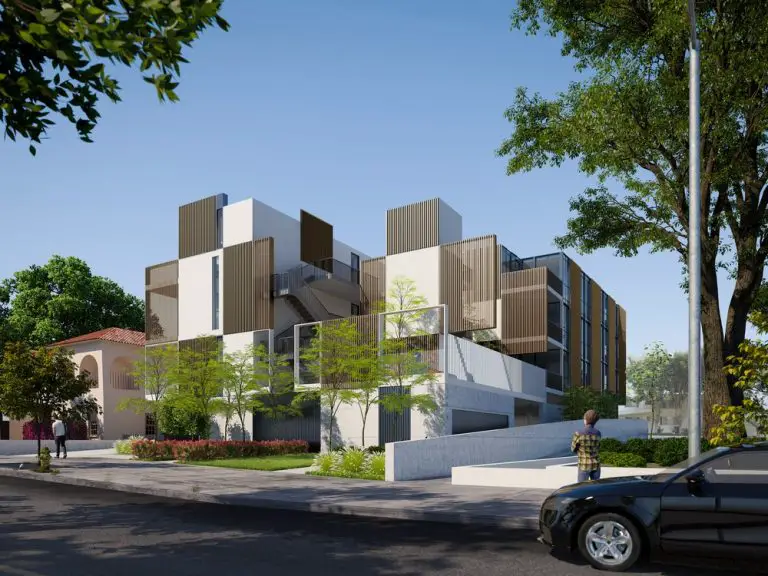 image courtesy of architects
Harper17 Condominium
Renderings for a four-story condominium planned a block south of Sunset Boulevard in West Hollywood.
Jun 15, 2018
2510 Temple, 2510 W Temple Street, Filipinotown, CA 90026
Design: Patrick Tighe Architecture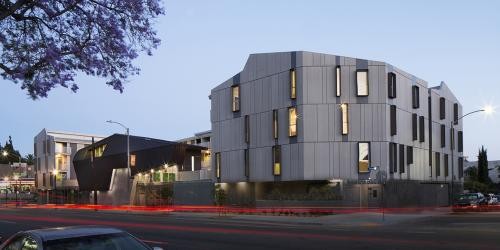 photograph : Art Gray
2510 Temple Los Angeles Building
Perched within the Historic Filipinotown, just west of Downtown Los Angeles, this building responds to its context both at city-wide and neighborhood level.
May 23, 2018
Stradella Residence, Bel-Air
Design: SAOTA
Los Angeles Luxury Property
May 22, 2018
Los Angeles Building Photographs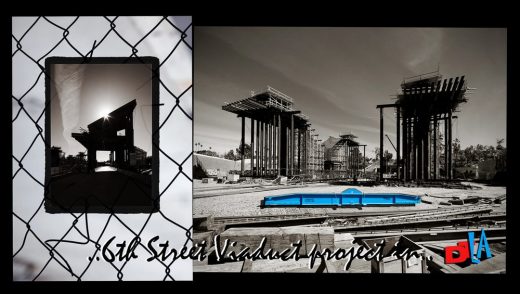 photograph © Kenneth Johansson Photography
Los Angeles Building Photos
Los Angeles building pictures ranging from The Academy Egg designed by Renzo Piano to 'The Aven', a 39-story apartment complex in the South Park area of downtown LA, and Banc of California Soccer stadium in Exposition Park.
Apr 27, 2018
'Rumblefish' – Taylor Yard Bikeway & Pedestrian Bridge, Elysian Valley / Taylor Yard
Design: SPF:architects (SPF:a)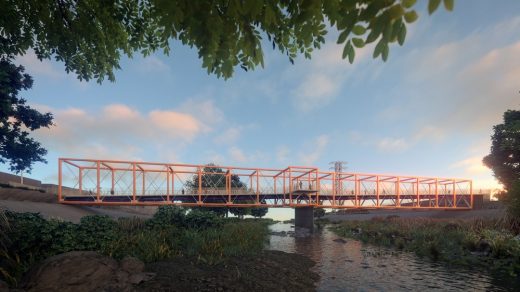 image : SPF:a
Taylor Yard Bikeway & Pedestrian Bridge
Release of new renderings for Rumblefish, a 400-foot pedestrian bridge spanning across the LA River and connecting Elysian Valley (Frogtown) to Taylor Yard, a 42-acre industrial parcel and former railyard site at the center of the city's river revitalization plans.
Mar 17, 2018
SCI-Arc receives official STEM designation
SCI-Arc's B.Arch, M.Arch 1, M. Arch 2 and Master of Science degree programs have been designated as an approved field of study within the U.S. government's official STEM fields list in Architectural and Building Sciences/Technology.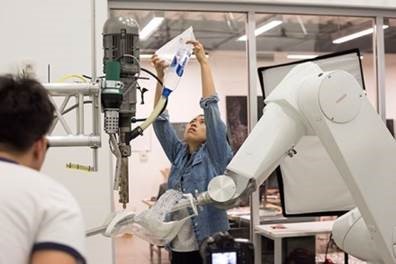 image from SCI-Arc
Feb 27, 2018
Reducing Greenhouse Gas Emissions from L.A. Buildings
On February 6, the Los Angeles City Council adopted a resolution targeting drastic cuts to greenhouse gas emissions from commercial and residential buildings.
The measure gives L.A.'s Building and Safety Department and the Department of Water and Power (DWP) 90 days to recommend methods for reducing reliance on natural gas and shifting toward electricity from clean sources for heating, water heating, and cooking; and requires DWP to set ambitious goals for building electrification in 2028 and 2038.
The targets are in line with mayor Eric Garcetti's aggressive sustainability plan, which aims to reduce greenhouse gas emissions by 60% before 2035. Their vision for L.A. is to be fossil fuel-free: the city needs building electrification to make this vision a reality. Currently, the L.A. region burns more fossil fuels in its buildings than in its power plants.
Feb 2, 2018
Little Ground Cafe, Glendale
Architecture: WORD (Warren Office for Research and Design)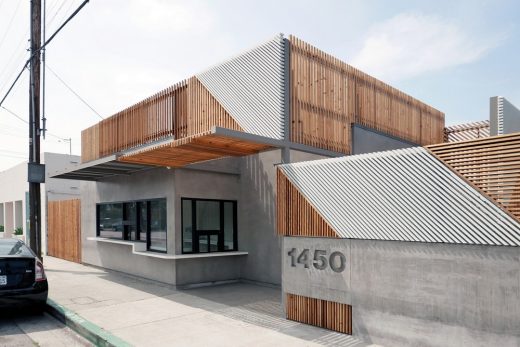 photograph : Chris Warren
New Cafe in Glendale
A study in texture, transparency and materiality, this corner walk-up cafe aims to inspire and enhance the area's rare pedestrian culture. The main focus of the design is to create a calm, inviting public space that directly engages its frenetic urban setting.
Jan 21, 2018
Grand Avenue Project, downtown – located opposite Walt Disney Concert Hall
Design: Architect Frank Gehry
An open-air complex of apartments, condominiums, movie theaters, restaurants and shops that promises to enliven a city block that has been mostly dead for half a century for Related Co.
The Grand will have a mix of shops and restaurants spread among a series of landscaped open terraces, along with an approximately 450-seat cinema complex on the east side above Olive Street. There will be a 20-story Equinox hotel with 314 rooms and a 39-story residential tower with 113 condos and 323 apartments.
The new building allos Gehry to unlock a trick he baked into his Disney Hall design — its metal surface were carefully arranged to receive light projections from across the street. Live Los Angeles Philharmonic concerts can be shown on multiple walls of Disney Hall.
The project will help underline the location as L.A.'s cultural and civic district with a third component being the Broad's contemporary art museum.
Jan 20, 2018 ; Dec 10, 2017
The Archer School for Girls Campus Masterplan, 11725 W Sunset Blvd
Design: Parallax Architects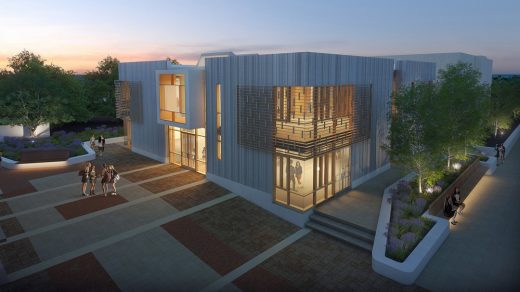 image © Parallax Architects/Shimahara Illustration
The Archer School for Girls
Parallax Architects and The Archer School for Girls are pleased to unveil "Archer Forward," a bold and elegant Campus Master Plan proposed for the school's historic campus.
Los Angeles Construction Images
AIA Los Angeles Event – AIA|LA Design Award Winners
AIA Los Angeles Awards news
Architecture + Design Museum Los Angeles Exhibition
Architecture + Design Museum Los Angeles
Recent Major Los Angeles Buildings
Red Building at the Pacific Design Center
Design: Pelli Clarke Pelli Architects
Red Building Pacific Design Center
The Broad Art Foundation
Architects: Diller Scofidio + Renfro
The Broad Art Foundation
More contemporary Los Angeles Architecture Designs online soon
Los Angeles Architectural News – posts from 2011 to 2017
Location: Los Angeles, California, USA
Architecture in L.A.
L.A. Architectural Projects
LA architect : Richard Neutra




Los Angeles architecture photos © Andrew McRae, 2008
Los Angeles architect: Rudolf Schindler
Oak Pass House – project, Beverly Hills, Los Angeles
2002
RoTo Architects
Los Angeles Architect Studios – LA Design Office Listing
Los Angeles Architect : Eric Owen Moss
L.A. buildings by Modern US architect John Lautner
Comments / photos for the Los Angeles Architecture Designs – Southern California Buildings page welcome