Sydney Architecture News 2022, New South Wales Building, NSW Property Photos, Construction Design
Sydney Architecture News: Buildings
Key Australian Property Developments in New South Wales: NSW Built Environment Updates
post updated 14 January 2022
Sydney Architectural News
Sydney Architecture Design News
Sydney Architecture Designs – chronological list
Sydney Architecture Walking Tours by e-architect
Sydney Houses – latest properties
6 Jan 2022
Brookfield Place Sydney
Design: Make Architects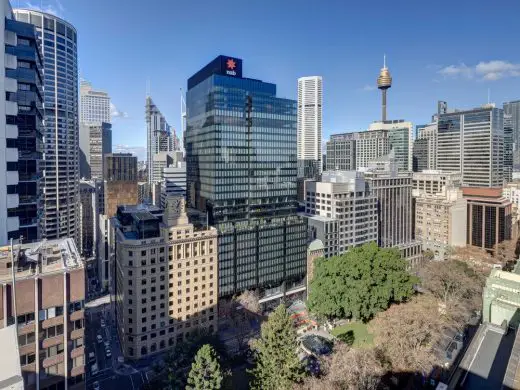 photo : Brett Boardman
Brookfield Place
Brookfield Place Sydney, designed for Brookfield Properties by Make Architects with Architectus as Executive Architect, is a mixed-use scheme which includes the revitalisation of the pedestrian Transit Hall on George Street for Wynyard Station. The project demonstrates the true benefits and power of urban densification.
16 Dec 2021
Macquarie University's new central courtyard, Balaclava Road, Macquarie Park, NSW 2109
Architects: ASPECT Studios and Architectus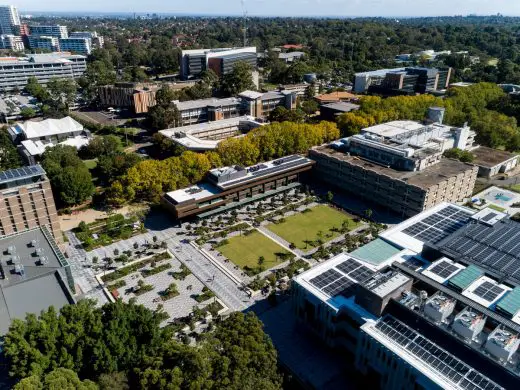 photo : Brett Boardman
Macquarie University new central courtyard
It's a truism to say that nature of education has undergone a substantial change. But the question of how to best accommodate the liberation of learning from a lecture theatre to a more mobile, connected world remains a pressing one for universities. One persuasive answer lies in the newly completed Macquarie University Central Courtyard Precinct, a project that has expanded and blurred conventions in the creation of a generous outdoor space.
22 Nov 2021
Sydney Harbour Bridge Cycle Ramp
21 Nov 2021
African Savannah, Taronga Zoo, Bradleys Head Rd, Mosman, NSW 2088
Architects: Tonkin Zulaikha Greer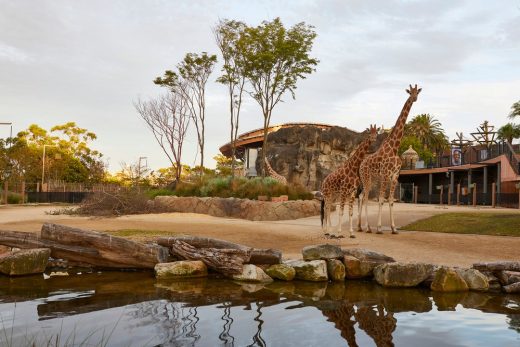 photos by Martin Mischkulnig and Tim Shaw
Taronga Zoo African Savannah
The African Savannah Precinct Project is at the heart of Taronga's renewal Masterplan, re-housing many of the Zoo's key exhibits. Informed by the Taronga vision, "Securing a Shared Future for Wildlife and People", the project strengthens the educational and conservation role of the Zoo, engaging audiences in a deeply meaningful way, reinforcing Taronga's contribution to conservation, science and education and enhancing the quality of the visitor experience.
17 Nov 2021
Marrickville Metro Shopping Centre
7 Nov 2021
Switch House, Mosman, North Sydney
Architects: Tony Owen Partners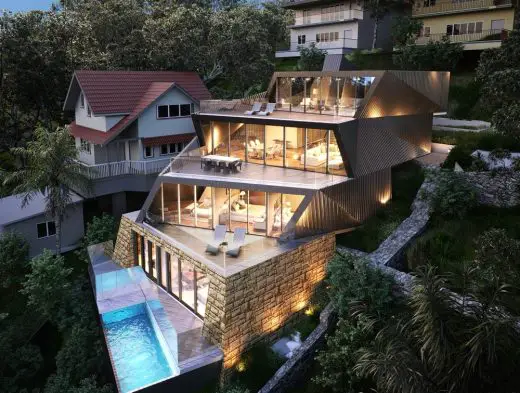 image from architecture studio
Switch House Mosman: North Sydney Property
This exotic house design is located near the waterfront in Mosman Bay in Sydney. The steeply sloping site is not accessible to the street. The site enjoys waterfront views to Sydney Harbour. The site contains bushland and a series of rough sandstone walls.
5 Nov 2021
Opera Residences, East Circular Quay
Architecture: Tzannes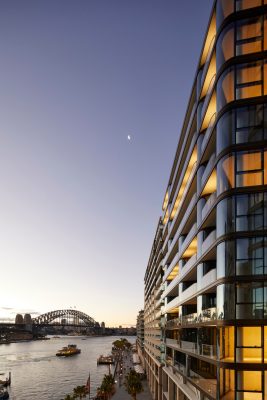 photo © Martin Mischkulnig
Opera Residences
This new 20-storey building, at the southeast corner of Circular Quay, contains 104 apartments. Tzannes were the lead architect collaborating with Crone (executive architect), and MAKE, (interior architect).
22 September 2021
One Barangaroo Wins Emporis Skyscraper Award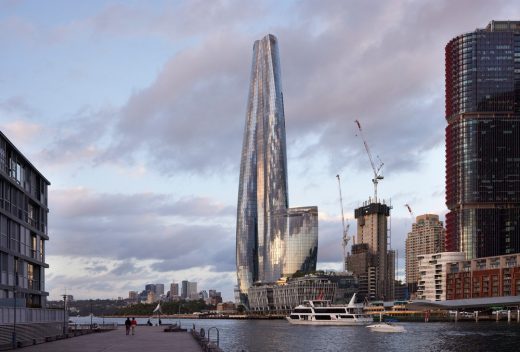 photo © Tom Roe
Emporis Skyscraper Award 2020
This year the world's most renowned architecture award for skyscrapers, the Emporis Skyscraper Award, goes to One Barangaroo in Sydney. For the first time in the more than 20 year-long history of the awards, the prestigious trophy goes to Australia. One Barangaroo is a 271-meter-tall skyscraper, designed by British architect WilkinsonEyre and is the tallest building in Sydney, offering spectacular views of Sydney Harbor and the city's iconic Opera House.
21 Sep 2021
Sydney Modern Project, Art Gallery of New South Wales
Architect: SANAA
Opening date to be confirmed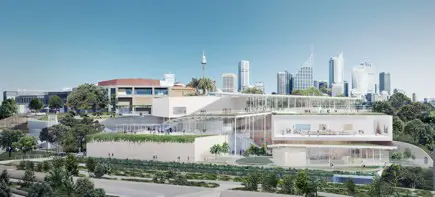 image courtesy of architects practice
The Art Gallery of New South Wales (AGNSW) is undertaking a major expansion – the Sydney Modern Project – which will transform one of Australia's flagship art museums. With construction underway and scheduled for completion in late 2022, the $344 million (AUD) transformation includes the development of a new standalone building designed by the Japanese Pritzker Prize-winning architects SANAA.
It will be connected to the existing Gallery building via an outdoor public art garden accessible 24/7, creating a civic campus on its magnificent site overlooking Sydney Harbour. The Sydney Modern Project will also give prominence to Aboriginal and Torres Strait Islander art, as well as revitalising the Gallery's much-loved existing building with its signature collection of Australian art.
https://www.artgallery.nsw.gov.au/sydney-modern-project/
27 July 2021
LA Cool Pool House, Newport NSW
5 Jul 2021
Stealth House, Hunters Hill
Architects: Bijl Architecture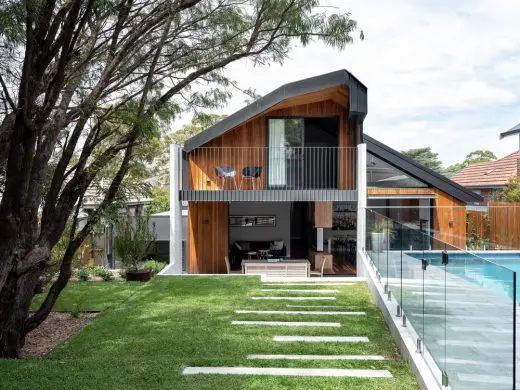 photo © Tom Fergusone
Stealth House Hunters Hill
This recently completed NSW property is an alterations and additions to an interwar cottage located in Hunters Hill. Together, architect and client collaborated to establish a site-based logic for the project – while effectively seeking to 'fly under the (planning) radar' with significant yet furtive side and rear additions to the dwelling.
20 May 2021
Paddington Reservoir Gardens
Design: Tonkin Zulaikha Greer and JMD design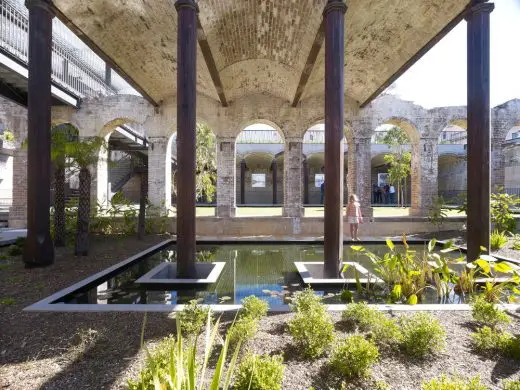 image courtesy of architects practice
Paddington Reservoir Gardens, New South Wales
When TZG and JMD were commissioned to convert the Paddington Reservoir into an urban park, the general expectation was that the site would be capped off and a brand new arrangement built on top. However, we were captivated by the possibilities of revealing the 19th century structures as a ruin through which members of the public could wander, taking in the dramatic spaces and play of light across the remnants of historic walls and vaults.
23 Apr 2021
Sydney Opera House Projection
Architects: SANAA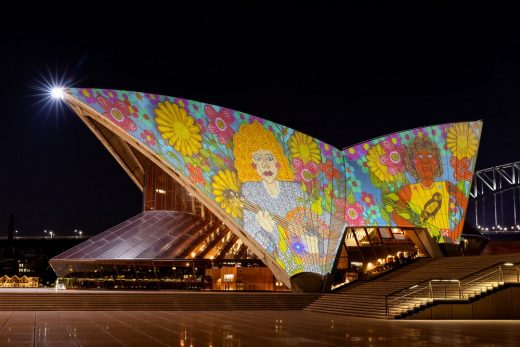 Aboriginal artist Kaylene Whiskey celebrates Art Gallery of New South Wales' 150th Anniversary
Sydney Opera House Projection
The Art Gallery of New South Wales today kicked off its 150th anniversary celebrations with a burst of colour and light, collaborating for the first time with the Sydney Opera House to mark the annual Badu Gili festival of First Nations Culture by projecting artworks onto the iconic sails of the Opera House.
23 Apr 2021
Picnic Point High School Redevelopment , City of Canterbury-Bankstown, 23 kilometres south-west of Sydney
Design: Hames Sharley Architects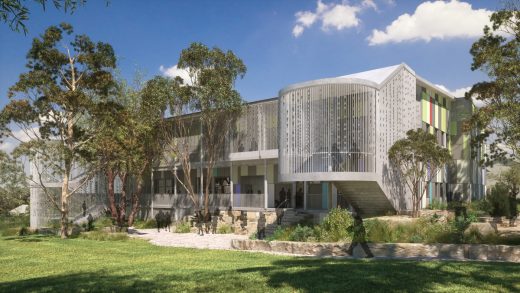 image courtesy of Hames Sharley Architects Australia
Picnic Point High School Building
Picnic Point High School (PPHS) is a government high school located in the Picnic Point, New South Wales suburb. The redevelopment project, which involves the refurbishment of some existing buildings and the construction of a new learning facility, responds to the expansion of the school's catchment to provide the East Hill's and Picnic Point communities more choices for co-education.
9 Apr 2021
VIEW Rockdale Apartments
Design: Fuse Architecture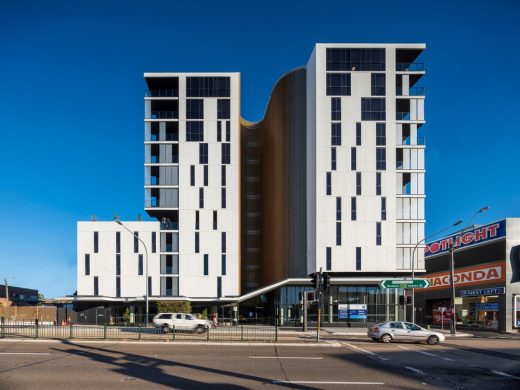 photograph © Tom Ferguson
VIEW Rockdale Apartments
This building was conceived through a design excellence competition for a mixed use tower within the Sydney suburbian town centre of Rockdale. It aimed to encapsulate and extend the vibrant character of the existing lowscale stock and present in an iconic form, the ambitions of its future character.
16 Feb 2021
McLeod House
Design: Ian Moore Architects
McLeod House
8 Feb 2021
Dodds House
Design: Ian Moore Architects
Dodds House
20 Jan 2021
Miranda Events Cinema, Southern Sydney
Design: Indyk Architects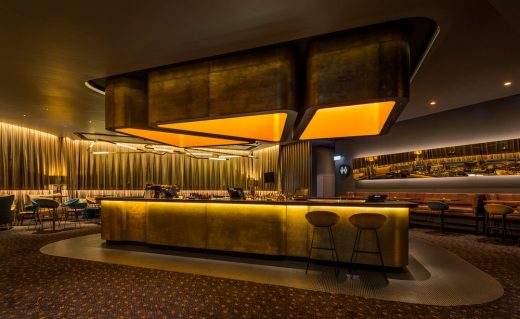 photography © Murray Fredericks
Miranda Events Cinema
The Miranda Events Cinema in a newly renovated and developed Westfield Mall, explores a bold graphic imagery unique to this cinema. The graphic was guided in colour by the bold primary colour branding of EVENT cinemas and notions of historic cinema graphics.
18 Jan 2021
Wenona School, North Sydney
Design: Modscape and Team2 Architects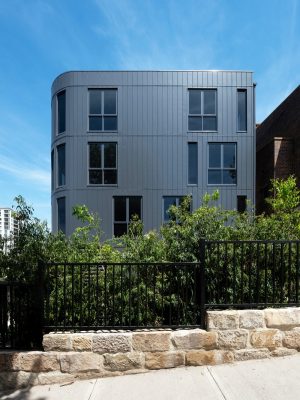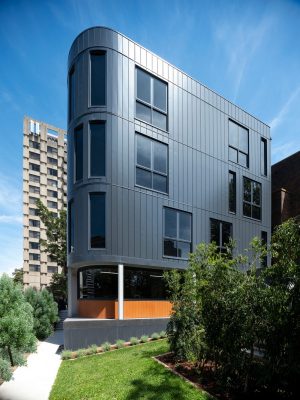 photograph © Tom Ferguson
Wenona School, North Sydney
Founded in 1886, Wenona School is a historic girls' school located in North Sydney. The complex has undergone several modifications in recent years in response to an expanding community and an ever-increasing demand in enrolments.
More contemporary Sydney Architecture News online soon
Sydney Architecture News 2020
3 Dec 2020
Escu House
22 Oct 2020
Watermans Cove, Barangaroo South
22 Oct 2020
Esquire Supper Club
15 October 2020
Sydney Modern Project, NSW, Australia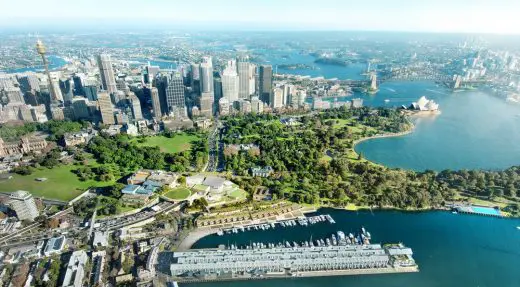 image © AGNSW
Sydney Modern Project
As it approaches its 150th anniversary in 2021, the Art Gallery of New South Wales (AGNSW) is undertaking a major expansion – the Sydney Modern Project – which will transform one of Australia's flagship art museums.
14 October 2020
Burwood Council Community Hub
17 Sep 2020
By George Intervention, Sydney CBD
10 Sep 2020
Sydney's Central Station Roof
28 Aug 2020
Oye Mi Canto House, Carriageworks cultural precinct, Sydney, New South Wales, Australia
Design: CplusC Architectural Workshop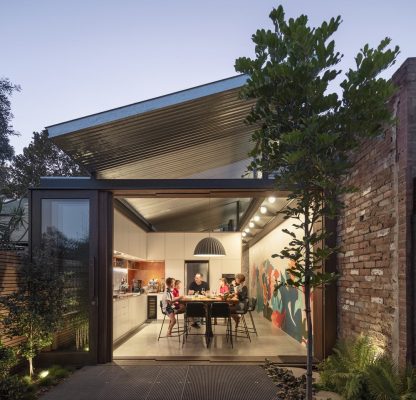 photo : Murray Fredericks
Oye Mi Canto House
An alterations and additions project on a terrace-house located in the leafy suburban streets of Sydney's Newtown, nestled into a narrow site backing onto the Carriageworks cultural precinct.
14 Aug 2020
Sydney Central Station Development, Henry Deane Plaza, Central Business District
Design: SOM and Fender Katsalidis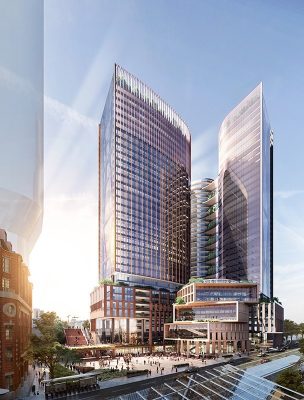 image © SOM | Fender Katsalidis
Sydney Central Station Development
Skidmore, Owings & Merrill and architects Fender Katsilidis win the international design competition for a landmark project at Sydney's Central Station. The development seeks to rejuvenate the city's busiest transport interchange with a new, vibrant public realm, and bring two tech-focused office towers with the world's first AI-driven facade system, powered by 100% renewable energy to Central Business District.
6 Aug 2020
Pitt Street OSD and metro station, corner of Park & Pitt streets
Design: Foster + Partners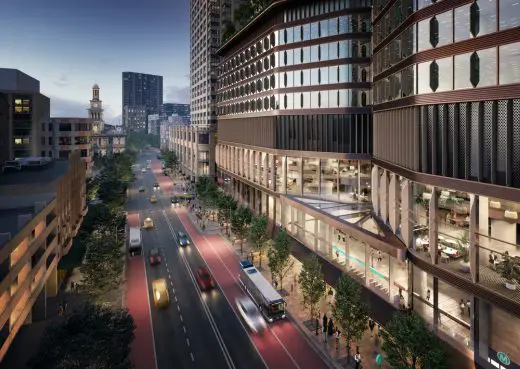 image © Foster + Partners
Pitt Street Over Station Development
Strategically located at the junction of Sydney's southern CBD and the midtown retail precinct, the station stretches underground across an entire city block between Park Street and Bathurst Street.
19 June 2020
Glorietta Italian Restaurant
10 June 2020
Matrix Apartments in Parramatta, Parramatta, West Sydney
Architects: Tony Owen Partners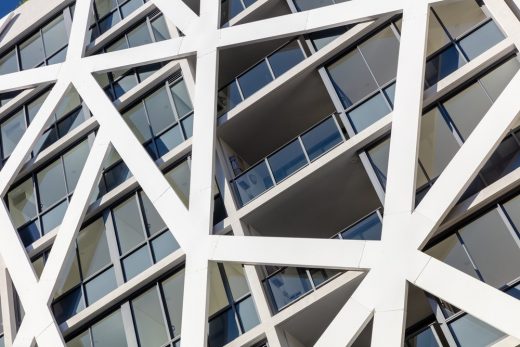 image from architecture practice
Matrix Apartments in Parramatta
The site is located on a prominent corner in historic Parramatta in Sydney's West. The surrounding buildings ranges from 2 to 18 storey apartment buildings, so this was very much an infill project.
14 May 2020
Spring Farm Community Centre, Camden, south west Sydney, New South Wales, Australia
Design: NBRSARCHITECTURE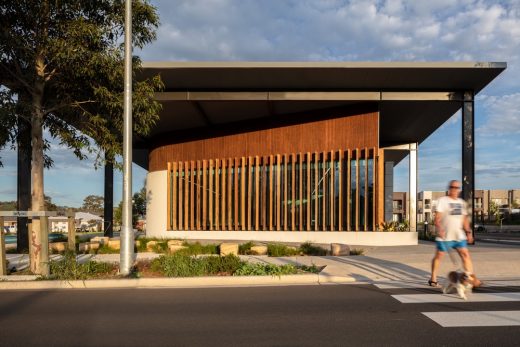 photograph : Alexander Mayes Photography
Spring Farm Community Centre
Spring Farm is an emerging community in Sydney's South-West. The architecture practice has designed and delivered a community centre that visually invites and draws in the local community through design elements that evoke intrigue and play.
14 Apr 2020
Ocean Grove Surf Life Saving Club in Geelong
10 Apr 2020
Deakin University ManuFutures in Geelong
6 Mar 2020
Sydney Coliseum Theatre
Design: Cox Architecture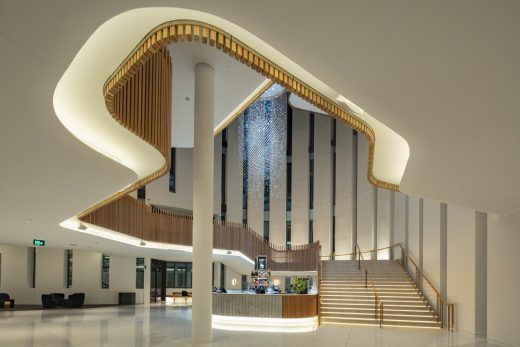 photograph : John Gollings
Coliseum Theatre in Western Sydney, NSW
This is a 2000-seat multi-mode performance venue located in burgeoning Western Sydney.
2 Mar 2020
Porter St Ryde Apartments, Shepherds Bay, Meadowbank Precinct, Ryde, New South Wales
Architects: Glyde_Bautovich
Porter St Ryde Apartments in Sydney, NSW
22 Dec 2019
Powerhouse Parramatta Design Competition Winners
8 Dec 2019
Plaza Building and Public Artwork, Circular Quay
6 Dec 2019
Bellevue Hill Apartment Building
1 Dec 2019
Darlington Brickworks Apartment Building in Sydney
19 Nov 2019
Marsden Park Amenities NSW by CHROFI
30 Oct 2019
Western Sydney Airport, New South Wales Building
1 Oct 2019
Marrickville Warehouse
24 Sep 2019
Aesop Pitt Street building desig by Snøhetta
23 Sep 2019
Mosaic Apartments
10 Sep 2019
The John B. Fairfax Learning Centre, Macquarie Street
Architects: BVN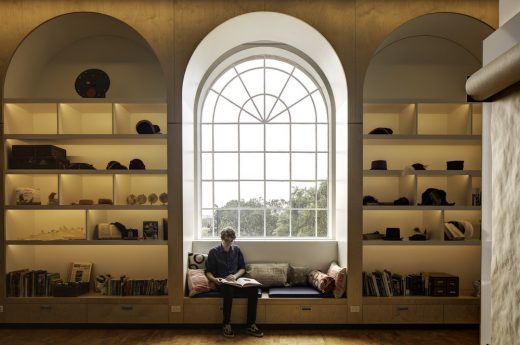 photography : Brett Boardman
The John B. Fairfax Learning Centre
The John B. Fairfax Learning Centre aspires to position the State Library as an excellent learning destination, by providing a fun, flexible and agile space allowing the children to act as scene setters, creating their own unique learning experience.
26 Aug 2019
Duck&Rice Restaurant
13 Aug 2019
Lankan Filling Station
9 Jul 2019
Fundamental House in Annangrove
5 May 2019
Disco Volante, Clarence Street, CBD
Architects: Tony Owen Partners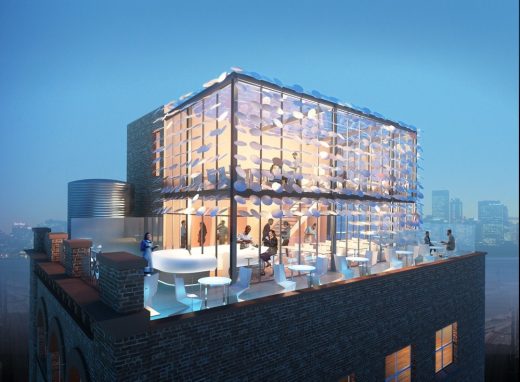 image from architecture practice
Disco Volante
Work commences on this architectural intervention atop the 10 storey Nelson House in Sydney's CBD.
18 Apr 2019
St James Chapel in Castle Hill
Architects: Jackson Teece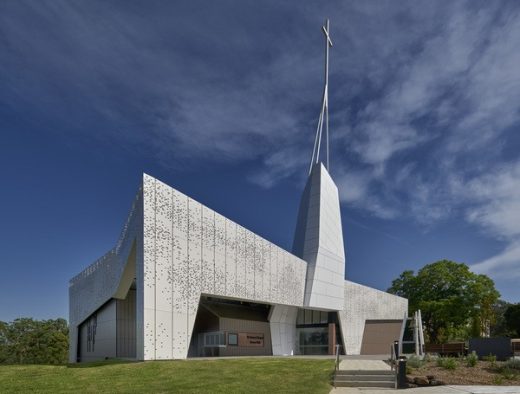 photography : Michael Nicholson
St James Chapel in Castle Hill
The new St James Chapel and Dover Hall built by Lipman is central to Anglicare's Retirement Living and Aged Care precinct in Castle Hill, has opened. Pinned delicately to the sloped site at four points, it imbues a sense of stillness, calm and strength.
14 Apr 2019
Taylors Bay House in Mosman, NSWW
5 Apr 2019
Beach House on Avoca Beach, NSW
24 Mar 2019
Emblem Apartments
Architects: BVN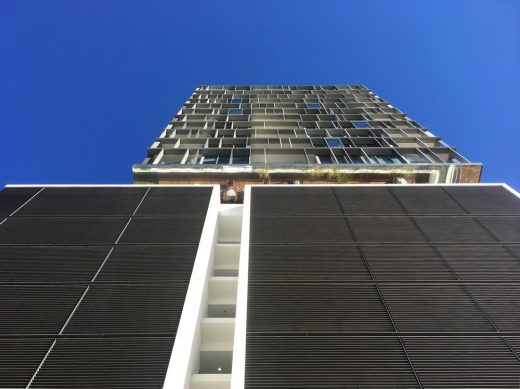 photography : John Gollings and BVN
Emblem Apartments Sydney by BVN Architecture
The building sits between two smaller residential buildings designed by different architects. All three share a common basement carpark. Height, setbacks and building footprint were strongly defined by the Development Control Plans for the Precinct and the brief for the Design Excellence Competition.
9 Feb 2019
Orange Regional Museum and Community Centre, New South Wales
Design: Crone Architects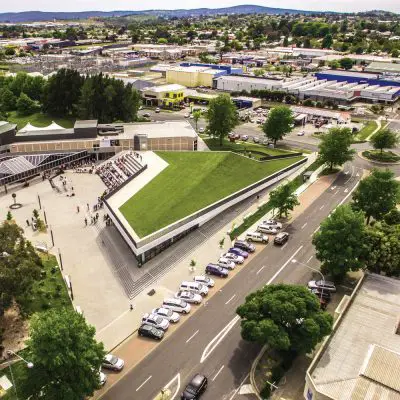 photo : Troy Pearson
Orange Regional Museum and Community Centre Building
More contemporary Sydney Architecture News on e-architect soon
Sydney Architecture News 2018
Sydney Architecture News 2018:
More new Sydney Architecture News welcome for consideration
Sydney Architecture
Sydney Building Designs : A-L
Sydney Buildings : M-Z
More Sydney Architecture News online soon
Location: Sydney, NSW, Australia
Architecture in New South Wales
Australian + NSW Architecture Links
Contemporary Australian Architectural Projects
Buildings / photos for the Sydney Building News page welcome