Sydney Architecture Photos, Architect, New South Wales Building News, Houses Designs
Sydney Buildings : NSW Architecture
Key Australian Property Developments in New South Wales: Built Environment
Sydney Architecture
We've selected what we feel are the key examples of Sydney Architecture. We aim to include high quality NSW architectural projects.
We cover completed NSW buildings, new building designs, architectural exhibitions, design competitions and architects in Sydney.
Sydney Building Projects – Selection, alphabetical:
Sydney Architecture : news + key projects (this page)
Sydney Building Designs : A-L
Sydney Buildings : M-Z
Sydney Building – Latest News + Additions
Architecture News – latest additions to this page, arranged chronologically:
13 Aug, 2017
Saving the Sirius Building
A decision by the New South Wales government not to heritage list the Sirius public housing building was invalid, a court has ruled, reports The Guardian.
The Brutalist-style building in Sydney's Rocks district will now get a second chance after the land and environment court said the minister for environment and heritage, Mark Speakman, had not properly considered a recommendation by the heritage council to list it on the register.
The building is an example of purpose-built and accessible social housing. Mark Speakman said value of the building would be reduced by as much as $70m (?!) if heritage listing did go ahead
Justice Molesworth said some iconic structures were so valuable to society their financial burdens could never be "undue" and should be carried at all costs. He considered two other iconic landmarks around Sydney Harbour – the Opera House and Harbour Bridge.
Justice Molesworth did not make a decision on whether Sirius held a similar level of value, and stopped short of ordering the minister to list it on the heritage register.
The Brutalist building in "The Rocks" district will get another chance to avoid demolition.
Now, the NSW government must remake a decision based on current law. It also ordered the government pay the Millers Point Community Association, which has stood against the decision to sell off the building and crowdsourced $50,000 for legal fees.
Source: https://www.theguardian.com/australia-news/2017/jul/25/sirius-building-gets-second-chance-after-decision-not-to-heritage-list-it-ruled-invalid
The Save Our Sirius Foundation – fighting for heritage listing: saveoursirius.org
Sydney Architecture Walking Tours – by e-architect
580 George Street Facade, Sydney, New South Wales (NSW), Australia
Architect: FJMT Studio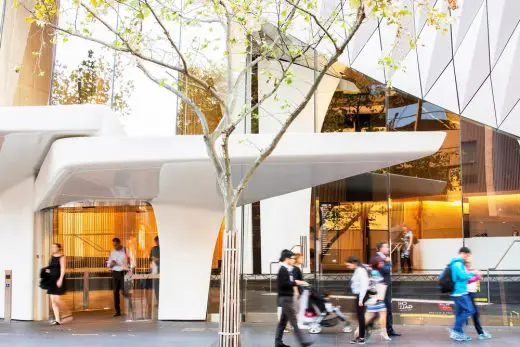 photo : Brett Boardman
200 George Street Sydney – 19 Oct 2016
AR-MA worked with architects FJMT, Façade Engineers ARUP and Empire Glass to design and detail the facade systems for the awning, internal soffit, sloping glazing and composite entry canopy.
Quay Quarter Tower
Design: 3XN Architects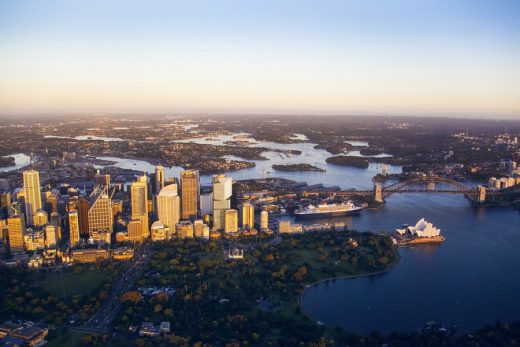 image from 3XN
Quay Quarter Tower Sydney – 31 Dec 2015
The 200m-high tower is the most ambitious building designed by a Danish architect in the city since Jørn Utzon's Opera House. The 49-story high rise comprises five shifting glass volumes stacked upon each other. The lower levels of the tower angle west to capture the energy and movement from the surrounding neighborhood.
Vivid Sydney 3D Light Sculpture – 19 May 2014
Design: The Buchan Group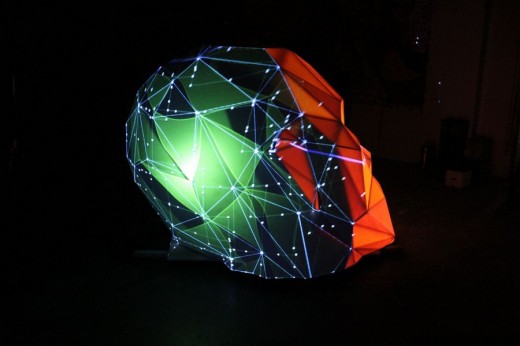 image from architects
People passing through Sydney's CBD will lend their face to a submerged giant human head rising out of Martin Place during this year's Vivid Sydney festival.
Castlecrag Residence – 15 May 2014
Design: CplusC Architectural Workshop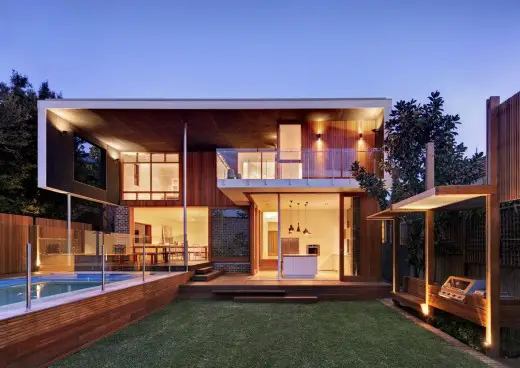 photographs : Murray Fredericks, Simon Whitbread
Located in the Sydney harbour-side suburb of Castlecrag, a cellular and inward-looking mid-20th century brick bungalow has undergone a complete transformation to an open, light filled contemporary family home that embraces the ideals of Walter Burley Griffin's design legacy for Castlecrag "Building for Nature".
Eliza Apartments – 14 Apr 2014
Design: Tony Owen Partners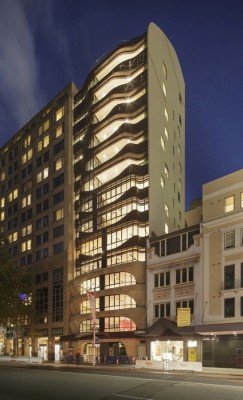 photo from architect
Designed to be Sydney's most prestigious and progressive address. We sought a building to fit within the historic context of the area yet was an unmistakably contemporary and challenging design, combining classic 20th century style with parametric design tools to create a sustainable iconic CBD landmark.
Residence in Bellevue Hill – 26 Feb 2014
Design: Bruce Stafford Architects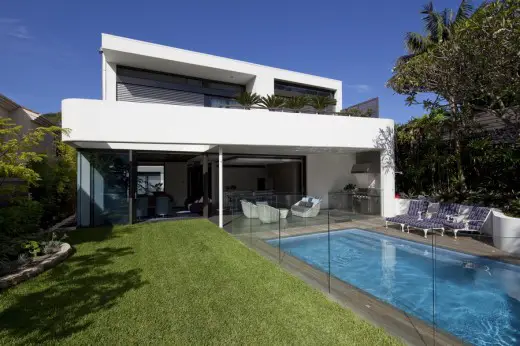 photographs : Karl Beath, Erik Smithson, Vincent Chi, Rachel Kayode
A guiding principle of the design was to promote the wellbeing of all members of the family, creating an environment of peace and tranquillity. With an abundance of natural light and sunshine, the spaces are interwoven with nature through the use of courtyards, skylights, glazed openings and garden.
Surry Hills Terrace House – 15 Jul 2013
Design: Danny Broe Architect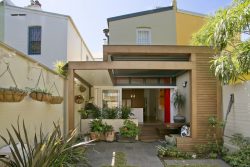 photo from architect
The brief: maintain and preserve the lovely big rooms at the front of the house, while radically transforming the kitchen and bathroom at the back into a wonderful contemporary space. Seamlessly blend inside and outside living spaces.
Royal Botanic Garden Sydney Masterplan
Design: Grant Associates



photo : Royal botanic gardens and domain trust © Simone Cottrell
Royal Botanic Garden Sydney Masterplan – 11 Jun 2013
Working alongside Cox Richardson Architects and Planners, Grant Associates will be responsible for developing the landscape strategy and public realm elements of the new masterplan. With a combined area of 64 hectares, on a spectacular location bordering the iconic Sydney Harbour waterfront, the Royal Botanic Garden, Sydney and public Domain is the largest single site in the Sydney Central Business District.
Alpha Apartments, Lewisham
Design: Tony Owen Partners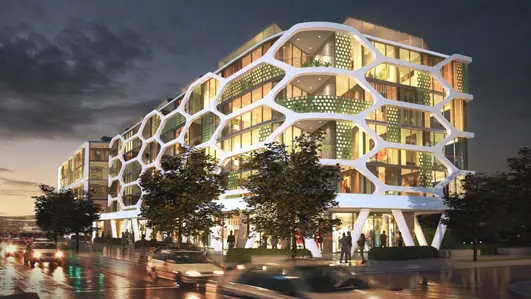 image from architects
Alpha Apartments Sydney – 9 Jun 2013
The Alpha by Tony Owen Partners is due to start construction in July. Located in Lewisham on the fringe of the Sydney city centre, the Alpha will form the cornerstone of the new McGill design precinct. The McGill master plan, prepared by Tony Owen Partners, is envisaged as a hip mixed use designer precinct with a collection of contemporary buildings and public open spaces forming an exciting new community.
Aspire Tower, Parramatta, western Sydney
Design: Grimshaw Architects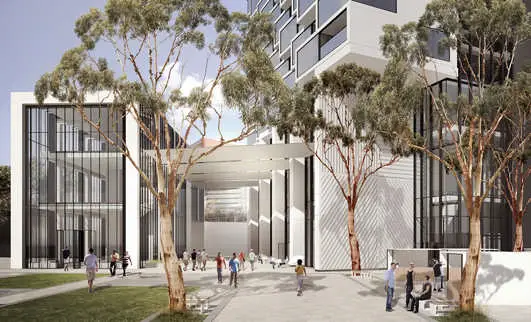 image from architects
Aspire Tower Sydney – 9 Apr 2013
A Development Application has been submitted on behalf of Parramatta City Council for a landmark mixed-use tower. The Aspire Tower emerged from a design excellence competition held by the Council and is set to establish a new benchmark for innovative, passive-environmental design in Australian high-rise developments.
Danks & Bourke Offices
Design: Tony Owen Partners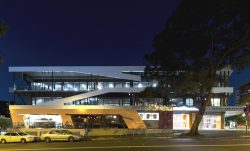 photo from architect
Danks & Bourke Offices – 11 Feb 2013
The new Danks & Bourke strata commercial building is a refurbishment of a 1960's concrete furniture warehouse. It is located in the former industrial area of Danks Street, which has lately become a trendy hub for the designer commercial set.
Sydney Exhibition Centre + Convention Centre – campaign to save the buildings
Cox, Richardson, Taylor and Partners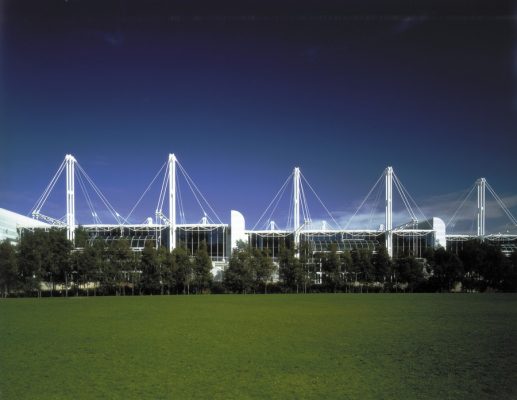 photo : Patrick Bingham-Hall
Sydney Exhibition Centre – 25 + 23 Jan 2013
The Sydney Exhibition Centre is a significant building for Sydney, recognised internationally as an outstanding architectural building of the twentieth century. Comprising five interconnected halls, each of 5,000 square metres, an underground 1,000 space car park.
HASSELL + Populous win Sydney's new Convention, Exhibition and Entertainment Precinct design project, Australia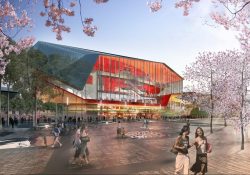 image : HASSELL + Populous
SICEEP Darling Harbour – 18 Dec 2012
Joint venture partners HASSELL + Populous have won the architectural contract for the design of Sydney's new integrated convention, exhibition and entertainment precinct at Darling Harbour, due for completion in 2016. HASSELL will also design the extensive public parklands and open space within the 20 hectare precinct. HASSELL + Populous are design consultants to Destination Sydney consortium.
Darling Harbour Redevelopment – Masterplan + ICC Hotels
Design: OMA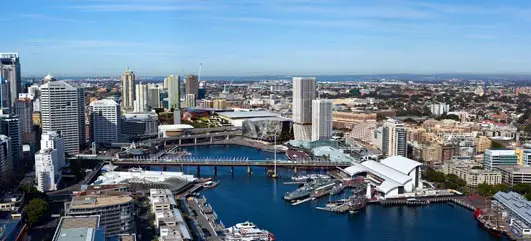 image : OMA
Darling Harbour Redevelopment – 13 Dec 2012
The New South Wales Government announced today that Destination Sydney, consisting of Lend Lease, HOSTPLUS, Capella Capital, AEG Ogden and Spotless, is the preferred consortium for Sydney International Convention, Exhibition and Entertainment Precinct (SICEEP) redevelopment.
Dr Chau Chak Wing Building, UTS
Design: Gehry Partners LLP with architect Daryl Jackson Robin Dyke (Australia)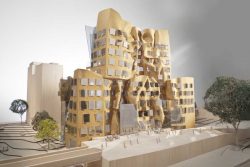 image : Gehry Partners, LLP
Dr Chau Chak Wing Building Sydney – 2 Dec 2012
Lend Lease, one of Australia's largest contractors, has been appointed by UTS to build the Frank Gehry-designed Dr Chau Chak Wing Building aka 'Gehry's Tree house'.
To open in mid-2014 at a total development cost of $180 million, the building will house the UTS Business School. The UTS building will be 12 storeys high.
Architecture in Sydney – Recent Buildings
Edgecliff Medical Centre
Design: Enter Architecture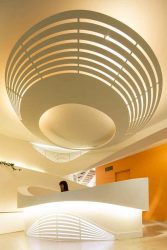 photo : Brett Boardman
Edgecliff Medical Centre – 9 Oct 2012
At 150sqm, the project was modest in its footprint but sets a clear example of digitally fabricated interiors, and a prototype to see how these projects perform. In early conversations with the client, priorities were quickly realised: 3 radiating treatment rooms, a central reception area, lots of play spaces, soft furnishings like beanbags and excellent visibility – all of which contributed to the genesis for the ideas and space planning that followed.
Boilerhouse Precinct, Parramatta Campus, University of Western Sydney
Design: Tanner Architects Pty Ltd


photo : Michael Nicholson
Boilerhouse Precinct University of Western Sydney – 8 Oct 2012
The Parramatta campus of University of Western Sydney is a significant and historic place. Continuously used since 1813 as a public institution – first as a school for the new colony's female orphans, then as a psychiatric hospital and since 1998 as a university. The sequential development has resulted in a fine grained built form with a series of non axial vistas and interstitial places bounded by a cohesive group of buildings.
Common Ground Sydney, Camperdown, New South Wales
Design: HASSELL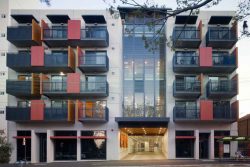 photo from architects
Common Ground Sydney – 5 Oct 2012
Common Ground Sydney adopts the 'street to home' approach of the Common Ground model originating in New York. The project addresses chronic homelessness by providing stable, high quality permanent housing. The building itself is indistinguishable as social housing or an institutional building but rather presents as a contemporary and comfortable living environment.
Boustred House, Mosman, Sydney Middle Harbour
Design: ian moore architects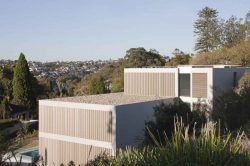 photo : Daniel Mayne
House in Mosman – 5 Oct 2012
This new residential property project is located in Mosman on a north facing slope looking across Sydney's Middle Harbour to the Spit Bridge and Clontarf.
Kerrie Murphy Building, Ultimo, Sydney, New South Wales
Design: Allen Jack+Cottier – Australia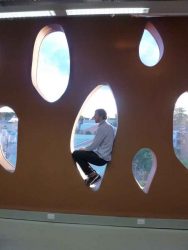 photo : AJ+C
Kerrie Murphy Building – 5 Oct 2012
This school building for the International Grammar School in Ultimo, Sydney, celebrates the joy and excitement of discovery and learning for the young students, who have absolutely fallen in love with it. Michael Heenan, principal of Allen Jack+Cottier Architects has delivered an organic design to create a memorable and stimulating school building.
Darling Quarter
Design: Francis-Jones Morehen Thorp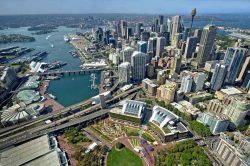 photograph : John Marmaras
Darling Quarter Sydney – 4 Oct 2012
The building was announced as the winner of the Office category at the World Architecture Festival. The project, which creates a new urban quarter on the edge of the city, was praised by the judges for its exciting form and massing and the creation of a publicly accessible landscape.
WAF Awards 2012 – winner of office category
Ravenswood School for Girls, Gordon
BVN Architecture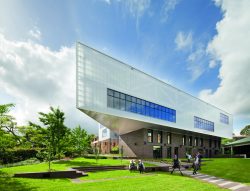 photograph : John Gollings
Ravenswood School for Girls Sydney – 3 Jul 2012
BVN won the 2012 Sulman Architecture Award at the Australian Institute of Architects Awards, becoming the first architecture practice to win seven Sulman awards since the award was first given eighty years ago in 1932. This latest award was given for the Mabel Fidler Building.
Holman House, Dover Heights, east Sydney
Durbach Block Architects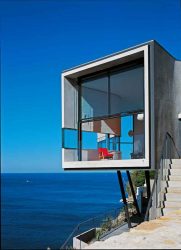 photograph © Brett Boardman
Sydney Waterfront House – added 13 Jan 2012
Sited on the edge of a 70-metre high cliff, the plan of Holman House refers to Picasso's painting The Bather. It contains a complex series of fluid living spaces set within a meandering perimeter that arcs, folds and stretches in response to sun, landscape and views.
More Sydney Architecture online soon
Location: Sydney, NSW, Australia
Australian Architectural Designs
Australian + NSW Architecture Links
Proposition 2065 Architecture Competition
Peddle Thorp Architects + SBE
Proposition 2065 Sydney
Powerhouse Museum Exhibition Sydney
Permanent Camping, New South Wales building
Buildings / photos for the Sydney Architecture page welcome