Construction Underway at Powerhouse Parramatta, West Sydney architecture, NSW property photos, Australia cultural building
Construction Underway at Powerhouse Parramatta in West Sydney
Updated 10 Nov 2023 + 21 Aug 2023
Architects: Moreau Kusunoki and Genton
Location: Parramatta, West Sydney, New South Wales, Australia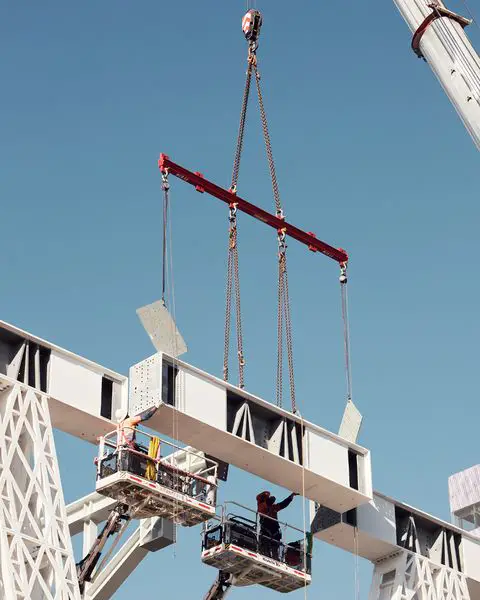 Images by Zan Wimberley
Construction of Powerhouse Exoskeleton Underway for Sydney's New Museum
The construction of the giant exoskeleton structure for Powerhouse Sydney's new landmark museum development, Powerhouse Parramatta, is currently underway on site.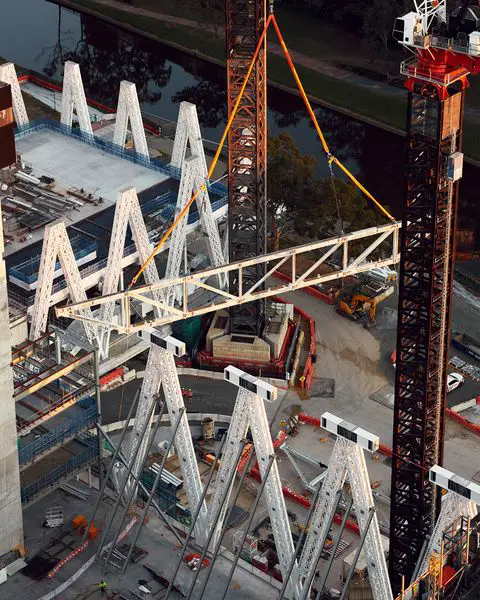 Designed by Franco-Japanese architects Moreau Kusunoki (lead designer) and Australian architects Genton (local architect), and constructed by Lendlease, Powerhouse Parramatta is Australia's largest cultural infrastructure development since the Sydney Opera House and will open in 2025. The AUD$915 million project is one of the world's most significant new museum developments and signifies the first state cultural institution built within Sydney's most dynamic and culturally diverse region, Western Sydney.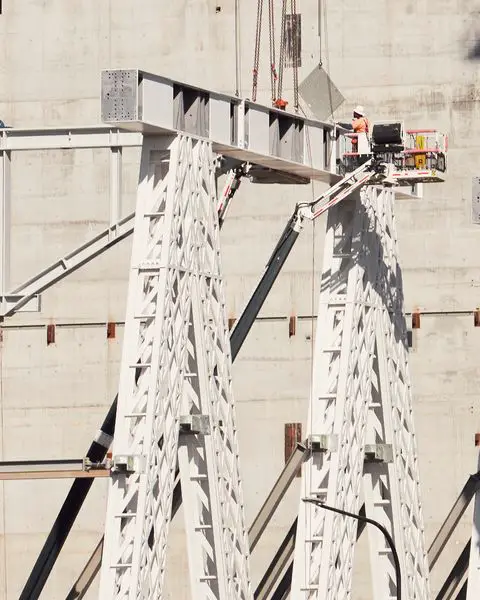 The structure of Powerhouse Parramatta is expressed in three levels of scale and complexity: the white steel latticing that surrounds the building forms both the building's façade and, crucially, its supporting structure – its exoskeleton.
Moreau Kusunoki's architectural statement articulates: "The lattice design that we refer to as the exoskeleton emerged out of our discussions with the distinguished Tokyo University Professor of Engineering, Jun Sato. The geometry of this lattice structure greatly reduces the amount of material needed to support the building's physical load, as well as lightening the material presence of the steel. The design highlights the porous relationship with the surrounding neighbourhood. It also serves as a means of keeping the building's elements at a human scale."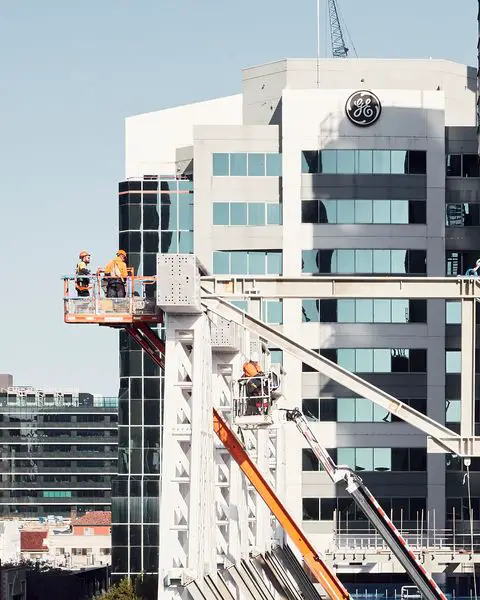 Genton Principal Steven Toia said, "The building was conceived as a series of hyper platforms; column-free spaces with flexibility and potential. The exoskeleton as a structural system serves the essential requirement of achieving these uninterrupted spaces."
"Whilst the exoskeleton handles substantial structural loads to support the hyper platforms, the building appears light, transcending scale. Its minimal structural footprint touches the ground lightly and respectfully, allowing space for an extensive green public domain."
Powerhouse Chief Executive Lisa Havilah said that architecturally, Powerhouse Parramatta will be one of the great cultural and public buildings of the world.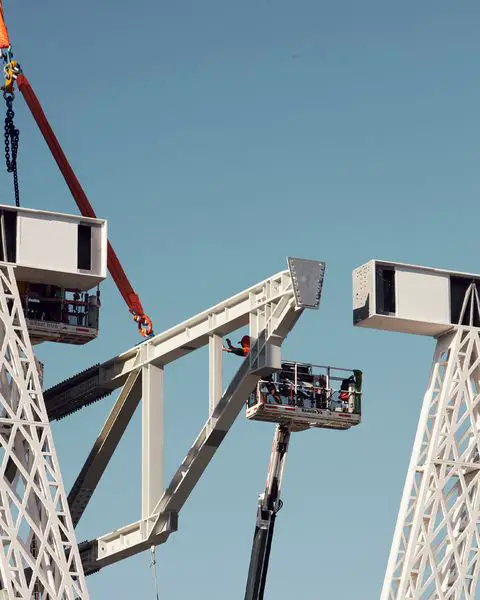 "It is a project that is redefining and rethinking what museums can and should be for their communities and it's the first time that a major cultural institution will be located within these diverse and growing communities.
"For me, the most important part of this project is the generational impact of a piece of incredible public architecture igniting the ambition of a community, of a region, of a city, and I'm excited about what precedent it will set at a national and international level."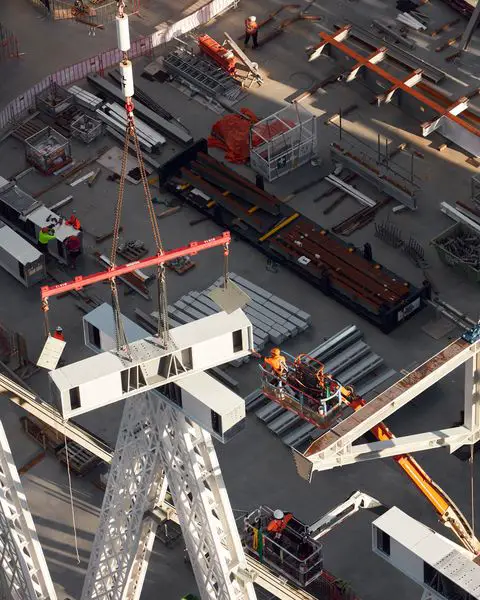 Previously on e-architect
21 Nov 23
Powerhouse Sydney, Australia's largest museum group, is undertaking an AUD $1.4 billion transformation, spearheaded by the development of Powerhouse Parramatta on a landmark site in Western Sydney.
Designed by Moreau Kusunoki and Genton, Powerhouse Parramatta is the largest cultural development in Australia to be created since the Sydney Opera House and is planned to open in early 2025. The museum is located in the heart of Western Sydney in Parramatta bounded by the river and home to one of the fastest growing and most diverse communities in Australia.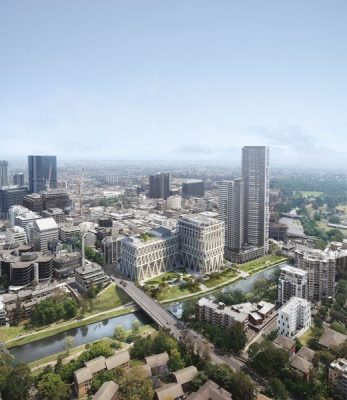 Powerhouse Parramatta is pioneering a new museum model that aims to redefine contemporary museum practice and culture. The building features seven large scale exhibition spaces alongside learning and digital studios, a cinema, an 800-seat theatre, an extensive rooftop garden, restaurants and cafes. Thirty residential studios will be integrated into the museum, bringing together scientists, researchers and artists to collaborate with the Powerhouse and its communities. In addition, the Lang Walker Family Academy will include 60 bed accommodation within the museum precinct for remote students to immerse themselves in new science, technology and cultural learning experiences. A green landscaped public domain between the museum and the river will be open 24 hours a day, connecting the community with industry and learning, and supporting festival events and programmes for audiences of up to 10,000.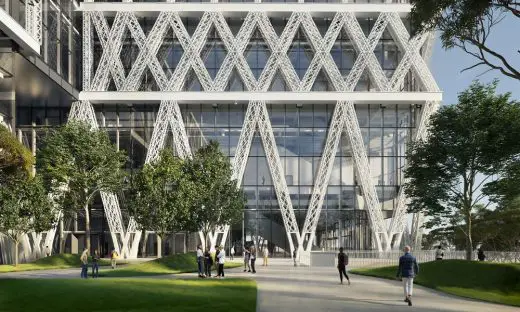 Lisa Havilah, Chief Executive of Powerhouse Sydney, said: "Powerhouse Parramatta will enable our ambition to be a leader in a radical approach to museum culture, giving voice and agency to the full range of communities that make up Sydney's diverse population. Simultaneously a centre for production, display and learning, we will celebrate the dynamic shift in how Sydney thinks about itself, its culture and its communities. We will prioritise investment in First Nations communities promoting self-determination and shared responsibility, to engage a generation."
Powerhouse Parramatta is one of the largest and most complex architectural and structural engineering projects currently underway in Australia. The building design has been conceived by Paris based architects Moreau Kusunoki (Lead Designer), working in partnership with Australian architecture practice Genton (Local Architect) and master Japanese engineer, Jun Sato, whose work on high-tensile architectural facades is legendary.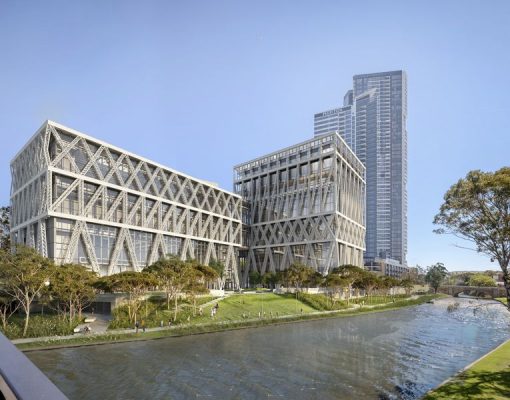 Powerhouse Sydney has its origins in the Museum of Applied Arts and Science founded in 1879 and sits at the intersection of the arts, design, science and technology. It is currently undertaking a landmark $1.4 billion infrastructure renewal program across its four sites in Sydney, spearheaded by the creation of the flagship museum, Powerhouse Parramatta; expanded research and public facilities at Powerhouse Castle Hill; the renewal of the iconic Powerhouse in Ultimo; and the ongoing operation of Sydney Observatory. The museum is custodian to over half a million objects of national and international significance and is considered one of the finest and most diverse collections in Australia. Powerhouse is also undertaking an expansive digitisation project that will provide new levels of access to the collections.
Powerhouse Parramatta is being delivered through the NSW Government's delivery agency Infrastructure NSW with construction partner Lendlease.
NET ZERO
Opening in 2025, Powerhouse Parramatta will be the greenest public building in Australia, being net-zero from day one of operations.
Powerhouse Parramatta's sustainability approach is guided by targeting a minimum 6 Star Green Star rating and net zero carbon emissions, achieved by focusing on sustainability in construction and sustainability in operation. The Green Star rating system was developed by the Green Building Council of Australia and is considered a world-class example of sustainable design and the highest level of environmental performance for buildings in Australia. The rating system is used to assess the environmental performance of buildings across 9 categories including energy, water, materials, and indoor environment quality.
Sustainability will be integrated into the design and operation of the museum in multiple ways including:
— Utilising eWater Systems to reduce the use of synthetic chemicals in the building and water harvesting. Reuse is intended to support more resilient operations and reduce unnecessary reliance on potable water.
— No gas will be used.
— Maximising onsite renewable energy opportunities.
— Standardising a zero-waste approach to exhibition construction and museum operations, developing a materials management plan and integrating circular principles into design and production processes.
— Embedded sustainability practice in programming and collection management, including prioritising collaboration and research with climate change thought leaders and industry.
— Landscaping features including a dedicated conservation area to support biodiversity, and a productive rooftop garden with diverse species including a focus on Indigenous species.
— Practicing responsible stewardship by working with First Nations people to ensure Powerhouse activities and practices do not damage Country or hinder custodial obligations, including to future generations.
Powerhouse Parramatta in West Sydney, NSW – Building Information
Key Project Dates
2019: Powerhouse Parramatta International Design Competition Awarded to Moreau Kusunoki and Genton
2020–21: Design development, planning and builder procurement
2022: Lendlease commences construction
2024: Construction completion
2025: Opening
Project Team
Moreau Kusunoki (Lead Architect)
Genton (Local Architect)
Jun Sato Engineering (Exoskeleton concept design) DEP – Kinetic Structure
ARUP Building Services
McGregor Coxall (Landscape)
L'Observatoire International (Architectural lighting) Lendlease (Contractor)
Project Spaces: Surface area of the site is 19,500 sqm
Exhibition and Public Space: 18,572 sqm
Total Floor Area: 32,579 sqm
Budget: $915,000,000 AUD
Moreau Kusonoki Architecture
About Moreau Kusunoki
Nicolas Moreau and Hiroko Kusunoki founded Moreau Kusonoki Architecture in Paris in 2011. Kusunoki, who earned her degree from the Shibaura Institute of Technology in Tokyo, began her career in the studio of Shigeru Ban. Moreau, who trained at the Ecole Nationale d'Architecture de Belleville in Paris, worked in the studios of SANAA and Kengo Kuma.
In 2008, Moreau and Kusunoki left Tokyo together, so that Moreau could open Kengo Kuma's office in France. Notable projects are the award-winning proposal for the Guggenheim Helsinki, the new Sciences Po (The Paris Institute of Political Studies) university campus in the centre of Paris, the National Lighthouse Museum in Brest, France, and the House of Cultures and Memories in Cayenne, French Guiana. in Australia and supporting over 800 artists each year.
Havilah has contributed to the development of both State and Federal Government Arts Policy including contributing to the authoring of NSW's first arts and cultural policy – Create In NSW. She served as a member of the City of Sydney Public Art Advisory Panel, is a member of the Lendlease Public Art Advisory Panel and advises Barangaroo Development Authority on their arts and cultural programs and in 2016 was awarded the New South Wales Government's NSW Creative Laureate award.
Genton
About Genton
Steven Toia founded Genton in 2010 with a focus on delivering outstanding design and quality architectural and design work. Steven's experience extends to design, documentation and procurement of small, large and complex projects both locally and internationally.
Fellow Director Marc Debney brings together diverse training in Architecture, Fine Arts and Law to weave design vision and project requirements to guide decisions with unwavering commitment to design. With established studios in Sydney and Melbourne they have been recognised with award-winning results across commercial, residential, infrastructure and technical projects including the design and rebuild of public buildings.
Powerhouse Parramatta West Sydney, NSW images / information received 100823/ updated 101123
Location: Parramatta, Western Sydney, New South Wales, Australia
Parramatta Architecture
Contemporary Parramatta Buildings – selection of contemporary architectural designs:
Matrix Apartments in Parramatta
Architects: Tony Owen Partners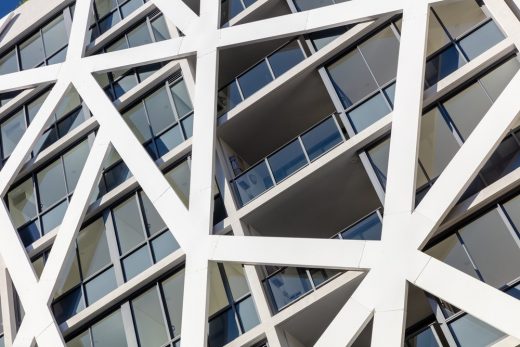 image from architecture practice
Matrix Apartments in Parramatta
International Design Competition for new Powerhouse Precinct at Parramatta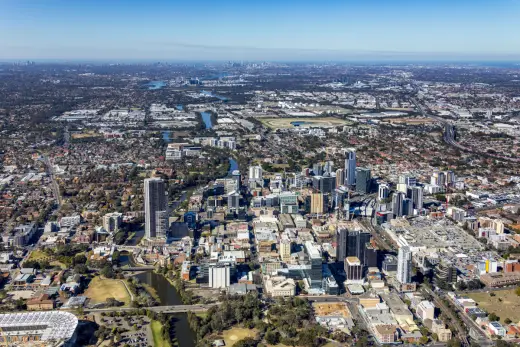 image © Mark Merton Photography
New Museum of Applied Arts & Sciences Parramatta
The New Arthur Phillip High School and Parramatta Public School, Macquarie Street, NSW, Australia
Design: Grimshaw Architects / BVN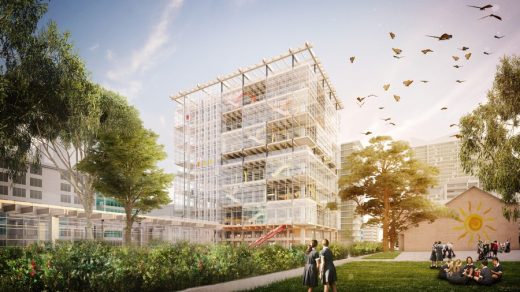 image courtesy Grimshaw
Arthur Phillip High School and Parramatta Public School
Parramatta Stage 5 & 6 Towers Competition Entry
Design: Esan Rahmani Architects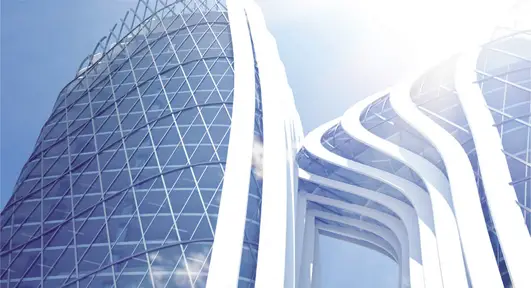 images from architects
Parramatta Stage 5 & 6 Towers Competition
Aspire Tower
Design: Grimshaw Architects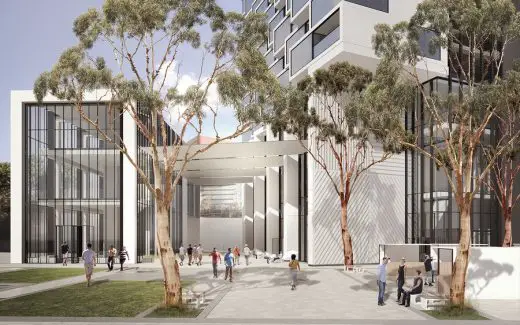 image from architects
Aspire Tower Parramatta Building
Boilerhouse Precinct, The Parramatta campus, University of Western Sydney, New South Wales, Australia
Design: Tanner Architects Pty Ltd


photo : Michael Nicholson
Boilerhouse Precinct Parramatta Campus Building
Powerhouse Parramatta Design Competition Winners
Powerhouse Parramatta Design Competition Winners
Powerhouse Precinct at Parramatta Design Competition
Powerhouse Precinct at Parramatta, NSW
New Museum of Applied Arts & Sciences in Parramatta
New Museum of Applied Arts & Sciences in Parramatta
BMW Showroom
Design: Turner + Associates Architects



image courtesy of architects practice
BMW Showroom Parramatta
New Architecture in Sydney
Sydney Buildings – selection of contemporary architectural designs:
Sydney Architecture Designs – chronological list
Disco Volante, Clarence Street, CBD
Architects: Tony Owen Partners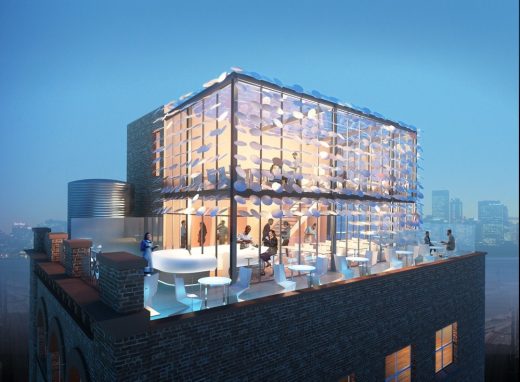 image from architecture practice
Disco Volante Sydney
Sydney Architecture Walking Tours by e-architect
Comments / photos for the Powerhouse Parramatta Development, West Sydney design by Moreau Kusunoki and Genton page welcome