Sydney Homes, NSW Houses, New South Wales Property Designs, Residence Photos
Sydney Houses : NSW Properties
New South Wales Property Developments, Contemporary Australian Homes
post updated 31 Jul 2021
Sydney House – Latest Property Additions
New South Wales Properties – latest additions to this page, arranged chronologically:
30 Jul 2021
Seacliff House, Bondi to Coogee Coastal Walk
Architects: Chris Elliott Architects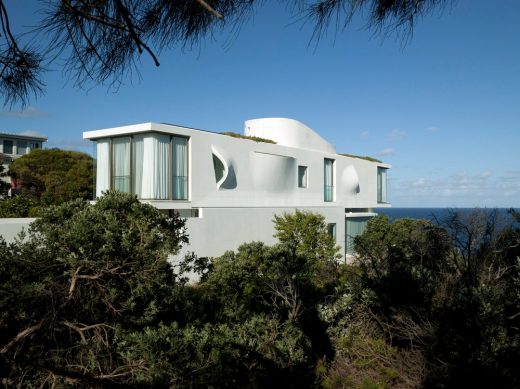 photography © Chris Elliott and Richard Glover
Seacliff House
The ground floor is a transparent platform, with large sliding and pivoting glass doors. The basement level is a watery grotto, sandstone carved away to create space, with water pools, shafts of light and strong colours.
27 Jul 2021
LA Cool Pool House, Newport, New South Wales, Australia
Architecture: Carter Williamson Architects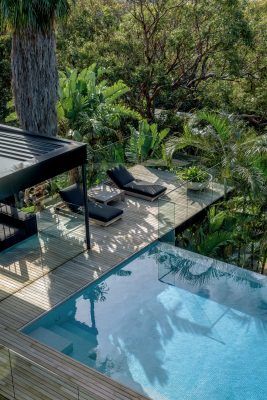 photography : Ben Guthrie
LA Cool Pool House, Newport NSW
An outdoor living space addition to realise the original vision of our 2015 project, Newport House. Perched above Newport Beach in Sydney's spectacular Northern Beaches, LA Cool embraces the beautiful views of Newport Beach and Pittwater, the infinity pool, pavilion and living spaces equally ideal vantage point to soak in the views.
5 Jul 2021
Stealth House, Hunters Hill
Architects: Bijl Architecture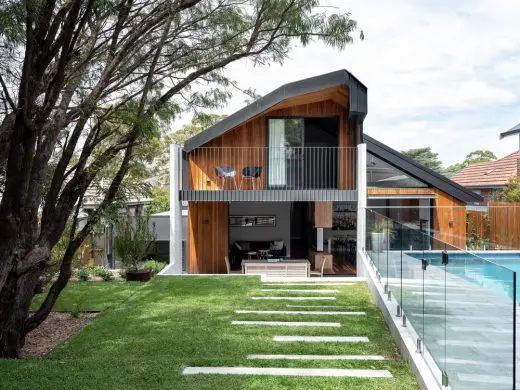 photograph © Tom Ferguson
Stealth House, Hunters Hill
Alterations and additions to an interwar cottage located in Hunters Hill. Together, architect and client collaborated to establish a site-based logic for the project – while effectively seeking to 'fly under the (planning) radar' with significant yet furtive side and rear additions to the dwelling.
16 June 2021
Kingsford House
Architecture: GSBN Studio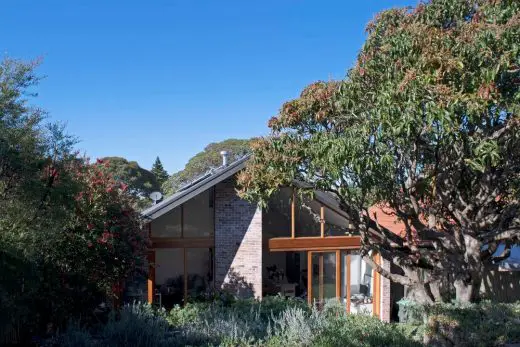 photograph © Alessandro Belgiorno-Nettis
Kingsford House NSW
This NSW property develoment is an extension of a single storey brick home in Kingsford. The brief required the design to satisfy the needs of growing children and to bring to life the clients' desires to entertain large gatherings of family and friend.
22 Apr 2021
Coast House
Design: Luke Moloney Architecture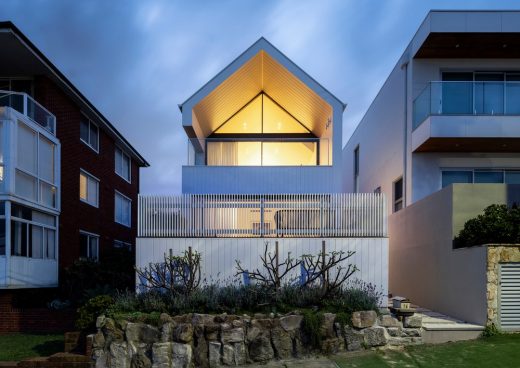 photograph © Tom Ferguson
Coast House
A single-storey cottage overlooking the ocean received a new first floor to take advantage of spectacular coastal views. An economical design tailors simple materials to make a comfortable home for a busy couple with young children.
16 Feb 2021
McLeod House
Design: Ian Moore Architects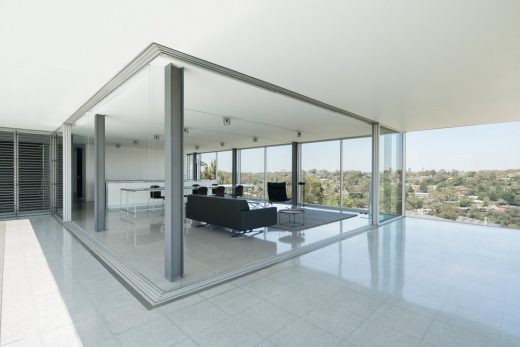 photograph © Daniel Mayne
McLeod House
The four-bedroom McLeod House is located on a ridge above Sydney's Middle Harbour, with significant district views as well as a distant view to Chatswood in the west. Officially it is alterations and additions to a 1970's house, as 30% of the original house had to be retained to allow the house to retain it's floor area, height and location on the site, all of which exceeded new planning controls for the area.
8 Feb 2021
Dodds House
Design: Ian Moore Architects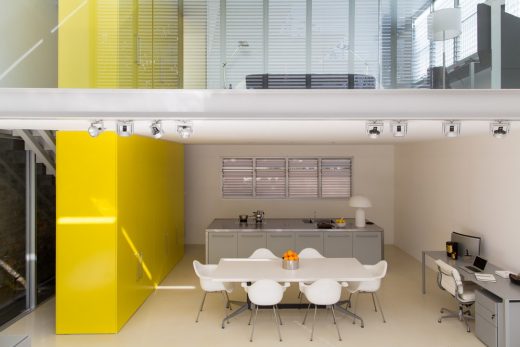 photograph © Daniel Mayne
Dodds House
This restoration of a one-bedroom house designed by Ian Moore in 1998 and completed in 2001, which had been unsympathetically altered by a previous owner.
17 Feb 2021
Hastings van Nunen House
3 Dec 2020
Escu House
23 Nov 2020
Chimney House Sydney
16 Nov 2020
Mosman White House
5 Nov 2020
House Anand
19 Oct 2020
Eagle's Nest, Collaroy Plateau, New South Wales
Architects: Ian Bennett Design Studio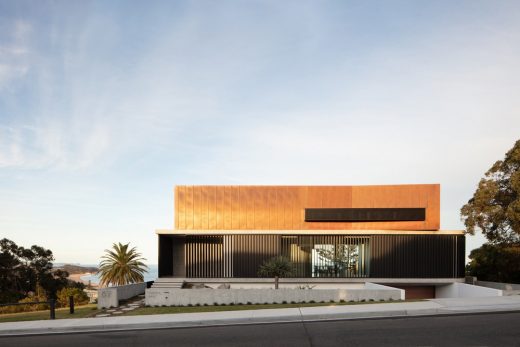 photo : Clinton Weaver
Eagle's Nest, Collaroy Plateau
Perched high on a prominent escarpment in the highest level of bushfire attack; Flame Zone, Eagle's Nest aspires to balance and curate the experience of outlook and expansiveness of site, with privacy and seclusion. The restrained material palette heightens this experience of site, landscape and built form along with the changing dynamic of light and shade.
20 Sep 2020
Pindimar Lake House, NSW
4 Sep 2020
Next Generation House in Pittwater, NSW
28 Aug 2020
Oye Mi Canto House, Carriageworks cultural precinct, Sydney, New South Wales, Australia
Design: CplusC Architectural Workshop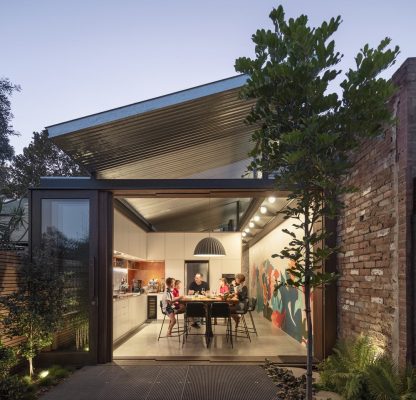 photo : Murray Fredericks
Oye Mi Canto House
An alterations and additions project on a terrace-house located in the leafy suburban streets of Sydney's Newtown, nestled into a narrow site backing onto the Carriageworks cultural precinct.
14 July 2020
A+C Residence in Seaforth
29 June 2020
The Waterfront Retreat, Newport, New South Wales, Australia
Architecture: Koichi Takada Architects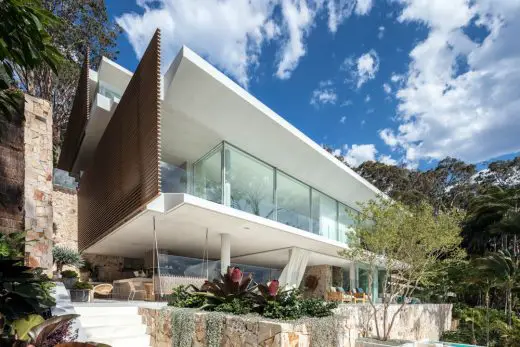 photo : Tom Ferguson Photography
The Waterfront Retreat Newport, NSW
The Waterfront Retreat is the epitome of an Australian dream home, adorned with a private beach, garden and open-plan living. Responding the clients' brief – a house offering sanctuary and entertainment, the Waterfront Retreat is designed to allow nature to lead, offering maximum seclusion and connection to its surrounds and outlook.
23 June 2020
Hart House, Great Mackerel Beach, New South Wales
Design: Casey Brown Architecture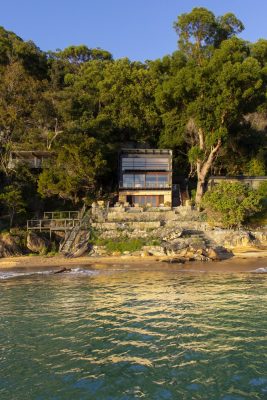 photo : Rhys Holland
House on Great Mackerel Beach, NSW
This new property is located on the idyllic shoreline of Great Mackerel Beach, and was conceived as a contemporary interpretation of the quintessential one-room Australian beach shack. The form was derived from a wrapped 'box' open to one side.
17 June 2020
Blackwood Residence, Clovelly, eastern Sydney
Architects: McGregor Westlake Architecture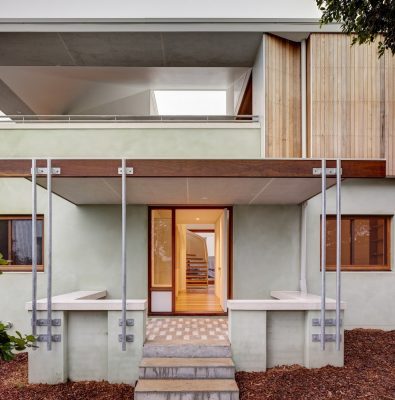 photo : Brett Boardman
Blackwood Residence in Clovelly
This NSW residence is a recently finished alteration and addition to a house in Boundary Street, Clovelly.
8 June 2020
St Peters House II
Architects: Kreis Grennan Architecture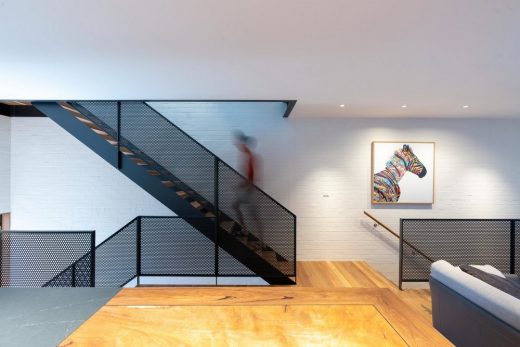 photo : Douglas Frost
St Peters House II in Suburbian West Sydney
The St Peters House II is built at the rear of a narrow lot in the Sydney suburb of St Peters. The client's backyard provided a new site for his freestanding home. The original dwelling remained, creating additional accommodation and a sensible approach to increased urban residential density.
19 May 2020
YrdPods
Architects: Kreis Grennan Architecture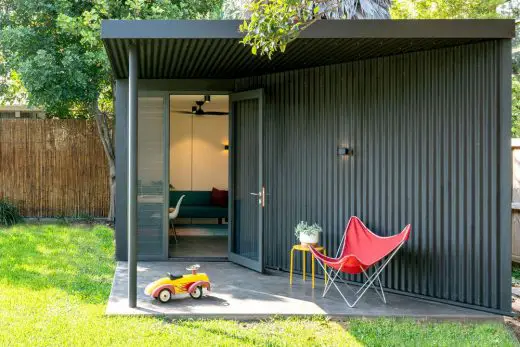 photo : Douglas Frost
YrdPod Garden House
YrdPods are a type of tiny homes that makes architecture accessible for everyone. They are not the type of tiny houses on wheels, but a permanent structure located in backyards.
19 May 2020
New House in Clovelly
Architects: Modscape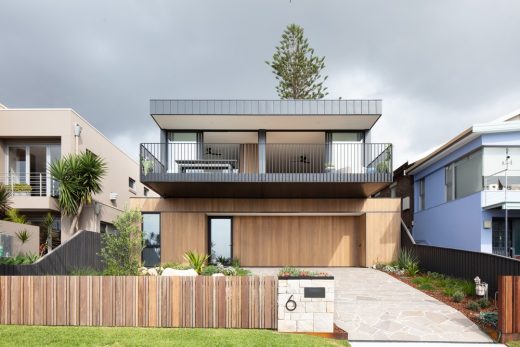 photo : John Madden
New House in Clovelly, Sydney
9 Mar 2020
Infinity House, Curl Curl
Architect: CplusC Architectural Workshop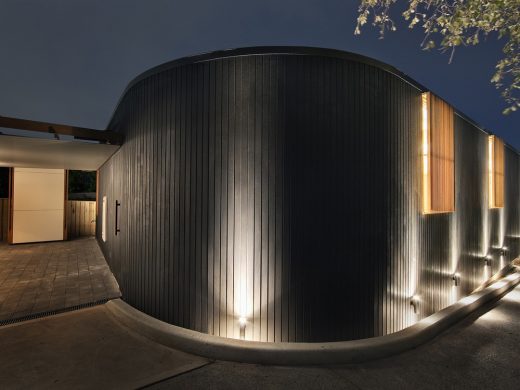 photographers : Murray Fredericks and Simon Whitbread
Infinity House in Curl Curl
This new NSW property is an exercise in material, time, and cost efficiency. A specific project brief included two bedrooms with built-in robes, bathroom/laundry, an open plan dining, kitchen, living space, and a deck.
5 Mar 2020
Tennyson Point House
Architects: CplusC Architectural Workshop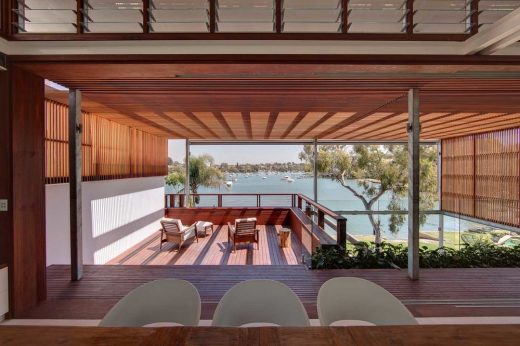 photograph : Murray Fredericks
Tennyson Point House
Working within the bones of a solid, well-constructed water front home built in the 1960s on Parramatta River, the adaptive reuse of this multi-level dwelling involved various changes. All the internal workings of the existing structure were removed, the central circulation core was re-invigorated, light and cross ventilation was developed, and the waterfront outlook reinforced.
2 Mar 2020
Porter St Ryde Apartments, Shepherds Bay, Meadowbank Precinct, Ryde, New South Wales
Architects: Glyde_Bautovich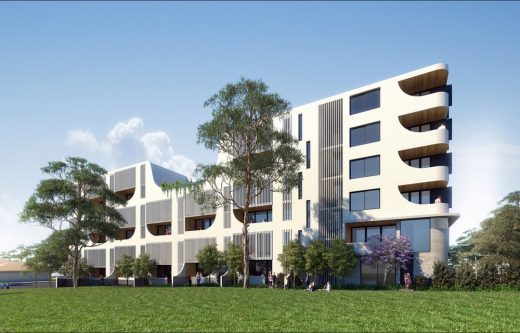 photograph : Atelier Illume
Porter St Ryde Apartments in Sydney, NSW
Planning approval obtained for this new residential project within City of Ryde's Shepherds Bay, Meadowbank Precinct.
4 Feb 2020
Townhouses on Tamarama, Upper North Shore, NSW
Architects: David Mitchell Architects and Chapman Architecture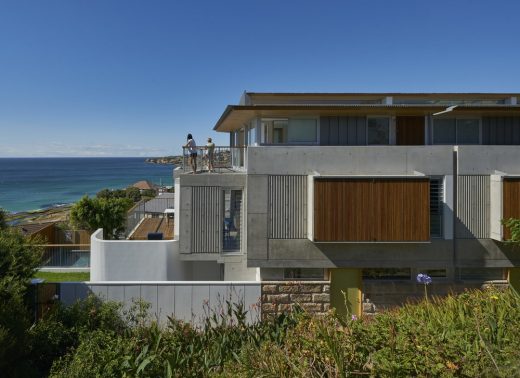 photograph : Michael Nicholson
Tamarama Townhouses NSW, Upper North Shore
Three luxury properties on Tamarama's waterfront have been designed to cut into the slope of the site's natural landform allowing the building to open generously to the view as it simultaneously bunkers down to the landform.
29 Jan 2020
The Balcony House in Newtown
29 Jan 2020
Copper Top House in Mosman
17 Jan 2020
Iron Maiden House in Longueville, New South Wales
More contemporary Sydney Houses online soon at e-architect
Sydney Houses in 2019
5 Dec 2019
Balmoral House in Mosman
17 Nov 2019
Beachside Sanctuary House in Mona Vale
9 Jul 2019
Fundamental House in Annangrove
30 May 2019
Clovelly house, eastern suburbs of Sydney
Architects: Rolf Ockert Design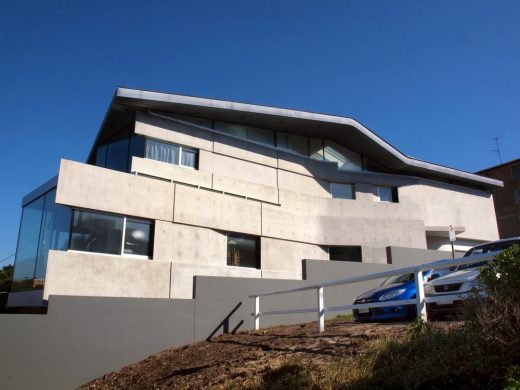 photograph from architects
Clovelly house
Having seen some of our earlier work the owners of this extraordinary oceanfront site invited us to submit ideas about what a new house there could look like.
14 Apr 2019
Taylors Bay House in Mosman, NSWW
4 Apr 2019
Avoca Beach Beach House, Avoca Beach, Central Coast, NSW
Architects: Architecture Saville Isaacs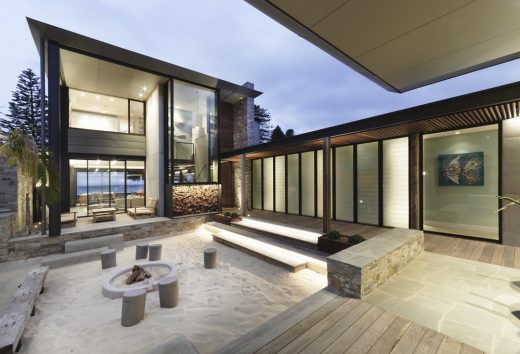 photograph : Kata Bayer
Beach House in NSW
The core idea of people living and engaging with place is an underlying principle of this architecture practice, given expression in the manner in which this home engages with the exterior, not in a general expansive nod to view, but in a varied and intimate manner.
2 Apr 2019
Twin Houses
Architects: Architecture Saville Isaacs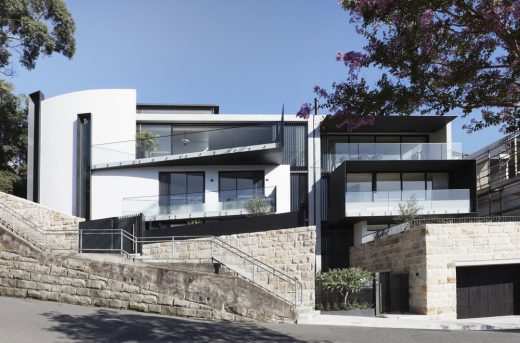 photograph : Kata Bayer
Twin Houses in Sydney
Responding to the irregular site boundary and contextual differences, the houses take on different yet complementary forms. No.2 presents a street façade of sensually curved brick mass with window penetrations.
27 Mar 2019
Garden House
Architects: James Design Studio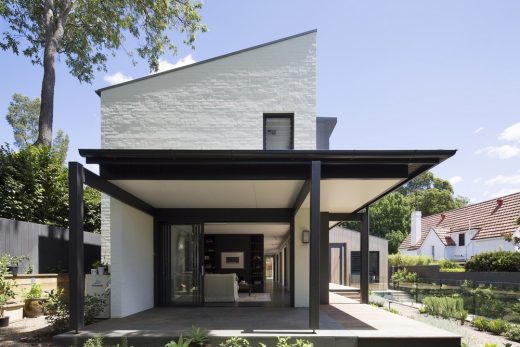 photograph : Simon Whitbread
Garden House in New South Wales
A new home in the upper north shore using vernacular forms and gables defined by differing materials with a link in the middle giving a glimpse of what lies beyond while providing a framework for privacy.
3 Mar 2019
Wentworth House, Vaucluse, New South Wales, Australia
Architects: MHN. Design Union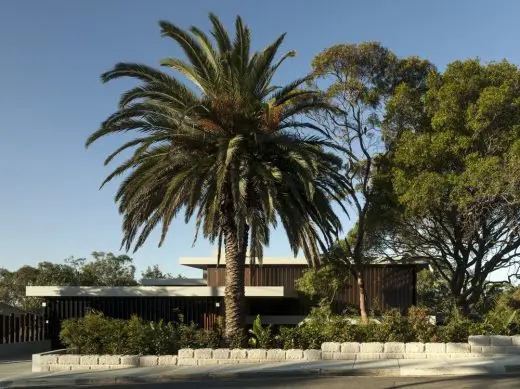 photo : Brett Boardman
Wentworth House in Vaucluse, NSW
Wentworth House is located on the southern ridges of Sydney Harbour at the crest of a gully which feeds into Vaucluse Bay.
13 Feb 2019
International Lodge Apartment
Design: Ian Moore Architects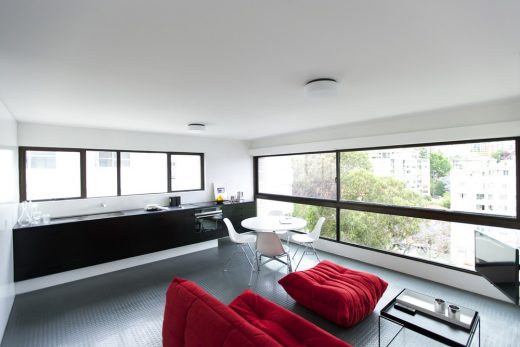 photo : Iain D. Mackenzie
International Lodge Apartment, NSW
International Lodge is a Harry Seidler designed apartment building in Elizabeth Bay, Sydney, completed in 1962. The building was designed as compact 40 square metre 1 bedroom and 29 square metre studio apartments.
2 Feb 2019
Tamarama House, Upper North Shore
Architects: Modscape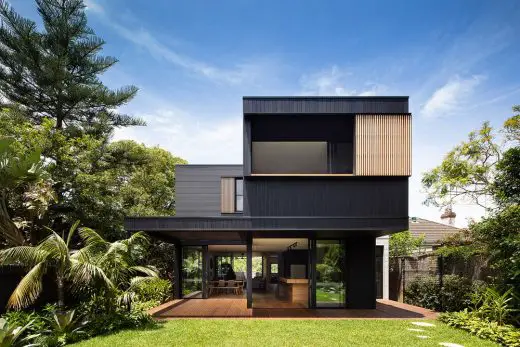 photo courtesy of architects
Tamarama House in NSW
Located just a few minutes' walk from the beach, this elegant home in Tamarama, NSW is beautifully detailed to create a sophisticated, functional, light-filled family home.
31 Jan 2019
Earth Wind and Fire – The Village House, Upper North Shore
Architects: Luigi Rosselli Pty Ltd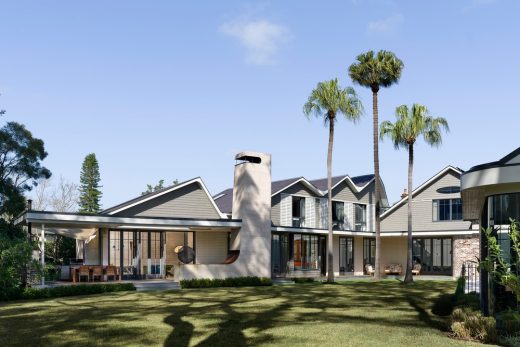 photo © Justin Alexander
New House in Upper North Shore
Earth is one of the oldest construction materials known to man; it can be fired, as with bricks and tiles, or used in its raw state as with adobe or rammed earth.
More new Sydney Houses welcome for consideration on e-architect
Sydney Houses in 2018
1 Nov 2018
Sunrise House, South Coast, NSW
Architects: MCK Architecture & Interiors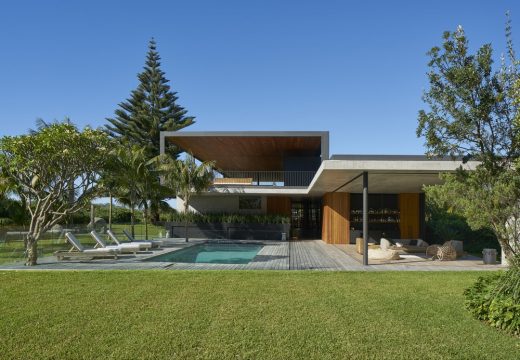 photograph : Michael Nicholson Photography
South Coast NSW Home
A robust yet finely articulated home arranged as a collection of positive and negative spaces, opens up completely to its immediate landscape, or shuts down as the coastal weather turns.
7 Oct 2018
Hidden Studio, Byron Bay, northeastern New South Wales
Design: Harley Graham Architects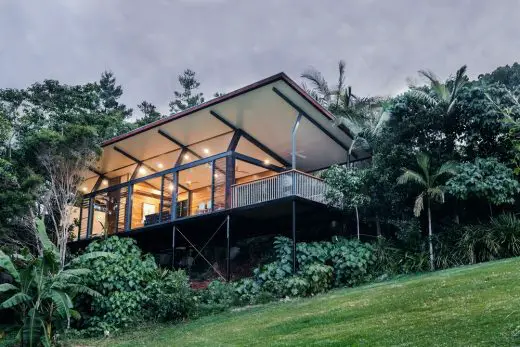 photo : Andy MacPherson
Byron Bay House
Nestled into rainforest on a 20acre property in Coopers Shoot Byron Bay, 'Hidden Studio' by Harley Graham Architects is a private sanctuary with views over the hinterland and Pacific Ocean beyond.
16 May 2018
North Curl Curl House
Architect: Rolf Ockert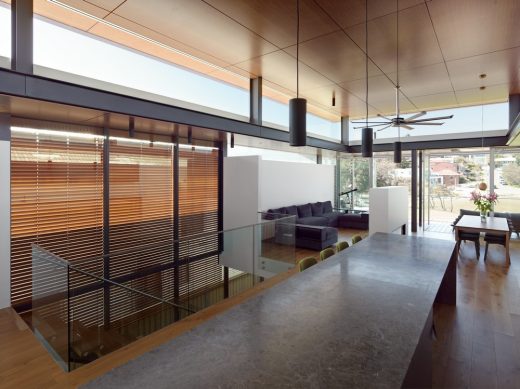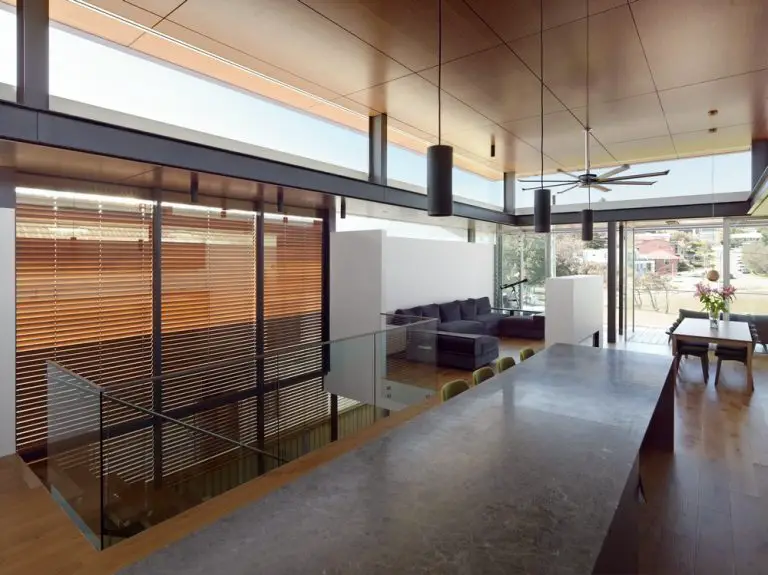 photo © Luke Butterly
North Curl Curl House
The clients fulfilled their dream to live by the beach when they bought one half of a new subdivision of a double size block on a quiet street with great views across the road to the lagoon and beach of North Curl Curl.
25 Apr 2018
Escarpment House, Gerringong, Illawarra region, New South Wales, Australia
Architects: ATELIER ANDY CARSON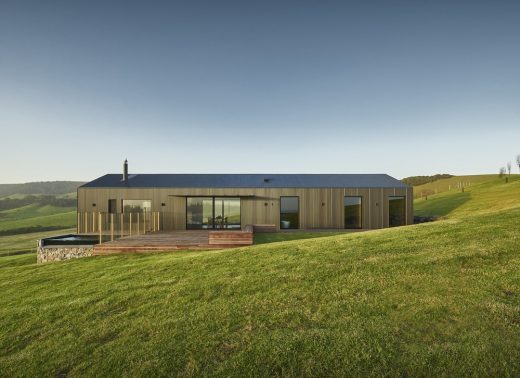 photograph : Michael Nicholson
Escarpment House in Gerringong
This modest two bed guest house explores the vernacular farm shed, with a plan that's charmingly simple yet highly considered in its detail. Located on a quintessentially NSW South Coast dairy farm. The design explores the vernacular steel portal frame typology in a highly refined and detailed way.
23 Apr 2018
Headland House, Gerringong, Illawarra region, New South Wales
Design: ATELIER ANDY CARSON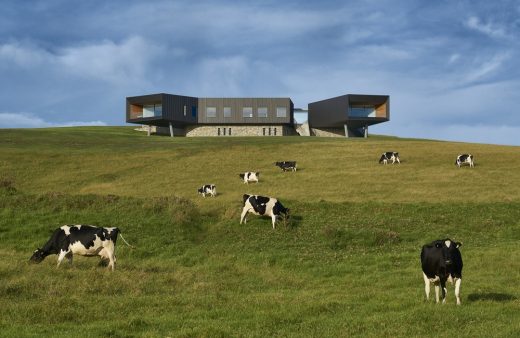 photo : Michael Nicholson
New House in Gerringong
This new home designed by Atelier Andy Carson is a sanctuary from its harsh surrounds, perched on a sprawling coastal site overlooking Werri Beach, New South Wales. Green pastures and paddocks running dairy cows line this 150-acre property on one side, rugged coastal cliffs and ocean on the other.
18 Apr 2018
The Books House, Mosman
Design: Luigi Rosselli Architects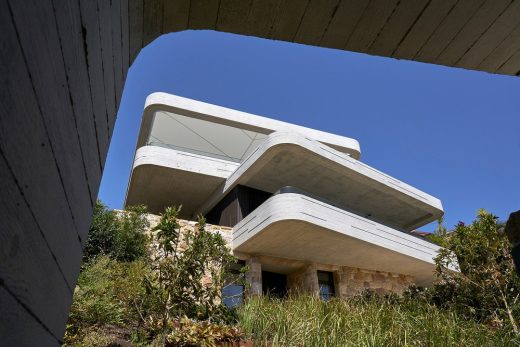 photo © Justin Alexander
New House in Mosman
Subtle and thoughtful new property that focuses on the startification of the rock found – and exposed – on the site of the residence. The concrete structure of each floor is oriented differently to suit the views, and also maximise the distances from the neighbours on each side.
10 Apr 2018
Double Bay House
Architects: SAOTA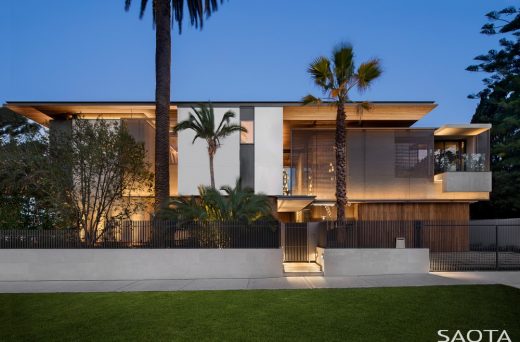 photograph : Adam Letch
Contemporary House on Sydney Harbour Shore
An oversailing timber roof canopy connects the street side to the garden and the beach. It permeates the interior, presenting itself at odd moments, it protects and defines the collection of internal and external spaces composed beneath.
2 Feb 2018
Mt Duneed House, Geelong, Victoria
Architects: Lachlan Shepherd Architects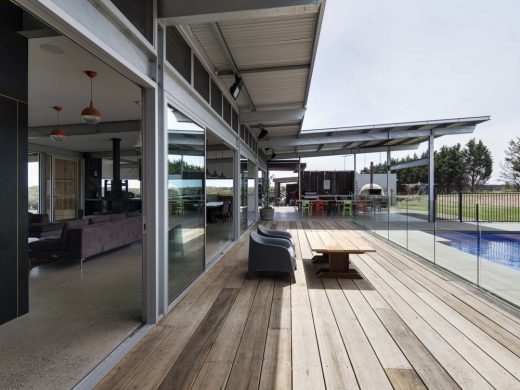 photo : Ben Hosking
New House in Victoria
An honest, low-slung building in a suburb of Geelong, Victoria. the property sits sympathetically with its surroundings. Simply clad with corten steel and recycled timber, the home is positioned on the crest of a gentle hill and surrounded by paddocks with scattered trees.
5 Feb 2018
Glebe House
Design: Nobbs Radford Architects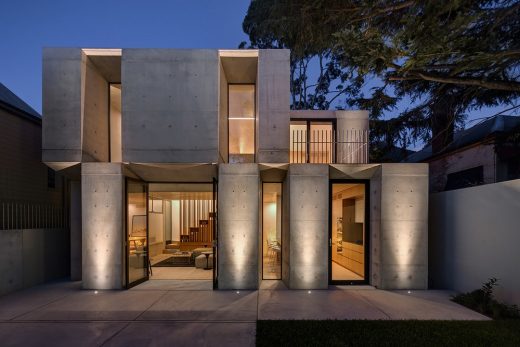 photo : Murray Fredericks
Glebe House
The project is primarily focused on the interconnections of cloistered spaces, created and selected framed openings. The outer concrete elements contrast with the timber elements that further define the various internal zones and functions within the house.
1 Feb 2018
Small Living Spaces Apartment, Surry Hills
Design: Catseye Bay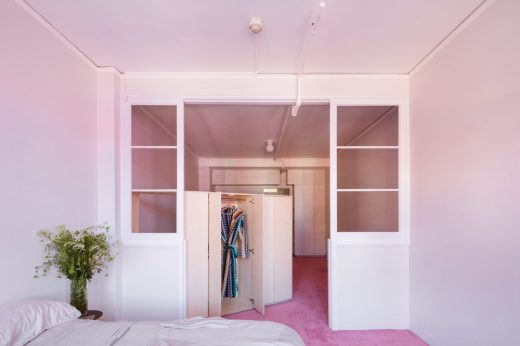 photo : Katherine Lu
Small Living Spaces Apartment
A New South Wales studio apartment structured by colour.
29 Jan 2018
House Pranayama, Bellevue Hill
Design: Architect Prineas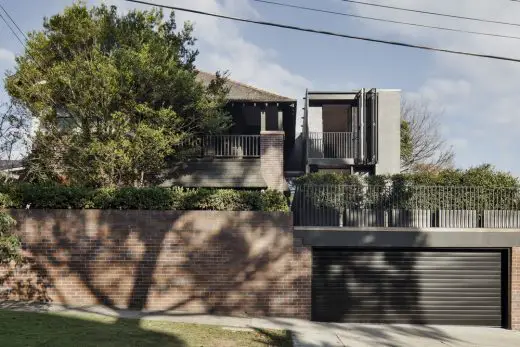 photo : Ben Hosking
Home Pranayama in Bellevue Hill
This residential project involved a narrow three-story side addition to a 1920s two storey brick house. The clients desirted space for a study, library and rumpus area that also provided an opportunity for internal connection/lift access from the previously separate garage.
13 Jan 2018
Maybanke House
Architects: AJ+C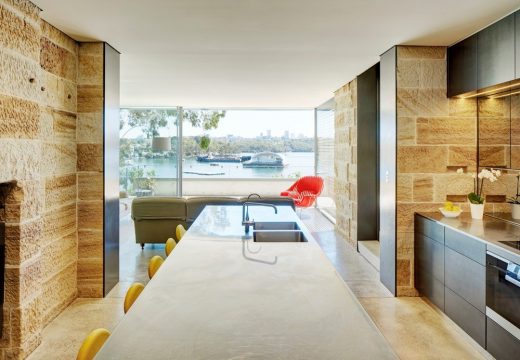 photo © Michael Nicholson
Maybanke House
Design ingenuity and a dose of respect for its original Gothic Revival bones deliver a blighted 1870s harbourside home in Sydney into the 21st century.
Archive of NSW residences posted up to and including 2017:
More New Sydney Properties online soon
Location: Sydney, NSW, Australia
Architecture in Sydney
Contemporary NSW Buildings
Australian Architectural Links
Properties / photos for the Sydney Homes – NSW Residential Architecture page welcome
Website: Visit Sydney, New South Wales, Australia