Taiwan Architecture News 2022, East Asia Building, Construction Design, Architect, Property Updates
Taiwan Architecture News: Buildings
Contemporary Taiwanese Architectural Developments: New East Asian Built Environment Updates
post updated 28 March 2022
Taiwan Architectural News
New Taiwan Architecture News – latest additions to this page, arranged chronologically:
Taiwan Architecture Designs – chronological list
28 March 2022
Chain10 Recognized Globally For Projects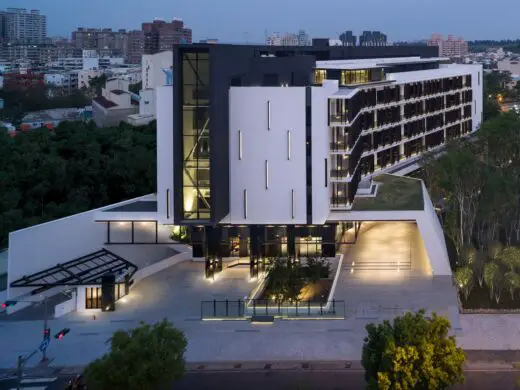 image courtesy of architects practice
Chain10 Architects Taiwan
Leading Taiwanese architecture and design firm Chain10 has celebrated a best-in-class year of global recognition and award wins for its exceptional projects. With work spanning from residential to commercial, the firm, led by Founder and Managing director Keng-Fu Lo, won more than 30 awards in 2021, affirming its work in designing innovative, sustainable and breathtaking structures.
25 Feb 2022
See You
Interior Design: Unite Unit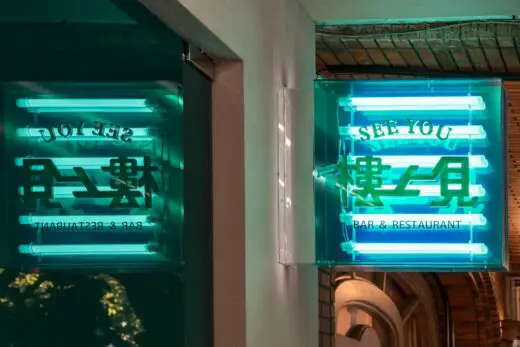 photo : Trig Photography
See You Bar Restaurant
All great things start small. It could be a moment of revelation, a spark of hope or a glimpse of imagination. See You, a four-storey, multi-purpose establishment that doubles as a restaurant, an exhibition space and a social hub, is conceived as one theme that paves way for four separate ideas.
17 Jan 2022
Sun Rock, Changhua Coastal Industrial Park, near to Taichung, Taiwan
Architects: MVRDV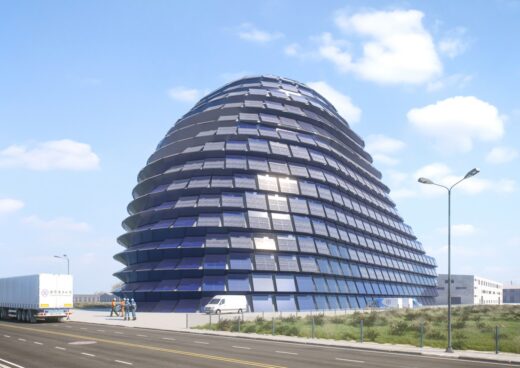 image © MVRDV
Sun Rock by MVRDV in Taichung
MVRDV has revealed Sun Rock, an operations facility containing offices, a maintenance workshop, storage spaces, and a public gallery for Taiwan's government-owned power company Taipower. Anticipating Taiwan's planned transition to green energy, the features of the Sun Rock building, from its shape to its façade, are focused upon generating solar energy as efficiently as possible.
4 Dec 2021
Taipei Performing Arts Center
Design: OMA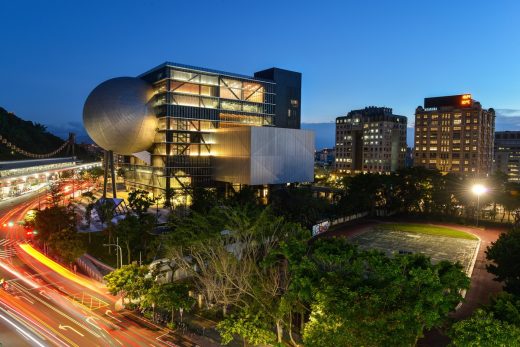 photo © OMA by Chris Stowers
Taipei Performing Arts Center Building by OMA
Considered Asia's most important cultural development in 2022, Taipei Performing Arts Center will open to the public in summer 2022.  The new spectacular landmark of Taiwan's capital city will become the epicentre of the island's vibrant contemporary culture where no subject matter and technical demand is off limits.
12 May 2021
Hotel Resonance Interior, Taipei City
Interior design: CCD / Cheng Chung Design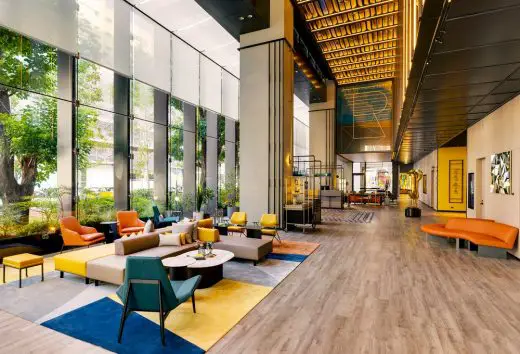 photo courtesy of hotel
Hotel Resonance, Taipei Interior
As the 14th brand and 2nd collection brand of Hilton, Tapestry Collection by Hilton is a gathering of original upscale hotels that cater to guests seeking uncommon experience.
23 Feb 2021
Ji Pin Restaurant, Taipei Interior Design
15 Feb 2021
Tainan Public Library, Tainan
Architects: Mecanoo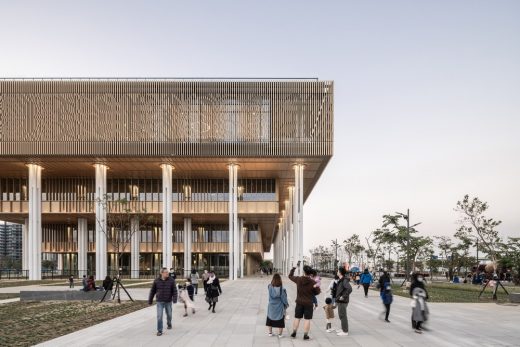 photo : Ethan Lee
Tainan Public Library
The oldest city in Taiwan, Tainan has a rich history influenced by different cultures. There are remnants of maritime trade with Europe in the 17th century, of the Chinese Ming Dynasty and Japanese settlements from the beginning of the 20th century.
17 Nov 2020
Biosphere Offices, Kaohsiung City
9 Sep 2020
Daily Apartment, Taipei
2 Sep 2020
Ching Fu Shipbuilding HQ Taiwan Building
20 June 2020
Lè Architecture, Taipei
Architects: Aedas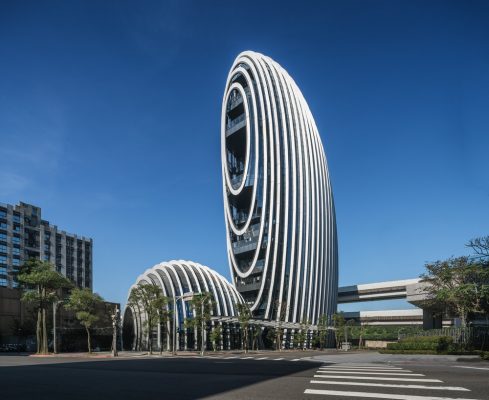 photo courtesy of architects
Lè Architecture in Taipei
Designed by Global Design Principal Dr Andy Wen, Lè Architecture in the Nangang district of Taipei redefines Taipei's rapidly developing skyline. Its design drew inspiration from the shape of the river pebbles along the Keelung River, developing a unique aesthetic concept that conveys the idea of roundness and elegance, as well as strength and character.
13 Apr 2020
Auditorium Apartment in Taipei
3 Mar 2020
Comfort in Context House, Kaohsiung
Architects: Chain10 Architecture & Interior Design Institute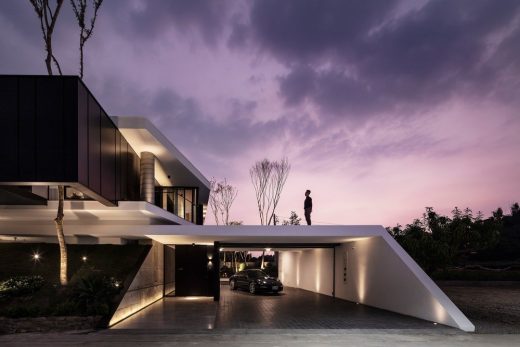 photograph : Moooten Studio / Qimin Wu
Comfort in Context House near Kaohsiung City
Life in the city is something that everyone tries to escape. It is full of cars, noises and things that assault our senses. Most people born in a city or who have lived there for a long time quickly grow tired of the hustle and bustle.
More New Taiwan Architecture News online soon
Taiwan Architectural News 2019
29 Nov 2019
Sky Green Mixed-Use Development, Taichung
Architects: WOHA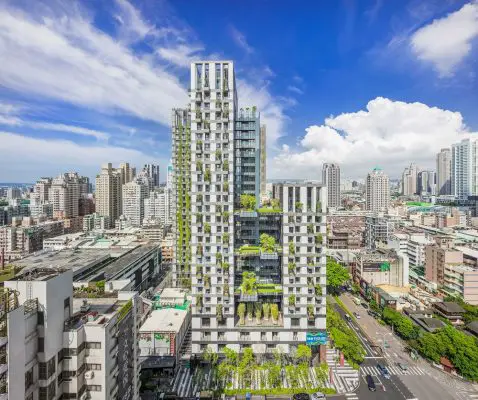 image : Koumin Lee
Sky Green Mixed-Use Development in Taichung
WOHA announces the completion of their first project in Taichung, Taiwan. In 2012 WOHA was invited by the Taichung City Government and Feng Chia University to bring its exhibition "Breathing Architecture' to Taichung.
22 Oct 2019
Green Isle Restaurant, Kaohsiung City
Architects: Chain10 Architecture & Interior Design Institute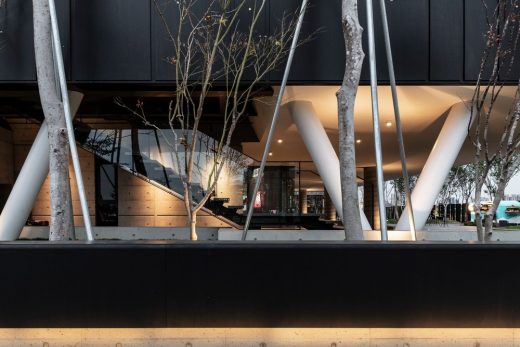 photo : Moooten Studio / Qimin Wu
Green Isle Restaurant Lingya District, Kaohsiung City
When Ken Lo was asked to create a third restaurant in the successful Tan Zuo Mali chain, he knew he had to push himself to go further than his two previous designs.
30 Aug 2019
Exhibition of Gamania Antarctic Expedition
8 Aug 2019
The Place Taipei Hotel Building
30 Jun 2019
Taipei Apartment, Zhuwei
22 May 2019
Filter Life
Architects: Waterfrom Design co. Ltd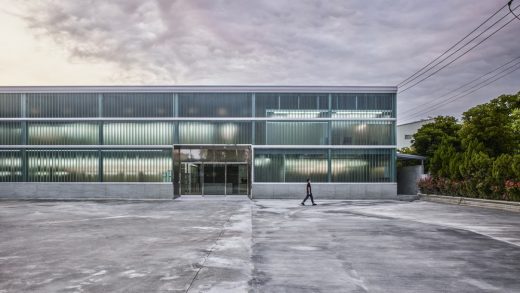 photograph : Kuomin Lee
Filter Life Factory Taiwan
The Filter Life brand specializing in water dispenser production and sales was given a new younger and more fashionable image under the management of the second generation ownership. Waterfrom Design transforms the perspective of space in the 30-year factory as if it were water.
20 Mar 2019
Danjiang Bridge, Taipei
Design: Zaha Hadid Architects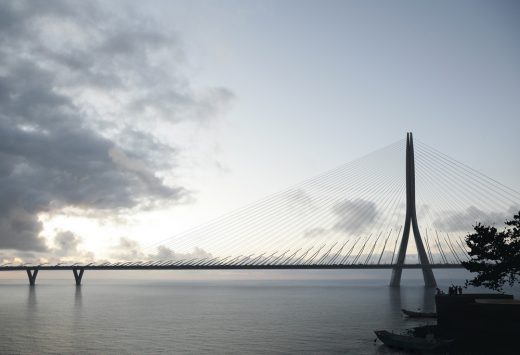 render by MIR
Danjiang Bridge Taipei
Construction has begun on the world's longest single-mast, asymmetric cable-stayed bridge, 920m long.
9 Mar 2019
Square Tea Store in Taiwan
Design: Keng Fu Lo architect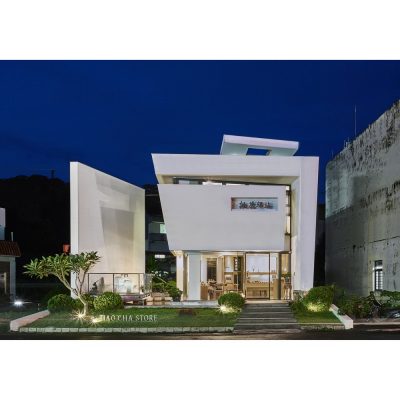 image : MEI Design Studio
Square Tai Cha Store by Mei-Lin Hsu
Located alongside the road in the mountain, the square white building reveals its charms by means of its modern architectural shapes. As a distinctive tea store, Tai Cha Store run by its third generation has been promoting the tea culture, from the perspectives of tea and related environment.
6 Feb 2019
Green Places Community Clubhouse Leisure
18 Jan 2019
Symbiotic House in Yilan
More contemporary Taiwan Architecture News online soon
Taiwanese Architectural Updates 2018
19 Dec 2018
Lè Architecture in Taipei
3 Dec 2018
Commercial Bank Headquarters Taichung
8 Nov 2018
KCI Group Headquarters in Zuoying District
24 Oct 2018
National Trade Center in Taichung
2 Sep 2018
Recrystallization Power Plant
Architects: MEPM Lab Team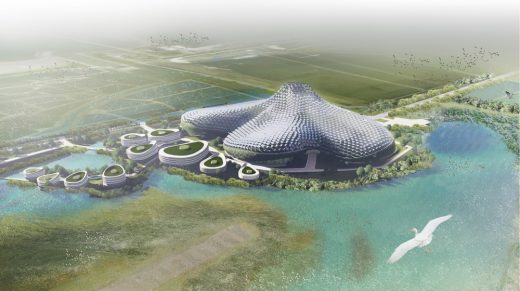 image Courtesy architecture office
Taiwan Recrystallization Power Plant
Taiwan is an island with both high biodiversity and high population density. Currently, how we generate electricity is a huge issue in Taiwan. Taiwan has the cheapest electricity prices for industrial users in Asia. This is because almost 50 percent of our energy is generated by coal-fired power plants. However, using coal increases air pollution and adversely affects peoples' health.
30 Jul 2018
Din-a-ka Residence, Taipei City
Architects: Wei Yi International Design Associates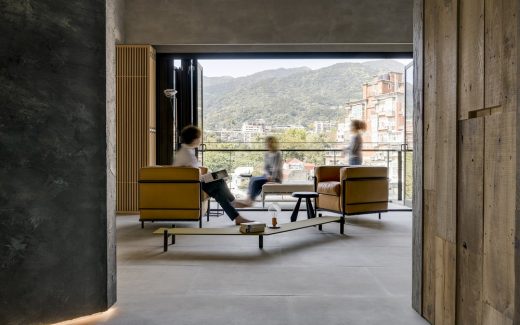 photograph : Dean Cheng
Taipei City House
The "Din-a-ka", or covered walkway, was a distinct cultural and architectural feature in the early days of Taiwan's agrarian society. It was the place for social exchanges in rural areas. In the rapidly changing social landscape, Din-a-ka is an obscure feature, rarely found these days outside fond memories of the past.
30 Jun 2018
Lè Architecture, Taipei, Taiwan Shortlisted at World Architecture Festival 2018 Awards
Lè Architecture, Taipei, Taiwan is one of 536 shortlisted entries across 81 countries:
World Architecture Festival Awards 2018 Shortlist
2 May 2018
Kaohsiung Social Housing by Mecanoo, Kaohsiung
Design: Mecanoo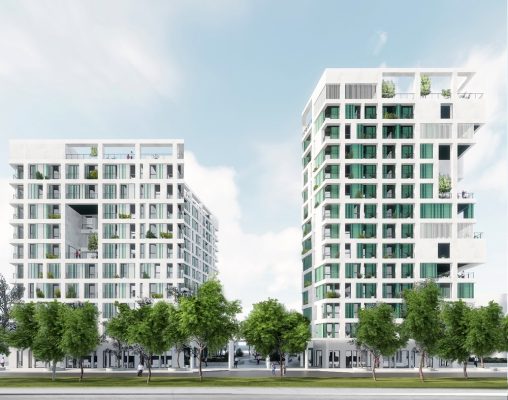 image courtesy of architects
Kaohsiung Social Housing
The housing complex in Kaohsiung will host 234 units between 25 and 75m², designed for a large variety of users, from students, young couples to families with children, as well for elderly or people with special needs.
16 Mar 2018
Commercial Bank Headquarters Taichung – architecture award news
Design: Aedas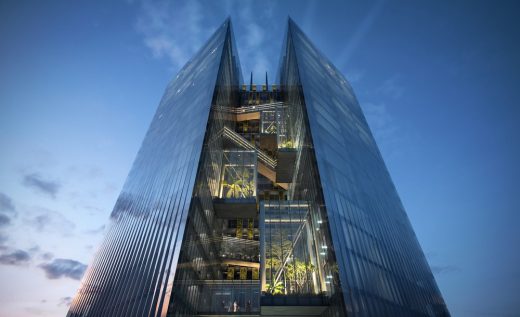 picture from architecture practice
Commercial Bank Headquarters Taichung Building
This tower won the Tall Buildings category at MIPIM/The Architectural Review Future Project Awards 2018.
Taiwan Architecture News 2017
31 Dec 2017
Game Apartment, Taipei
Architects: Wei Yi International Design Associates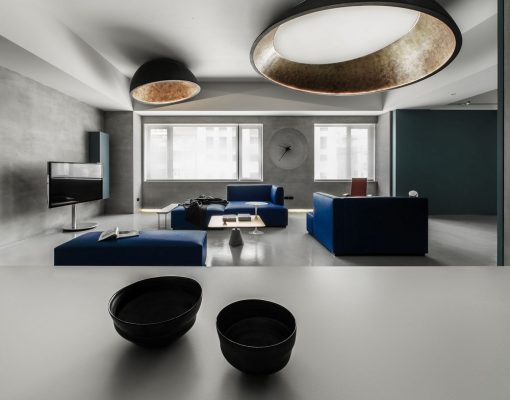 photo : JMS
Game Apartment in Taipei
What is home? In addition to being a safe haven, it is a place that accommodates and extends all kinds of possibility and happiness. Besides meeting requirements of basic "living" function, the role it plays could be richer and varied. It could be game-like, interesting changes could be generated from its shape, function or sense.
6 Dec 2017
Lè Architecture, Taipei
Architects: Aedas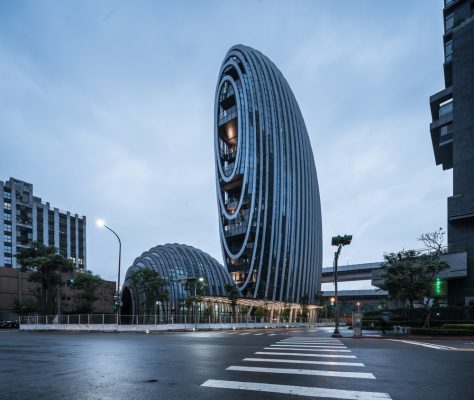 image courtesy of architects
Lè Architecture in Taipei, Taiwan
6th December 2017 – At this year's International Property Awards held in London, UK, Aedas-designed Lè Architecture in Taipei, Taiwan, first beat other office projects in Asia Pacific to become the Best Office Architecture Asia Pacific, and later topped other regional winning projects from Europe, Africa and the Americas to be the ultimate Best International Office Architecture.
Dec 4 + 2, 2017
Taichung Intelligence Operations Center
Design: Elizabeth de Portzamparc architect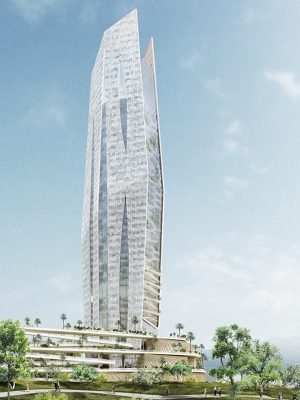 image courtesy of architects
Taichung Intelligence Operations Center
The Taichung Intelligence Operations Center designed by Elizabeth de Portzamparc has been officially designated a winning project. Showcase of the technology and sustainability, architectural symbol thought as a real vertical neighborhood, it will become the biggest urban tower of Taichung.
20 Nov 2017 + 14 Aug 2015
Danjiang Bridge Competition
Design: Zaha Hadid Architects with Leonhardt, Andrä und Partner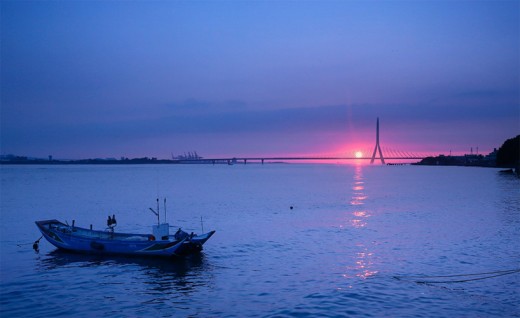 image : MIR
Danjiang Bridge Competition Taiwan
The Danjiang Bridge has been commissioned by the Directorate of Highways of Taiwan and will be the world's longest single-mast asymmetrical cable-stayed bridge. Located at the mouth of Tamsui River, it is integral to the infrastructure upgrading program of northern Taiwan, enhancing accessibility throughout the region with the rapidly expanding Port of Taipei/Taipei Harbour—the region's busiest shipping port.
5 Nov 2017
Cactus Park
Design: CCL Architects & Planners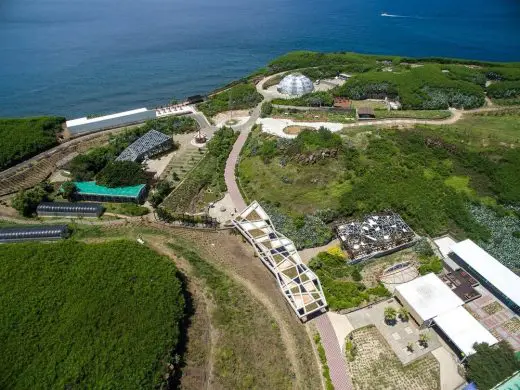 photo : CCL Architects & Planners
Penghu Qingwan Cactus Park in Taiwan
Qingwan district is located at Penghu's Fongguei Peninsula. Surrounded by sea, it is abundant in marine resources and natural wonders. The basaltic landscape, diverse vegetation, and forts remained from the military days make Qingwan the perfect place for tourism development.
6 Nov 2017
Fluid Mirror, Taipei
Architects: Waterfrom Design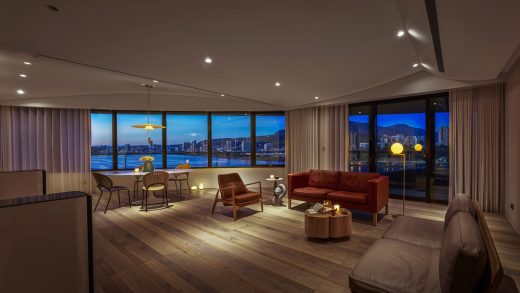 photograph : Kuomin Lee
Fluid Mirror interior in Taipei
Incorporating themselves into the pleasing view of a waterfront residence, the undulate waters with ripples therein pass through the semi-circular surrounding windows and become part of the vicissitudes of your daily life.
5 Oct 2017
Ridge: Intuitive Life, Layered Structure in Taiwan
Architects: FANG XinYuan, HONG YuRu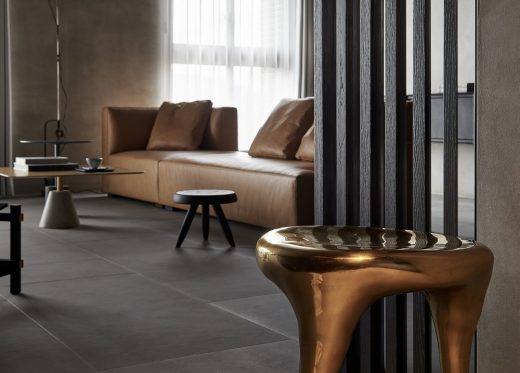 photograph : Hey! Cheese
Ridge: Intuitive Life, Layered Structure
Inspired by landscape of hills outside window, spatial planning of Ridge is centered on the design approach of layering, that is, showcasing the structure layer by layer like hills, which turns out to provide habitant with an initial state of peace and abundance.
30 Jun 2017
Boundary Apartment in Taiwan, Kaohsiung
Architects: Wei Yi International Design Associates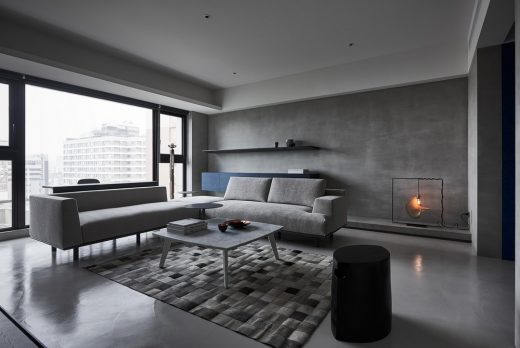 photograph : Hey! Cheese
Boundary Apartment
Since ancient times, there have been two choices for the rich and established; to flaunt wealth and fame, or to keep modest and low-profile; which partly reveals one's view of life. For the owner of this flat, an elder with great fortune and rich experience, the definition of "home" is more about a delicate balance, a tender atmosphere, and "a piece of pure land", claim Wei Yi International Design Associates.
8 Jun 2017
European School Yangmingshan Campus, Taipei
Architects: Aedas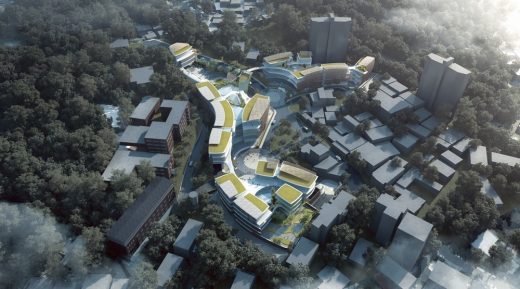 image courtesy of architects
Taipei European School Yangmingshan Campus Redevelopment
Designed by Andy Wen, Global Board Director of Aedas, the redevelopment of Taipei European School Yangmingshan Campus broke ground on 8 June 2017.
6 + 2 Jun 2017
Tainan Public Library, Tainan
Design: Mecanoo and MAYU


image courtesy of architects
Tainan Public Library in Taiwan
Tainan is a city born from a history of diverse cultures, peoples and traditions. The urban fabric holds memories from the 17th century European maritime trading, the Qing Dynasty Ruling, and the Japanese settlement of the early 1900s.
Luminous Moon-Gate: Cultural Center Taichung
OISTAT Theatre Architecture Competition 2017
One More Kaohsiung Residential Tower
Y House by MVRDV in Northeast Tainan
Green Places Community Clubhouse in Tainan
More Taiwanese Architecture News online soon
Location: Taiwan, Eastern Asia
Architectural Designs
Taiwan Tower Competition Design
Taiwan Taoyuan International Airport
Comments / photos for the Taiwan Architecture Information page welcome