Brazilian Architecture, Building, Architects, Property, Photos, News, Brasil Designs
Brazil Architecture : Brazilian Buildings
Key Contemporary Architectural Developments in South America
post updated 11 September 2021
Brazil Architecture Designs : links
Brazilian Architecture
We've selected what we feel are the key examples of Brazil Architecture. Buildings are mostly located on the Atlantic coast. We aim to include Brazilian buildings / projects that are either of top quality or interesting, or ideally both.
We cover completed Brazilian buildings, new building designs and architectural exhibitions. We also post architecture competitions across Brasil. The focus is on contemporary Brazilian buildings but information on traditional architecture is also welcome.
Brazilian Architecture : A-C (this page)
Brazilian Buildings : D-L
Brazilian Building Designs : M-Z
Rio de Janeiro Architecture Walking Tours, south east Brazil – our 59th city



photo © Marcela Grassi
Celebrated Brazilian buildings in Rio include the recently-opened Museum of Tomorrow designed by Spanish architect Santiago Calatrava, Cidade da Musica Roberto Marinho, the Ministry of Education building by Oscar Niemeyer / Le Corbusier, the Niterói Contemporary Art Museum and the Oscar Niemeyer Popular Theatre. Major architects with buildings in Rio de Janeiro include Richard Meier & Partners, BCMF Arquitetos, Atelier Christian de Portzamparc, AECOM and Andrade Morettin Arquitetos.
Brazil Architecture News
Key Brazil Building Designs, chronological:
17 August 2021
Contemporâneo Gávea residential project, Gávea, Rio de Janeiro
Design: Cité Arquitetura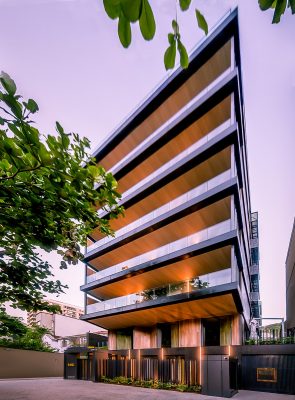 photo : Wagner Ziegelmeyer
Gávea Contemporâneo Rio de Janeiro
The Gávea neighborhood has the presence of one of the largest universities of the city, many schools, theaters, several bars, and restaurants, as well as cultural centers and the municipal planetarium. At the same time, its tree-lined streets have a certain calmness.
9 Aug 2016
Casa Italia for the 2016 Olympics, Rio de Janeiro
Interior design: Claudia Pignatale / Secondome with Edra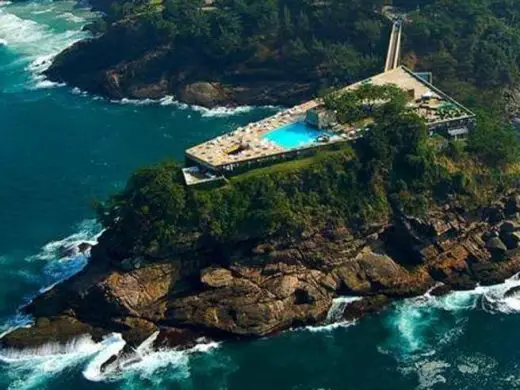 photo from architects
Casa Italia for the 2016 Olympics
3 Aug 2016
Amazon Sports Complex, Manaus
Design: gmp Architekten von Gerkan, Marg und Partner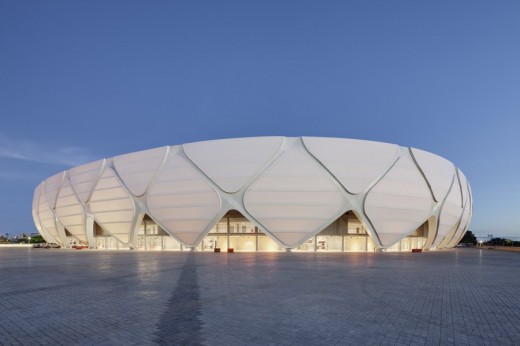 photo : Marcus Bredt
Amazon Sports Complex Building
Built for the 2014 FIFA World Cup, this stadium in Manaus will now host six matches (four men's, two women's) in the group stages of the Olympic Games 2016 football tournaments.
Linhares Dias House, Brasília, Brazil – 19 Sep 2013
Design: Daniel Mangabeira, Henrique Coutinho, Matheus Seco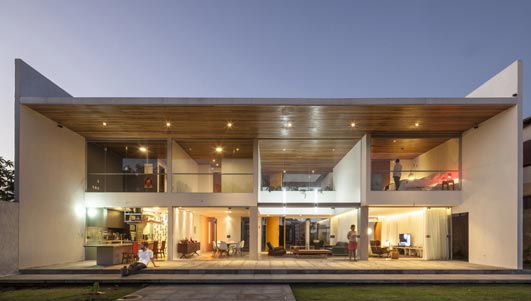 photo : Joana França
This house is located in a residential area site close to the Paranoa Lake in Brasília. Searching the maximum integration for the social areas of the house we decided to put all the program under one big roof. The roof together with the two side walls forms a "portico" that shades the interiors and part of the exterior spaces of the house.
New Mineirão Stadium, Belo Horizonte – 15 Aug 2013
Design: BCMF Arquitetos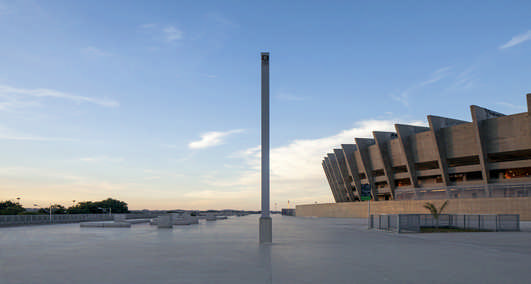 photo : Leonardo Finotti
Pampulha, Belo Horizonte: A modernist building in a modernist landscape.
Inaugurated in 1965 (original design by Eduardo Mendes Guimarães Júnior e Gaspar Garreto) as the second largest stadium in the world, the Mineirão Stadium is located in the surroundings of the Pampulha Lagoon, close to Oscar Niemeyer's and Burle Marx seminal modernist architecture and landscape works, one of Belo Horizonte's main postcards.
Oscar Niemeyer Museum, Curitiba, Brazil – added
Design: Oscar Niemeyer Architect



photo : John Lima
Oscar Niemeyer Museum
Casa Nova Lima, near Belo Horizonte, Minas Gerais, south east Brazil
Design: Denise Macedo Architects Associates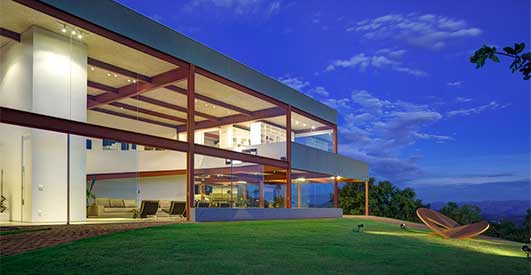 photo : Gustavo Xavier
Casa Nova Lima – 28 May 2013
The house should harmonize two important needs: large area in brickwork walls for the exhibition of the arts, and facades with glass so that the external landscape could be seen in the House. Thus a 14m deep gallery was created, and double-height space of 6m, offering a display area of 190 sqm. The wall of the left side of this photo gallery has allowed the creation of a 28m-long ramp.
Pavilhao Humanidade, Rio de Janeiro
Design: Carla Juacaba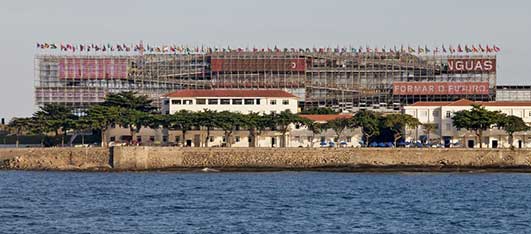 photograph : Leonardo Finotti
Pavilhao Humanidade Brasil – 8 Apr 2013
The architects proposed a scaffold building, translucent, exposed to all weather conditions: light, heat, rain, sounds of waves and wind, reminding man of his frailty when compared to nature.
Museu de Arte Contemporânea de Niterói – MAC, Niterói, Rio de Janeiro – added
Date built: 1996
Design: Oscar Niemeyer Architect



photo © Marcela Grassi
Museu de Arte Contemporânea de Niterói
Casa Varanda, Brazil
Design: Carla Juaçaba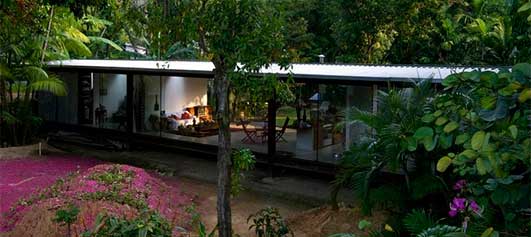 photo : Fran Parente
Casa Varanda – 4 Apr 2013
A house made for the granddaughter of great architect Sergio Bernardes and a Colombian artist was a challenge. At first they wanted the house to have caracteristics of Casa Lota made by his grandfather in 1950, from which we kept some materials such as the ceiling. The development of the project was very interactive.
House in Rio Bonito, near Rio de Janeiro
Design: Carla Juaçaba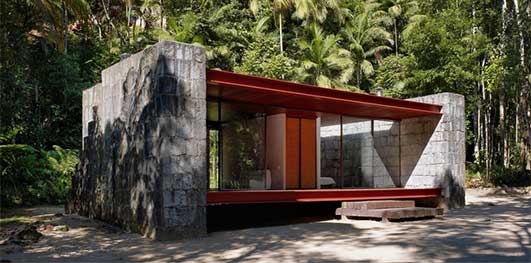 photo : Nelson Kon
Casa Rio Bonito – 2 Apr 2013
This building is a weekend home in Brazil. Two voids puncture the roof at either end of the structure, washing the interior surface of the stone bearing walls with light and creating a stark contrast between the weight of the structure and lightness of the roof and floor which float above the rough ground.
Symbolic World Cup Structure Competition, Rio de Janeiro
[AC-CA] Design Contest



image from competition organiser
Symbolic World Cup Structure Competition
The aim of this International Competition is to design a free standing World Cup Structure in the heart of Rio de Janeiro during the 2014 FIFA World Cup.
Teatro Popular de Niteroi, Niterói, Rio de Janeiro – added
2007
Design: Oscar Niemeyer Architect



photo © Marcela Grassi
Teatro Popular de Niteroi
Studio R, São Paulo, Brasil
Design: studio mk27 – Marcio Kogan with Gabriel Kogan + Oswaldo Pessano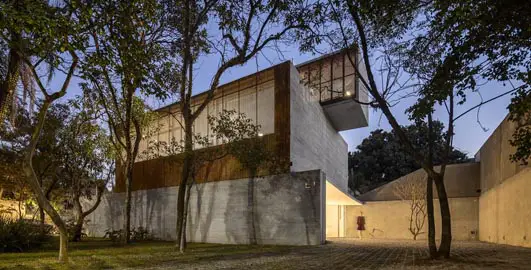 photograph : Fernando Guerra
Studio R São Paulo – 18 Jan 2013
The Loft Studio faces a small urban square and opens entirely to the outside. The photography studio's inner space flows into the side gardens of the building. It then extends out into the urban space, thus connecting the square and the building.
Brazilian Architecture News Highlights from 2012
Botanique Hotel & Spa, Campos do Jordão, western Brazil
Design: Candida Tabet Arquitetura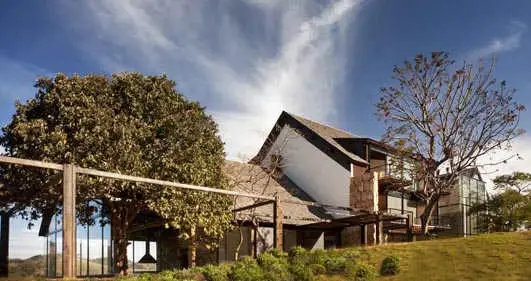 photo © Marcio Scavone
Botanique Hotel & Spa Brazil – 14 Sep 2012
Following proudly in the footsteps of giants of Brazilian architecture like Oscar Niemeyer and Affonso Reidy, the Candida Tabet Arquitetura will be unveiling their latest masterpiece, Botanique Hotel & Spa. Nestled amid the untouched hills and mountains of Campos do Jordão and situated between Rio de Janeiro and São Paulo, the idyllic complex will be set on 700 acres.
Minerião / Mineirinho Complex, Belo Horizonte
Design: gmp – von Gerkan, Marg & Partners



image from architects
Minerião Stadium – added 7 Sep 2012
Toblerone House, São Paulo
Architecture and interiors: studio mk27 – marcio kogan + diana radomysler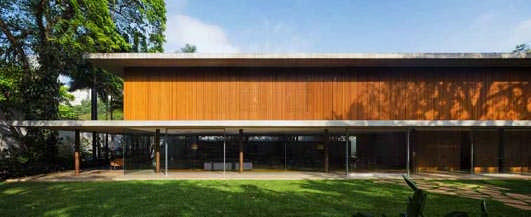 photograph : Nelson Kon
Toblerone House – 12 Aug 2012
The basic concept of this property design is a free first floor with large sliding glass doors which support a wooden box. The first floor contains the living room, utilities and kitchen. The second floor contains the three bedrooms, a den and home theater. A simple structural logic pervades the building: with two lines of columns.
V4 House, São Paulo
Architecture: studio mk27 – marcio kogan + renata furlanetto. Interiors: studio mk27 – diana radomysler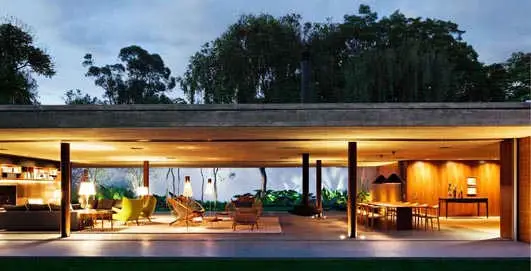 photograph : Nelson Kon
V4 House – 12 Aug 2012
Contemporary architecture design fequently forces architects to over-optimize spaces and push the site to the maximum. This property is a rare 'anti-example'. It doesn't fully occupy the land but instead finds a more suitable relationship between building and landscape.
Carmo Advogados Offices, Cuiaba, western Brazil
Design: Márcia Miranda + Éder Bispo – arquitetos (MMEB arquitetos)



picture from architects
Carmo Advogados Cuiaba – 4 Jun 2012
Because it is an expansion, an attachment, we chose a harmonious integration with the existing building, on a site of modest dimensions, with a program of needs that conditioned the use of its whole construction potential.
Convida Suape, Cabo de Santo Agostinho, near Recife, north east Brazil
Design: Broadway Malyan



picture from architects
New Brazilian City – 22 May 2012
Launch of Broadway Malyan's vision for new Brazilian city of 100,000.
The masterplan vision for Convida Suape, a new city in Northeastern Brazil, designed by global architecture, urbanism and design practice Broadway Malyan, has been officially launched by the practice's client, Moura Dubeux Engineering and Cone S/A.
Mineirão Stadium for the 2014 World Cup, Belo Horizonte, Brazil
BCMF Arquitetos



image : BCMF Arquitetos
Brazil World Cup Stadium – 11 May 2012
Brazil is big and young. The state of Minas Gerais, for instance, has the surface of France with the population of Holland. Its capital, Belo Horizonte, now has more than three and a half million inhabitants and is barely 100 years old.
Brazilian Building News Highlights from 2011
Casa dos Ipês, São Paulo, SP
studio mk27 – marcio kogan + lair reis



photo © Reinaldo Cóser
Casa dos Ipês – 26 Aug 2011
In this house concrete is used in a radical manner throughout the upper volume: the large concrete 'box' appears to be floating above a glass volume. In the living room the doors open entirely, diluting any division between interior and exterior.
Byte Building, Brasilia
DOMO Arquitetos Associados



image from architects
Brazilian Office Building – 26 Jul 2011
The Byte building is an office building with approximately 2.900sqm in the outskirts of Brasília. It is a building that houses the administrative headquarters of a school that gives courses through the web. It has open-floor office spaces and a ground floor space for training courses and exhibitions. The building also needed to be built really cheap, so the materials that were basically used were traditional reinforced concrete structure and ceramic bricks, painted in white.
Rio Olympic Port Competition
João Pedro Backheuser / Ignasi Riera – winners



image from architects
Brazilian Architecture Competition – 4 Jul 2011
The winning design for this development, which aims at the revitalization and redevelopment of the port city of Rio de Janeiro, was announced at the Brazilian Institute of Architects of Brazil (IAB-RJ) in Rio de Janeiro.
Architecture in Brazil
Major Brazil Building Projects, A-C, alphabetical:
Alphaville Residence
Gustavo Penna Arquitetos



image from architect
Alphaville Residence
Bahia home, São Paulo
Studio MK27



photo from FD
Bahia house
Bread Museum, Ilópolis, RS
Brasil Arquitetura



photograph : Nelson Kon
Bread Museum
C16H14O3 casa
Marcio Kogan Arquitetos



photo : Rômulo Fialdini
C16H14O3 house
Café Estação Ciência, São Paulo
Una Arquitetos



photo : Bebete Viégas
São Paulo Café
Casa 6, São Paulo
Marcio Kogan Arquitetos



picture : Rômulo Fialdini
House 6
Casa Curitiba
Una Arquitetos



photo : Nelson Kon
Casa Curitiba
Casa Panamá, São Paulo
Marcio Kogan



photo : Nelson Kon
Casa Panamá
Cidade da Musica Roberto Marinho, Rio
Atelier Christian de Portzamparc



picture from CdP
Cidade da Musica : Brazilian concert hall
Corten House, São Paulo
Marcio Kogan



photo : Nelson Kon
São Paulo home
Coser Residence
Marcio Kogan Arquitetos



photograph : Reinaldo Coser
Coser House
Cuiabá Residence
MMEB arquitetos



photo : Éder Bispo
Cuiabá House
More Brazilian Architecture projects online soon
Brazil Buildings – No Images
Major Brazil Building Projects, A-C, alphabetical:
Brazilian Museum of Sculpture, São Paulo
–
Paulo Mendes da Rocha
Camargo House
1985
Oscar Niemeyer
Catedral Metropolitana, Brasilia
–
Oscar Niemeyer
Metropolitan Cathedral building : celebrated Modern Brazilian Architecture
The Chapel of San Francisco de Assisi, Pampulha, Belo Horizonte
1943
Oscar Niemeyer
Congresso Nacional, Brasilia
–
Oscar Niemeyer
More Brazilian Architecture projects online soon
Location: Brazil, South America
Brazil Architecture Links
Brazilian Architecture Studios
Key Brazilian architects: Oscar Niemeyer, Lucio Costa, da Rocha
Living Steel: 2nd International Architecture Competition for Sustainable Housing



image from architect
Brazilian Architecture Competition : Recife, Pernambuco, Brazil
Building Developments in Brazilian Neighbours
Brazilian Institute for Architects – President : Paulo Mendes da Rocha
Comments / photos for the Brazil Architecture page welcome