Rotterdam Building News 2021, Netherlands Architecture Updates, Dutch Architects, Design Projects Images
Rotterdam Architecture News : Buildings
Architectural Developments / Buildings in Holland, Europe: Dutch City Built Environment Updates
post updated 9 November 2021
Architecture News Rotterdam
Rotterdam Architecture Designs – chronological list
e-architect select key examples of interesting new Rotterdam Architecture. We include the best Rotterdam buildings / projects by respected architects.
Our focus is on contemporary Dutch buildings in the second largest Dutch city – the largest port in Europe.
Rotterdam Architecture : projects from A-F
Rotterdam Buildings : projects from G-Z
Rotterdam Architecture Walking Tours
Rotterdam Architecture Tours – city walks and bike trips by e-architect
Rotterdam Building News
Rotterdam Architecture News arranged chronologically:
24 Oct 2021
Harbour Experience Center
Architects: Kossmanndejong and MVRDV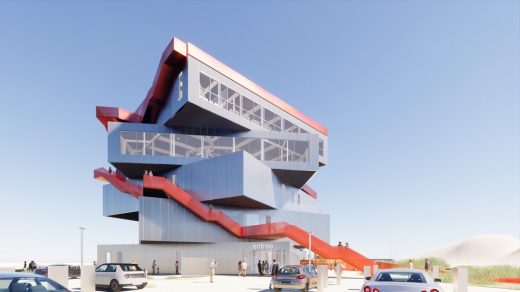 image courtesy of architects practice
Harbour Experience Center, Port of Rotterdam
The Harbour Experience Center is located in a beautiful location – on the border of land and sea. At the end of the Amaliahaven, near the current recreational beach of Maasvlakte 2. The building has been designed by MVRDV architects. Kossmanndejong contributed to the overal concept and will design the exhibitions, experience, and interior.
22 September 2021
Nelson Mandela Park Master Plan, South Maashaven
Design: SWA/Balsley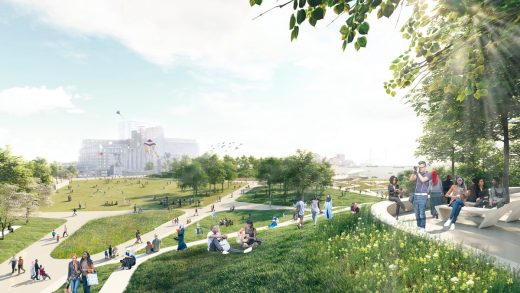 rendering courtesy SWA/Balsley
Nelson Mandela Park Master Plan in South Maashaven
SWA/Balsley's Nelson Mandela Park Master Plan in Rotterdam, Netherlands, was named a winner of 2021 Design Awards from the American Society of Landscape Architects, New York City Chapter. The annual program recognizes excellence in the practice of landscape architecture and the winning entries are selected based on quality of design and execution, innovation, and impact on community and the profession.
7 September 2021
Royal Launch for Floating Office Rotterdam, Rijnhaven harbor
Design: Powerhouse Company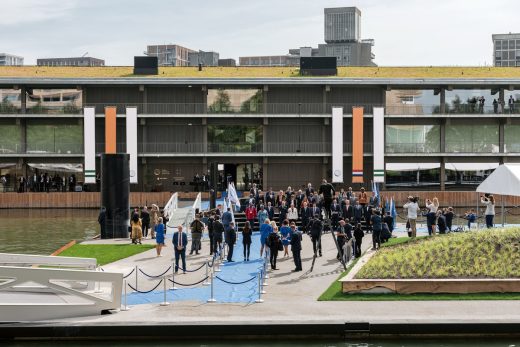 photograph : Sebastian van Damme
Floating Office Rotterdam Building
His Majesty King Willem-Alexander of the Netherlands alongside Ban Ki-moon and Kristalina Georgieva today inaugurated the Floating Office Rotterdam (FOR). Designed by Powerhouse Company and developed by RED Company, the FOR is not only one of the most sustainable offices in the world, it is also the largest floating office in the world as well as a pioneer in circular timber workplaces of this scale.
9 Jun 2021
Stilwerk Rotterdam, Rhijnhaven
Design: Zirn Architeken and WDJARCHITECTEN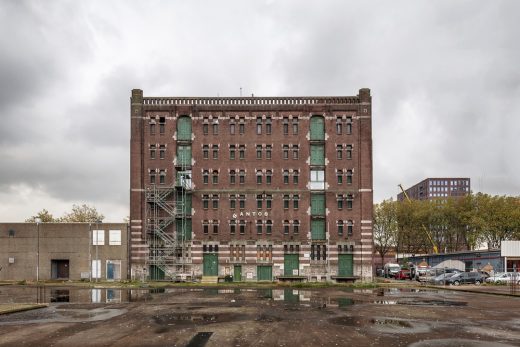 photo © Luc Büthker _ Rijksdienst voor het Cultureel Erfgoed
Stilwerk Rotterdam, Rhijnhaven Designer Shops
Transforming the historic warehouse on the Rhijnhaven into the latest design destination with premium brands, retailers and manufacturers. Stilwerk goes Rotterdam; the Dutch metropolis will be home to a new design destination that combines retail and hospitality under one spectacular roof for the first time.
6 May 2021
New Feyenoord Stadium – De Kuip
Design: OMA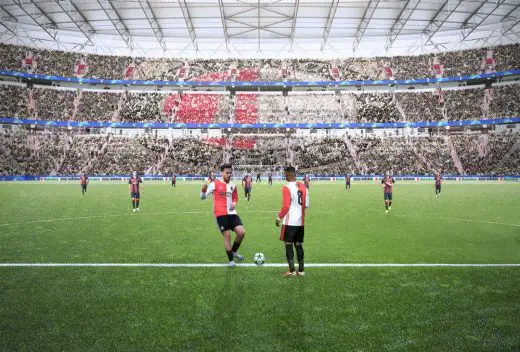 image courtesy of OMA
Feyenoord Stadium Building
Fondly referred to as De Kuip (or the tub) in Rotterdam, Feyenoord's stadium in the city's south has been home to the Dutch football club for over eighty years. When completed in 1937, the stadium structure—built entirely with steel and concrete tiers and including a curved, cantilevered stand—was a forerunner in modernist football stadium.
28 Apr 2021
Rietzoom Housing Development
27 Apr 2021
SAWA wooden building, Lloydquarter
16 Apr 2021
PTT Binnenrotte Building
Design: Orange Architects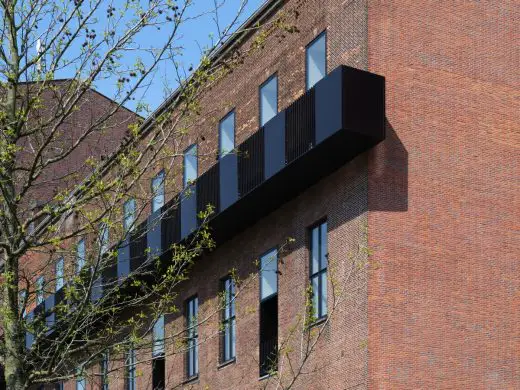 photography : Ossip van Duivenbode, Frank Hanswijk, Orange Architects
PTT Binnenrotte Rotterdam Building
In 2019, the former PTT building constructed in 1951 on Binnenrotte underwent a transformation from a structure full of equipment to a structure full of apartments, with a restaurant on the ground floor. The building is located close to the spot where Rotterdam was founded.
16 Feb 2021
Valckensteyn Housing, Pendrecht
More contemporary Rotterdam Architecture News online soon
Rotterdam Architecture News 2020
11 Dec 2020
Maritime Center Rotterdam
6 Dec 2020
Codrico Terrain Rijnhaven
18 Nov 2020
SAWA, Lloydquarter
Design: Mei architects and planners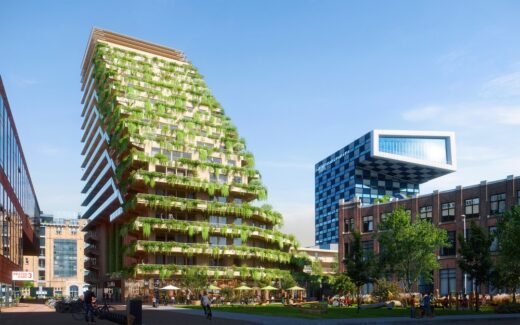 image © WAX
SAWA wooden building Lloydquarter
Commissioned by Nice Developers & Era Contour, Mei architects and planners is designing SAWA: a wooden residential building in the heart of the Lloydquarter. This new Dutch building will be built entirely in CLT (cross-laminated timber) and is therefore the first fully wooden residential building of 50 meters high in the city.
Nov 13, 2020
FENIX Museum of Migration in Rotterdam, Rotterdam, Holland
Panoramic Viewpoint for the Fenix Warehouse
MAD Architects' first cultural project in Europe, the FENIX Museum of Migration, has broken ground in Rotterdam. The project was commissioned by the Droom en Daad Foundation.
30 Sep 2020
Depot Boijmans Van Beuningen
Design: MVRDV, architects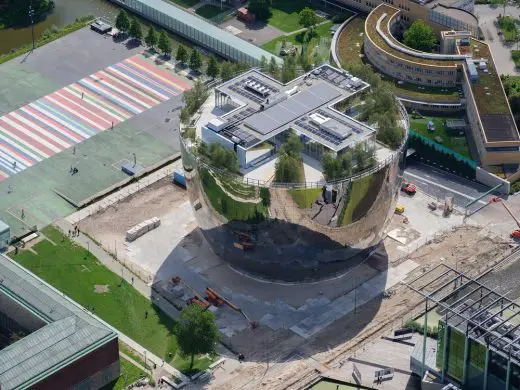 Aerial photograph of Depot Boijmans Van Beuningen © Ossip van Duivenbode
Museum Boijmans Van Beuningen
Depot Boijmans Van Beuningen, the first publicly accessible art depot in the world designed by MVRDV, has completed construction. Located in Rotterdam's Museumpark, the depot features a new type of experience for museum visitors: a sturdy engine room where the complete collection of 151,000 objects is made accessible to the public.
25 Sep 2020
Upfield Office The Attic
2 Sep 2020
World's largest Floating Office Building, Rijnhaven harbor
Architecture: Powerhouse Company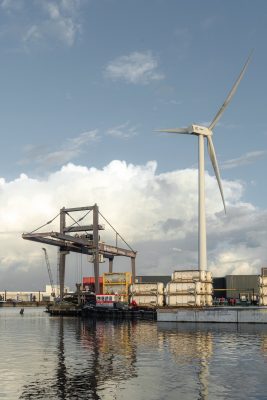 photo : Sebastian van Damme
World's largest Floating Office Building
The world's largest floating office, Floating Office Rotterdam, has taken a giant step toward its completion. On Monday, 31 August, the huge floating structure, measuring 90 by 24 meters, arrived at its permanent berth in Rotterdam's Rijnhaven harbor, having been towed there all the way from Zaandam, over 80 kilometers away.
18 Aug 2020
The Bellhop Hotel, Witte de Withstraat
Architecture: local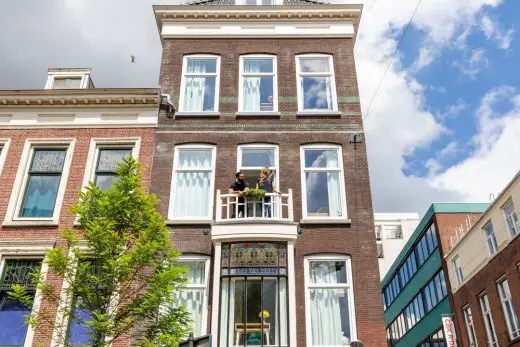 photo : Joey Van Dongen
The Bellhop Hotel
The Bellhop Hotel transforms the typical corridors of a Dutch townhouse into action bands for moving, staying and sleeping inside. The full rehabilitation includes a new basement floor and a new 4th floor with the pitch roof. The project is led by Elida Mosquera and Jerome Picard from local, a new Bergen-Paris based architecture and urbanism studio.
21 Mar 2020
Converted Warehouse ZZ21, Vlaardingen
Design: Firm Architects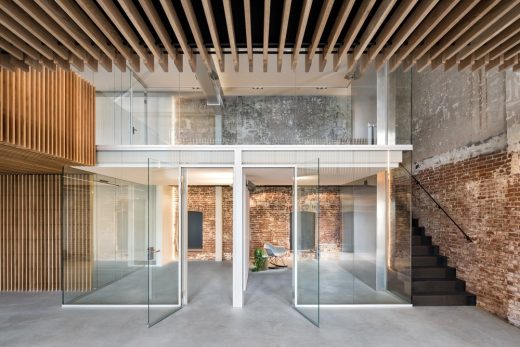 photograph : Studio de Nooyer
Koningin Wilhelminahaven Warehouse in Vlaardingen
For a private investor, Firm converted a 215 square meter part of this 120-year-old Warehouse on one of the busiest harbors in the Port of Rotterdam. The poorly lit space combined with a north-facing facade with just a few windows meant the owner needed to be visionary in order to perceive a bright and well usable office space.
9 Mar 2020
Nesselande Lifeguard Building, Nesselande, near Rotterdam
Design: UArchitects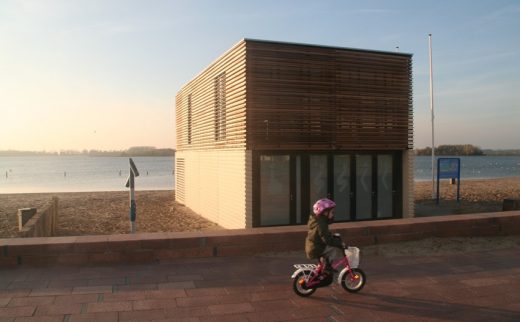 image courtesy of architects office
Lifeguard Building in Nesselande
What does a building look like that is closed during the winter and is only open during the summer season?
More Rotterdam Architecture News is welcome on e-architect
Dutch City Building Design Updates
19 July 2019
M4H Merwe-Vierhavens
Design: DELVA Landscape Architecture| Urbanism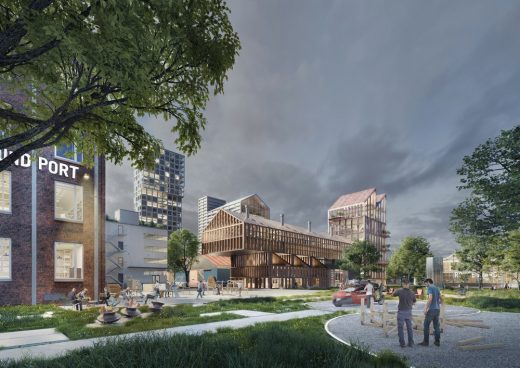 image courtesy of architects office
M4H Merwe-Vierhavens
Together with the harbor and municipality of Rotterdam DELVA Landscape Architecture | Urbanism presents "The future in the making – the spatial framework for the Merwe-Vierhavens in Rotterdam".
post updated 10 July 2019
180 Steps
Design: MVRDV, Architects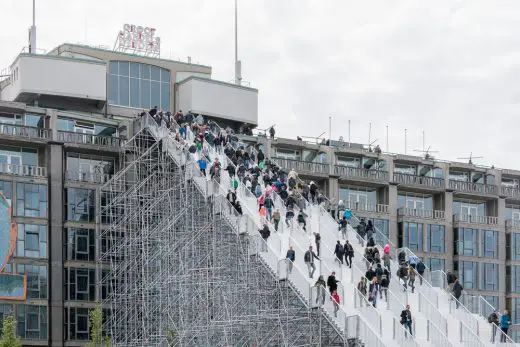 photography © Ossip
180 Steps in Rotterdam
180 steps leading up from the Stationsplein, outside Rotterdam Central Station, taking visitors up to the rooftop of the Groot Handelsgebouw, an iconic building in the history of the post-war reconstruction of the city.
20 May 2019
Erasmus MC, Doctor Molewaterplein 40
Design: EGM architects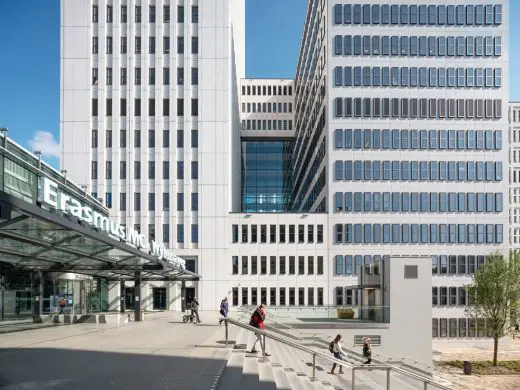 photograph © Ossip van Duivenbode
Erasmus MC Rotterdam
Erasmus MC is the first hospital ever to receive a BNA award in the 'Stimulating environments' category. It was voted category winner 'Stimulating environments' at the award ceremony of the BNA Best Building of the Year, a Dutch architecture prize.
1 May 2019
Erasmus Campus
Design: Mecanoo architecten, Delft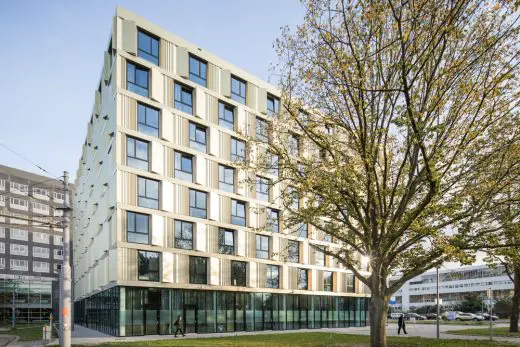 image from architecture office
Erasmus Campus Building
Rotterdam has a growing demand for student housing. To address this shortage, a student housing complex on a prominent location was sought, at the intersection of Abram van Rijckevorselweg and Burgemeester Oudlaan.
24 Nov 2018
Fenix Warehouse Panoramic Viewpoint
Design: MAD Architects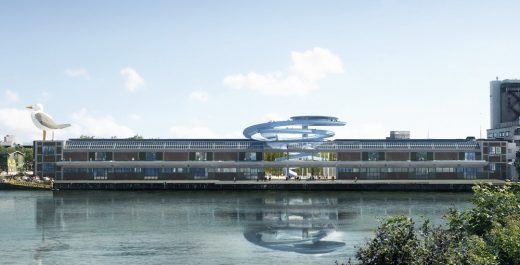 image courtesy of architects
Panoramic Viewpoint for the Fenix Warehouse
The celebrated Chinese architecture office have been commissioned by the Droom en Daad Foundation to design a panoramic viewpoint on top of the historic Fenix warehouse. Bureau Polderman will be responsible for the historic warehouse building restoration.
22 Nov 2018
Lijnbaan Shopping Area
Design: Mei architects and planners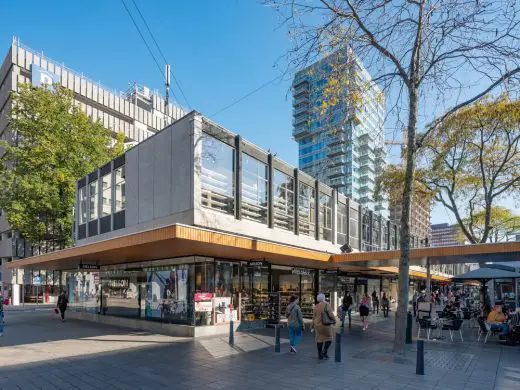 photo © Ossip
Lijnbaan in Rotterdam
Grand opening of the Lijnbaan in Rotterdam: first phase of the renovation of the world-famous reconstruction monument is finished. The renovation project was designed by Mei architects and planners.
7 Sep 2018
New Erasmus MC Building
Design: EGM architects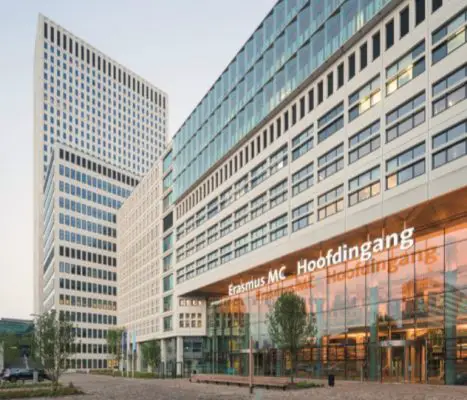 photo © Rob van Esch
New Erasmus MC Building
In the presence of His Majesty King Willem-Alexander, the new Erasmus Medical Center in Rotterdam (The Netherlands) was officially opened. During a festive gathering in front of the new hospital a volunteer, a doctor, a nurse and a researcher spoke about their profession.
17 Jun 2018
CityHub, Witte de Withstraat
Design: Studio Modijefsky, Architects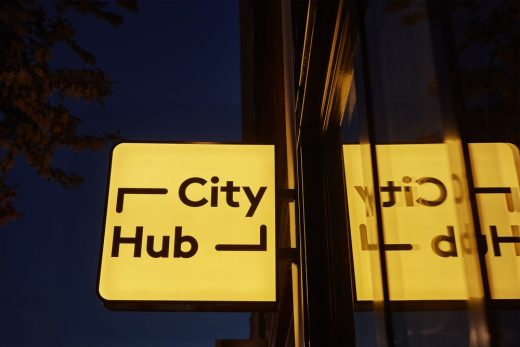 photograph : Maarten Willemstein
CityHub Rotterdam
Witte de Withstraat, one of Rotterdam's liveliest and well-known streets, has a new resident. CityHub have modified three existing buildings on the street to create the second of their new, fresh and interactive hotels for the digital native.
27 Feb 2018
Weenapoint Complex
Design: MVRDV Architects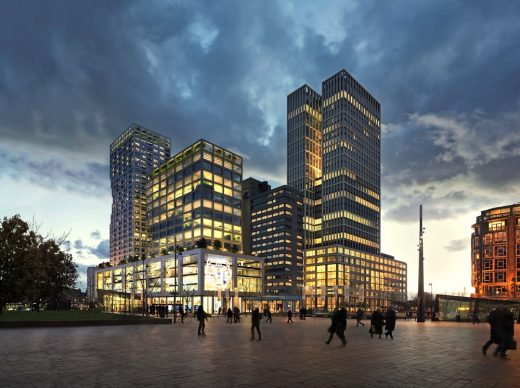 images : MVRDV and Mozses
Weenapoint complex
Maarsen Groep are to develop a mixed office, residential and commercial program as the third phase of the transformation of the former Weenapoint complex in Rotterdam Central District.
21 Feb 2018
Project Maximaal
Design: Simone Drost ARCHITECTURE, Architects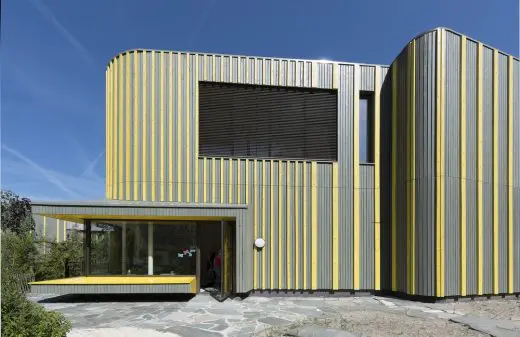 photo : www.roosaldershoff.nl
Project Maximaal, Rotterdam Childcare Centre
A Childcare centre for children with mental disabilities in the ages of 0 to 20 years. The centre offers a nursery, a primary school and a high school and is located in Rotterdam, The Netherlands.
1 Aug 2017
The Sax Tower, Wilheminapier
Design: MVRDV Architects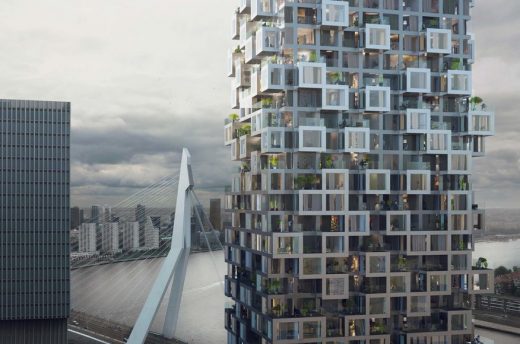 images courtesy of MVRDV and WAX Architectural Visualisations
The Sax Building in Rotterdam
Development partners BPD Bouwfonds Property Development, Ontwikkeling B.V. and SYNCHROON Ontwikkelaars in consultation with the municipality of Rotterdam, have been working since 2015 on the development of residential buildings Philadelphia & Havana.
18 Apr 2017
Museum Boijmans Van Beuningen Exhibition, Rotterdam – Mad About Surrealism
Design: MAXWAN architects + urbanists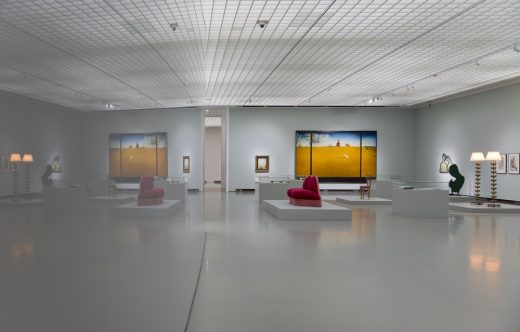 photograph © Artur Borejszo
Museum Boijmans Van Beuningen Exhibition
'Mad About Surrealism' with over 300 surrealistic works from Dalí, Ernst, Magritte, Miró and others.
18 Jul 2016
MVRDV House Rotterdam


photograph © Ossip van Duivenbode
MVRDV House Rotterdam
31 Jan 2016
Timmerhuis in Rotterdam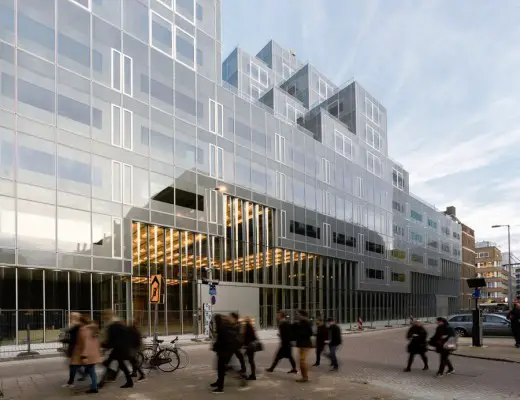 image courtesy of OMA; photography by Sebastian van Damme
10 + 9 Mar 2014
Public Art Depot, Museum Boijmans Van Beuningen, Rotterdam
Design: MVRDV Architects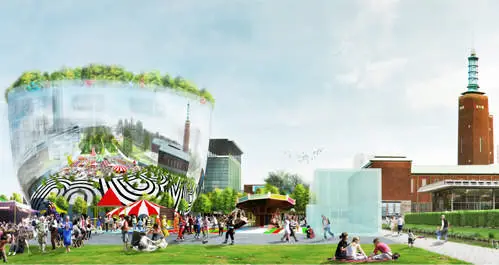 picture from architects
Museum Boijmans Van Beuningen
4 Mar 2013
Beukenhof Auditorium and Crematorium
Design: Asymptote Architecture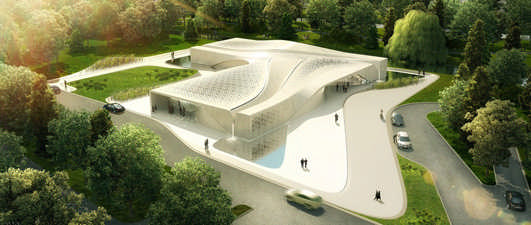 image from Asymptote Architecture
Beukenhof Auditorium and Crematorium
Asymptote Architecture is pleased to announce winning a 2013 Progressive Architecture Award for the Beukenhof Auditorium and Crematorium. The Annual Progressive Architecture Awards has long been associated with many movements that have "pushed the design envelope at a given moment".
30 Oct 2012
Campus Hooglviet
Design: Wiel Arets Architects



photo : Jan Bitter
Campus Hooglviet Rotterdam
This is a new educational and cultural area located on the southern edge of the city composed of six buildings encompassing two vocational schools, an art studio, sports building, lyceum, restaurant, retail, and housing facilities. Each building has an outdoor patio linking the campus' public space with each building's private interior.
26 Oct 2012
Theatre Spijkenisse
Design: UNStudio



image : UNStudio
Theatre Spijkenisse
The design for the Theatre Spijkenisse focuses on the placement and orientation of the building in the urban location, whilst simultaneously providing architectural solutions for programming needs and public access. Traffic flows play an important role in the organisation of the building.
4 Oct 2012
Book Mountain – Spijkenisse Public Library
Design: MVRDV



picture : Jeroen Musch
Book Mountain
Today Spijkenisse Book Mountain and the adjacent residential neighbourhood will be opened by Prinses Laurentien of the Netherlands. Manifesting itself clearly as a mountain of books on the town's market square, it is both an advertisement and an invitation for reading.
19 Jul 2012
Eneco Headquarter building – interior design
Design: Hofman Dujardin Architects in collaboration with Fokkema&Partners



photo : Maarten Laupman
Eneco Headquarter Rotterdam building
New interiors for sustainable energy company Eneco's headquarters building – a revitalised working environment complete with solar power, natural light and oxygen from internal vegetation, echoing Eneco's vision of sustainability. Eneco's new building is a good example of "how clever and efficient office design can offer employees the possibility to work flexibly in a dynamic, open, sustainable and healthy environment".
11 Jun 2012
Kuip Rotterdam Stadium
Design: (designed by) Erick van Egeraat



image from architect
Kuip Rotterdam Stadium
As one of the main characters in the Dutch Television-program 'Stadium' Architect Erick van Egeraat has presented his vision on a new Stadium venue and its value for the city of Rotterdam. As one of the few internationally active Dutch Architects Erick van Egeraat combines both the experience and skill to design venues as urban planning.
International Architecture Biennale Rotterdam, NAI Rotterdam, The Netherlands



image from IABR
International Architecture Biennale Rotterdam – IABR
Rotterdam Architecture Exhibition
Netherlands Architecture Institute Event



photo © Ton Hermans, Rotterdam
Rotterdam Architecture Exhibition : NAI Event
Rotterdam Architecture Images
Rotterdam Architecture Photos
Pictures by Ton Hermans



photo © Ton Hermans, Rotterdam
Rotterdam Building Photos
Rotterdam Buildings
Key Buildings, alphabetical:
Body House
Monolab



building image from architect
Body House Rotterdam
B Tower
Design: Wiel Arets Architects



picture : Wiel Arets Architects
B Tower Rotterdam
Coolsingel Project
Office for Metropolitan Architecture (OMA)



building image : Office for Metropolitan Architecture
Coolsingel Rotterdam
Co-housing Hoogvliet
van Bergen Kolpa Architecten



photo from architects
Co-housing Hoogvliet
Cool Tower
casanova+hernandez architecten



image from casanova+hernandez architecten
Cool Tower
De Blaak 31 Office Building
Design: KCAP Architects&Planners



photo © Paulien Borst
De Blaak 31 Rotterdam Building
De Rotterdam
Office for Metropolitan Architecture (OMA)



building image : Office for Metropolitan Architecture
De Rotterdam
Erasmus Bridge
UNStudio Architects



photo © Ton Hermans, Rotterdam
Erasmus Bridge Rotterdam
More Rotterdam Architecture online soon
Rotterdam Architecture Designs – No Images
Key Buildings, alphabetical:
Boijmans van Beuningen Museum
–
Robbrecht en Daem
Cube Houses
1984
Piet Blom
Redeveloped in 2009 as Stayokay hostel
Didden Village
MVRDV
Rotterdam house
Erweiterung Naturkunde Museum
1995
Mecanoo Architects
More Rotterdam Architectural Designs online soon
Location: Rotterdam, the Netherlands
Architecture in Rotterdam
Rotterdam Architecture Designs – chronological list
Rotterdam Architecture Walking Tours
Architecture Walking Tours by e-architect
Rotterdam Architecture Studios – design firm listings on e-architect
Dutch architect – Rem Koolhaas
UNStudio architects – fomerly Van Berkel & Bos Architectuurbureau
Mecanoo – Dutch architect studio
Buildings / photos for Rotterdam Architecture News page welcome