Beijing building news 2023, China built environment, Chinese capital architecture projects, Architects design competitions
Beijing Architecture News
Key New Chinese Property Developments in the Capital: Architectural Project Updates
post updated 2 November 2023
Beijing Architecture Designs – chronological list
Beijing Architecture Walking Tours by e-architect for groups
Beijing Architecture News 2023
Beijing Architecture News in 2023, chronological:
7 November 2023
Aumann Japanese cuisine
1 November 2023
Capital Heyuan Pinggu Rental Housing Community Library
Design: y.ad Studio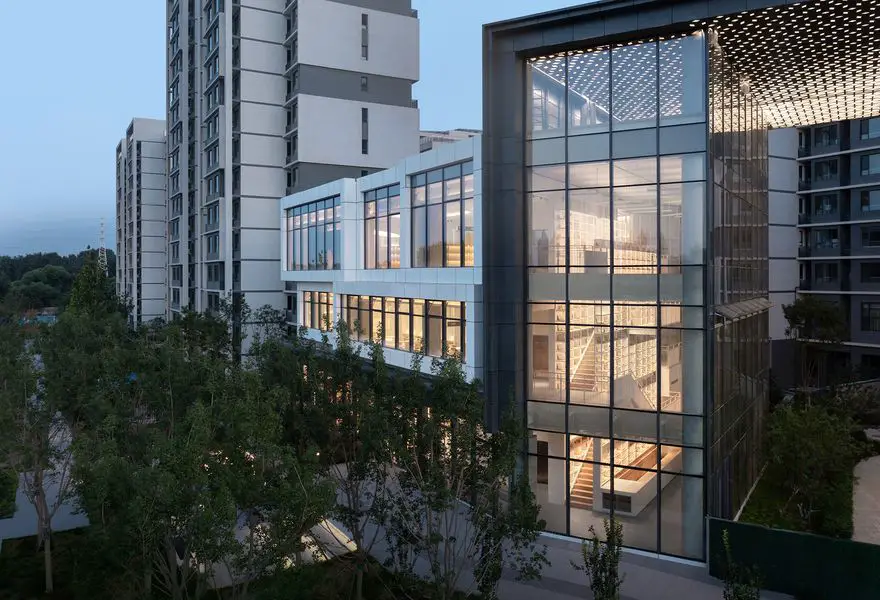 photo : SCHRAN
Capital Heyuan Pinggu Rental Housing Community Library
This library is in building 12 of the rental housing complex on the west side of the collective land of Baigezhuang Village, Daxingzhuang Town, Pinggu District, Beijing. By defeating five well-known Chinese design firms, y.ad studio won the competition and worked on the project design.
Beijing Railway Station Interior Renovation
The Transition: House of a Filmmaker
The New World Exhibition, Beijing by Zaha Hadid Architects
Zhongmeishan self-service BBQ PLUS
14 June 2023
China Philharmonic Concert Hall
Design: MAD Architects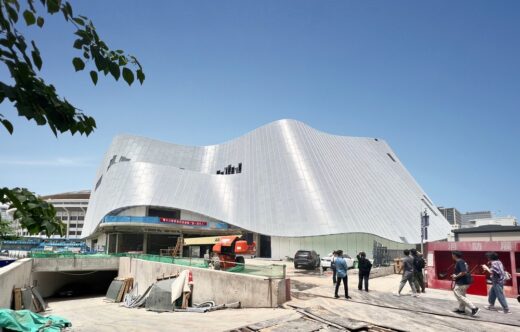 photo : CreatAR, Zhengdong.Li, Xu Chen
China Philharmonic Concert Hall
With an overall site of 11,600 sqm and a total building area of 26,000 sqm, the concert hall is one of the most significant cultural projects in the nation's capital. It will become the first permanent residence for the China Philharmonic Orchestra, which gave rise to a new generation of symphonies in China.
20 Mar 2023
SUSHI ZEN, Wusi Street, Dongcheng District
Design: LDH Architectural Design Firm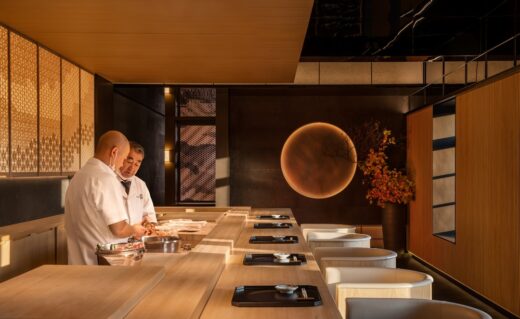 photo : REALSEE – WANG Ting
SUSHI ZEN Restaurant, Dongcheng District
Located at No. 33 Wusi Street, Dongcheng District, this new Japanese banquet restaurant was renovated from a 200-year-old building set up in the Republic of China. The property provides Japanese banquets facing the 600-year-old imperial palace building in the Forbidden City.
Beijing Architecture News in 2022, chronological:
16 Dec 2022
Sleeping Lab – Arch, Huangmuchang Village
Design: Atelier d'More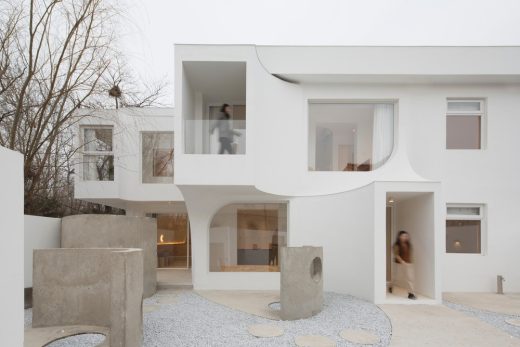 photo : Atelier d'More
Sleeping Lab Arch, Huangmuchang Village
The Sleeping Lab – Arch project is located in Huangmuchang Village on the outskirts of Beijing. It is a two-story brick-concrete building, originally used as residence and office. Atelier d'More was commissioned to renovate this run-down building into a boutique hotel.
17 Nov 2022
CapitaMALL Wangjing
Design: CLOU architects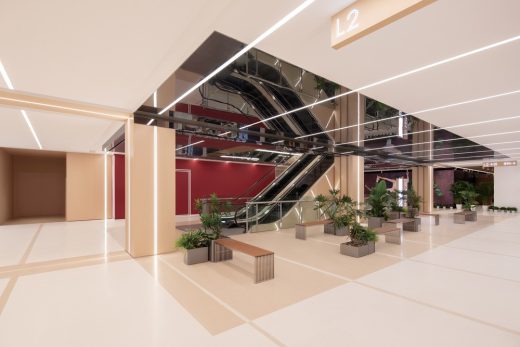 photo : Xia Zhi
CapitaMALL Wangjing
CapitaMALL Wangjing, the first large commercial complex developed by CapitaLand in Beijing's Wangjing area, has brought commercial prosperity to the Wangjing community since its opening in 2006. In 2021, CLOU architects won a design competition and collaborated with CapitaLand to renovate this long-standing community beacon, responsible for the overall space branding upgrades of CapitaMALL Wangjing.
17 Nov 2022
Dongcheng Courtyard House
Architecture: JSPA Design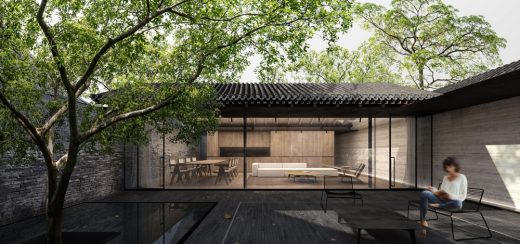 image : JSPA Design
Dongcheng Courtyard House
Located in Dongcheng district in the ancient city of Beijing, the project consisted in the construction of a private courtyard house including the refurbishment of an existing Ming's dynasty building along the street.
6 Oct 2022
SINOVAC High-Tech Achievements Transformation Project, Changping Life Science Park, Beijing, Northern China
Design and Project Architect: Aedas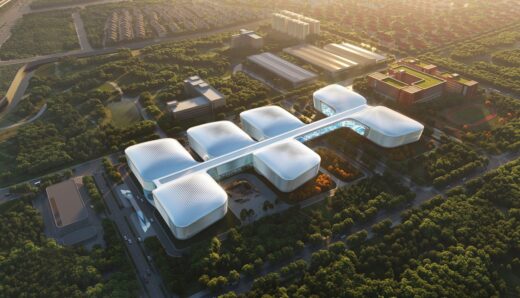 image courtesy of architecture practice
SINOVAC High-Tech Achievements Transformation Project, Beijing
24 Aug 2022
Light Echo TW showroom, Qikeshu Creative Park
Design: KiKi ARCHi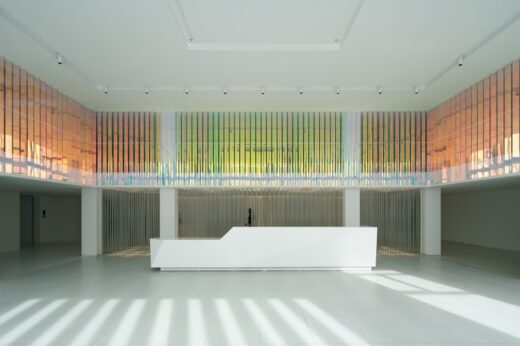 photo : Eiichi Kano / Ruijing-PhotoBeijing
Light Echo TW showroom
In this new architectural project the arrangement of light is crucial to an image, whether it is in the basic lighting, atmosphere, mood rendering, characterization, etc. From pre-shooting to post-production, the video artists control the brightness, angle, and colour of light to form an atmosphere that fits the scene, and participate in narrative and expression.
19 August 2022
Collaborative Learning Center of Peking University Building, Yiheyuan Road, Haidian District
Design: FEI Architects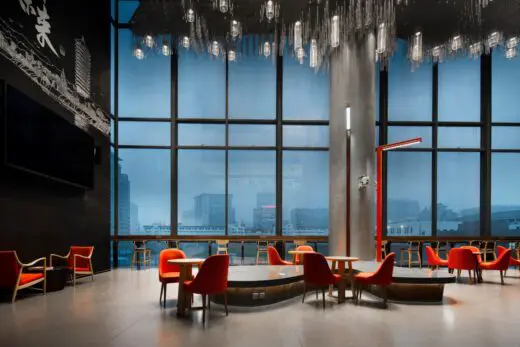 photo : FEI Architects
Collaborative Learning Center of Peking University
The Collaborative Learning Center of Peking University is located in the Second Teaching Building, adjacent to the canteen and the School of Mathematical Sciences. How to transform the original corner space under and around the staircase into a diversified, interactive and borderless space that integrates typical elements of Peking University and gives the students a sense of psychological identity is the focus of this project.
17 July 2022
Anna Garden Residence, Beijing, Northern China
Architects: KiKi ARCHi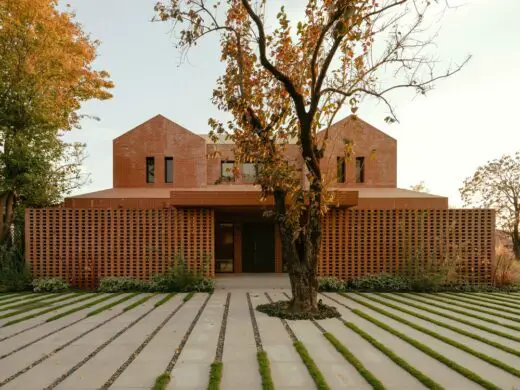 photo : Eiichi Kano
Anna Garden Residence
Changping District is 30km to the north of Beijing, the scenery of which is completely different from that of an international city. KiKi ARCHi has completed the renovation of Anna Garden Residence within 15 months there.
4 July 2022
Zhen Fund
Design: asap/ adam sokol architecture practice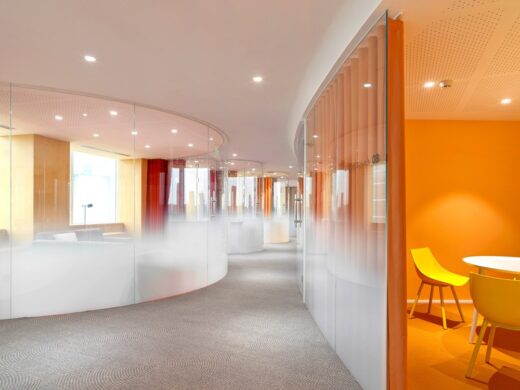 photo : Jonathan Leijonhufvud
Zhen Fund Office Interior
The Zhen Fund is a project that takes advantage of immersive urban views, while also conveying a sense of the significance and dynamism of the client's work, and the tremendous joy and enthusiasm that is so characteristic of this company. asap was asked to create a fairly typical office fit-out for a prominent venture capital firm in Beijing.
2 July 2022
WILLchá Flagship Store
Design: CUN DESIGN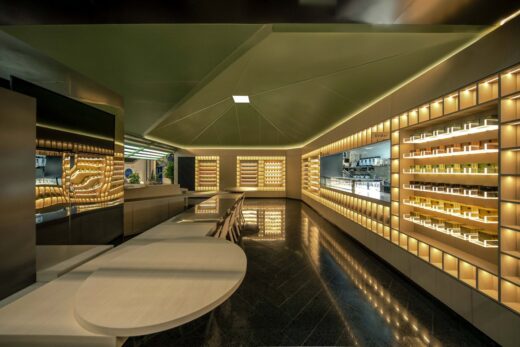 photos by Jia Bin, Si You
WILLchá Flagship Store
When you wake up every morning, will you choose to brew a cup of pour-over coffee, or go downstairs for a cup of Starbucks at the street corner? Currently, coffee and cola seem to have gradually become the mainstream of people's consumption.
23 June 2022
Pifo Gallery, 798 Art Zone
Design: ARCHSTUDIO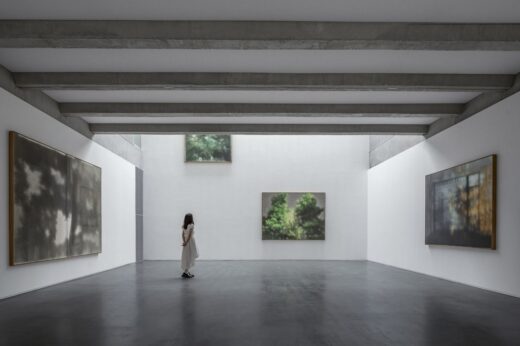 photograph : Jin Weiqi
Pifo Gallery Beijing Building
Pifo Gallery is one of the earliest major art intuitions in China dedicated to advancing the research and development of abstract art. After more than a decade of operation, the owner of the gallery invited ARCHSTUDIO to renovate the space, to improve its functions and adapt to future development demands.
20 June 2022
Baiziwan Social Housing, near the CBD
Design: MAD Architects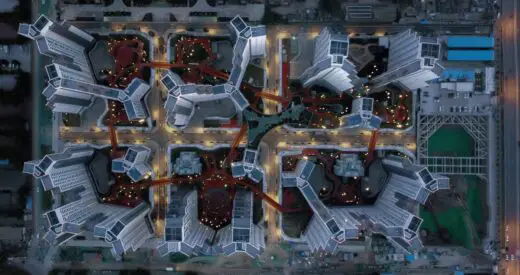 photograph : ArchExist
Baiziwan Social Housing
Baiziwan Social Housing is the first affordable housing project by MAD Architects, led by Ma Yansong. Situated near the Chinese capital's CBD (central business district), the project covers the area of 93,900 sqm, with a total construction area of 473,300 sqm.
23 May 2022
The Fintech Office
Interior Design: WIT Design & Research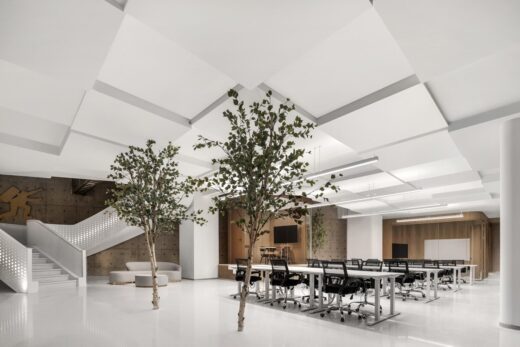 photo : One Thousand Degree Visual
Fintech Office Beijing, Ronghui International Building
The Fintech Office and the Dragon Restaurant were simultaneously put into operation. An office building dedicated to serving the Financial Technology industry, the Ronghui International Building had received great support from the Beijing Government, but like many other businesses in Beijing including those in the CBD, it felt the bite of the pandemic.
13 May 2022
Mansion Feast Restaurant
Mansion Feast Restaurant Beijing
27 Apr 2022
BBMG Xi San Qi Science & Technology Park Phase I, Xisanqi, Haidian District
Design: Aedas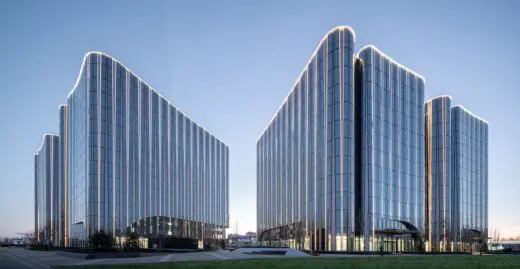 photo : CreatAR Images
BBMG Xi San Qi Science & Technology Park Phase I
The project is located in the core area of the high-tech corridor in Xisanqi, Haidian District, Beijing. It is surrounded by innovative technology parks and headquarters, with convenient access to the financial street and the Central Business District (CBD). In close proximity to several key urban rail transit lines, the project possesses excellent geographical conditions.
18 Apr 2022
In S&N Resort, Xidamo Village, Qingshui Town, Mentougou District, Beijing
Design: Penda China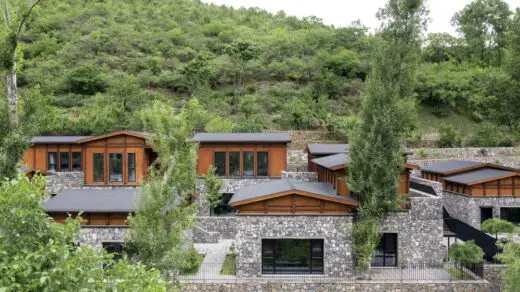 photo : Xia Zhi
In S&N Resort, Mentougou
Located in West Dharma Village, Fangshan District, Beijing, In S&N Resort is favorably sited amidst mountains and trees. Legend has it that the twenty-eighth generation of Bodhidharma disciples of Shaolin Temple in Songshan traveled across the world. When passing through the Baihuashan area, they built temples, spread Buddhism, did good deeds, and cured illness of local people under the protection of Bodhidharma.
12 April 2022
Jetlag Books pop up shop
Design: WIT Design & Research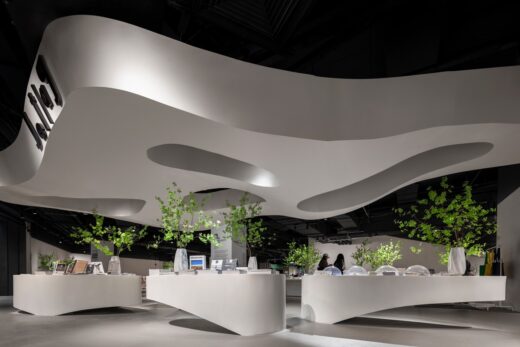 photo : One Thousand Degree Image
Jetlag Books pop up shop
Zhenhua Luo, the director of WIT Design & Research, was invited to design a pop-up shop named "The Cloud" based on the theme that "A bookstore runs away from home" in December 2021. In this case, bookstores no longer bear too much responsibility to be an iconic architectural representation of the city.
18 March 2022
Beijing Olympic Forest Park's Runner's Station
Design: TEMP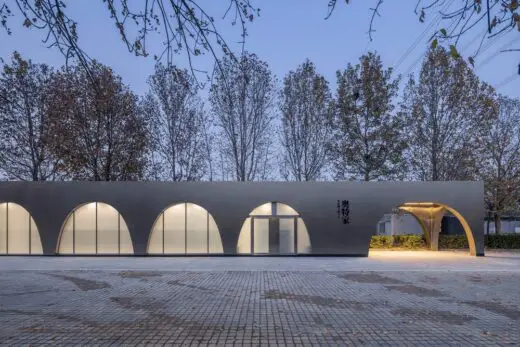 photo : Weiqi Jin
Beijing Olympic Forest Park's Runner's Station
The Runner's Station is built inside Beijing's Olympic Forest Park as a public utility. Like others around China, this sports park that held the 2008 Olympic Games were tasked to install supporting services that better serve the locals.
4 Mar 2022
Pop-up Shop of Zhima Health
Design: Wang Yong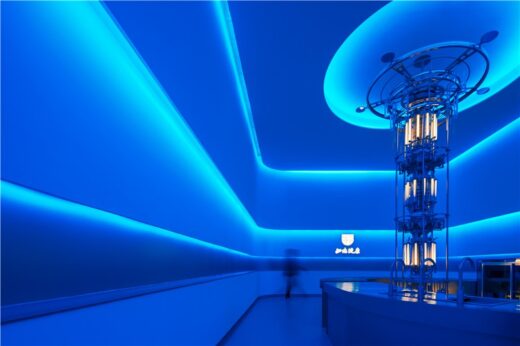 photo : Rock
Zhima Health pop-up shop at Zhengda Center
According to the biologists the process of aging results from the gradual accumulation of the genetic errors in cells and genes. The appearance of a new wrinkle is the result of the subtle effect the second law of thermodynamics has on the body.
28 Feb 2022
CLOU
Design: CLOU architects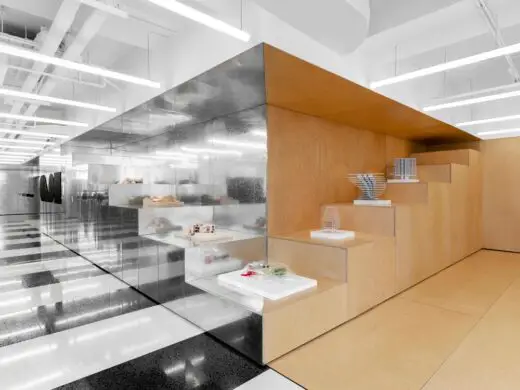 photo : Banye Lin
CLOU Office, Beijing Interior
One year after launching a Shanghai branch near the Bund, CLOU's Beijing office has now expanded into sparkling new premises. Within the familiar surroundings of Sanlitun SOHO, the space has doubled in size to occupy half a tower floorplate on the 17th floor, with a fully glazed facade offering sweeping views across Sanlitun and into the mountains of Northeastern Beijing.
17 Jan 2022
Beijing Sub-Centre Library
Design: Snøhetta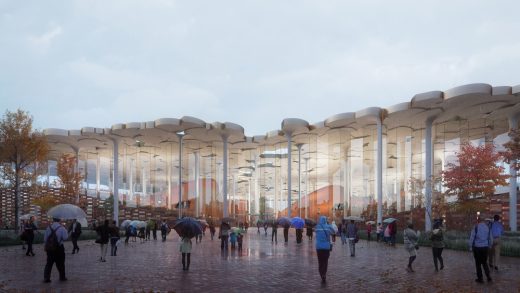 image : Plomp
Sub-Centre Library
The new Beijing Sub-Centre Library due to complete by the end of 2022, will offer a contemporary yet timeless space for learning, knowledge sharing and open discussions, as well as celebrating the cultural richness of Beijing and China at large. Aiming to set new standards for sustainable library design, the Beijing Sub-Centre Library will become distinctly different to conventional libraries, utilizing technology, smart design and local resources.
More contemporary Beijing Architecture News on e-architect soon
Beijing Architecture News 2021
Beijing Architecture News in 2021, chronological:
8 Dec 2021
Beijing CR Land Instreet
3 Nov 2021
WAA Riverside Gastropub Space Design, Chaoyang, Liangmaqiao
Architects: Fon Studio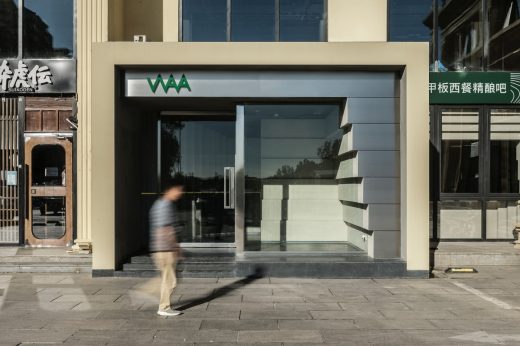 photograph : Fon Studio
WAA Riverside Gastropub, Chaoyang
There are many kinds of catering brands in Beijing Liangmaqiao area, young entrepreneurs have gathered here for new business during recent years. WAA is a space with the business format of creative food and craft beer, based on a flexible site, customers dining here compose of various scenarios.
27 Oct 2021
LU Style Restaurant
Architects: LDH Architectural Design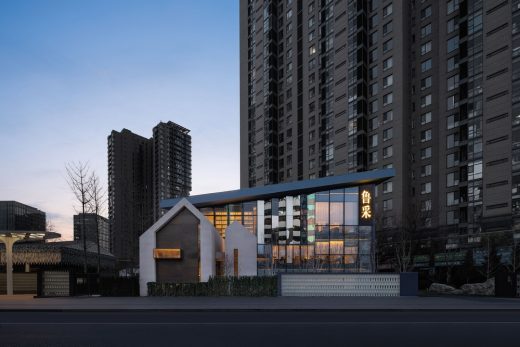 photo : Lu haha
LU Style Restaurant
Attracted by its reputation, guests sit down in Lu Style, a transition space from a busy city to a quiet one, feeing satisfied and also sense of ceremony. In this three-story building, the designer separated the interior from the exterior with a super-large glass curtain wall, shielding the hustle and bustle but not isolating the nature.
20 Sep 2021
Harmay Universal Beijing
Design: AIM Architecture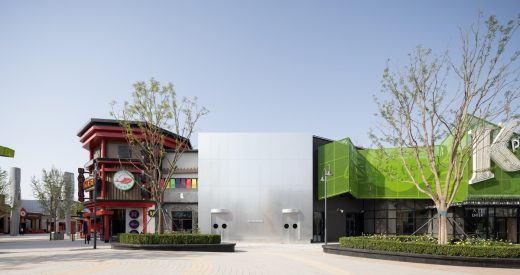 photograph : Wen Studio
Harmay Universal Beijing
Asked to design a store in a theme park and looking at its context, we could not avoid asking ourselves how to go about this. How can we create a unique experience in a place where experience is king? Do we go with the current or swim upstream? Do we try to stand out or blend in?
17 Sep 2021
Dongfeng Park Architecture Studio, Jiangtaiwa Village, Chaoyang District
Design: Beijing China Virtue Architectural Design Co., Ltd led by Chunli Zhang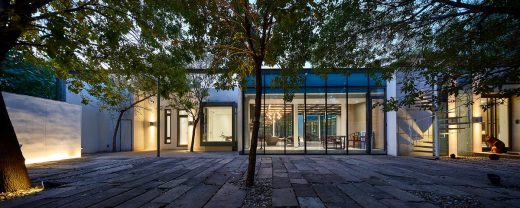 photographs : Shuo Chen and Chun Fang
Office Space of Dongfeng Park 3# Yard
Located in between the East 4th-5th Ring Road, Dongfeng park is suburban city park that functions as one part within the first defensing green belt safeguarding the Beijing City. With its municipal division in Jiangtaiwa village, this office project becomes an ideal working space for the designers, and the chief architect Chunli Zhang hopes to provide the staff with an enjoyable space where gets to be relaxing, feel free and closest to nature.
6 Sep 2021
Songzhuang Micro Community Park, Tongzhou
Design: Crossboundaries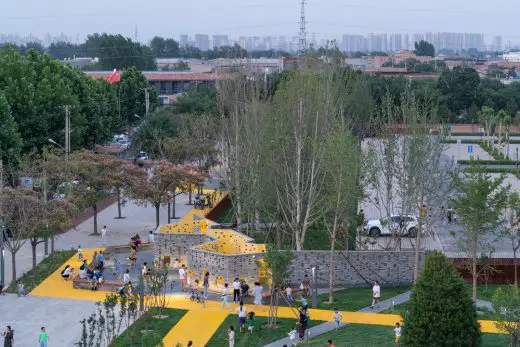 photographers : YANG Chaoying, BAI Yu
Songzhuang Micro Community Park
Beijing's rapid economic transition, unique political atmosphere, and immense urban growth have shaped a trajectory of prominence of art villages in its metropolitan region dating back to the 1900s.
2 Sep 2021
Donghulin Guest House, Mentougou, western area of Beijing City
Design: Fon Studio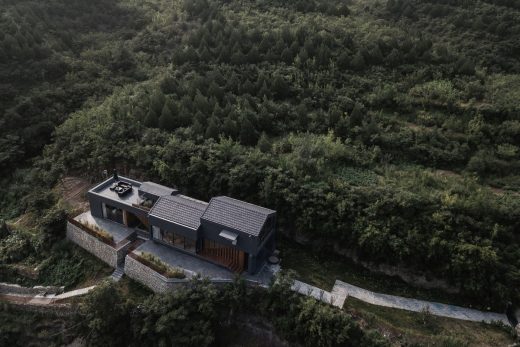 photo : Fon Studio
Donghulin Guest House in Mentougou
In the western area of Beijing City, numerous ancient villages scattered among the rolling hills. Although most of the historical relics have not been preserved, the lifestyle of the local folks on the hills remains as it has been for centuries.
26 Aug 2021
TAO Residence, Lincoln Park real estate
Design: HONG Designworks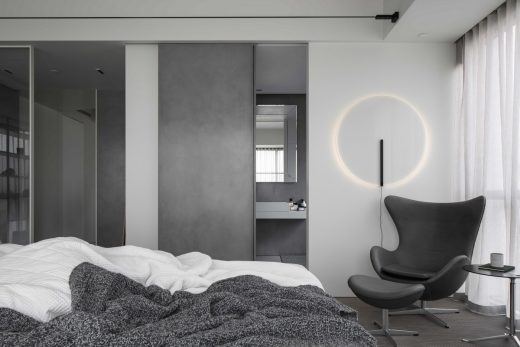 photo : Tan, Xiao / Ten Photography Studio
Tao Residence Beijing by HONG Designworks
TAO Residence locates in Lincoln Park real estate, Beijing. The owner hopes this life space contains comfort and controllability, fill with the exploration of freedom and interaction.
4 Aug 2021
La maison Xun, Beilucaoyuan Hutong
Design: LDH Architects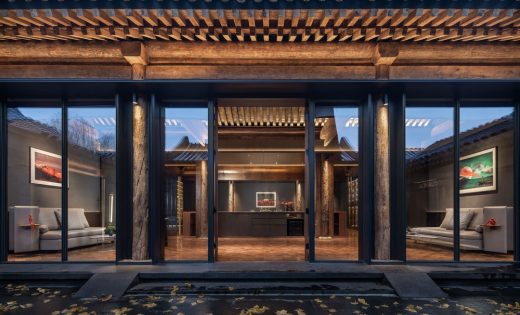 photo : Wang Ting from Dalian AsYouSee
La maison Xun, Beilucaoyuan Hutong
Located within a quadrangle courtyard in Beilucaoyuan Hutong in Beijing, La maison Xun, a Chinese style restaurant, has been put into operation quietly. Unlike other popular high-end restaurants today, it boasts its comfortable modern art and antique architectural pattern.
14 July 2021
San San De Jiu. 3li Community, Sanlitun District
Design: Fon Studio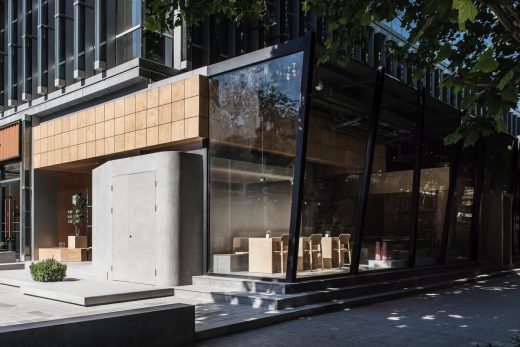 photo : Fon Studio
San San De Jiu. 3li Community
In big cities, people are always looking for a chill and fun place to have a rest. Those places usually hide at the corners of a noisy business district. The number of entertaining spots in Sanlitun District is growing fast to meet those demands.
5 July 2021
Harmay Xidan Beijing interior design
3 July 2021
WELL Living Lab
1 July 2021
「AtelierTing」Vintage Lifestyle Space Renovation
4 Feb 2021
Beijing International Exhibition Centre
Design: Zaha Hadid Architects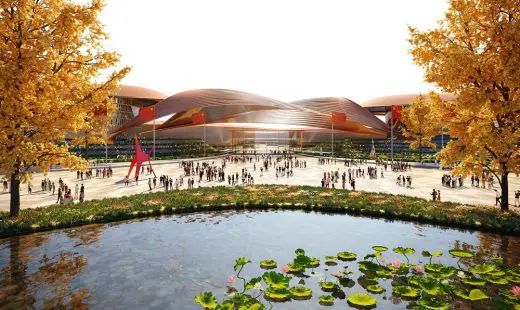 render : Atchain
Beijing's International Exhibition Centre
As the cultural, academic and civic centre of China, Beijing has also developed into one of the world's centres of communication and scientific research. With its own station on Line 15 of the Beijing Subway, the International Exhibition Centre is located next to the city's Capital International Airport and has grown to become an important venue for conferences, trade fairs and industry expos attended by delegates from across the globe.
10 Feb 2021
Asia Financial Center & AIIB HQ
7 Jan 2021
Magic Bar Beijing Interior
More Beijing Architecture News on e-architect soon
Beijing Architecture News 2020
11 Dec 2020
OPPO Store Interior
3 Dec 2020
Dujiangyan Zhongshuge-X+Living store
1 Dec 2020
Xu Lei's Art Studio
26 Nov 2020
WuliEpoch Culture Center
25 Nov 2020
BIT Sports Center
19 Nov 2020
Courtyard Kindergarten
Design: MAD Architects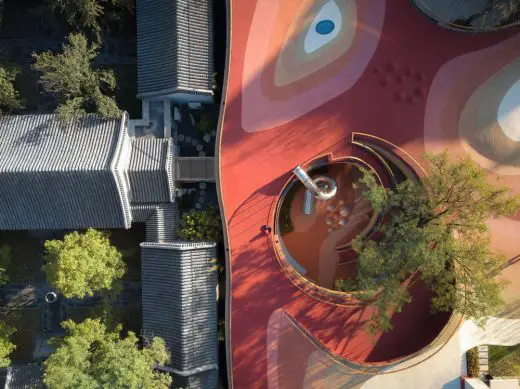 photo © ArchExist
Courtyard Kindergarten by MAD Architects
As one enters the interior from above, the atmosphere feels warm and bright. Responding to the sensitive sense of scale and comfort experienced by children, the interior of the building is suspended from a single aluminum grille, which lowers the visual height of the scheme while instilling the interior with a family-like warmth.
30 Oct 2020
Beijing Zhongshuge Lafayette store interior
Architects: X+LIVING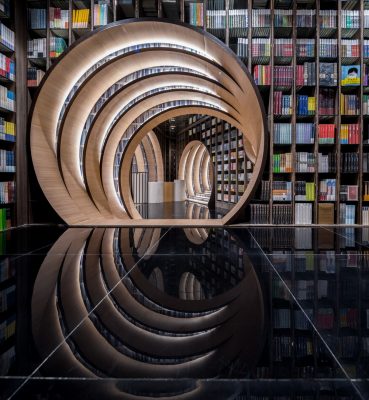 photo : Wu Qingshan
Beijing Zhongshuge Lafayette store design
It's the second time for Zhongshuge bookstore to land in Beijing. This time it joins Lafayette department store, where the classical gardens and the reading space collided from three different perspectives in the fashionable commercial area.
28 Oct 2020
Beijing Galleria-Instreet Renovation
3 Aug 2020
Apple Sanlitun, Chaoyang District
Architects: Foster + Partners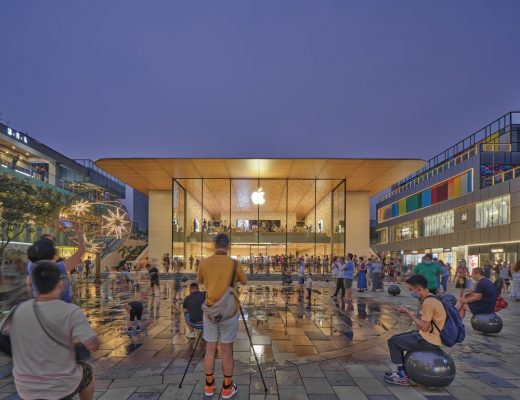 image courtesy of architects
Apple Sanlitun Store
The design is the result of a close collaboration between Apple's teams and the integrated engineering and design teams at Foster + Partners.
1 Jun 2020
Utter Space Photography Studio
Architects: CUN DESIGN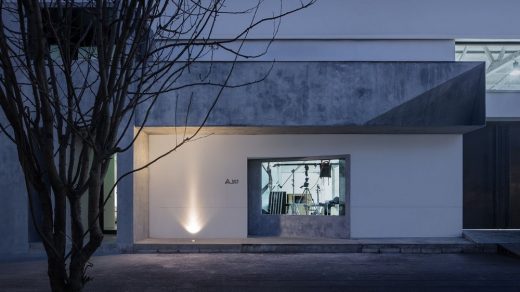 Space photography : WANG Ting
Utter Space Photography Studio
Design is not just creation and decoration, but exploring and choosing by heart. With the development of trend and fashion, the media has become more and more diversified in images. Under this background, more photographers of different styles have appeared.
21 Mar 2020
Junshan Cultural Center
20 Mar 2020
Aqua Health Clinic
18 Mar 2020
Pinzhen Galeries Flagship Store
28 Feb 2020
Sunshine Insurance Financial Center Building
4 Feb 2020
Cultural Center of Longfu Building
Siji Minfu Roast Duck Restaurant, 1 Dashilan Street, Xicheng District
Design: IN • X, Architects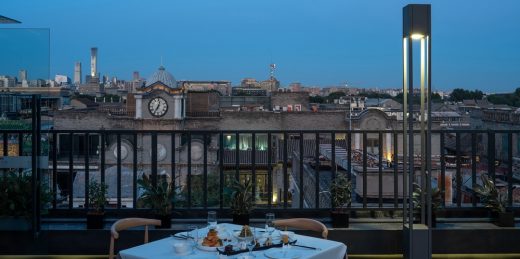 picture : Shi Yunfeng
Siji Minfu Roast Duck Restaurant in Beijing
8 Jan 2020
Eric Parry Architects win Beijing Architecture Competition
Wednesday 8 January 2020 – The Royal Institute of British Architects (RIBA) have today announced that Eric Parry Architects have won the competition to design a new Ambassador's Residence for the British Embassy in Beijing on behalf of the Foreign and Commonwealth Office.
The aim of the project was to design a modern Residence that provides a platform for the Ambassador to project Britain's global influence.
Tony Whitehead, FCO Director of Estates said: 'We are delighted to announce Eric Parry as our lead architect on the proposed new Residence in Beijing. To reflect the scale of our ambition in China, we are looking to provide a state-of-the-art building that will better reflect the image that Britain wants to project and help facilitate our presence in China for many years. We believe Eric and his team have the expertise and experience to help us fulfil that vision'.
David Morley, RIBA Architect Adviser commented: This promises to be a significant work of architecture, marrying east with west and expressing the essence of Britishness in a progressive way. Happily the competition attracted some very talented architects and it will be wonderful to see Eric Parry's winning ideas brought to fruition."
Eric Parry Architects was selected from a shortlist with four other architectural practices:
• Allford Hall Monaghan Morris
• Carmody Groarke
• Feilden Clegg Bradley Studios
• Manser Practice
Beijing Architectural News Archive
Beijing Building News in 2019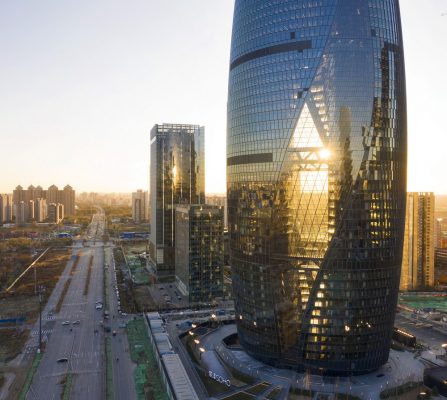 photo : Hufton+Crow
Beijing Building News
+++
e-architect bring you the last Beijing architecture news in the link below, with a summary of key new architectural designs featured on this page.
Beijing Architecture Designs – chronological list
Beijing Building : A-C
Beijing Architecture Designs : D-L
+++
More contemporary Beijing Architecture News online soon
Location: Beijing, China
Buildings in the Chinese Capital City
Beijing Architecture Designs – chronological list
Beijing Architecture Walking Tours
Beijing Architecture Tours
Architecture Walking Tours – city walks
20 Jul 2017
2022 The Winter Olympics Plaza, Shougang Garden, Shijingshan Zone
Architects: CCTN Architectural Design Co. Ltd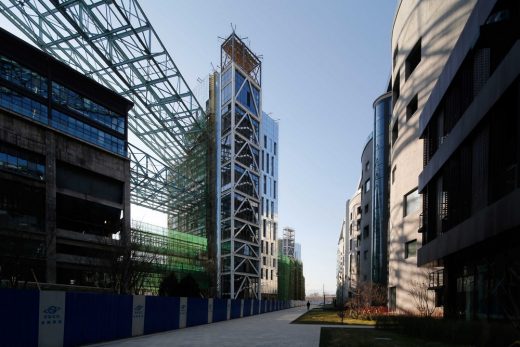 photograph : Chen He
2022 The Winter Olympics Plaza in Beijing
Home of the Future
Design: LAVA
Home of the Future in the Chinese Capital City
Orange Cinemas
Design: Robert Majkut, architects
Orange Cinemas
Comments / photos for the Beijing Building News – Chinese Capital Built Environment Updates page welcome