Amsterdam Building News 2022, New Architecture Holland, Architects, Photos, Dutch Design Pictures
Amsterdam Architecture News
New Architectural Developments in The Netherlands: Dutch Built Environment Updates
post updated 3 January 2022
Amsterdam Building News
Major New Dutch Buildings, chronological
Amsterdam Architectural Designs : links
7 Dec 2021
The Grid, Aan het IJ, Amsterdam North, The Netherlands
Design: KCAP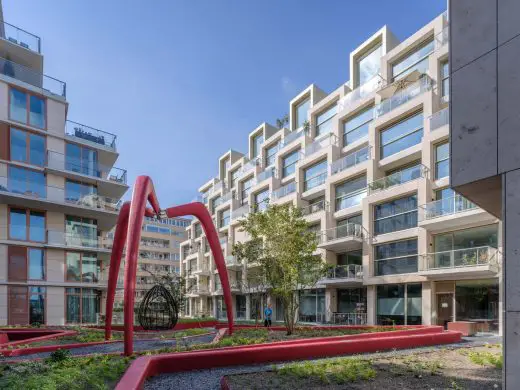 photo © Ossip van Duivenbode
The Grid Amsterdam, Aan het IJ
KCAP has completed the housing block The Grid in the new residential neighbourhood 'Aan het IJ' along the river IJ in Amsterdam North, facing the Central Station. The project is part of the transformation of the former industrial site Overhoeks into a diverse district for living and working.
24 Nov 2021
Dutch Toast: First Robotic Bar Opens In Amsterdam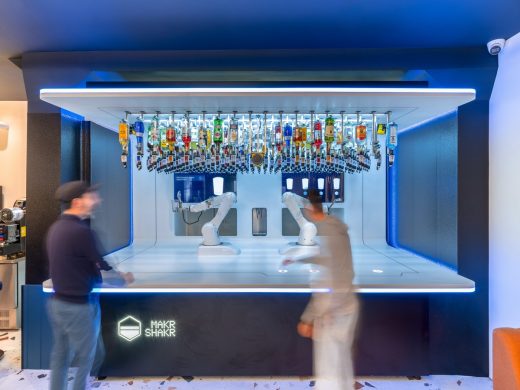 photo : Riccardo de Vecchi
First Robotic Bar Opens In Amsterdam
The new venue, powered by Makr Shakr, offers a safe, contact-free experience, giving people a glimpse into the future of the hospitality industryy; Ed. – but what about important human contact? With loneliness on the rise our bars, cafés and pubs are more improtant than ever!
11 Nov 2021
Terrace Tower Amsterdam Zuidas
Design: BIG – Bjarke Ingels Group ; Landscape Design: DELVA Landscape Architecture / Urbanism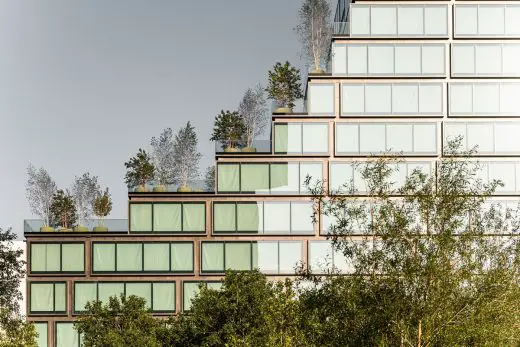 photo : Sebastian van Damme
The Line, Overhoeks
The iconic, high-quality architecture of Bjarke Ingels Group, is enhanced by the generous green roof terraces designed by DELVA. As stated by Het Financieele Dagblad, Holland's most important business newspaper, to remain attractive, the Zuidas must become 'friendlier, more diverse and greener'.
8 Nov 2021
Gnodde House, IJburg
20 Oct 2021
The Line, Overhoeks residential building
Design: ORANGE Architects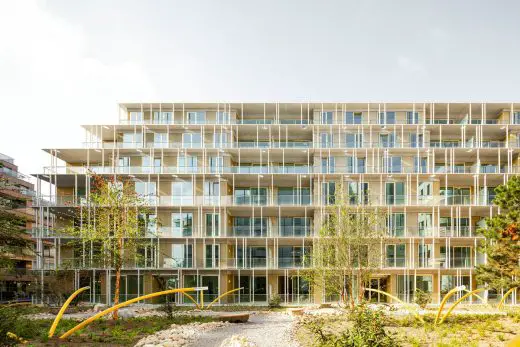 photo : Sebastian van Damme
The Line, Overhoeks
Like a moored cruise ship, The Line fronts onto the IJ waterway in the Overhoeks district of Amsterdam. Sitting on private verandas behind the refined grid that wraps the building like a veil, residents enjoy views of the water just in front of them and of the city centre. The verandas are real outdoor rooms, their ceiling design making them feel like an extension of the interior space.
6 Oct 2021
Soendablok Apartments
Design: M3H Architects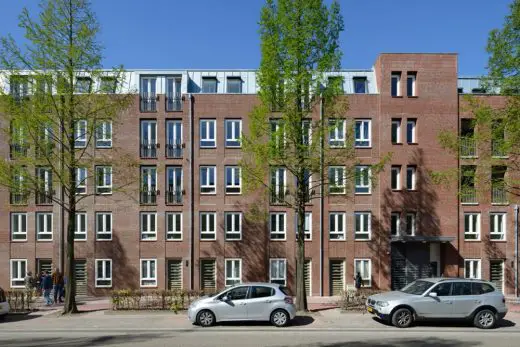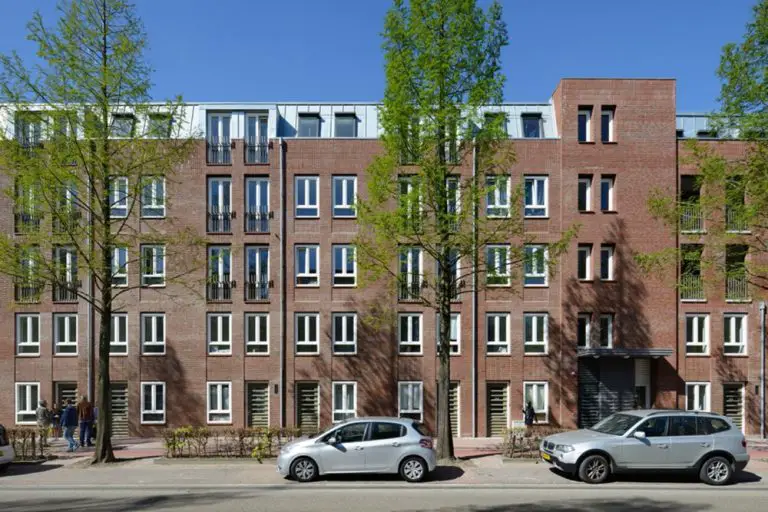 photograph : M3H Architects
Soendablok Apartments
In the past twenty years, the Indische Buurt in Amsterdam has been radically renovated. From a poorly maintained neighborhood to a lively residential area.
6 Oct 2021
Robin Wood, Centrumeiland, IJburg
Design: Marc Koehler Architects and ANA Architects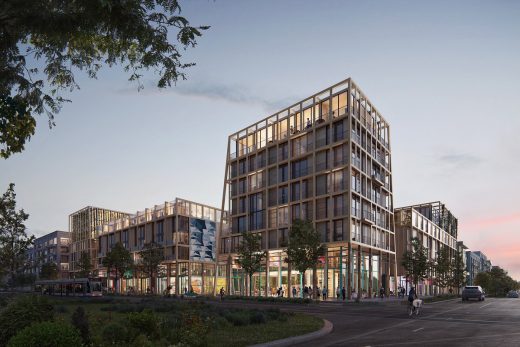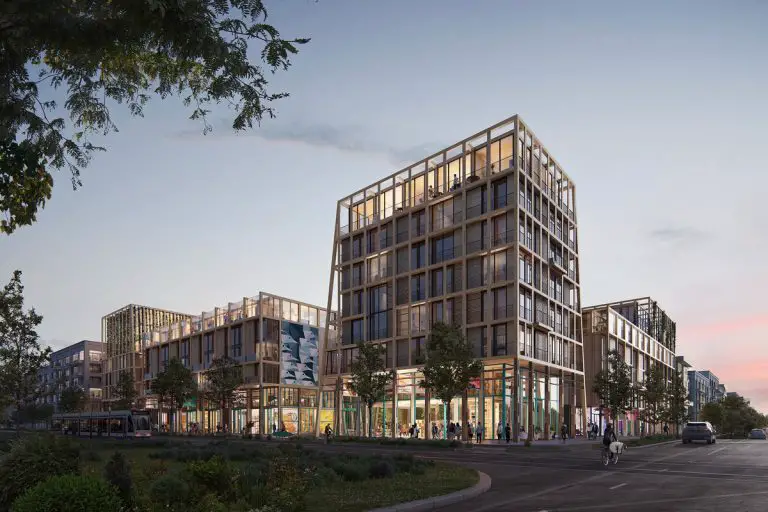 image courtesy of architects practice
Robin Wood IJburg
Centrumeiland in the IJburg district of Amsterdam will soon be home to Robin Wood, the most sustainable and affordable wooden urban block in the Netherlands in the mid-market rental sector. It will include 165 flexibly dividable homes for a wide target group, ranging from affordable mid-market homes to private sector homes for larger families and home/office residences.
19 July 2021
Reflections of the Past
Design: Firm Architects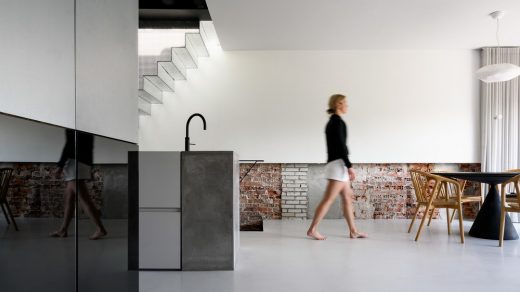 photograph : Studio de Nooyer
Reflections of the Past Apartment
The wish of the client was a special private residence in Amsterdam. The aim was to create an honest, masculine, and architectural space with the largest possible usable floor space. No standard home, no compromises.
5 July 2021
PATCHWORK, Sluisbuurt
Design: Barcode Architects / krft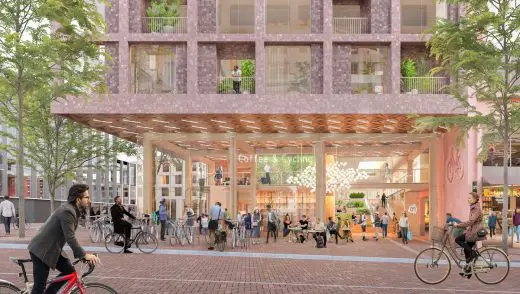 image courtesy of architecture practice
PATCHWORK Sluisbuurt Building
The building is the cornerstone in the heart of the Sluisbuurt, at the pivot point where the main axes from the neighbourhood to the city and surroundings intersect. For the purpose of the future and healthy living, the central location of PATCHWORK turned into the inspiration for the architects to design a unique building concept in which physical activity and cycling play a key role.
6 July 2021
Terrazza Building, Zeeburgereiland
Design: M3H Architects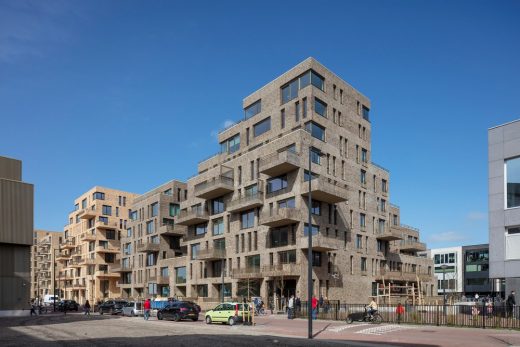 photo : Luuk Kramer
Terrazza Building Zeeburgereiland
This sculptural building establises a connection with the neighborhood on every side. For example, some of the houses are connected to the street by stairs and terraces. But more notable are the courtyards.
5 July 2021
Rozenprieel Building
Rozenprieel Building, Haarlem
28 May 2021
Underground Bicycle Parking Leidseplein, Amsterdam, North-Holland, The Netherlands
Design: architectural studio ZJA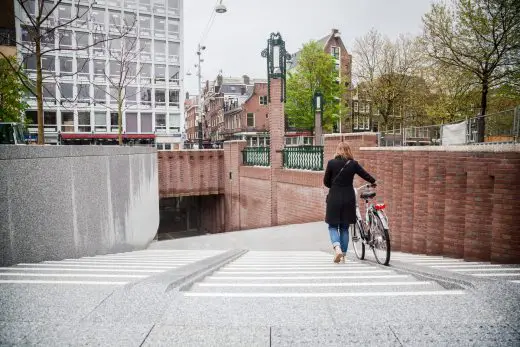 photo © ZJA
Underground Bicycle Parking Leidseplein
ZJA, together with Ballast Nedam, was awarded the contract by the municipality of Amsterdam for the construction and design of the bicycle parking Leidseplein under the Kleine-Gartmanplantsoen. By bringing all bicycles underground, a spatial, green square has been created above ground.
13 Mar 2021
Villa MW
Villa MW
13 Mar 2021
Hotel Nhow Amsterdam RAI
Hotel Nhow Amsterdam RAI, North-Holland
12 Feb 2021
New Amsterdam Museum
2 Feb 2021
Het Licht van Jan
11 Jan 2021
Amsterdam Floating Home, Schoonschip
Design: i29 architects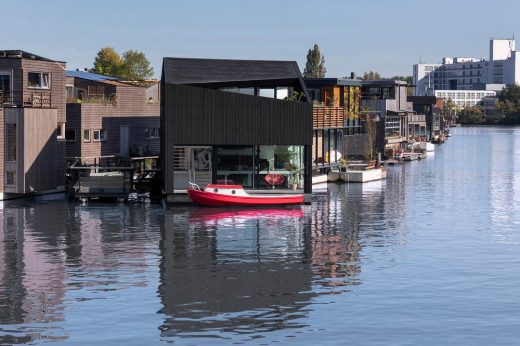 photo : i29 / Ewout Huibers
Floating Home
Floating Home by i29 Architects is part of Schoonschip, a new floating village of 46 households that aims to create Europe's most sustainable floating community. Based on an urban plan by Space&Matter, over 100 residents moved into and revitalized a disused canal and established themselves a living on the water.
14 Jan 2021
The Gustav
More contemporary Amsterdam Architecture News on e-architect soon
Amsterdam Architecture News 2020
9 Dec 2020
EDGE Stadium Amsterdam – high-tech, future-proof workplace
Interior Design: EDGE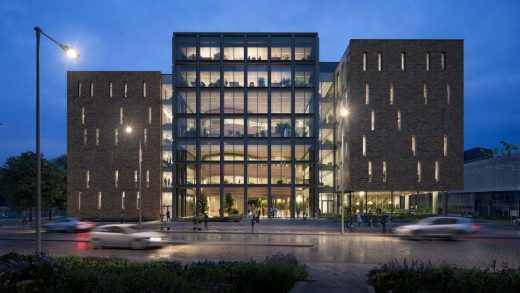 image © Plomp
EDGE Stadium Amsterdam workplace design
The redevelopment of the Forum Building will add 10,000 m2 to the existing 19,000 m2 of office space. EDGE Stadium will be one of the highest performing assets in the Netherlands in terms of wellbeing, innovation and environmental standards
1 Dec 2020
ABN AMRO Office Foppingadreef, Zuidoost
29 Oct 2020
Architecture Masterprize 2020 Winner
The Diamond Exchange, Capital C Amsterdam in the Netherlands has been awarded the Architecture Masterprize 2020, an American architecture award.
28 Oct 2020
European Medicines Agency Building
17 Dec + 28 Oct 2020
Valley Towers in Amsterdam
Valley Towers in Amsterdam
EDGE announce two tenants for new offices in the towers of Valley, designed by MVRDV. The CBD Zuidas development offers 75,000 sqm of offices, apartments, retail and cultural spaces
16 Sep 2020
Diamond Exchange
Design: ZJA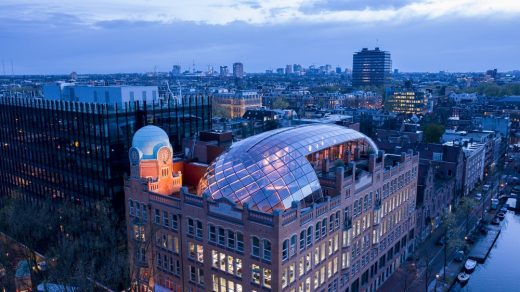 photo © Capital C Amsterdam
Diamond Exchange, Capital C Amsterdam
The Diamond Exchange, Capital C Amsterdam in Amsterdam, the Netherlands, has been awarded with a prestigious MIPIM Award 2020 for 'Best Refurbished Building' at the Paris Real Estate Week. The historical building, designated as  a national monument, has undergone a major renovation designed by the architectural office ZJA in collaboration with Heyligers design + projects.
14 Sep 2020
BLAUW Observatory Tower in Amsterdam
25 Aug 2020
Johan Cruijff ArenA Parking Garage
17 July 2020
Rembrandt Park One Amsterdam West
2 July 2020
EDGE Amsterdam New Normal Office Design
18 June 2020
Café de Parel
Interior Design: Ninetynine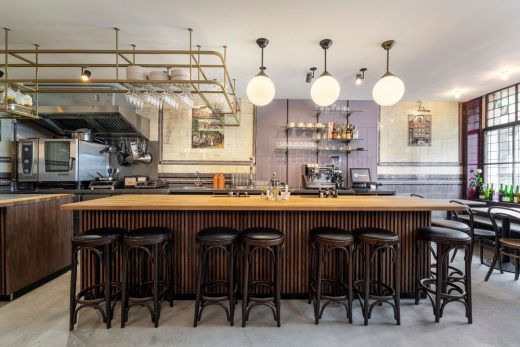 photograph : Ewout Huibers
The Pearl Café on Westerstraat
Café de Parel was originally a typical Amsterdam 'brown bar' with an old-fashioned dark interior and low lighting. The traditional stained-glass windows and monumental tile tableaus create the perfect setting for the new Parel.
12 June 2020
Bonnie Bistro Bar
27 May 2020
Hotel The Craftsmen
14 May 2020
Masterplan Marktkwartier, Amsterdam, North-Holland, The Netherlands
Architects: Mecanoo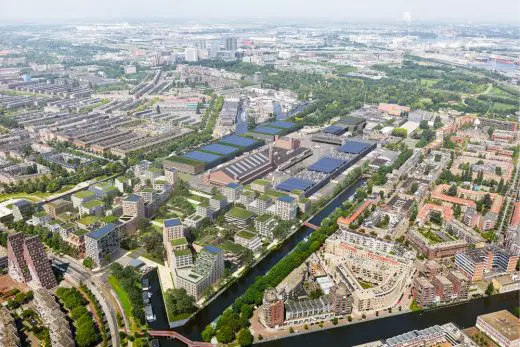 images : GVd Werff, Bank Amsterdam and Mecanoo
Masterplan Marktkwartier Amsterdam
The Masterplan Marktkwartier Amsterdam will be a neighbourhood for all Amsterdammers; families, singles, students and seniors will be accommodated in a varied residential programme of around 1700 units.
16 Mar 2020
Zaanstad Sports Centre
Design: UArchitects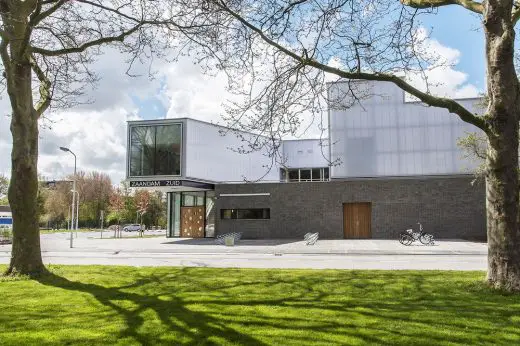 photograph : Daan Dijkmeijer
Zaanstad Sports Centre
The city of Zaanstad in The Netherlands does have high ambitions in the field of sports. Playing sports should be possible for people of all ages, cultures and religions.
9 Mar 2020
The Core Office
27 Jan 2020
Restaurant Felix
Design: i29 interior architects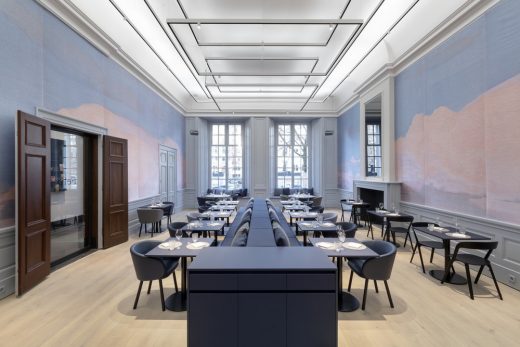 photograph : Ewout Huibers
Restaurant Felix Interior
Restaurant Felix opened its doors on January 30th 2020. Located in the Historical Felix Meritis building in Amsterdam, it is a one of a kind setting.
14 Jan 2020
Karavaan, Kwakersplein, Amsterdam West
Design: Studio Modijefsky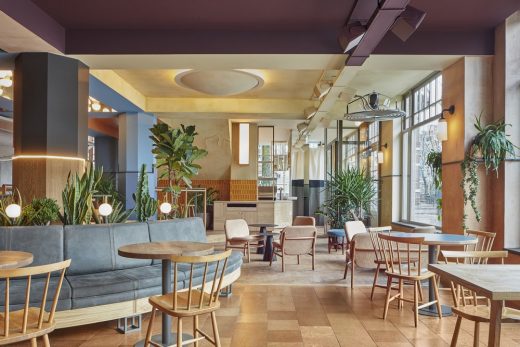 photograph : Maarten Willemstein
Karavaan Restaurant in Kwakersplein
The architects have ranslated the 'journey of a caravan' into a bar and restaurant concept in the brightest corner of Kwakersplein.
post updated 12 Jan 2020
European HQ for Calvin Klein & Tommy Hilfiger
Design: MVSA Architects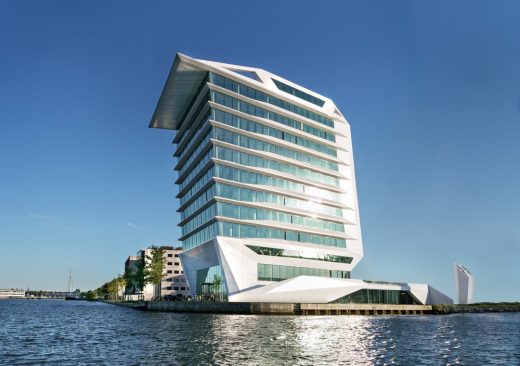 image © MVSA Architects/Ronald Tilleman
European HQ for Calvin Klein & Tommy Hilfiger Building
10 Jan 2020
Amsterdam UMC Imaging Center Design
Design: Wiegerinck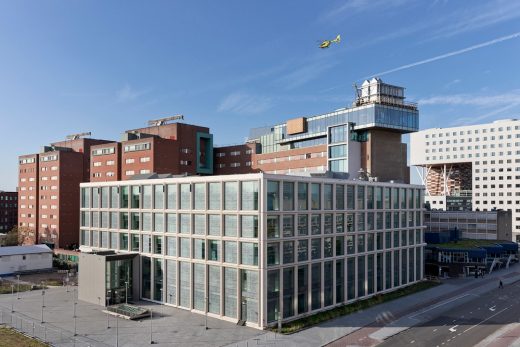 photo © William Moore
Amsterdam UMC Imaging Center Building
Wiegerinck won a design competition in 2010, organised by what was then known as VUmc. This Dutch design contest sought a building where all activities associated with medical imaging techniques, a laboratory for scientific research and a production facility for medical isotopes and tracers would be brought together in one location.
7 Jan 2020
ING Cedar Bank HQ, Cumulus Park, Amsterdam Zuidoost
Design: Benthem Crouwel Architects and HofmanDujardin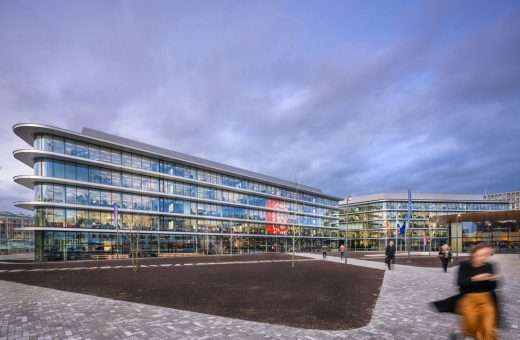 photo © Jannes Linders
ING Cedar Bank HQ in Cumulus Park
This is the new office for the Netherlands' largest bank. The transparent and sustainable new home for 2,800 ING employees embodies the client's new preferred way of working: agile, flexible and innovative, and inspires people to meet, connect and be creative.
More current Amsterdam Architecture News on e-architect soon
Amsterdam Architecture News 2019
3 Dec 2019
The Traveller
Interior design: Powerhouse Company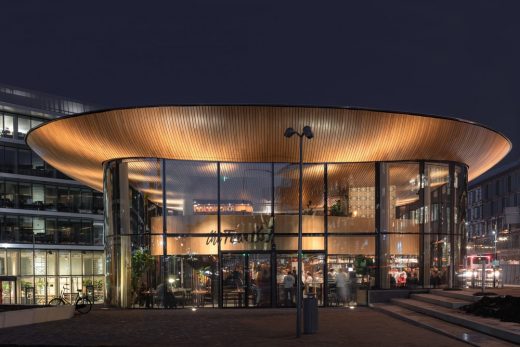 photograph © Sebastian van Damme
The Traveller Culinary Pavilion
A bold architectural statement at the heart of new Amsterdam innovation district Cumulus Park in the up-and-coming Zuidoost area.
4 Dec 2019
Trippenhuis Arts and Sciences Complex
31 Oct 2019
General Aviation (GA) Terminal, Schiphol
Design: VMX Architects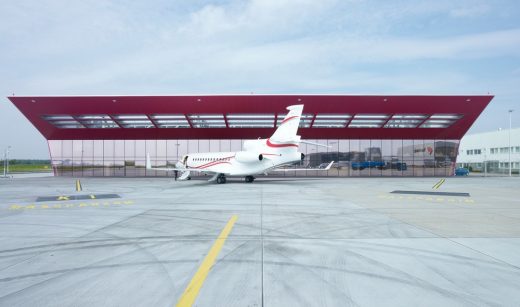 photograph : Jeroen Musch
VVIP Terminal at Schiphol Airport
This new building is where the private and business flights of Heads of States, members of the Royal Family, CEO's, pop stars and top football players are handled.
1 Oct 2019
Hotel Casa
26 July 2019
Blauwe Theehuis Vondelpark – Blue Tea House, Vondelpark 5
Architects: Studio Modijefsky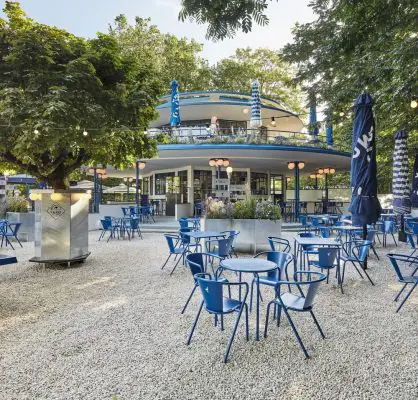 photo : Maarten Willemsteinn
"Blue Tea House" – 1930s Modernist pavilion in the most well-known park in Amsterdam: the Vondelpark. Brouwerij 't IJ adapts a unique monument: Blauwe Theehuis, Vondelpark
28 June 2019
HofmanDujardin Office Villa, Verrijn Stuartweg 34, Diemen
Architects: HofmanDujardin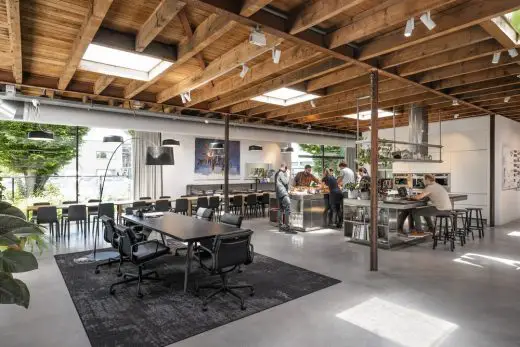 photo : Matthijs van Roon
HofmanDujardin Offices Amsterdam
So the team conducted a collaborative 'in-house' design project to create the HofmanDujardin Office Villa inside an old warehouse. The space is already energising the team, inspiring visitors and proving that an office can be much more than just a place to work.
8 May 2019
Freebooter Apartments
13 Feb 2019
Hyde Park Residence
Architects: Manuelle Gautrand Architecture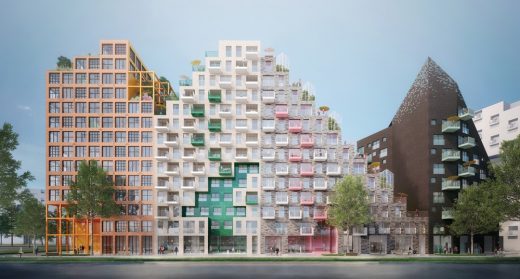 images © Romain Ghomari + © LMNB
Hyde Park Residence
A large residential development comprising 400 housing units located in the Hyde Park district, to a master plan developed by celebrated Dutch architecture office MVRDV.
11 Feb 2019
Nhow RAI Hotel, Europaboulevard, Amsterdam Zuidoost
Architects: OMA / Reinier de Graaf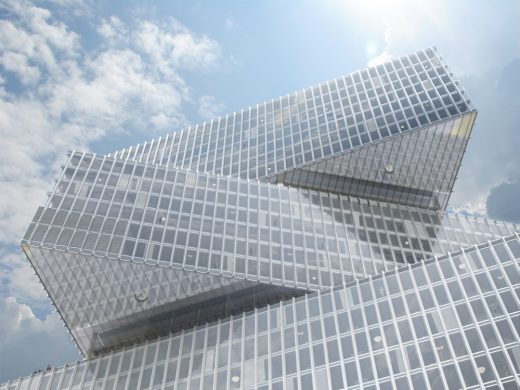 image courtesy OMA
Nhow Amsterdam RAI Hotel Building
This major new building – to be the largest hotel in the Benelux – has reached its highest point of construction at a height of 91 meters. It has 650 hotel rooms located adjacent to the RAI Amsterdam Convention Center, and connected via an underground concourse.
29 Jan 2019
Wolford Flagship Store
More Amsterdam Architecture News online soon
Dutch Capital Building Updates 2018
26 Sep 2018
Lebkov & Sons Café
Design: Studio Akkerhuis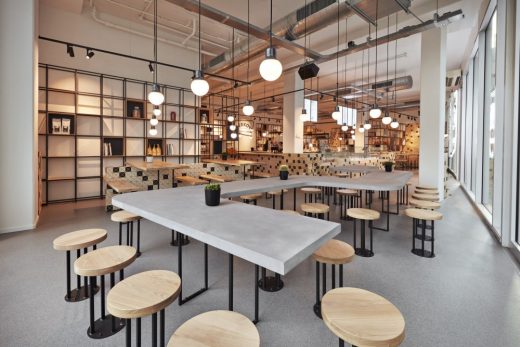 photograph : Ronald Smits Photography
Lebkov & Sons Zuidas
In continuity with their existing cafés, the new location is conceived as a kitchen-living space where customers and baristas share the same table or counter designed for them to rest, enjoy a meal as well as prepare good coffee.
21 Jul 2018
REBEL A10-Kop Zuidas Building
Design: Studioninedots, Architects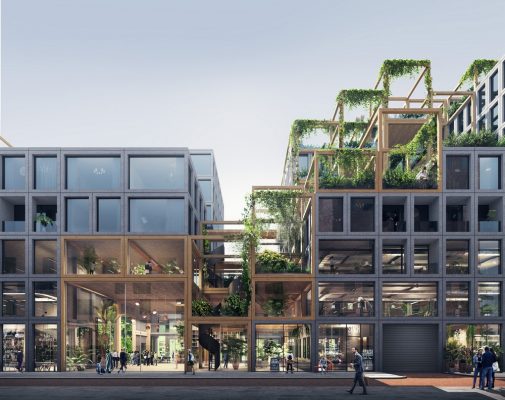 image : 3D Studio Prins
REBEL A10-Kop Zuidas Amsterdam
A smart framework enables spatial flexibility for a mixed-use building; green, collective and aiming at an ambitious international audience. REBEL is not the winning entry but with great pleasure the team, comprising of Synchroon, Studioninedots, DELVA Landscape Architects, Skonk, Techniplan and Eigen Haard, proudly presents the concept and design for the tender.
16 Jun 2018
IJbaan Cable Car
Design: UNStudio, Architects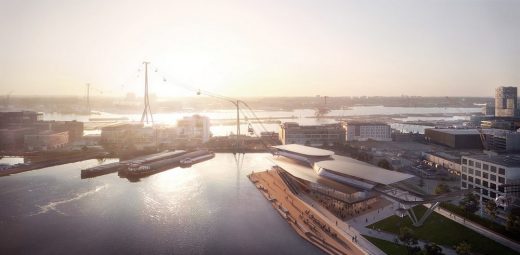 visual : Plompmozes
IJbaan Cable Car in Amsterdam
Design unveiled for Amsterdam's future cable car, commissioned by the IJbaan Foundation (Stichting IJbaan).
10 Jun 2018
De Key, Hoogte Kadijk
Design: Studioninedots, Architects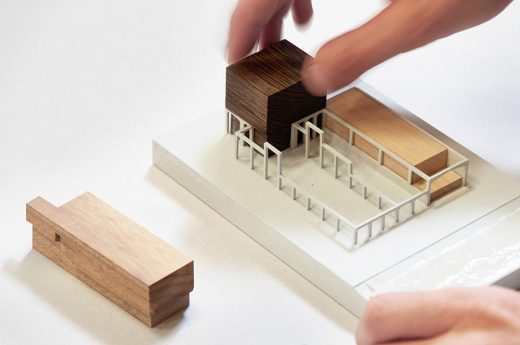 image courtesy of Studioninedots
De Key Office Building
Today, Dutch housing association De Key announced that its head office in Amsterdam is going to be transformed based on a design by Studioninedots.
More Amsterdam Architecture News on e-architect soon
Dutch Capital Building Updates 2017
5 Sep 2017
Valley Towers at Amsterdam CBD Zuidas
Architects: MVRDV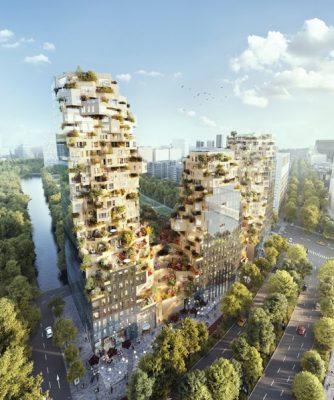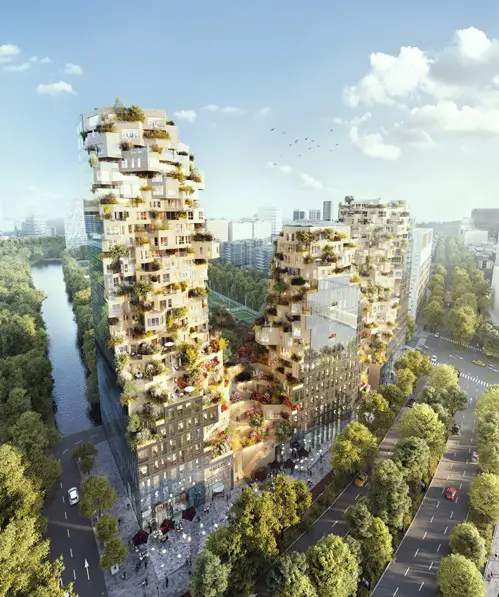 picture : Vero Visuals
Valley Towers at Amsterdam CBD Zuidas
A 75,000m2, green-terraced, mixed-use building located on the Amsterdam's Central Business District Zuidas. The competition-winning design for OVG Real Estate was selected by the Municipality of Amsterdam in 2015 and will include apartments, offices, an underground parking, a sky bar and various retail and cultural facilities.
21 Jul 2017
Jonas IJburg
Design: Orange Architects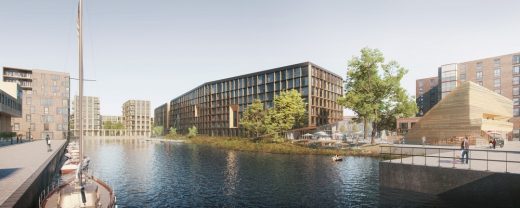 image courtesy of architects
Jonas Kavel 42A IJburg Building
With this winning scheme, called 'Jonas', the city has chosen a highly innovative residential building that has achieved the highest possible level of sustainability: BREEAM Outstanding.
12 May 2017
Kleiburg: Amsterdam Apartment Building News
Design: NL architects and XVW architectuur – Mies van der Rohe 2017 Awards winners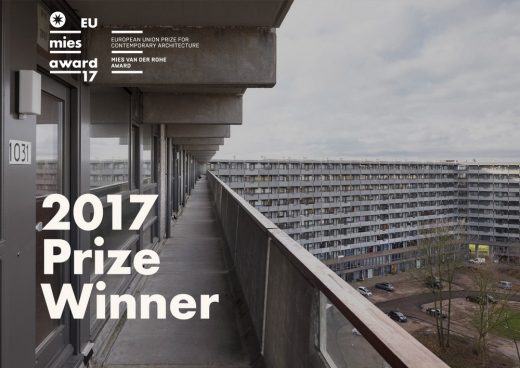 photo : Marcel van der Burg
Kleiburg: Amsterdam Apartment Building by NL Architects
De Flat is a renovation of one of the largest apartment buildings in the Netherlands, a bent slab with 500 apartments, 400 metres long, and eleven floors high. A consortium rescued the building from demolition by turning it into a 'Klusflat' where residents renovate their apartments by themselves.
1 Dec + 29 Nov 2016
Sluishuis IJburg Building in Amsterdam
Design: BIG – Bjarke Ingels Group and Barcode Architects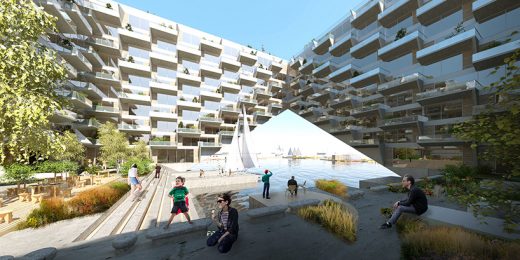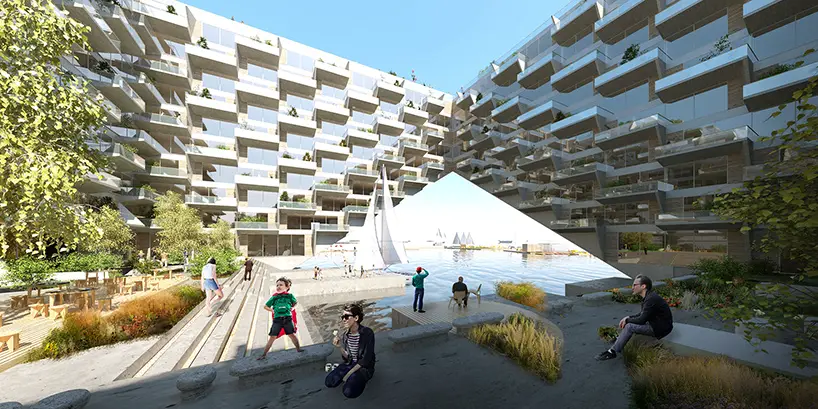 image courtesy of architects
Sluishuis IJburg Building
Location: Amsterdam, The Netherlands
Buildings in the Dutch Capital City
Amsterdam Architecture Designs – chronological list
Netherlands Architecture Designs – chronological list
Tennisclub IJburg Amsterdam by MVRDV
Amsterdam Architecture – contemporary building information
Amsterdam Buildings – historic building information
Amsterdam buildings : A-K
Amsterdam Architecture Designs : L-Z
Comments / photos for the Amsterdam Architecture News – page welcome
Website: Amsterdam