Beijing Building News 2023, Built Environment China, Architecture Projects, Architects, Design Competitions
Beijing Building News
Key New Chinese Property Developments in the Capital: Architectural Project Updates
post updated 1 June 2023
Beijing Architecture Designs – chronological list
Beijing Architecture News – current updates all one page
Beijing Architecture Walking Tours by e-architect for groups
e-architect bring you the last Beijing architecture news in the link below, with a summary of key new architectural designs featured on this page.
Beijing Architecture Designs – chronological list
Beijing Building : A-C
Beijing Architecture Designs : D-L
Beijing Architectural News 2019
Beijing Architecture News – latest additions to this page, arranged chronologically:
19 Nov 2019
Leeza SOHO, Lize Financial Business District
Design: Zaha Hadid Architects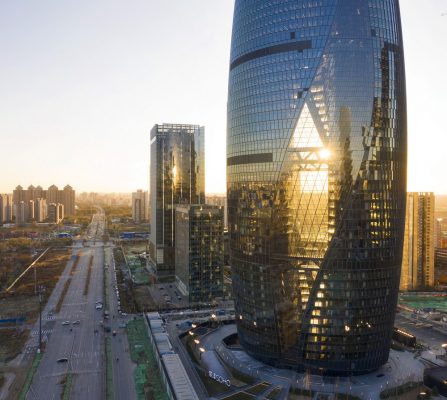 photo : Hufton+Crow
Leeza SOHO Beijing Building
This 45-storey 172,800m² tower responds to demand from small and medium-sized businesses in Beijing for flexible and efficient Grade A office space.
29 Sep 2019
Beijing Daxing International Airport
23 Sep 2019
Da Wang Jing Mixed-use Development
9 Sep 2019
Oh Yeah Brewing in Beijing CBD by hcreates
19 Aug 2019
Ambassador's Residence at the British Embassy
27 Jul 2019
MUSÉE Flagship Store in Beijing Qianmen
25 Jul 2019
Sample Office for Poly in Future Metropolitan
5 Jul 2019
Brii Biosciences Global R&D Center Beijing
25 Jun 2019
Vitaland Kid Restaurant
24 Jun 2019
Apartment 55
30 May 2019
Rewilding Garden Beijing
Design: Grant Associates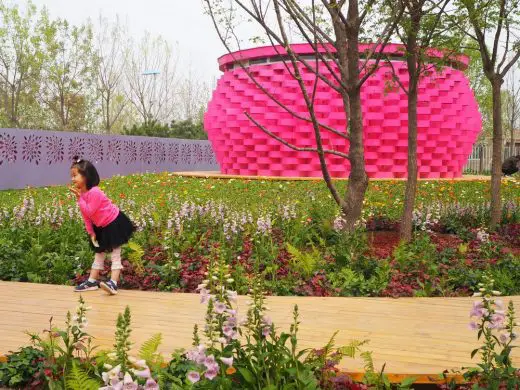 image courtesy of Grant Associates
Rewilding Garden Beijing
A garden design for the International Association of Horticultural Producers (AIPH) at the International Horticultural Exposition – Expo 2019 Beijing has opened to the public, giving people a chance to experience 'wild' nature in the Chinese capital.
8 May 2019
Courtyard House Plugin
Architect: People's Architecture Office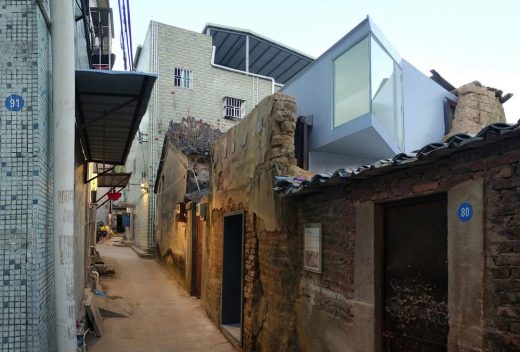 picture © People's Architecture Office
Courtyard House Plugin
This prefabricated modular system was first developed as a prototype for installation within courtyard houses in the traditionally Muslim district of Dashilar.
17 Apr 2019
Sanhe Kindergarten
13 Mar 2019
Quad House
Chinese Capital City Building Updates Archive
Beijing Architecture News up to 2018, chronological:
20 Nov 2018
Courtyard Kindergarten in Beijing
12 Sep 2018
ASTUDIO Photography Studio, Art Valley, Chaoyang District
Design: United Units Architects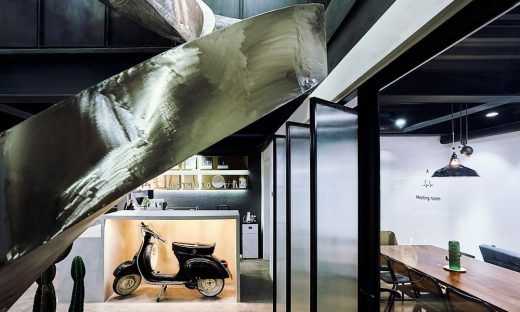 picture © ASTUDIO
Photography Studio in Chaoyang District
United Units Architects (UUA) ASTUDIO is a photography studio founded by the renowned photographer Li Xiaoliang and his team.
30 Jul 2018
The Dog House
Design: Atelier About Architecture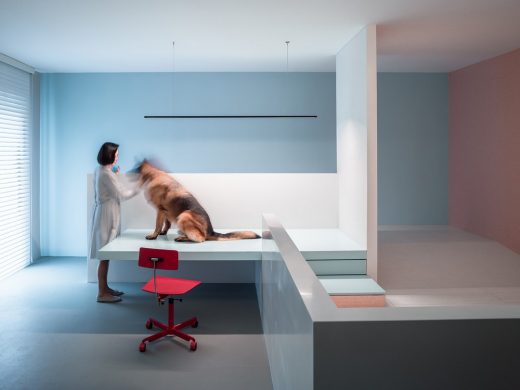 photograph : Sun Haiting
The Dog House in Beijing
This is a residential project designed for the owner and their beloved dog, for the dog's needs on medical care and good living. We call it the Dog House.
11 Jul 2018
MeePark CBD Place of Events
Design: Latitude Architectural Group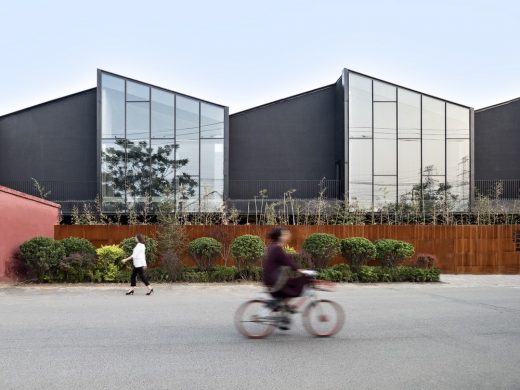 photograph : Hector Peinador
MeePark CBD Place of Events
Beijing has a growing demand for places to host different kinds of events. As a city in rapid transformation from an industrial heritage into the service sector, it requires spaces to hold business meetings, product presentations and leisure activities.
Jul 2018
Blue Note Beijing Jazz Club, 23 Qianmen Street, Dongcheng District
Design: Chiasmus Partners. Inc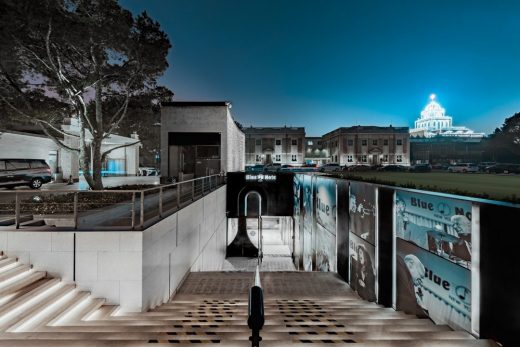 photographer : Eric Zhang
Blue Note Beijing Jazz Club
The project is the first China branch of the age-old Jazz brand from New York. The site is the former American consulate to the Qing Dynasty, a landmark project in itself and just minutes of walk from the forbidden palace in Beijing.
Jul 2018
Office Environmental Design of Shiyue Media, Lang Park Vintage, Chaoyang District
Design: CUN Design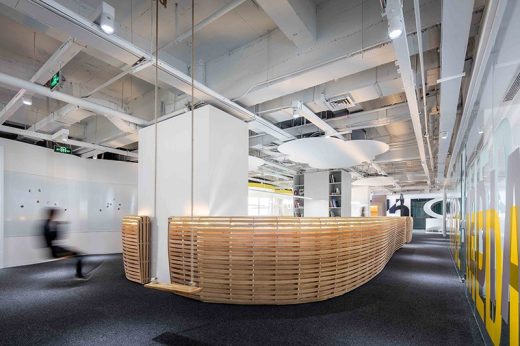 photographers : Wang Ting, Wang Jin
Office Environmental Design of Shiyue Media
In recently years, CUN Design has won a number of gold awards globally because of its unique thinking in the creative office environment design, making it become an unexpected force in this field.
Jul 2018
Hualong Private Terminal Space, Capital Airport
Design: Shishang Architecture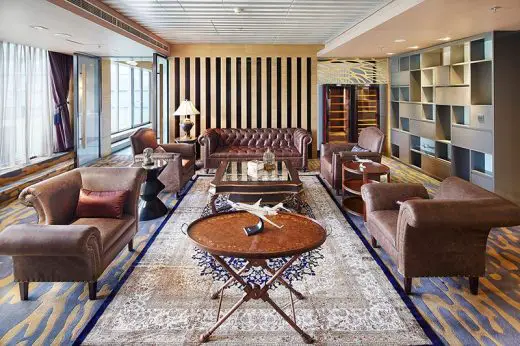 photographer : An Li
Hualong Private Terminal Space
The structure of the private terminal space is spacious, so all guests on the journey can stay away from the hustle and bustle of the terminal building and enjoy the nice food and the considerate service.
19 Jun 2018
MS-II Restaurant
Architects: WAY Studio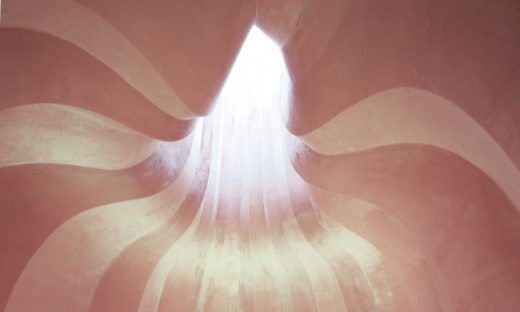 photographer : Zeng Hao, Fernie Lai
MS-II Restaurant in Beijing
Architecture, through the manipulation of Space, is the real-life magic for creating a reality that only previously existed in the imagination. This is the vision WAY Studio had when designing recently completed project "Aye by Meeting Someone" restaurant.
24 May 2018
Layering Yard, Qianmen
Architects: ARCHSTUDIO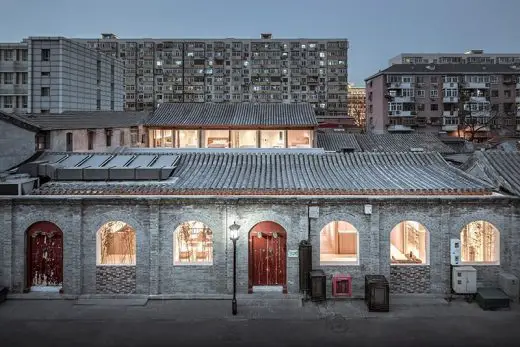 photograph : CreatAR Images (Luo Juncai)/Jin Weiqi
Layering Yard in Qianmen
Layering Yard is hidden in a traditional commercial block near the Qianmen of Beijing, with an area of about 500 square meters. The original architecture was a quadrangle courtyard commercial building with the characteristics of houses in the Republican period. Compared with residential houses, the houses here are bigger and higher.
19 May 2018
Beijing Area Three Art Museum, A No.1 Creative Park, Chaoyang District
Architects: CUN Design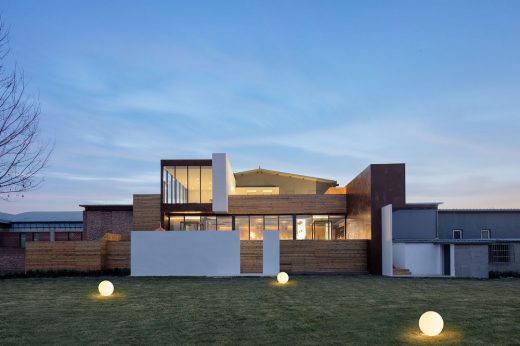 photographs : Wang Ting & Wang Jin
Beijing Area Three Art Museum Building
Louis Kahn has said that if you fill your mind with things that does not belongs to you, they would never stay in your brain; you would forget them, and you would lose the awareness of defining your self-worth.
11 Apr 2018
Mafengwo Global Headquarters, Universal International Pioneer Park, No.9 Jiuxianqiao North Road, Chaoyang District
Design: SYN Architects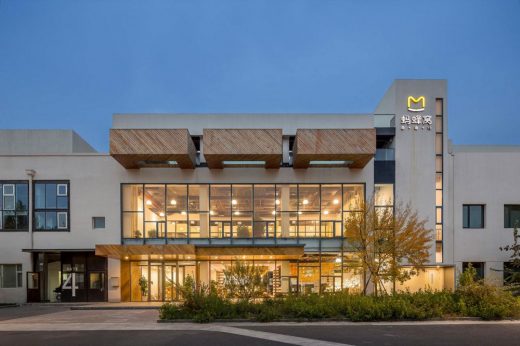 photograph : BenMo studio / YanMing
Mafengwo Global Headquarters
"When the IP Era is ushered in, brands pay more attention to their personalized performances than before, while enterprises show more care for employees' office space and their identities of, enthusiasm for and emotion cultivation related to corporate cultures.
4 Apr 2018
Rua da Cunha Macau Hotpot
Design: Golucci Interior Architects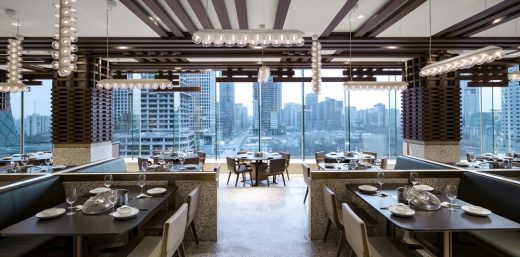 photograph : Luluxi
Rua da Cunha Macau Hotpot
The identity design was derived from inheriting tradition and creating classic spirits. By using oriental jade green with classic bronze gold to present design consistency and extend the image of enjoyment of gathering together.
11 Mar 2018
Dian Dian Yipin Cha Chaan Teng
Architects: Golucci International Design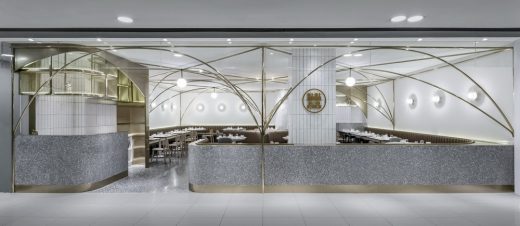 photograph : Lulu Xi
DianDianYiPin tea restaurant
DianDianYiPin is a tea restaurant which comes from Hong Kong. People who have been to Hong Kong know that tea restaurant is really popular because of its conveniences, efficient service and various food. Where there are streets and alleys, there are tea restaurants.
22 Feb 2018
Beijing Shoping Plus City Outlet Mall, North Fourth Ring Road, Chaoyang District
Design: AaaM Architects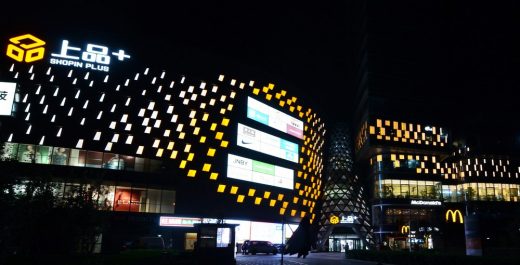 picture from architects
Beijing Shoping Plus City Outlet Mall
Next to the Olympic Media Village and Beiyuan Road North metro station, "North Star Shopping Centre" opened its door in 2010, right after the Beijing Olympic event.
20 Feb 2018
Tunghsu's Mixed-Use Solar Complex
Design: LATITUDE Architects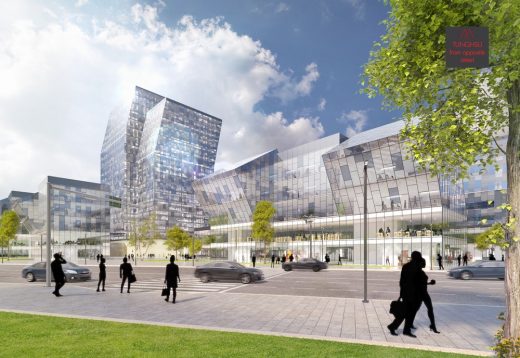 picture from architecture office
Tunghsu's Mixed-Use Solar Complex
Located at the southwest corner of Beijing's fourth ring road, the development project for Tunghsu's Mixed-use Solar Complex comprises an area of 32,000 m2. The project has been named after its promoter: the Tunghsu Group, a pioneer in renewable energy in China.
12 Feb 2018
Xiang Jiang House
Architects: Claesson Koivisto Rune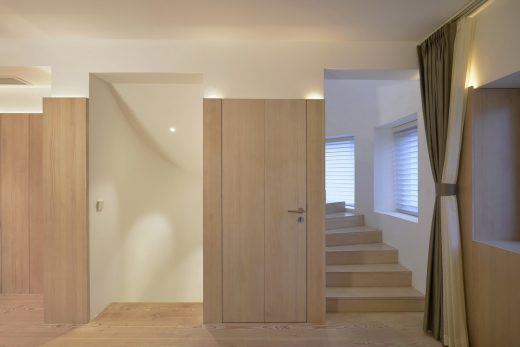 picture from architects office
Xiang Jiang House
The idea was to create a contemporary Scandinavian interior in an existing house that must remain true to its regulated style on the exterior. Thus, the interior contemporary Scandinavian ambience is in contrast to the 'international-classical' exterior.
29 Jan 2018
Mini Hill – Lily Nails Salon
Architects: ARCHSTUDIO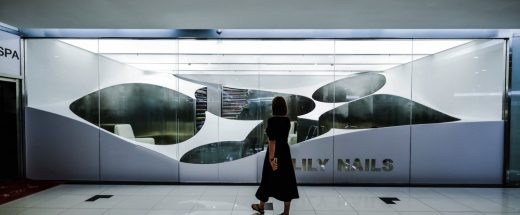 photo © Jin Weiqi
Mini Hill – Lily Nails Salon
The nails salon is designed to achieve a kind of natural sense in artificial environment, and to attract customers by creating an amusing experience of being in the hill. The rectangular space of 60 sqm is embedded a hill that is gradually rising from outside to inside.
27 Jan 2018
InterContinental Beijing Sanlitun
Architects: CCD/ Cheng Chung Design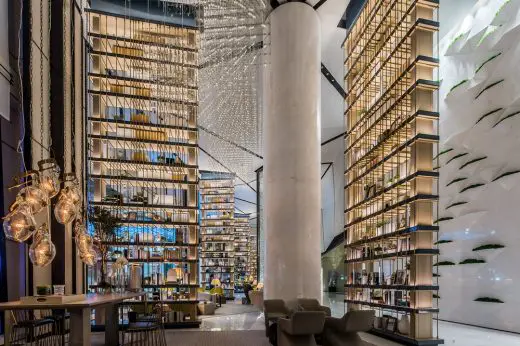 image from architects
InterContinental Sanlitun
The design concept of the hotel was inspired by the hexagonal diamond element in the building facade. Through the analysis of the formation of diamond, which is made from constantly refining of rough stone; the design adopted the cutting and luster characteristics of diamond to shape the space.
16 Jan 2018
Mulan Weichang Visitor Centre, Northeast Hebei Province, China
Design: Zhang Hai'ao (HDD) – Shanghai Huadu Architecture&Urban planning co.ltd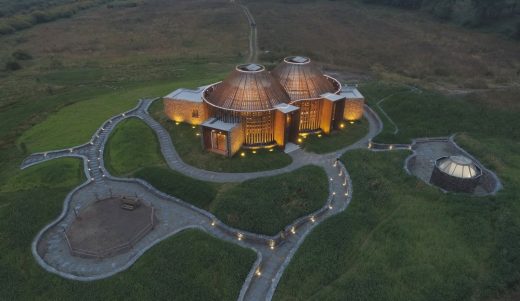 photo : Su Shengliang
Mulan Weichang Visitor Centre, China
Mulan Weichang is located in the north east of Hebei province, connected to inner Mongolia grassland, which is one of the most beautiful landscapes on the earth. The ancient Chinese emperors used to hold autumn hunting festivals here through the history.
More contemporary Beijing Architecture News online soon
Chinese Capital Architectural Updates 2017
23 Dec 2017
751 Fashion Buyer Shop, Fashion Echo, 751D·park
Architects: Cun-Design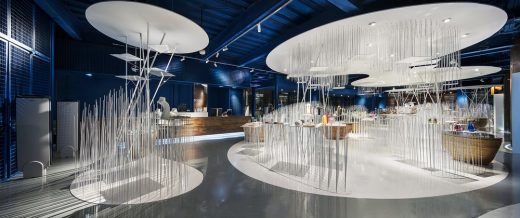 photographs : Wang Ting, Wang Jin
751 Fashion Buyer Shop
People agree that the urbanization nowadays is largely a byproduct of industrialization. In the past, you cannot imagine that how to call a city without any factories.
12 Dec 2017
POPPEE – Designers' Brands Collection Store, Topwin Center, No.1 South Sanlitun Road
Architects: Atelier Tree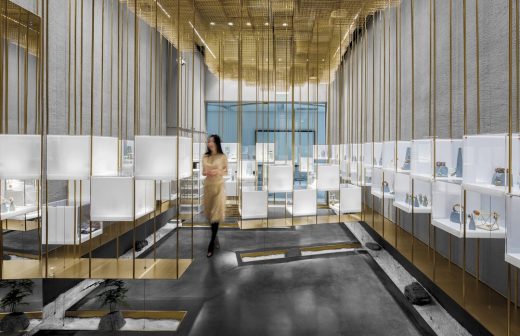 photograph : Shenme Li
POPPEE – Designers' Brands Collection Store
Atelier Tree designed out a golden cloud floating within a concrete box, which perfectly displays a number of brands' jewelries and creates a shocking brand vision of POPPEE Collection store itself.
More Beijing Building News online soon
Location: Beijing, China
Buildings in the Chinese Capital City
Beijing Architecture Designs – chronological list
Beijing Architecture Walking Tours
Beijing Architecture Tours
Architecture Walking Tours – city walks
20 Jul 2017
2022 The Winter Olympics Plaza, Shougang Garden, Shijingshan Zone
Architects: CCTN Architectural Design Co. Ltd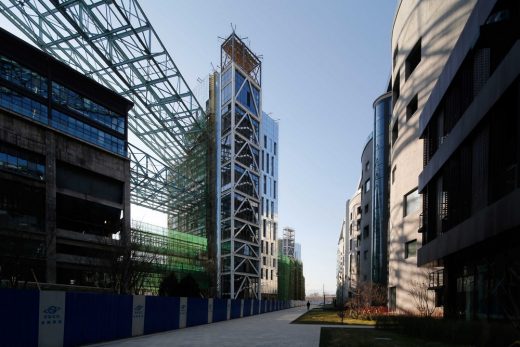 photograph : Chen He
2022 The Winter Olympics Plaza in Beijing
Home of the Future
Design: LAVA
Home of the Future in the Chinese Capital City
Orange Cinemas
Design: Robert Majkut, architects
Orange Cinemas
Comments / photos for the Beijing Building News – Chinese Capital Built Environment Updates page welcome