Austrian House, Residential Architecture Austria, Alps Residences Images, Architects, Homes
Austrian Houses : Architecture
Key Contemporary Residential Buildings in central Europe – New Homes + Property
post updated 1 June 2023
e-architect select what we feel are the best examples of Austrian Houses. We aim to include houses in Austria that are either of top quality or interesting, or ideally both. We cover completed Austrian houses, new house designs, architectural exhibitions and architecture competitions across Austria.
Austrian Architecture Design – chronological list
Austrian Properties
23 Jan 2023
Penthouse O, Vienna
Design: destilat design studio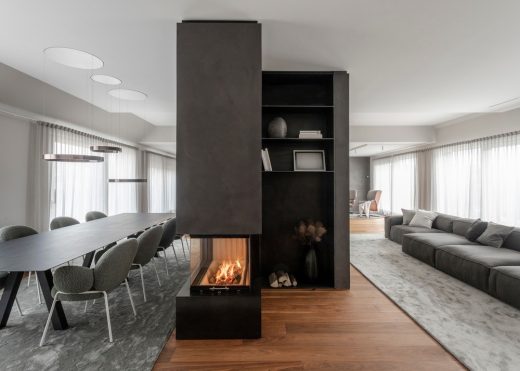 photo : Jürgen Grünwald
Penthouse O Vienna
Austrian House – Latest Designs
Austrian Residential Architecture – latest additions to this page, arranged chronologically:
11 May 2022
Linalotte House, Linz
Architecture: Caramel architekten in collaboration with strukteur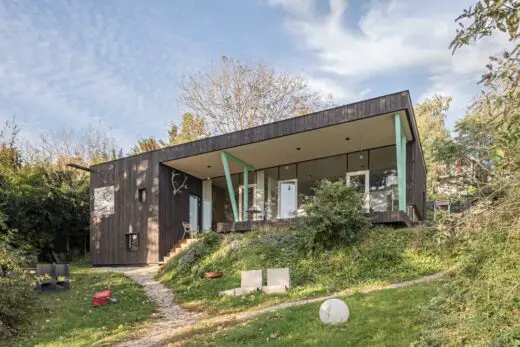 photograph : Hertha Hurnaus
Linalotte House Linz Property
Linalotte House becomes a permanent solution – in 2020, after the family had grown, the small residential unit was extended and upgraded. This time with prefabricated timber frame wall and ceiling elements filled with recycled insulating material.
22 Mar 2022
Gut Wagram, Kirchberg am Wagram, Weinviertel
Design: destilat design studio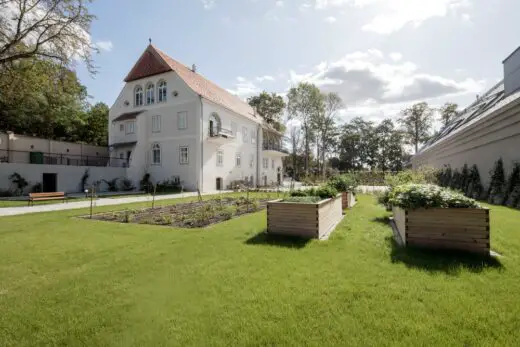 photo : Monika Nguyen
Gut Wagram House, Weinviertel
The Gut Wagram estate in Lower Austria's Weinviertel clearly shows that destilat's design expertise extends beyond the interior: cladding and plaza design, path guidance, and even the planting plan for the castle's garden (in collaboration with a landscape designer) reflect destilat's distinctive style.
9 July 2021
White House, Neusiedl am See, Burgenland
Design: X Architekten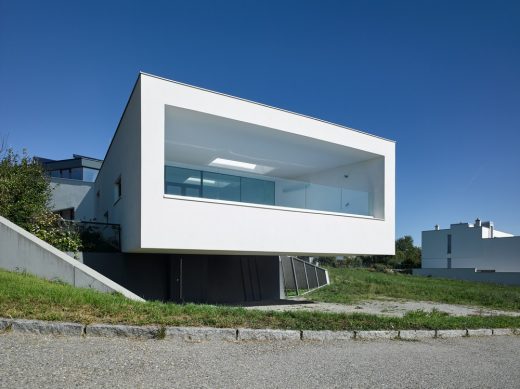 photo : Gebhard Sengmüller
White House, Neusiedl am See
Driven by the desire to have their own house, the young family was able to find the perfect plot of land in Neusiedl am See. The connection to Vienna International Airport and the proximity to Vienna, Bratislava and Budapest were just as decisive for the choice of property as the hillside location on Kirchberg and the resulting view of Lake Neusiedl.
15 Nov 2020
House Mesh, Hagenberg near Linz
Design: Caramel architekten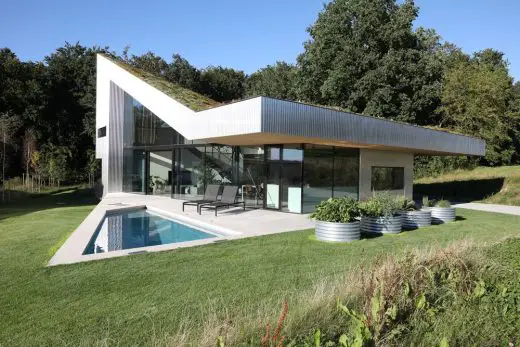 photos by Paul Eis and Kerstin O.
House Mesh near Linz
A generous green roof as a cut-out and folded landscape forms the largest space-forming element of the house. The lightweight timber construction with a ventilated metal facade and large glass elements form the remaining outer skin surfaces.
post updated 24 Oct 2020
House in Zellerndorf
Design: franz, Wien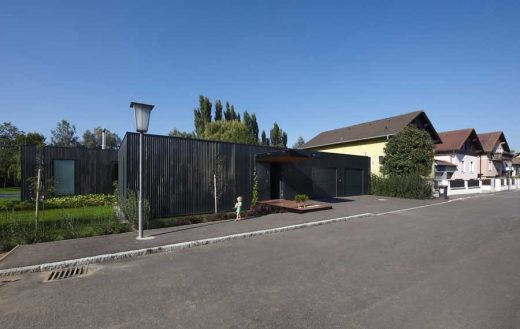 photo : Lisa Rastl
Wohnhaus Zellerndorf
The site is located in a settlement of detached single-family houses, characteristic for the 1970s. The traditional arrangement of functions for each storey: basement/garage; ground floor/living space; attic floor/ bedrooms; has been transformed into a linear order. the so called "streckhof", the original farm model for this area has been adapted by stringing together different functions in one floor.
22 Oct 2020
Perchtoldsdorf Villa
Design: Jan Proksa Studio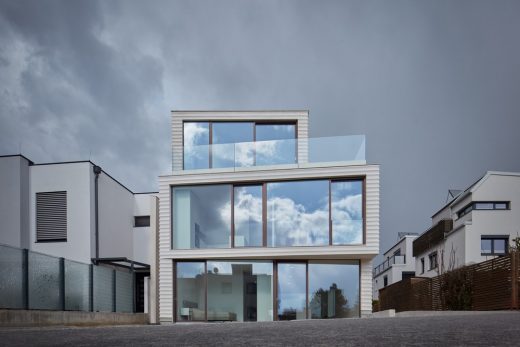 photo : BoysPlayNice
Perchtoldsdorf Villa, Mödling District
Imagining a villa, one pictures a sprawling complex of buildings and land, echoing dynastic opulence. For this villa commission in a quiet village outside of Vienna, Jan Proksa was challenged with maximizing the volume of a difficult and narrow plot of land in order to create a modern living space for a two-generation family.
22 Sep 2020
Living by the harbour, Sintstrasse, Linz, Upper Austria
Design: X ARCHITEKTEN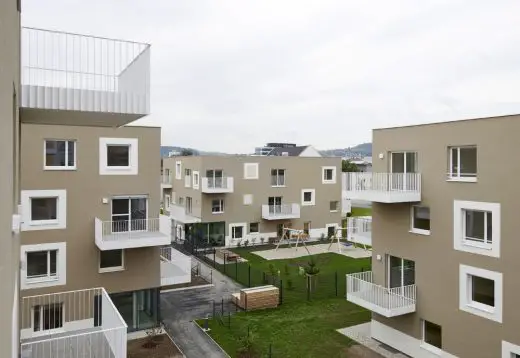 photo : Lisi Grebe
Living by the harbour Linz
The property is located at the transition between the urban parts and the industrial areas at the port of the city of Linz and is to be newly built and redensified with rental apartments of the social housing and a kindergarten. The main square two kilometres away and the local recreation areas along the Danube are within walking distance.
10 Dec 2018
House Dellacher, Oberwart, Burgenland
Architects: Raimund Abraham and Johannes Handler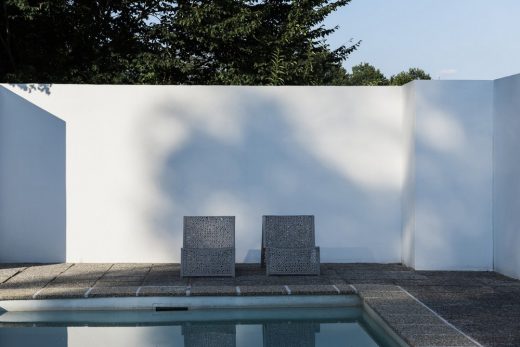 photograph : Rainer Schoditsch
House Dellacher in Oberwarta
The House Dellacher was built in Oberwart, Austria, between 1965 and 1969 based on the designs by Austrian born American architect Raimund Abraham for photographer Max Dellacher.
31 Jul 2017
Casa Invisibile
Design: DMAA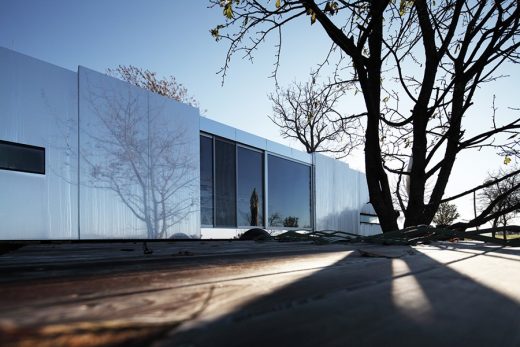 photo © www.christianbrandstaetter.com
Casa Invisibile
Casa Invisibile is a flexible housing unit, which consists of a prefabricated wood structure designed for turnkey implementation at any designated site. Maximum flexibility and spatial quality are the key elements in its concept of development.
12 Jun 2017
A House for Art, Hohe Wand, Wiener Neustadt-Land, Lower Austria
Architects: Veech x Veech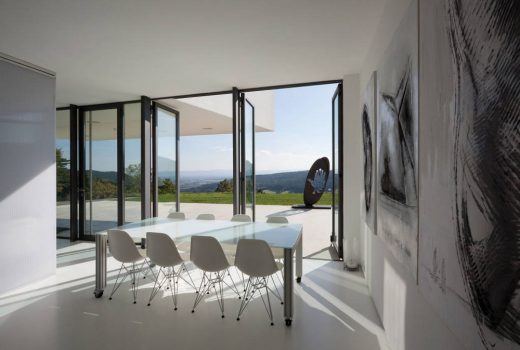 photo : Vera Subkus
A House for Art in Hohe Wand
Vienna-based multidisciplinary architecture and design practice Veech X Veech set up a multifunctional artist studio in the environs of Vienna. The combination of studio, gallery space and dwelling provides a unique living and working environment for the renowned artist couple Vadim Kosmatschof, sculptor, and Elena Koneff, visual artist.
5 Jun 2017 & 26 Sep 2016
House D – single family house, Austria
Design: Caramel Architekten with absolut-architekten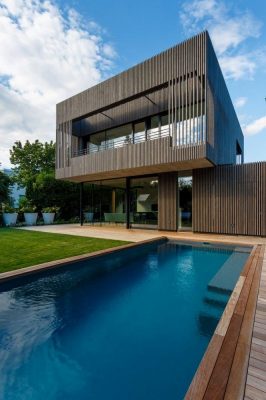 photo : Christian Sperr
Haus D Austria Property near Vienna
5 Apr 2016
house e – single family house, Linz
Design: Caramel Architekten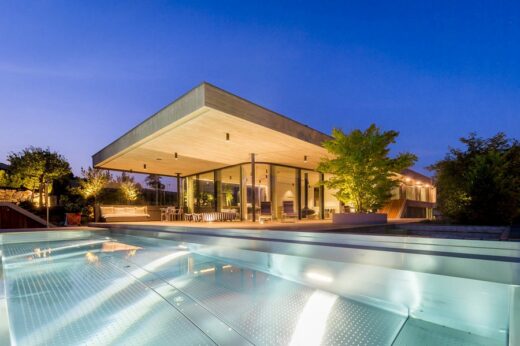 photo : Martin Pröll and Caramel
Upper Austria Property
Located on the periphery of the city, the plot of land offers a spectacular view of Linz, as long as one builds high enough to be able to gaze over the neighbouring properties.
4 Nov 2015
Deluxe Mountain Chalets, Styria
Design: Viereck Architects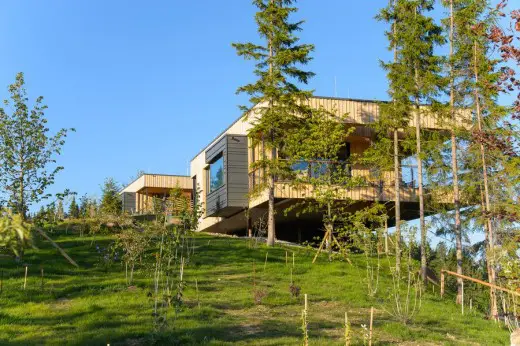 photograph : Andreas Tischlerl
Deluxe Mountain Chalets Styria
Set within the scenic mountain panorama of upper Styria, Austria, the "Deluxe Mountain Chalets" serve as an extension to the numerously awarded high- end restaurant "Wirtshaus Steirereck".
20 Aug 2013
Villa S, Upper Austria
Design: TWO IN A BOX Architects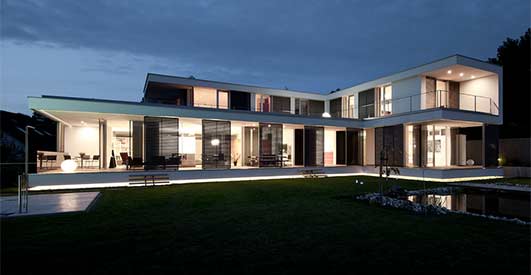 photo : Simon Bauer
Villa S
The villa is L-shaped and aligned to the south-west featuring generous glazing to the porch in front of the house and a garden with water areas. The light hill-side location, the expanded ground floor facing the street and the carport form a generous forecourt and entrance hall.
20 Aug 2013
Villa Upper Austria
Design: TWO IN A BOX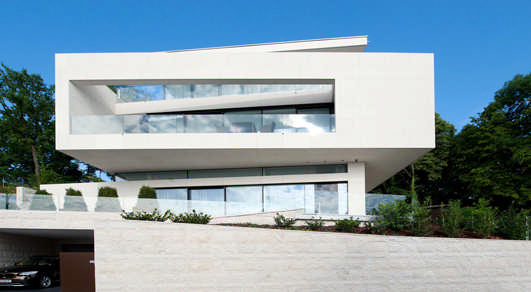 photo from architects
Villa Upper Austria
"Between lightness and gravity"
Due to the steep sloping terrain, the view and the direction of the sun special attention was required with regard to the alignment of living rooms and sleeping rooms. The villa has three levels adapted to the line of sight and staggered towards each other on top of a basement garage.
23 Apr 2013
Haus Walde, Tyrol
Design: GOGL Architekten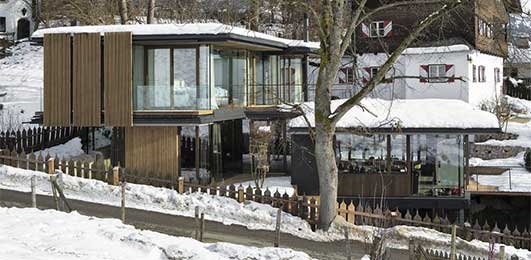 photo : Mario Webhofer
Tyrol House
The client requested an open, light-filled room with the garden and the beautiful backdrop of the Kitzbühl Alps integrated into the living space.
23 Apr 2013
Haus Wiesenhof, Tyrol
Design: GOGL Architekten



photo : Mario Webhofer
Haus Wiesenhof
The house communicates with the dominant mountain range, with every view resembling a painting. The decision to utilise archaic materials was made quite consciously to quote the surrounding farmsteads. The client wanted an atmosphere that was light and airy, but also cosy.
Key Recent Austrian Houses
Austria Residential Architecture in 2012, chronological:
14 Nov 2012
haus_y2, Linz, north west Austria
Design: Destilat



photograph : Mark Sengstbratl
House in Linz
The property is located on a steep slope at the foot of pöstlingberg in the immediate vicinity of the danube. like all buildings along this residential estate's main street, its width amounts only to 21 m. some of the neighbouring structures extend almost to the property's boundary; therefore an orientation towards east and west was of lesser importance.
11 Jun 2012
L-house, Burgenland
Design: Architects Collective



photo from architect
New House in Austria
The new home for a young family is harmoniously placed into the hilly landscape. The traditional and typical L-shaped floor plan of the region was developed further in an imaginative and thoughtful way advancing modern home, energy and living concepts. The L-House is an avant-garde architectural gem that merges the needs of it's residents with the environment.
My Home is my Patio, Linz, Upper Austria
Design: xarchitekten



picture © Max Nirnberger
My Home is my Patio
EdelWeiss Residences, Katschberg
Design: Matteo Thun & Partners



photo © jens weber, munich
EdelWeiss Residences
Austrian Houses
Austria Residential Designs, alphabetical:
Amalia House, Kirchbach
Design: Grid Architects



photograph : Lukas Schaller
Austrian holiday house
The Beatle of Kagran, Vienna
Design: flatzarchitects



image from architect
Beatle of Kagran
Folded House, Lower Austria
Design: xarchitekten



picture : Max Nirnberger
Folded House Austria
House H – family house, Linz, Upper Austria
Design: Caramel Architekten ; interior friedrich stiper



photo : h.hurnaus
House H
House Kaps – extension, Saalfelden
Design: Caramel Architekten



photo : j. felsch + caramel
House Kaps
House Lina – for a mother with a child, Linz
Design: Caramel Architekten



photo : caramel
House Lina
House M, Linz, Upper Austria
Design: Caramel Architekten



photo : otto hainzl + caramel
House M
House P, Klosterneuburg
Design: Caramel Architekten ; barbara s. bovelino



photo : hertha hurnaus
House P
P-K House, Punitz, Lower Austria
Design: Pichler & Traupmann Architekten



photo from architects
Haus PK Punitz
More Austrian Houses online soon
Location: Austria, central Europe
Austrian Architecture : A-K
Austrian Building Designs : L-Z
Architecture Developments in countries near to Austria
Austrian architects : Coop Himmelb(l)au
Buildings / photos for the Austrian Residential Architecture page welcome