Coop Himmelb(l)au Architects Studio, Austrian Projects, Book, Vienna Design Office, Images
Coop Himmelb(l)au Architecture
Contemporary Architecture Practice in Austria – design studio led by architect Wolf Prix
post updated 3 Apr 2021
Coop Himmelb(l)au : main page on this major international architecture studio
Coop Himmelb(l)au Architecture Studio
Wolf D. Prix
Wolf D. Prix, a co-founder, Design Principal and CEO of COOP HIMMELB(L)AU located in Vienna. In 1988 a Los Angeles office was opened. He studied architecture at the Vienna University of Technology, the Architectural Association of London, and the Southern California Institute of Architecture in Los Angeles. Most formative among his many international teaching positions was his tenure at the University of Applied Arts Vienna: from 1993 to 2011 he was Professor for Architecture (Studio Prix), and continues to serve as Dean of the Institute of Architecture.
Dalian Conference Center, China: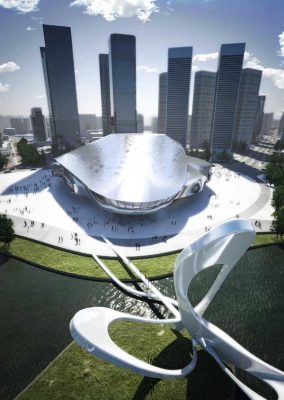 image : COOP HIMMELB(L)AU
COOP HIMMELB(L)AU is active in architecture, urban planning, design, and art. The architectural designs have been highly acclaimed and featured in many publications, museums and collections worldwide. COOP HIMMELB(L)AU has received numerous international awards including the 'RIBA International Award' for the Akron Art Museum and the 'RIBA European Award' for the BMW Welt.
Among the current projects are the Musée des Confluences in Lyon, France; the House of Music in Aalborg, Denmark; the European Central Bank's new headquarters in Frankfurt am Main, Germany; the Busan Cinema Center in Busan, South Korea; the Dalian International Conference Center in Dalian, China; the Museum of Contemporary Art & Planning Exhibition in Shenzhen, China; the Central Bank of Azerbaijan, Baku as well as the Martin Luther Church in Hainburg, Austria.
Coop Himmelb(l)au Architects – Key Older Projects
Coop Himmelb(l)au Buildings
Art Museum Strongoli, Perugia, Italy



picture from architect
Art Museum Strongoli
BMW Welt Event + Delivery Center, Munich, southern Germany



photo © Duccio Malagamba
BMW Welt – Architecture competition winner
Busan Cinema Center, Busan, South Korea



photo © Woochang Choi Korea
Busan Cinema Center : Architecture contest
Center of Performing Arts Zarautz, Spain



picture : Coop Himmelb(l)au
Coop Himmelblau : Zarautz Building
'Energy Roof', Perugia, Italy



image © COOP HIMMELB(L)AU
Energy Roof Perugia
European Central Bank, Frankfurt, Germany



images COOP HIMMELB(L)AU
European Central Bank
HQ of China Insurance Group, China



picture © SILKROAD Digital Technology Co. LTD
Headquarter of China Insurance Group
Museum of Contemporary Art, China



image : SILKROAD Digital Technology Co. LTD
Shenzhen museum building
North Jutland House of Music, Denmark



image © COOP HIMMELB(L)AU
House of Music Aalborg
Town Town Office Tower, Vienna, Austria



image © ISOCHROM.com, Vienna
Town Town Office Tower
Coop Himmelb(l)au Buildings – no images
Biel Towers, Forum Arteplage Biel, Switzerland
–
Central Los Angeles Area High School for the Visual and Performing Arts, L.A., CA, USA
Date built: 2008
Design with HMC Architects
Cloud Roof in Riva del Garda, Italy
Date built: 2011
European Central Bank (ECB) – new headquarters, Frankfurt, Germany
Dates built: 2007-14
approximately 185m high
Gasometer B – redevelopment, Vienna, Austria
Dates built: 1998-2001
Design: Coop Himmelb(l)au, Prix & Swiczinsky & Dreibholz
360 apartments
High School for the Visual and Performing Arts, Los Angeles, California, USA
Dates built: 2006-08
Design: Coop Himmelb(l)au with HMC Architects
House, Venice, California, USA
Date: 2007-
Musee des Confluences, Lyon, France
Dates built: 2008-13
More architectural projects by Coop Himmelb(l)au online soon
Location: Vienna, Austria, central Europe
Vienna Architect Practice Information
This contemporary architect studio is based in Austria, central Europe.
Partners : Wolf D. Prix + Helmut Swiczinsky
The practice is famous for unusual, angular buildings. A key early project was a prosthetic guest attached to, and invading, a Vienna building, a major influence on many architecture students in the early 90's. Their architecture could be equated to Expressionist art in that the projects 'explode' and are almost defined by non-cartesian form.
5 Mar 2013
INGLASS 2013 International Architecture Conference, Romania, Southeastern Europe



image from organiser
Architecture Event with Wolf D. Prix, with Prof. Wolf D. Prix – update 8 Feb 2013
The third edition of INGLASS is about glass and glass construction, architecture and engineering, facade systems and solar energy. INGLASS 2013 addresses the entire glass industry, architects, engineers, glass producers, processors, equipment providers.
Wolf D. Prix for Lebbeus Woods
9 Nov 2012 – Lebbeus was the living proof of Derrida's theory that often a small sketch can have more influence on the world than a large building. And as such we will think of him as a grand architect without built work, but his designs – hey!: they are designs and not drawings! – his conceived buildings and forms had massive impact, which conquered the drawing boards of innumerable students and architects and which put the question about the contents of a future architecture into the foreground. (I notice that I wrote DRAWING board.)
Lebbeus' forms were never lacking content, because he could only generate new timely forms with new content – everything else to him were empty building gestures, architectureless surface. Senseless to bother about them. Today we call them Lady Gaga-aesthetics.
When 20 years ago we explained this to each other in the bar of the small airport in Santa the Monica in a late afternoon, we had already emptied the Champagne supply of the bar.
But it was crystal clear, like the Roederer Cristal, what he meant by saying: if we architects cannot give impacts for new contents, we should leave it – the architecture.
We won't Leb. Promised!
Wolf D. Prix / COOP HIMMELB(L)AU Vienna, Austria, Europe
Coop Himmelb(l)au Project
Swiss Expo 02 – 'Fractured towers', Bienne
2002
Coop Himmelb(l)au Book & Exhibition
Blue Universe
Architects
Comments / photos for the Coop Himmelb(l)au page welcome