Slovenian Buildings, Ljubljana Architecture, Projects, Photos, Property News
Slovenian Architecture : Buildings
Key Contemporary Architectural Developments in Eastern Europe: Built Environment
post updated 22 August 2021
Architecture in Slovenia
We've selected what we feel are the key examples of Slovenian Architecture. We aim to include high quality Slovenian buildings / projects.
We cover completed Slovenian buildings, new building designs and architectural exhibitions. We also post architecture competitions across Slovenia. The focus is on contemporary Slovenian buildings but information on traditional buildings is also welcome.
Slovenian Architecture – A-L (this page)
Slovenian Buildings – M-Z
Slovenian Building – Latest Designs
Slovenia Architecture News – latest additions to this page, arranged chronologically:
Slovenian Architecture News – current updates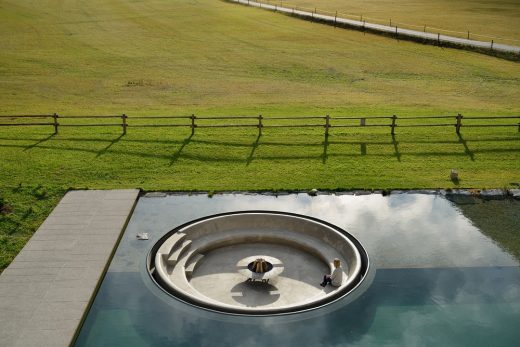 photo : Miran Kambič
Older posts below:
23 Sep 2016
Renovation of Central Lobby at Bank of Slovenia, Ljubljana
Design: SADAR+VUGA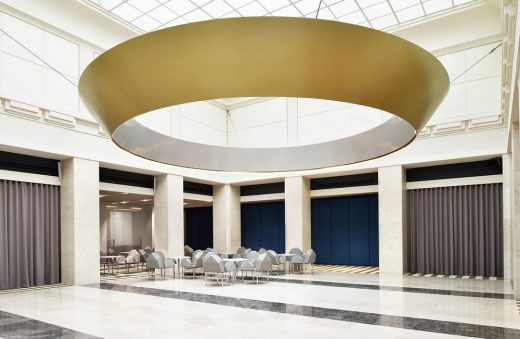 photo : Miran Kambič
Bank of Slovenia Renovation of Central Lobby, Ljubljana
14 Jan 2016
Mountain Skuta Alpine Shelter
Design: Ofis Arhitekti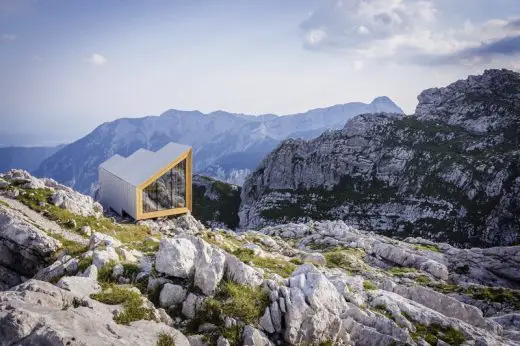 photo courtesy Anze Cokl
Alpine Shelter Building in Slovenia
Responding to environmental conditions is not only a protective measure, but also translates into a matter of immediate life safety.
27 Sep 2013
Ptuj Performance Center, Ptuj
Design: ENOTA



photo : Miran Kambič
Ptuj Performance Center
With its splendid and inspiring past, followed by an unfortunate fate after the dissolution of the fraternity, the renovation Dominican monastery represents a demanding task of great responsibility. For a successful renovation of a historical building, the key is to keep the building in service and strive for the new programme to showcase its historical value, as well as artistic merit.
19 Apr 2013
Novo Mesto Central Market, south east Slovenia
Design: Enota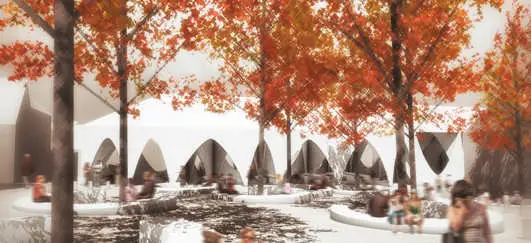 image from architect
Novo Mesto Central Market
Novo mesto central market lies in the very centre of the historical town core in the immediate vicinity of the main town square. Despite this, it feels somewhat removed today, being separated by its level and oriented towards the low-quality city space of Florjanov Square. Therefore, one of the basic guidelines for siting the new central market into the space must be to create the best possible entrance from main square.
10 Apr 2013
Stopice Sports Hall
Design: Jereb In Budja Arhitekti



photo : Blaz Budja
Stopice Sports Hall
This building is located in a small village near the town of Novo Mesto, which is the capital of Dolenjska region. The Center extends to an area of 2,350 sqm. This project offers a new answer to the question as to how a contemporary public infrastructure is placed into a typical Slovenian countryside. The building serves as a sports hall for the existing local primary school and also doubles as a community sports centre.
added 11 Feb 2013
Cultural Center of European Space Technologies, Vitanje
Design: Bevk Perovic arhitekti, Dekleva Gregoric arhitekti, OFIS arhitekti, Sadar Vuga arhitekt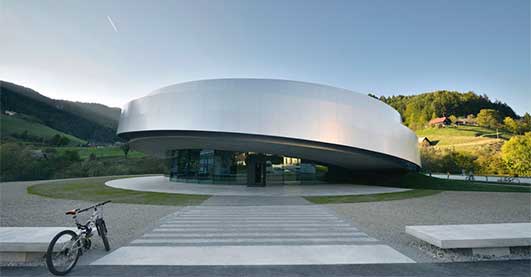 photo : Tomaz Gregoric
Cultural Center of European Space Technologies
The Cultural Center of European Space Technologies (KSEVT) will supplement the cultural and social activities of the Arts Center in Vitanje, the town in Slovenia that was home to Herman Potocnik Noordung, the first theoretician of space.
5 Feb 2013
Podčetrtek Traffic Circle
Design: Enota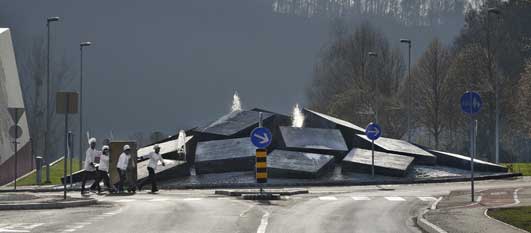 photo : Miran Kambič
Podčetrtek Traffic Circle
The Podčetrtek Traffic Circle is built on a regional road. The design of the roundabout's central island thus references the appearance of both facilities and marks the entrance points to the destinations of the visitors to either of the programme centers.
14 Sep 2012
Vander Urbani Resort
Design: Sadar Vuga Arhitekti



photo : David Lotrič
Vander Urbani Resort
The architectural and design project for Vander Urbani Resort in Ljubljana, Slovenia, is completed. Hotel Vander is a new hotel design located in the historic centre of Ljubljana. The hotel is constructed within the interior space of four historic adjacent buildings.
Recent Slovenian Architecture Designs
Recent Slovenia Building Designs
17 Jul 2012
Stamboldžioski Dental Studio, Nova Gorica, western Slovenia
Design: Enota


photo : Miran Kambič
Slovenian Dental Studio
Stamboldžioski Dental Studio is located at the outskirts of the city, in a residential community featuring mostly single-family homes. It has been built as a replacement for the cramped surgery in the dentist's private house, which was set up on the ground floor.
18 Jun 2012
Modular Units – Prefabricated Buildings
Design: COODO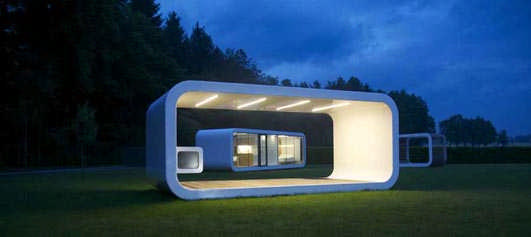 photo from architects
Prefabricated Buildings Slovenia
Prefab building design by young architectural office: "We have developed a group of modular units that combine all the qualities stated above with total modularity and compatibility. We think our modular units are the anwser to the high standards that modern society has regarding to its living in terms of visual appearance and functionality."
23 Mar 2012
Residential complex Vrunčeva, Celje
Design: Enota



picture from architects
Vrunčeva Residential Building
Residential complex Vrunčeva introduces a new typology of the city block unit. The modification of the block unit as laid out by the zoning legislation is the result of finding a direct answer to the spatial challenges of the site and ensuring high-quality habitation combined with excellent flexibility and energy efficiency for the building.
2 Sep 2011
Theatre Park, Murska Sobota, Slovenia
Design: Studio Kalamar d.o.o.



image from architects
Theatre Park
The Cinema Park Building was erected in the 1950s from plans by the modernist architect Franc Novak. Slowly falling into disrepair, it was still used for film shows until the new century, when it became obsolete due to the construction of a new multiplex.
Slovenian Architecture
Major Slovenian Architecture Projects – A-L, alphabetical:
650 apartments, Ljubljana
Ofis Arhitekti



photo : Tomaž Gregoric
Slovenian apartments
Apartment House Gradaška, Ljubljana
Sadar Vuga Arhitekti



image : Hisao Suzuki
Slovenian building
Apartment House Zvezda, Nova Gorica
Sadar Vuga Arhitekti



picture : Hisao Suzuki
Slovenia housing
ATCC Building, Ljubljana
Sadar Vuga Arhitekti



image from architect
ATCC Ljubljana
Biotechnical Faculty, Ljubljana
Arhitektura Krušec



photo © Miran Kambič
Biotechnical Faculty Ljubljana
Celje Market
Arhitektura Krušec



photo © Miran Kambič
Celje Market
Celjska Mountain Lodge
Arhitektura Krušec



photo © Miran Kambič
Celjska Mountain Lodge
Dot envelope – store, Ljubljana
Ofis Arhitekti



image from architect
Dot envelope Ljubljana
Farewell Chapel, Teharje near Celje
Arhitektura Krušec



photo © Miran Kambič
Farewell Chapel Building
Farewell Chapel Building, Krasnja
Ofis Arhitekti



photo © Tomaz Gregoric
Farewell Chapel
Football Stadium Maribor
Ofis Arhitekti



image from architect
Football Stadium Maribor
Four-Leaf Clover Kindergarten
Ofis Arhitekti



image from architect
Four-Leaf Clover Kindergarten
Hayrack apartments, Cerklje
Ofis Arhitekti



image from architect
Hayrack apartments
Herman's Square, Celje
Arhimetrics + Enota



image from architect
Herman's Square
Izola Housing
Ofis Arhitekti



photo : Tomaž Gregoric
Izola Housing
Kindergarten Mavrica, Brežice
Bizjak, Dragišić, Florjanc, Jelkić, Saje



image from architect
Kindergarten Mavrica Brežice
Lake Bled House
Ofis Arhitekti



photo : Tomaz Gregoric
Lake Bled House
Ljubljana Administration Centre Buildings
Ofis Arhitekti



image from architects
City Municipality Ljubljana
Ljubljana Business House
Groleger Arhitekti



image from architect
Ljubljana Building
Ljubljana Housing
Groleger Arhitekti



picture : Janez Marolt
Ljubljana Housing
More Slovenian architecture online soon
Location: Slovenia, central eastern Europe
Architecture in countries near to Slovenia
Bosnia and Herzegovina Architecture
Sarajevo skyscraper, Bosnia and Herzegovina
Groleger Arhitekti, Ljubljana



rendering : Rok Vettorazzi
Sarajevo skyscraper
Jože Plecnik – Slovenian Architect</
Buildings / photos for the Slovenian Architecture page welcome