Swiss Architecture, Architects, Photos, Buildings Switzerland, Images, News, Info
Swiss Buildings : Architecture in Switzerland
Key Contemporary Architectural Developments in central Europe
Switzerland Architecture Links
Swiss Architecture
We've selected what we feel are the key examples of New Swiss Architecture.
We cover completed buildings, new building designs, architectural exhibitions and architecture competitions across Switzerland. The focus is on contemporary Swiss buildings.
We have 4 pages of Swiss Architecture selections.
This page lists buildings in the major cities of Switzerland.
Swiss Architecture : news + major projects (this page)
Swiss Building Designs : A-K
Swiss Building Developments : L-Z
Swiss Buildings : alphabetical list of buildings not included in main city list below.
Swiss Building News
Contemporary Swiss Architecture arranged chronologically:
Geneva Dance Pavilion, western Switzerland – 9 Oct 2013
Design: Mauro Turin Architectes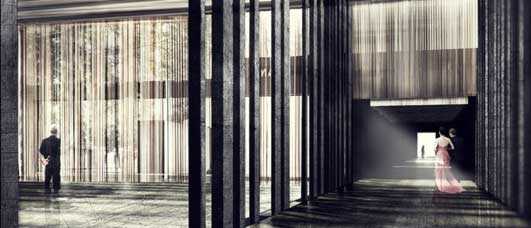 image © Mauro Turin Architectes
Another well-presented project by this swiss architecture studio: subtle tones and plenty of rhythm contained within a simple recilinear carapace.
House in Nuglar, Solothurn, northern Switzerland – 11 Sep 2013
Design: HHF


photo : Tom Bisig
House D is oriented parallel to the landscape, thereby making the view a matter of prime importance. Across more than 180 degrees, you gaze over unbuilt, verdant land with mature fruit trees. HHF radically exploits this situation, thematizes it, and accentuates it even more with a few simple moves: The main level is an open space – with the kitchen as well as dining and living areas – and alongside a concrete core, the stair to the upper and lower floors.
Zielturm am Rotsee, near Lucerne – 30 Aug 2013
Design: Andreas Fuhrimann Gabrielle Hächler Architekten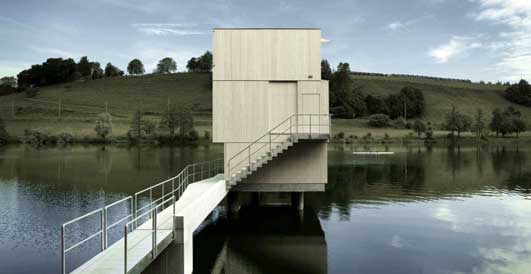 photo : Valentin Jeck
The topographical situation on the Rotsee-Delta is a unique landscape, embedded in between two hill chains the lake is very calm. Through its ideal character for rowing regattas the lake is called the "Lake of Gods" amongst rowers. By subtle offsets of the three levels, the building volume seems fragile and delicate, despite it's considerable volume.
Urban Hybrid Emmen, near to Lucerne – architecture competition news – 12 Jul 2013
Design: MVRDV



image from architects
The city of Emmen has announced that investment corporation Senn BPM AG together with MVRDV are the winners of the Feldbreite competition for a housing block with 95 homes of 16 different types. The urban hybrid development combines characteristics of city dwelling – central location, privacy, underground parking – with the characteristics of suburban life: gardens, multilevel living and a neighbourhood community. Construction is envisioned to start in 2015.
Allianz Headquarters in Zürich – building news
Design: Wiel Arets Architects



photo © Jan Bitter
Allianz Headquarters Zürich – 11 Jun 2013
This is an office complex occupying two buildings linked by a series of bridges and interlocked by a central staircase rising the height of the entire building within a centrally positioned void. The building is an office complex linked and interlocked by a series of bridges and voids. Once completed, the Allianz Headquarters will be composed of a high-rise tower and a five story building, both with a program of mainly office space, set within an urban plan based on a modified block structure.
Hotel Park and Seeallee, Heiden, north east Switzerland
Design: Kubota & Bachmann Architects + Martinez



image : Jigen
New Swiss Hotel Building – 22 Apr 2013
The Park Hotel is located in a strategic point in Heiden, where different urban conditions come together: The landscape continuity crossing the plot area, the particular building density and its relevant position from the main entrance to the city.
Primary School and Gym Erlenmatt, Basel, north Switzerland
Design: Kubota & Bachmann Architects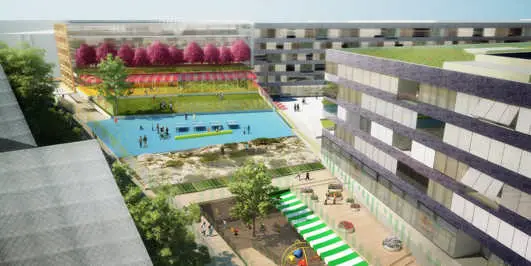 image © architects
Swiss Primary School Building – 2 Mar 2013
According to the architects the main objective of the building design is to "serve the demands of the educational demands an appropriate architectural condition". The interior design offers a wide range of functionality and flexibility. The daylight is used in an optimal way.
Cinema Hall Locarno Film Festival, Ticino, southern Switzerland
Architect: Mauro Turin Architectes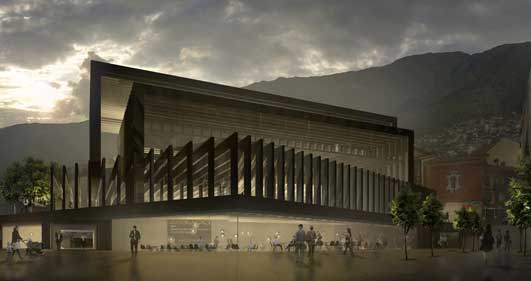 image from architects
Locarno Film Festival Cinema Hall – 26 Feb 2013
The design of this Swiss building was inspired by a strong urban vision; the will to create a building that is at the same time unique and harmonious, which refuses to be a stand-alone project by participating actively to the landscape of the city of Locarno. Based on its surrounding context, the Cinema Hall project is characterized by the development of a building that creates a link between old and new urban fabric.
AGORA – Cancer Centre in Lausanne, Switzerland
Design: Behnisch Architekten



image : Behnisch Architekten
Swiss Cancer Centre Lausanne – 18 Jan 2013
Behnisch Architekten's Stuttgart office has won the two-stage architectural competition established by the ISREC Foundation (Swiss Institute for experimental cancer research) to create a new home for the AGORA – Cancer Centre in Lausanne, Switzerland. The AGORA – Cancer Centre exists specifically to bring together scientists and practitioners under one roof as part of a community of expertise.
Ozeanium, Zoo Basel
Design: HHF architects & BURCKHARDT+PARTNER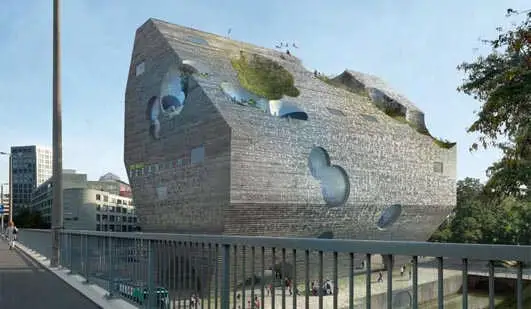 image © HHF Architekten & Burckhardt+Partner AG
Basel Aquarium – 21 Dec 2012
Zoo Basel is embedded in the city and used as a park by residents and visitors. The redesigning of the green area Nachtigallenwäldeli and the construction of the new Ozeanium, an ocean aquarium, on the Heuwaage are bringing the zoo and the park area even closer to the city center, to form an attractive living environment and recreational area.
Villa K, Switzerland – added
Baumschlager Eberle



photo : Roland Halbe
Villa K – added 9 Dec 2012
The point of departure was the rectangular volume, from which emerged a configuration of apposite urban proportions.
Wine Museum in Lavaux, Lake Geneva, western Switzerland
Architect: Mauro Turin Architectes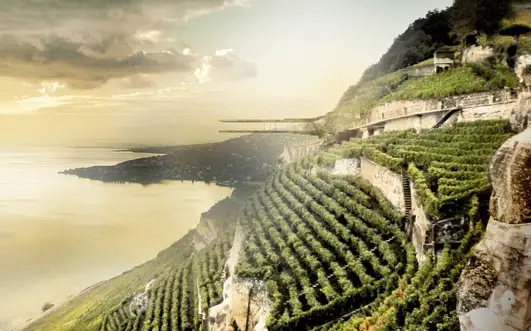 image from architects
Swiss Wine Museum – 20 Nov 2012
Creating new architecture in a UNESCO World heritage site. The Museum wants to be a small iconic object in a great iconic landscape; without being in competition but rather feeding each other.
Vedeggio-Cassarate Gallery, Lugano, Ticino, southern Switzerland
Architect: CZA_Lugano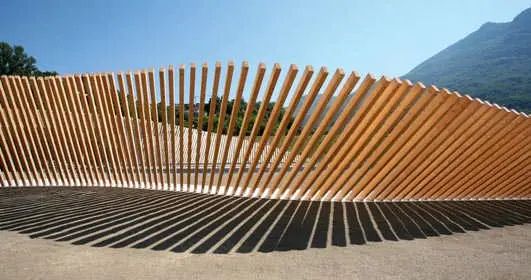 photo : Cino Zucchi
Vedeggio-Cassarate Gallery – 16 Nov 2012
Tunnels are "wounds" inflicted on geology to facilitate human movements. Their history is ancient, glorious and gory, but today techniques have been refined to the point of making the excavation similar to endoscopic surgery.
Du Parc Kempinski Private Residences, Lake Geneva
Architect: BBG-BBGM, USA



photo of the building
Swiss Private Residences – 15 Nov 2012
A Historical Restoration over a Century in the Making. Du Parc Kempinski Private Residences is an address defined by its historical journey spanning a hundred years. From its regal opening in 1907 as Hotel du Parc to its recent re-birth as one of Switzerland's most charming historical residential developments, the building's fascinating past has determined its restoration and remains an integral part of its new design.
EPFL Pavilions, Lausanne, west Switzerland
Design: HHF-AWP



image : SBDA
EPFL Pavilions – 25 Oct 2012
The first stage of the EPFL campus was organized by a potentially infinite spacial and functional grid. But what was meant to be a highly flexible and open scheme turned out to be highly problematic, resulting in mainly backside situations. Most of the later extensions of the EPFL sought to change this urbanistic typology by formulating an end to the endless grid.
Kirchplatz Office / Residence, City of Muttenz/Basel
Architect: Chad Oppenheim – Oppenheim Architecture + Design



photo : Børje Müller
Kirchplatz Office / Residence – 3 Oct 2012
The design of this adaptive re-use project was born initially out of a design competition initiated by the City of Muttenz/Basel. The design was based on the renovation of an historic farmhouse situated within the historic center core of the city.
Allschwil School Competition, Switzerland
RaichdelRio, estudi d'arquitectura + others



image from architects
Allschwil School Competition – 5 Jul 2012
The competition asks for a big school in Allscwhil, a low density residential zone, in the only free spot of a certain dimension in the area. The proposal seeks keeping the public void by formalizing a proposal near of the environment.
Jansen Campus, Oberriet, SG, eastern Switzerland
Davide Macullo Architects



photo : Enrico Cano
Jansen Campus Building – 12 Jun 2012
The new Jansen Campus lies in the village of Oberriet, in the Rhine valley, one of the most industrialised areas of Switzerland. The company is currently run by a dynamic young team and though in existence for almost a hundred years, the last ten years have seen a particularly rapid expansion into international markets.
Sports Hall in Villaz-Saint-Pierre
Graeme Mann & Patricia Capua Mann, architectes



photo : Thomas Jantscher
Sports Hall in Villaz-Saint-Pierre – added 30 Apr 2012
The village of Villaz-Saint-Pierre is built on a hilltop facing the Plateau and the Fribourg Alps. The new multipurpose sports hall is located below the church and the village square.
Recent Swiss Building Designs
Locarno Apartments
Serge Schoemaker Architects



photo from architects
Locarno Apartments – 27 Apr 2012
A Swiss congregation commissioned Dutch-based practice Serge Schoemaker Architects to design a plan for the conversion of the prominently located 'Villa Erica' boarding school in Locarno. The design transforms the 6.100 m2 large complex from the seventies into thirty apartments.
Liestal Retail & Office Building, northern Switzerland
Christ & Gantenbein



photo : Roman Keller, Zurich
Liestal Office Building – 29 Mar 2012
A new impressive retail and office building has been created at the Liestal Station Square. The striking six-storey building occupies the triangular site between the station and the head office of Basellandschaftliche Kantonalbank (BLKB).
Groupe e Headquarters, north west Switzerland
ipas architectes sa



photo : Gérald Sciboz, Thomas Jantscher
Groupe e Headquarters – 5 Mar 2012
Kunsthalle Zürich
GigonGuyer



picture © GigonGuyer
Kunsthalle Zürich
Since it was founded in 1985, the Kunsthalle Zürich has established itself as one of Europe's most influential art institutions, helping to define the direction of contemporary art. Having moved to a series of different venues in its early years, the Kunsthalle has been based in the Löwenbräu art complex since 1996.
Museum in Lausanne, north west Switzerland
Allied Works, Architects



image from architects
Pôle Muséal Lausanne : Swiss Architecture Competition
Allied Works is one of eighteen international finalists to create the Pôle Muséal Lausanne, which encompasses transforming an historic train shed and industrial site into a new cultural district. As part of the architecture competition, the architects created a master plan and completed the building design for the new Musée Cantonal des Beaux-Arts.
Swiss Architecture Contest
Andermatt Swiss Alps Design Competition



image from Andermatt Swiss Alps AG
Swiss Alps Architecture Contest
Architecture in Switzerland
Buildings by city, alphabetical:
Actelion Business Center, near Basel
Herzog & de Meuron



photo from ABC
Actelion Business Center
Canobbio House, Lugano
Davide Macullo



photo : Enrico Cano
Canobbio House
Cocoon EMEA Engineering Hub
Camenzind Evolution



picture : Camenzind Evolution, Zurich
Cocoon Offices
Conversion Theatre 11
EM2N Architects



photograph © Hannes Henz
Zurich theatre
Daniel Swarovski Corporation, Lake Zurich
Ingenhoven Architects



image from architect
Daniel Swarovski Corporation
Dolder Grand Hotel, Lake Zurich
Foster + Partners with Itten + Brechbühl



photo © Nigel Young
Dolder Grand Building
House in Lumino, Swiss Alps
Davide Macullo Architects



photo : Enrico Cano
Lumino House
Kunsthaus Zürich extension
David Chipperfield Architects



picture © David Chipperfield Architects
Kunsthaus Zürich Extension
Paspels School Building
Valerio Olgiati, Architect



photograph © Archive Olgiati
Swiss school
Railway Station Hardbruecke
EM2N Architects



photograph © Hannes Henz
Swiss Railway Station
Roche Tower
Herzog & de Meuron



image from architects
Roche Tower Basel
Sports Centre Buchholz, Uster
Camenzind Evolution



photograph from architect
Swiss sports building
Swiss Museum of Transport, Lucerne
Gigon/Guyer Architekten



image from architect
Swiss Museum of Transport Building
westside Shopping and Leisure Center
Studio Daniel Libeskind



picture from architect
Swiss retail building, Bern-Brünnen
More Swiss Buildings online soon
Location: Switzerland, central Europe
Swiss Architect : Peter Zumthor
Le Corbusier : famous Swiss Architect
Swiss Stadium Buildings : Euro 2008 Football
Architecture in Countries adjacent to Switzerland
Comments / photos for the Swiss Architecture page welcome