Austrian architecture news 2022, Building developments images, Viennese construction design project, Architects
Austrian Architecture News
Contemporary Architectural Developments, Central Europe Built Environment Updates
post updated 8 November 2023
Austrian Architecture Design – chronological list
Vienna Architecture Walking Tours by e-architect
Austrian Architectural News in 2023
22 Oct 2023
Roman Quarry, Sankt Margarethen, Burgenland
Architects: AllesWirdGut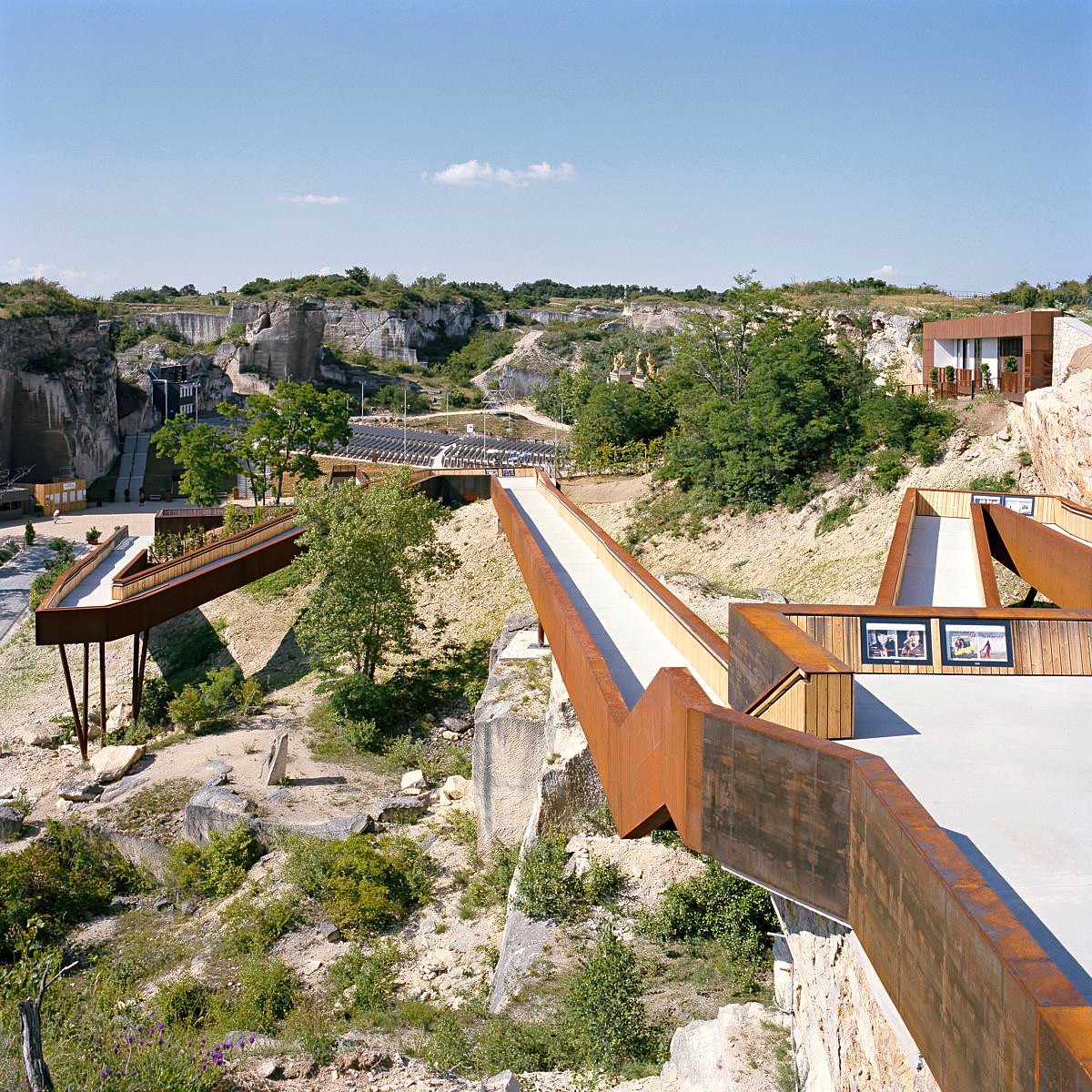 photo : Hertha Hurnaus
Roman Quarry Burgenland, Austria landscape
A show in the Roman Quarry doubtless is a unique experience for every visitor, whether it is the classical-music lover enjoying a performance of the opera festival or a local watching the annual passion play with his friends as amateur actors.
BOKU Hydraulic Engineering Laboratory, Vienna
Puradies Nature Resort in Leogang
23 Feb 2023
Peterhof, Furx 25, Zwischenwassser
Design: Baumschlager Eberle Architekten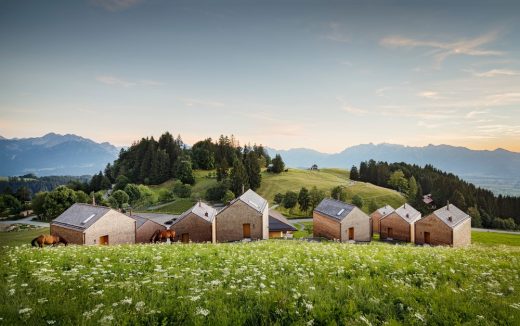 photos by A.I. Schnabel and René Dürr
Peterhof Resort, Alpe Frux
As a sign of increasing sensitivity for the touched landscape of a tourist region, the building owner F25 Projektgesellschaft announced the Peterhof competition and invited three architectural firms to submit plans for 10 chalets and a main house with restaurant and granny annexe on the steeply sloping site. Baumschlager Eberle Architekten were able to convince with their design.
Austrian Building News 2022
Austrian Architectural News in 2022
25 Oct 2022
Falkensteiner Hotel, Montafon, Latschaustraße, Tschagguns, Vorarlberg, western Austria
Design: Snøhetta ; Integrated design: Vudafieri-Saverino Partners studio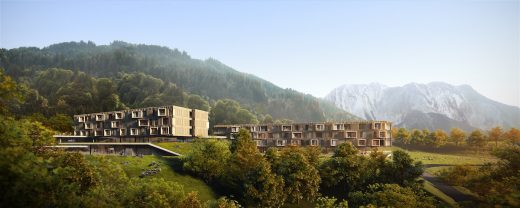 image © Snøhetta
Falkensteiner Hotel Montafon
The new hotel, designed by Snøhetta, is enriched by the interior design of the Italian architecture studio, which has come up with a concept that echoes the colours and atmosphere of the Austrian mountains, in a continuum between nature and well-being. Montafon, Vorarlberg | The new 5 star Falkensteiner Hotel Montafon will open on 16 December 2022. It is located in a protected area of Montafon, an Alpine valley in the Austrian state of Vorarlberg gently nestled between forests and mountains.
Updated 31 Aug 2022
RINGANA campus, Sankt Johann in der Haide, Styria
Design: ATP architects engineers, Vienna, and ATP sustain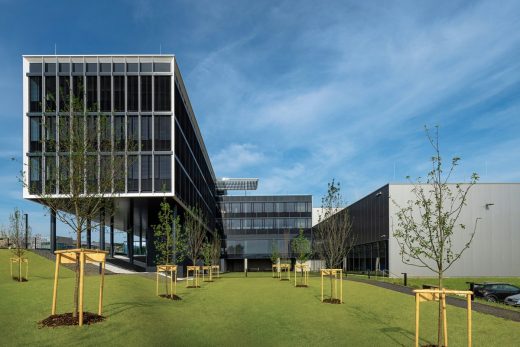 photo : AnnABlaU
RINGANA Campus St. Johann in der Haide
11 May 2022
Linalotte House, Linz
Architecture: Caramel architekten in collaboration with strukteur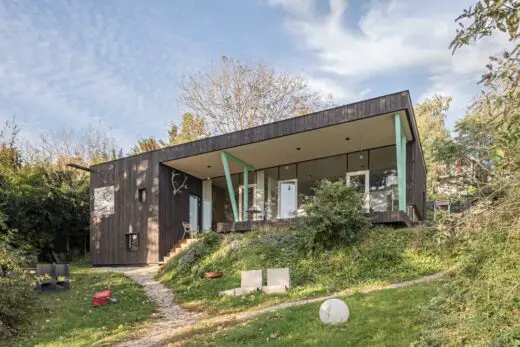 photograph : Hertha Hurnaus
Linalotte House
22 Mar 2022
Gut Wagram, Kirchberg am Wagram, Weinviertel
Design: destilat design studio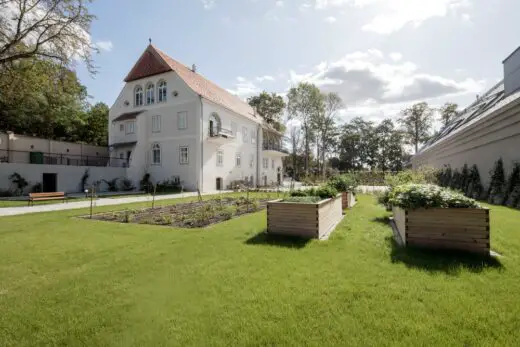 photograph : Monika Nguyen
Gut Wagram House in Weinviertel
10 Mar 2022
AA nanotourism Visiting School, Sekirn on Wörthersee, Carinthia, southern Austria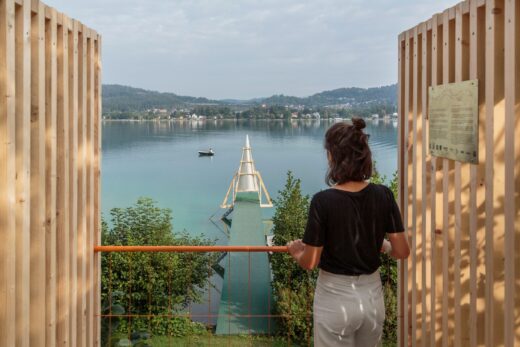 photography : Paul Sebesta / AA nanotourism archive
AA nanotourism Visiting School, Sekirn on Wörthersee
Over two weeks, students design and build a series of three architectural interventions to address and critique the hyper-privatised nature of Austria's Lake Wörthersee. Wörthersee has 83% of its shoreline inaccessible to the public. At the same time, located on the lake's south shore, the Vienna Boys' Choir Summer Residence is an underused property and one of the last remaining places with an opportunity to open up for the people.
15 Dec 2021
RINGANA campus, Sankt Johann in der Haide, Hartberg-Fürstenfeld, Styria
Integrated design: ATP architects engineers, Vienna, and ATP sustain
RINGANA Campus St. Johann in der Haide
The natural cosmetics and life sciences company RINGANA is expanding successfully. As a result, ATP Vienna was commissioned with the integrated design of a large production plant that brings together three existing facilities.
19 Nov 2021
FSF Leisure and Sports Center, Fließ, Landeck district, Tyrol
Design: AllesWirdGut Architektur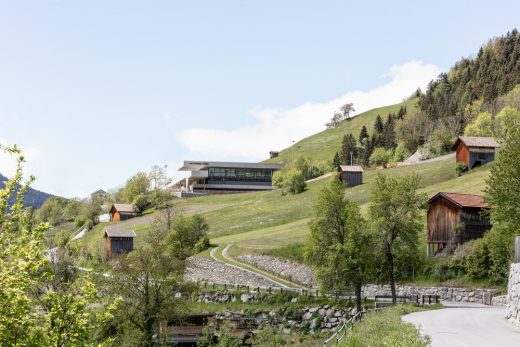 photo : tschinkersten fotografie, 2021
FSF Leisure and Sports Center, Tyrol Building
Within walking distance from the school and the village center, a mountain arena, FSF Leisure and Sports Center was built for the local soccer club, which includes a tournament and a training pitch, a grandstand, swimming pool, track-and-field, tennis, and trend sports facilities as well as an identity-establishing landmark clubhouse.
19 Nov 2021
Penthouse L, Vienna Property
18 Nov 2021
Theurl office building, CLT production plant, Steinfeld, Spittal an der Drau, Carinthia, southern Austria
Design: ATP architects engineers, Innsbruck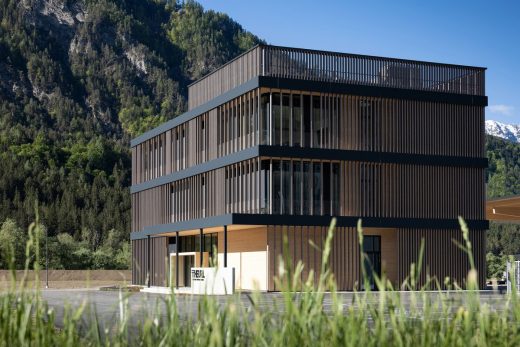 photo © ATP/Bause
Theurl Steinfeld office building, CLT production plant
A special feature of the project was that the buildings built in Phase 1 produced the timber elements used in the buildings built in Phase 2. This creates a true sense of identity for the employees working in the office building, because they are surrounded every day by the materials that they produce in-house.
17 Nov 2021
Paracelsus Bad & Kurhaus Salzburg
25 Oct 2021
Mozarteum University Salzburg Extension
28 Sep 2021
Handl Gastro Service Building, Pians, Landeck, Tyrol
Design: ATP architects engineers, Innsbruck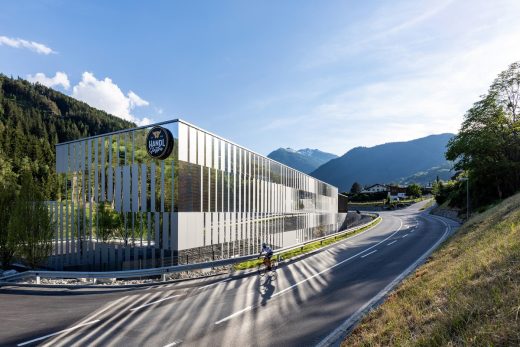 photo © ATP/Bause
Handl Gastro Service Tyrol Building
ATP Innsbruck designed a new operating facility with production in Pians, from which Markus Handl Beteiligungs GmbH will supply upscale restaurants and hotels across Tyrol and Vorarlberg. One highlight of the project is the innovative use of the material wood, which the design team has interpreted in both a traditional (façade) and a modern (timber slab) manner.
17 Sep 2021
Community Center Großweikersdorf, Großweikersdorf, district of Tulln, Lower Austria
Design: Smartvoll Architects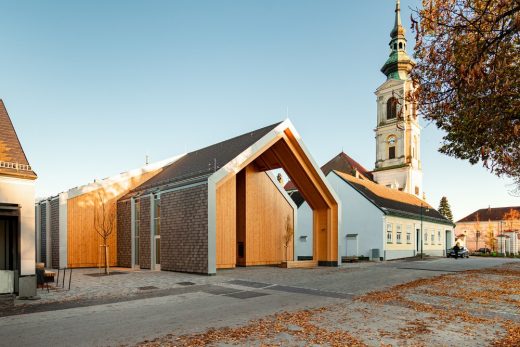 photo © Dimitar Gamizov
Community Center Großweikersdorf
"The donut effect" – a familiar occurrence in Austrian communities. It slowly draws traffic away from town centers via local suppliers on the periphery, leaving the center to die out. Our new Community Center Großweikersdorf, however, is fighting back against the donut effect.
24 Aug 2021
Viega Seminar Center Building, Attersee, Salzkammergut region, Upper Austria
Design: ATP architects engineers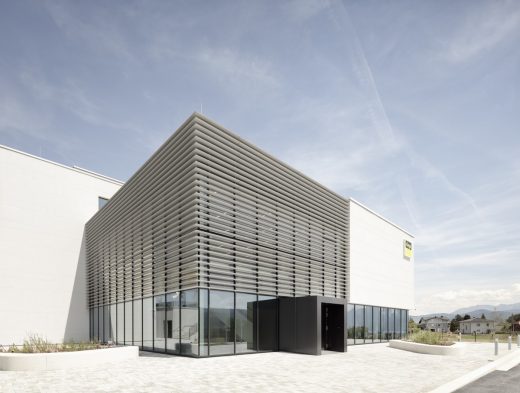 photo : ATP/Kuball
Viega Seminar Center, Attersee
The high design quality and forward-looking functionality of the Viega building result from an integrated design approach that ATP has been perfecting for over 40 years. "It would not have been possible to meet the high standards required for this building using a traditional design approach", says the Lead Project Manager Nora Westphal of ATP Vienna.
12 Jul 2021
White House, Neusiedl am See
White House, Neusiedl am See
16 June 2021
Altstadthotel Weisses Kreuz, Innsbruck, Tyrol
Architects: noa* network of architecture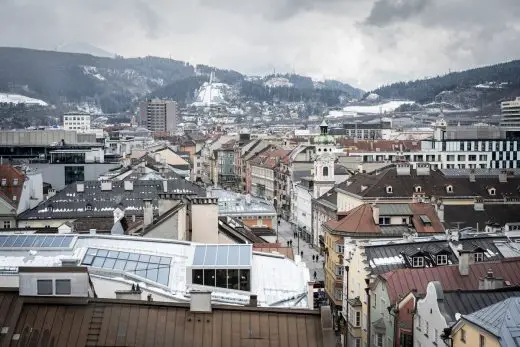 photo : Alex Filz
Weisses Kreuz Innsbruck Hotel Tyrol
Old house, new splendour. The Altstadthotel Weisses Kreuz in Innsbruck's city centre invites its guests to indulge in a refreshing and colourful journey through time with 48 new rooms and suites, where noa* has created the perfect setting.
22 May 2021
BetaPort Tyrol Airport
BetaPort Tyrol Airport
21 May 2021
Neu Leopoldau Housing, Vienna
Neu Leopoldau Housing, Vienna
More contemporary Austrian Architecture News online soon
Austrian Architecture News 2020
22 Dec 2020
Electronic Based Systems Center Graz
12 Dec 2020
Weinmanufaktur Clemens Strobl
10 Dec 2020
Quadrill Tabakfabrik Linz
Design: Zechner & Zechner Architects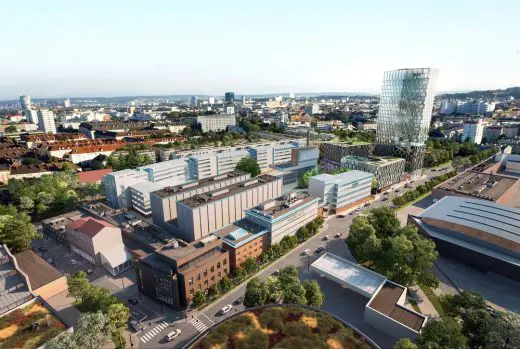 image : expressiv
Quadrill Tabakfabrik Linz Buildings
Where once 8,000 cigarettes were produced per minute, today a collaborative group fuels the city's creative potential in the "Tabakfabrik Linz". The listed industrial complex designed by Peter Behrens is not only seen as an urban planning opportunity for the cultural and economic future of Linz, but is also the first steel-framed building in Austria of international importance in terms of architectural history.
27 Nov 2020
EBS Center, Graz University of Technology, Graz
Design: Generalplaner ARGE AllesWirdGut / FCP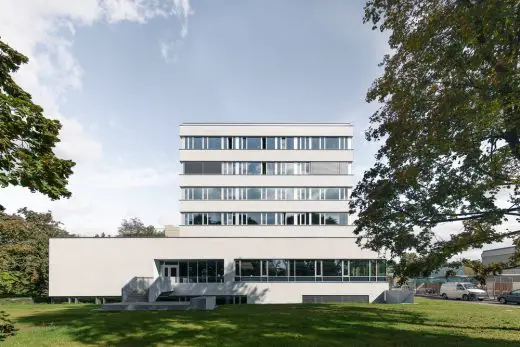 photo : tschinkersten fotografie
Electronic Based Systems Center Graz
The new building of the EBS Center on the Graz University of Technology's Inffeld grounds marks a kind of starting and end point. As a figurative punctuation mark, the built volume was articulated as a free-standing complex.
15 Nov 2020
House Mesh, Hagenberg near Linz
Design: Caramel architekten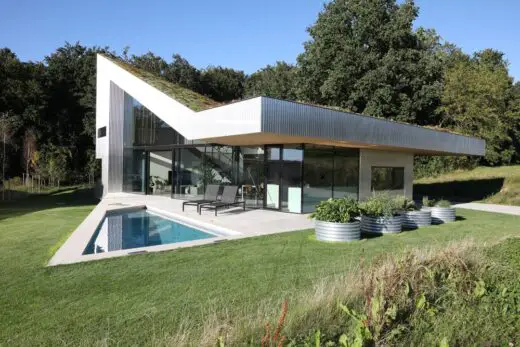 photos by Paul Eis and Kerstin Ordelt
House Mesh near Linz
The main aim of this new Austrian property design and the client's request was a future-oriented handling of materials and a building that was integrated into the environment. The lightweight timber construction with a ventilated metal facade and large glass elements form the remaining outer skin surfaces.
22 Sep 2020
Living by the harbour, Sintstrasse, Linz, Upper Austria
Design: xarchitekten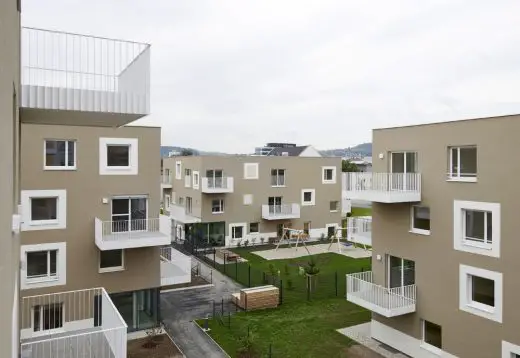 photo : Lisi Grebe
Living by the harbour
The property is located at the transition between the urban parts and the industrial areas at the port of the city of Linz and is to be newly built and redensified with rental apartments of the social housing and a kindergarten.
26 Aug 2020
ASI Reisen Offices, Natters, Innsbruck
Architects: Snøhetta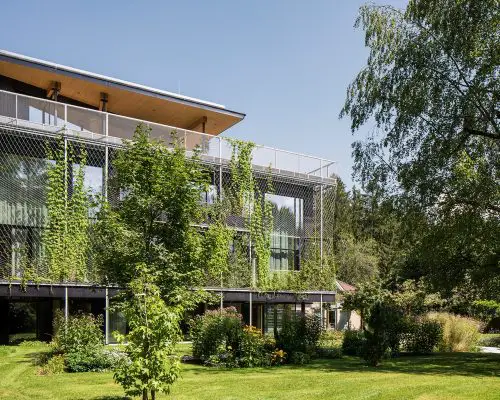 photo : LITE Studio
ASI Reisen Offices
When developing its new head office, international trekking and adventure travel company ASI Reisen sought to have its new space reflect the company's working culture and commitment to offering sustainable trekking experiences for travelers around the world.
12 Aug 2020
Parish church in Mank, Mank, district of Melk, Lower Austria
Design: X Architekten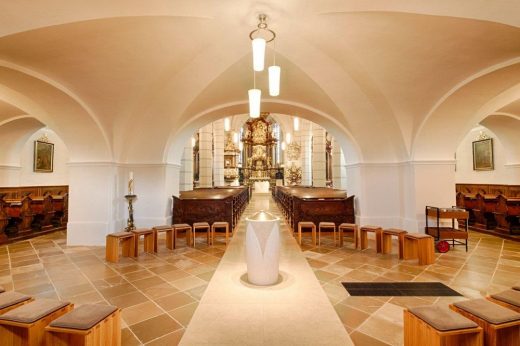 photo : LITE Studio
Parish church in Mank
Architecture competition for the new definition of the liturgical places in this Austrian parish and pilgrimage church.
7 July 2020
Pharmaceutical Institute and Laboratory, Strubergasse 15, 6020 Salzburg
Design: Berger+Parkkinen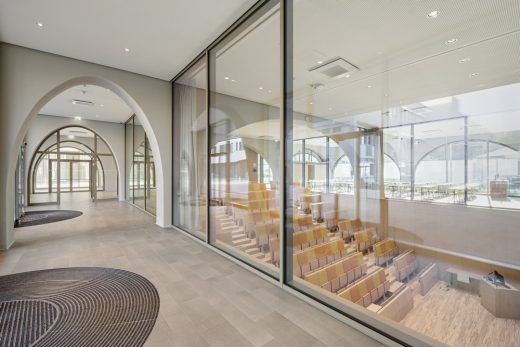 photo © Hertha Hurnaus
Pharmaceutical Institute and Laboratory in Salzburg
The Paracelsus Medical Private University (PMU) in Salzburg was founded in 2004. In 2017 the curriculum could be expanded to include the study of pharmacy.
10 Feb 2020
HOFER ALPHA Retail Network in Eberstalzell
17 Jan 2020
Paracelsus Bad & Kurhaus Salzburg
More contemporary Austrian Architecture News online soon
Austria Building Updates 2019
24 Nov 2019
Hotel Steigenberger, Krems an der Donau, federal state of Lower Austria
Architects: GERNER GERNER PLUS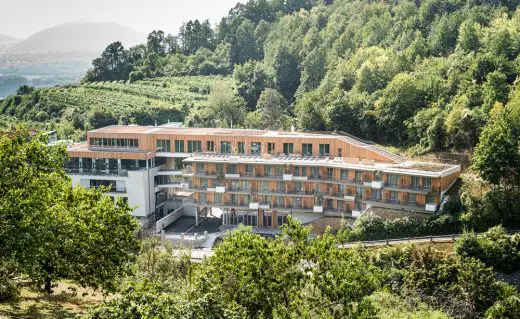 photo © Matthias Raiger
Steigenberger Hotel & Spa in Krems
The current 32 room-building extension, as well as the exterior and interior conversions, are a good example of the high-quality and sustainable architecture for which this architectural office is known.
20 Nov 2019
Mohr Life in Lermoos, Tyrol Spa
16 Sep 2019
Skyspace, Arlberg Region
Architects: Baumschlager Eberle Architekten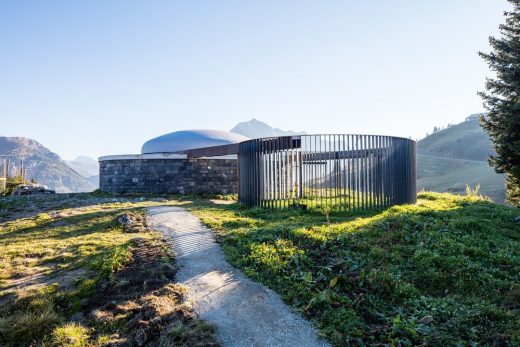 photograph © Florian Holzherr
Skyspace Arlberg Region
A new installation with interaction between the light of the sky and the light of James Turrell, at 1,800 meters above sea level.
16 Jul 2019
Path of Perspectives Panorama Trail Innsbruck Nordkette
Path of Perspectives Panorama Trail Innsbruck Nordkette
13 Jun 2019
RLB Campus '25, Linz
RLB Campus '25 in Linz
9 May 2019
KTM Motohall, Mattighofen, Austria
Architects: Atelier Brueckner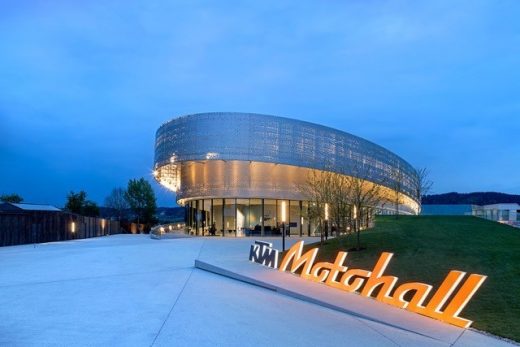 photography © Daniel Stauch
KTM Motohall Mattighofen
The architecture stems from Hofbauer Liebmann Wimmesberger Architekten in close cooperation with X ARCHITEKTEN. The exhibition stages the history of the company, its brand values and more then 100 motorcycles.
30 Jan 2019
Swarovski Manufaktur, Wattens, Tyrol
Architects: Snøhetta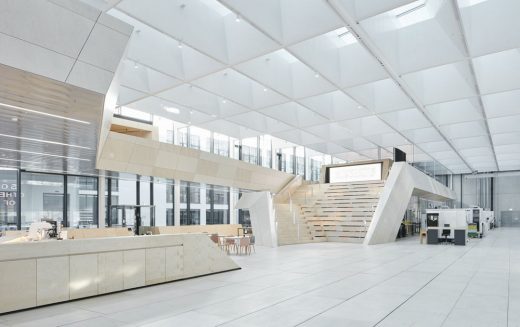 photography © David Schreyer
Swarovski Manufaktur in Wattens, Tyrol
With the Swarovski Manufaktur, Snøhetta has created a crystal workshop for the 21st century. This daylight-flooded and generous building is as much a top-notch production facility as it is an innovative creative hub providing Swarovski with new opportunities to work together with customers.
More current Austrian Architecture News on e-architect soon
Austrian Building News 2018
11 Dec 2018
Das Fritz in Weiden am See
11 Dec 2018
House Dellacher in Oberwart
2 Aug 2018
Loft Panzerhalle, Salzburg
Design: smartvoll Architekten ZT KG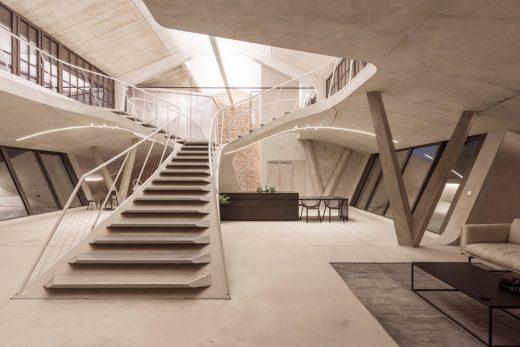 photography: Tobias Colz/smartvoll
Loft Panzerhalle in Salzburg
Winner of the prestigious AZ Award 2018. During the annual gala held in Toronto, 64 finalists from more than 950 submissions competed for the trophy. The Loft Panzerhalle won the award in the residential interior category.
29 Nov + 10 Jul 2018
C&P Corporate Headquarters, Graz – Shortlisted at World Architecture Festival 2018 Awards
Architects: INNOCAD Architecture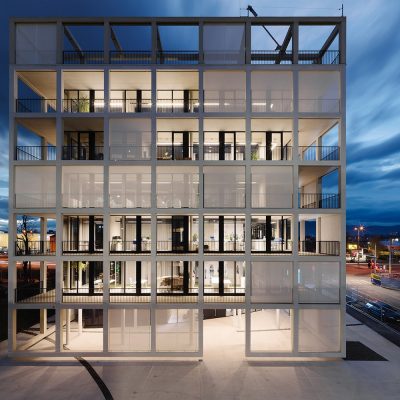 photo : Paul Ott
C&P Corporate Headquarters, Graz
A real estate company's corporate headquarters, located at the city's highest traffic entrance, brings clarity and conciseness to an industrial transition area as a new landmark in this emerging district.
5 Jul 2018
World Museum, Vienna, Austria
Design: Hoskins Architects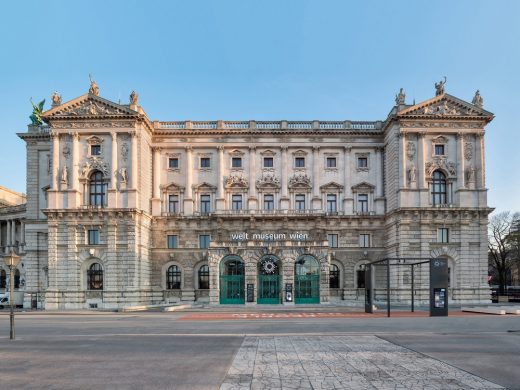 photography © Pierer.net/ARGE Ralph Appelbaum Associates/Hoskins Architects
World Museum Vienna Building
7 Jun 2018
Nordbahnhof High-rise Building
Design: AllesWirdGut architects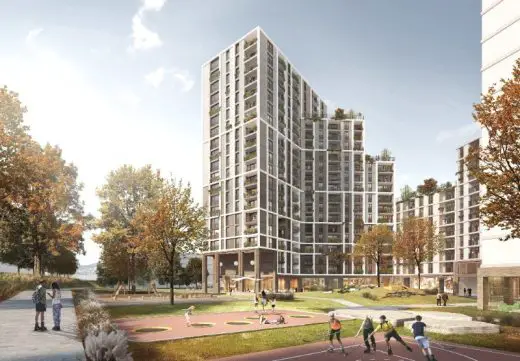 Rendering: spiritpixel – Simonicek / AllesWirdGut
Nordbahnhof High-rise Building
22 Apr 2018
Schönbrunn Zoo Aquarium, Vienna, Austria
Design: 3XN & GERNER GERNER PLUS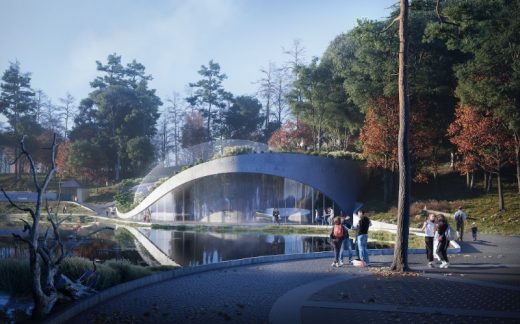 rendering : 3XN
Schönbrunn Zoo Aquarium
26 Mar 2018
Fanta Feldkirch, Blasenberggasse, Feldkirch, Vorarlberg
Architects: GRID Architektur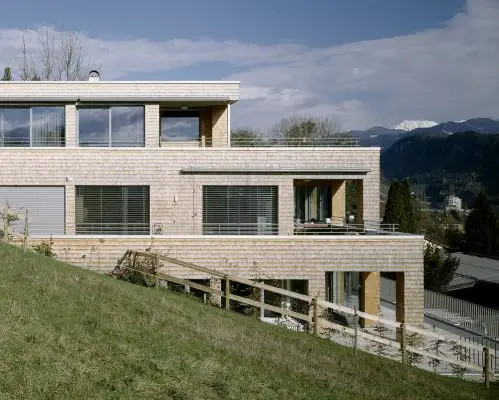 photograph : Barbara Bühler
Fanta Feldkirch, Vorarlberg Apartments
Fanta is built into the hillside neighbouring the center of Feldkirch in Vorarlberg. It houses 3 spacious apartments, each with a terrace giving splendid views of the city and surrounding countryside.
Austrian Building News 2017
23 Dec 2017
Croma-Pharma Headquarters Building, Leobendorf
Architects: querkraft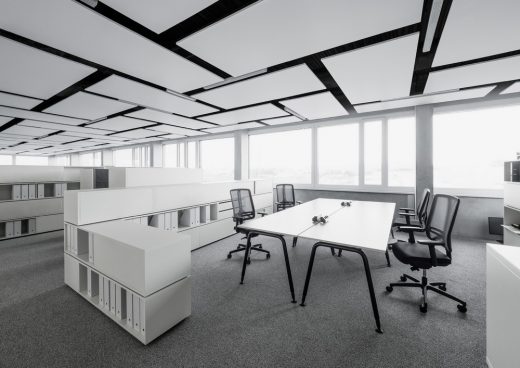 photograph © Peter Podpera
Croma-Pharma Leobendorf Offices
A flexible and open office concept for Croma-Pharma
17 Dec 2017
Hungerburg funicular railway buildings – 10th anniversary, Innsbruck
Design: Zaha Hadid Architects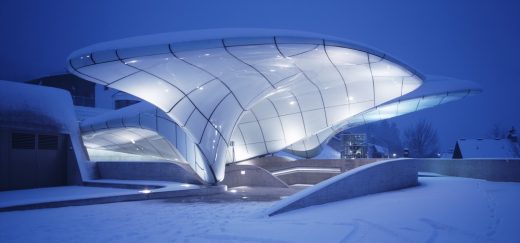 photo © Werner Hutmacher
Nordpark Cable Railway
Since December 2007, over 4.5 million passengers have made journeys on the funicular railway between the centre of Innsbruck up the Nordkette mountain to Hungerburg.
29 Oct 2017
PANEUM – Wunderkammer des Brotes, Kornspitzstrasse, Asten, Linz-Land, Upper Austria
Architects: COOP HIMMELB(L)AU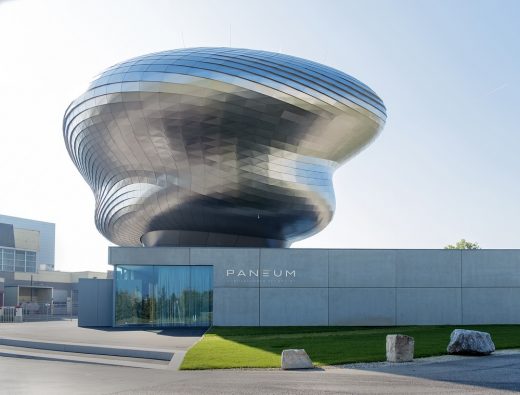 photography © Markus Pillhofer
PANEUM – Wunderkammer des Brotes in Asten
The Customer Information Centre and Event Forum PANEUM – Wunderkammer des Brotes – for the company Backaldrin in Asten consists of two elements: a box shaped plinth building plus the "Wunderkammer des Brotes", a two storey freeform exhibition area on top.
31 Jul 2017
Casa Invisibile
Design: DMAA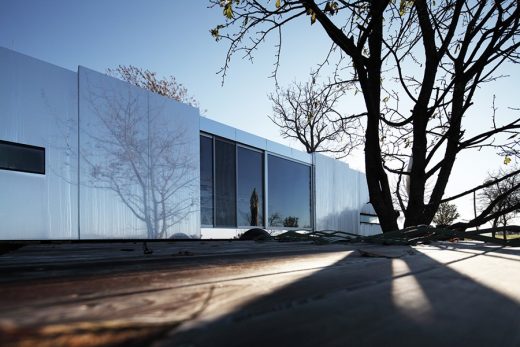 photography © www.christianbrandstaetter.com
Casa Invisibile in Austria
Casa Invisibile is a flexible housing unit, which consists of a prefabricated wood structure designed for turnkey implementation at any designated site.
12 Jun 2017
A House for Art, Hohe Wand, Wiener Neustadt-Land, Lower Austria
Architects: Veech x Veech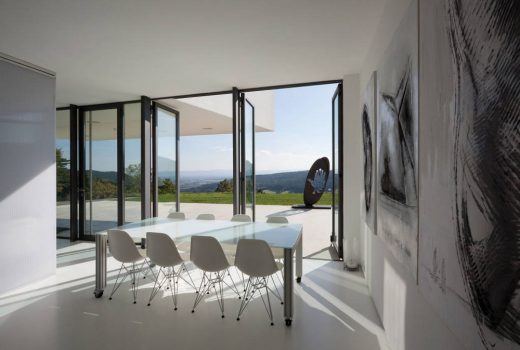 photograph : Vera Subkus
A House for Art in Hohe Wand
A multifunctional artist studio located close to Vienna. The combination of studio, gallery space and dwelling provides a unique living and working environment for the renowned artist couple Vadim Kosmatschof, sculptor, and Elena Koneff, visual artist.
5 Jun 2017
Haus D bei Wien, Österreich
Design: Caramel Architekten with architect Günther Litzlbauer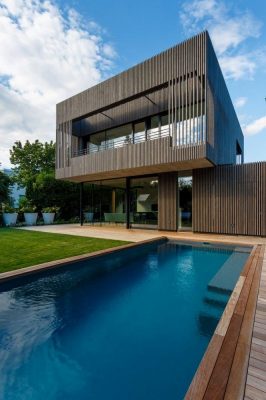 photo : Christian Sperr
Haus D Austria Property near Vienna
This new property is located in the middle of a block of buildings.
1 Feb 2017
Shopping Nord Graz
Design: BEHF Corporate Architects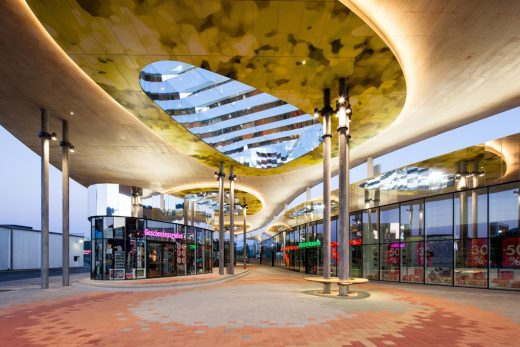 image Courtesy architecture office
Shopping Nord Graz
This retail building was awarded at 2016 AAP American Architecture Prize, in the category Architectural Design /Commercial Architecture.
9 Jan 2017
Autobahnmeisterei – Motorway Maintenance Centre Salzburg
Design: Marte.Marte Architekten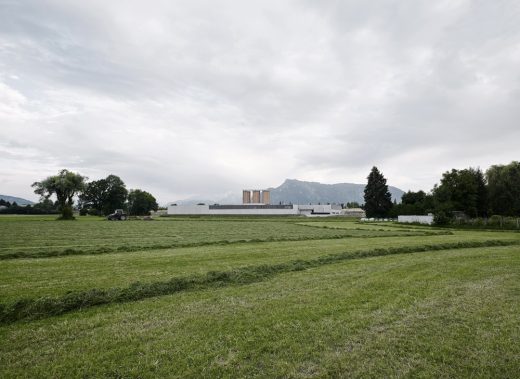 photo © Marc Lins
Motorway Maintenance Centre Salzburg
The design of this new building is strongly influenced by its direct access to the motorway. The centre is nestled into the sloping plain of the northwest quadrant.
9 Jan 2017
Tiwag KWB Control Center Silz Building, upper Inn Valley
Design: Bechter Zaffignani Architekten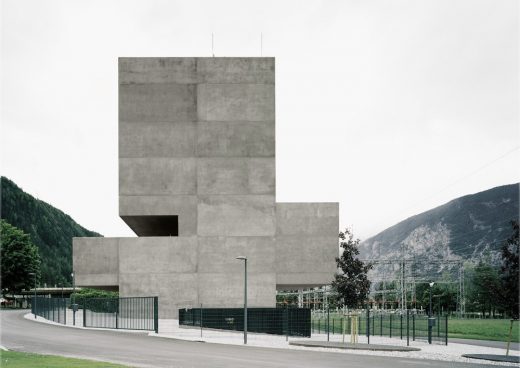 photo © Rasmus Norlander
Tiwag KWB Control Center Silz Building
The Tiroler Wasserkraft AG (Tiwag) operates most of the power plants in Tirol. Requiring a new building to meet the latest safety standards Tiwag launched a European-wide architecture competition 2011.
2 Jan 2017
Pfauengarten Development, Graz
Design: Pichler & Traupmann Architekten ZT GmbH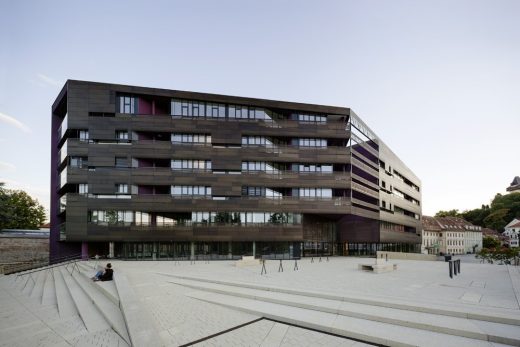 photo © Paul Ott
Pfauengarten Development Graz
This plateau is clearly separated from the town wall, but it also allows an unobstructed view into and across the Stadtpark in a way previously not possible.
More Austrian Architecture News online soon
Location: Austria, central Europe
Contemporary Vienna Architecture
New Vienna Architecture
Graz Local Transport Hub
Design: Zechner & Zechner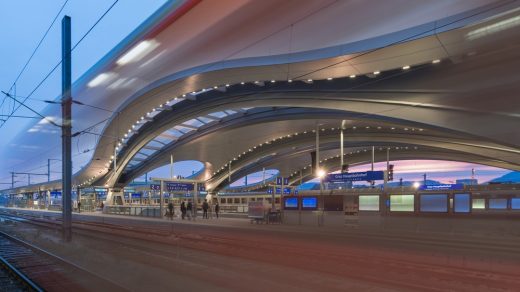 image : Foto Pierer.net
Graz Local Transport Hub Building
Useful resource for the Austrian capital city – https://www.wien.info/en
Comments / photos for the Austrian Architecture News page welcome