Croatia Buildings, Zagreb Architecture News, Property Designs Images, Architects Info
Croatian Architecture
Key Building Developments in Central Eastern Europe
post updated 8 November 2021
Croatia Architecture : links
Architecture in Croatia
We've selected what we feel are the key examples of Croatian Architecture. We aim to include buildings that are either of top quality or interesting, or ideally both. e-architect cover completed buildings, new building designs, architectural exhibitions and architecture competitions across Croatia. The focus is on contemporary Croatian buildings.
We have 2 pages of Croatian Architecture selections.
Croatian Architecture : A-J (this page)
Croatian Buildings : K-Z
Croatian Architecture News
Croatia Architecture News – latest additions to this page, arranged chronologically:
Zagorje Cottage, Kumrovec, Krapina-Zagorje County, northern Croatia – 9 Sep 2013
Design: PROARH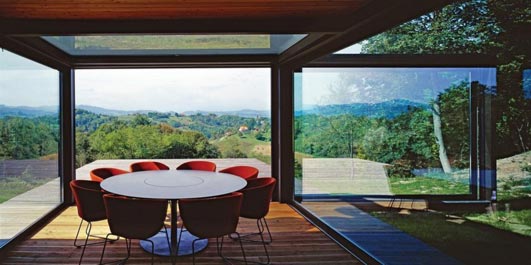 photo : Damir Fabijanic
The pre-existing traditional Zagorje cottage is situated on the green slopes near Kumrovec and was structurally and statically in poor condition. It was renovated taking into consideration the characteristics of local heritage and design. The pre-existing house form is kept, while the porch is substituted with a glass cube. To give the cottage southern exposure, the glass form is slided out of the main house volume, simultaneously forming an entrance area. Interaction of interior and exterior spaces is enabled by opening of the glass walls.
Croatian Bishops' Conference Building, Zagreb – 6 Sep 2013
Design: University of Zagreb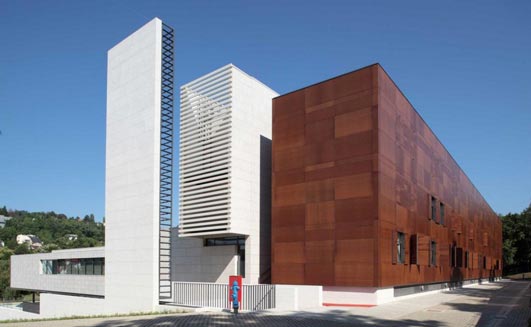 photo : Miro Martinic
The Croatian Bishops' Conference building is located in an attractive northern area of the city with gardens and green public areas. It is positioned on a gentle slope with a park and two individual buildings.
House U, Dubrovnik – 29 Jul 2013
Design: 3LHD Architects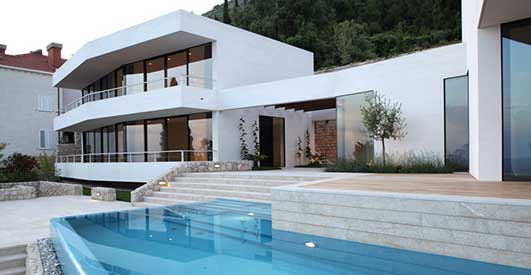 photo : Damir Fabijanić
The task was to design a house for parents and their adult children with their families. Therefore the plot contains two objects. One, a two storey object for parents, and the other, made up of two apartments for the children and their families.
Badel Block, Zagreb
Design: Arhimetrija Architects



image from architect
Badel Block Zagreb – 2 May 2013
The architects created this urban concept of the block, which contains multiple urban factors. The first one is main structure. This is a form which frames the block, starting from the Residential building in Šubideva Street, to a new residential building in Derenčinova Street.
Vacation House on an island in the Adriatic Sea, west Croatia
Architects: DAR612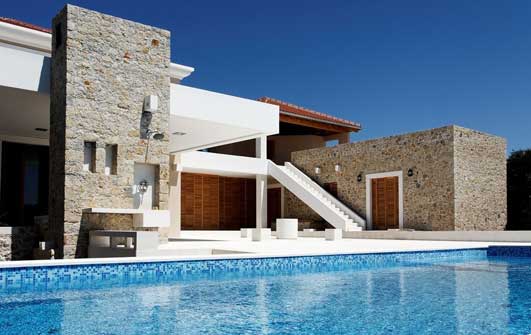 photo : Filip Šepetanc
Croatian Vacation House – 8 Feb 2013
This holiday house is located on a large flat site divided in the middle by a stone wall, thus creating two terraces: the upper terrace is used as a location for the house, and the lower for a garden. The house consists of a main two storey-high residential unit, and a detached one storey-high building with guest quarters.
Our House, Zagreb, north Croatia
DAR612



photo : Robert Leš
House in Zagreb – 6 Feb 2013
This residence, located on a steep site with clear views, is designed as a bent stretched out form with a flat roof. The site's slope is utilised for optimal design of residential units: on each level of the house there is a flat oriented on three sides, with an access to a terrace or a balcony.
Interpolation – Social Housing Development at the Edge of the City, Rijeka
Design: Zoka Zola Architecture + Urban Design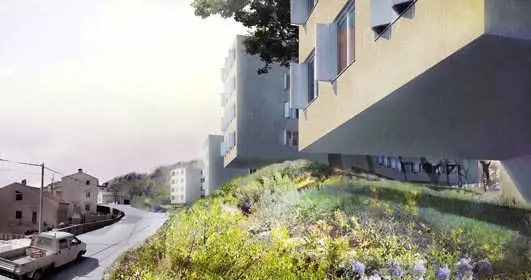 image from architects
Social Housing Rijeka – 4 Jan 2013
"The project is our design-research effort to create a habitat where people, buildings and nature are balanced in their coexistence. Our premise of a worth while effort: If for hundreds of years humanity focused on the ways to be independent of and eventually master nature, then during this century humanity will focus on the ways to come to an understanding on how to be part of nature".
Nest and Cave House, Opatija, Croatia
Design: Idis Turato



photo : Sandro Lendler
Nest and Cave House – 5 Dec 2012
The house and the place it renders are not structured solely by the slope onto which they are built (as it is the case with most villas in Opatija). Instead, it actively constructs the landscape and intertwines with it by laying down the ground level (landscape) and by placing on it an upper object which hovers above as a displaced level.
Bus Station in Osijek, Slavonia, eastern Croatia
Design: Rechner d.o.o., Osijek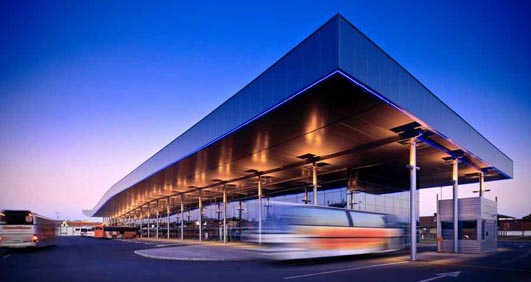 photo : Mario Romulic & Drazen Stojcic
Bus Station in Osijek – 16 Oct 2012
This building was constructed on the principle of public-private partnerships. The urban solution of the bus station building was in many ways defined by its placement in the urban tissue. The longitude of the city situated on the River Drava is reflected in the positioning of the bus station building on the parcel of land.
Exhibition of Emerging Croatian Architects, London + Zagreb
25 Apr – 4 May 2012



image from UB
"85 92 : emerging Croatian architects" will showcase work by some of the most exciting Croatian architects-in-training through projects from a variety of architectural fields.
Zagreb exhibition was at Ulica Kralja Držislava 12
London exhibition was at Croatian Embassy, London, W1T 6BN
Hotel Lone, Rovinj
3LHD architects, Zagreb



photo : 3LHD
Hotel Lone Croatia
The first design hotel in Croatia is situated in the Monte Mulini forest park, Rovinj's most attractive tourist zone, located in the immediate vicinity of the legendary Eden Hotel and the new Monte Mulini hotel. The surrounding grounds and parkland is a unique and protected region of the Monte Mulini forest on the Lone Bay.
Green Pavilion_Restaurant, Croatia
3LHD architects, Zagreb



render : Boris Goreta
Green Pavilion Restaurant
New Campus Borongaj Competition – Design Contest launched Nov 2010



picture from D-A-Z
Croatia Architecture Competition
Major Croatian Architecture
Croatian Architecture Projects, alphabetical:
123 Tower – Croatian Architecture contest
3LHD architects



image from 3LHD
Croatian building, Zagreb
Skyscraper to be tallest in Croatia
Adris Group Building, Zagreb
randic-turato architects



picture from architect
Adris Building Zagreb – Croatian Architecture Competition
Aula Ivana Pavla II, Rijeka, northwest Croatia
randic-turato architects



photograph from architect
Aula Ivana Pavla II
Bale Sports Hall, Istria : Architecture competition
3LHD Architects



photo : Damir Fabijanic
Croatian sports building
Building in Agaticeva Street, Rijeka
randic-turato architects



photo from architect studio
Rijeka Building
Business Center Miramare, Zagreb
3LHD architects



picture from architect firm
BC Miramare
Cascade commercial center, Zagreb
radionica arhitekture



render from architect
Cascade commercial center
GYMNASIUM 46° 09′ N / 16° 50′ E, Koprivnica
Studio Up



photograph from architect
Koprivnica Gymnasium
House K, Zagreb
3LHD architects, Zagreb



photo : Damir Fabijanic
House K Zagreb
House N
3LHD architects, Zagreb



picture : Damir Fabijanic
House N Croatia
More Croatian Buildings online soon
Location: Croatia, southeast Europe
Croatian Buildings
Firemen tragedy Memorial Croatia : design by radionica arhitekture



image from architect
Croatia Pavilion – Venice Biennale 2010 : 'The Ship'
More Croatian Building news online soon
Architecture in Countries close to Croatia
Bosnia and Herzegovina Buildings
Croatian architecture studio : 3LHD
Comments / photos for the Croatian Architecture page welcome