Wohnhaus Zellerndorf, Residential Architecture Austria, Home Images, Architects Design
House in Zellerndorf : Lower Austria Residence
Contemporary Home design by franz Architekten
post updated 24 Oct 2020 ; 3 Mar 2011
House in Zellerndorf
Design: franz, Wien
Photos: Lisa Rastl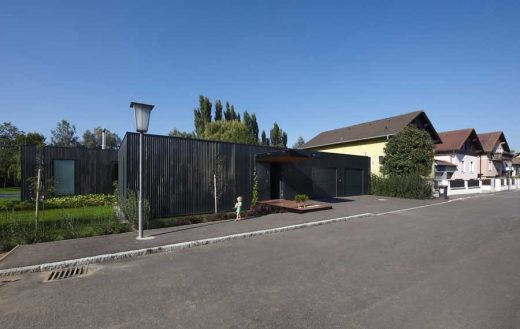 English text, (scroll down for German):
Zellerndorf House
streckhof reloaded
urban planning
The site is located in a settlement of detached single-family houses, characteristic for the 1970s. The traditional arrangement of functions for each storey: basement/garage; ground floor/living space; attic floor/ bedrooms; has been transformed into a linear order. the so called "streckhof", the original farm model for this area has been adapted by stringing together different functions in one floor.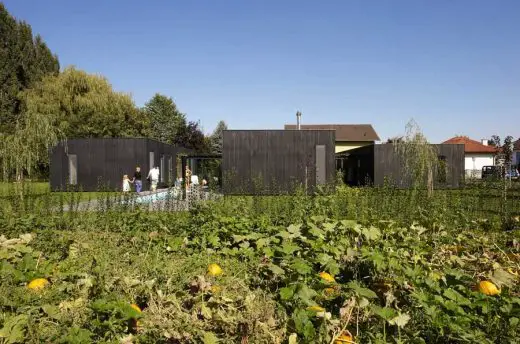 function
different functions are summarised in three structures similar to container. The mainentrance from the street is marked by a conopy which leads to the fully glazed passageway and ends in an overhang at the garden side. Garages and storage space is located in the first of three containers. The connecting passage to the second container acts as porch.
The living space, gets natural light from three sides and is situated in the second container. A vegetable garden is connected directly to the kitchen.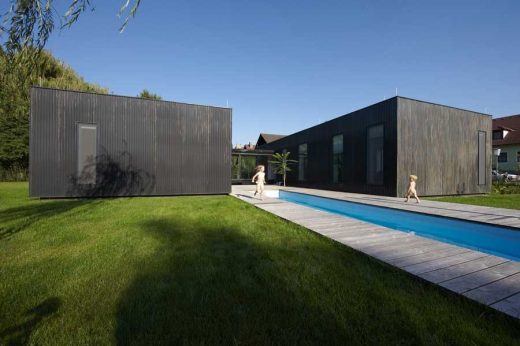 The third container implies the intimate areas, far off the street and the entrance area. Two east-orientated children's bedrooms share one bathroom lying inbetween. There's the parents bedroom orientated to the west.
The terrace with the elongated pool is framed by the last two buildings and thereby wind and privacy protected. Access is possible from the kitchen, the living room the hallway as well as the parents' bedroom.
The walkway consists of open and closed sequences that allow constant views into the half-open courtyards and each container. By planting both sides of the glazed passageway with vine the client, who is a hobby wine grower, gets his own piece of vineyard into his house.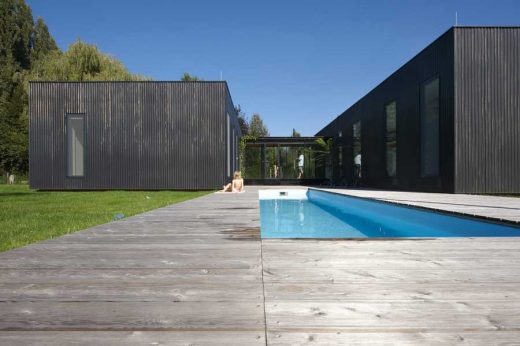 construction
To make sure that the client can build as much as he is able to on his own, the outsidewalls are planned as brick construction. Even the insulation and the facade made of acryl glass has been installed by the client's family. The roofconstruction consists of prefabricated timberelements with a foil sealing. The connecting passageway, also made of timber, acts as a bridge. Its facade consists of structural glazing without any mechanical fixing.
facility engineering
all living rooms are equipped with underfloor heating. The water is heated throuh a geothermical heating collector and two heat pumps. the fresh air is supplied via controlled ventilation with heat recovery. The swimming pool is heated by a solar collector on the rooftop.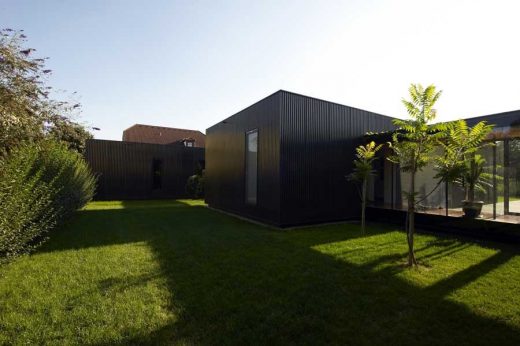 detached house (single family house) martin diem, lindenstraße 36, 2051 zellerndorf
architects
franz zt gmbh, schottenfeldgasse 41-43/2/30, 1070 wien www.franz-architekten.at, [email protected], 0676 – 897 107 102
planning
Nov 2005 – Mar 2006
construction
Apr 2006 – Apr 2009
German text:
Zellerndorf Haus
streckhof reloaded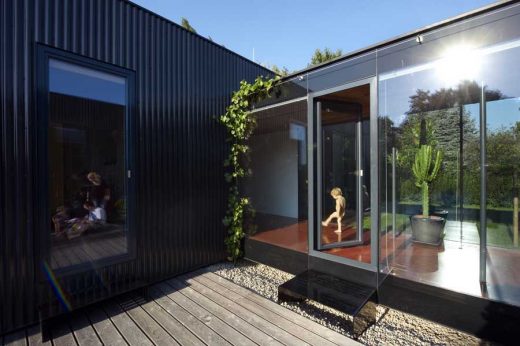 städtebau
der bauplatz liegt in einer typischen siedlung aus den 70er jahren mit freistehenden einfamilienhäusern. die "traditionelle" geschoßweise anordnung der funktionen mit keller/garage, erdgeschoß/wohnen und dachgeschoß/schlafen wird in einer linearen eingeschoßigen struktur aufgelöst. die ursprüngliche struktur der landwirtschaftlichen streckhöfe mit ebenerdiger aneineranderreihung der einzelnen funktionen wird fortgeführt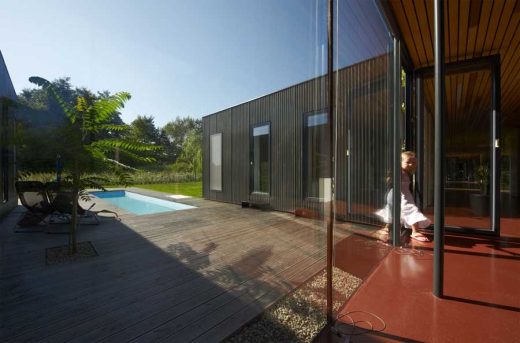 funktionen
die unterschiedlichen funktionen werden in drei containerartigen baukörpern zusammengefasst. der verglaste verbindungsgang markiert den straßenseitigen eingang mit einem auskragenden vordach und mündet in einer auskragung auf der gartenseite. im ersten unbeheizten bauteil sind die garage und ein großer abstellraum für gartengeräte untergebracht. der verbindungsgang zum zweiten bauteil übernimmt die rolle eines großzügigen windfangs.
der wohnraum ist von drei seiten belichtet. von der küche gelangt man in den gemüsegarten, der von den ersten beiden container gefasst wird.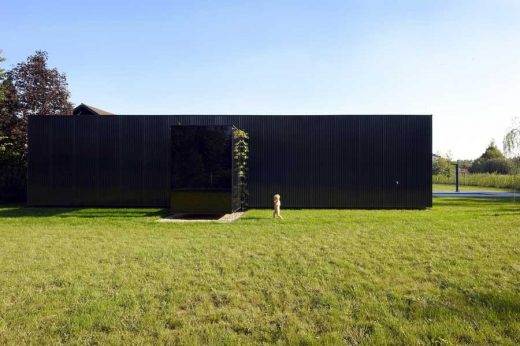 im letzten baukörper befinden sich mit großer distanz zu straße und eingang die intimen schlafbereiche – auf der westseite für die eltern, auf der ostseite mit zwei kinderzimmern und dazwischengestaltenem kinderbad.
die terrasse mit einem langgestreckten pool liegt sicht- und windgeschützt zwischen dem zweiten und dritten container und ist zur abendsonne nach westen offen. der zugang zur terrasse ist von küche, wohnraum, gang, elternbad und schlafzimmer aus möglich.
der verbindungsgang besteht aus offenen und geschlossenen sequenzen, die immer wieder den blick in die halboffenen innenhöfe und auf das eigene gebäude ermöglichen. die glasgänge sind zu beiden seiten mit weinreben beplanzt. der bauherr ist hobby-weinbauer und hat so ein stück weingarten mit den signifikanten langen rebenreihen in seinem haus.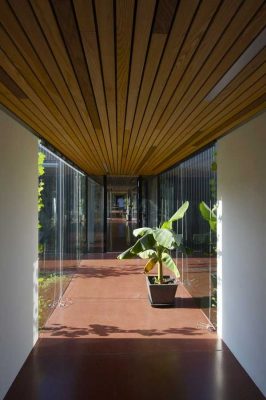 konstruktion
um einen hohen eigenleistungsanteil zu ermöglichen, wurden die außenwände als ziegelwände ausgeführt. auch die steinwolledämmung und die transparente plexiglasfassade wurde von der familie des bauherrn in eigenleistung ausgeführt. das dach besteht aus vorgefertigten holzelementen mit folienabdichtung. die verbindungsgänge sind in holzbauweise als brücken ausgeführt, die seitlichen verglasungen mit nurglasstößen ohne mechanische befestigung geklebt.
haustechnik
alle wohnräume sind mit einer fußbodenheizung ausgestattet. die warmwasserbereitung erfolgt über einen erdwärme-flächenkollektor und zwei wärmepumpen. die frischluftversorgung erfolgt über eine kontrollierte wohnraumlüftung mit wärmerückgewinnung. das schwimmbecken wird über einen flachkollektor am dach beheizt.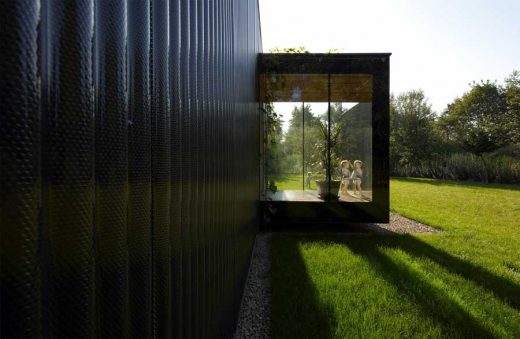 Photographs : Lisa Rastl
einfamilienhaus
martin diem, lindenstraße 36, 2051 zellerndorf
architekten
franz zt gmbh, schottenfeldgasse 41-43/2/30, 1070 wien www.franz-architekten.at, [email protected], 0676 – 897 107 102
planung
Nov. 2005 bis März 2006
ausführung
April 2006 bis April 2009
House in Zellerndorf images / information from franz zt
Location: Zellerndorf, Austria, central Europe
Austrian Houses
Contemporary Homes in Austria
house e – single family house, Linz
Design: Caramel Architekten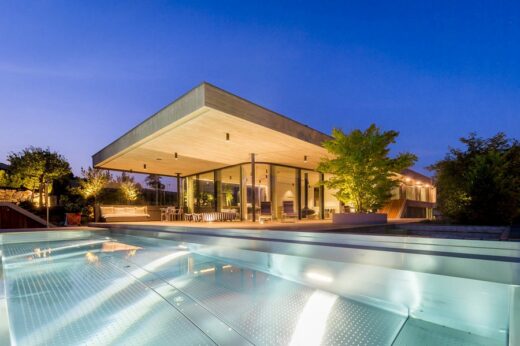 photo : Martin Pröll and Caramel
Upper Austria Property
Deluxe Mountain Chalets, Styria
Design: Viereck Architects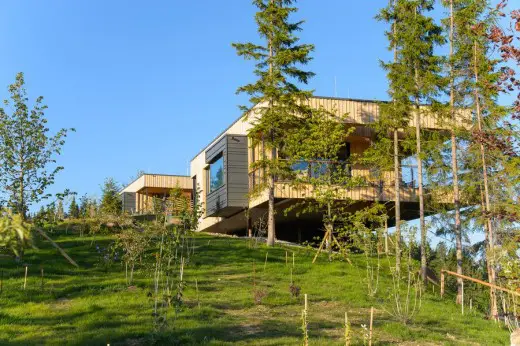 photograph : Andreas Tischlerl
Deluxe Mountain Chalets Styria
Villa S, Upper Austria
Design: TWO IN A BOX Architects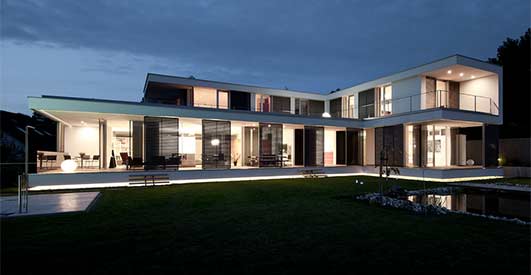 photo : Simon Bauer
Villa S
Villa Upper Austria
Design: TWO IN A BOX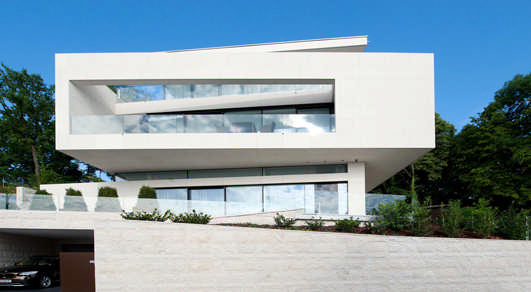 photo from architects
Villa Upper Austria
Austrian Buildings
Contemporary Architecture in Austria
Town Town Office Tower, Vienna
Design: COOP HIMMELB(L)AU
Town Town Tower
Bergisel Ski Jump, Innsbruck, Tyrol
Design: Zaha Hadid Architects
Bergisel Ski Jump
EdelWeiss Residences, Katschberg
Design: Matteo Thun & Partners
EdelWeiss Residences
Cloudtower, Krems-Land, Lower Austria
Design: the next ENTERprise
Grafenegg Pavilion
Comments / photos for the Zellerndorf House design by franz Architekten page welcome