Portland State University Architecture Event, PSU Department of Architecture, USA
Portland State University Events : Architecture
Portland State University Department of Architecture Information
Apr 18, 2012
Portland State University Events
Jeremy Till And Sarah Wigglesworth To Speak In Inaugural Lecture Series : "Firsts"
PSU Department of Architecture Events
Respected British architects and educators Jeremy Till and Sarah Wigglesworth will deliver the fourth and fifth presentations in our "Firsts" inaugural lecture series. Jeremy Till will speak on Thursday, April 19, and Sarah Wigglesworth will lecture the following day, Friday, April 20, both at 7pm in the Shattuck Hall Annex on the Portland State University campus.
Jeremy Till is currently the Dean of the School of Architecture and the Built Environment, University of Westminster, London, and has recently been appointed the head of the London art and design school Central St. Martins. An architect and educator, Till curated the British Pavilion at the 2006 Venice Architecture Biennale and is the only person to be twice awarded the RIBA President's Award for Research.
He is the author of Architecture Depends (2009), a series of polemics and reflections that call attention to the gap between what architecture actually is—contingent on many outside forces—and what architects seem to want it to be—autonomous and pure. As Till succinctly puts it, "Architecture, in all its dependency, has to remain open." Jeremy Till's presentation will be titled First Impressions: Escaping the Fountainhead."
Siobhan Davies Studios, London, UK



photo © Richard Bryant
Sarah Wigglesworth founded Sarah Wigglesworth Architects in London in 1994. As an architect, Wigglesworth strives to amplify the representation of women—as clients, users and architects—in the shaping of the built environment. Her work has been published and exhibited internationally, and she has lectured worldwide.
Wigglesworth's work is acknowledged as a rising influence in British architecture: in 2004 she was awarded an MBE for services to architecture, the same year that the firm's "Straw House" at 9 Stock Orchard Street in London (Till and Wigglesworth's home), won two RIBA awards for its innovative sustainability technologies—many of which were being used in an urban context for the first time. Her recent book Around and About Stock Orchard Street was released in 2011. She is Professor of Architecture at the University of Sheffield. Sarah Wigglesworth's talk will be called "Seven Firsts: Work by Sarah Wigglesworth Architects."
Cremorne Riverside Centre, London, UK



image from architects
The series continues in May 2012 with a lecture by artist Paul Pfeiffer. Lectures in the series begin at 7pm in the Shattuck Hall Annex at Portland State University (at SW Broadway and Hall Streets) and are free and open to the public.
FRIDAYS@4 LECTURES
Most Fridays at 4pm, all students, faculty and staff in the Department of Architecture gather together to present their research, and they invite artists and architects in the community to share their professional work. The Spring 2012 term brings a selection of faculty and experts from both inside and outside the Department. Our Fridays@4 presentations occur somewhat less frequently than usual this term due to a busy Shattuck Hall Annex schedule, including the MeasuringUP Symposium on May 10 and 11 and the Open Engagement conference on May 18.
May 4: Jeff Kovel of Skylab Architects
May 25: Assoc. Professor of Architecture Sergio Palleroni
Jun 1: A summary of the MeasuringUP Symposium. Asst. Professor of Architecture Kyle Konis
MEASURINGUP SYMPOSIUM SPEAKERS ANNOUNCED
We are pleased to announce the schedule for the upcoming MeasuringUP Symposium, May 10-11, 2012. The program features a lively mix of experts in the field of sustainable design and building performance, including lectures by Thomas Auer of TRANSSOLAR, Michael Murray of Lucid Design Group, Iain Walker of the Lawrence Berkeley National Laboratory, Judith Heerwagen of the U.S. General Services Administration, and Cole Roberts of ARUP.
Panel discussions with leaders in the field include "Refining Design Through Examination of Buildings in Use" and "Scaling Up Effective Strategies to Transform the Market." The day wraps up with a happy hour celebration for registered attendees. Continuing education credits are also available through the AIA CES program.
The full schedule and list of speakers and panel discussion participants can be viewed at www.pdx.edu/architecture/measuringup.
DEPARTMENT OF ARCHITECTURE NEWS : SPRINGTIME IN PARIS
Who doesn't love Paris in the spring? Twelve graduate students and three senior architecture professors (Department Chair Clive Knights, professor Rudy Barton, and associate professor Sergio Palleroni) in the PSU Department of Architecture got a taste of the architectural academic life in the City of Light earlier this term.
In the first phase of a cross-cultural collaboration with the Ecole Speciale d'Architecture de Paris, made possible by a major grant awarded by the Partner University Fund, the students and professors spent eight days sightseeing and participating in a design charrette with their Parisian counterparts. Better still, the collaborative design work being done by the two schools, co-led by Sergio Palleroni of PSU and Marie Aquilino of the Ecole, will ultimately result in a housing and learning center in Haiti for children ages five to 18.
The next phase of the project starts today, when Sergio sets off for Haiti to visit the planned site of the center with the same group of students from the Ecole Speciale d'Architecture.
Follow this blog to stay abreast of the students' work during this three-year project.
GREEN PORTABLE CLASSROOM TO BE FEATURED AT GREEN BUILD 2012 IN SAN FRANCISCO
Assistant professor of architecture Margarette Leite recently received the news: a prototype of the sustainable portable classroom design will be featured at Green Build 2012, the international expo and conference on sustainable building held each year in San Francisco. Leite also recently announced that three buyers have begun the process of purchasing the units, which will be placed in schools and other institutions in Oregon and Washington, to be named in the near future.
Spearheaded by Leite, Sergio Palleroni, and a dedicated group of PSU architecture students, this Oregon Solution project, addresses the challenge of creating healthy, sustainable and affordable structures for overcrowded schools. Shown at right, with a model of the classroom, are two of the students who have been actively engaged in this project, Caty Skogland and Matt Sedor, showing off the design at the recent Planet Under Pressure event at OMSI.
JUAN HEREDIA GAVE KEYNOTE TALK AT THEORETICAL CURRENTS II: ARCHITECTURE AND ITS GEOGRAPHICAL HORIZONS CONFERENCE IN LINCOLN, UK
Assistant professor of architecture Juan Heredia was featured as the keynote speaker of the Theoretical Currents II: Architecture and Its Geographical Horizons conference at the University of Lincoln, UK in early April. Titled "Invention of America and Its Spatial Manifestations," his lecture explored the relationship between the so-called discovery of America and important transformations in art, architecture and cities at a worldwide scale during the following centuries.
Feb 10, 2012
PSU Department of Architecture Event
Portland State University Event
Fridays@4 with Andy Cao of Cao | Perrot Studio, February 10, 2012
"Incidental Placemaking: Beauty and Dreams"
We are pleased to welcome Andy Cao of Cao | Perrot Studio as our speaker at Fridays@4 this week. Andy Cao is the founder and design partner of Cao | Perrot Studio, Los Angeles and Paris. Andy is a recipient of the Rome Prize Fellowship in Landscape Architecture at the American Academy in Rome and a Loeb Fellow at Harvard University Graduate School of Design.
Drawing on diverse cultural backgrounds, Cao | Perrot Studio create hybrid environments, blending art and landscape to make a place for dreaming. The projects, both temporary and permanent, cross commercial, artistic, and residential boundaries, and vary in size from intimate courtyards to large-scale public parks.
This lecture is sponsored by Portland State University Department of Architecture with support from Atelier Dreiseitl + PLACE.
4pm, Friday, February 10
Shattuck Hall Annex
Portland State University
1914 SW Park Avenue (at Broadway and Hall)
www.pdx.edu/architecture
Oct 14, 2011
PSU Department of Architecture Events – 2011
Portland State University Events
Fridays @ 4: Human Factors in Buildings
Friday, 14 Oct 4pm
A presentation by new PSU Department of Architecture Assistant Professor Kyle Konis
Join us as our newest faculty member, Kyle Konis, presents his work and research in sustainable building practices. Shattuck Hall Annex, SW Broadway & Hall Streets, Portland. Free and open to the public.
Forms and Forces
Thursday, 20 Oct 7pm
"Firsts" Lecture by Distinguished Guest John Ochsendorf.
In the second installment in our "Firsts" lecture series, John Ochsendorf, associate professor of architecture and civil and environmental engineering at Massachusetts Institute of Technology (MIT), will present a visual overview of his research and design work on the technology of historical buildings (including some architectural secrets in Portland), as well as several award-winning designs for new buildings around the world. Shattuck Hall Annex, SW Broadway & Hall Streets, Portland. Free and open to the public.
Fridays @ 4: Portland's Peculiar Orientation: A Stroll through the Streets, Buildings and
Spaces in Portland's Queer History
Friday, 21 Oct 4pm
A presentation by Master of Architecture students Dustin Buzzard and Klara Jolesz.
Shattuck Hall Annex, SW Broadway & Hall Streets, Portland. Free and open to the public.
School of Fine and Performing Arts Alumni Reunion
Sunday, 23 Oct 1 – 4pm
The School of Fine and Performing Arts welcomes alumni and friends to this festive event.
Tour the beautifully renovated Shattuck Hall at 2pm, enjoy an open house and talks by the departments of Architecture, Art, Music and Theatre & Film, and get reacquainted with classmates, faculty and staff, finishing with a reception at 3:30pm. Please RSVP by October 17. Call (503) 725-3106 for more information.
Department of Architecture, Portland State University
P.O. Box 751
Portland, OR 97207
US
Location: Portland, OR 97207, USA
American Architecture
Another Portland architecture event on e-architect:
"Women Reshaping the World"
2 – 4 May 2012
The International Living Future Institute is pleased to announce its keynote speaker lineup for its sixth annual Living Future unConference. A sold-out event since 2009, this year's theme, "Women Reshaping the World," is rapidly gaining traction as the must-see program for green building practitioners and sustainability-focused thought leaders.
Portland architecture event, : Living Future 2012 unConference
Other Oregon University Department of Architecture Events on e-architect:
University of Oregon Department of Architecture



image from KTISMAjournal
University of Oregon Department of Architecture
Vanport Building at Portland State University, 4th Avenue and Montgomery Street
Design: SRG Partnership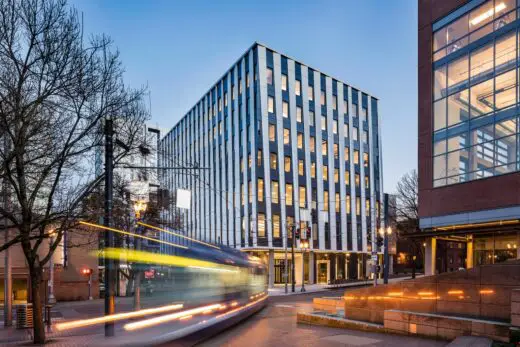 photo : Lincoln Barbour
Vanport Building Portland State University
California Architecture : building images
SCI-Arc Architecture Events



photo : Alex Gaultier
SCI-Arc Architecture Events, LA : Los Angeles Architectural Lectures + Exhibitions
American Architecture Events – Selection
Center for Architecture in New York Events
Architecture and the City Festival San Francisco
Comments / photos for the Portland State University Architecture Events page welcome