Vienna architecture news 2023, Austrian building developments, Viennese construction design, AT architects images
Vienna Architecture News
Contemporary Architectural Developments in Austrian capital, central Europe Built Environment Updates
post updated 22 August 2023
Vienna Architecture Design – chronological list
Vienna Architecture Walking Tours by e-architect
Vienna Architecture News 2023
Viennese Architectural News
12 August 2023
Atzgersdorf Schools Campus, Liesing District
Design: Baumschlager Eberle Architekten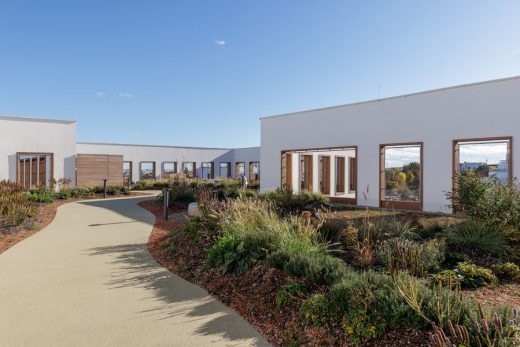 photo : Maximilian Haidacherd
Atzgersdorf Schools Campus
An educational masterstroke. The new schools campus was designed to future-proof the social infrastructure of Vienna's Liesing district and play its part in the provision of schools and kindergartens of the very highest quality. The city's brief required a low-tech building with high levels of energy and economic efficiency in both operation and maintenance.
7 August 2023
G13 – Umbau Wohnhäuser Gallgasse, Gallgasse, 13th district
Architects: AllesWirdGut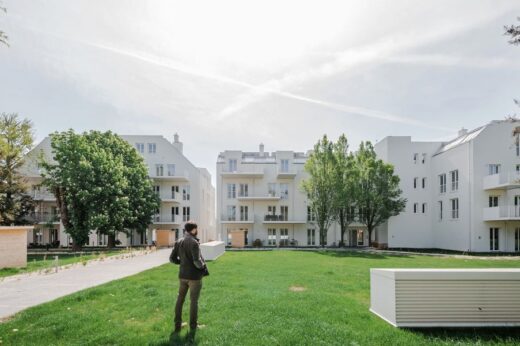 images : AllesWirdGut / Guilherme Silva Da Rosa
G13 – Umbau Wohnhäuser Gallgasse
Light, air, and green views all around define the ambience of an apartment estate in Gallgasse in Vienna's 13th district. On a park-like site, AllesWirdGut transformed an ensemble of existing older spaces, last refurbished and reshaped in the 1980s, into modern living spaces.
6 June 2023
Austro Tower, 3rd District – the fifth highest building in Austria.
Design: ATP architects engineers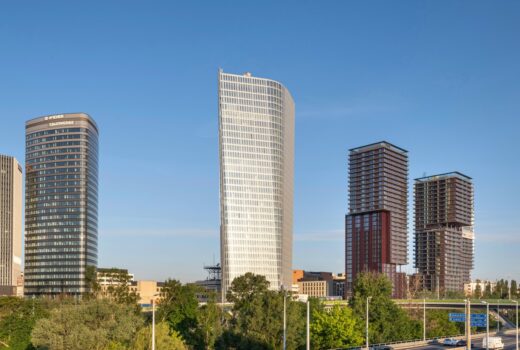 photo : SORAVIA
Austro Tower Vienna
With a height of around 136 m and 38 stories, the new Austro Tower is the highest tower on the site between TownTown business district and the project "TrIIIple" in Vienna's 3rd District and also the fifth highest building in Austria. Its above-ground gross floor area of around 43,400 m² contains about 28,000 m² of office space as well as a conference center and restaurants.
23 Jan 2023
Penthouse O
Design: destilat design studio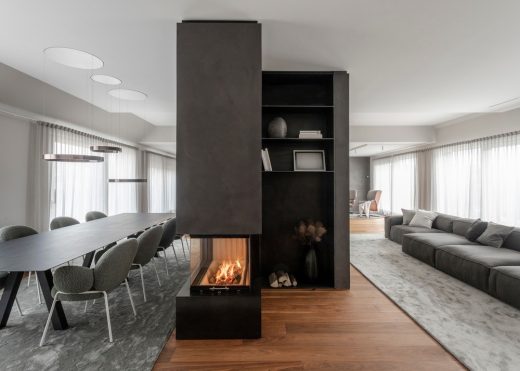 photo : Jürgen Grünwald
Penthouse O, Vienna
More contemporary Vienna Architecture News on e-architect soon
Vienna Building News in 2022
20 Sep 2022
Marina Tower
Design: Zechner & Zechner ZT GmbH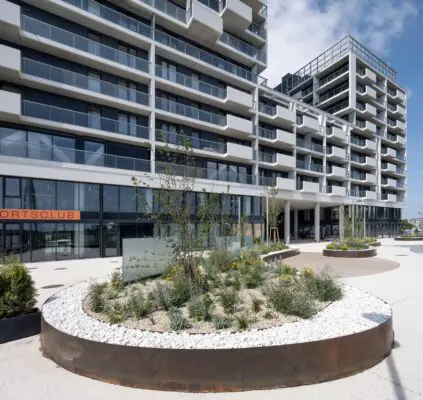 photo : Pierer.net
Marina Tower Vienna Apartment Building
The 138m high Marina Tower building has now been completed. A high-level multi-lane road and a railway line form a barrier to the adjacent districts, which can only be crossed by bridges at a few points.
10 Mar 2022
Terra Mater – Sustainable Wooden Office Pavilion in Vienna, Hietzing, 13th District
Design: Berger+Parkkinen Associated Architects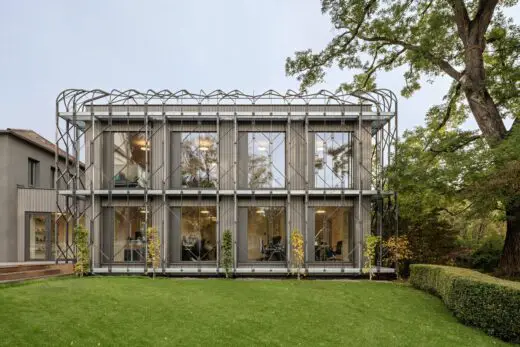 photo © Hertha Hurnaus│Berger+Parkkinen Architekten
Terra Mater Factual Studios Vienna Design
The two-story new wooden building connects to the existing extension and thus develops a comprehensive presence in the garden. This is achieved through two clear structures: the constructive wooden building as a space-creating element and the surrounding shell in the form of the metal Rank construction.
More contemporary Vienna Architecture News on e-architect soon
Vienna Architecture News 2021
28 May 2021
BEL & MAIN
Design: Delugan Meissl Associated Architects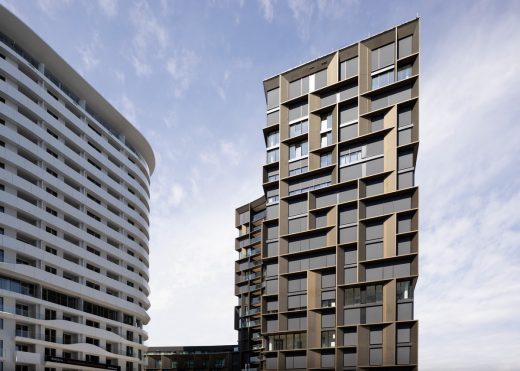 photo : Paul Kranzler
BEL & MAIN Vienna
Starting from a square that is located opposite the 21er Haus, the internal courtyard develops as a sequence of increasingly private external spaces. The ground floor zone is home to a restaurant, meeting rooms and the general public and leisure areas of the hotel as well as a kindergarten, whose private open space is located on the roof of the base.
20 May 2021
Gudrunstraße Business Apartments
Design: BFA x KLK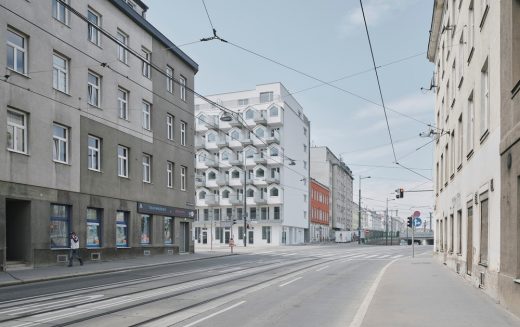 photograph : David Schreyer
Gudrunstraße Business Apartments
The Gudrunstraße project offers fifty business apartments and six offices were constructed in a new building on an empty lot in Vienna. The first phase focused on supporting work for the necessary rededication.
4 Mar 2021
Gösserhalle, Favoriten
Design: AllesWirdGut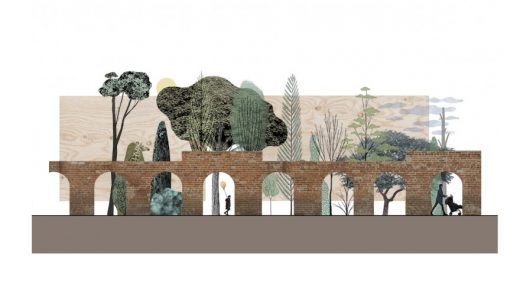 visualization : expressiv
Gösserhalle Vienna, Favoriten Building
Of brewing and building—the history of the so-called Gösserhalle in Favoriten, Vienna's 10th district, is a checkered one. Ever since its construction in 1902, this industrial building, originally used for the storage of beer in barrels and most recently repurposed as an event venue, has, with its distinctive façade with clinker-clad wide arches, defined the character of its urban quarter. This identity-forming brickwork structure is now taken into the future by the design of AllesWirdGut.
25 Feb 2021
Red Emma
Design: ARGE Gerner Gerner Plus AllesWirdGut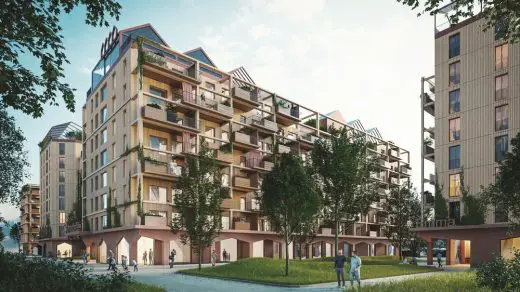 image : ARGE Gerner Gerner Plus AllesWirdGut
Red Emma Housing
The Red Emma is a potato cultivar. Inspired by its red-skinned namesake, which used to be cultivated on these grounds, the concept of the residential quarter situated in the 22nd district of Vienna places the focus on regional and social rootedness.
More current Vienna Architecture News online here soon
Vienna Architecture News 2020
18 Nov 2020
Library and seminar centre at BOKU, Gregor-Mendel-Straße 33, 1180 Wien, Austria
Design: SWAP Architekten with DELTA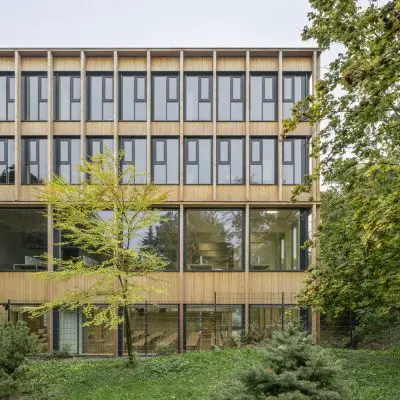 photograph © Hertha Hurnaus
Library and seminar centre at BOKU
The campus of the University of Natural Resources and Life Sciences (BOKU) in Vienna was extended by a timber construction with 3,000 m² of usable floor area. The new building offers space for a seminar centre, a library, offices for several departments and shared areas.
8 Oct 2020
Housing project "Der Rosenhügel", border of Liesing and Hietzing
Design: ARGE Berger+Parkkinen architects with Christoph Lechner & Partner, Vienna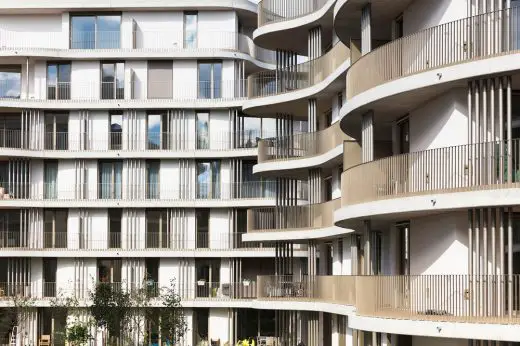 photograph : Daniel Hawelka
Der Rosenhügel Wien
The housing project "Der Rosenhügel" is located on the former site of the Rosenhügel film studios on the border of Liesing and Hietzing in Vienna. To emphasize the historical past of the site, the seven houses with 204 privately financed condominiums are named after international film studios.
8 Oct 2020
Holzwohnbau Seestadt Aspern Wien
Design: Berger+Parkkinen with querkraft architects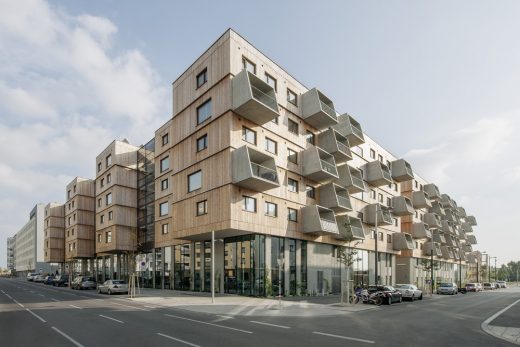 photograph © Herta Hurnaus
Holzwohnbau Seestadt Aspern Wien
A sequence of parallel, scaled different structures uses the large area of the building site in the southeastern part of the Seestadt Aspern. The complex with a total of 213 apartments and eight shops appears to consist of a group of clearly recognizable individual wooden houses.
8 Sep 2020
KAP – The Kapellenhof Estate (1220 Vienna) – 450 Living Units, Kapellenweg
Architects: ARGE AllesWirdGut | feld72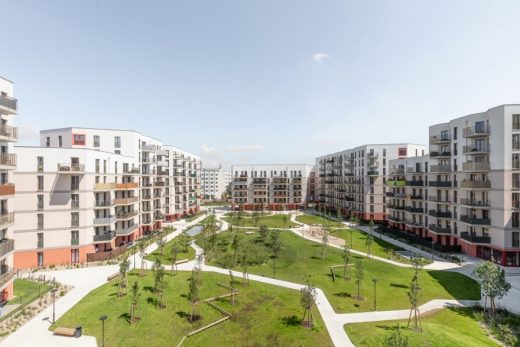 image courtesy of architects office
Kapellenhof Estate Vienna housing
Uniquely situated around a spacious urban grove on Kapellenweg in Vienna's 22nd district is a residential estate which, conceptually and aesthetically, is modeled on the municipal housing of the traditional Viennese Gemeindebau. Conceived as a large courtyard estate, a clear and self-confident ensemble emerges: the Kapellenhof.
2 July 2020
Northern Railway Station
Architects: AllesWirdGut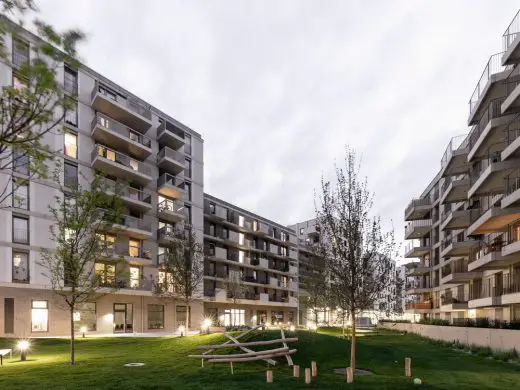 photo : tschinkersten Fotografie
Northern Railway Station Vienna
A residential and business project on the premises of the former Northern Railway Station, in one of Vienna's most exciting urban development areas.
4 June 2020
House B – Addition, not Demolition, Klosterneuburg
Architects: smartvoll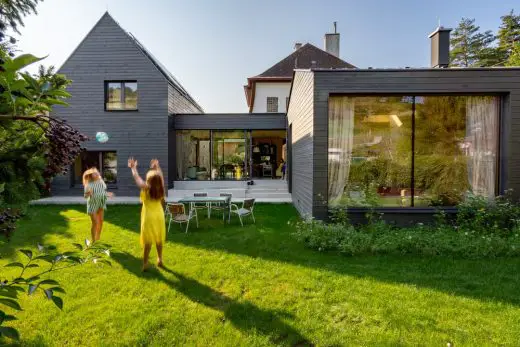 photography : Dimitar Gamizov
House B Addition in Klosterneuburg
An example of how the unbridled will of a family not to tear down the old house has inspired the new architecture in the most positive way. Adding instead of demolishing has become a design mantra due to the vigorous desire to preserve.
30 June 2020
Gloggnitz School Center
Design: Dietmar Feichtinger Architectes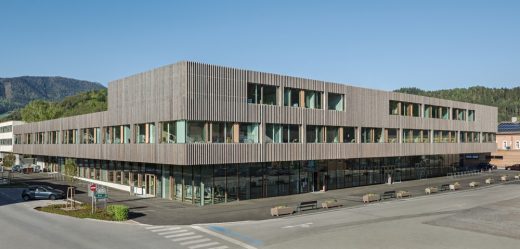 photo © Hertha Hurnaus
Gloggnitz School Center in Neunkirchen District
Gloggnitz is a municipality with 6000 inhabitants. 80 km southwest of Vienna, it lies very picturesquely at the foot of the Rax in the Austrian Prealps.
20 May 2020
Sechser Heterotopic Nightclub
Architects: Söhne&Partner Architects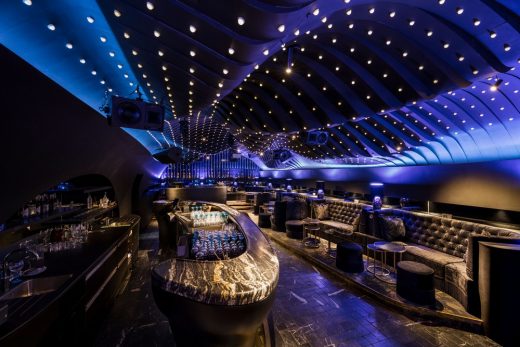 photo : Severin Wurnig
Sechser Nightclub Vienna
To create a new cosmopolitan nightclub the architectural office transformed two underground floors of former Palais Palffy nightclub.
10 Mar 2020
1,000,000 Built Sqm of Retail Space
Design: BEHF Architects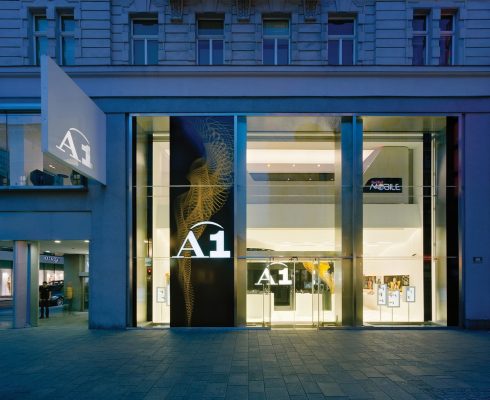 A1, Deutsche Bank – photo © Bruno Klomfar
1,000,000 Built Sqm of Retail Space in 24 Countries
This architectural project started with an assignment to design the LIBRO branches, which led to the formation of BEHF Architects 25 years ago. Since then 2,193 projects have been successfully completed, including 27 rollouts with over 1,300 branches in 24 countries.
17 Feb 2020
Train Station Aspern
Design: Zechner & Zechner ZT GmbH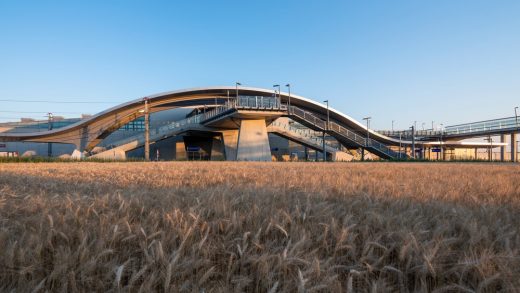 photograph : Pierer.net
Train Station Aspern
As part of the expansion of the Vienna – Bratislava railway line, the Aspern train station was built, which forms a mobility hub for the new Aspern district together with the adjacent underground station.
9 Feb 2020
Wellness Pavilion Private Spa in Hinterbrühl
7 Feb 2020
Technologiezentrum tz2 Seestadt in Vienna
5 Feb 2020
Industrial Kitchen, 23rd district
Design:ATP architects engineers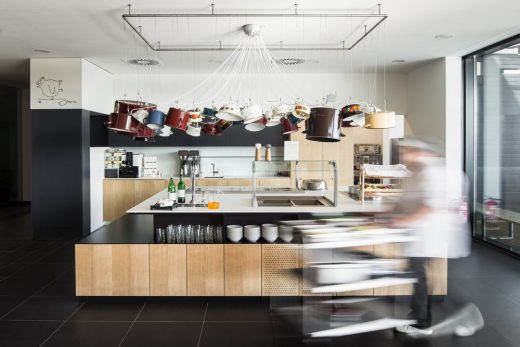 photography : ATP/Becker
magdas Industrial Kitchen in Vienna
A new building for magdas Social Business, a subsidiary of Caritas in the Archdiocese of Vienna.
25 Jan 2020
Donaumarina Tower
Design: Powerhouse Company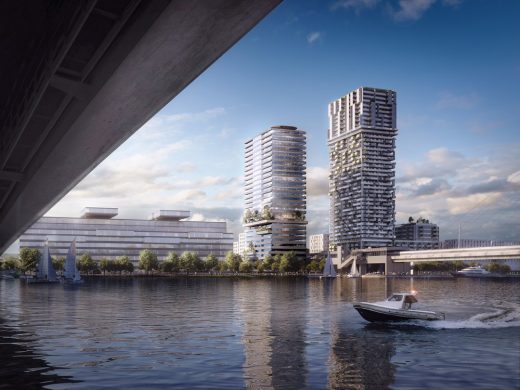 image from architecture office
Donaumarina Tower Building
Developer BAI competition entry: ten of the largest architecture offices in the world invited to design a new landmark office building in the Donaumarina district in Vienna.
More contemporary Vienna Architecture News on e-architect soon
Vienna Architecture News 2019
9 Nov 2019
The Icon Vienna, Office Towers
5 Oct 2019
KaDeWe Department Store
7 May 2019
Leopold Apartments, Pazmanitengasse
Design: GERNER GERNER PLUS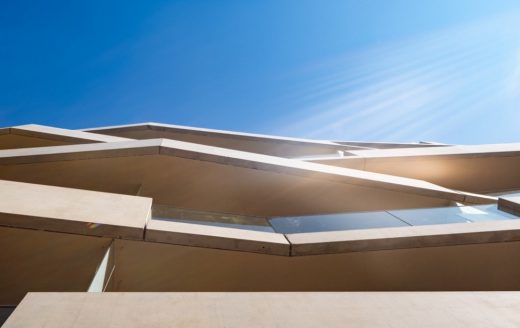 photograph © Matthias Raiger
Leopold Apartments in Pazmanitengasse
This new residential building offers street-side balconies, which create a lively façade structure thanks to their buckling and distinguished glass and concrete design elements, contribute to the development of the typical local lane, whose name goes back to a former dairy run by the Pazmanite convent.
More new Vienna Architecture News welcome for consideration
Viennese Architectural Updates 2018
13 Nov 2018
House by the Park, Sonnwendviertel East
Design: feld72 Architekten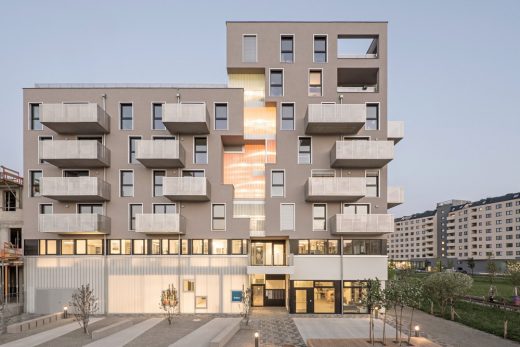 photography © Hertha Hurnaus
House by the Park
In the immediate vicinity of the new Vienna central station, the Sonnwendviertel East is rising along the Helmut-Zilk-Park, based on a cooperative master plan, a district of diverse uses.
5 Jul 2018
World Museum, Vienna, Austria
Design: Hoskins Architects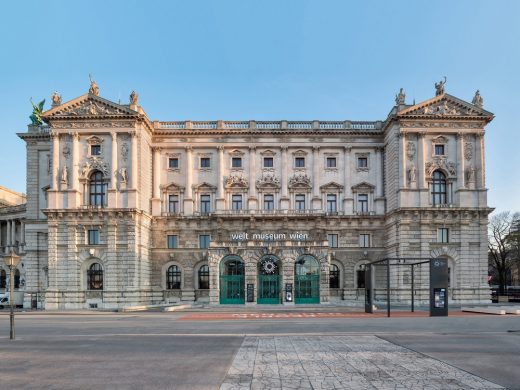 photography © Pierer.net/ARGE Ralph Appelbaum Associates/Hoskins Architects
World Museum Vienna Building
Following an international open competition in 2013, Hoskins Architects – in collaboration with Ralph Appelbaum Associates – were appointed to redevelop the Weltmuseum Wien's exhibition and visitor facilities. The 7,500m² museum is situated in the historic Hofburg Palace in Vienna and includes 2,400m² of permanent exhibits and 1,400m² of temporary exhibition spaces.
7 Jun 2018
Nordbahnhof High-rise Building
Design: AllesWirdGut, architects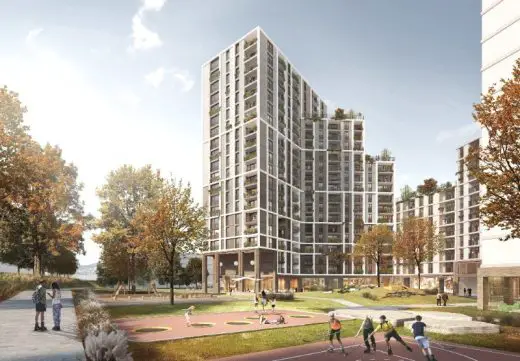 Rendering: spiritpixel – Simonicek / AllesWirdGut
Nordbahnhof High-rise Building
The structure of the new building concentrates on the edge around a freespace in the middle, in accordance with the urban planning concept, which results in a correspondingly high density with a high building mass.
22 Apr 2018
Schönbrunn Zoo Aquarium, Vienna, Austria
Design: 3XN & GERNER GERNER PLUS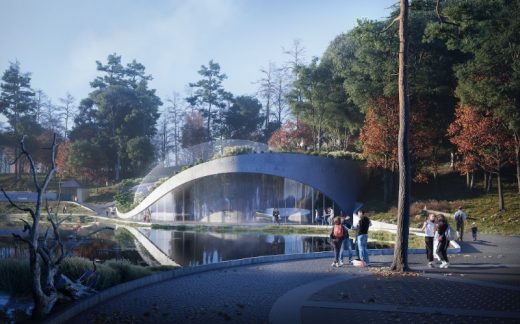 rendering : 3XN
Schönbrunn Zoo Aquarium
The design for an aquarium by 3XN and GERNER GERNER PLUS manifests itself as elegant, simple and mysterious, lying across the landscape like a great veil.
More current Vienna Architecture News welcome for submission to e-architect
Viennese Building Design Updates 2017
22 Dec 2017
Telegraf 7 Building, Lehargasse
Design: BEHF Architects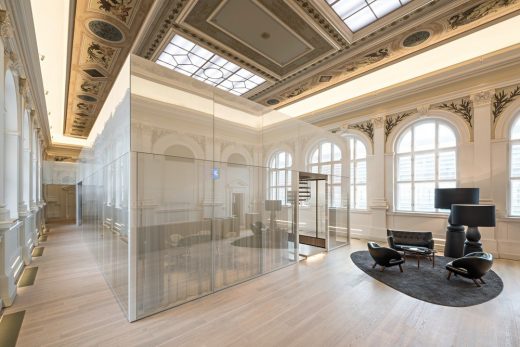 photograph : Hertha Hurnaus
Telegraf 7 Building in Vienna
BEHF Architects has received five prestigious architecture awards for the Telegraf 7 project, a former telephone exchange of the K. u. K. Post- und Telegrafendirektion (postal and telegraphic administration) in Vienna:
16 Dec 2017
"17 Turks", a new office for Caramel
Architects: Caramel Architekten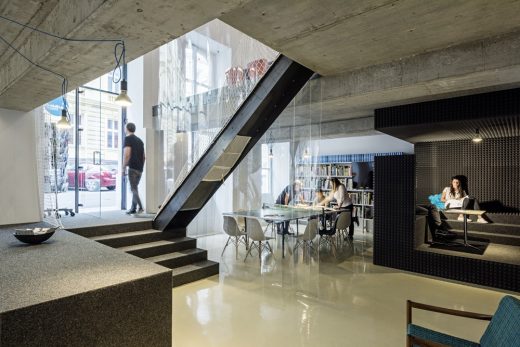 photo : Hertha Hurnaus
Caramel Architects Office Vienna
The new office, a former "shop unit" with a separate office level was linked to unity, with many free time rooms next to the compact ThinkTank spaces, it was perfectly designed for the 20 member team. With efficient, compact working spaces and flexible spaces for anything you can think of, working, cooking, partying, relaxing and communicating – so tempting generous that the employees never feel the urge to go home…
8 Dec 2017
mill24 Vienna
Architects: Caramel Architekten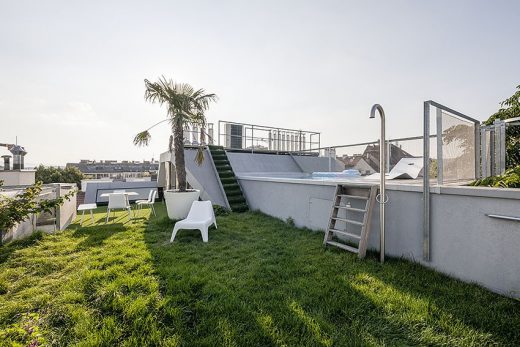 photo : Hertha Hurnaus
mill24 House Roof Vienna
Because of specific composition of the newest project "mill24" by caramel architects, the urban recompaction, implemented by an expansion of the roof of an early days house, can hardly be noticed from the street area. Outdoor space is gliding into the inside space and the on the roof created idyllic garden can be experienced and reached from every room and is even surrounded by each single one of it.
16 Nov 2017 + 30 Jun 2015
ORBI-Tower in Vienna
Design: Zechner & Zechner ZT GmbH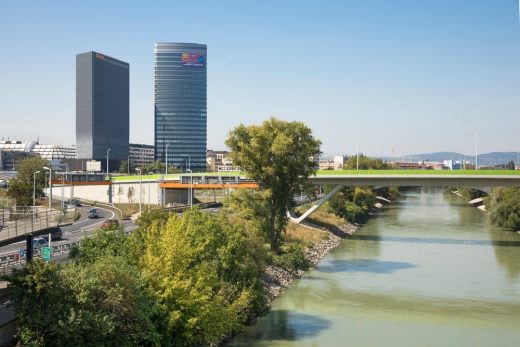 photo : www.pierer.net
ORBI-Tower in Vienna
After winning the 2013 architectural competition, construction started in 2015, and the office tower was completed in 2017. The project developers were Wiener Stadtwerke Holding AG, and STC – Swiss Town Consult AG.
14 Nov 2017
krypt.bar – Archeology in a Jazz Club, Wasagasse
Architects: Büro KLK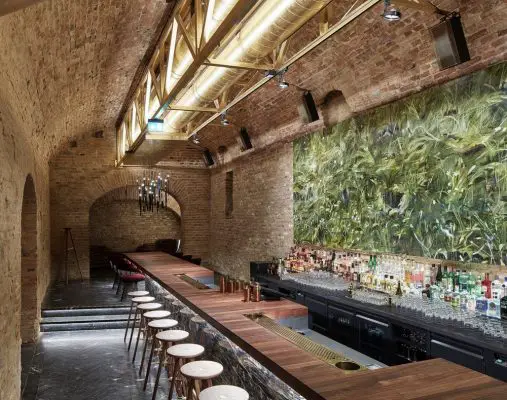 photo : David Schreyer
krypt.bar in Vienna
During the renovation works on an ancient heritage building from the late 18th century on Vienna's traditional Berggasse, a bricked up staircase was found. It led to a twelve meters deep, second cellar area with approximately 250 square meters. Located between Votivkirche and Sigmund Freud's apartment, this cocktail and underground bar is an aesthetical gem.
6 Nov 2017
Green Urban Housing, Weyringergasse
Design: GERNER GERNER PLUS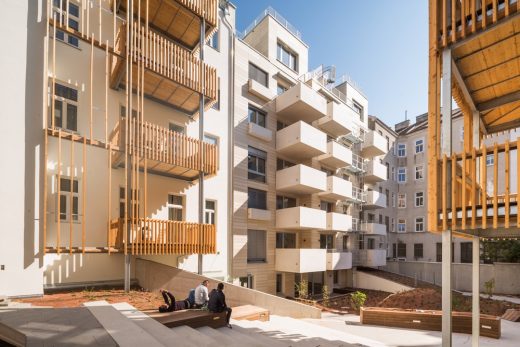 photo : GERNER GERNER PLUS – Matthias Raiger
Green Urban Housing in Vienna
As the outcome of an invited competition GERNER GERNER PLUS recently completed a residential building with the Wolfshof in the twelfth urban district of Vienna that offers residents not only top-quality living space but also a spacious communal courtyard with "Naschgarten" – "snack garden".
7 Oct 2017
Sonnwendviertel 2, Bauteil Ost,
Design: RLP Rüdiger Lainer + Partner, Architects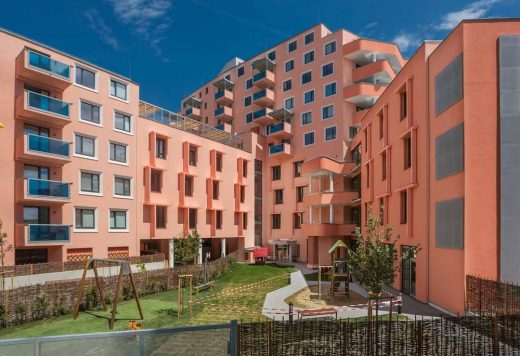 photo : DimKo Photography
Sonnwendviertel 2, Bauteil Ost, Wien
The new building is the missing mosaic stone in the development area Sonnwendviertel. It is the beginning and transition to Helmut Zilk Park. High building density and a wide range of uses are the central challenges for this ecologically and economically viable building.
Skyscaper Balcony Project in Vienna: Himmelsfalter
Businesspark Breitensee in Viennaa
New office tower Schnirchgasse 11
Kunsthistorisches Museum Cafe and Bistro in Vienna
Lingenhel Restaurant in Vienna
Location: Vienna, eastern Austria, central Europe
Contemporary Vienna Architecture
New Vienna Architecture
WU campus
Design: Zaha Hadid Architects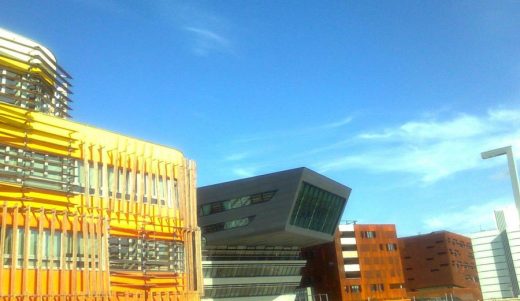 photo : Irena Jotić
Law Faculties and Central Administration Buildings for Wirtschafts University
Design: CRAB Studio, Architects



photo © Kurt Kuball
Wirtschafts University Building
21er Haus
Design: Architekt Krischanitz ZT GmbH
21er Haus Vienna
Hotel Daniel
Hotel Daniel Vienna
Rochus Wien, Bauernfeldplatz
Rochus Wien
Mansory Villa
Daneshgar Architects
Mansory Villa
Fendigasse Housing, Vienna, Austria
Design: Daneshgar Architects
Fendigasse Housing
Hotel Caldor, Austria
Söhne & Partners
Hotel Caldor Building
Vienna architect – Hans Hollein
Comments / photos for the Vienna Building News page welcome