Hans Hollein Architecture, Austrian Buildings, Austria Design Studio Projects, Office News
Hans Hollein Architect : Architecture
Contemporary Austrian Architects Practice – Atelier Prof. Hans Hollein
post updated 13 Apr 2021
Hans Hollein & Partner News
Hans Hollein has died aged 80
He is a past Pritzker Prize-winner
27 May 2013
Bavarian Museum Building Design, Regensburg, Germany – architecture competition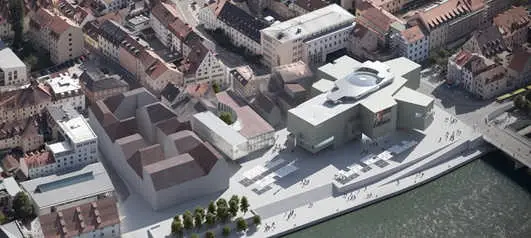 image from architect
Museum Bayerische Geschichte
The building does not have a clearly defined and easy readable form. This is as a direct response of the diversity in content being exhibited. History is too alive and cannot therefore be placed inside a box. To emphasize the form of the museum volume the administration facilities were handled in a more reserved manner.
Hans Hollein Exhibition
Hans Hollein, Joanneum Museum, Graz, Austria
26 Nov – 9 Apr 2012
Curators: Peter Weibel, Günther Holler-Schuster
An 'artist' was sought for the opening exhibition of the Neue Galerie Graz who fits with the idea of the Universalmuseum and who has a connection with the history of the Neue Galerie Graz. As a fine artist, designer and architect, Hans Hollein is a universal artist.
Neue Galerie, Joanneumsviertel, 8010 – Graz
+43-699/1780-9500
[email protected]
Recent Atelier Hans Hollein Design
SBF Tower, Shenzhen, China
2010-



picture : Atelier Hollein
SBF Tower
Hans Hollein Architect – Key Projects
Major Hans Hollein Buildings
Austrian Embassy, Berlin, Germany
2001



photo © Adrian Welch
Austrian Embassy Berlin
Haas-Haus, Vienna, Austria
1990




photos © Adrian Welch
Vienna building opposite Vienna Cathedral – Stephansdom
Museum für Moderne Kunst, Frankfurt am Main, Germany
1991




photo © Adrian Welch
Museum für Moderne Kunst museum building
Schullin Jewellery shop, Vienna
1972
Hans Hollein Buildings
Key Designs, chronological:
Retti candle shop, Vienna, Austria
1964-65
Schullin Jewellery shop, Vienna
1972
Abteiburg Museum building, Mönchengladbach, Germany
1972-82
Rauchstrasse, Berlin, Germany
1983
Haas Haus, Stephansplatz, Vienna, Austria
1987-90
Frankfurt Museum Moderne Kunst, Frankfurt am Main, Germany
1987-91
Austrian Embassy building, Berlin, Germany
1996-2001
Niederösterreichisches Landesmuseum, St. Pölten, Austria
1992-2002
Centrum Bank, Valduz, Austria
1997-2002
Design with Bargetze+Partner
Vulcania – European Centre of Vulcanology, Auvergne, France
1997-2002
Albertina Museum, Innere Stadt, Vienna, Austria
–
Hilton hotel building, Vienna, Austria
–
Interbank Headquarters, Lima, Peru
–
Office blocks, Donaukanal, Vienna, Austria
–
Ganztagsschule, Vienna, Austria
–
Glass and Ceramics house, Teheran, Iran
–
Feigen Gallery, New York, USA
–
More designs / projects by Hans Hollein Architect online soon
Location: Vienna, Austria, central Europe
Vienna Architects Practice Information
Hans Hollein Architect
He was born in Vienna, Austria 1934
Hans set up his architect's office in 1964
Education
Academy of Fine Arts, Vienna, Austria – Diploma: 1956
Illinois Institute of Technology, Chicago, USA: 1959
University of California, Berkeley, USA – Masters in Architecture: 1960
More architect info online soon
Key Building
Vulcania, European Centre of Volcanology, Saint-Ours-les-Roches, nr Clermont Ferrand, Auvergne, France
1997-2001
Jury's choice: Jean-Michel Wilmotte
£70m approx. building cost
Building Photos © Adrian Welch
Pritzker Prize architects : Winner 1985
Hans Hollein Lecture, Dec 2010, LA : Alles ist Architektur (Everything is Architecture)
Hans Hollein – Further Information
Hans Hollein studied at the Akademie der bildenden Künste, Vienna, Masterclass for Architecture Prof. C. Holzmeister, Diploma, 1956; IIT, Chicago (1958-59) Architecture and City Planning; and at the University of California, Berkeley, College of Environmental Design, Master of Architecture (M.Arch.), 1960. He was professor for Architecture at the Academy of Arts in Düsseldorf (1967 – 1976); professor for Design (1976 – 1986) and professor for Architecture (1976 – 2002) at the University of Applied Art in Vienna, where he also acted as Dean of the Architecture Department (1995 – 1999). He was guest professor at the University of California, Los Angeles; Yale University; and Ohio State University in Columbus. From 1978 – 1990, he was the Austrian Commissioner for the Venice Art Biennale and, from 1991 to 2000 the Austrian Commissioner for the Venice Architecture Biennale, which he chaired as General Director in 1996.
Among the most significant pubic buildings by Hans Hollein are the Museum Abteiberg in Mönchengladbach, 1972-82; the Museum of Glass and Ceramics in Teheran, 1977-1978; the Museum of Modern Art in Frankfurt, 1982-91; the Exhibition Hall and Museum of Lower Austria in St. Pölten, Austria, 1992-2002; "Vulcania" Vulcano Museum in the Auvergne, 1994-2002; the new entrance of the Albertina Museum in Vienna, 2001-2003; the public schools at Köhlergasse, 1979-90, and Donaucity, 1993-99, both in Vienna, as well as projects for the Guggenheim Museum in Salzburg (since 1988) and the Berliner Kulturforum (1983 – 85).
Other important buildings by this Austrian architect are the Haas-Haus, 1985-90 – a building in the center of Vienna; the Banco Santander, Madrid, 1987-93; the Generali/Media Tower in Vienna, 1994-2001; the Interbank headquarters in Lima, Peru, 1996-2001; the Austrian Embassy in Berlin, 1997-2001; the Centrum Bank in Vaduz, 1997-2003; the Saturn Tower in Donaucity, Vienna, 2002-2004, as well as early influential buildings such as Retti Candle Shop in Vienna, 1965; the Richard L. Feigen Gallery in New York, 1967-69; the Jewellry Shops Schullin in Vienna, 1972 – 1974 and 1981 – 1983, and the Austrian Travel Agencies in Vienna, 1976-78.
Among current projects by Hans Hollein are high-rise buildings in Vienna, such as "Gate 2-Vectigal", 2002- ; the Monte Laa -PORR-Towers on the Laaerberg, 2001-; Office Building "Stadtpark, 2003 – under construction since 2006 as well as office- and residential buildings in San Giovanni Valdarno, Italy, 2003, "Sea Mio" housing, 6 high-rise apartment buildings, Taipei, 2004, and "E- Ton Solar" Headquarters, Tainan, Taipei, 2005.
Hans Hollein has realized several exhibition concepts and designs, among them "MAN transFORMS" at the Cooper-Hewitt National Design Museum, New York (1976), "Die Türken vor Wien" (1983), and "Dream and Reality" (1985) at the Künstlerhaus and the Historische Museum der Stadt Wien, also "Sensing the Future – the Architect as Seismograph" at the Sixth Architecture Biennale in Venice, 1996. "Sculptural Architecture in Austria" was presented in 2006 at the National Museum of China in Beijing and the Guangdong Museum of Art in Guangzhou. Hans Hollein has developed product design for numerous companies, among them, Wilhelmi, Bösendorfer, Knoll, Alessi, Wittmann, Backhausen, Hirsch, Z-Sparkasse, Cleto Munari, Schullin and Köchert.
Works by this Vienna architect practice are in significant international museum collections, including the Museum of Modern Art, New York; the Centre Georges Pompidou, Paris; the Victoria and Albert Museum, London; the National Museum of Modern Art, Kyoto; as well as the collection of the Albertina in Vienna. Hans Hollein had several solo exhibitions as artist and/or architect. Among the most important are the exhibition at the Galerie St. Stephan (with Walter Pichler) in Vienna, 1963; the Museum of Modern Art, New York (with Walter Pichler and Raimund Abraham), 1968; the Städtischen Museum Abteiberg Mönchengladbach, 1970; the Austrian Pavilion at the Art Biennale in Venice. 1972; the Centre Georges Pompidou, Paris, 1987; the Museum des 20. Jahrhunderts Wien, 1987; the Nationalgalerie Berlin, 1987/88; the Sezon Museum of Art, Tokyo, 1989; and the Historische Museum der Stadt Wien, 1995. Hans Hollein has participated in numerous group exhibitions, including the Documenta in Kassel in 1977 and 1987. At the 10th Architecture Biennale Venice in 2006 he presented the "Aircraft-carrier" in the Austrian Pavilion.
Hans Hollein has received numerous awards, among them, the Pritzker Architecture Prize, 1985; the Reynolds Memorial Award, 1966 and 1984; the Prize of the City of Vienna for Architecture, 1974; the Grand Austrian State Awards, 1983; the Austrian Ehrenzeichen für Wissenschaft und Kunst, 1990; the Goldenes Ehrenzeichen für Verdienste um das Land Wien, 1994; and the Grosse Verdienstkreuz des Verdienstordens der Bundesrepublik Deutschland, 1997. He is Officier de la Légion d'Honneur de la République Française and Commendatore dell'Ordine al Merito della Repubblica Italiana. In 2004 Hans Hollein received the Arnold W. Brunner Memorial Prize in Architecture, New York.
Comments / photos for the Hans Hollein Architecture page welcome
Website: www.hollein.com