Indonesia architecture news 2023, Southeast Asia building projects, Construction design architects, Property images
Indonesia Architecture News
Architecture Information – Southeast Asian Built Environment Updates
post updated 16 November 2023
Indonesia Architecture Design : links on e-architect
Indonesia Architecture News 2023
25 August 2023
Bintaro Jaya West District, Bintaro Area, South Tangerang, South of Jakarta, Indonesia, southeast Asia
Architects: 10 Design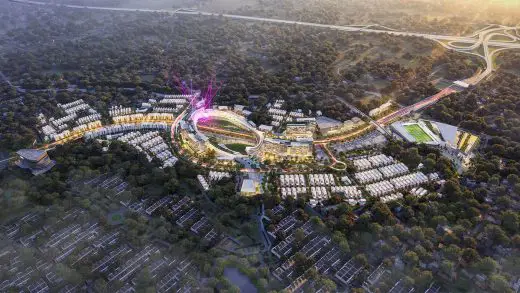 visualisation : KOMA
Bintaro Jaya West District in South Tangerang
Bintaro Jaya West District in South Tangerang, Indonesia is slated to set a new benchmark for sustainable living in the city, redefining the concept of 'living locally'.
23 July 2023
Silk Bistro, Kecamatan Menteng, Daerah Khusus Ibukota Jakarta
Design: Bitte Design Studio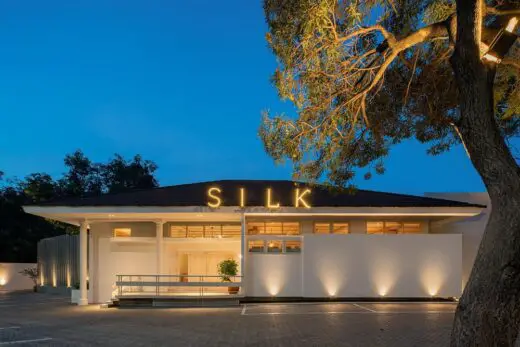 photo : Ernest Theofilus
Silk Bistro, Menteng, Jakarta
Stepping into Silk Bistro, one can't shake off the nostalgic feeling that comes from being inside the sunlit, white-walled room. Taking over a heritage building in Menteng—a former general's residence that's been left unused since 1995—the space balances modern touches while still honouring the building's storied past.
2 May 2023
Central Market, Senopati, Jakarta
Design: Bitte Design Studio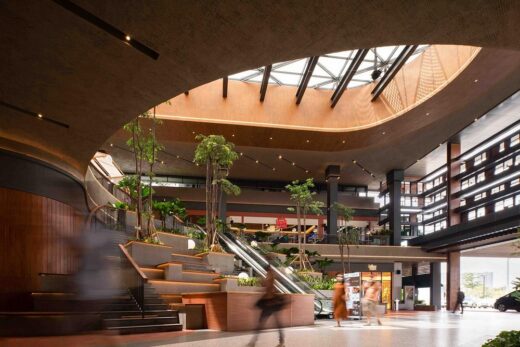 photo : Ernest Theofilus
Central Market Jakarta, Pantai Indah Kapuk
While Pantai Indah Kapuk is best known for its culinary highlights , the neighborhood is also an ever-developing residential and business area with gated housing communities, high-rise apartments, malls and office towers. In the middle of Golf Island, one of Pantai Indah Kapuk's enclaves, two property giants Agung Sedayu Group and Salim Group joined forces to build a semi-outdoor public space.
Valhalla Nightclub, Senopati, Jakarta
2 Apr 2023
Natra Bintan Resort, Batam, Riau Islands
Architects: The Design Abode Pte Ltd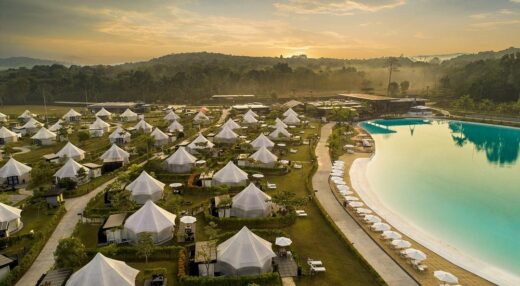 image : Rintony Van Windu
Natra Bintan Resort
Welcome to glamping in the tropics. Inspired by 18th century colonial exploration camps, Natra Bintan brings a rugged outback experience for the adventurous traveler. Safari tents coupled with modern tropical sheds are infused with local textures.
9 Mar 2023
Convoi & Garrison Motorforge, Jl. Kesehatan Raya No.87, Bintaro, Kec. Pesanggrahan, Jakarta Selatan
Design: Bitte Design Studio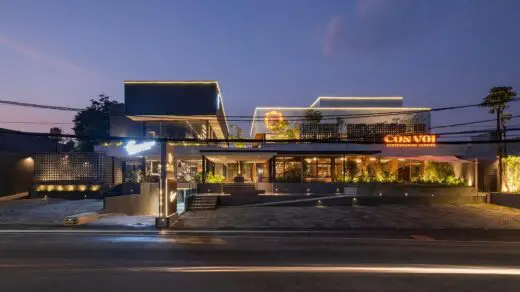 photo : Liandro N. I. Siringoringo
Convoi and Garrison Motoforge, Pesanggrahan, Jakarta
A kitchen and a garage shop is not usually what comes to mind when you think about a commercial space. But that's what eventually appeared on the brief when Bitte was approached by Convoi & Garrison for the establishment of Convoi & Garrison Motorforge at Bintaro.
7 Mar 2023
Black Pond Tavern and Acta Brasserie, Senayan, Central Jakarta
Design: Bitte Design Studio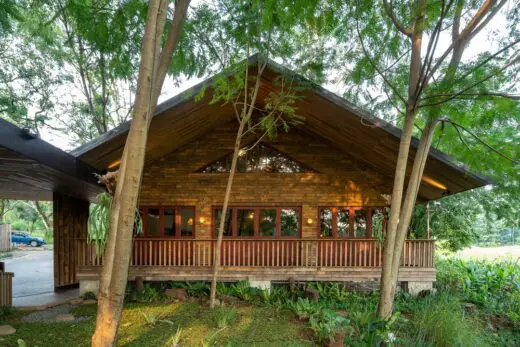 photo : Fostive Visual
Black Pond Tavern and Acta Brasserie, Senayan, Jakarta
Imagine a sanctuary ensconced in the woods. One wouldn't believe such scenery exists in the midst of urban chaos that is Jakarta. In the city that knows no shortage of dining and lifestyle establishments, BIKO Group, a lifestyle company behind many distinguished F&B destinations in Indonesia, came up with a restaurant and a bar that combine the old with the new, where a relaxing atmosphere is paired with a picturesque vista.
28 Nov 2022
Antikode Headquarters, Bintaro Area
Architect & Interior Designer: Seniman Ruang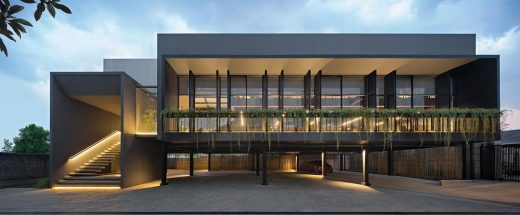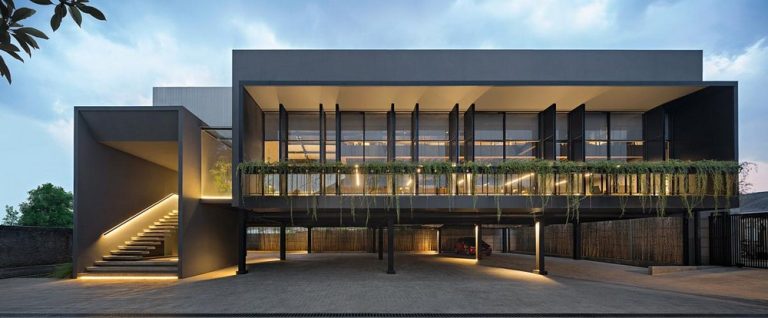 photo : Mario Wibowo
Antikode Office, Bintaro Area
Tucked in the hidden creative compound of Bintaro area, Antikode Headquarters is designed by Seniman Ruang, to accommodate the rapid growth of Antikode digital team members in 3 stories building. Dark color, high windows, and a linear terrace overviewing The Lapan retail complex characterize the architecture.
Lost Lindenberg Bali Building, Pekutatan
Indonesia Building News
Indonesian Building News – latest additions to this page, arranged chronologically:
10 July 2022
House 48, West Jakarta, island of Java
Design: INSADA Integrated Design Team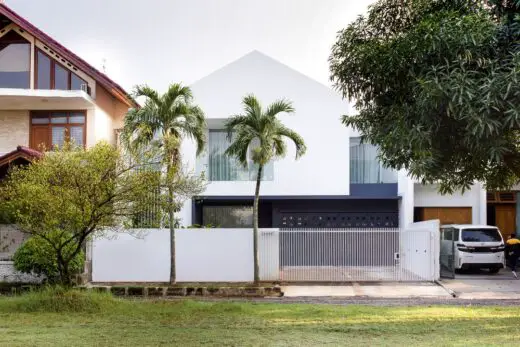 photo : INSADA Integrated Design Team
House 48, Jakarta
This residential property development is a renovation of a 330 sqm two-story house located in West Jakarta. With limited renovation budget, the client still sought to transform the old, unmaintained house into a modern comfortable home for their family of four.
23 June 2022
A Beautiful Mess Pavilion, Kecamatan Cisauk, Banten
Design: Seniman Ruang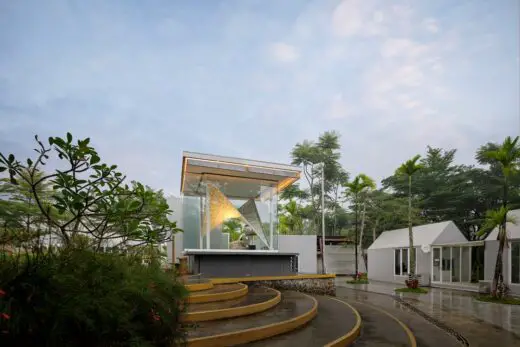 photos : Helen Agustine, Ryan Salim and Mario Wibowo
A Beautiful Mess Pavilion
As part of award-winning Wonders of Weaving "Solidarity Resilience" program, an art installation is built to embrace the journey of motherhood as a harmony of all the beauty and the mess, and resonate mother's silent struggles. Many mothers experience guilt, exhaustion, blues, insecurities, even depressions for the hardest job they could bear.
16 June 2022
This Earth
Design: Seniman Ruang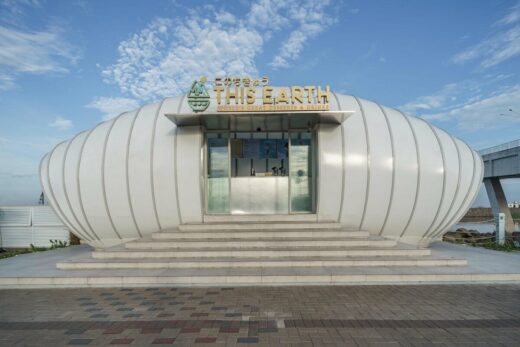 photo : Jo Christian
This Earth 2.0, Batavia Cove
Nature has been one of the biggest inspirations for architecture throughout history. The second branch of This Earth designed by Seniman Ruang, continues to redefine the idea of dessert shop experience by taking inspiration from the world's nature, wrapped through a collaboration of designed environment and beverages products.
14 June 2022
Talaga Sampireun, Kecamatan Bekasi Barat, Jawa Barat
Design: Seniman Ruang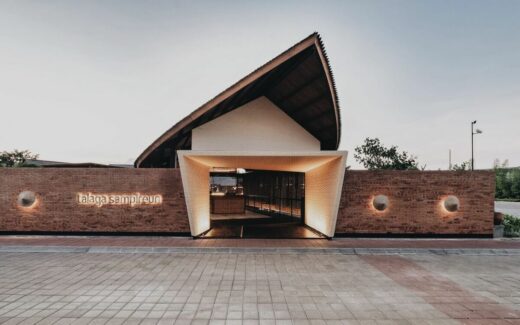 photo : Celvin Leowardi
Talaga Sampireun, Jawa Barat
Designed by Seniman Ruang, Talaga Sampireun aims to offer a natural outdoor dining experience with a new image of Indonesian rural life, while still retaining its traditional values. The Talaga Sampireun project was located in Bekasi city, which has a dense population of family residents and industry workers.
9 Jun 2022
RT Office, Daerah Khusus Ibukota, Jakarta
Design: Bitte Design Studio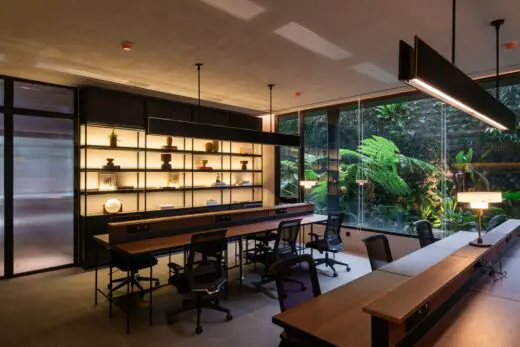 photo : Liandro Siringoringo
RT Private Office, South Jakarta Building
Located in the heart of South Jakarta, RT Office is a private office with an intimate setting. The building is a three levels building with parking and service area on the ground floor.
4 June 2022
Expandable House, Batam, Riau Islands
Design: ETH Zurich / Stephen Cairns with Miya Irawati, Azwan Aziz, Dioguna Putra and Sumiadi Rahman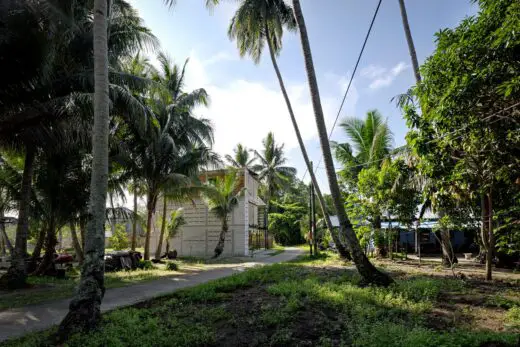 photo : Mario Wibowo
Expandable House Batam, Riau Islands
The expandable house combines a conventional steel-reinforced concrete frame with an aerated concrete block cladding and an innovative composite bamboo cladding. Tailored to and learning from the rapidly expanding peri-urban fringes of Asian cities like Batam – the world's fastest-growing in 2015 – this new sustainable dwelling type is designed to be flexibly configured around its residents' often precarious resources over time.
4 June 2022
Banyuwangi International Airport, East Java, Indonesia
Design: andramatin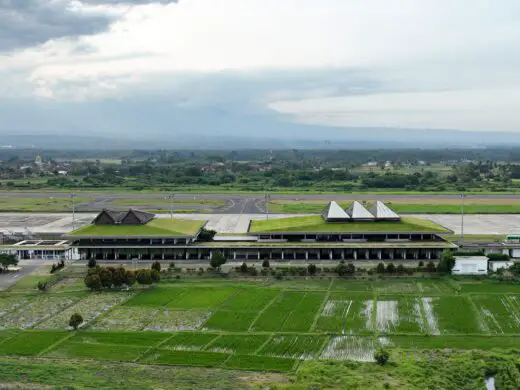 photo : Mario Wibowo
Banyuwangi International Airport, East Java
Shunning the standardised international style of most airports, this domestic airport embraces a context-conscious design approach. Serving over 110,000 passengers daily, it caters to the hot climate through a large-scale, contemporary interpretation of vernacular passive design principles.
31 May 2022
Dhsac Residence, South Jakarta
Design: Bitte Design Studio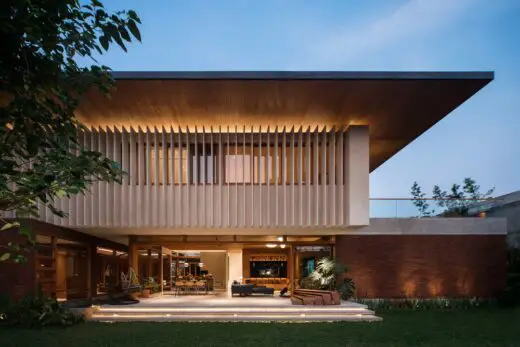 photos : Ditho Sitompoel and Ernest Theofilus
Dhsac Residence, South Jakarta
Located in the heart of South Jakarta, this house was designed as a response to the tropical climate. The building consist of 3 main masses, the front is the semi public area which include garage, service area, powder room and working room.
1 Jun 2022
Si Jin, Bali
Design: Bitte Design Studio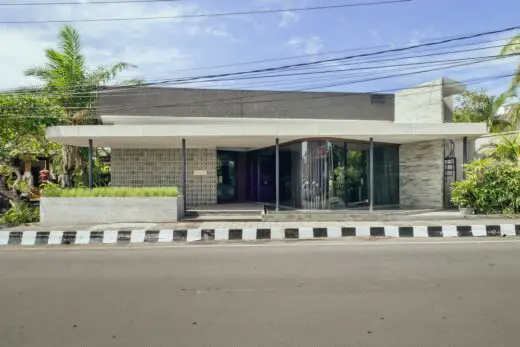 photo : Liandro Siringoringo
Si Jin Steakhouse, Bali Building
This sanctuary for meat enthusiasts and epicureans is helmed by the South-Korean-born Chef Joel Lim Si Jin who carries an impressive résumé, counting working experience in world-famous restaurants like the Michelin-starred Wolfgang Puck's CUT and Akira Back under his belt. His culinary adventure had led him to the Island of the Gods, Bali.
30 May 2022
Dragonfly, Graha BIP, South Jakarta, island of Java
Design: Bitte Design Studio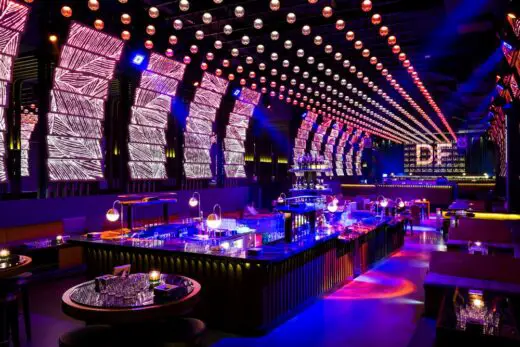 photo : Liandro Siringoringo
Dragonfly Club, Jakarta
Conceived in 2004 by the highly successful lifestyle group Ismaya, Dragonfly has been dominating Jakarta's club scene since it was first established. Prominent DJs have performed in this venue, further cementing Dragonfly's status as a trendsetter in music and live entertainment in the country.
26 Feb 2022
Rumah Hujan, Kecamatan Ubud, Bali
Architects: Studio Jencquel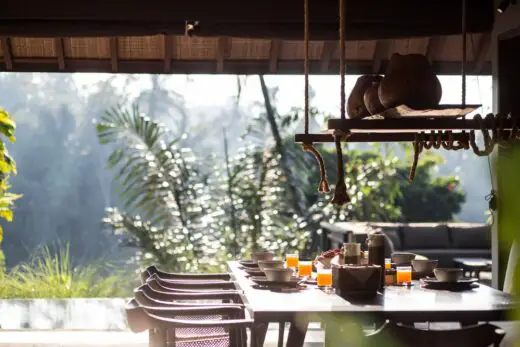 photo : Tommaso Riva
Rumah Hujan House, Bali
This new Indonesian villa is perched on the edge of the Tjampuhan ridge, overlooking a lush tropical valley above the river Wos. The property is surrounded by abundant nature, hence serious planning and landscaping considerations were required, in which all trees are kept and the land remains undisturbed.
7 Feb 2022
Patimban New City masterplan, Patimban New City, Subang, West Java
Design: BDP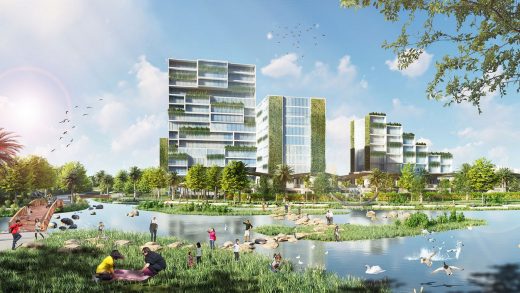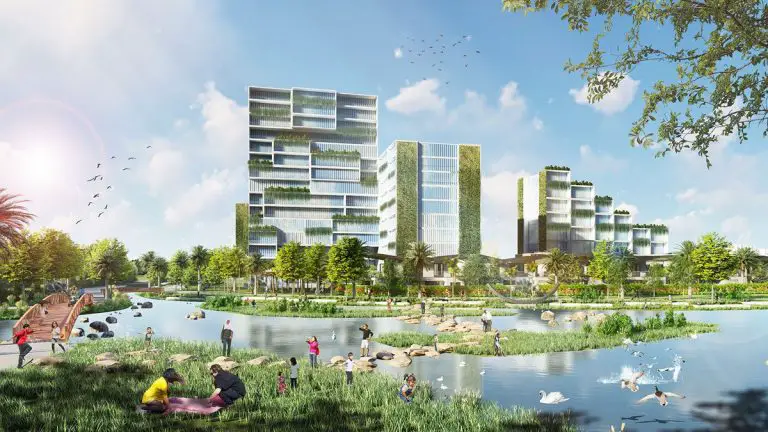 image courtesy of architects practice
Patimban New City masterplan
Commissioned by JICA for the West Java Government, a multidisciplinary team from BDP, Nippon Koei and AMO (Aarunya Mitra Optima) has created a new city-scale development plan on a flood-prone site, between mangrove forests and Patimban port in Subang, West Java. The sustainable masterplan aims to unlock the commercial potential of the area and create a resilient, ecological and prosperous waterfront city which promotes a symbiotic relationship between its communities, local ecology and the built environment.
1 Feb 2022
Full Circle bar and restaurant, Ubud, Bali
Interior Designers: X+O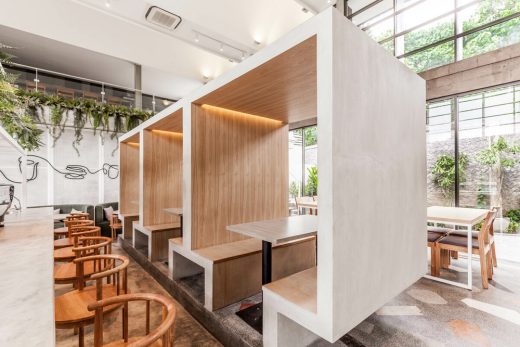 photo : Sheila Man
Full Circle, Bali Bar and Restaurant
Launched by Expat Roasters, the brief for the Full Circle bar and restaurant was to bring to life the EXPAT Roasters brand, with an Ubud feel. Coffee had to be at the centre of the design and the heart of the experience.
More Indonesia Architecture News on e-architect soon
Indonesia Architecture News 2021
2 Nov 2021
Ulu Cliffhouse, Bali
Design: SHED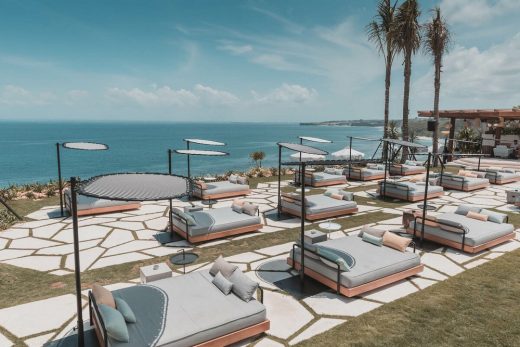 image : SHED
Ulu Cliffhouse, Bali Property
The Ulu Cliffhouse in Bali provides a dramatic setting for 'one of the best private clubs in the world' – Ulu Cliffhouse, designed by Shed, London. The dramatic Uluwatu Cliffs play host to an impressive boutique hotel that boasts some of the world's best surf, stunning views and atmospheric sunsets.
More Indonesia Architecture News online soon
Indonesia Architecture News 2020
23 Dec 2020
Torok Hill Resort, South Lombok
Design: NIC BRUNSDON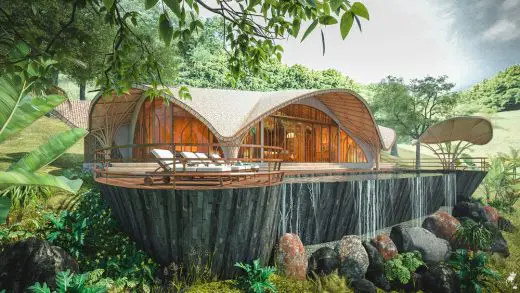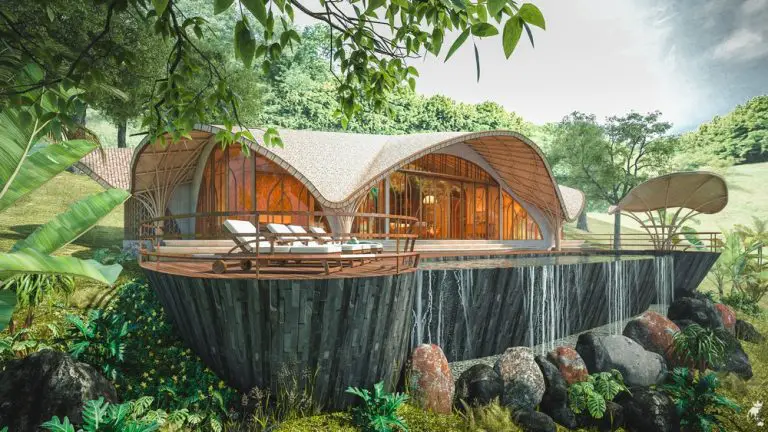 image courtesy of architects practice
Torok Hill Resort South Lombok
Indonesian brokerage beats out competition from 14 other countries to take first prize at Asia's most-respected real estate industry awards. Spread across 14 hectares of beachfront and hillside land in South Lombok, the luxury resort project broke ground this year and is scheduled to open in 2023.
13 July 2020
AL – HOUSE, Bandung, West Java
Design: Kamitata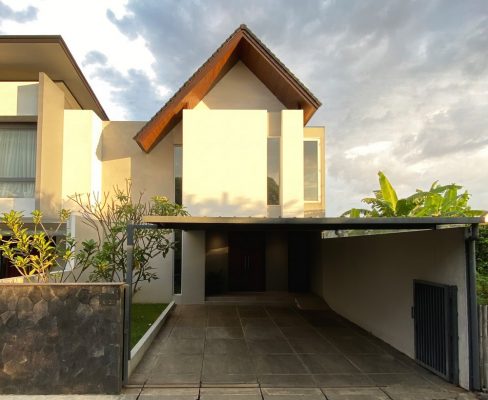 photography : Kamitata
Bandung house in West Java
A private residence located in Bandung, Indonesia, in which the design approach is to build a simple, modern, and unique looking house with a triangular shape facade and asymmetrical roof.
30 Apr 2020
The Tiing Resort, Bali
Design: NIC BRUNSDON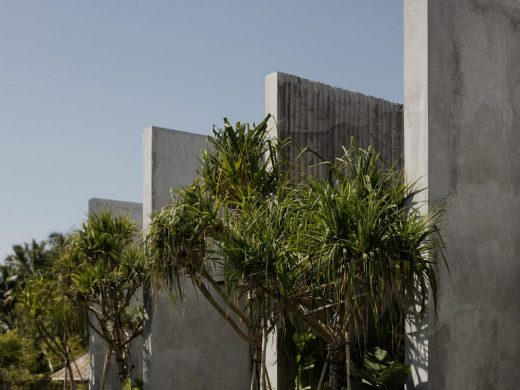 photog : Ben Hosking
The Tiing Boutique Resort in Bali
Situated on the northern coast of Bali, this pnew roperty has been designed as a 'reward for the intrepid'. Understanding that this project would need a point of differentiation to pull people out of the well-worn tourist paths of southern Bali, the Tiing is a boutique resort embedded into its local and cultural context.
31 Jan 2020
Treetop Boutique Hotel by Alexis Dornier, Penestanan, Ubud, Bali, Indonesia, Southeast Asia
Design: Alexis Dornier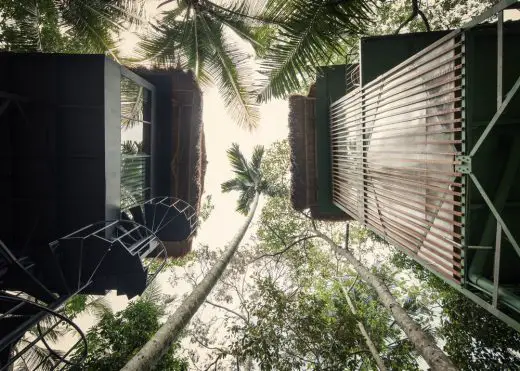 photography : kiearch
Treetop Boutique Hotel in Bali
More Indonesia Architecture News online here at e-architect soon
Indonesia Architecture News 2019
13 Jun 2019
Uluwatu House, Bali
Design: SAOTA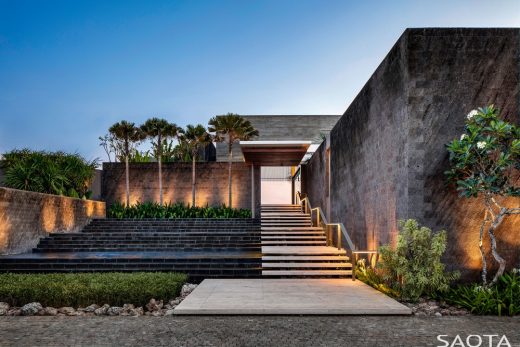 photograph : Adam Letch
Uluwatu House in Bali
This resort‐inspired home in Bali's iconic surf destination, Uluwatu, puts a contemporary spin on local materiality and vernacular architecture to create a luxurious modern holiday home deeply attuned to its beautiful surroundings.
8 May 2019
Taman Bima Microlibrary, Bandun
Design: SHAU Architects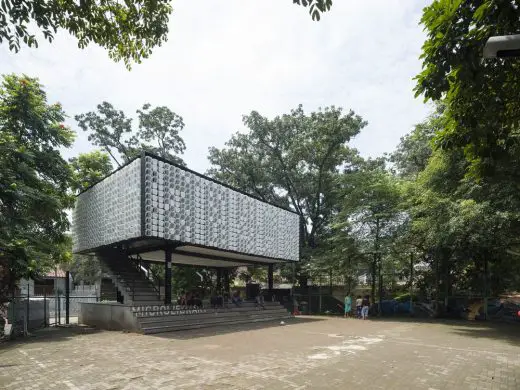 photo © Aga Khan Trust for Culture / Cemal Emden
Taman Bima Microlibrary in Bandung
A pilot project for a series of low-cost, eco-conscious reading facilities in urban and rural villages. The project aims to help combat Indonesia's low literacy rates.
6 May 2019
AM Residence, Jakarta, island of Java
Design: Andramatin Architect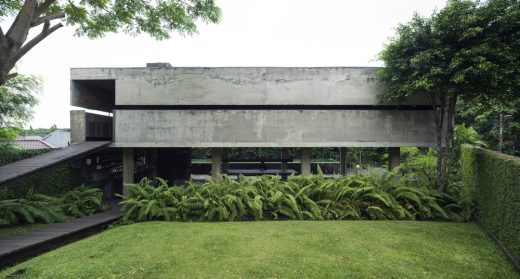 photo © Aga Khan Trust for Culture / Cemal Emden
AM Residence in Jakarta
A new property on Java designed for the architect, characterised by a sense of warmth, simple space programming, and consideration for its wooded suburban context.
22 Apr 2019
House O, Mas, Bali
Design: Alexis Dornier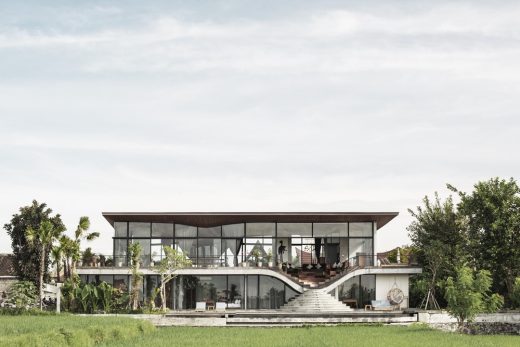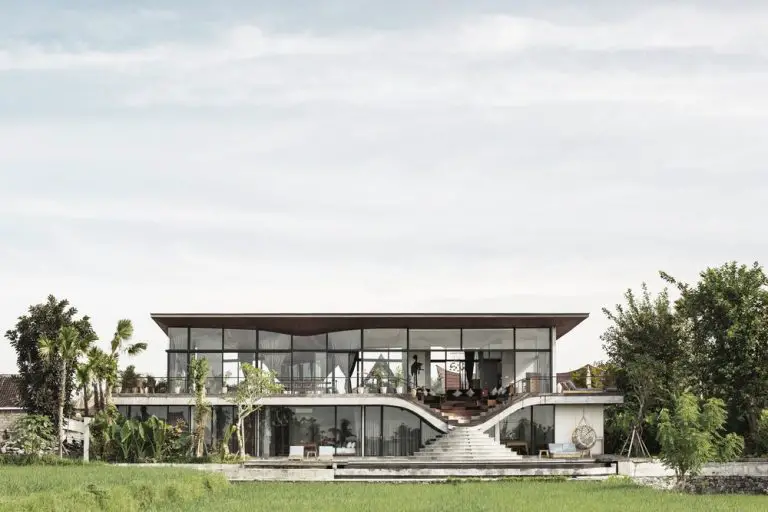 image from architects studio
House O in Mas Bali
This 3 bedroom home for a musician-composer, holds a 150 sqm loft space as it's 2nd floor, overlooking its lush surrounding of green rice paddies and coconut trees.
More Indonesia Architecture News online here soon
Indonesian Property Updates 2013-2018
10 Apr 2018
PT Telkom Landmark Tower Jakarta Building
Design: Woods Bagot, Architects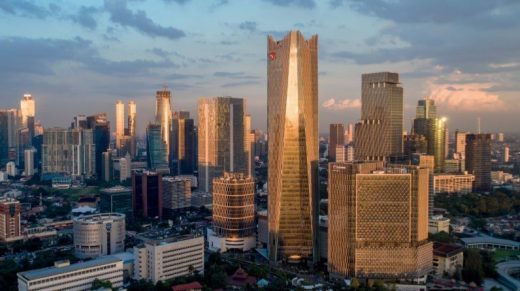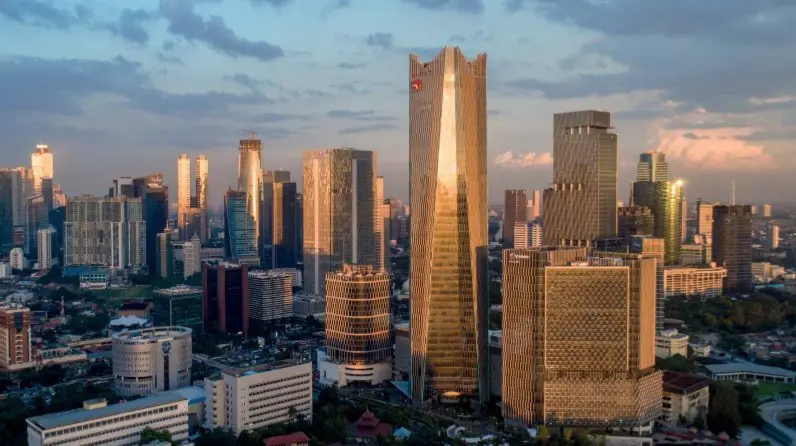 photo : William Sutanto
PT Telkom Landmark Tower Jakarta Building
A defining presence on the skyline, the new headquarters for Indonesia's largest telecommunications company consists of three new interconnected buildings: a 20-story office building, a 48-story office building connected by a six-story podium.
27 Dec 2017
Jakarta Jaya: the Green Manhattan, island of Java
Design: SHAU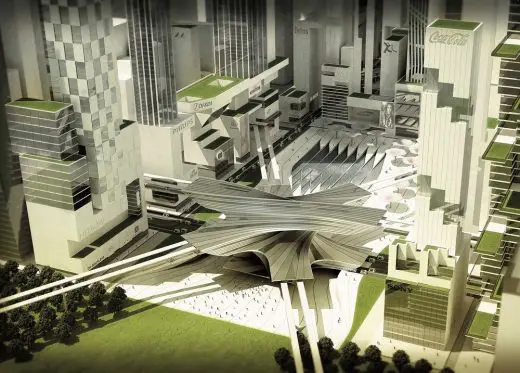 image from architects office
Jakarta Jaya
Selected from hundreds of entries from 68 countries, Jakarta Jaya: the Green Manhattan, an integrated green master plan proposal by SHAU Architects for the Jakarta Jaya Foundation, has won a Smart Cities prize at the World Architecture Festival 2017. WAFX Prizes are awarded to projects that identify key challenges that architects will need to address over the coming decade.
20 Nov 2017
Terminal 3 Ultimate of Soekarno-Hatta Airport, Jakarta, island of Java
Design: AlvinT Studio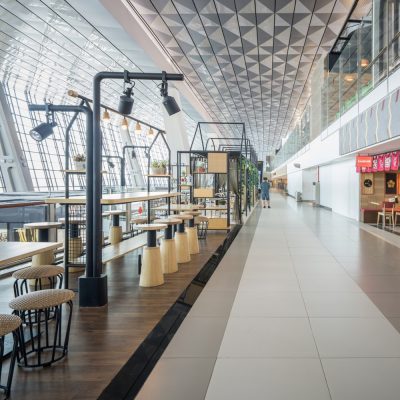 photograph : Sefval Mogalana
Terminal 3 Ultimate of Soekarno-Hatta Airport in Jakarta
The T3 Ultimate's public seating area was designed to respond to the needs of passengers who have to wait for their flight. With a direct view to the runway, they can sit comfortably while enjoying the view, or they can simply hang around with their gadgets for hours.
3 Aug 2017
Unilever Headquarters in Jakarta
Design: Aedas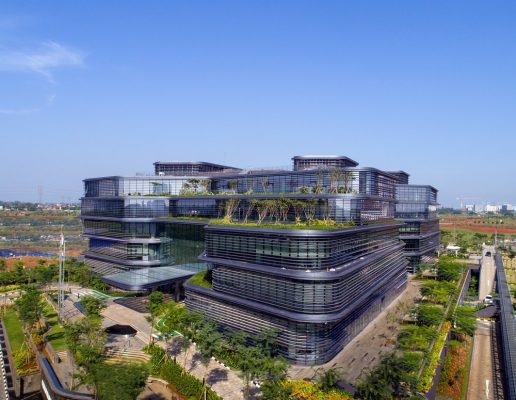 image from architects
Unilever Headquarters in Jakarta
This new building is located the country's first green office district which was also materplanned by Aedas. This new Unilever Indonesia office houses all employees from four separate offices in Jakarta under one roof. Aedas architectural and interior designs embody the global company's vision, values and European heritage within the Indonesian context.
1 Aug 2017
Microlibrary Bima, Taman Bima, Bandung
Architects: SHAU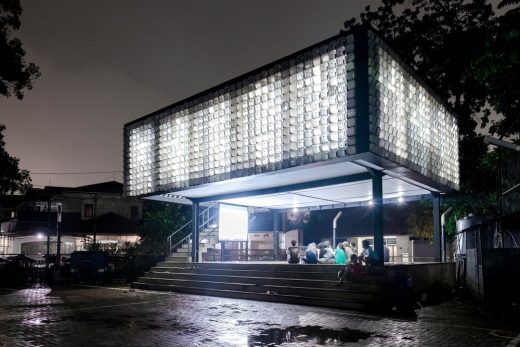 photography : Sanrok Studio
Microlibrary Bima in Indonesia
Eager-learning students are hindered by the lack of facilities; libraries are far from being popular. The role of beautiful design can make libraries attractive again. Instead of positioning libraries only in city centers, why not bringing libraries closer to homes?
13 Jul 2017
Clay House on Lombok Island
Design: Budi Pradono Architects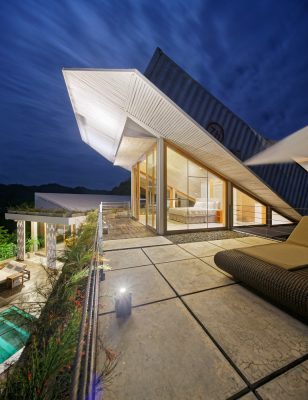 photography : Fernando Gomulya
Clay House on Lombok Island
This house is located in Selong Belanak, the southern part of central Lombok Island in West Nusa Tenggara. It is 30 minutes drive from Lombok International Airport of Praya. The owner named it Seven Heaven Residence.
24 Oct 2016
Melali House, Bali
Design: Thomas Winwood Architecture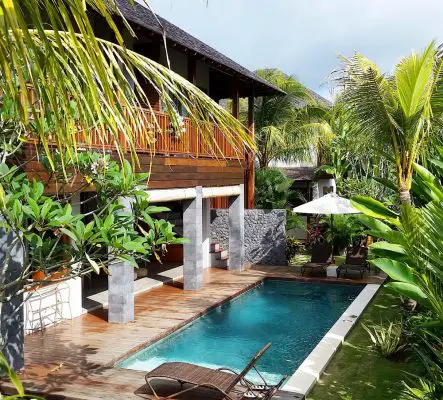 photography : Ryan Robson
Melali House
Melali is based on traditional Balinese family compounds. Enclosed by a stone clad perimeter wall, with the temple in the north east and the communal spaces in the centre of the property the buildings have been arranged and constructed to create a feeling of breathability, tranquility and ease.
page updated 24 Sep 2016
The IPCW Residence, Surabaya, East Java
Design: Ivan Priatman Architecture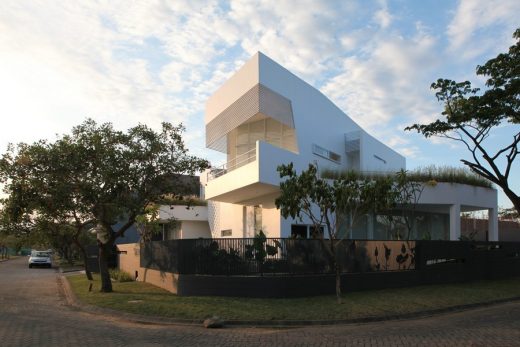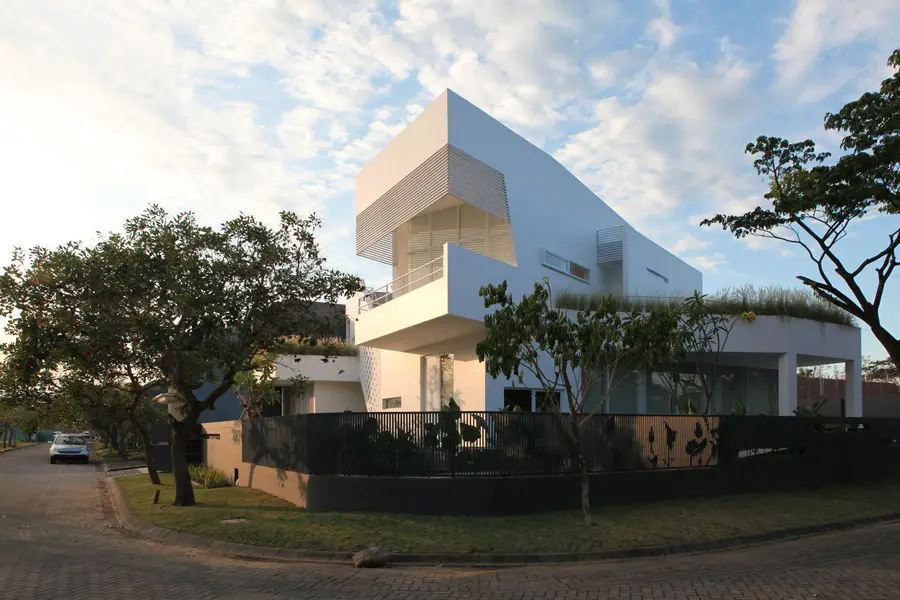 photography : Ivan Priatman Architecture
IPCW Residence in East Jaya
A residence for a young family of 4 in Surabaya. The site is a rectangular 464 m2 corner lot located in a new residential development in the west of the city, in a condition best described as semi-urban, where houses are grouped in clusters and share a party wall with each other. The brief for the design calls for a courtyard house with indoor-outdoor living spaces.
4 Aug 2016
UNTAR University Masterplan, Jakarta
Design: Benoy, Architects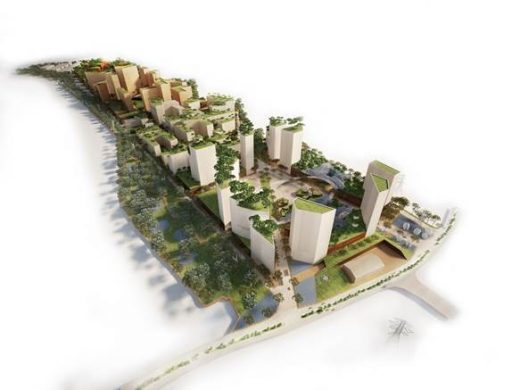 image from architecture office
UNTAR University Masterplan in Jakarta
International competition win to masterplan the new 139ha campus for one of the most prestigious private universities in Indonesia, UNTAR University.
4 Mar 2016
Reimagined Tatlin's Tower in Jakarta
Design: PHL Architects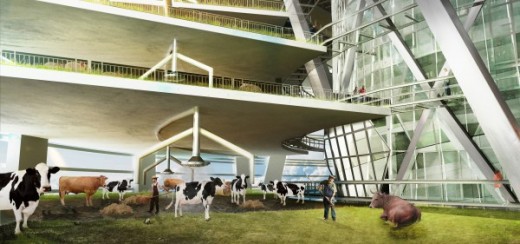 renderings via PHL Architects
Reimagined Tatlin's Tower Jakarta Building
Tatlin's Tower was a design conceived by Russian architect Vladimir Tatlin, which was supposed to be constructed in St. Petersburg. The plan never came to fruition. Now PHL Architects have taken that design and revised it for the 21st century – Reimagined Tatlin's Tower Jakarta Building.
6 Jul 2015
The Stone Ubud Homes and Hotel, Ubud, Bali
Design: Atelier Urbanus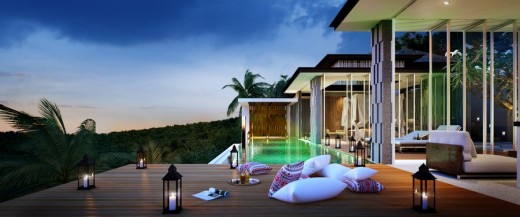 image from architects
The Stone Ubud Homes and Hotel
This architectural project is located in 6.5 Ha Payangan on an 35 degrees sloping hill of Ubud, sited on the real painting of Walter Spies and surrounded by the river famous Ayung. The project commissioning consist of Architecture, Masterplanning, and Landscape Architecture for 35 villas and 60 room of Boutique Hotel.
14 Apr 2015
Ciputra Artpreneur Arts Centre, Jakarta
Design: Benoy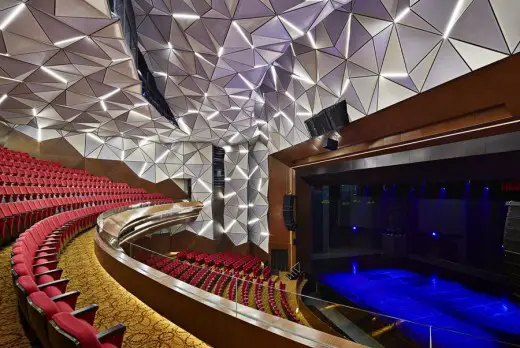 image from architects
Ciputra Artpreneur Arts Centre in Jakarta
Benoy, the acclaimed global studio of Architects, Masterplanners, Interior and Graphic Designers, is excited to share an inside look at its first Arts Centre which has opened in Jakarta, Indonesia – Ciputra Artpreneur.
21 Apr 2014
Peruri 88, Jakarta
Design: MVRDV / Jerde / Arup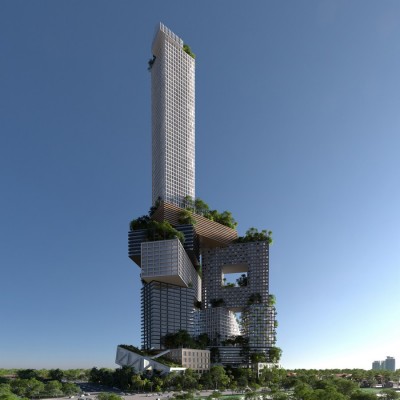 image from architects
Peruri 88 Jakarta
The tower is a 400 meter-tall mix use project with retail, offices, housing, a luxury hotel, four levels of parking, a wedding house, a mosque, imax theatres and an outdoor amphitheatre. The design is for the developer's bid competition for the prominent site at Jl. Palatehan 4 Jakarta.
21 Apr 2014
Marine Research Center, Bali
Design: solus4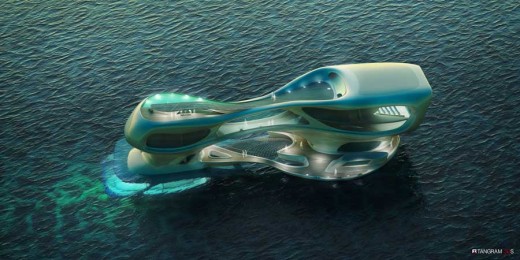 Cg Rendering : Tangram 3DS LLC
Marine Research Center Bali
The 2500 sqm Marine Research Center building would be located 150 meters offshore from the of Kuta beach. It is an imposing fluid structure that seamlessly adapts to its natural aquatic environment and allows visitors and scientist to have a direct visual connection to the exterior.
18 Dec 2013
Sequis Centre Tower, Jakarta – to be Indonesia's First LEED Platinum Building
Design: Kohn Pedersen Fox Associates (KPF)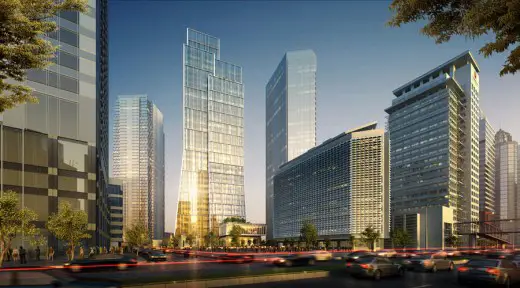 image from architects
Sequis Centre Tower in Jakarta
International architecture firm KPF announce the recent groundbreaking ceremony of the Sequis Centre Tower in Jakarta, to be Indonesia's first LEED Platinum building. The Sequis Centre Tower paves a new direction for Jakarta's future growth, not only redefining the CBD skyline, but also setting a new standard for sustainability within Indonesia's burgeoning economy.
More Indonesia Architecture News online soon
Location: Indonesia, Southeast Asia
Indonesian Buildings
Mbaru Niang Preservation, Flores Island
Design: Rumah Asuh + Yori Antar
Mbaru Niang Preservation
R-House, Depok, Jawa Barat
Design: Budi Pradono Architects
Indonesian House
Sea Sentosa at Echo Beach in Bali – Winner of 'World's Best Apartment' award
Sea Sentosa at Echo Beach in Bali
Peruri 88, Jakarta
Design: MVRDV / Jerde / Arup
Peruri 88 Jakarta
Comments / photos for the Indonesia Building News page welcome