South American Architecture, Building News, Architects, Projects Photos, Design
South American Architecture : Buildings
Key Contemporary Architectural Developments: Built Environment Updates
post updated 23 Feb 2020
Architecture in South America
We've selected what we feel are the key examples of South American Architecture. We aim to include interesting South American buildings / projects. We cover completed South American buildings, new building designs and architectural exhibitions. We also post architecture competitions across South America.
We would argue that the strongest recent architecture in South America – Modern and contemporary – can be found in Brazil, though Chile also has a strong tradition relative to its smaller population. Famous South American architects include Oscar Niemeyer and Lina Bo Bardi (actually Italian) who produced celebrated Modernist architecture.
More recently architecture studios such as Marcio Kogan (studio mk.27) in Brazil and Sebastián Irarrázaval in Chile have ensured South American architecture remains in a global spotlight. Another major design studio is Enrique Browne Arquitectos in Chile and in Argentina Andrés Remy Arquitectos has produced a string of good contemporary buildings.
We have 4 pages of South American Architecture selections.
South American Architecture : A-C (this page)
South American Architecture Designs : D-H
South American Building Developments : I-O
South American Buildings : P-Z
South America Buildings – geographical by country
South American Building News
Architecture Designs – latest additions to this page, arranged chronologically:
Cotacachi House, Imbabura, northern Ecuador
Design: arquitectura x



photo : Sebastian Crespo
Cotacachi House – 4 Apr 2013
A couple from the Caribbean seek retreat amid the northern Andes in a small town, two hours north of Quito, an orchard site in a valley 2470 meters above sea level, between the Imbabura and Cotacachi mountains, to the east and west respectively. The couple needs a design proposal in 4 days before going home, or they will sell the site: we have to design a house without knowing the site and after meeting the couple for two hours.
Casa Varanda, Brazil
Design: Carla Juaçaba



photo : Fran Parente
Casa Varanda – 4 Apr 2013
A house made for the granddaughter of great architect Sergio Bernardes and a Colombian artist was a challenge. At first they wanted the house to have caracteristics of Casa Lota made by his grandfather in 1950, from which we kept some materials such as the ceiling. The development of the project was very interactive.
Casa Agua, New Residence in Buenos Aires
Design: Barrionuevo Sierchuk Arquitectas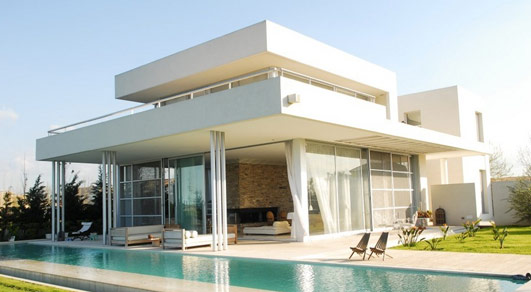 photo from architects
New House in Argentina – 19 Mar 2013
The site is 2,000 sqm, in the suburbs of Buenos Aires. It has 450 sqm and it is designed for a couple without kids, with, in the ground floor, a program of very large reception areas, that open and closes by very big wooden sliding doors that hide into the walls.
Studio R, São Paulo, Brasil
Design: studio mk27 – Marcio Kogan with Gabriel Kogan + Oswaldo Pessano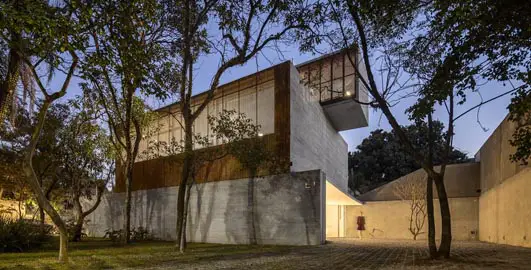 photograph : Fernando Guerra
Studio R São Paulo – 18 Jan 2013
Facing a small urban square, the Loft Studio opens entirely to the outside. The inner space of this photography studio flows into the side gardens of the building and into the urban space, establishing a spatial continuity between the square and the building.
Alejandra House, Rosario, Argentina
Design: CEKADA-ROMANOS arquitectos



photo : Walter Salcedo
House in northern Argentina – 14 Jan 2013
The design strategy by the architects seeks "a compact country house, located on the south side of the lot in order to capture sunlight and to open a large garden area. The shape is the result of a volume subjected to cuts and operations of subtraction. The geometry is defined by orientations, desired visuals and daylight".
Bicentennial Civic Center in Córdoba, Argentina
Design: GGMPU Arquitectos + Lucio Morini



photo : Claudio Manzoni
Bicentennial Civic Center in Córdoba – 5 Dec 2012
The Bicentennial Civic Center will be the first administrative complex to have been designed specifically for that end by the Province of Córdoba, Argentina. It is located on the edge of the historic center of the city. One of its sides, measuring more than 700m, was adjacent to the River Suquia, and constituted a physical barrier drastically separating the neighborhoods on both sides of the river.
Algarrobos House, Puembo, Ecuador
José María Sáez + Daniel Moreno Flores



photo : Sebastian Crespo
Algarrobos House – 3 Dec 2012
Eight identical steel members, 18 meters long, placed along the x y z axis, confine the space for the house and at the same time open it as they project in different directions. They are abstract beams that are oriented looking for their relationship with the surroundings.
Casa Carrara, Buenos Aires, Argentina
Andrés Remy Arquitectos



photo : Alejandro Peral
Casa Carrara – 19 Nov 2012
Located on an irregular lot, the house sits at the back of the lot and is parallel to one of the streets to open the best orientation and capture the best views. The idea of this journey was to discover the entrance as we follow the exterior stone wall.
South American Architecture
Individual Buildings in South America : Major Architecture Projects, alphabetical:
Bread Museum, Brazil
Brasil Arquitetura



photograph : Nelson Kon
Carrasco Airport building, Uruguay
Design: Rafael Vinoly Architects



image from architect
Casa Caracola, Chile
Enrique Browne Arquitectos



image by architect
Casa de la Cascada, Argentina
Andrés Remy Arquitectos



image by architect
Casa Negra, Argentina
Andrés Remy Arquitectos



image by architect
Casa Orquídea, Argentina
Andrés Remy Arquitectos



photograph : Alejandro Peral
Casa Panamá, Brazil
Marcio Kogan



photo : Nelson Kon
Casa Pedro Lira, Chile
Sebastián Irarrázaval



photo : Carlos Eguiguren
Casa San Damian, Chile
Sebastián Irarrázaval



image by architect
Cidade da Musica Roberto Marinho, Brazil
Atelier Christian de Portzamparc



image by architect
Chilexpress building, Chile
Guillermo Hevia H Architects



photograph : Cristián Barahona
Consorcio Santiago, Chile
Enrique Browne / Borja Huidobro



photograph : Enrique Browne
Contador-Weller House, Chile
Riesco + Rivera Arquitectos Asociados



photograph : Carlos Eguiguren
Corten House, Brazil
Marcio Kogan



photo : Nelson Kon
Coser House, Brazil
Marcio Kogan Arquitetos



photograph : Reinaldo Coser
Cristalchile, Chile
Guillermo Hevia H Architects



photograph : Guy Wenborne
More South American Architecture online soon
Location: South America
Osler House, Brazil
Design: Architect Marcio Kogan



image : Pedro Vannucchi
World Buildings – by continent
South American
Contemporary Buildings in America
Central American Architecture : Mexico
American Architecture : major architectural developments + designs
Comments / photos for the South American Building page welcome