Casa Negra, Argentina Property, Building Project Photo, Design, Image
Casa Negra : Black House
Contemporary Residential Development Argentina design by Andrés Remy Arquitectos
26 Apr 2014 – new larger photos of this building added to this page
The Black House, Argentina
Casa Negra
Design: Andrés Remy Arquitectos
The black house was born by the request of a young couple, brought to us by another of our projects "The Waterfall House", which gave us the challenge of improving what we had done at that moment, taking advantage of the freedom they gave us during the design.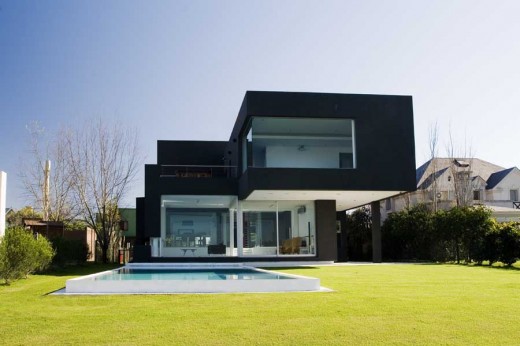 This single house is located in a closed neighborhood, 30km. away from Buenos Aires. The lot, 20 meters wide and 50 meters long with 3 meter of lateral retreats, has amazing views to the lake we could not let aside.
The analysis of the lot showed us the advantages and disadvantages we should take into account along the entire design process. The best views to the lake were at the back of the lot, while the best orientation was at the front. The surrounding houses and the wide lot marked the visuals we should use.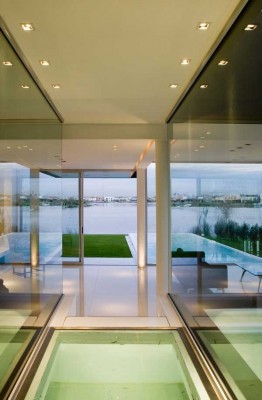 The simple program, for a socially active couple without children, made relevant the resolution of the social areas. We decided to divide the social areas in two. In one side are located the common areas, such as the kitchen and the dining room. On the other side is located the living room, closer to the lake.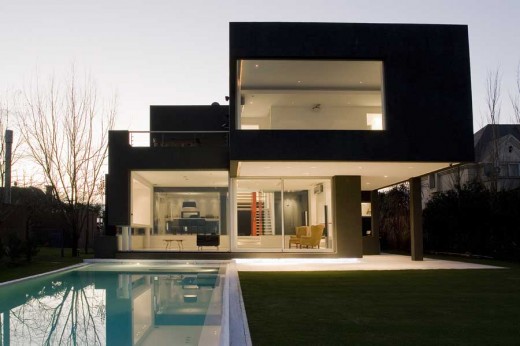 The shallow pool that divides the house in two allows the indirect light to bathe the interiors, as the northern sun reflects it's light on the water surface. This way, light is present in every corner of the house, but never in a direct way.
Both programs are connected by a glass bridge, with the water running under your feet.
The living room, 10 meters wide and 5 meters length, opens to the exterior using glass walls. It was thought in a lower level than the rest of the house, making it permeable and allowing the ambients a clean view to the lake.
The resolution of the first floor follows the same criteria of differencing areas. At the front are located the bedrooms for the future children, with views to the lake. As a bridge, joining the two volumes in the lower floor is the main bedroom with a giant overhang that conquers the best views to the lake, seeming to float over the water.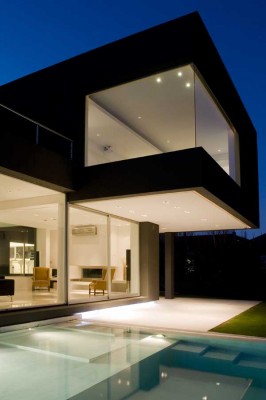 The Black House has an almost provocative sobriety, where the pure white in the inside provoques an emotive contrast with the absolute black in the outside, reminding the bite of an apple. A strong characteristic that names the house.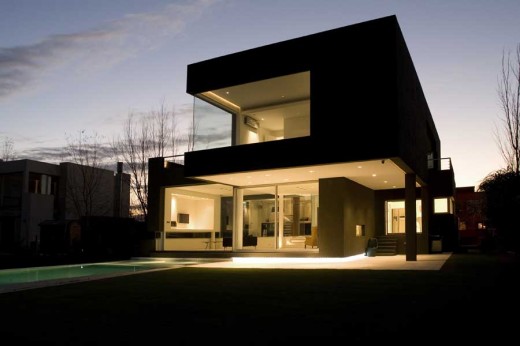 Casa Negra – Building Information
PROJECT AND DIRECTION: ANDRES REMY ARQUITECTOS
DESIGN TEAM: ANDRES REMY, HERNAN PARDILLOS, JULIETA RAFEL, CARLOS ARELLANO, GISELA COLOMBO.
BUILDING DIRECTION: ANDRES REMY, ASSOCIATED HERNAN PARDILLOS.
STRUCTURAL STUDY: CLAUDIO.
SURFACE: 330m
YEAR: 2007
Photographs: Alejandro Peral
La Casa Negra
Casa Negra
LA CASA NEGRA – text in Spanish
La Casa Negra nace del encargo de una joven pareja, que llegó a nosotros a raíz de una obra nuestra "La Casa de la Cascada", lo cual nos supuso un desafío por superar lo hecho hasta el momento, aprovechando al máximo la libertad que supieron darnos a la hora de diseñar.
Esta vivienda unifamiliar se encuentra situada en un barrio cerrado a 30km de Buenos Aires, en un terreno de 20m de ancho por 50m de largo con 3m de retiros laterales a cada lado, y una increíble vista al lago, que debíamos explotar al máximo. El análisis del sitio nos marcó ventajas y desventajas que debíamos considerar a lo largo de todo el processo de diseño: las inmejorables vistas al lago se daban en el contrafrente del terreno, mientras que la mejor orientación estaba al frente, el terreno que se nos presentaba angosto, el entorno construido nos enmarcaba las visuales…
Ante a un programa de necesidades sencillo, para una pareja socialmente activa sin hijos, entendimos la importancia que tendría en esta casa la resolución de las áreas públicas, dando lugar a un esquema pensado en corte donde trabajamos el programa social divididos en dos. Por un lado se dispuso el programa de uso cotidiano, como ser la cocina y comedor, y por otro lado el living, más próximo al lago. El fuelle de agua que los separa, permite bañar de luz indirecta a los ambientes, a través del reflejo que genera el sol del norte sobre él, evitando el recalentamiento de los mismos. De esta manera, la luz está presente en todos los ambientes de la casa, pero nunca de forma directa.
Ambos programas se conectan a través de un trayecto sobre el agua, materializado por un puente de vidrio que parecería no estar mientras el canal corre bajo nuestros pies.
El living de 10x5m , libre de divisiones y totalmente vidriado, se resolvió en desnivel respecto del resto, permitiendo así una permeabilidad visual de los ambientes por sobre él, y acaparando la inmediatez de la laguna.
La resolución de la planta alta, mantiene el mismo criterio de diferenciación de sectores, hacia el frente se dispusieron los dormitorios de los futuros hijos con dos ventanales posteriores hacia el lago y a modo de puente, entre los dos volúmenes de planta baja, se ubicó la suite, con un gran voladizo que conquista las mejores visuales, pareciendo flotar sobre el lago.
Una casa de una sobriedad casi provocativa, donde los ambientes diáfanos de un blanco impoluto contrastan, hasta emocionar, con el exterior totalmente negro, recordándonos el mordisco de una manzana. Una fuerte impronta que ha terminado por bautizar la casa.
Casa Negra Argentina – Building Informatione
CREDITOS
PROYECTO
ANDRES REMY ARQUITECTOS – EQUIPO DE PROYECTO:
Andres Remy, Hernan Pardillos, Julieta Rafel, Marcos Pozzo, Agustina Barthes
DIRECCION DE OBRA: Andres Remy ascociado Hernan Pardillos
INTERIORISMO: Andres Remy, Carlos Arellano
ILUMINACION: Mauricio Meta
TEXTO: Gisela Colombo
FOTOGRAFIA: Alejandro Peral
CREDITOS CASA NEGRA
PROYECTO Y DIRECCION: ANDRES REMY ARQUITECTOS
EQUIPO DE DISEÑO: ANDRES REMY, HERNAN PARDILLOS, JULIETA RAFEL, CARLOS ARELLANO, GISELA COLOMBO.
DIRECCION DE OBRA. ANDRES REMY, ASOCIADO HERNAN PARDILLOS.
CALCULO ESTRUCURAL: CLAUDIO GONZALEZ
SUPERFICIE: 330m
AÑO: 2007
Casa Negra Argentina images / information from Andrés Remy Arquitectos
Location: Argentina
Architecture in Argentina
South American Architectural Projects
Argentina Architecture Designs – chronological list
Argentine Buildings – Selection
FYF Residence, Rosario
PATTERNS



image from architects
FYF Residence
KILLKA – Espacio Salentein, Los Árboles, Tunuyán, Mendoza
Bórmida & Yanzón Architects



photo : Mr
KILLKA Mendoza
O. Fournier Winery, La Consulta, San Carlos, Mendoza
Bórmida & Yanzón Architects



photograph : Garcia & Betancourt
O. Fournier Winery Mendoza
Comments / photos for the Casa Negra – Black House Argentina page welcome