Slice House, Brazilian Architecture, Brasil Residential Building, Architects, Property Design Photos
Slice House Brazil: Porto Alegre Home
Porto Alegre Building, Brasil Architecture Information design by procter-rihl Architects
24 Sep 2007
Location: Porto Alegre
Date built: 2006
Design: procter-rihl, Architects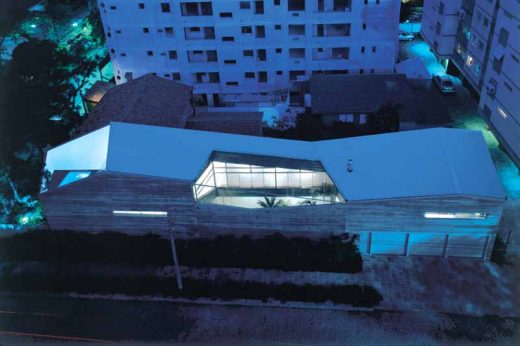 photograph : Sue Barr
Slice House in Porto Alegre
Procter- Rihl is a young multi disciplinary practice designing architecture, furniture and product design. Although a young practice, the partners have prior work experience in well-known London offices such as Rick Mather, Allies and Morrison, and Zaha Hadid studio and work in the US and Brazil. The practice is currently building in the US and UK.
Slice House was selected out of 200 entries to represent Brazil in the IV Latin Ibero American Architecture Biennale in Peru last October. Procter: Rihl won a Gold Medal at Chelsea Flower show in London in 2000, an grant by the London Arts Board, a Blueprint Magazine award, Modo magazine award, and a nomination by Piers Gough for the Arts Foundation award in the architectural category.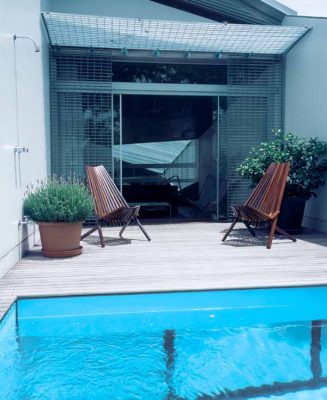 photo : Sue Barr
Christopher Procter and Fernando Rihl trained at the Architectural Association (London), Carnegie-Mellon University (US) and UFRGS (Brazil). Both partners have high expertise in new materials, manufacturing process, daylighting, sustainable issues and landscape design.
They have been widely published world-wide in magazines such as Domus (IT), Abitare (IT), AR (UK), Frame (Net), AJ (UK), Intramuros (FR), Ottagono (IT), Vogue (UK), Azure (CA), Monument (AUS), Shitsunai (JP), Blueprint (UK), Brutus (JP), Designer's Workshop (JP).
ETHOS
Procter –Rihl believes design solutions in architecture should be climate and culture responsive. Our studio is interested in reinterpreting local design solutions questioning and playing with architectural archetypes. Materiality is explored with a contextual quality. Cultural places must be retained and some can be achieved through architecture.
The studio has a high expertise in environmental issues especially daylighting studies. The practice is currently building a Low Energy House employing new prefabricated systems (SIPS – Structural Insulted Panels).
Procter-Rihl has a special interest in residual urban sites and believes urban centres should be developed to maximum potential, as no site is too small or unimportant to be left aside. The changing nature of the urban context generates through time a number of odd residual sites. Residual sites can be extremely interesting because they impose difficult questions to solve in terms of planning and programme.
They are definitely rich areas to explore. A recent project, Slice House, explores this condition for innovative architecture. Slice House is a result of a PhD on shading devices and the impact of courtyards in interior spaces. Innovative solutions were also implemented in this building such as a glass faced swimming pool used as a light filter to the living and dining areas.
Spatially, the practice aims to explore complex geometries in architecture. The practice is interested in creating an exciting journey for the user in spaces focused on rich experiences.
SLICE HOUSE by procter-rihl
The project was selected to represent Brazil in the IV Latin American Architecture Biennale in October 2004 in Peru. The Porto Alegre house makes a series of references to Brazilian modern architecture as well as adding a new element with its complex prismatic geometry, which generates a series of spatial illusions in the interior spaces.
BROWNFIELD SITES – RESIDUAL SITES PUT BACK INTO THE URBAN MATRIX
This project is placed on a site 3.7m wide x 38.5m long. It is located in a good neighbourhood of Porto Alegre (Brazil) but has been vacant for more than 20 years. It went to auction 3 times during this long period without any interest whatsoever. The client was the only one to put in an offer on the 4th auction, as people could not see the potential.
CLIENT AND NEIGHBOURHOOD
The client, a 65 years old History lecturer, gave Procter-Rihl a brief to design a space for entertaining with understated materials but extravagant in its spatial solutions. She had previous experience with renovations so the building process was not completely new. Originally, the client gave a brief for a one bedroom house which was adjusted to 2 bedrooms, open plan living dining space, a private garden living space, main bedroom with ensuite bath and generous walk-in dressing closet, and 1 or 2 garage spaces.
Light was important in this Porto Alegre house with the emphasis on natural daylight with solar control and ventilation in order to minimise the need for air conditioning. She believed architecture could suggest different ways of living and was up for the challenge. In terms of budget, she preferred to spend money on interesting spaces rather than expensive finishes. She was very committed to generate a piece of architecture, rather than an ordinary building and realised collaboration between client and architect was essential. The cost of the building per square meter was slightly less than an average middle class construction.
The conservative neighbourhood was not immediately taken by the project. The Brazilian middle class had become much more conservative in terms of architectural taste. Postmodernism is the developers' architectural language and is very much what people expect. Architecture is not part of the media debate unlike in Europe, which has made architectural discourse very insular in Latin America. Procter-Rihl believes good architecture should have a role in questioning values in society and engaging architectural debate.
The development of the exterior garden and final louvre grill details changed the neighbourhood perception of the Porto Alegre house as it completed the original vision. The selection to represent Brazil in the Ibero- Latin American Arch Biennale helped to validate the project. The Porto Alegre house stills attracts curiosity from all over but is now fairly accepted by the neighbourhood.
MULTI-CULTURAL IDENTITY – HYBRID OF BRAZILIAN AND BRITISH CULTURE
The project is a hybrid of Brazilian and British concerns. Although the building makes reference to Brazilian modernist architecture, its form takes a more contemporary European interest in asymmetrical complexity. Brazilian elements are the implementation of local concrete engineering, open plan typology, large extrovert spaces, swimming pool, outdoor living and lush garden flora.
Concrete is not used in a typical Brazilian grand engineering gesture or sculptural form, but something more discrete. Thin continuous reinforced concrete structural walls bridge over the long slot windows and garage bay, but are not expressed as beams and disappear within the skin of the building. The diagonal concrete stair beam, which angles down to support the cantilevered corridor also disappears into a wrapping ribbon line, which flows around the courtyard.
Brazilian rawness comes through using materials such as timber formed poured concrete whereas British precision is a by-product of modular steel component construction. The building skin reflects these two halves. The steel front facade cladding, roof, gutters and grillwork is all detailed in a British way. Other British elements are the structural glass of the pool, attention to detailing and the use of Brazilian plants in a less formal natural layering common to British landscaping.
SPATIAL STRATEGY, COMPLEX GEOMETRIES and illusion
The upper floor concrete ceiling folds up or down defining different spatial qualities. The stair arrives at the landing in a very open high zone. The ceiling slopes down in the corridor ahead to a very intimate 2.1m height at the bedroom door. This puts the corridor into a forced perspective, which makes the private area of this Porto Alegre house appear further away from the social areas. Turning up the stair and moving to the guest room/ pool lounge the ceiling continues a slope up opening out to the pool terrace and sky.
The bedroom ceiling folds up from its low point at the door opening the space visually above the dressing unit furniture pieces to the bath beyond. The bedroom is enlarged visually while remaining a separate piece from the front public section of the Porto Alegre house.
SWIMMING AS AN EVENT – the Voyeur Experience
The swimming pool, located on the upper floor, is the main event generator in the space. It polarises the attention in the Porto Alegre house where the users are all voyeurs in the space, making homage to the body, a national obsession. The pool is structurally supported by the sidewalls and thus is a floating block above the living space. During the day it works as a daylight filter creating different rippled water effects as the day progresses. At night with the pool lights on it works as a large coloured light fitting.
BUILDING TECHNOLOGY and GENERATION OF COMPLEX SPACES
In the last decade in Europe, the educational system and architectural publications have overemphasised the digital medium ignoring the craft side of the building process. Digital media and modelling is important and useful in conceptualising design and detailing but the translation through craft is ultimately more important than virtual spaces. Procter-Rihl prefers to engage in the physical creation of complex structures or spaces. Furniture and exhibition work has enabled the practice to pursue this type of experimentation more easily.
The project uses prismatic geometry with flush details, which demands more careful detailing, and site supervision. Remodelling in 3d allowed adjustments to ensure accuracy and precision of delivered components with final sizing on site. A more complete prefabrication or factory production of assemblies was not possible or available in Brazil. Windows, metalwork, and cabinetwork were assembled to fit onsite. These elements were crafted precisely in contrast to the intentionally rough concrete surfaces.
A wood formed cast concrete was preferred since it is a local tradition and precast concrete or metal formwork is not generally available for this size of a project. The wood formwork was built in situ with a plank pattern emphasising wood grain, accidental texture pattern, and imperfections. The ceilings were cast at a slope angle of 10 degrees, a familiar technique in the Brazilian building process.
The terrace and swimming pool employ an in situ technology of resin and fibreglass coatings applied on site after the concrete cured completely. This technique reduces the number of materials meeting around the pool waterproofing and allows customising the shape and size of the pool. The final concrete finish floor was a screed laid over a thick plastic layer on the concrete slab to allow movement. This screed was machine polished and sealed for a shiny finish.
Probably the best feature of the Porto Alegre house is the crafted metal work. The 7m-kitchen counter is a continuous steel slab with 2m-cantilevered tables floating off of both ends dining and courtyard sides. The thick steel plate folds up transitionally between the lower dining height and higher work counter. A made to fit stainless steel sink has been inserted into the triangle transition underneath.
The steel work surface is coated with avocado coloured two part catalysed laboratory paint providing an extremely hard finish. The stair is 8mm steel plate accordion folded and welded in sections onto the undercarriage beam plates. The 8mm thin edge is emphasised in light grey contrasted with the exposed underside painted in a deep aubergine purple.
Because the stair is a "U" shape with offset forces the British engineers were able to design thinner and lighter balustrade details than normal. The thin 32mm upright tubes support and 35mm handrail, which forms a looped continuous top handrail and lower thigh height bottom rail. The balustrade leans out with the handrail atop the upright and an ankle height rail pulled in giving a sensation of safety to the open balustrade.
The complex 3d shape of this balustrade was digitally visualised for preliminary component bending and cutting with final curve refinement done on site. The skilled Brazilian welder sliced and re-welded some curves to finish the railings. The curves were not in the same horizontal or vertical planes and were ascending diagonally up the stair.
BUILDING and PLANNING REGULATIONS
Brazilian building regulations are based on a modernist discourse. There is an assumption from Europeans that there are no regulations, which is not true. Building inspections are quite rigorous. Unlike in the UK, planning regulations are not based on interpretation but on inflexible codes.
For residential projects 25% of the site has to be unbuilt or garden space. Housing may sometimes be built up to street frontage boundaries but is more normally recessed 4m from boundary lines. This setback area counts as part of the 25% unbuilt area can be fenced in as long as it is visually accessible and no higher than 2.1m and must be used solely as a garden area.
Opening windows placed on any street frontage boundary line must be above 2.4m to avoid accidents of opening shutters or grills to pedestrians. Although there are no restrictions on aesthetics, there are strict limitations on volume and height of the building. Only architects or engineers can apply for permission. Services and structural engineer's detail plans have to be submitted as part of the approval process.
Recently in 2000, the planning and building codes were simplified for one-off single houses. Local government decided to give more freedom for single units and direct more of its limited planning resources into multiple housing schemes by developers or government. Now the Porto Alegre house owner is free to make decisions about many details such as balustrade details and windowsill heights while basic requirements remain in place such as minimum ceiling heights, services safety, site placement, volume etc.
In this particular site (3.7 x 38.5m long) the 4m-setback was judged necessary on the narrow front side only, as side street setback would have swallowed up the entire site. This is an unusual situation on the street as it is the only building built to the public frontage. The 25% required open space is contained within the front setback garden and an inner courtyard rather than a rear garden (colonial Portuguese tradition). The insertion of a courtyard extends the living space, balances daylight levels, optimises cross ventilation and creates privacy in a dense urban environment. Side windows were kept high as required.
Unusual from European eyes, the owner of the land takes responsibility for construction and maintenance of any adjoining public pavement land. In this case, the strip is 4m in width comprising a required 1.5m walkway and 2.5m landscaping strip. This area is strictly regulated as to the pavement size, type of stone, and joint between stones. Traditional Portuguese black and white mosaic walks have been abolished in favour of uniformity although existing properties retain their original pavement types which makes the streetscape patchy.
SLICE HOUSE – ENVIRONMENTAL ISSUES
DAYLIGHTING
Modern Brazilian architecture imports European aesthetics with its large glass areas generating glare and overheating relying on air conditioning to reach comfortable levels inside the spaces.
Great attention was given to daylight studies due to in-house expertise – PhD Environmental Studies (Daylighting – Impact of Shading Devices in the Manipulation of Daylight in Interior Spaces). The PhD focused on the impact of shading devices in the interior spaces looking at glare, modelling of objects by light and comfortable daylight levels.
The work also analyses the difference in daylight levels where at 30deg latitude it is approximately 35% brighter sky than the northern European sky. An early study also looked at courtyard proportions and the impact on daylight levels in adjacent spaces. The studies were developed using specific daylight programmes, artificial sky tests and physical models tested in Europe and Brazil. All this ongoing research made the Slice house the perfect project to apply such research.
Orientation and size of openings were paramount in this project to achieve good daylight levels and to avoid the use of air conditioning. Minimal openings were created on the concrete west facade to avoid overheating. Northern facades (equivalent to south in northern hemisphere) is filtered to the internal spaces through controlled openings; louvred courtyard, overhangs and through the swimming pool glass window. The Southern (equivalent to North in Europe) wall onto the courtyard is the largest glass area as it receives no direct light.
The pool brings light with a dreamlike quality of the moving water. The windows are designed as punched holes away from each other to generate pools of light instead of bland even daylighting. These openings happen at different heights bringing light and views at unexpected ways into the space.
VENTILATION
Air flow was used to create comfort without air conditioning. High ceilings, cross ventilation, and ceiling fans in all rooms provide moving air. The roof is also designed with cross ventilation to avoid overheating. It has a very high void to allow good ventilation levels in the loft space above the insulation. Outdoor living is possible most of the year and the courtyard in the middle of the building is used for cooking (outdoor barbecue chimney and sink), dining and hammocks. Grills for security also act as sun louvres and allow the windows and courtyard to remain open.
INSULATION and THERMAL MASS
Insulated structures are extremely rare in the construction industry in Brazil. Double glazing is only used for noise control in small windows due to cost. Windows are often open for ventilation much of the year. Insulation materials are expensive due to the lack of demand and perceived as an extravagant building material. Hollow blocks or air cavities are all that is normal.
The cost of Rockwool insulation for this Porto Alegre house was 5% of the construction. Walls have 50mm insulation within the inner stud wall and the roof has 200mm above the concrete ceiling in the loft. The client was very supportive and committed to avoid air conditioning. Thermal mass is provided by the two floor slabs, the inclined concrete ceiling, and the pool water.
LIGHTING and MECHANICAL
All light fittings are low energy halogen or fluorescent. Lights in garages are fitted with movement sensors and timed shut off. Hot water is small on demand propane boiler. No heat or air conditioning. The pool water is not heated which suffices most of the year. An inflatable cover is planned to extend the season and contain thermal mass storage heat during winter.
LIFESTYLE CHANGES
Occupants move around the Porto Alegre house and use different spaces in different seasons. During the winter, which is mild and lasts for a few weeks, the house is pleasant indoors as lower sun angles penetrate. The upper floor guest/living room and terrace are used as they collect sun. The courtyard is not used. In summer the courtyard is used as it is away from the sun.
MATERIALS & RECYCLING
Brazilian construction industry is still very craft based due to cheap labour. Access to prefabricated components is limited. Everything is done and developed in situ which sometimes is not the most efficient way. On the other hand, the recycling industry is extremely efficient. Recycling is compulsory in southern of Brazil for aluminium, plastic, paper, cardboard and green waste.
The eucalyptus posts used to brace the concrete formwork structure were recycled to a local paper company. The wall formwork was built in stages moving up the wall to use less timber. The best plywood and timber cladding planks for forming concrete were reused in the roof trusses and deck under the metal roofing. The remaining wood was reused by the builder on other projects.
Concrete, steel for stairs/ kitchen, and steel stud linings were local materials of choice due to termites in this region. The wood specified in furniture cabinet veneers was local and not from rainforest sources.
FURNITURE and INTERIOR DESIGN
Procter- Rihl has expertise in furniture design particularly production processes. Some of the practice's production pieces chairs and coffee tables were used as well as new one-off pieces for the Porto Alegre house such as the woven steel frame bed and letterbox. These were mixed with the client's collection of modern furniture. Many large built-in elements such as; concrete window desk areas in both bedrooms, the 7m steel dining/kitchen counter, wood living/entry cabinet, wood stair cabinet, and wood dressing room block were part of the total architectural design.
Where additional impact was required the practice designed the 4.5m long quilted wall poem, which the client a keen seamstress, made for the house. An ambiguous monkey was created as a wall panel out of Lego plastic bricks. Traditional Brazilian macramÈ hammocks were provided with wall hooks on the courtyard walls to string across under the palm trees. Local craft pieces were mixed with good modern design.
Colour clashes such as aubergine v avocado, orange v olive were intentionally chosen to create tension and excitement in certain spaces and situations. In the rich orange coloured louro freijo wood storage units bright blue and red colours are used inside to create an element of surprise.
INFORMAL LUSH LANDSCAPING
Procter-Rihl designed the landscape to achieve a less formal wild effect using mostly native plants to balance the prismatic geometry of the house. Three different climate zones were identified in the project; entrance garden (partially sunny/ damp conditions), side garden wall strip (extremely sunny/ dry conditions/ windy) and internal courtyard (filtered light and more protected environment). The internal courtyard was planted with mixed tropical rainforest species in three large submerged round concrete basins.
The long side garden and the front were planted with more localised subtropical plants. The front garden is planted in layered heights of mixed architectural plants and flowers that drift through then open fence grill continuing down the side garden strip. This pavement garden strip is planted against a wall like an English border garden.
As with a border garden mixing and layering plant heights brings more intensity to a small area. Plants are planted together with taller plants coming through lower levels. The planting scheme uses flower hues of purples, aubergines and whites with a few clashes of oranges and mixed purple, red brown and green foliage.
Pavement in the garden was created in a playful manner. The front path is a series of large 1-1.5m offset irregular concrete circles amidst thick planting linking the gate to entry door. On the other hand, in the concrete courtyard it is reversed with the circles becoming voids for lush planting.
Slice House – Building Information
Project: Slice House, Porto Alegre, RS, Brasil
Area: 210m2
Architects: Procter-Rihl, London, UK tel: + 44 (0) 207 704 6003
Collaborators: Dirk Anderson, James Backwell, Johannes Lobbert (UK office)
Structural Engineer – Glass and Steel: Michael Baigent MBOK (UK)
Structural Engineer – Concrete: Antonio Pasquali (BR)
Foundation Engineer: Vitor Pasin (BR)
Services Engineer: Flavio Mainardi (BR)
Site architect: Arq. Mauro Medeiros (BR)
Client: Ms. Neusa Oliveira
Construction Company: JS CONSTRUCOES
Photography: Sue Barr (UK) and Marcelo Nunes (BR) – see individual photos
Porto Alegre House – design by images / information from procter-rihl Architects
Location: Porto Alegre, RS, Brazil, South America
Brazil Architecture
American Architecture Walking Tours : city walks by e-architect
Brazil Architecture Design – chronological list
Brazilian Architects Practices
Rio de Janeiro building : Cidade da Musica
Brazilian architect : Oscar Niemeyer
Slice House photos from procter-rihl by disk 240907
Comments / photos for the Porto Alegre House in Brazil page welcome