Chile Architecture, Santiago Buildings, Projects, Photos, Real Estate, Houses, News
Chile Architecture : Buildings
Key Contemporary Developments + Buildings in South America
post updated 30 June 2023
Architecture in Chile
We've selected what we feel are the key examples of Chile Architecture. The focus is on contemporary Chile buildings.
Chile Architecture : A-D (this page)
Chile Building Designs : E-M
Chile Buildings : N-Z
Latest Chile Building Designs
Major Chile Building Designs, alphabetical:
17 Nov 2018
UC Architecture School Building, Santiago
Design: Gonzalo Claro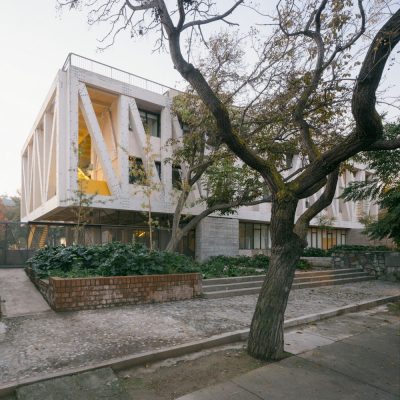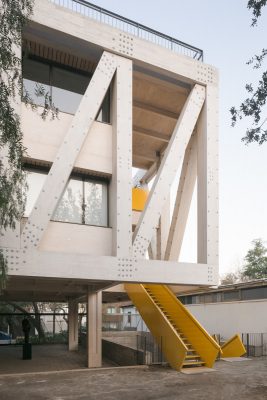 photos Courtesy of the 2017 Wood Design & Building Awards
Chile Building awarded in 2017 Wood Design & Building Awards
11 Mar 2017
Pergola Pavilion, Lo Barnechea, Santiago
Architects: PAR Arquitectos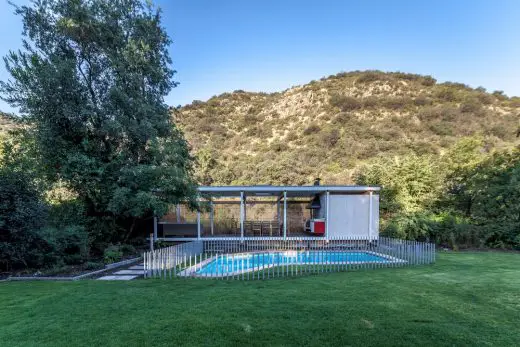 photograph : Diego Elgueta
Lo Barnechea Building
An isolated and open construction, next to an existing swimming pool, was ordered at the end of the house garden. The place is presented with an outstanding geographical support, which contains and frames a privileged green environment, typical of the pre-mountain range area east of Santiago.
19 Jan 2016
The Winery at VIK, Vitacura, Santiago
Design: Smiljan Radic architect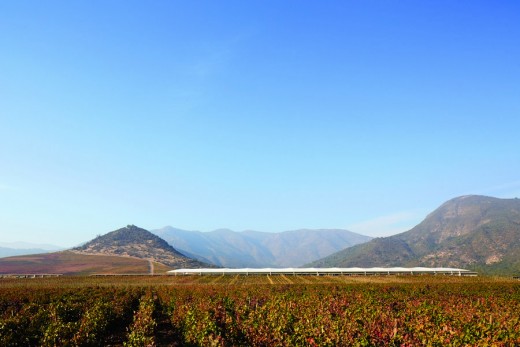 photo courtesy of Vik Retreats
The Winery at VIK
International Museum of Astronomy Competition
Chile Design Competition
Palermo Cultural Centre, Santiago
Design: Cristobal Correa Ehlers arquitectos – cCe arquitectos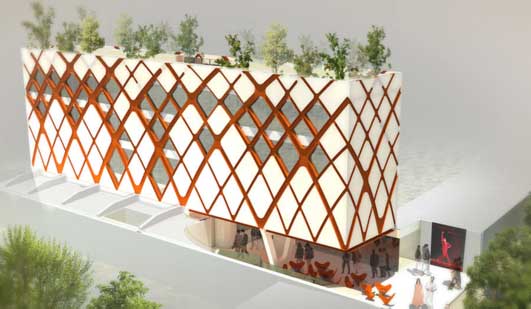 image from architects
An intriguing building, a regular block form that is raised above street level then patterned in a loose diamond latticework.
Cardenal Belarmino Office Building, Vitacura
Design: Cristobal Correa Ehlers arquitectos – cCe arquitectos



image from architects
The design proposal for the project ´Cardenal Belarmino Office Building´ is based on external factors such as weather, prevailing winds, sunlight, connecting roads, flows and internal movements of people, site location and orientation, existing infrastructure, green space and public areas.
Caterpillar House, Lo Barnechea, Santiago de Chile – 23 Sep 2013
Design: Sebastián Irarrázaval Delpiano ; Associated Architect: Erick Caro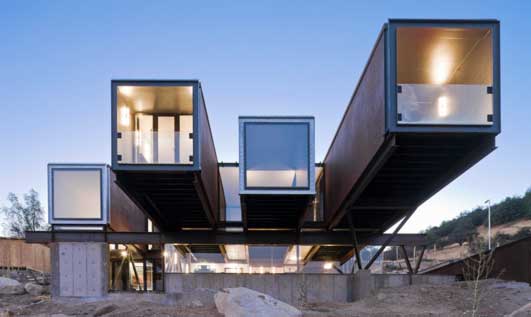 photo : Sergio Pirrone
Putting aside the fulfillment of the brief; the main purposes of the house were two: The first one was to integrate it to the territory of this part of the city where the presence of the Andes Mountain is extremely strong both visually and tectonically. Therefore the presence of the Andes was considered as an obvious background worst to be highlighted and also as a sloped ground needed to be negotiated.
Outside IN House, Última Esperanza – 22 Aug 2013
Design: Fernanda Vuilleumier Studio



photo : Daniel Bruhin W.
The design of Outside IN House consists in bringing the exterior materials to the interior. The materials carry ambivalent meanings of a vernacular form. On one side Outside IN Homes are functional and domestic. A thinking-home has passive solar elements to contain, save, and distribute solar energy for diurnal warmth, cooling, and illumination.
World Green Center, Santiago, Chile
Design: cCe Arquitectos


image from architect
World Green Center – 8 Jul 2013
The architects office's goal is to present a unified project that is able to generate connections and links to both the environment and the people within whilst at the same time, providing a constructible solution in two or more stages that will form an integral project to be read as a single unit when finished. The architecture studio's proposal considers the 'unused' space by the buildings as public space, owned by everyone, and therefore becoming a contribution to the city.
Casa MAVA, Zapallar
Design: Gubbins Arquitectos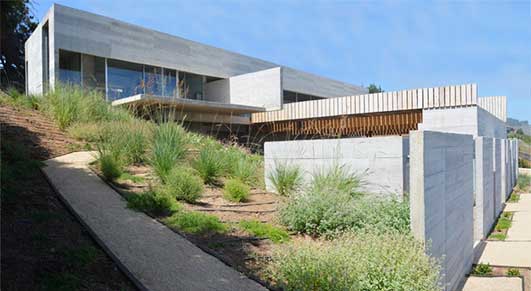 photo : Pablo Montecinos
Casa MAVA – added 25 Mar 2013
The main strategy was to create a big terrace, creating this "new floor" that would allow the "leisure life" and make even more perceptible the Ocean sight, Offering a unique relationship between the inhabitant and the horizon line, the same way as the cliffs do. The terrace extends towards the Ocean, removing the view of the existing houses.
Casa Omnibus, Cachagua
Design: Gubbins Arquitectos


photo : Marco Mendizabal
Casa Omnibus – added 21 Mar 2013
To break the typical areas of an urban house; kitchen, living–dining room and dormitories, this house has a double circulation that deconstructs these areas into a set of complimentary places. This creates a way of inhabiting that moves away from a typical urban arrangement into a more playful one.
Casa El Pangue, Patagonia
Design: Elton+Leniz Arquitectos asociados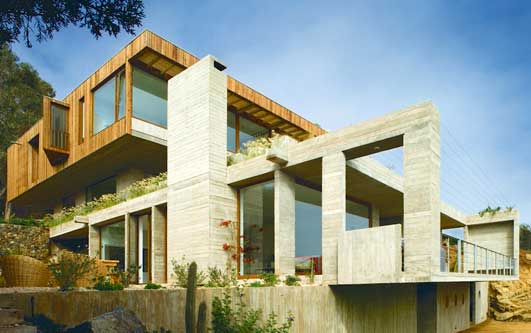 photograph : Natalia Vial
Casa El Pangue – added 26 Feb 2013
This house stands on a steep sloping site, facing the ocean. It is developed towards a central vertical circulation, connecting the 4 levels and 3 terraces in which the house is organized, in order to get as much of the view of the Pacific Ocean as possible, taking advantage of the height offered by the natural slope of the site.
Elqui Domos Astronomical Hotel, Pisco Elqui, central Chile
Architects: RDM Arquitectura



photo : James Florio
Elqui Domos Astronomical Hotel – 27 Feb 2013
Time-lapse and stop motion project showcasing the architecture, design and the amazing skies of the Hotel Elqui Domos in Pisco Elqui, Chile – one of the worlds clearest skies.
Recent Chile Building Designs
Lycée María Auxiliadora Building
Design: Surco Studio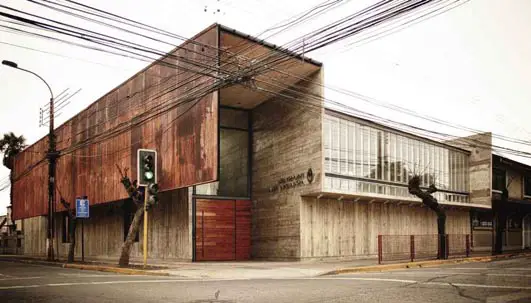 picture from architects
Lycée María Auxiliadora Building – 5 Jul 2012
The project fits in the reconstruction of a building belonging to Lycée Maria Auxiliadora, which was severely damaged by the earthquake of 27/F. This stood in the opposition corner of the Main Square of Linares, seventh region, in an important position within the city.
House in Piedra Roja, north of Santiago, central Chile
Riesco + Rivera Arquitectos Asociados



photograph : Sebastián Wilson León
House in Piedra Roja – 26 Apr 2012
This building is an individual house for a young family, located in a developing suburban area in the north of Santiago, with an arid Mediterranean climate. Conceptually the architects worked with the idea of the traditional houses of the central zone of Chile, valuing the intermediate spaces and integrating the exterior to the interior through inner patios and covered zones as the traditional corridors..
Hotel in Atacama Desert, northern Chile
LAN Architecture



picture from architects
Hotel in Atacama Desert – 17 Jan 2012
The hotel project rapidly became a small city project, a human settlement in which is combined habitat, commerce, education, politics, culture.
Taltal Public Library, Antofagasta Region, northern Chile
Murúa-Valenzuela



photo © macarenaalvarez
Biblioteca Pública Taltal – added 10 Jan 2012
Taltal is a coastal town in the Antofagasta Region, 306 Km. south of the city of Antofagasta and 25.4 degrees latitude south. The project to design the new public library arose from a public competition process petitioned by the Municipality of Taltal in 2008. Our firm submitted a project which received the first place selection.
Miele Gallery, Vitacura, Santiago de Chile
Gonzalo Mardones Viviani & Asociados



picture : Nicolás Saieh
Miele Gallery Chile – 27 Aug 2011
Chosen by Miele for this architecture competition, the site is a residential neighborhood with residences in low, medium and high density, surrounded by parks and squares. It is in close proximity to the new City Council Building and Bicentenario Park.
Chile Buildings
Major Chile Architecture Projects, alphabetical:
Baha'i Temple Santiago
Hariri Pontarini Architects



image from architect
Baha'i Temple Santiago
Casa Caracola
Enrique Browne Arquitectos



image from architect
Casa Caracola
Casa Pedro Lira
Sebastián Irarrázaval



photo : Carlos Eguiguren
Casa Pedro Lira
Catholic University of Chile
Sebastián Irarrázaval



image from architect
School of Design in Chile
Casa San Damian
Sebastián Irarrázaval



picture from architect
Casa Santiago
CHILEXPRESS S.A., Santiago
Guillermo Hevia Arq. U. de Chile



photo : Cristián Barahona
Santiago building
Consorcio Building, Santiago
Enrique Browne / Borja Huidobro



photograph : Enrique Browne
Consorcio Santiago Offices
Contador-Weller House, Casablanca
Riesco + Rivera Arquitectos Asociados



photograph : Carlos Eguiguren
Contador-Weller House
Cristalchile Glass Bottling Plant, Llay-Llay
Guillermo Hevia H Architects



picture : Guy Wenborne
Cristalchile
More Chile Architecture projects online soon
Chile Building Designs – No Images
Chile Architectural Projects, E-M, alphabetical:
20×20 Ceramic Tile House, Santiago
2006
Assadi & Pulido Architects
Auditorio del Centro Cultural Matucana 100, Estación Central, Santiago
2002
Martin Hurtado Arquitectos Asociados
Binimelis House, La Reserva, Chicureo, Colina
2007
Polidura + Talhouk Arquitectos
BIP Computers, Suecia & Bilbao, Providencia, Santiago
2007
Alberto Mozo
Capilla – Oratorio, San Francisco de Malchehue
1993
Martin Hurtado Arquitectos Asociados
Catholic University Santiago
2008
Alejandro Aravena
More Chile Architecture online soon
Location: Chile, South America
South American Architectural Designs
Chile Architecture Contest : Wine's Museum Design Competition
Memory Museum Chile : Design Competition entry by Sebastián Irarrázaval
Buildings in countries near Chile
Buildings in countries nearby
Brazil Architecture



picture from Client
Uruguay Buildings



image © Roman Viñoly
Buildings / photos for the Chilean Architecture page welcome