Colombian Architecture, Building Colombia, Architect, Property News, Church Design Projects
Colombian Architecture : Buildings
Key Contemporary Building Developments in Colombia, South America
post updated 14 July 2021
Colombia Architecture : links
Architecture in Colombia
e-architect select what we feel are the most significant examples of Colombian Architecture. Buildings are mostly located in the capital Bogotá. We cover completed Colombian buildings, new building designs and architectural exhibitions. We also post architecture competitions across Colombia.
Bogotá Architecture Tours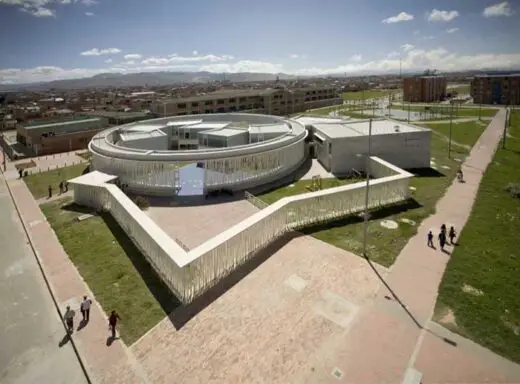 Project Jardin El Porvenir by Giancarlo Mazzanti in Bogota – photograph from 'Colombia : Transformed' organisers
27 Oct 2016
Expansion of Bogota's largest exhibition hall, Corferias
Design: CAZA Architects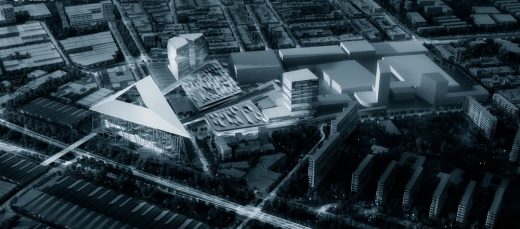 image from architect
Corferias Bogotá Master Plan
Colombian Architecture Event
LIGA 08 Permeability Exhibition, Mexico
plan:b, Medellin, Colombia : Feb – Apr 2013
This is an exhibition that revolves around a recent book, Permeability (Jan 2013), published by the architecture study, Plan:B Architects.
Colombian Building News
Colombian Architecture News – latest additions to this page, arranged chronologically:
Medellin Riverfront Design, north Colombia
Design: Land+Civilization Compositions, Taller 301, openfabric



image by architects
Medellin Riverfront Design
URBAN CURRENT[S] A conceptual framework for the development of the city of Medellin
A river, by definition, refers to movement. Only if we interpret the Medellin River area as a single geographic entity composed of natural elements (fauna and flora) and artificial (history, culture, mobility) do we understand that the opportunity presented by this call goes beyond the area defined for the contest.
La Calera Chapel, Bogotá
Design: Daniel Bonilla Arquitectos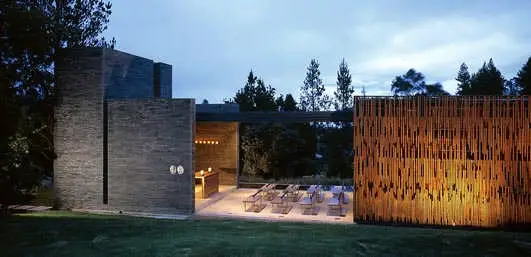 photo : Alberto Fonseca
La Calera Chapel, Bogotá, Colombia – added 9 Jan 2013
This chapel building has a basic geometry that tries to alter the territory as little as possible. It uses the natural features of the environment, the wind and the light, to create an essential harmony. The chapel is designed to open to the outside to allow worshipers to gather in mass, this architectural design appeases both small private groups and large public functions.
Los Nogales School Buildings, Bogotá
Design: Daniel Bonilla Arquitectos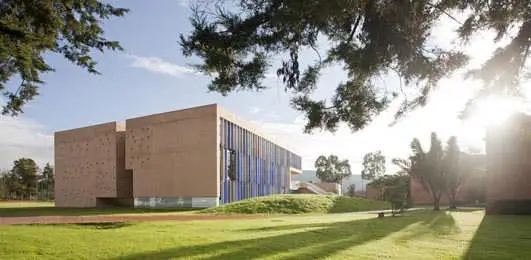 photo : Rodrigo Davila
Los Nogales School Buildings – added 2 Jan 2013
Los Nogales School's Chapel, is conceived based on human life's dualities. A pure and elemental prism represents the pureness, the essential and the harmony. The various volumes and cracks that this prism suffers represent the spiritual sense in human lives, therefore harmony's alterations.
Bogotá Chamber Commerce
Design: Daniel Bonilla



photo : Sergio Gómez
Bogotá Chamber Commerce – added 28 Dec 2012
The building design celebrates the collective value of the program to the city, opening the ground floor space to the public, with a diagonal pass through the building. The tilted first floor plan generates an interesting dynamic to that of the traditional platform space.
Buildings in Colombia – Architecture Exhibition
Colombia : Transformed,
Drury University's Hammons School of Architecture, Springfield, MO, USA
25 Jan – 1 Mar, 2013
previously at:
Manezh Central Convention Hall, Moscow, Russia
11 – 12 Dec 2012
Orquideorama Botanical Garden, Medellín
Design: Felipe Mesa, plan:b arquitectos



photograph © Sergio Gomez
Sports Complex for the 2010 South American Games
Design: Plan:b arquitectos + Giancarlo Mazzanti



photograph © Sergio Gomez
Timayui Kindergarten, Santa Marta, Colombia
Design: Giancarlo Mazzanti



photograph © Jorge Gamboa
La Independencia School, Medellín
Design: Felipe Uribe, +udeB



photograph © Sergio Gomez
Intercontinental Curatorial Project presents its ongoing traveling exhibition Colombia: Transformed at Moscow's Manezh Central Convention Hall during "Zodchestvo" architectural festival, December 11-12, 2012.
Exhibition curators: Vladimir Belogolovsky and Fernando Villa
http://curatorialproject.com/exhibitions/colombiatransformedl
Recent Colombian Architecture Designs
Julio Mario Santodomingo Building, Bogotá
Design: Taller de Arquitectura de Bogotá



photo : Rodrigo Dávila / Andrés Arenas
Julio Mario Santodomingo Building – 10 Dec 2012
The building is conceived as a new element that connects the campus of the University (Universidad de Los Andes), concentrating uses and flows from these parts to the building. It aims to integrate pedestrian through places like the access plaza and the first floor gallery.
Universidad EAN, Bogotá
Taller de Arquitectura de Bogotá



photograph : Rodrigo Dávila
Universidad EAN Colombia – 7 Dec 2012
Universidad EAN – El Nogal Campus – Classroom building is the result of a competition by invitation, where we propose to set up a university campus where the buildings are as important as the common open spaces. A place where students can meet, study, rest, … a second home for education and fun.
Grand Hyatt Hotel Bogotá
Goettsch Partners



image from architects
Grand Hyatt Bogotá – 6 Jul 2012
Architecture firm Goettsch Partners has been selected to design the new Grand Hyatt hotel in Bogotá, Colombia, set to be the first Hyatt-branded hotel in the dynamic Latin American city. The new hotel will be a key component of the Ciudad Empresarial Sarmiento Angulo, a premier commercial mixed-use development planned for 18 buildings.
Bogotá International Convention Center – design
Saucier + Perrotte architectes



image from Saucier + Perrotte architectes
Bogotá International Convention Center
The Cerros Orientales and Monserrate are defining features of landscape in Colombia and Bogotá's cityscape. As structuring elements of the city, they exist as the beautiful background against which unfold the lives of the inhabitants of Bogotá. Cradled between the mountains and the river, this stunning landscape gives the city its unique identity.
International Conventions Center of Bogota
Design: Bermudez y Herreros Arquitectos



image from architects
New International Convention Center Bogota
The Government of Colombia, the Chamber of Commerce of Bogota and Corferias publicly announced the consortium formed by renowned architects Daniel Bermudez (Colombia) and Juan Herreros (Spain) as the winner of the international architectural design competition for the International Conventions Center of Bogota.
Colombian Architecture
Major Colombia Architecture Projects, alphabetical:
Chapel of Porciúncula de la Milagrosa, La Calera, Bogota, central Colombia
2004
Daniel Bonilla Arquitectos
España Library, Santo Domingo, near Medllin, north Colombia
2007
Giancarlo Mazzanti



photo : Sergio Gómez
Colombian Library Building
Habitar 72 + Habitar 74 : residential buildings, Bogotá
–
Giancarlo Mazzanti
Nazca restaurant, Bogotá
2004
Giancarlo Mazzanti + Paula Galarza
Leon de Grief Library Park, La Ladera, Medellín
2007
Giancarlo Mazzanti
Nogales School Chapel Building
2002
Daniel Bonilla Arquitectos
Orquideorama – The Orchid House, Botanical Garden, Medellin
2005-06
Plan B Architects with JPRCR
Santa Elena House, Medellin
2009
Antonio Sofan



photo : Carlos Tobon
Santa Elena Home
Sinu River House, Monteria
2010
Antonio Sofan architect



photo : Carlos Tobon
Sinu River House
More Colombian Building projects online soon
Contemporary Colombia Architecture : Dr Karim Hadjri
Location: Colombia, South America
South American Architectural Designs
Buildings in countries near to Colombia
Building Developments in countries nearby to Colombia
Comments / photos for the contemporary Colombia Building page welcome