Casa de la Cascada, Contemporary Argentina Residence, Property Design, Residential Building Photos
Casa de la Cascada – Waterfall House
New Residential Development in Argentina, South America design by Andrés Remy Arquitectos
post updated 19 June 2021 ; 1 Feb 2010
The Waterfall House
Casa de la Cascada
The waterfall house was conceived by the request of a young business man in a closed neighborhood. The particularities and requisites of the client, among with the lot's characteristics, established the path to follow in the design process.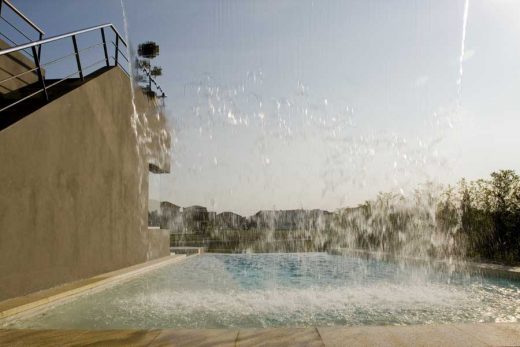 The borders of the small lot we are referring to, seem to disappear in the predominant visuals: the lake.
The surrounding houses, the sun's path and the visual were needed to understand the emplacement.
At the back of the lot, at the ground level the lake has a shy presence. So it was considered to raise up to get a better look at the lake. This is the reason why it was decided to place the social area in the upper level, conquering the panoramic views to the lake during the day.
It is there where the water shows up. Unexpected at that height, it embraces the architecture and paints it with reflections, bringing life and movement.
Appearing and disappearing to the eyes of the user, relaxing with it's sound, dazzling with reflects, going through a path that stimulates the senses.
The shallow pool expands the house limits, making them infinite. It erases the line between natural and artificial, inside and outside.
The elevated water falls, as a waterfall, over the swimming pool in the lower floor, refreshing the rooms and providing privacy at the same time. The water fall also filters the northern light making it less harmful.
The waterfall is the icon of this house; this is why it was named after it.
About the functionality of the house, we designed flexible spaces, so it could be adapted as much as to the social active life of our client, as to the needs of a future family. The flexibility allows isolating the private areas in the lower floor from the public areas in the first floor and part of the lower floor.
As a way to connect the street life with the inside of the house, was designed a mixed use room, used as a garage, playroom or to host parties.
The vertical circulation in triple height baths the inside with cenital light, joining the different levels.
The volumetric game outside and inside vanishes at the back, opening the spaces to the lake.
The balance between full and empty tries to avoid the adverse effects big windows may cause to thermal isolation.
In contrast, the front presents a closed design holding the service areas and giving privacy to the house.
Casa de la Cascada
La Casa de la Cascada – text in Spanish
MEMORIA CASA DE LA CASCADA
La Casa de la Cascada se concibió a partir del encargo de un joven empresario, para ser llevada a cabo en un terreno situado en un barrio cerrado. Tanto las particularidades y los requisitos del cliente como las del terreno permitieron abordar de una manera específica este proyecto.
Los límites del pequeño terreno al que hacemos referencia, parecieran fugarse hacia el ineludible foco visual: la laguna. Las casas aledañas, el recorrido del sol y las visuales también nos sirven para comprender mejor el sitio.
En el contrafrente del terreno, a nivel del suelo, la laguna se percibe con timidez; por lo que se consideró preciso elevarse para lograr contemplarla mejor. A raíz de ello, se resolvió ubicar el área social de esta vivienda en la planta alta, contemplando así las vistas panorámicas durante la mayor parte del día.
Es allí donde aparece el agua, inesperada a esa altura; envolviendo a la arquitectura y pintándola con sus reflejos, mientras la recorre dándole vida y movimiento. Aparece y desaparece, frente a los ojos del usuario; tranquiliza con su sonido y deslumbra con sus reflejos, en un recorrido que estimula los sentidos.
El espejo de agua es el que expande los limites de esta vivienda y la hace parecer infinita, desdibujando la brecha entre lo natural y lo artificial, entre el adentro y el afuera. El agua elevada cae, a modo de cascada, sobre la pileta ubicada en planta baja, refrescando los ambientes, dotándolos de privacidad y tamizando la luz del noroeste para que resulte menos dañina. El efecto cascada es posible mediante un sistema de bombas que recirculan el agua. De ahí el nombre con el que se bautizó a la casa.
En lo referido a la funcionalidad de esta vivienda, planteamos espacios flexibles, para que se pudieran adaptar, tanto a la vida socialmente activa de nuestro cliente como a las necesidades de futuras familias, procurando no restringir otros usos posibles. La flexibilidad planteada permite aislar el sector privado desarrollado en planta baja, del sector público que resulta de la fusión de la planta alta y de una parte de la planta baja para grandes eventos; o bien, independizar un nivel del otro obteniendo un área de recreación para chicos y otra para adultos.
A modo de conexión entre la calle y el interior de la vivienda, se ubica un espacio multiuso, resuelto con materiales de alta resistencia que permiten su uso como garage, playroom o salón de fiestas.
La circulación vertical en triple altura baña al espacio de luz cenital y vincula ambos niveles.
El juego volumétrico exterior e interior, se desmaterializa hacia el contrafrente, resolviendo así la apertura visual de los ambientes principales hacia la laguna, y un frente mas ciego que contiene el área de servicios y dota de privacidad a la vivienda.
El equilibrio dado entre los llenos y vacíos, procura evitar los efectos adversos que generan los grandes aventanamientos, en lo referido a la aislación térmica.
Creditos Casa De La Cascada – Building Information
Proyecto Y Direccion: Andres Remy Arquitectos
Equipo De Diseño: Andres Remy, Flavia Bellani, Marcos Pozzo, Paula Mancini, Laura Rodriguez Segat. Leandra Rodriguez Llebana.
Direccion De Obra. Andres Remy, Laura Rodriguez Segat.
Calculo Estrucural: Carlos Dolhare
Superficie: 340m
Año: 2005
Photographs : Alejandro Peral / Juan Raña
Casa de la Cascada Argentina images / information from Andrés Remy Arquitectos
Location: Argentina
Architecture in Argentina
South American Architectural Projects
Argentina Architecture Designs – chronological list
Buenos Aires Architecture Tours
Argentine Buildings
New City Hall Buenos Aires, Parque Patricios
Design: Foster + Partners, architects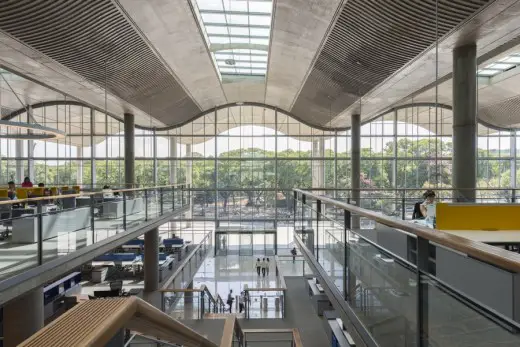 image from architects
New City Hall in Buenos Aires
FYF Residence, Rosario
PATTERNS
FYF Residence
KILLKA – Espacio Salentein, Los Árboles, Tunuyán, Mendoza
Bórmida & Yanzón Architects
KILLKA Mendoza
Architectural Office, Martinez, Buenos Aires
Alricgalindez Arquitectos
Architectural Office Martinez
Comments / photos for the Casa de la Cascada – Contemporary Argentine Residence page welcome