Casa Orquídea, Argentina House, Building Photo, Design, Pilar Property Development
Orchid House Argentina Residential
Casa Orquídea – The Orchid, South America design by Andrés Remy Arquitectos
1 Feb 2010
The Orchid House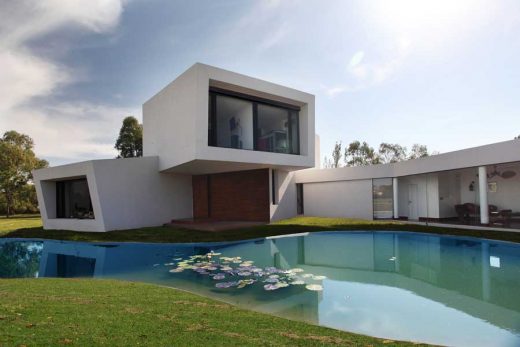 Casa Orquídea, Argentina
The Orchid was a challenging project, committed by a young couple with two sons, enthusiastic about sustainable architecture. After consulting several architects, they gave the commission to Andrés Remy, who had investigated these concepts in New York at Rafael Viñoly's Studio for four years.
Sustainability implies a lot of varieties, such as efficient and rational use of energy and water, natural ventilation and lighting, and low-environment-impact materials. The house has the best orientation, possible thanks to the large lot.
The concept came from the client's hobby, growing orchids. The house is based on the different parts of the orchid: the roots, the stem and the flower.
The sun rays impact in the interior of each room, were also studied, to determine the optimal depth to place the windows. This gives a unique volumetric outcome to the project. Taking advantage of sun rays in winter increases the interior temperature up to a comfortable level. The design includes glazed volumes with good thermal insulation and small windows in the worst orientation, such as the south facade.
The windows consist of aluminum frames supplied with thermal bridge breaker and double-hermetic-glass. A wide variety of insulating materials were also used, as well as water based paint and wall and roof air chambers.
In the lower floor, the convenient location of the opening windows allows natural air flow helping to decrease the humidity in the room. What's more, the big thresholds create a good distribution of fresh air.
All this, gives account of the complexity of the house, a glass and concrete flower, designed according to a program of needs and the client's concerns.
Casa Orquídea – Building Information
The Orchid
Credits:
Design: Andrés Remy Arquitectos
Design Team: ANDRES REMY, HERNAN PARDILLOS (asociated), LUCILA LOPEZ, PAULA MANCINI, JULIETA RAFEL.
Collaborators:
LILIAN KANDUS, CORAL BANEGAS, GISELA COLOMBO, DIEGO SIDDI, MARTIN DELATORRE, JUAN ETALA, SEBASTIAN REMY.
Design Process: six months.
Date of completition: Dec 2008
Location: The house is located in a closed neighborhood called "Haras del Sol", in the city of Pilar, province of Buenos Aires, Argentina.
Lot size: 3640m²
Lower floor: 325m²
Upper floor: 140m²
Total: 465m²
Photographs : Alejandro Peral
LA Casa Orquídea
LA Casa Orquídea – text in Spanish
La Casa Orquídea nace del encargo de una pareja con dos hijos, cuya particularidad, entusiasmo y audacia hicieron de este un gran desafío.
Cultivar exóticas orquídeas, es uno de los pasatiempos que tiene esta joven pareja, lo cual constituyó nuestro primer disparador para la concepción de este proyecto, de allí el nombre que le atribuimos a la casa.
Partiendo de las partes que conformar una Orquídea, las raíces, el tallo y la flor, nace la forma de esta particular vivienda, implantada en el centro de un terreno de grandes dimensiones, en un barrio donde se prioriza la calidad de vida.
Su ubicación exenta y retraída de la línea municipal responde a requerimientos de privacidad por parte del cliente y a una búsqueda de colonización del terreno.
Respetando la estructura de la flor, la casa se compone de tres partes:
Las raíces, donde se contemplan el garaje y el acceso, conformando el área más próxima a la calle;
El tallo, que funciona de conector entre la raíz y la flor, pensado como un recorrido donde poder contemplar las obras de arte coleccionadas por la pareja;
Y finalmente la flor, dividida en los pétalos y el bulbo, donde cada pétalo contiene una función differente, y el espacio central que contiene la circulación vertical y provee de luz cenital a todos los ambientes representa el bulbo, que conecta la planta baja y la planta alta, a modo de unión entre los pétalos.
Para la disposición de los ambientes partimos de dos premisas: la primera, agrupar las funciones públicas de la vivienda en la planta baja, y las funciones privadas en la planta superior; mientras que dotar a cada ambiente de la mejor orientación en cuanto a su función fue nuestra segunda premisa.
Obteniendo la orientación perfecta para cada ambiente, logramos activar cada función de la vivienda de acuerdo al recorrido del sol, permitiendo un ahorro importante de energía. Esta premisa tan importante como es la de resolver una vivienda bioclimática nos llevó a trabajar con la incidencia del sol, desde la ubicación de los ambientes hasta la resolución de cada volumen en particular, estudiando sus ángulos al exterior y el retraimiento necesario de las carpinterías, variando de acuerdo a su orientación; Lo cual, además de dar respuesta al ahorro energético, dota a este proyecto de una riqueza formal única.
La utilización de muros, carpinterías y techos con cámara de aire, al igual que la ubicación estratégica de ventanas rebatibles tanto en planta baja como en el núcleo de circulación para que el aire caliente circule en verano, son otras de las respuestas que da esta vivienda al tema de ahorro energético.
Todo esto explica su complejidad formal, tan rica exterior como interiormente, que responde además a la intención de cada pétalo por enmarcarnos una visual a modo de cuadro y así apoderarse una vez más de su entorno.
Una flor de hormigón y vidrio, que creció a partir de un programa de necesidades, de una metáfora que habla de sus usuarios, y de un exhaustivo estudio y resolución de los detalles, que hacen de esta, una vivienda bioclimática, única y audaz.
Creditos Casa Orquidea
Proyecto, Direccion Y Construcción: Andres Remy Arquitectos
Equipo De Diseño: Andres Remy, Hernan Pardillos Asociado, Lucila Lopez, Paula Mancini, Julieta Rafel.
Colaboradores:
Lilian Kandus, Coral Banegas, Gisela Colombo, Diego Siddi, Martin Delatorre, Juan Etala, Sebastian Remy
Direccion De Obra. Andres Remy Y Hernan Pardillos
Calculo Estrucural: Claudio Gonzalez
Superficie: 550m
Año: 2009
Casa Orquídea Argentina images / information from Andrés Remy Arquitectos
Location: Buenos Aires, Argentina
Architecture in Argentina
South American Architectural Projects
Argentina Architecture Designs – chronological list
Buenos Aires Architectural Tours
Argentine Buildings – Selection
Lazzarini Optics, Villa Carlos Paz, Córdoba
Architects: Castellino Arquitectos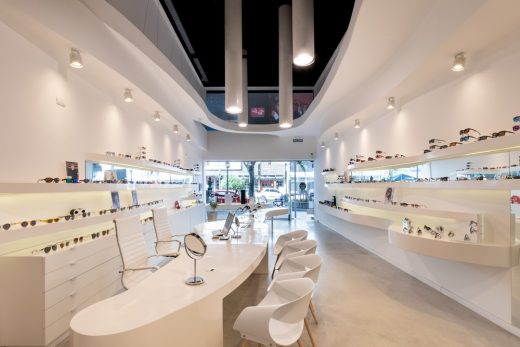 photo : Architect Gonzalo Viramonte
Optica Lazzarini in Villa Carlos Paz, Córdoba Shop
Bocatoma Taproom, Cerro de las Rosas, Córdoba
Architects: VS Arquitectura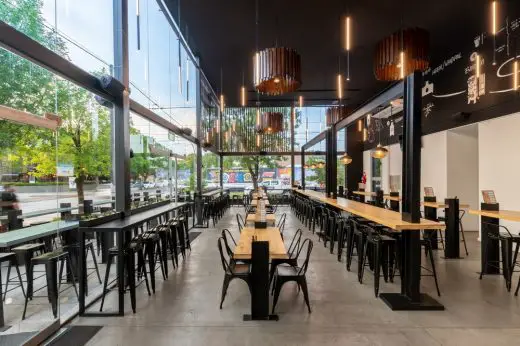 photo : Architect Gonzalo Viramonte
Bocatoma Taproom in Cerro de las Rosas, Córdoba
FYF Residence, Rosario
PATTERNS
FYF Residence
KILLKA – Espacio Salentein, Los Árboles, Tunuyán, Mendoza
Bórmida & Yanzón Architects
KILLKA Mendoza
O. Fournier Winery, La Consulta, San Carlos, Mendoza
Bórmida & Yanzón Architects
O. Fournier Winery Mendoza
Comments / photos for the Casa Orquídea – Argentine Residential Architecture page welcome