Montreal Property, Québec Houses, Canadian Residential Architecture, Buildings, Architects, Real Estate
Montreal Houses : Québec Properties
Contemporary Residential Developments in Canada, New North American Homes
post updated 6 November 2021
Montreal Houses News
New Montreal Property News
20 Oct 2021
Queen Mary Residence, Hampstead, Quebec, Canada
Design: Atelier Barda architecture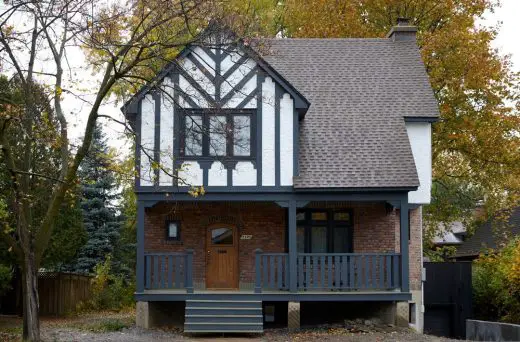 photography : Maxime Desbiens and François Olivier-Gouriou
Queen Mary Residence, Hampstead Quebec
Atelier Barda completed the Queen Mary Residence, a rear extension project of a historic home in Montreal's Hampstead district. The project involved the renovation of a Tudor-style home, built in 1927, to render it more suitable to the needs of a large family.
20 Oct 2021
Appartement Saint-Gérard
Design: Vives St-Laurent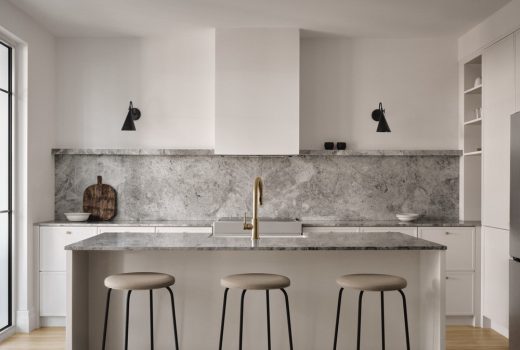 photo : Alex Lesage
Appartement Saint-Gérard, Montréal
Montreal studio Vives St-Laurent presents its most recent project, Appartement Saint-Gérard. The project consists in renovating the first floor of a duplex located in the Villeray district.
13 Oct 2021
Rue de la Gauchetière
Design: Future Simple Studio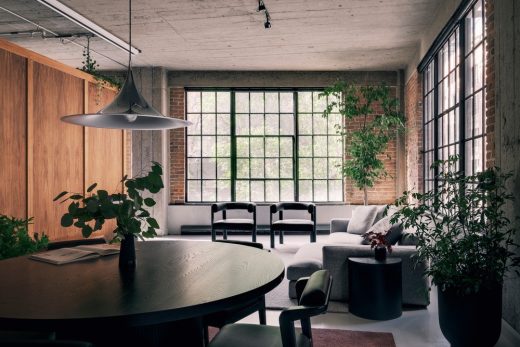 photo : Felix Michaud
Rue de la Gauchetière, Montréal Apartment
The Rue de la Gauchetière project is a thoughtful apartment renovation in a one hundred year-old heritage building near the Old Port of Montreal. The studio updates a loft through an elegant and unexpected architectural intervention that accommodates flexibility and togetherness for family living, while celebrating the space's unique industrial character.
26 Jul 2021
Residence Alma, Little Italy
Design: Atelier Barda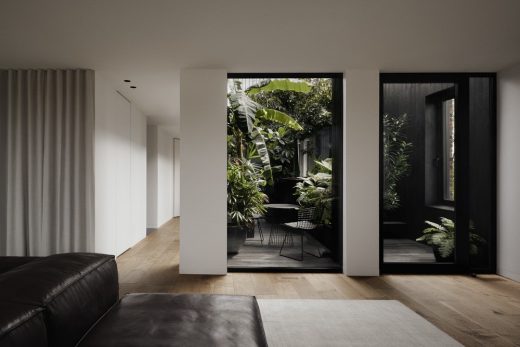 photo : Alex Lesage, Threefold
Residence Alma, Little Italy
Atelier Barda, an architectural firm renowned for its constructive thinking in approaching every design, introduces Residence Alma, a full renovation project of a residential triplex in the Little Italy district. Commissioned by a private client of Atelier Barda, the program focused on redeveloping an existing commercial ground floor space, as well as consolidating two upper floor apartments in order to design a single-family residence.
26 Jul 2021
MAA Condominiums & Penthouses
Design: LEMAYMICHAUD Architecture Design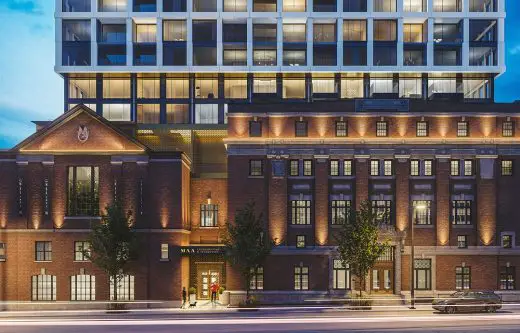 photo © Devimco Immobilier
MAA Condominiums & Penthouses
Particular attention was given to the perception of the tower from the pedestrian scale, which was an important aspect of the project during the design process. The result is an unchanged pedestrian perspective of the historic facades, with the original streetscape and view of the sports club being maintained.
30 Jun 2021
NORM House, Baie d'Urfé
Design: Alain Carle Architect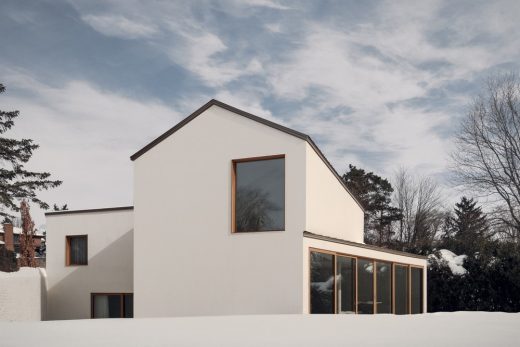 photo : Félix Michaud
NORM House, Baie d'Urfé Montréal
The city of Baie-D'Urfe, situated at the southwestern end of the island of Montreal, Canada, was first founded in the 17th century to protect citizens from invasions coming from the south. Populated largely by farmers located along the shore of the St. Lawrence River, the town gradually expanded inland of the island.
19 May 2021
Garnier Residence, Plateau Mont-Royal neighborhood
Architects: Dupont Blouin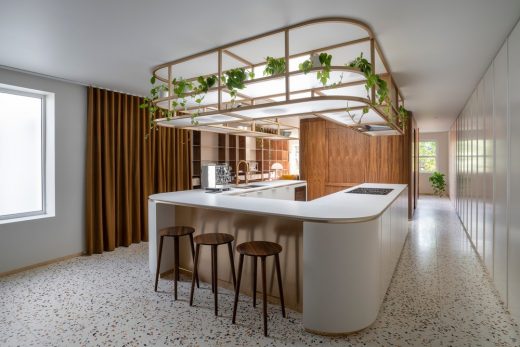 photo : Olivier Blouin
Garnier Residence
Inspired by the "mid-century modern" style, the Garnier Residence located in the trendy Plateau Mont-Royal neighborhood is an atypical renovation where the beauty of the materials is at the service of singular spaces that redraw the boundaries between public and private. Designed for a couple and their young children, the former triplex gives pride of place to reception areas.
10 May 2021
Mont-Royal Residence
Architects: MU Architecture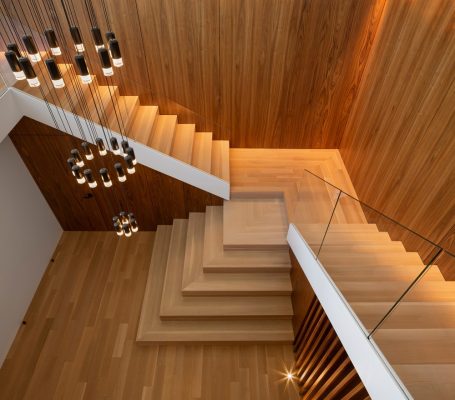 photo : Stéphane Groleau
Mont-Royal Residence
Completed in 1964, the Mont-Royal Residence is located in the heart of one of Montreal's upper class areas. Sitting right at the top of the Mount-Royal, was originally designed by architect Pierre Cantin and was completely renovated to give it new elegance.
20 May 2021
Residence de l'Isle
18 Mar 2021
Gounod Residence, Villeray
14 Mar 2021
Phénix House
16 Feb 2021
MSO Play/Pause
27 Jan 2021
Pearl House
13 Jan 2021
10th Avenue Residence, Rosemont
2 Dec 2020
Residence Marconi, Mile-Ex
Residence in Mile-Ex
25 Nov 2020
Cottage on the Point, Lanaudière, Québec
Design: Paul Bernier Architecte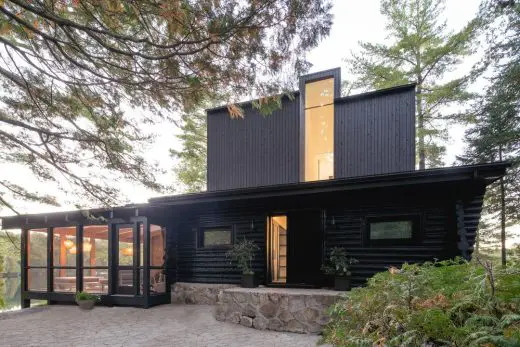 photo : Raphaël Thibodeau
Cottage on the Point, Lanaudière
The clients owned this log cabin which has been in the family for 40 years. It is anchored on a rocky point which juts out into the lake. The Cottage on the Point project to be carried out was to completely renovate this cottage and expand it to make it an open, fluid, and bright space that takes advantage of the beautiful views overlooking the lake.
28 Sep 2020
Val-des-Monts Boathouse, Val-des-Monts, Outaouais, Québec
Design: Shean Architects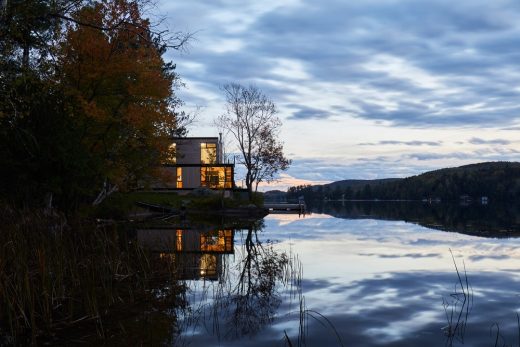 photo © Doublespace Photography
Val-des-Monts Boathouse, Québec
Val-des-Monts is a municipality in the Outaouais region of Quebec, Canada. Tucked away within these mountainous forests, along the edge of a lake sits this lovely boathouse building.
28 Aug 2020
Maison Ave Courcelette House, Outremont, Québec
Architects: Salem Architecture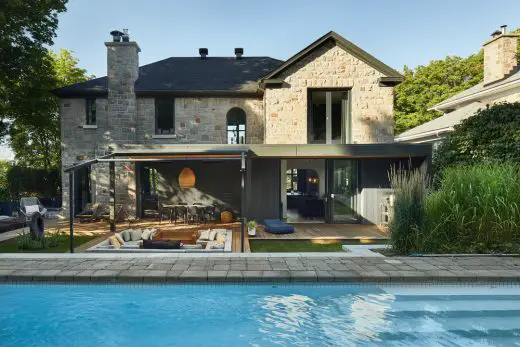 photo : Phil Bernard
Maison Ave Courcelette House in Outremont
The main intention of this residential property project, located in the Outremont borough, was to improve the relationship of the interior spaces with the large exterior courtyard while highlighting elements dating from the original construction.
July 14, 2020
Portland Residence, Mont-Royal, Québec
Architects: Atelier Barda architecture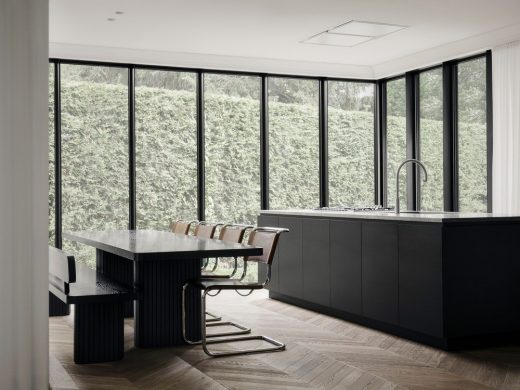 photographer : Alex Lesage, Threefold
Portland Residence in Mont-Royal, Québec
A historical stone house located in the Town of Mount-Royal, a "model city" built in the early 20th century. The architectural firm Atelier Barda entirely renovated the property and created a custom furniture collection through its new Foraine par Atelier Barda division.
2 June 2020
Cartier House
Design: Architecture Microclimat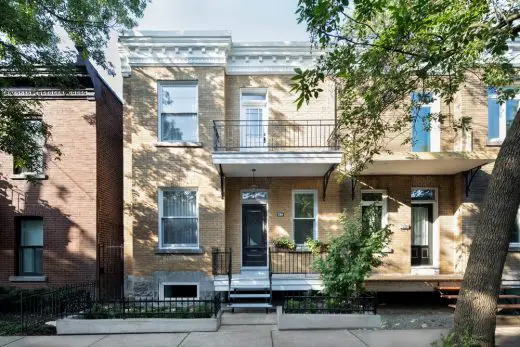 photographer : Adrien Williams
Cartier House
Compact and nestled on a city lot with restrained proportions, including a narrow lateral passage and a small green inner courtyard, the original house presented some challenges for its expansion.
May 14, 2020
Maison du Parc
Design: la SHED architecture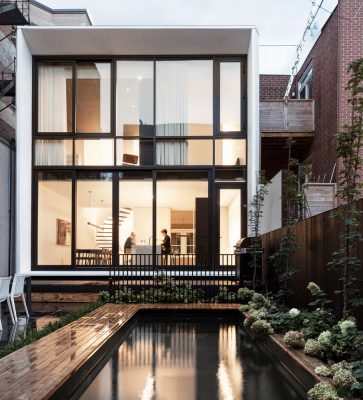 photographer : Maxime Brouillet
Maison du Parc in Montréal
Looking out on La Fontaine Park in Montréal, Maison du Parc, with its high level of contrast and impressive scenery, is inspired by the architecture of early-century mansions. This classic influence predominates in the overall design of the house, with regard to both space organization and the choice of atmosphere, materials, and furniture.
10 Mar 2020
Brick House, de Gaspé Street, near Jean-Talon Market, Montreal, QC, Canada
Design: Natalie Dionne Architecture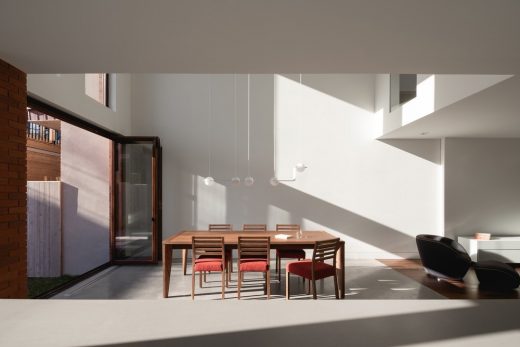 photograph : Raphaël Thibodeau
Brick House in Villeray, Montréal
Montréal is known for its lively neighborhoods and its traditional streets, lined with two- and three-story row houses. Often built in the first half of the 20th Century, these homes no longer correspond to today's lifestyles.
Apr 23, 2020
La Frangine, Lac-Brome, Québec
Design: Bourgeois / Lechasseur architects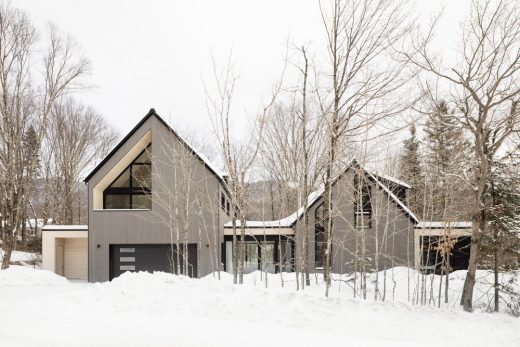 photo : Maxime Brouillet
La Frangine Residence Stoneham-et-Tewkesbury
Located next to the slopes at Stoneham Resort, this new Quebec property is the result of the expansion and conversion of a former ski chalet into a main residence. The architectural part of the project consisted in keeping the existing cottage and to design a second separate building connected to the first one.
22 April 2020
Lakeside Cabin on Lac-Brome, Brome-Missisquoi, Montérégie, southern Québec
Architecture: Atelier Schwimmer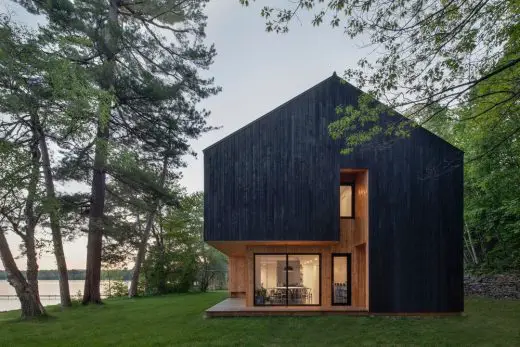 photographer : Adrien Williams
Lakeside Cabin in Lac-Brome, Quebec
Two brothers have embraced outdoor activities at Brome Lake as part of their fast-paced city life.
26 Feb 2020
La Duette, 12eme avenue, Rosemont, Montreal
Design: Natalie Dionne Architecture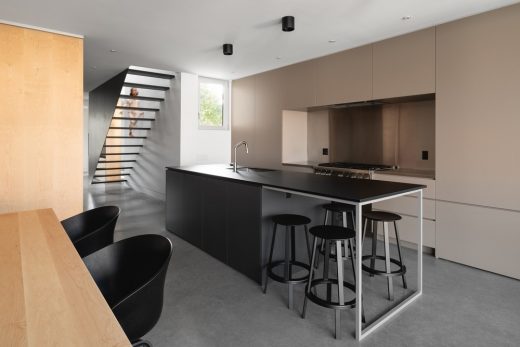 photographer : Raphaël Thibodeau
La Duette House
A new home for two families brings new life to a quiet Montréal neighborhood dating back to the 1950s and 1960s. In its own, unassuming way, this recent building is part of a movement that is gradually transforming Montréal's traditional streets, as a growing number of young families are moving in.
7 Jan 2020
Atrium Townhome, Westmount
Architect: RobitailleCurtis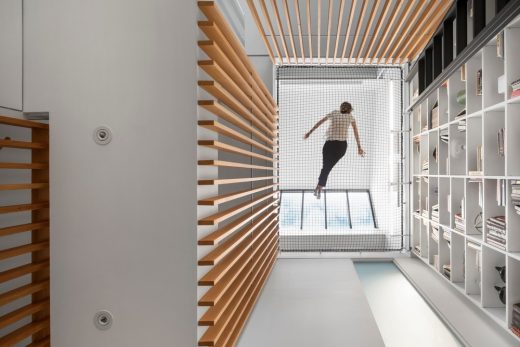 photo © Adrien Williams
Atrium Townhome in Westmount
Originally built in 1978, this townhome required significant renovations, and was gutted for this redevelopment.
16 Oct 2019
Lake Jasper House, Chertsey, Matawinie, Quebec, Canada
Design: Architecturama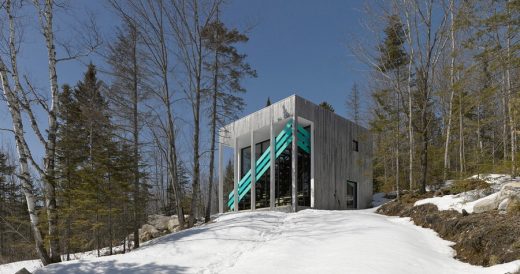 photographer : James Brittain Photography
Lake Jasper House in Chertsey
Whether visiting alone, with a large group of guests or as a family, the owners were looking for a relaxed, welcoming environment, conceptually similar to a cottage yet more refined, particularly in the relationships among spaces and between people. The goal was to have a present, living and enthusiastic architecture that engages the senses.
18 Aug 2019
Castor Des Érables Development, Rosemont–La Petite-Patrie, Montréal, QC
Architects: Parkhouse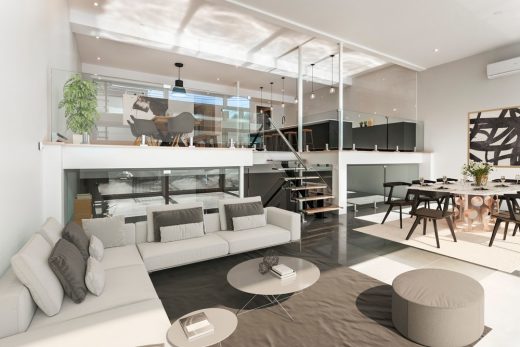 photographer : Parkhouse/Bardagi
The Castor Des Érables Development in Montréal
The new Castor Des Érables Development project comprises three townhouses built to the highest standards, meeting the needs of today's couples and families through carefully considered architecture and state-of-the-art materials.
More contemporary Montreal Houses on e-architect soon
Montreal Houses 2018
21 Jun 2018
Charlebois Lake House, Ste-Marguerite-du-Lac-Masson, north of Montreal, Québec
Architects: Paul Bernier Architecte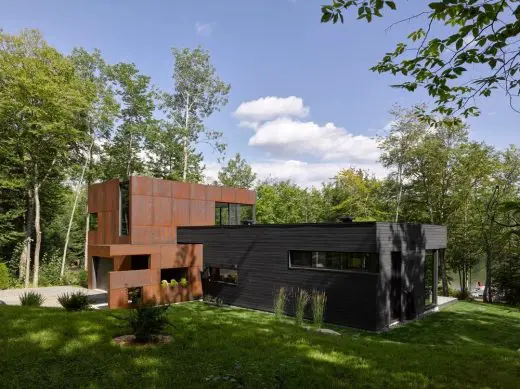 photographer : James Brittain
House in Ste-Marguerite-du-Lac-Masson
On a wooded lot on the shore of Charlebois Lake, the clients wanted to build a contemporary house, luminous and open to the nature. They wanted most of the spaces of the house to be level with the land.
19 May 2018
Chalet La petite soeur, Saint-Donat-de-Montcalm, Canada
Architects: ACDF Architecture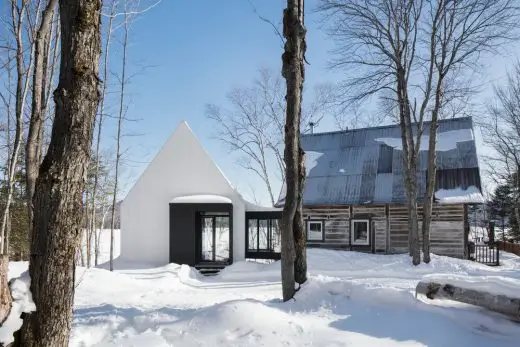 photograph : Adrien Williams
Residence in Saint-Donat-de-Montcalm
On the vast Lac Ouareau, located near the town of Saint-Donat, sits a charming traditional house surrounded by birch trees. The owners, a dynamic stepfamily, commissioned ACDF to design for their many children a larger area to play and relax.
19 Feb 2018
La Luge Cabin, La Conception, Laurentides region, Quebec
Architects: YH2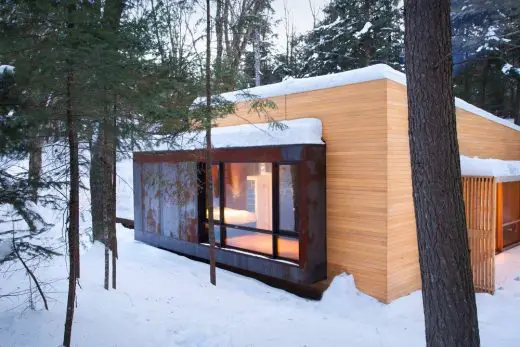 photograph : Francis Pelletier
New Home in La Conception
Mostly dedicated to the enjoyment of Quebec's winter, this is a secondary home located in the midst of the forest. Nestled on its site, surrounded by dense vegetation preserving the house's privacy, La Luge integrates a private spa which occupies almost a third of the useable area, adding on to the traditional countryside living spaces.
9 Nov 2017
BLACK BOX II Residence, Borough Côte-des-Neiges–Notre-Dame-de-Grâce
Architect: Natalie Dionne Architecture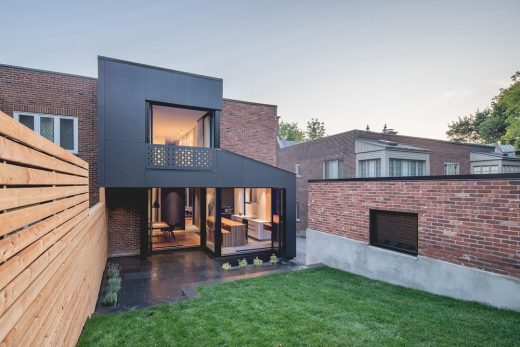 photo : Raphaël Thibodeau
BLACK BOX II Residence in Montréal
BLACK BOX II is the latest in a series of tiny additions impacting existing architecture in a big way. Conceived as a jewelry box, large openings blur the interior/exterior boundary, revealing its treasure of fine cabinetmaking work within through the playful use of complementary surface materials.
2 Nov 2017
De la Roche Residence, Rosemont-La-Petite-Patrie
Design: naturehumaine architecture et design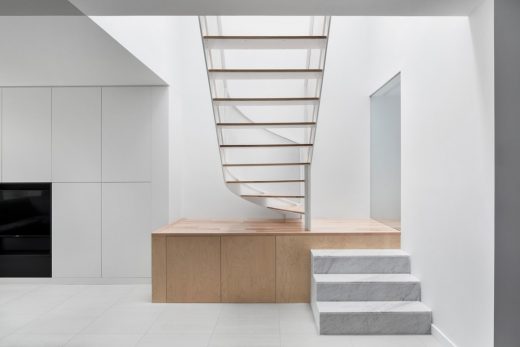 photo : Adrien Williams
De la Roche Residence
A couple with two young children wish to transform a duplex located in Rosemont-La-Petite-Patrie into their principal family residence. The project consists in reorganizing the original portion of the house and enlarging it with an extension in the yard while preserving the façade on the street as required by the city bylaws.
15 Jul 2017
IN 2 Residence
Architect: Jean Verville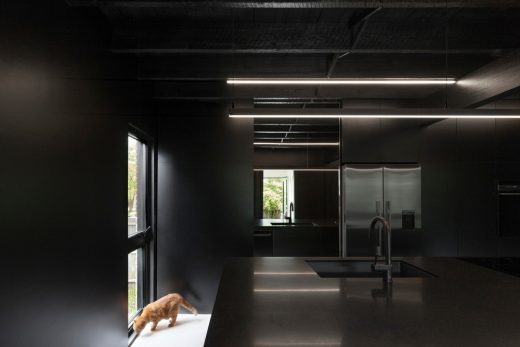 photo : Maxime Brouillet
IN 2 Residence
The current decompartmentalization of artistic disciplines brings about the emergence of new proposals. Architect Jean Verville demonstrates this hybridization in architectural interventions swapping the user's experience into a spatial and pictorial experimentation.
11 Jul 2017
IN 3 Residence
Architect: Jean Verville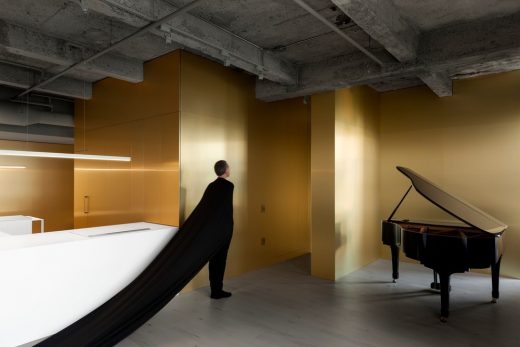 photography : François Bodlet
IN 3 Residence in Montreal
7 Jul 2017
IN 1 Residence
Architect: Jean Verville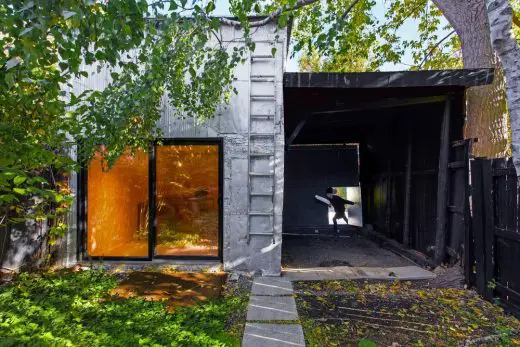 photography : François Bodlet
IN 1 Residence
18 Nov 2013
Rue Lajeunesse Residence, Montréal
Design: NatureHumaine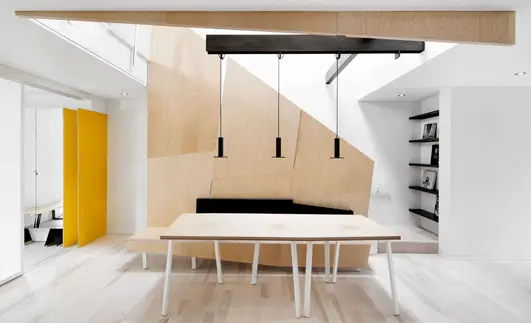 photo : Adrien Williams
The architects were hired by a young couple to do a complete renovation of a house built by the clients grandfather, now housing its third generation of the same family. They wanted to combine the two existing apartments into a single family house on two levels.
12 Sep 2013
Connaught Residence
Design: NatureHumaine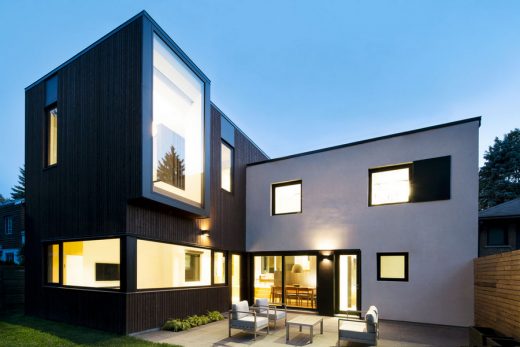 photo : Adrien Williams
The changing needs of a growing family triggered the complete reconfiguration and extension of their existing 1950 concrete house. They wanted a contemporary extension that would harmonize with the modern spirit of the original house.
12 Aug 2013
Stacked House, Rue St-Christophe
Design: NatureHumaine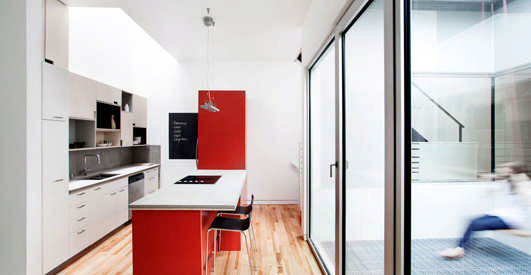 photo : Adrien Williams
House on Rue St-Christophe
This project was done in collaboration with the client who wished to build his own home. The site is located in a back alley of Montréal's Plateau neighborhood and the design reflects the patchwork of extensions and renovations typically found in Plateau alleyways.
13 Jun 2013
Chambord Residence, Saguenay–Lac-Saint-Jean, Quebec
Design: NatureHumaine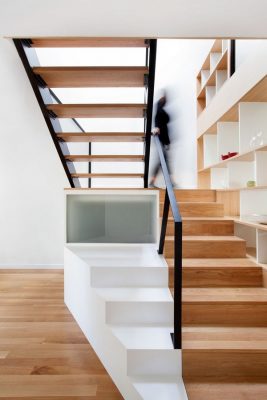 photo : Adrien Williams
Chambord Residence
The client wanted to utilize the second storey of her 1920s duplex by converting her former rental unit into 3 bedrooms and an office space. While the grey-stone front facade only required minor restorations, the back of the house was transformed completely. An emphasis on transparency creates constant visual and physical connections with the backyard.
27 May 2013
La Couleuvre
Design: NatureHumaine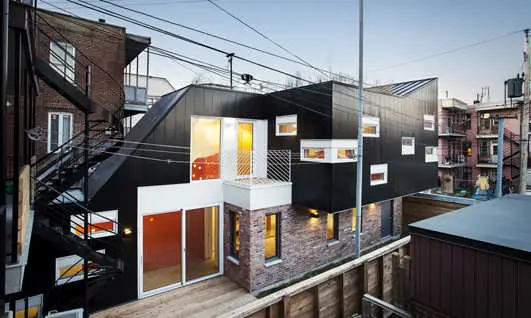 photo : Adrien Williams
Montreal Flat Extension
Nicknamed "la couleuvre" (the garden snake). The parents' quarters are located in the ground floor brick volume, while the kid's bedrooms are pushed up into the twisting volume upstairs. A bright orange handrail leads you up into the kids' zone. An open concept bathroom that facilitates family bath time also acts as the circulation to the 3 bedrooms with built in bunk beds and furniture in a similar playful language.
Montreal Architectural Tours
Montreal Architecture Walking Tours – North American architectural tours by e-architect
Habitat 67
1967
Moshe Safdie, Architect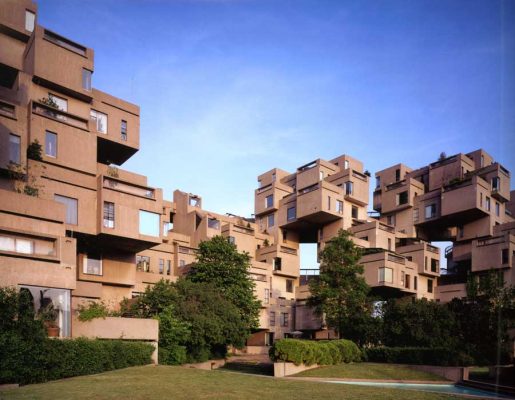 photo © Timothy Hursley
Habitat 67
More Montreal Houses online soon
Location: Montréal, Quebec, Canada
Montréal Architecture
Contemporary Montréal Architectural Projects, chronological:
Montréal Architecture Designs – chronological list
Website: Visit Montreal
Canada Architectural Designs
Residences / photos for the Montreal Houses page welcome