Contemporary House Photos, Architects, Residential Projects Proposals, Current Homes Designs
Contemporary Houses – New Homes
New Residential Architecture – Current Properties : D-E
post updated 3 November 2021
Contemporary House Designs
We have various pages of Contemporary House selections with links to hundreds of individual project pages. e-architect aim to select projects that are either of excellent quality.
We cover completed homes, new house designs, architectural exhibitions and competitions across the world. Comments on the selection welcome. The focus is on contemporary residential buildings.
New Houses : main page
Homes, alphabetical:
House Designs : A
Contemporary Houses : D-E (this page)
Contemporary Property Designs : F-G
New Property Designs : I-L
Contemporary House Designs : M
Contemporary Residential Properties : N
Contemporary Residential Designs : O
New Residential Designs : Q-R
New Home Designs : S
Property Designs : T-U
New Properties : V-Z
Contemporary Houses : D-E
Contemporary Residence – latest additions to this page, arranged chronologically:
Casa Bauzà, Mallorca, south east Spain – 21 Aug 2013
Design: Miquel Àngel Lacomba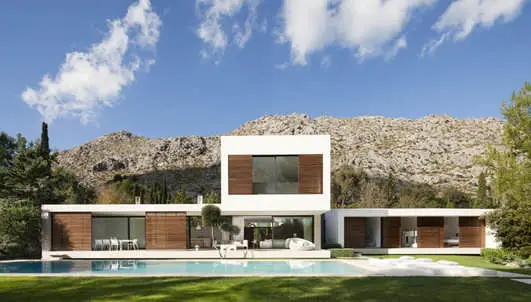 photo : Miquel Lacomba
The project is located at the urban complex "La Font" in Pollença at the base of an impressive limestone mountain. The project was commissioned by the Bauzà family, thanks to whom I have been able to explore further possibilities on my work field, looking for naked and simple lines, seeking wider perspectives.
Daniel's Lane, Long Island, New York, USA
Design: Blaze Makoid Architecture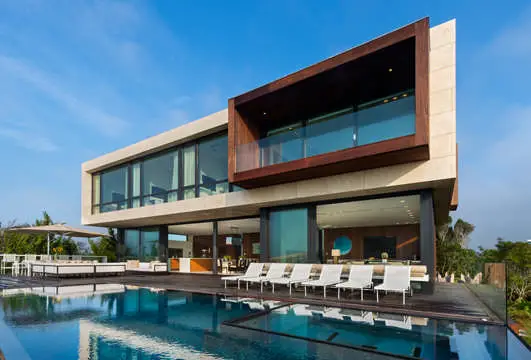 photo : Marc Bryan-Brown
The residence Blaze Makoid Architecture created for a father with three children in Sagaponack on the Eastern Shore of Long Island was inspired by the iconic architect Norman Jaffe's Perlbinder House(1970) and Tod Williams' Tarlo House (1979) but with his firm's signature of designing residences that have a quiet elegance that are uniquely suited to each client. As in all of Makoid's work, there is a cohesiveness that unites the architecture with its interiors and the site.
Elm Court House, North London, England – 31 Jul 2013
Design: AR Design Studio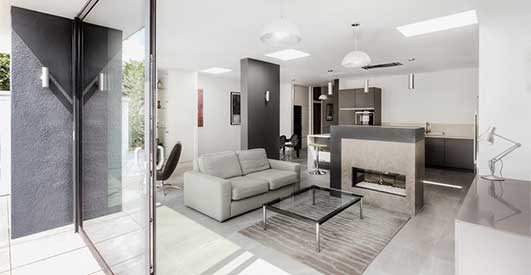 photo : Martin Gardner
Hidden from view, behind the ordinary looking façade of a modestly sized semi-detached house in North London, sits an elegant piece of modern contemporary architecture. The recently retired owners sought to adapt the existing small and cramped property into their perfect home.
Elizabeth Beach House, New South Wales, Australia – 21 May 2013
Design: Bourne Blue Architecture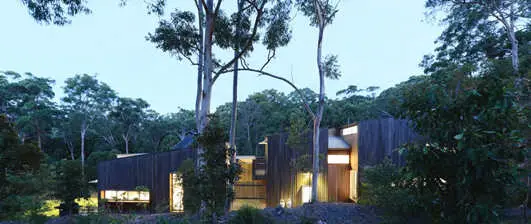 photo from architect studio
The site presents has a long boundary that abuts a nature reserve, immediately to the East. To the West is a steep hill with existing houses. The client required a house to suit a young, growing family, with provision to accommodate extended family from interstate. The house should take advantage of the site's attributes, and crop out the less desirable views.
De Wet 34, Cape Town, South Africa – 7 May 2013
Design: SAOTA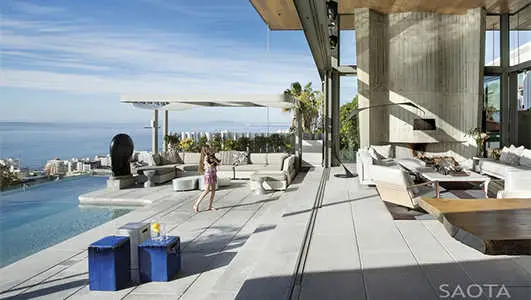 photo : Adam Letch
The site is positioned in the heart of Bantry Bay in Cape Town, on the slopes of Lion's Head overlooking the bay. The brief was to create a home with all the spectacle of an Atlantic Seaboard showpiece but also to respond to the practical needs of family life and to create a feeling of sanctuary.
EVRC House, Zapopan, Mexico
Architects: TaAG Arquitectura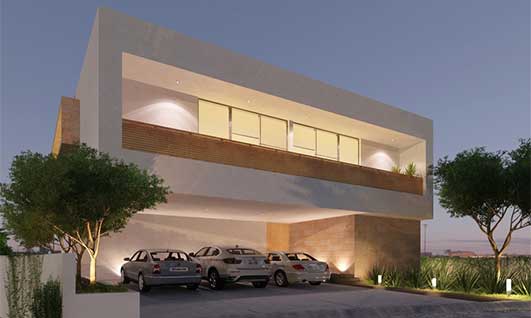 image : Redo Arquitectura
25 Feb 2013 – The project design by TaAG Arquitectura is solved in a basic shape: a cube of three levels that sits with a half-buried level in the land, in which some orthogonal "parts" were removed to configure the interior space, getting very interesting floated prisms.
Major Contemporary Houses added to this page:
Dupli.Casa, Germany



picture : David Franck Photographie
The geometry of the building is based on the footprint of the house that previously was located on the site. Originally built in 1984 and with many extensions and modifications since then, the new building echoes the "family archaeology" by duplication and rotation. Lifted up, it creates a semi-public space on ground level between two layers of discretion. The skin of the villa performs a sophisticated connection between inside and outside and offers spectacular views onto the old town of Marbach and the German national literature archive on the other side of the Neckar valley.
Desert Beach House, Peru



image from architect practice
Recent design of a contemporary beach house located in the desert coast of Peru. This modern house is organized into three levels: the first level contains all service areas, garage and guest rooms; the second level comprises the house principal rooms; and the third one is intended to be the social areas: kitchen, living-room, dining-room, terrace and swimming pool.
Devoto House, Argentina



photograph : Alejandro Peral
The lot of 18 x 24 meters between two existing buildings that threatens the project when the problem of isolation and view. For this reason this project is leaning towards its neighbor, creating an introspective posture that creates the views from the inside rather than from the outside.
Key Contemporary Homes alphabetical:
Dingleton Boiler House, Scotland



image from architect
Dirk Cove House, Ireland



photograph © Niall McLaughlin
The Dome House, Australia



picture © John Gollings
Dublin house, Ireland



photo : Henrietta Willliams
Duncan House, Scotland



photo : Andrew Lee
Dunedin Street Residence, Australia



photo © Shannon McGrath
East of Market House, USA



photo © Lara Swimmer
Element House, Korea



photo : Park Wan Soon
Ellenvale Extension, County Down, Ireland



photo : Paul Tierney
Ellsworth Residence, USA



image : Bill Timmerman
Enatai House, USA



photo © Gregg Krogstad
Erlenbach House, Switzerland



photograph : Heinrich Helfenstein
More Contemporary Houses online soon
Contemporary Home Designs
Images of quality New Houses + New Property Designs welcome
Contemporary Portuguese House



photo : FG + SG – Fotografia de Arquitectura
Architectural Designs
Buildings / photos for the Contemporary House Designs page welcome