Milan buildings news 2023, Lombardy architecture developments, Italian architect design project images
Milan Architecture News
Contemporary Milanese Buildings: Lombardy Built Environment Updates, north west Italy, Europe
post updated 11 September 2023
Milan Architecture Designs – chronological list
Visiting the city? Engage one of e-architect's exclsuive walking guides for groups:
City Architectural Walks
Milan Architecture Tours
Milan Building News
Milan Architectural News
19 Apr 2023
Casa Calipso, via Tolstoi 87
Design: Degli Esposti Architetti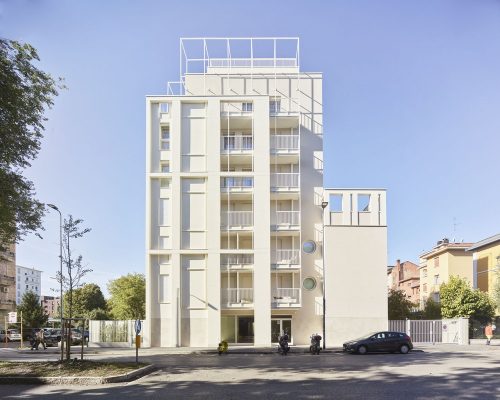 photo : Maurizio Montagn
Casa Calipso
Casa Calipso is the intervention in question has been designed as a building replacement through the demolition of a building for commercial use, consisting of a basement and an above-ground floor within a lot at Via Leone Tolstoi 87, at the corner of the private road Via Tagiura.
31 March 2023
Nutura Pavilion at the Fuori Salone, Università degli studi di Milano, Via Festa del Perdono 7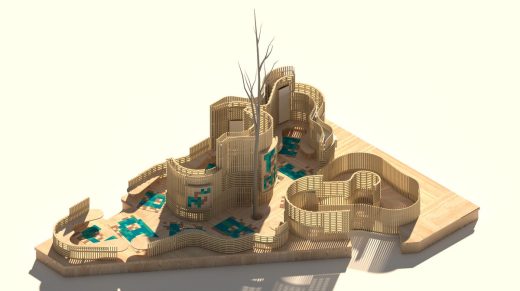 image courtesy of architects practice
Nutura Pavilion by Benedetta Tagliabue – EMBT Architects at the Fuori Salone
Roca returns to Fuorisalone with a pavilion by Benedetta Tagliabue – EMBT Architects re-experiencing nature and paying tribute to 20th century Barcelona architecture. Nutura Pavilion can be visited from the 17th to 23rd of April in the courtyard of the Università degli studi di Milano within the framework of Fuorisalone 2023.
21 Dec 2022
Hotel NH Collection Milano CityLife, Via Colleoni, 14, CityLife area
Restoration Design: QuattroAssociati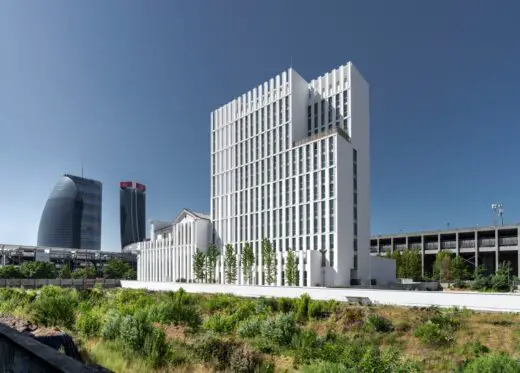 photo : Pianca&Partners
Hotel NH Collection Milano CityLife
Redesigning Holiness in Milan: a former 1930s church has been transformed into an artistic and architectural masterpiece to host the new Hotel NH Collection Citylife. Following the conversion of a deconsecrated church, a new design-led hospitality venue, restored by architectural firm QuattroAssociati, blends old and new, with original features sitting alongside new installations.
25 November 2022
De Castillia 23, Isola district
Design: Progetto CRM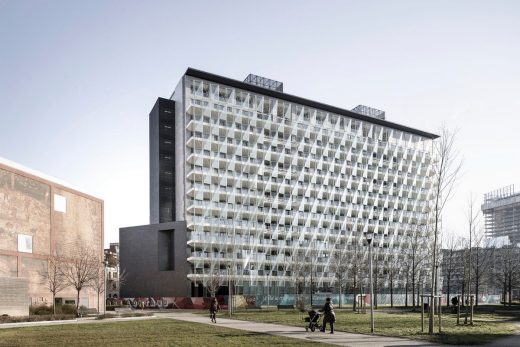 image courtesy of architects practice
De Castillia 23
CTBUH – Council on Tall Buildings and Urban Habitat, the prestigious US research institute founded in 1969, has assigned the Award of Excellence 2022 to the building De Castillia 23 in Milan, in the "Best Tall Building under 100 meters" category. Every year, skyscrapers all over the world are selected by a special jury according to the requisites of excellence, innovation and creativity, and compete as finalists in their related award categories.
3 Aug 2022
MoLo Mobility and Logistic hub, Lambretta Park, Lambrate district
Design: MAD Architects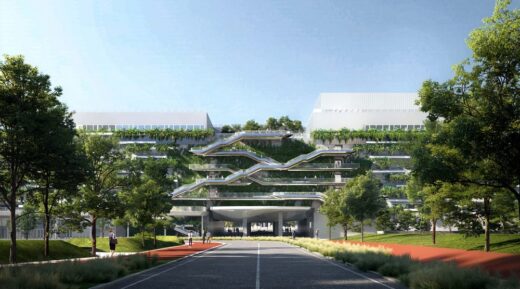 Renders: MAD
MoLo Mobility and Logistic hub Milan
Set along the western boundary of the Milano Innovation District (MIND) — a recently developed neighborhood bringing together cutting-edge scientific research and education, business, and leisure facilities northwest of central Milan, Italy — led by Chinese Architect Ma Yansong, MAD Architects has unveiled renderings of a monumental gateway complex.
9 Jun 2022
Handmade rug collections for ILLULIAN, Salone del Mobile
Design: Zaha Hadid Architects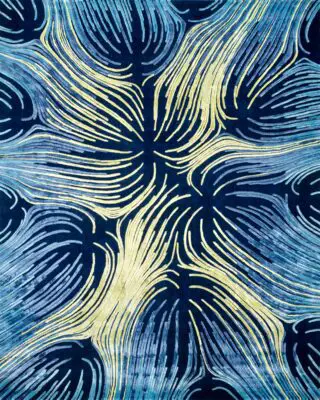 photo courtesy of architects office
Handmade rug collections for ILLULIAN
8 Jun 2022
Magnifica Fabbrica, Lambrate district
Design: FRPO, Walk, and the SD Partners studio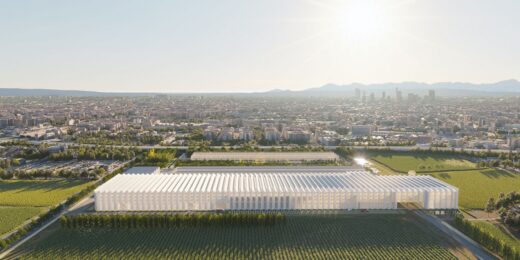 image courtesy of architects practice
Magnifica Fabbrica Milan for La Scala
Milan, a metropolis in constant movement, dynamic and productive, always reinventing itself, today opens its secret heart. A heart in which others beat, with different rhythms, moved by skillful hands that forge treasures invisible to most. Vibrating center of the city and meeting point between industriousness and genius, La Scala and the Magnifica Fabbrica, are called today to take a new step in the history of the city.
8 Jun 2022
Energy Park, Milan Botanical Garden
Design: CRA and Italo Rota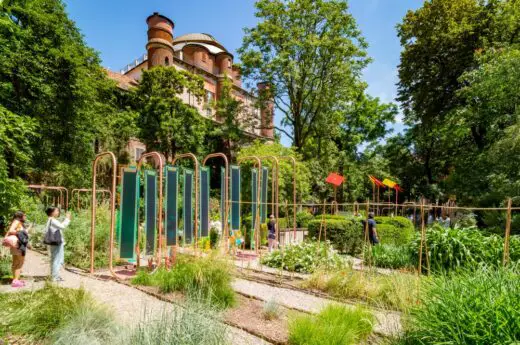 photo : Marco Beck Peccoz
Energy Park, Milan Botanical Garden
CRA and Italo Rota unveil Feeling the Energy, a project that turns Milan's Botanical Garden into an energy park, exploring multiple forms of energy production and consumption. The project employs over 500 meters of digitally bent copper pipe with antimicrobial properties.
9 May 2022
IRCCS San Raffaele Hospital
Design: MC A – Mario Cucinella Architects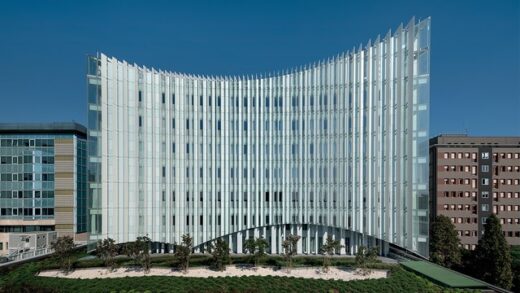 photo : Duccio Malagamba
IRCCS San Raffaele Hospital
With a total of 14,000 square metres of supply, Laminam plays a major role in the architectural structure of the new Surgical Center and ER of the IRCCS San Raffaele Hospital building design by MC A – Mario Cucinella Architects.
1 March 2022
The Triennale Milano: Ukrainian Pavilion
In light of the invasion of Ukraine, Triennale Milano announces that it will be hosting a panel to address how the Ukrainian Pavilion of the forthcoming 23rd International Exhibition can address the conflict and provoke action on the 9th of March at 6:00PM (CET).
Triennale Milano: Ukrainian Pavilion
More Milan Architecture News on e-architect soon
Milan Architecture News 2021
21 Dec 2021
New Milan Football Stadium Building
Architects: Populous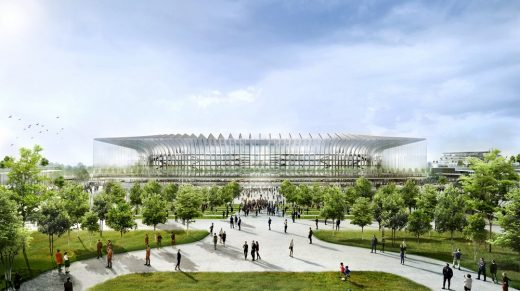 image Courtesy architecture office
New Football Stadium: The Cathedral
18 Nov 2021
Casa Selene, Milan Apartments
11 Nov 2021
Castione Andevenno City Hall, Sondrio, Lombardy
14 Oct 2021
Versace Home flagship store
Design: Vudafieri-Saverino Partners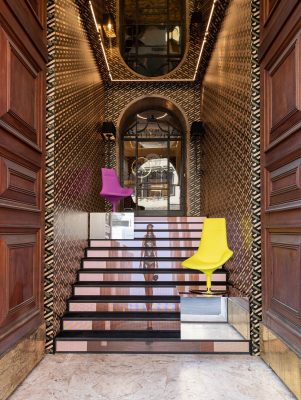 photo : Paolo Valentini
Versace Home flagship store Milan
Curated by the Milanese architecture studio, the boutique showcases the label's furniture collections and evokes the great Versace residences. The interior brings together classical architecture and contemporary design, creating an eclectic space that reinterprets the brand's signature aesthetic.
22 Sep 2021
Emporis Skyscraper Award
4th Place prize – Libeskind Tower Milan, Italy
175 m high 34 storeys
Design: Studio Daniel Libeskind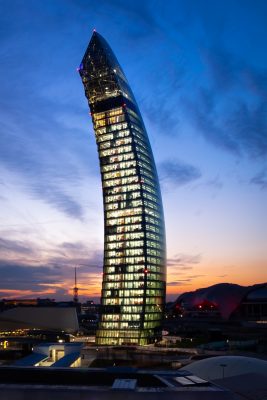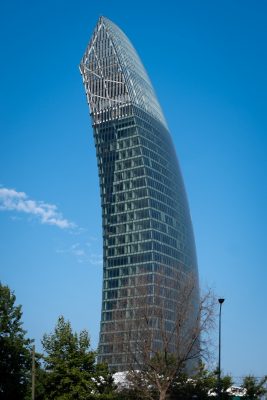 photos © Alberto Fanelli
16 July 2021
2026 Milan-Cortina Olympic Village, Porta Romana railway yard
Design: Skidmore, Owings & Merrill (SOM)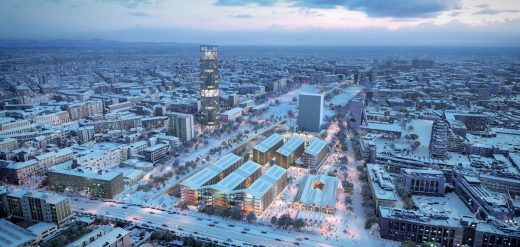 image © SOM | Pixelflakes
2026 Milan-Cortina Olympic Village
COIMA SGR and its partners Covivio and Prada Holding today revealed that Skidmore, Owings & Merrill will design the Olympic Village for the 2026 Milan-Cortina Olympics as part of the updated Porta Romana railway yard master plan. SOM was selected to design the village following an international competition involving 27 groups comprised of 71 studios from nine different countries.
15 Apr 2021
Valet Public Spaces
10 Apr 2021
Milan biophilic office of the future
18 Mar 2021
Bun Hamburger Chain
16 Feb 2021
The Corner Milan Building
More Contemporary Milan Architecture News online here soon
Milan Architecture News 2020
25 Dec 2020
MEET Milan: Porta Venezia
21 Dec 2020
University of Milan New Science Campus
12 Dec 2020
Playscraper Tennis Tower building
30 Nov 2020
Casa Tersicore, near Naviglio Grande
Design: Degli Esposti Architetti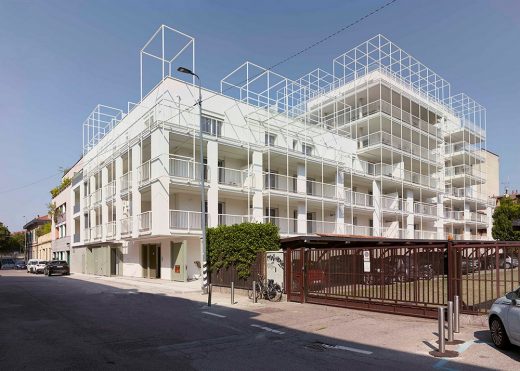 photo courtesy of architects
Casa Tersicore Milan building
Casa Tersicore was built in Milan, near the Naviglio Grande. On the street, the body of the building is four stories high, which bends around the corner, and then rises seven stories high in a type of turret.
24 Nov 2020
Residenze Carlo Erba
Design: Degli Esposti Architetti, Eisenman Architects, AZstudio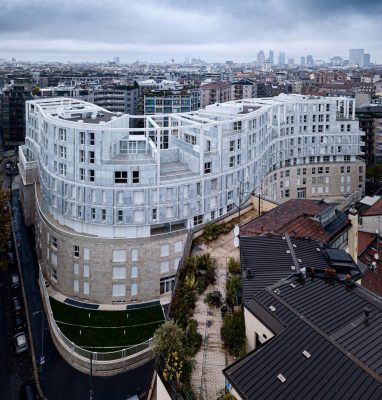 photo courtesy of architects
Residenze Carlo Erba Milano
For a triangular site included in the Piano Pavia-Masera, bounded by buildings built from the beginning of the 20th century to the Seventies, this project seeks to create a distinctly contemporary apartment building. The building solves the issue of the street relationship, without a construction along the boundaries of the block.
28 Oct 2020
MEET Digital Arts Center
Design: CRA-Carlo Ratti Associati and Italo Rota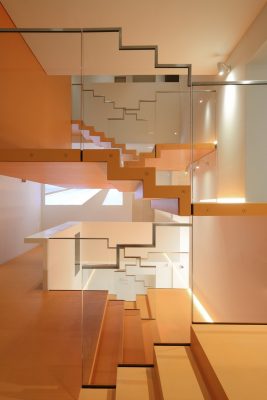 photograph : Michele Nastasi
MEET Digital Arts Center
CRA-Carlo Ratti Associati and Italo Rota unveil MEET – Milan's center for digital culture and creative technology. Occupying a newly renovated historic palazzo, the building revolves around a 15-meter-high vertical plaza. The design investigates how physical space can foster serendipity and unexpected connections between people in a digital world. MEET will open to the public on October 31st, 2020.
8 Nov 2019
Milano Luiss Hub
Architects: FABBRICANOVE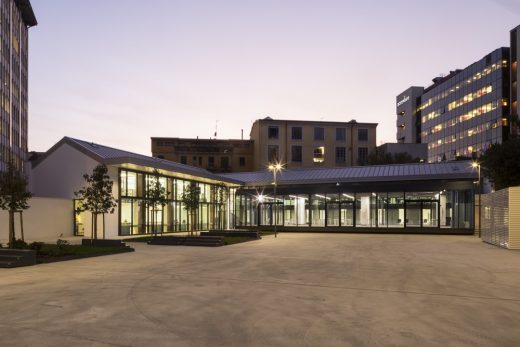 photograph : Filippo Romano
Milano Luiss Hub
Ten years after its foundation, Fabbricanove, an architecture studio based in Florence and directed by Enzo Fontana e Giovanni Bartolozzi presents a project that demonstrates and confirms that the urban recovery and regeneration topics are a vocation for them.
13 Oct 2019
New Milan Football Stadium Building
Architects: Populous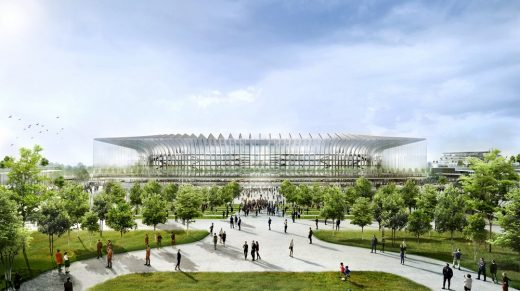 image Courtesy architecture office
New Football Stadium: The Cathedral
Competition bid for the new Milano Stadium which, it is anticipated, will replace the San Siro as the home of the two legendary clubs of AC Milan and FC Internazionale Milano, as well as provide a new city centre venue for the citizens of Milano to come together.
2 Oct 2019
Corso Italia
Redevelopment Architects: SOM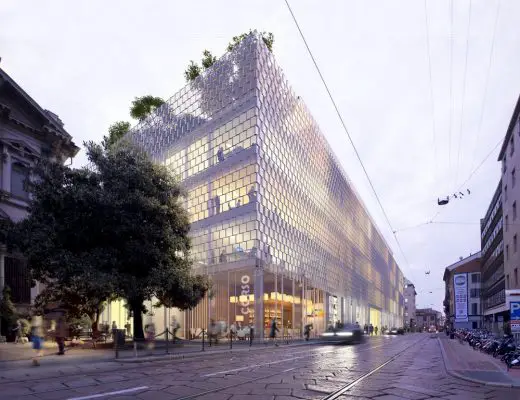 image : SOM
Corso Italia 23
27 July 2019
Archasm Fashion Pavilion Milan Architecture Competition
What do Tom Ford, Raf Simons, Pierre Balmain, Pierre Cardin, Gianni Versace and Virgil Abloh all have in common? Before starting a career in fashion, each enrolled to study architecture or industrial design:
Milan Architecture Competition
14 Apr 2019
Climatic Agents Milan
Design: OMA / Laboratorio Permanente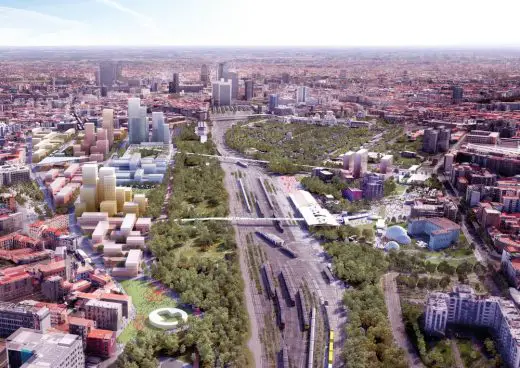 image Courtesy architecture office
Scalo Farini Masterplan
Agenti Climatici masterplan by OMA's Ippolito Pestellini Laparelli and Reinier de Graaf, co-designed with Laboratorio Permanente, wins the Concorso Farini competition for the redevelopment of the scalo Farini and San Cristoforo sites, two disused railway yards North and South of the periphery of this North Italian city.
20 Mar 2019
Gucci Hub Milan HQ Building opens to the public
Architects: Piuarch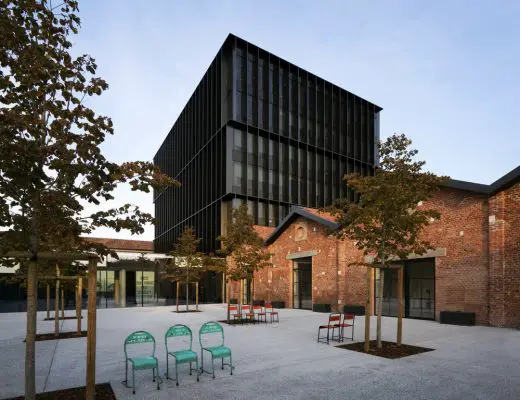 photo : Andrea Martiradonna
Gucci Hub Milan Headquarters Building
13 Mar 2019
Sovraparco Hanging Garden Metro Station, Piazzale Loreto
Design: LAD – Laboratorio di Architettura e Design and Hypnos Studio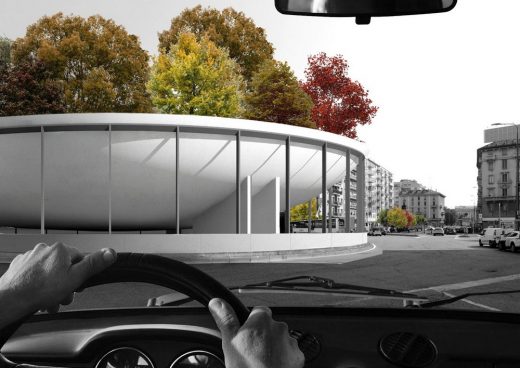 image Courtesy architecture office
Sovraparco Hanging Garden Metro Station
The 'Overpark' neologism identifies a green area built from scratch above a pre-existing urban function.
More contemporary Milan Architecture News online soon at e-architect
Milan Architecture News 2018
24 Aug 2018
Renewal of Isola Pepe Verde's Playground
11 Jul 2018
Savona 18 Suites Milan Hotel
13 Sep 2018
ARCHMARATHON Awards
61 projects have been selected by the international jury, 33 in the Architecture category and 28 in the interior design section; a good 27 countries represented.
Archmarathon Awards 2018 in Milan
9 May 2018
Vertical Forest wins RIBA Award
Vertical Forest in Milan is one of twenty winners of the Award of Royal Institute of British Architects (RIBA) 2018 for International Excellence.
2 May 2018
Between earth and air: the agrAir project at Milan Design Week 2018
Design: Piuarch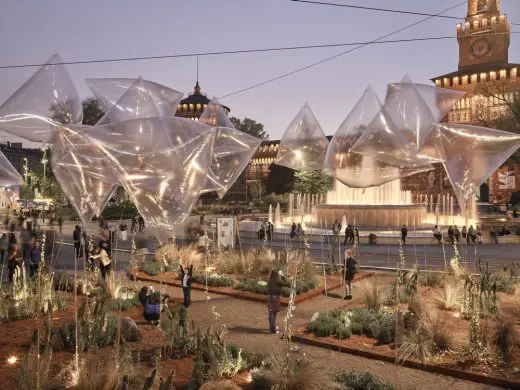 photo © Giovanni Hanninen
agrAir installation Milan Inhabits Event 2018
Drawing on the past to set the lifestyles of the future: that was the mission of agrAir, the installation designed by Piuarch for "Inhabits" event at Milan Design Week 2018. Located in the middle of piazza Castello in Milan, the project was conceived as an opportunity to re-think about the traditional setting of the urban fabric and to recover its values in the city of tomorrow.
25 Apr 2018
Generali Tower
Design: Zaha Hadid Architects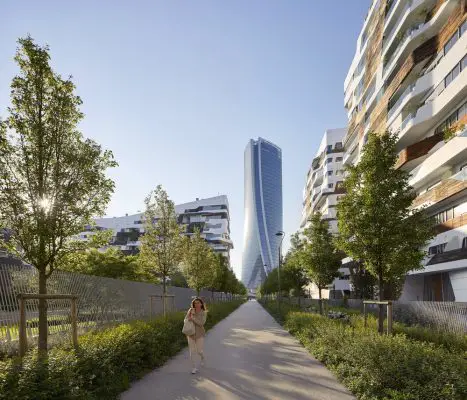 photo © Hufton + Crow
Generali Tower Building in Milan
Generali Tower is within the CityLife masterplan that has redeveloped Milan's abandoned trade fair grounds following the fair's relocation to Rho Pero in 2005.
17 Apr 2018
House in Motion for Milan Design Week 2018, Milan, Italy
Design: Stanton Williams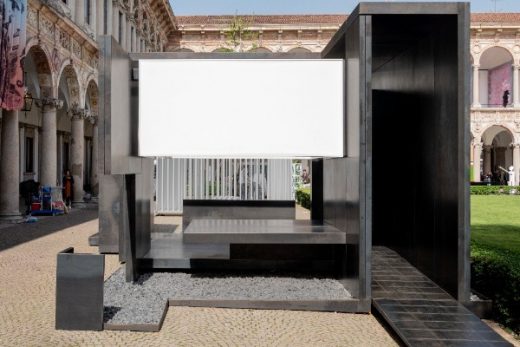 Baldacchino by Stanton Williams © Saverio Lombardi Vallauri
House in Motion for Milan Design Week 2018
Entitled Baldacchino in reference to ornamental canopies above altars or thrones, Stanton Williams' experimental 6m long pavilion interprets the House in Motion theme by giving physical form to the idea of movement through space.
16 Apr 2018
Future Space Pavilion, courtyard of Università degli Studi di Milano
Design: Peter Pichler Architecture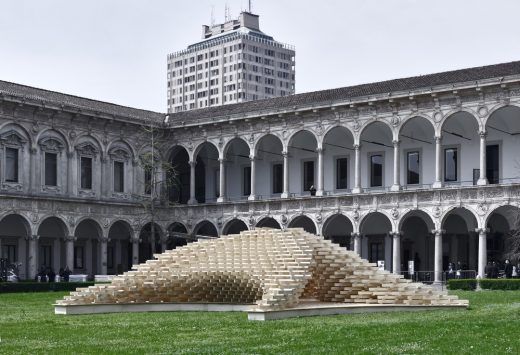 photograph : Oskar Dariz
Pavilion, Università degli Studi di Milano
The symmetrical structure is inspired by the extraordinary quality of the Renaissance proportions of the courtyard of Ca' Granda and plays with the fundamental elements of Renaissance style: Symmetry, proportion and geometry.
9 Apr 2018
agrAir installation
Architects: Piuarch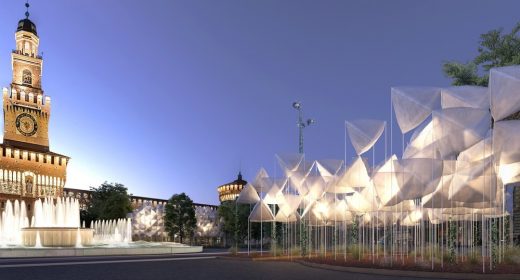 image from architecture office
agrAir installation Milano
As part of the Inhabits program at Milan Design Week 2018, the agrAir project by Piuarch outlines the elements which will hopefully be valued for living in the future – lightness, luminosity, careful use of resources, dissolution of contrasts between interiors and outdoors, between natural and artificial spaces – in a balanced relationship between earth and air
20 Mar 2018
Kanpai Japanese Restaurant
Architects: Studio Vudafieri-Saverino Partners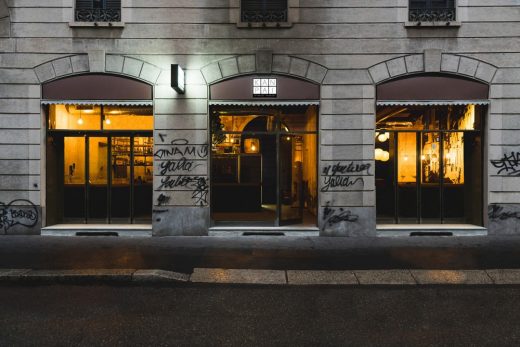 photo : Aromi
Kanpai Japanese Restaurant
Kanpai transports in Milan a sensation of contemporary Japan: it could inhabit one of the many lively side streets in one of the Japanese metropolitan cities, with installed screens which transmit pop images typical of today's technological, urban Japan. Its 150 sqm are structured over three rooms, with diverse colours and aesthetic atmospheres.
More new Milan Architecture News welcome for consideration
Milanese Building Updates 2017
15 Dec 2017
New Sassetti Tower Milan Building, S32 Fintech District
Architects: L22 Urban & Building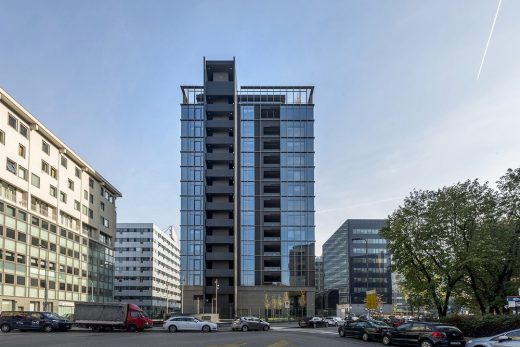 image courtesy of architects
Torre Sassetti Milano Building
=
8 Dec 2017
CityLife Shopping District
Design: Zaha Hadid Architects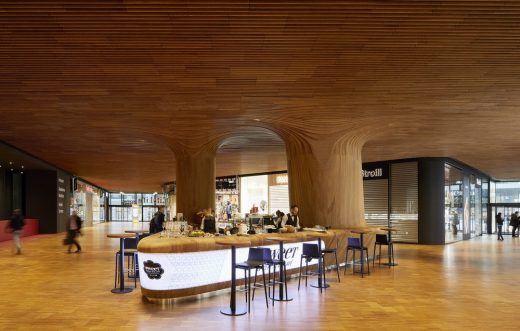 photograph © Hufton+Crow
CityLife Shopping District Milan
Located above Tre Torri station on the M5 line of Milan's Metro network, CityLife Shopping District integrates a new public park with indoor and outdoor piazzas, food hall, restaurants, cafes, shops and cinema as well as facilities for health and wellbeing.
24 Nov 2017
Boeri: Milan can double the number of trees becoming the European capital of Forestry
Proposal by Italian architect and urban planner, Stefano Boeri:
In the speech, delivered today at the third edition of the conference "Stati Generali del Verde Pubblico" promoted by Comitato per lo sviluppo del verde pubblico – Ministero dell'Ambiente e della Tutela del Territorio e del Mare, Stefano Boeri has resumed the vision of Green Milan launched a few weeks ago by the Mayor Giuseppe Sala, proposing that Milan becomes a leading metropolis in Urban Forestry by 2030.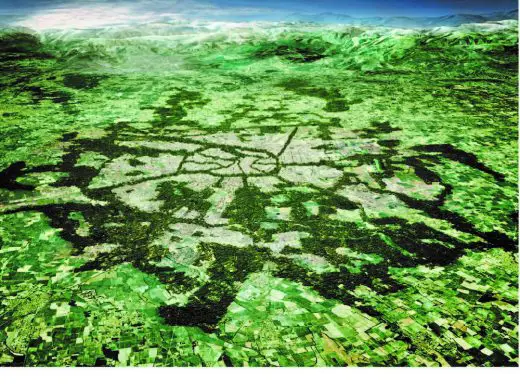 image courtesy of architects
Thanks to the green regeneration of the railway yards and EXPO area, to the project of rediscovery of Navigli canals, to the green rays and the recovery of orbital forests of Metrobosco; thanks to the greenery in the courtyards, in the collective urban gardens, on the rooftops, on the walls of the buildings, the Milanese agglomeration can double the number of existing trees (around 11 million) by 2030 reaching the percentage of 25% of wood areas, thus becoming a European Capital of Urban Forestry".
The challenge for Milan to turn greener and full of trees, besides reducing drastically the air pollution, reducing the energy consumption and increasing the biodiversity of the living species, is the best way – after the delusion of EMA not coming to Milan – is to relaunch the role of Milan as a capital of innovation in the field of environmental issues.
Milan Architecture Tours
Milan Architecture Walking Tours
We've selected what we feel are the key examples of Milan Buildings, Lombardy, Italy. We aim to include projects that are either of top quality or interesting. We cover completed Milan buildings and architecture competitions across Lombardy. The focus is on contemporary North Italian buildings.
Milan Architecture Design – chronological list
We have 3 pages of Milan AArchitecture selections with links to numerous individual project pages.
Milan Architecture : key projects
Milan Buildings : A-M
Milan Building Designs : N-Z
Lombardy Architecture News – recent additions to this page, arranged chronologically:
16 Nov 2017
M89 Hotel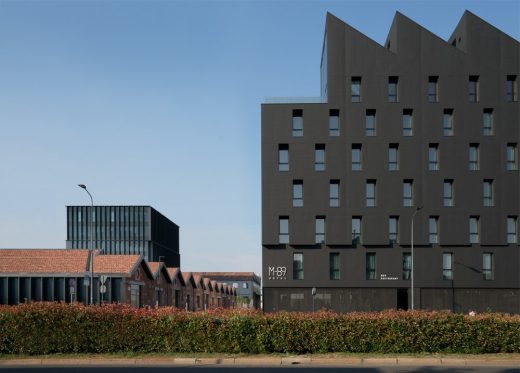 photo : Andrea Martiradonna
M89 Hotel Milan Building
Opposite the building, there are the brick blocks of the former Caproni factory: the M89 Hotel – the new four-star destination at number 89 of via Mecenate – faces the factory halls that one hundred years ago hosted one of the leading aviation companies and which are now home to Gucci.
24 Oct 2017
Microsoft House
Architects: DEGW/Lombardini22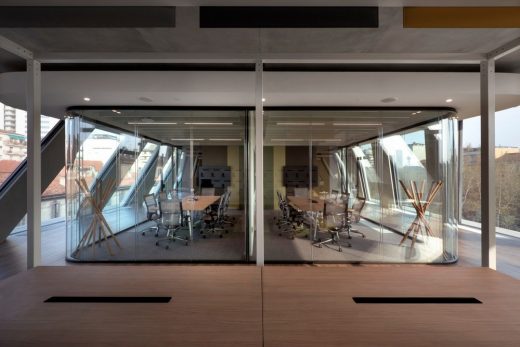 photo : Dario Tettamanzi – Microsoft Italia
Microsoft House
11 Apr 2017
Milan Design Week News
"Nordic Life in Urban Spaces" at the Milan Furniture fair 2017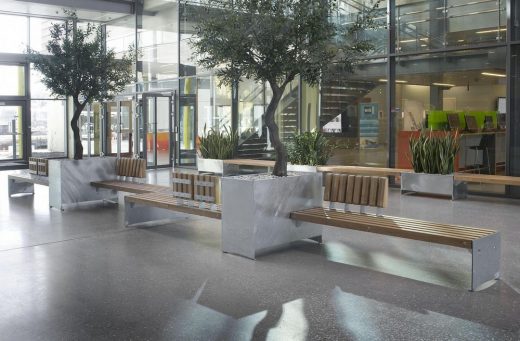 image courtesy of architects
Salone del Mobile Milan 2017
The Norwegian way of using street furniture to create accessible and attractive public spaces made its way to the European scene.
8 Apr 2017
MAD Architects Present Historical Future: Milan Reborn for the Scali Milano Masterplan, During Milan Design Week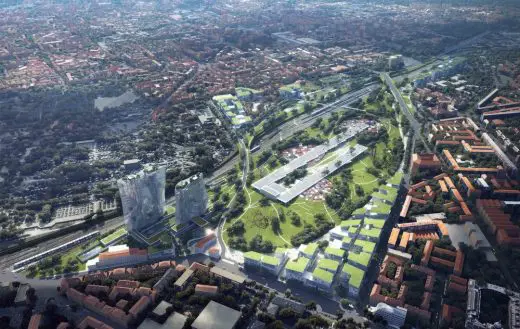 image courtesy of architects
Scali Milano Masterplan by MAD Architects
MAD Architects presents their research proposal Historical Future: Milan Reborn for the Scali Milano project, community-reactivation masterplan research headed by FS Sistemi Urbani (FS Urban Systems) and Comune di Milano (the Municipality of Milan) with the support of Regione Lombardia (Lombardy Region).
Sections of Autonomy. Six Korean Architects
More Milan Architecture online soon
Location: Milan, Lombardy, Northwest Italy, southern Europe
Italy Architectural Designs
Italian Architecture Designs – architectural selection below:
Italian Architecture Designs – chronological list
Contemporary Italian buildings on e-architect – selection below:
CityLife skyscraper – endless Tower
Arata Isozaki & Andrea Maffei Associates
CityLife Skyscraper Milan Building
Milano Santa Giulia : Masterplan / Housing
Foster + Partners
Santa Giulia Milano
New Trade Fair, Rho-Pero
Massimiliano e Doriana Fuksas Architects
New Trade Fair Milan
University Luigi Bocconi
Grafton Architects
University Luigi Bocconi : Mies van der Rohe Awards 2009 Finalist
Salone di Mobile Milan pavilion
Design: Mecanoo architecten
Salone di Mobile Milan
Buildings / photos for the Milan Building News – Lombardy Built Environment page welcome