Sections of Autonomy. Six Korean Architects Milan 2017, SpazioFMG per l'Architettura, Iris Ceramica
Sections of Autonomy. Six Korean Architects, Milan
Contemporary Architecture Exhibition in Milan, Italy design by FMG Fabbrica Marmi e Graniti
24 Mar 2017
Sections of Autonomy. Six Korean Architects – Milan 2017
Sections of Autonomy. Six Korean Architects exhibition
SpazioFMG per l'Architettura celebrates its first 10 years with a special exhibition that once again focuses on quality architecture and emerging geographic areas.
SpazioFMG per l'Architettura, Via Bergognone, 27 20144 Milano – Italia
3 April – 12 May 2017
Opening hours:
3 April – 7 April 2017
every day from 11 am to 9 pm
10 April – 12 May 2017
Thursday-Friday: 4–7.30 pm
Starting on April 3 2017, the gallery hosts an exhibition entitled "Sections of Autonomy. Six Korean Architects" focusing on six of the most interesting and experimental architects in Korea today.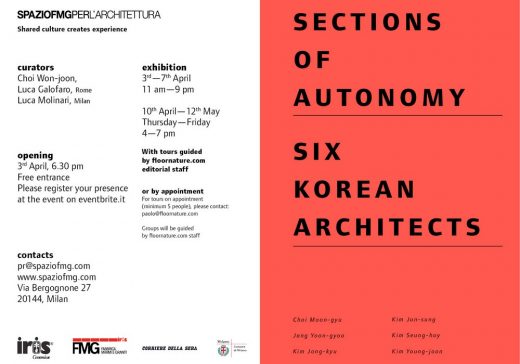 SpazioFMG per l'Architettura, Iris Ceramica and FMG Fabbrica Marmi e Graniti's gallery and showroom, marks its tenth anniversary by continuing to focus on contemporary architecture in less frequently explored parts of the world with an exhibition about South Korea: "Sections of Autonomy. Six Korean Architects".
SpazioFMG per l' Architettura is the second location to host this exhibition curated by Choi Won-joon and Luca Galofaro, which opened at Fondazione Pastificio Cerere in Rome and now appears in a new version with the contribution of Milanese curator Luca Molinari.
The exhibition explores the work of a generation of professionals who started out in their careers in the late '90s and early 2000s. In a country that was finally democratic, free of the ideological pressure of twenty years of dictatorship, these architects were able to express their own individual character, focusing on issues of current relevance and successfully combining appreciation of local culture with awareness of the progress being made on the international architecture scene.
The six architects' work is represented through their words, the technical drawings and models made by their studios, and the professional photographs they have commissioned. This kaleidoscopic vision reflects the liveliness and complexity of the urban landscape in Korean cities, where very high population density produces development of ever-new forms of intersection and stratification of public, collective and private spaces.
The exhibition focuses on the work of: Choi Moon-gyu (Ga.A Architects), Jang Yoon-gyoo (Unsangdong Architects Cooperation), Kim Jong-kyu (M.A.R.U.), Kim Jun-sung (Architecture Studio hANd), Kim Seung-hoy (KYWC Architects), Kim Young-joon (YO2 Architects).
SECTIONS OF AUTONOMY SIX KOREAN ARCHITECTS
"The exhibition is the story of a generation's attempt to rethink the relationship between architecture and urban space. These six architects attempt to define the city as a place for collective living. Each building defines a precise urban form in which the boundary between public and private seems to disappear," explains Luca Garofalo, curator of the exhibition in Rome.
"Attention in the west continues to be directed towards Asia, particularly China with its large-scale projects and Japan with its experimentation. Korea does not attempt to amaze us with colossal projects, nor does it transform research in architecture into an individual's need to express his or her own desires, but establishes the boundaries of the new objectivity."
And it is precisely to offer the Milanese public a glimpse of one of the world's lesser-known contemporary architecture scenes that SpazioFMG is hosting "Sections of Autonomy. Six Korean Architects". According to the gallery's scientific director Luca Molinari, "SpazioFMG is celebrating its tenth birthday by confirming its interest in the most experimental situations and places. After going to Japan with 'Architecture as a piece of nature' (2011), looking at the African continent in 'Together. Visions from contemporary African architecture' (2014), and exploring Norway through photographs in 'Norway. Architecture, infrastructure, landscape' (2016), hosting 'Sections of Autonomy. Six Korean Architects' offers us a valuable opportunity to find out more about the urban landscape and architecture of South Korea: very high quality architecture which very few people know about outside the country."
The exhibition catalogue edited by Luca Galofaro with texts by Choi Won-joon, Stefania Manna and Alessandro Toti will be presented at the opening of 'Sections of Autonomy. Six Korean Architects' at 6.30 pm on Monday, 3 April, during Design Week in Milan.
"The stratification of design experience illustrated in the exhibition is reconstructed in the catalogue in Choi Won-joon's essay describing the cultural climate and political and economic circumstances in which the architects developed their ideas, while Alessandro Toti introduces us to the country's history and Stefania Manna reflects this idea of a new objectivity achieved with special care, not so much for technical innovation but for quality use of materials." Luca Galofaro
SECTIONS OF AUTONOMY SIX KOREAN ARCHITECTS Catalogue
Sections of Autonomy. Six Korean Architects catalogue of the exhibition of the same name held at Pastificio Cerere in Rome (3-21 February 2017) and SpazioFMG per l'Architettura,in Milan (3 April – 12 May 2017) edited by Luca Galofaro with contributions by Choi Won-joon, Stefania Manna, Alessandro Toti. Libria, Melfi, 2017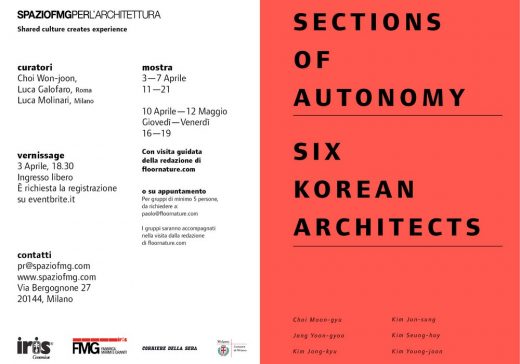 THE ARCHITECTS:
1. Choi Moon-gyu | Ga.A Architects | www.gaa-arch.com
Choi Moon-gyu_Soongsil University Student Union Seoul, 2008-2011: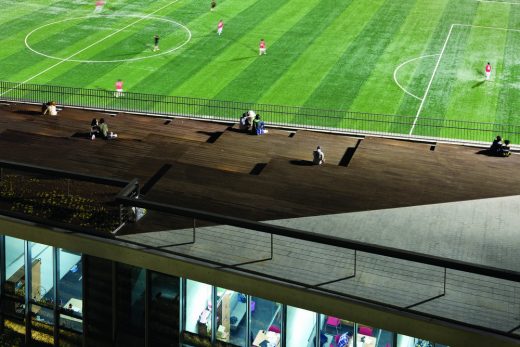 image © Nam-gung Sun
Choi Moon-gyu was born in 1961, and received B.Arch. from Yonsei University, M.Eng. from Yonsei Graduate School and M.Arch. from Columbia University. After working at Toyo Ito Architects, Hanul Architects, and Group See, he founded Ga.a Architects in 1999, and is currently professor of architectural engineering at Yonsei University. He was invited to the 11th & 9th Venice Biennale, the 7th São Paulo International Biennial of Architecture, and Shenzhen and Hong Kong Bi-City Biennale of Urbanism and Architecture 2007. He is the recipient of several awards, including Architectural Record's Design Vanguard and Korean Institute of Registered Architects Award. His major works include Cheong Hansook Memorial, Ssamziegil, SSU Student Union, Yonsei University Veritas Hall, and H Music Library.
2. Jang Yoon-gyoo | Unsangdong Architects Cooperation | www.usdspace.com
Jang Yoon-gyoo_Seongdong Cultural & Welfare Center Seoul, 2009-2010: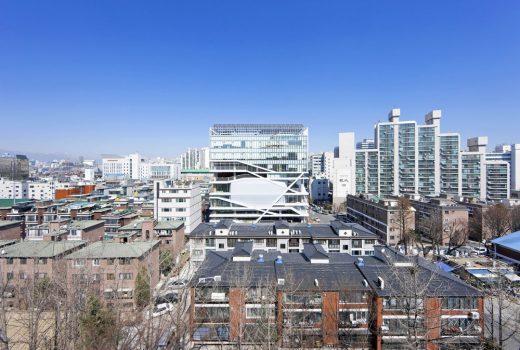 photograph © Fernando Guerra
Jang Yoon-gyoo is the principal of Unsangdong Architects Cooperation, an experimental design group organized to realize conceptual architecture with cultural contents of variable possibilities. Unsangdong's researches and projects are based on a belief in the diversity of architecture. The office received the 2007 Architectural Review Commended Award and the 2006 Architectural Record Vanguard Award, those given to innovative architects around the world. Jang introduced the idea of 'space coordinator' in the Korean art community, and featured experimental works at Ssamzie Project, the Seoul Museum of Art's "Cheonggyechun" exhibition and the "Preliminary Alert" exhibition. He gave lectures at RIBA in 2008 and Harvard GSD in 2010.
3. Kim Jong-kyu | M.A.R.U. (Metropolitan Architecture Research Unit) | www.marunetwork.com
Kim Jong-kyu_Amore Pacific / SCM Office & Botanical Garden, Osan, 2011: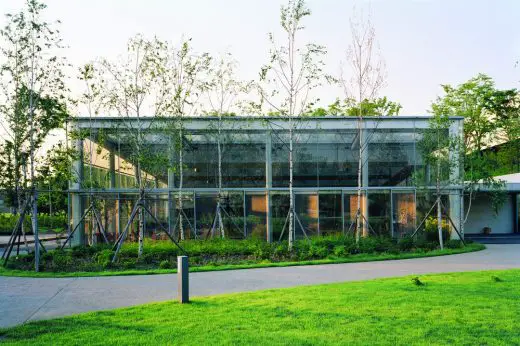 image © Jonathan Lovekin
Kim Jong-kyu studied architecture at AA (Architectural Association School of Architecture) and Yonsei University. He is an ARB registered architect and a member of the RIBA. He worked for Florian Beigel Architects, Dongwoo Architecture, and Building Design Partnership. He established his office M.A.R.U. in 1993 and is professor at Korea National University of Arts. His major works include Uijae Museum of Korean Arts (with Joh Sung-yong), CAIS Gallery, Heritage of St. Mary Mother of God, Amore Paci c R&D Center (with Alvaro Siza and Carlos Castanheira), and Amore Paci c SCM Office.
4. Kim Jun-sung | Architecture Studio hANd | www.h-and.co.kr
Kim Jun-sung_Humanist Books Office Seoul, 2011-2012: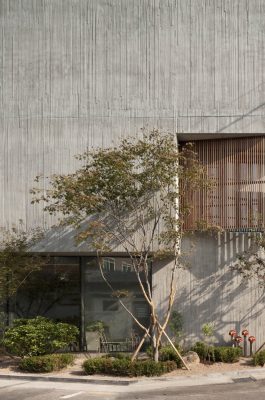 photo © Nam-gung Sun
Born in 1956, Seoul, Korea, Kim Jun-sung started architectural study from Universidade Mackenzie at São Paulo, Brazil, and received B.Arch. degree from Pratt Institute, and M.Arch. from Columbia University in New York. Returning to Korea, he began his own practice in 1992. He has taught at the Graduate School of Architecture of Kyounggi University as professor, and as a visiting critic at the Korea National University of Arts, Seoul National University, and Sam Fox School of Design of Washington University. Currently he is professor at the Graduate School of Architecture, Konkuk University, and design principal at Architecture Studio hANd.
5. Kim Seung-hoy | KYWC Architects | www.kywc.com
Kim Seung-hoy_Munhakdongne Publishers Office Paju, 2002-2003: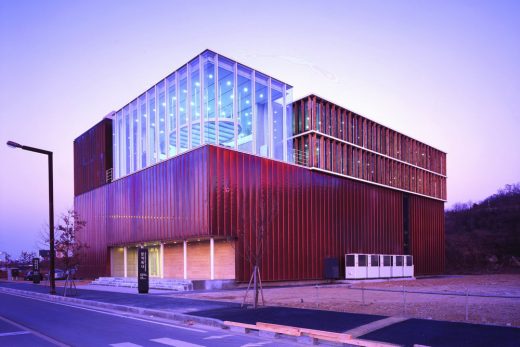 photo © Kim Jae-kyeong
Kim Seung-hoy received his B.Arch. and M.Sc. degrees at Seoul National University, and completed M.Arch. at University of Michigan in 1989. Kim began his private practice KYWC Architects in 1995, and since 2003 he is professor at Seoul National University. His major works include Ewoo School, World Jewelry Museum, Munhakdongne Publishers Office, Jung Clinic, Place J, Jeongseon Health Care Center, Lotte Buyeo Resort, and Preliminary Design for the City of Seoul. His awards include Kim Soo Geun Culture Award, Architectural Institute of Korea Award, City of Seoul Architecture Award, Architecture Culture Prize, and Architectural Institute of Korea Award.
6. Kim Young-joon | YO2 Architects | www.yo2.co.kr
Kim Young-joon_ZWKM Block Seoul, 2011-2015: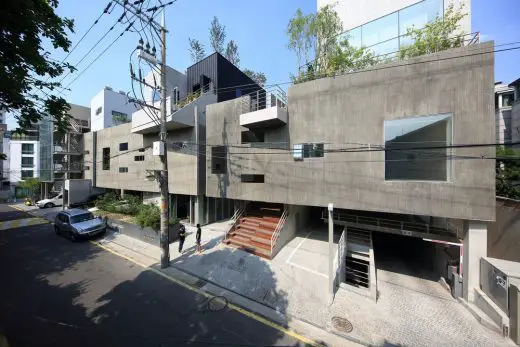 photo © Kim Jae-kyeong
Kim Young-joon studied architecture at Seoul National University and began his career at Space Group of Korea. In 1995, he continued his graduate studies at AA school, London, and then worked for the Office for Metropolitan Architecture, Rotterdam. Upon his return to Seoul in 1998, he founded his firm YO2 Architects. Among his works are the award-winning Jahajae Residence (acquired by MoMA, NY), Heryoojae Women's Hospital, and New Administrative City (competition, first tier prize). He taught at the European University of Madrid (2008) and MIT (2013), and is the coordinator of Paju Book City.
THE ARCHITECTS:
Choi Won-joon is an Associate Professor at Soongsil University in Seoul. He studied at Seoul National University and the Graduate School of Architecture, Planning and Preservation at Columbia University and is currently a member of the Mokchon Architecture Archive research team for construction of an archive of contemporary Korean architecture www.mokchon-kimjungsik.org. He has co-authored a number of publications, including The Transitional Era of Korean Architecture and 4.3 Group (2015), The Key Concepts of Korean Architecture (2013), and Convergent Flux (2012).
Luca Galofaro is an Associate Professor at the University of Camerino and directs the architectural studio LGSMA with Stefania Manna. He was a co-founder of the studio IaN+ and has lectured as Visiting Professor at the Confluence of Lyon, The Bartlett School of Architecture in London, Ecole Spéciale d'Architecture in Paris and Kent State University in Florence. He has authored several publications, including An ATLAS of Imagination (2015), Aristide Antonas (2015), Artscapes. Art as an approach to contemporary landscape (2006). He also writes two architecture blogs, "The Booklist" and "The Imagelist". He is co-curator of the first Biennale d'Architecture at Frac Centre-Val de Loire in Orléans, due to open in October 2017.
Luca Molinari is a critic, curator and associate professor at Seconda Università degli Studi in Naples. He is a member of the Upper Council for Cultural and Landscape Heritage. From 2001 until 2004 he was scientific director of the Architecture and Urban Planning sections at the Triennale di Milano. Since 2007 he has been main curator of the gallery SpazioFMG per l'Architettura. He has been an editorial consultant for Skira's architecture and design publications since 1995. In 2010 he was curator of the Italian Pavilion at the 12th International Architecture Exhibition at Biennale di Venezia. He has lectured at NABA, Cornell University of Architecture, Art, and Planning in Rome, Fondazione Fotografia Modena, the Guangzhou Fine Arts Academy and the University of Camerino. He writes an architecture column in the weekly magazine l'Espresso and is a regular contributor to numerous other magazines and newspapers.
THE CURATORS:
Iris Ceramica
FMG Fabbrica Marmi e Graniti
IRIS CERAMICA e FMG FABBRICA MARMI E GRANITI
Leader in the production of glazed ceramic and glazed porcelain tiles for wall and floor coverings, designed for residential, retail and industrial projects. With a range of more than 50 collections and in excess of 2500 items, since 1961 Iris Ceramica has made its mark in the world of prestige Italian-made coverings, demonstrating its ongoing commitment to creating ceramics with excellent technical value and fine style, whose cutting-edge design is reflected in the international prizes and awards it has won.
www.irisceramica.com
The brainchild of Romano Minozzi, who established it in 1998. His brilliant idea was to manufacture marble, granite, travertine and natural stone without altering their aesthetics and enhancing them with technology. We take the same elements as nature and put them through industrial processes to reproduce the same forces as nature – pressure and fire.
www.irisfmg.com
Opened in Milan in 2007, SpazioFMG – the gallery-cum-showroom of Iris Ceramica and FMG Fabbrica Marmi e Graniti – is now a respected location where architecture meets the city; architects, designers, curators and critics from all over the world converge here to discuss current issues in their tradecraft and in society as a whole. From the moment it was conceived, based on the convictions and philosophy of the brands it represents, SpazioFMG per l'architettura declared its mission to promote awareness of environmental sustainability issues, with the goal of turning complex concepts, methods and synergies into a heritage for all.
Luca Molinari organises the gallery's programme, which includes exhibitions, conferences and debates covering the social and cultural value of architecture, offering professionals and the general public a real research laboratory. The versatile and light-filled gallery is a new white box overlooking the city, in the heart of one of Milan's most on-the-go districts. Four street-facing windows give a clear visual inside and make a statement about what the space is for – a place for discussion, meeting and sharing.
Website: SpazioFMG per l'architettura
Sections of Autonomy. Six Korean Architects Milan images / information received 230317
SPAZIOFMG PER L'ARCHITETTURA
Via Bergognone, 27 20144 Milano – Italia
Salone del Mobile Milan 2017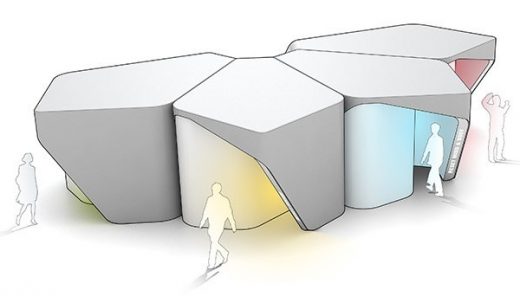 UNStudio at Salone del Mobile 2017
Salone del Mobile Milan 2017
Location: Via Bergognone, 27 20144 Milan, Lombardy, northern Italy
Milan Architecture
Contemporary Milanese Architecture
Milan Building Designs – chronological list
Milan Architecture Tours – city walks by e-architect
Milan Architects Offices – architectural firm contact details on e-architect
Milan Architecture – Selection
Salone di Mobile Milan Architecture
Historical Future: Milan Reborn for the Scali Milano Masterplan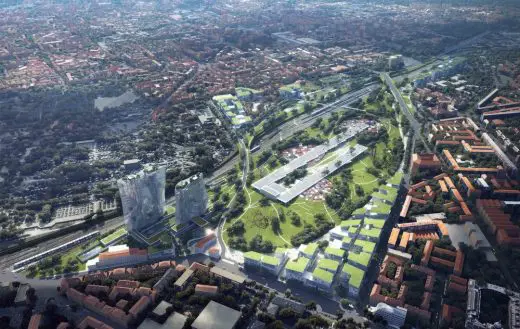 image courtesy of architects
MAD Architects Exhibition Milan Design Week 2017
Aarhus School of Architecture exhibits at Milan Design Week 2016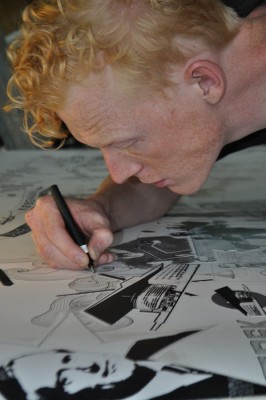 photo : Asbjørn Staunstrup Lund
Aarhus School of Architecture Milan Design Week
Corian Lounge, Milan
Design: Amanda Levete Architects
Corian Lounge Milan
Renault Twin Z Electric Concept Car
Design: Renault / Ross Lovegrove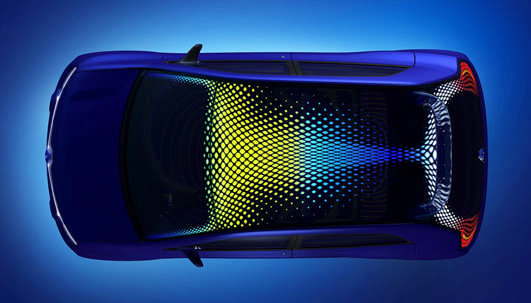 photo : Renault
Conceptual Design Milan
Karim Rashid @ "Smart-ologic Corian® Living"
Design: Karim Rashid
Milan showroom design
SitTable
Design: Ben van Berkel / UNStudio
The hybrid form of the SitTable in Milan by UNStudio
Salone Internazionale del Mobile – 2008
Design: Zaha Hadid Architects
Milan Furniture Fair
'Bath Couture' Milan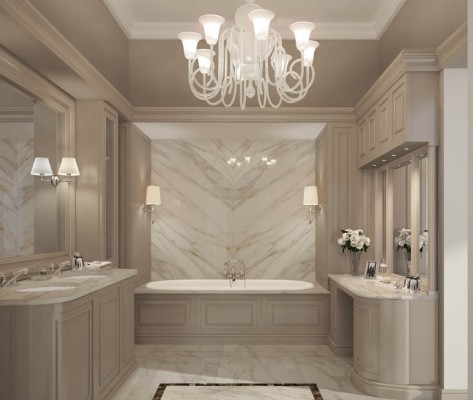 image courtesy of Devon&Devon
Devon&Devon Launch 'Bath Couture' in Milan – 2015
Mutated Panels Milan Installation
Salone di Mobile Milan pavilion
Design: Mecanoo architecten
Salone di Mobile Milan
House of Stone at Salone del Mobile, Milan 2010
Design: John Pawson, architect
House of Stone Milan
New Trade Fair, Rho-Pero
Design: Massimiliano e Doriana Fuksas Architects
New Trade Fair Milan
Website: Milan Furniture Fair (Italian: Salone Internazionale del Mobile di Milano)
Invisible Border Installation in Milan
Comments / photos for the Sections of Autonomy. Six Korean Architects Milan Exhibition page welcome
Website: Salone del Mobile